The world has realized the potential of social media, which explains the widespread usage of social media in our daily lives, whether by individuals or corporations alike.
A lot of social media scheduler have come up to make you more productive. Hootsuite has been the incumbent in the list of services so far. However, their recent decision to increase their price, in some cases by 10x, has motivated people to start looking out for Hootsuite alternatives.
We decided to stock various Hootsuite alternatives in the market and list their pros and cons.
Without much ado, let's look at other products that are similar to Hootsuite.
Table of Content for Hootsuite Alternatives:
1) RecurPost – Best Hootsuite Alternative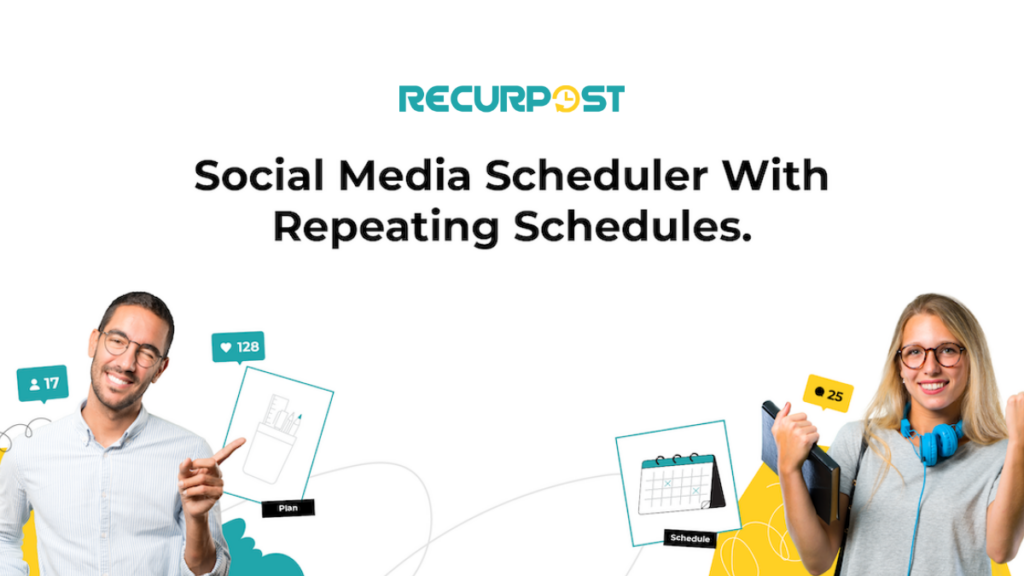 RecurPost, like Hootsuite competitors, allows you to schedule updates on your social media profiles. However, RecurPost is the best Hootsuite alternative because it offers a number of significant advantages that are missing from Hootsuite and a number of other alternatives too.
What makes RecurPost #1 in our list:
In-built advanced analytics to analyze performance and track engagement with your audience.
RecurPost has a unique feature that lets you share recurring posts and keep them fresh in the minds of your customers and/or targeted audience, gaining more leads with minimum effort. You simply created content buckets called libraries, such as Library of Blogs, Library of Recipes, Library of Courses, etc., and then set a schedule for each library. Once we have shared everything from that library, we will start at the beginning again.
Manage all your social accounts from the same place, schedule content instantly, and track performance.
You can plan, schedule, edit, and post your content directly from RecurPost.
Uploading a CSV file to social media bulk scheduling with images.
RecurPost also has a social inbox that allows users to respond to messages and comments.
RSS integration can ensure that any new content on your website is automatically shown to your audience.
In-built Canva for design templates.
You can create libraries to organize your content into separate categories.
Price: RecurPost offers a 14-day free trial, and the recurpost pricing starts at $25/month compared to Hootsuite pricing, which is a $49/month subscription when billed annually.
---
Like RecurPost? You don't have to read the rest. You can just sign up for it.
---
2) Buffer – Hootsuite Alternative:
Buffer, like Hootsuite, began as a Twitter scheduling tool and has since grown to be a prominent Twitter tool in the social media marketing space. However, Buffer has undergone more changes than Hootsuite throughout the years. It has a number of essential app connectors for better social media management.
Here's a rundown of Buffer's primary features:
Every social network has a comprehensive feed.
The free plan includes one social account for a network and up to ten scheduled posts.
Twitter, Facebook, Instagram, LinkedIn, and Pinterest are all supported.
Users can re-buffer previously published posts.
RSS feeds are used for content curation.
Calendar in visual form
Price: Buffer provides a free plan. You can upgrade to a paid subscription for $12 per month for one social media channel following the trial period.
3) Hootsuite Alternatives – Social Pilot: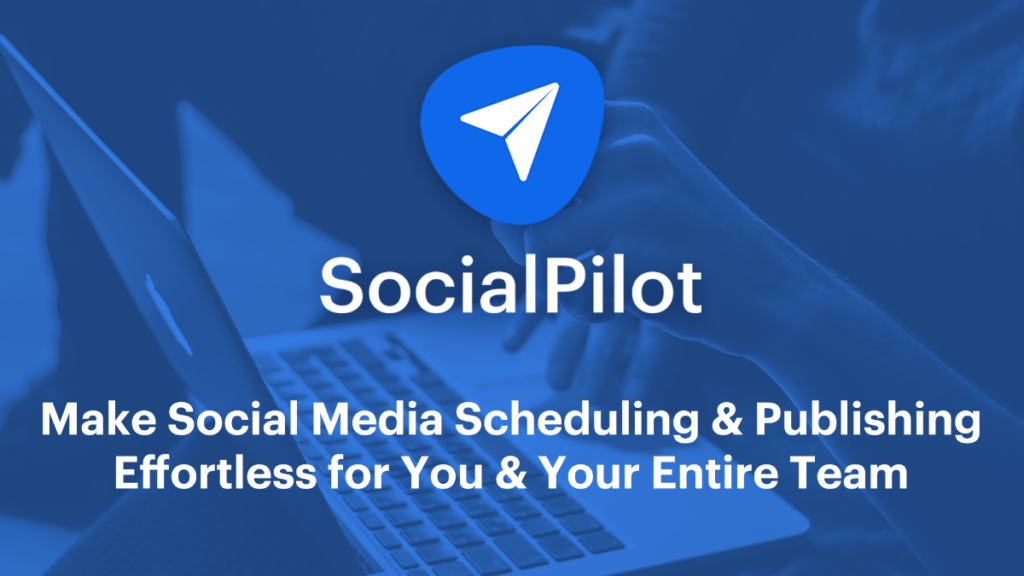 SocialPilot is great for publishing, engagement, and analytics and was designed particularly for small businesses and agencies. It is far more powerful than Hootsuite and provides a plethora of capabilities that are essential for small businesses at a fraction of the cost & being used for scheduling social media posts.
Following are the primary features of SocialPilot:
Collaboration within the team and client management
Facebook, Instagram, Twitter, Google My Business, LinkedIn, Pinterest, TikTok, VK, and Tumblr are all supported.
Analytics and reporting on social media.
Facebook advertisements and social inboxes
Advance post scheduling, including the ability to mention, schedule videos, albums, and carousel posts, add CTAs, and much more.
Canva integration allows you to create images on the fly.
24×5 Calls, emails, live chat, and social media are all ways to get help.
Price: SocialPilot subscription starts at $25.5/month (billed annually) compared to Hootsuite pricing – a $49/month subscription.
4) Meet Edgar! – Similar to Hootsuite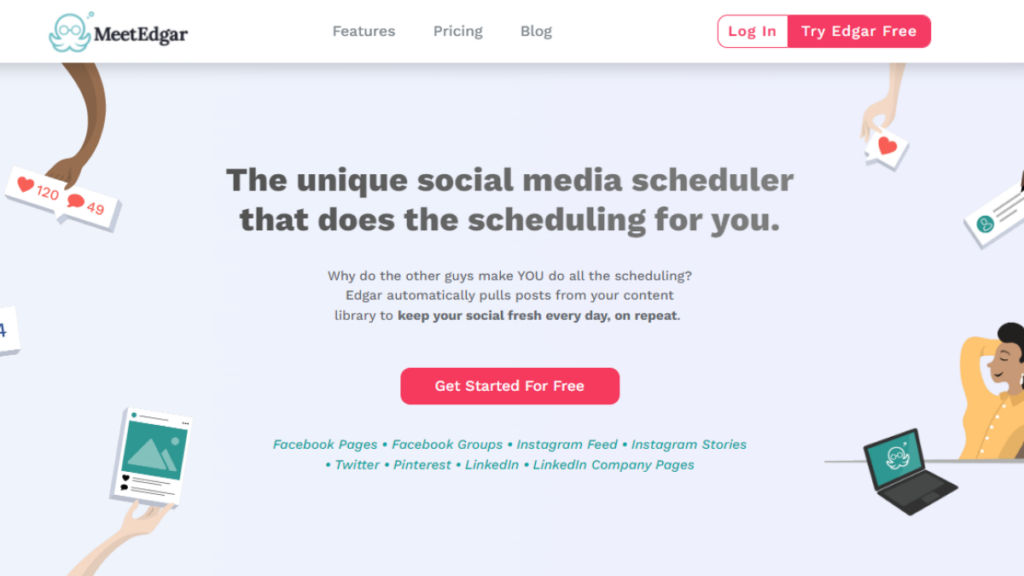 Meet Edgar, a social media management platform for small businesses and entrepreneurs, is the next Hootsuite alternative. They offer solutions for content scheduling and organization in preparation for automated publishing.
Meet Edgar also allows you to schedule posts for numerous networks and recycle outdated content. However, Meet Edgar is slightly more expensive than other free hootsuite alternatives, with only two price options: Edgar Lite for $19/month and the other for $49/month.
5) Sendible: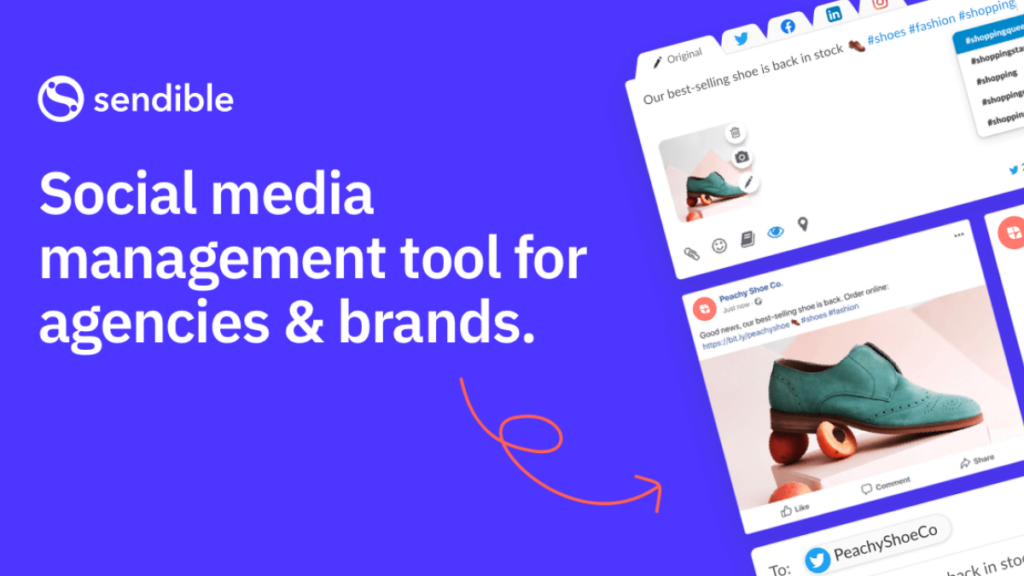 Everything about the Sendible service screams quality and a great user experience, and it is easy to use compared to Hootsuite. Sendible provides a wide range of functionalities with outstanding usability.
Most importantly, it enables you to easily, quickly, and accurately manage your social media campaigns and daily activities. The platform features a clean and straightforward user experience that is incredibly simple to use and explore.
Features of Sendible
Integration with all critical social networks (Facebook, Twitter, LinkedIn, Instagram, Google+, Pinterest) and blogs (Medium, WordPress, Blogger.com).
It makes it easy to keep your social media calendar busy with an RSS Feed poster, content suggestions, an in-built content library, and easy access to the design tool, Canva.
It has handy automation tools that drive engagement and increase your following on Twitter and Instagram.
Reports that are visually attractive and accurate can be prepared in 15 minutes or less, and you can even design custom reports with your logo and the modules you require.
Permissions for users and team workflows are simple to set up.
6) AgoraPulse – Hootsuite Alternatives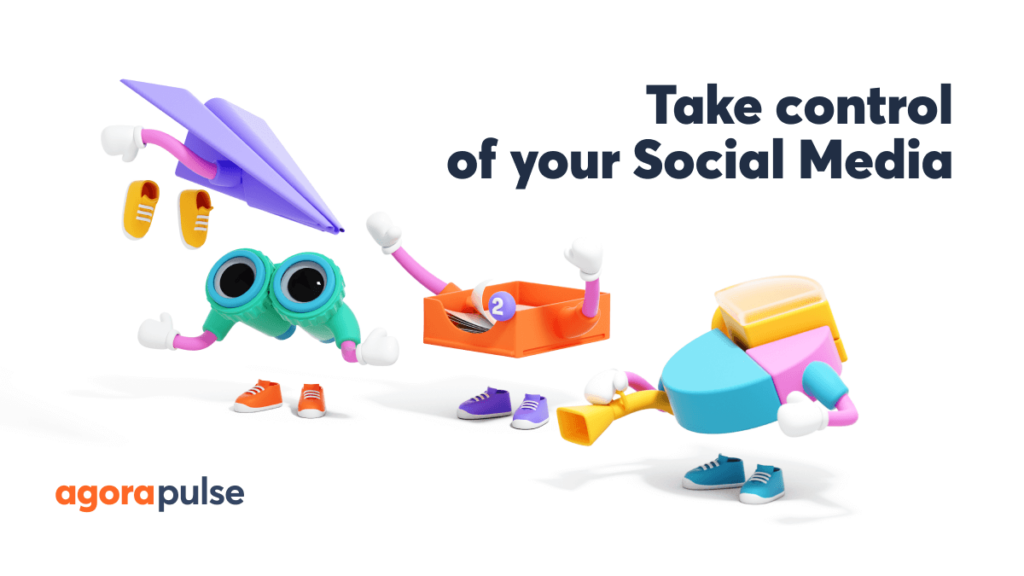 AgoraPulse allows you to manage all of your social media postings or communications from one location. It accomplishes this by employing a social media inbox similar to an email inbox, and it can also save all of your previous discussions.
You can also track your progress and the involvement of your target audience by viewing wonderfully tailored reports in PowerPoint format with fantastic graphics.
Plans & Pricing
AgoraPulse offers the following four plans:
Medium – $99.00 per month
Large – $199.00 per month
X-Large – $299.00 per month
Enterprise – $499.00 per month
Features
The analytics reports are straightforward due to the great use of graphics.
It gives you the ability to automatically categorize your audience through qualification badges or manually tag your users.
7) Hootsuite Alternatives: CoSchedule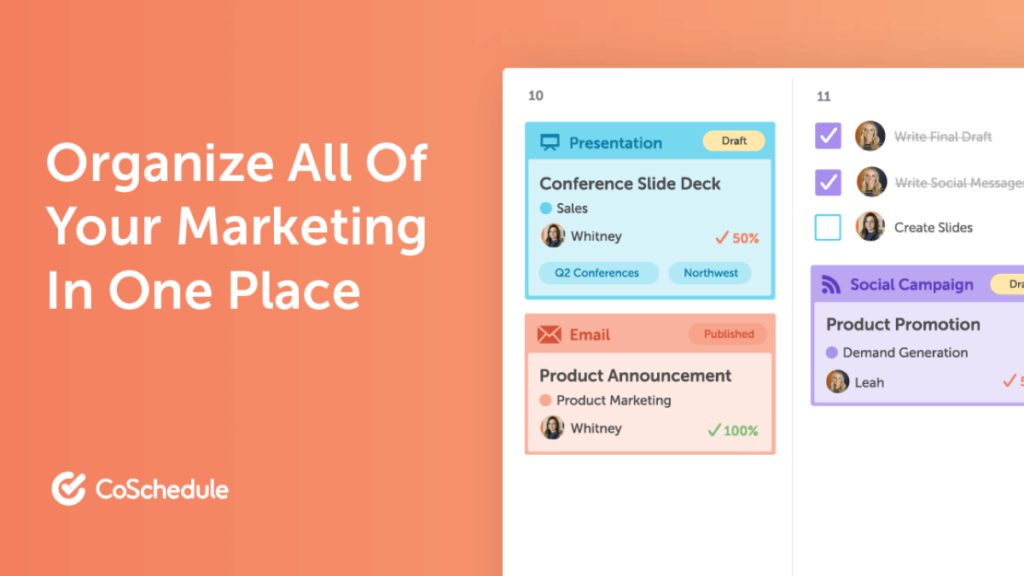 CoSchedule enables you to manage your marketing efforts from a single platform. It includes social organizers such as marketing suites and calendars. Coschedule also interfaces with various social networks, assisting firms in equipping themselves with marketing needs.
Features of the tool include
Automatic notifications
Campaign analysis
Campaign management
Content management
Custom branding
Monitoring
Reporting and statistics
Third-party integration
Price: Plans for CoSchedule–Social Organizer begins at $29 per month for a single user. The highest tier allows you ten users, and you must pay extra to add more.
8) eClincher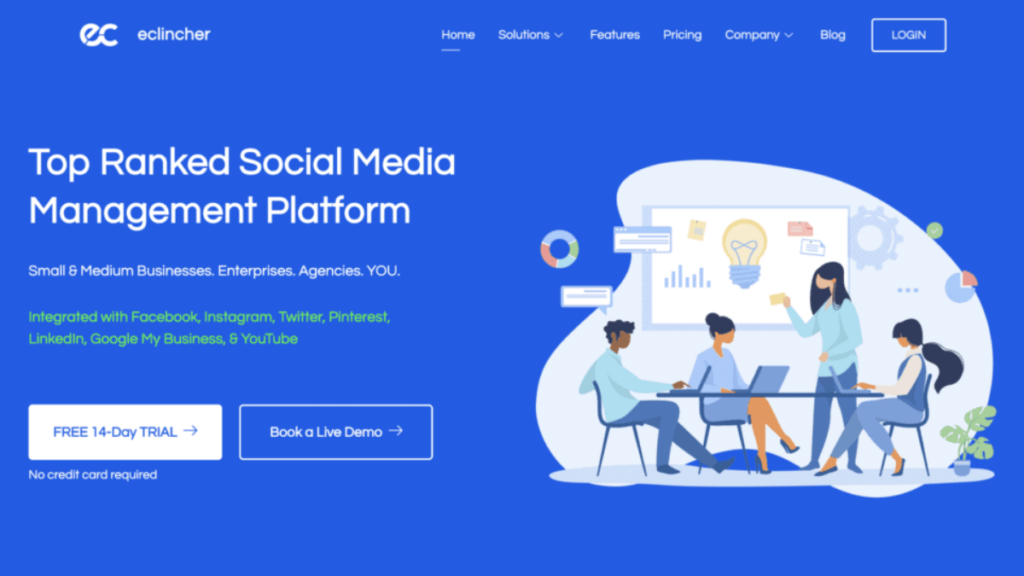 eClincher is a powerful and feature-rich social media management platform for small and medium-sized organizations looking to streamline their social media presence.
With its intelligent social media dashboard and consolidated inbox, it is known for making social media management more accessible and effective.
Critical features of eClincher include
Advanced publishing
Content curation
Marketing automation
Keyword tracking
Social media analytics
Content recycling
Scheduling
Engagement
Team collaboration
Price: All eClincher subscriptions offer a 14-day free trial, and the basic subscription is $59 per month.
9) Sprout Social: Hootsuite Alternatives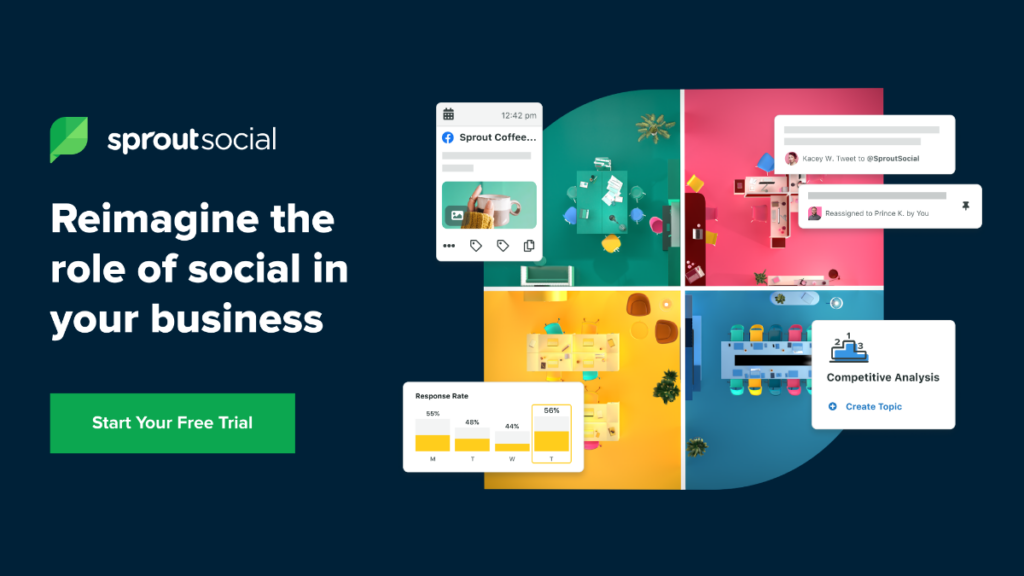 Sprout Social is one of the Hootsuite alternatives with comparable plans, both in terms of features and pricing. With Sprout Social, you can access a few powerful features, such as a social inbox, scheduling, and team collaboration. The CRM feature is the most famous, with sub-tasks, such as approvals.
Sprout Social, like other free Hootsuite competitors, offers analytics and reporting & is always on the prior list of established businesses for LinkedIn marketing strategy. You may use Sprout Social to create presentation-ready reports with simplified metrics that can be exported to PDF or CSV format. Sprout Social has plans starting at $99/month.
10) Hootsuite Alternative: PromoRepublic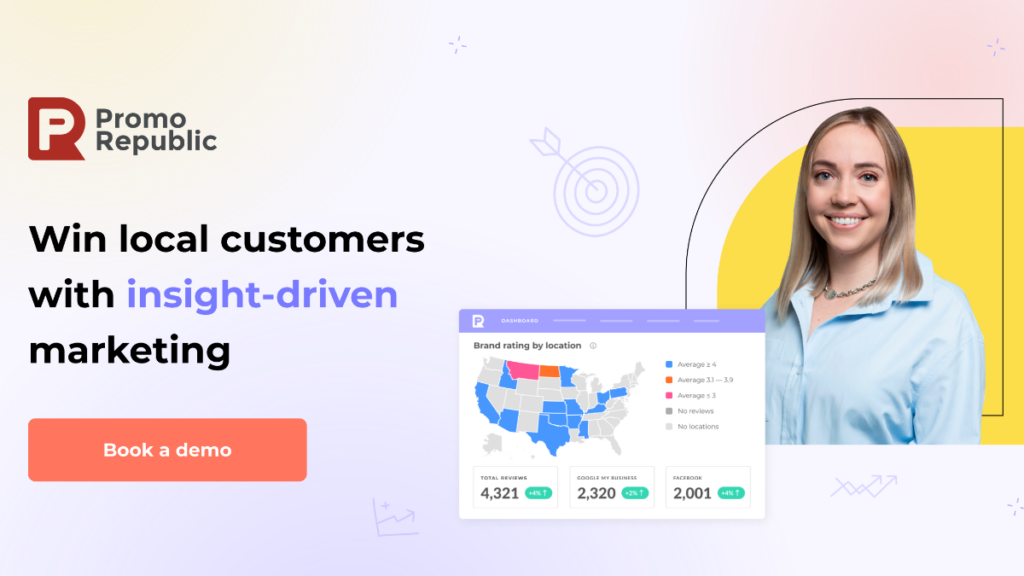 Another Hootsuite option for social media marketing for small firms and freelancers is PromoRepublic. They provide a graphical editor, a collaborative platform, and scheduling capabilities.
PromoRepublic is the greatest local social media scheduling platform. Their pricing options begin at $49 per month and rise in price depending on how many services you desire.
11) Socialbakers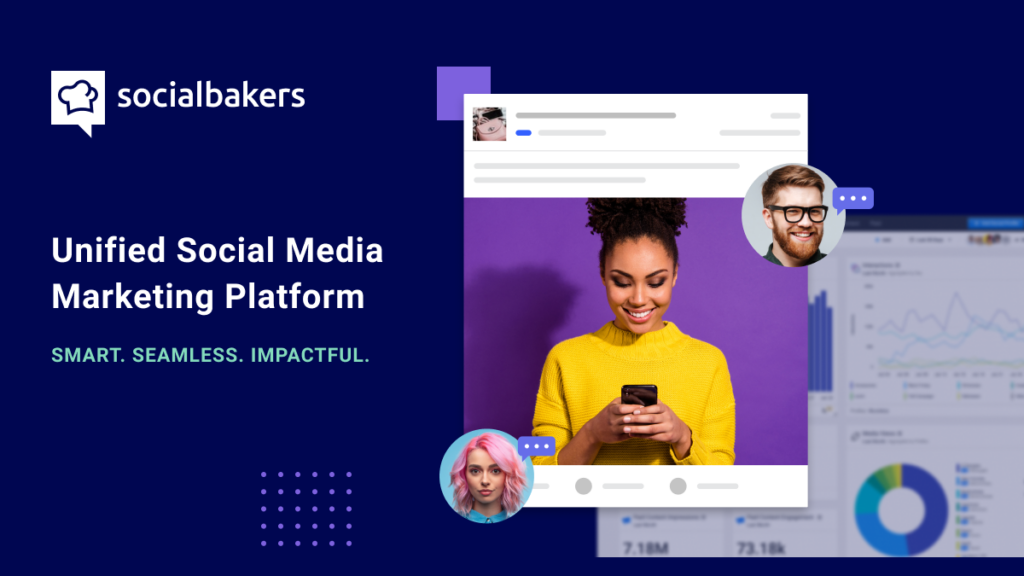 Socialbakers is an AI-powered social media marketing ideas and analytics platform that helps small businesses publish at the correct time to get the most attention and help in generating leads.
With its easy-to-use interface, you can easily measure, compare, and optimize your social media campaigns.
Key features of this tool include:
Social media analytics
Reporting
Publishing
Competitive Ad insights
Predictive intelligence
Data integration
Price: The cost of Socialbakers begins at $200 for 5 users. The advanced plans are only accessible upon request, and it is best to contact them for precise pricing to avoid any future lengthy bills.
12) Zoho Social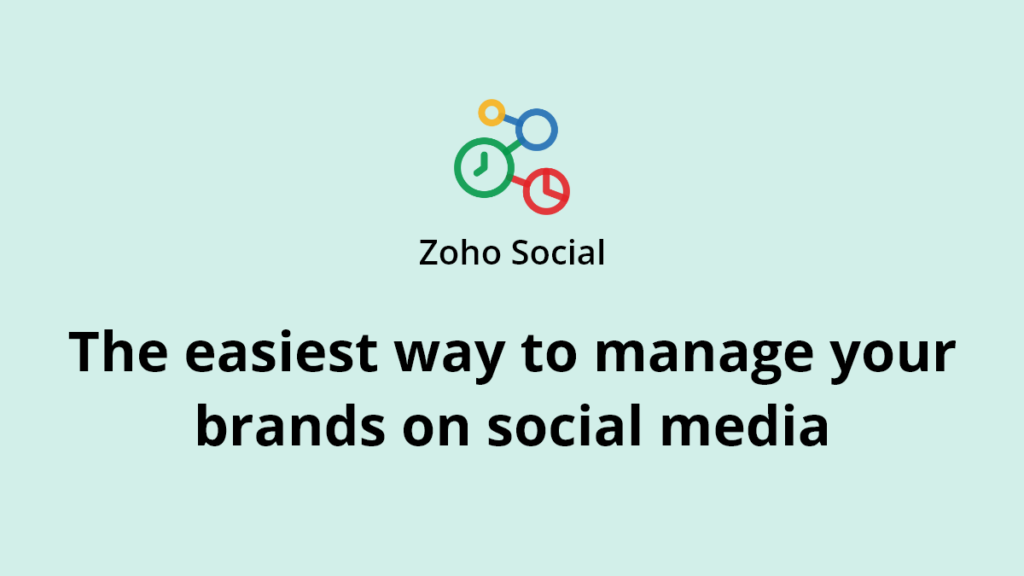 Zoho Social, like Hootsuite, takes social media publishing to the next level with intelligent scheduling choices. It is built with the needs of businesses and agencies in mind, helping them grow their presence on social media.
Key features of Zoho Social:
Social Media analytics
Custom reporting
Social media listening with live streaming
Smart scheduling
Team collaboration
dia profiles from spam and harmful content.
Scheduling and publishing
Real-time collaboration feature
Facebook and Instagram ads comment
Inbox translations for firms that target a global audience
Price: NapoleonCat offers a 14-day free trial, and unlike Hootsuite, you do not need to connect your payment card when testing. Prices for three social media profiles and one user begin at $24 per month.
13) NapoleanCat: Hootsuite Alternatives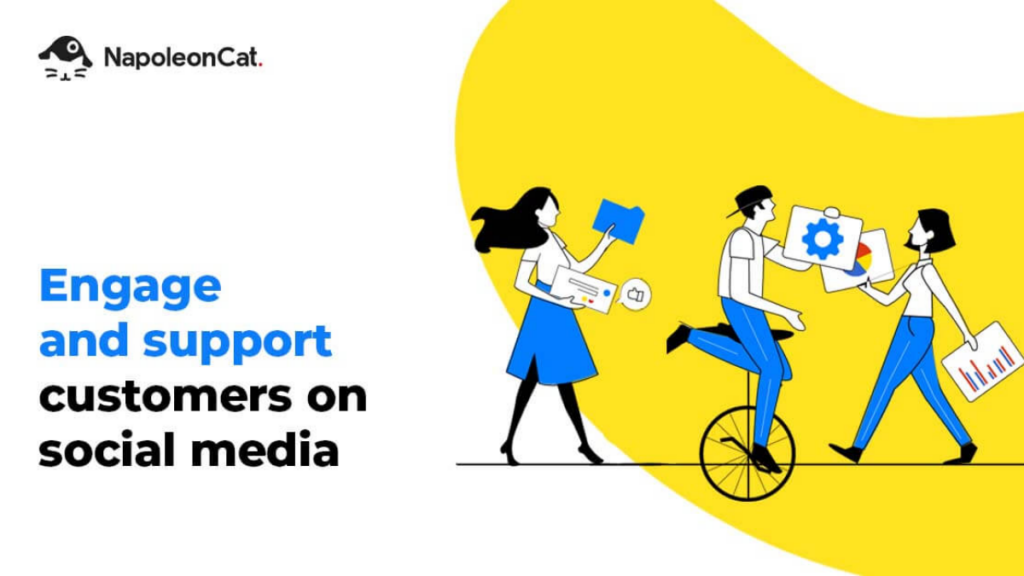 NapoleonCat is a Hootsuite competitor that assists small and emerging businesses in engaging and supporting users on social media. It includes a Social Inbox that aggregates comments, messages, and reviews from various profiles and platforms, including YouTube, Facebook, Messenger, Instagram, LinkedIn, Twitter, and Google My Business.
Some other features offered by NapoleonCat include
Social media analytics and automated reporting
Auto-moderation allows users to set up automatic replies to repetitive questions and shield their social media profiles from spam and harmful content.
Scheduling and publishing
Real-time collaboration feature
Facebook and Instagram ads comment
Inbox translations for firms that target a global audience
Price: NapoleonCat offers a 14-day free trial, and unlike Hootsuite, you do not need to connect your payment card when testing. Prices for three social media profiles and one user begin at $24 per month.
14) Loomly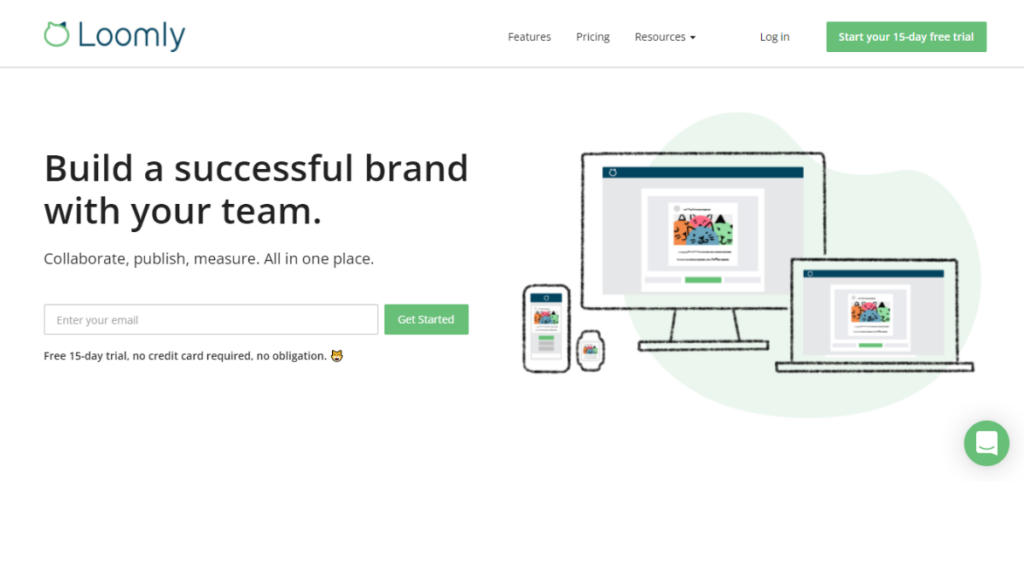 Loomly is a social media management application for entrepreneurs similar to Hootsuite. Loomly offers Slack and Microsoft Teams integrations, which is a positive since Loomly is mostly used for branding and content production. However, unlike other Hootsuite free alternatives, they do not have extensive integrations for large enterprises.
Loomly has a social media schedule and content suggestions but no social inbox. Loomly's plans start at $25 per month and go up to $249 per month!
15) Hootsuite Alternatives: Statusbrew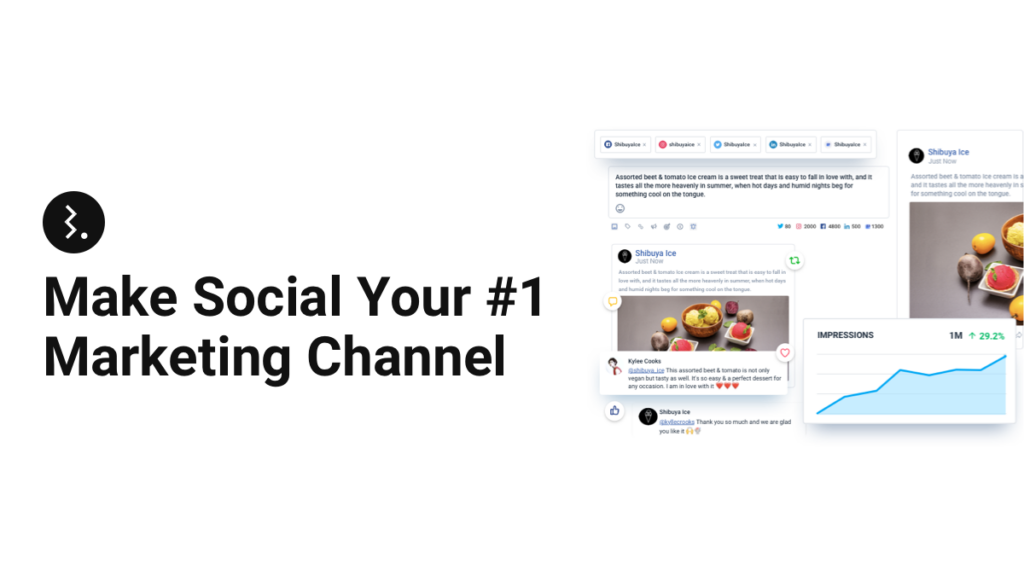 Statusbrew is a tool alternative to Hootsuite with a social inbox and the typical planning highlights. The work process is smooth with cutting-edge consent highlights.
The listening dashboard allows you to monitor continuous happenings, making it the moment's #1 choice among advertisers.
Key features of Statusbrew are
UTM links and shorteners
Ad monitoring
Slack integration
Social media analytics
Team collaboration
Activity dashboard
Price: When invoiced annually, Statusbrew is pricey, costing $129 per month. The ordinary package comes with a 7-day free trial, while the premium version comes with a 14-day trial.
16) MavSocial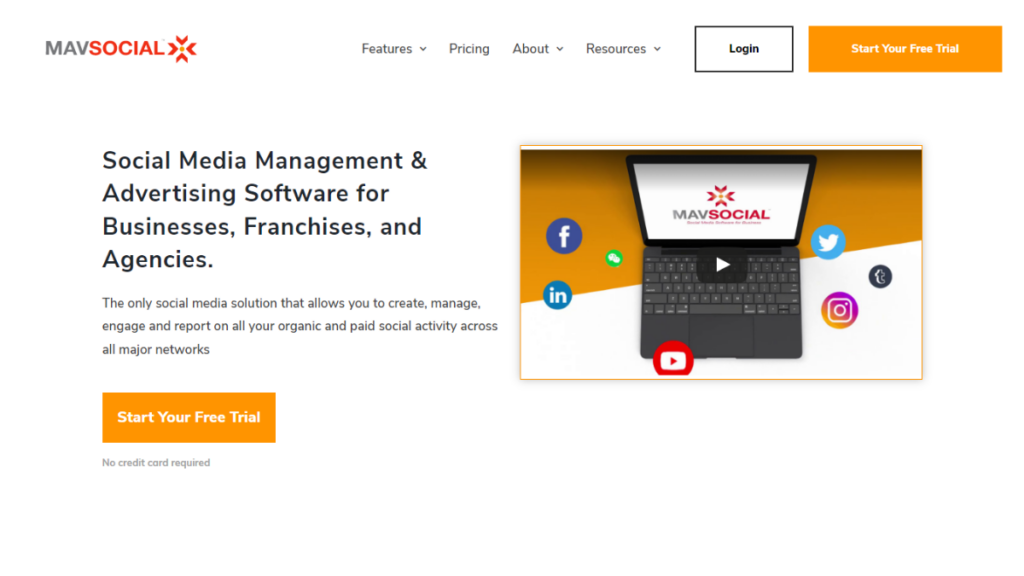 Another Hootsuite alternative, MavSocial, allows you to achieve your visual marketing objectives. It's a one-stop shop for scheduling, analyzing, listening, and teamwork.
MavSocial also has stock photos, so you won't have to waste time making visuals for your social network posts. You can even develop your digital asset library.
Key features of MavSocial are
Campaign Optimization
Workflow Management
Asset Management
Social Analytics
Content Curation
Price: MavSocial costs start at $19 for ten social media profiles for one user. Before purchasing a plan, you can try it out for 14 days for free.
17) Later
Later is a social media management platform that includes a drag-and-drop calendar feature that allows users to schedule articles and preview them before publishing & is one of the best Hootsuite similar apps. Before scheduling your posts to a specific day or time frame, the platform allows you to add finishing touches such as descriptions and hashtags.
You may organize all of your images and videos in a central location called the media library as a Later user. You may use the tool to import media from various places, including Dropbox and Google Drive.
Pricing: Unlike Hootsuite schedules, Later allows users to create a free account. Hootsuite costs $49 per month (up to 10 social accounts), while Later is $8 per month and offers 30 posts per social profile.
18) SocialOomph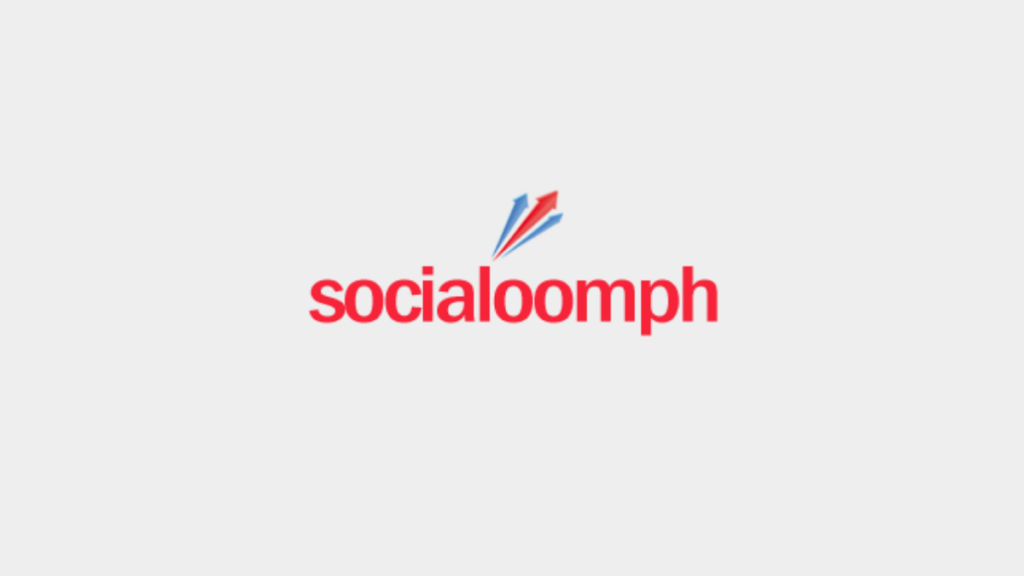 Originally, Social Oomph was designed as a Twitter automation and management tool. However, after a few years of operation, they discovered that they could achieve much more. They expanded their services to include additional social media platforms, including LinkedIn and Facebook.
Features of Social Oomph
It allows you to manage your LinkedIn, Facebook, Twitter, Pinterest, and other social media accounts. Tumblr, blogs, RSS feeds, Plurk, and App.net, can also be managed.
You can even manage an unlimited number of accounts with the free plan.
It uses smart DM management to keep you away from spam.
One of the greatest free alternatives to Hootsuite is Social Oomph, which offers a simple and easy-to-navigate UI.
Pricing levels for Social Oomph start at $15 per month.
19) Falcon.io: Hootsuite Alternatives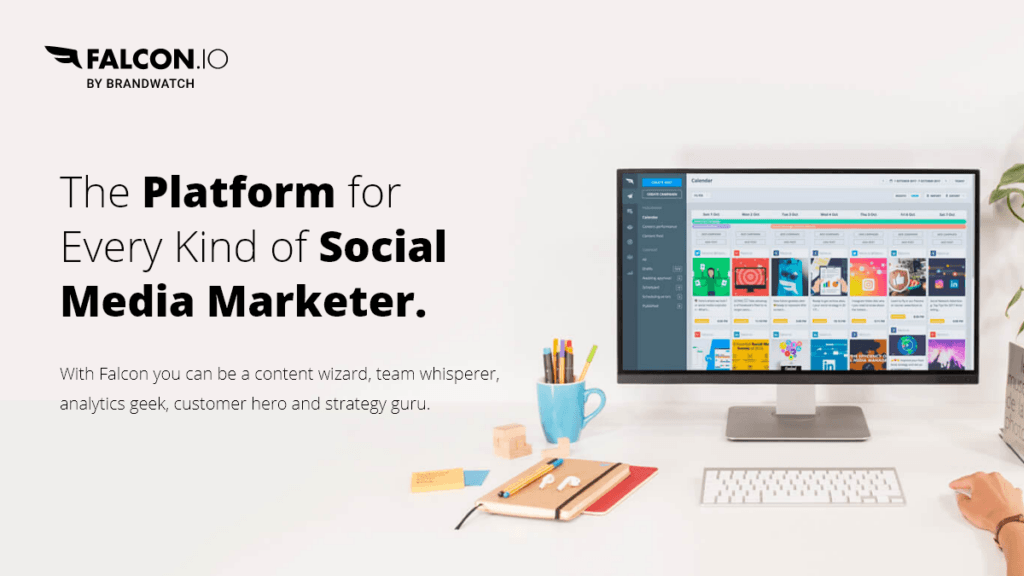 Falcon.io, a cloud-based service for social media management and customer experience, is the next option on our list of Hootsuite alternatives. Although a few are missing, they have almost all of Hootsuite's star characteristics.
Marketers, solopreneurs, and agencies can benefit from their services. A visible calendar and an auto-queue are two of their key features, and their calendar is jam-packed with content creation and scheduling choices. However, RecurPost, one of the Hootsuite alternatives listed above, also offers the same feature.
There are just two plans available, with prices starting at $129 per month. The price rises with the add-ons you select!
20) Social Clout: Hootsuite Alternatives
This social media marketing tool is designed to help you get the most out of your social media efforts to engage with your audience. As a result, it provides extensive reports based on scientific data analysis that assist you or your company make better decisions.
You can also use Social Clout to analyze your competitors' profiles to see how you stack up against them.
Plans and Costs
It has a free plan as well as three paid options, which are shown below:
Value: around $99.00 per month
Starter: approximately $49.00 per month,
Enterprise: There are no set costs because you need a quote based on your needs.
Features
You can handle Facebook, Instagram, Twitter, LinkedIn, YouTube, and other social media platforms. You may also manage online forums, news sites, blogs, and other websites.
It lets you track your brand's mentions on social media.
For the first 30 days, you can use the Starter premium plan for a free Social media calendar.
Price: All memberships include a 15-day free trial, and the best starting package for agencies is $200 per month for 5 users. If you're looking for a Zoho Social replacement, RecurPost is a flexible and user-friendly option.
Wrapping Up
RecurPost is a social marketing tool, although competitors such as Hootsuite provide consumers with newer USPs and greater outcomes at a lower cost.
If you want to develop a successful social media strategy, your team will require the correct management tool. You're sure to find your match with the thorough selection presented above. Knowing how to add a business to google will also help you grow your business drastically with these 20 Hootsuite Alternatives tools.
Furthermore, agencies' finances are often tight, so spending on a service like Hootsuite should be considered carefully. With tools like RecurPost, this isn't a problem any longer. RecurPost is also one of the best everypost alternatives, Stay ahead of the game by signing up for a 14-day free trial. Develop a sound strategy and use the appropriate social media management platform to make branding easier.
Frequently Asked Questions
1) Is there a better alternative to Hootsuite?
While this is entirely subjective, you can argue that other platforms are better than Hootsuite. It depends on what features you need and what price you're willing to pay monthly or annually. If you're a social media manager, you'd have to decide which Hootsuite features you need. Then look for an alternative that offers the same things, such as RecurPost.
2) Is there a free alternative to Hootsuite?
There are other alternatives to Hootsuite that have free plans. However, all of them will have limitations in one way or another. 
3) What is the best Hootsuite alternative?
– RecurPost
– Buffer
– Social Pilot
– Meet Edgar
– Sendible
– AgoraPulse
– CoSchedule
– eClincher
– Sprout Social
– PromoRepublic
– SocialBakers
– Zoho Social
– NapoleanCat
– Loomly
– Statusbrew
– MavSocial
– Later
– Social Oomph
– Falcon.io
– Social Clout
4) Which is better: RecurPost or Hootsuite?
RecurPost is one of the top free HootSuite alternatives since it includes advanced capabilities such as recycling your evergreen content. In addition, when you buy a yearly plan from RecurPost, you get two months free! As a result, HootSuite is significantly more expensive than RecurPost.
5) Is Hootsuite the best tool?
Hootsuite is more expensive, but it can be worth it if you require numerous individuals to monitor your social media accounts. You may now add up to 20 social profiles, get bespoke analytics reports, and remove the scheduling restriction. However, compared to Hootsuite pricing, RecurPost pricing is the most cost-effective and offers the same features as Hootsuite.
Debbie Moran is a Digital marketing strategist with 5+ years of experience producing advertising for brands and helping leaders showcase their brand to the correct audience. She has been a part of RecurPost since 2019 and handles all the activities required to grow our brand's online presence.