Sprout Social is a social media management software designed to help brands to communicate with their audience, manage their presence and track their performance across multiple social platforms.
It's a tool that comes with a range of functionalities that streamline social media management activities, including content scheduling, monitoring, analytics, and team collaboration.
Below, we are going to have a look at the balanced and in-depth review of Sprout Social, which will help you find out whether it is the perfect social media management tool for your business or not.
Let's begin.
Sprout Social is Suitable for: Medium and Large Enterprises, Social Media Managers, Freelancers and Consultants, Influencers and Bloggers.
Sprout Social Ratings
Although Sprout Social offers quite a range of features, newer and more feature-rich options have emerged, and among them, RecurPost stands out as an exceptional choice. Let us compare the two to see which one of the social media management tools is the best fit for your case.
When comparing RecurPost to Sprout Social, it becomes evident that RecurPost offers a significant advantage with its advanced features and seamless management of social media accounts.
RecurPost provides access to a wide array of powerful tools, such as recurring schedules, AI assistant, best time schedules, white-label reports, and much more. These features surpass what Sprout Social currently provides, making RecurPost a compelling and promising alternative.
| Feature | Sprout Social | RecurPost |
| --- | --- | --- |
| Star Rating (Out of 5) | 4.4 | 4.3 |
| Meets Requirements (Out of 10) | 8.5 | 9 |
| Ease of Use (Out of 10) | 8.9 | 9.1 |
| Quality of Support (Out of 10) | 8.8 | 8.3 |
| Product Direction (Out of 10) | 8.8 | 8.1 |
| Pricing per month (5 accounts) | $249 | $25 |
Sprout Social user ratings compared with RecurPost
Sprout Social Reviews
Positive Reviews
I work in marketing and report to professionals who don't have as much marketing expertise as me. Having a dashboard view of the social media statistics really helps me explain and analyze the significance of changes.

~ Tara C. (Capterra link)
We most like the ability to manage multiple accounts easily. We manage over 20 social media accounts across several platforms using Sprout Social and we have always found it very intuitive and easy to use. Adding new accounts is easy and there are several features that add value to the product that we use regularly.

~ Greg A. (Capterra link)
The snippet of information is beautiful. A very specific utility for finding specific information is the export to pdf capability, which is really nice. It is non-commercialized and adds value to my research and observations of air currents. Anyone who is at the forefront of their community is making a great effort to look like the real thing, rather than simply trying to get individuals to sign up for their internet course. One of the first things I perceived about Sprout was its reliability of the publishing module. I haven't stopped utilizing it in the sixteen+ months I've been utilizing it, and it's straightforward to navigate to update scheduled posts I've made.

~ Kelly S. (Capterra link)
I have been using Sprout Social to manage my social media presence for quite some time now and I can honestly say that it has been an absolute pleasure. The dashboard is extremely user-friendly and intuitive, and the features are laid out in a very logical way. It's easy to manage multiple accounts and the reporting features are great. Highly recommend!

~ Dieudonné K. (Capterra link)
I've been using Sprout Social for a couple of months now and I'm really impressed with the features and the ease of use. The interface is intuitive and there are plenty of features to help manage and monitor your social media accounts. Scheduling posts is really easy and the analytics provide great insights for improving your social media strategies.

~ Yasmeen Y. (Capterra link)
Negative Reviews
Just about everything else. The data is often inconsistent and incorrect. They will tell you that they're just tapping the APIs, which is a nice way of pointing the finger, but it's also telling us we may as well just go straight to the source and bypass these problems. We're spending way too much time cross-checking the data we get from Sprout, which really means we're the dummies for bothering with this in the first place.

~ Mike P. (Capterra link)
Quite a lot. Lack of customer service. Unclear billing. Hidden fees beyond subscription plan. On-going fees and recurring costs with no clear indication of what these are for.

~ Sinead M. (Capterra link)
It is 10 times easier to use Facebook and Instagrams native tool for handling comments. A response that would normally take 5 seconds on FB and IG would take 5 times longer on Sprout. There were many glitches in the software that made it unusable as well. The support and onboarding were not helpful at all. I reached out multiple times and never got responses until I said I was going to cancel, and even then they couldn't help. And of course they locked me into a full year contract and after 3 weeks we wanted to cancel but they wouldn't help us at all.

~ Daniel L. (Capterra link)
The platform is very difficult to use we do not understand how to put the product online sometimes, there are even advertisements that do not go away automatically.

~ Liv S. (Capterra link)
In my opinion, this entire system could be updated. The time it takes to complete simple tasks, for instance, rescheduling multiple posts is staggering mostly because there isn't a drag and drop feature. Changes to the calendar should appear in real time instead of having to click between multiple pages to see drafts, dates, etc. Drafts disappearing from the calendar when they haven't been scheduled is also an issue–they should just go into a "drafts folder" when that happens. Direct publishing to Instagram for videos is a huge issue. Every video published from Sprout has a black box present on the feed when the post goes live meaning that we have to manually fix it every time. Sometimes hidden tags do not show up on Instagram. The permissions levels do not make sense therefore the app that it meant to tell you when posts fail in real time doesn't actually work.

~ Abigail A. (Capterra link)
Sprout Social: Pros and Cons
Pros
Comprehensive Social Media Management:
One of the main attractions of Sprout Social is its ability to seamlessly manage multiple social media platforms from a singular, intuitive dashboard. The supported platforms include major ones such as Facebook, Twitter, Instagram, LinkedIn, Pinterest, and more. This means that rather than having to individually log into each account, users can post content, engage with followers, and monitor performance across all their accounts from one place. It's a true time-saver and reduces the chances of missing critical social interactions.
Robust Analytics:
In today's digital landscape, data is king. Sprout Social understands this, offering robust and in-depth analytics that go beyond surface-level metrics. Users can track engagement, audience growth, post-performance, and more across all their social accounts. Plus, it's all presented in clear and easy-to-understand reports. These data-driven insights allow businesses to gauge what's working and what isn't, refine their strategies, and ultimately foster better connections with their audiences.
Social Listening:
In an era where every consumer has a voice, monitoring what's being said about your brand on social media is essential. Sprout Social's social listening features allow businesses to track and analyze brand mentions, keep an eye on competitors, and stay on top of industry trends. This means businesses can understand the sentiment behind these conversations and use that information to inform their marketing strategies, customer service, product development, and more.
Customer Relationship Management (CRM):
Sprout Social comes equipped with CRM capabilities that help businesses build and maintain relationships with their customers. By keeping track of all customer interactions, businesses can provide more personalized and timely responses. Over time, these improved interactions can lead to stronger customer relationships, higher engagement rates, and increased customer loyalty.
Team Collaboration:
Managing social media can be a team effort, and Sprout Social has built-in features to accommodate this. For instance, tasks can be assigned to different team members, and workflows for content approval can be established. Shared content calendars give everyone a clear overview of what's being posted and when, eliminating confusion and overlapping efforts. These features make it easier for teams to collaborate efficiently, which can lead to more effective social media management overall.
Cons
Pricing:
One of the most notable drawbacks of Sprout Social is its pricing. Compared to other social media management tools like RecurPost, it is significantly more expensive. While it offers a broad range of features, its cost might be prohibitive for small businesses or individual users who have tighter budgets. This can potentially limit its accessibility to only medium-sized to large businesses or those with a substantial social media budget.
Learning Curve:
While Sprout Social is a powerful tool, some users might find it somewhat challenging to navigate initially. Its extensive range of features might be overwhelming, and it can take time to fully understand and utilize all of its capabilities. Although this learning curve can be surmountable with time and usage, it's something to consider for businesses that need a more straightforward and easy-to-use tool.
Limited Customization Options:
While Sprout Social offers a range of reporting and dashboard options, it may not be as flexible as some users might prefer. The ability to customize reports and dashboards to suit specific needs is important for many businesses. If users have very particular needs or preferences for how their data is displayed, they might find Sprout Social's customization options somewhat lacking.
Limited Automation Features:
Compared to some of its competitors, Sprout Social's automation features may seem limited. This includes the automation of certain repetitive tasks, like scheduling posts at optimal times based on audience behavior. Users who require more sophisticated automation features might find Sprout Social lacking in this aspect.
Inadequate Customer Support:
Some users have reported that Sprout Social's customer support can be slow to respond to queries or solve issues. While this is a common challenge among many software providers, it's an important factor to consider, especially for businesses that may need quick assistance or run 24/7 operations.
Sprout Social Pricing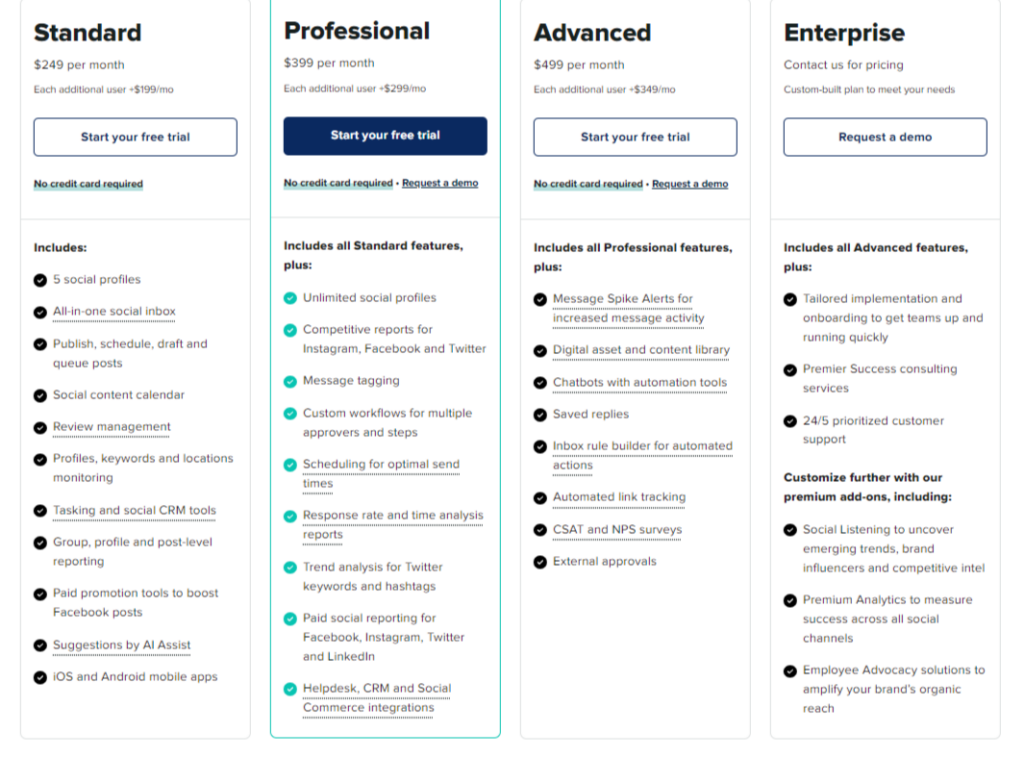 Sprout Social offers a variety of pricing plans to cater to different needs and budgets. The 'Standard' plan, which is the most basic offering, costs $249 per month. It provides the core features required for social media management but is limited in terms of advanced capabilities.
Next is the 'Professional' plan priced at $399 per month. This plan offers additional features like competitive reports for Instagram, Facebook, and Twitter, and added customer care tools, which can be beneficial for growing businesses that need to track their performance against their competitors and engage more deeply with their customer base.
Their 'Advanced' plan, costing $499 per month, offers all the features of the Professional plan with some extras. These include message spike alerts for sudden increases in message volume and digital asset and content library, which is beneficial for larger businesses or agencies handling multiple accounts.
Lastly, Sprout Social also provides an 'Enterprise' plan with custom pricing. This option is tailored for large organizations or agencies with specific needs that cannot be met by the standard plans. The Enterprise plan offers more advanced tools and customized solutions, with the price determined based on the specific requirements of the business.
Price Comparison
While Sprout Social's pricing tiers offer a range of options, it's important to note that compared to some other tools on the market like RecurPost, Sprout Social's pricing can be relatively high, especially for small businesses or individual users.
Here's a side-by-side comparison of the pricing plans for both Sprout Social and RecurPost:
| Plan | Sprout Social ($/month) | RecurPost ($/month) |
| --- | --- | --- |
| Basic | $249 | $25 |
| Advanced | $499 | $79 |
| Free trial | Available for 30 days | Available for 14 days |
Sprout Social Features
Social Listening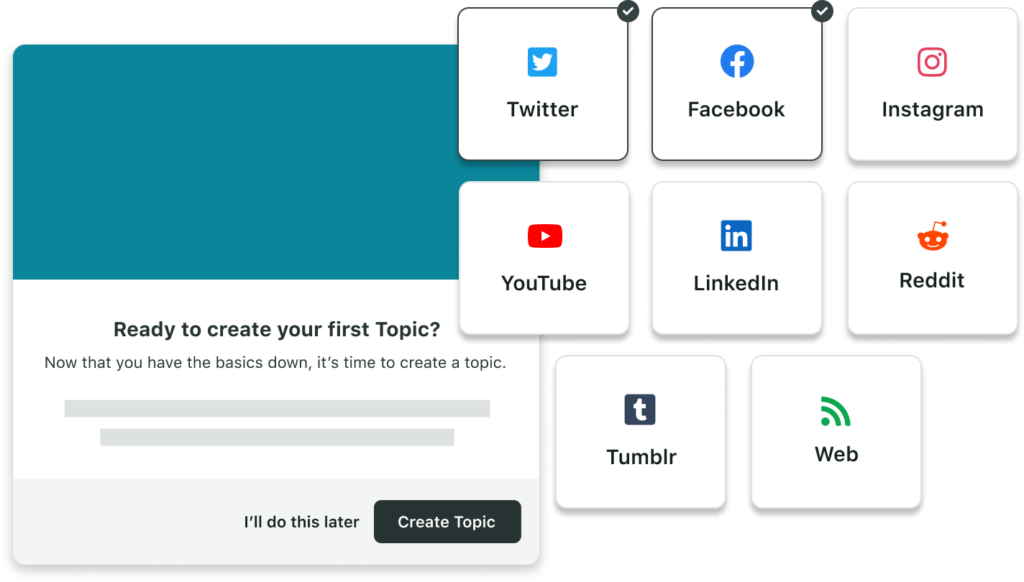 This feature extends beyond merely tracking likes or shares. With Sprout Social, you can monitor brand mentions across multiple platforms, track usage of specific keywords, and keep an eye on competitor activities. This deeper level of understanding helps in identifying opportunities for engagement, discerning the general sentiment around your brand, and keeping up with industry trends. The promptness this feature allows can enhance your brand's reputation for responsiveness and engagement.
Analytics and Reporting
Sprout Social provides a robust suite of analytics tools that offer actionable insights into your social media performance. Comprehensive reports give a clear understanding of audience engagement, the success of individual posts, and the effectiveness of entire campaigns. These data-driven insights can inform your content strategy, help refine marketing tactics, and measure return on investment.
Team Collaboration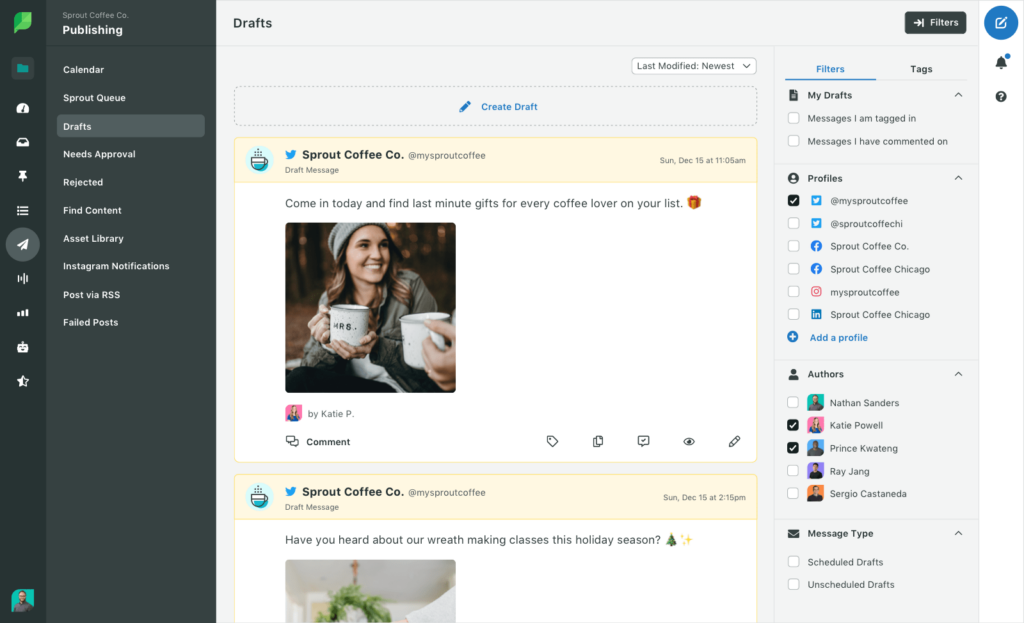 Sprout Social's team collaboration tools are vital for businesses with a team-based approach to social media management. They allow for easy task assignments, approval workflows to maintain content consistency and quality, and shared content calendars to ensure everyone is in sync. These features foster efficient collaboration and streamline the social media management process.
Response Rate and Time Analysis
An important aspect of customer service on social media is prompt and efficient response. Sprout Social provides analysis on how quickly and effectively your team responds to customer messages. This can help identify bottlenecks, streamline your response process, and improve overall customer service.
Competitive Benchmarking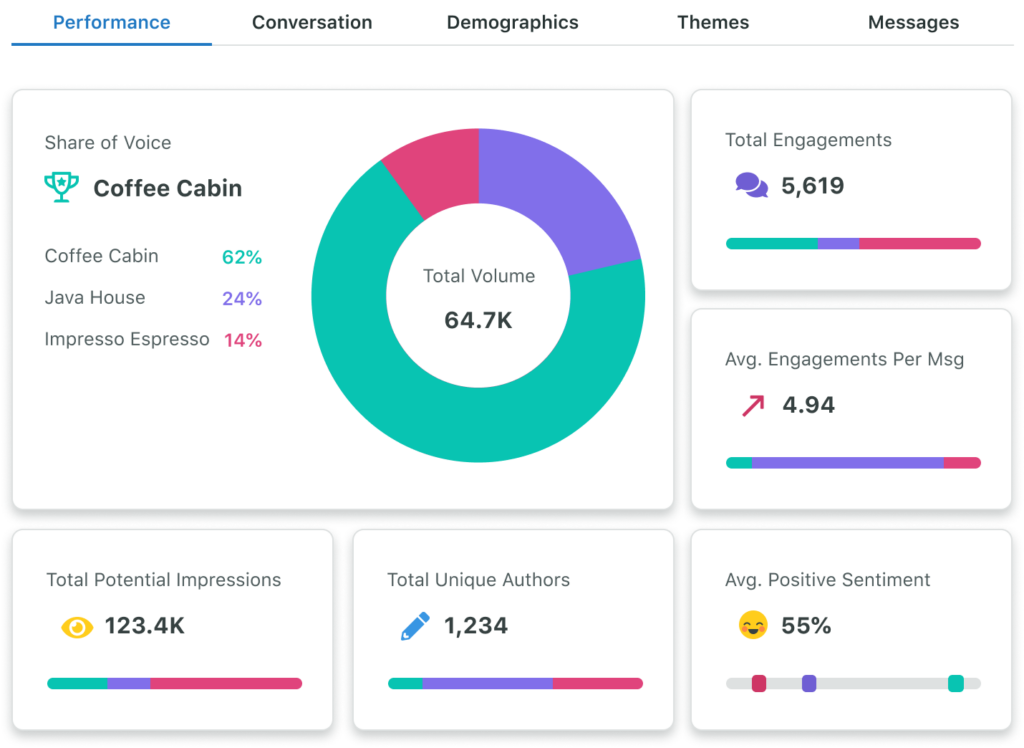 With Sprout Social, you can directly compare your social performance with that of your competitors. By understanding where you stand in terms of follower growth, engagement rates, and content success, you can adjust your strategies to stay competitive in your industry.
Content Library and Digital Asset Management
Included in the Advanced plan, this feature allows you to centrally store, manage, and organize all your digital assets. This can include images, videos, and posts. This centralization facilitates easy access and efficient use of your resources, streamlining the process of planning, creating, and publishing content.
Final thoughts
While Sprout Social has robust functionalities, its pricing can be a roadblock for many. On the other hand, RecurPost, with its affordable pricing and wide array of features, presents a compelling alternative. It's not just about cost savings – it's about getting more value for your investment.
With RecurPost, you're not just managing your social media, but efficiently running your online presence. Consider RecurPost as your ultimate social media management tool and the perfect Sprout Social alternative!
Get a firsthand feel of RecurPost's capabilities by utilizing its free trial. This trial period allows you to assess its features, providing you with a genuine understanding of its offerings!
Frequently Asked Questions
1. What social media platforms does Sprout Social support?
Sprout Social supports scheduling posts on Twitter, Instagram, LinkedIn, Facebook, Pinterest, YouTube, and TikTok.
2. Is Sprout Social worth the pricing?
Sprout Social offers useful features, but there are more cost-effective social media management tools available, particularly for medium to large enterprises. Agencies can find cheaper alternatives, such as RecurPost, which fills the gaps at comparatively lesser costs.
3. Does Sprout Social have a free plan?
No, Sprout Social's pricing plans start from $249 per month. You can obtain a 30-day free trial.
4. What are the limitations of Sprout Social?
The limitations of Sprout Social include its higher cost compared to similar tools, a learning curve due to extensive features, limited customization options for reports and dashboards, absence of a free plan, and the need for an upgrade to access more comprehensive functionalities.
5. Which is the best Sprout Social alternative?
If you're looking for a great alternative to Sprout Social, look no further than RecurPost. It offers affordable pricing and the convenience of managing multiple social media accounts in one dashboard. You can take the free trial to experience its features.