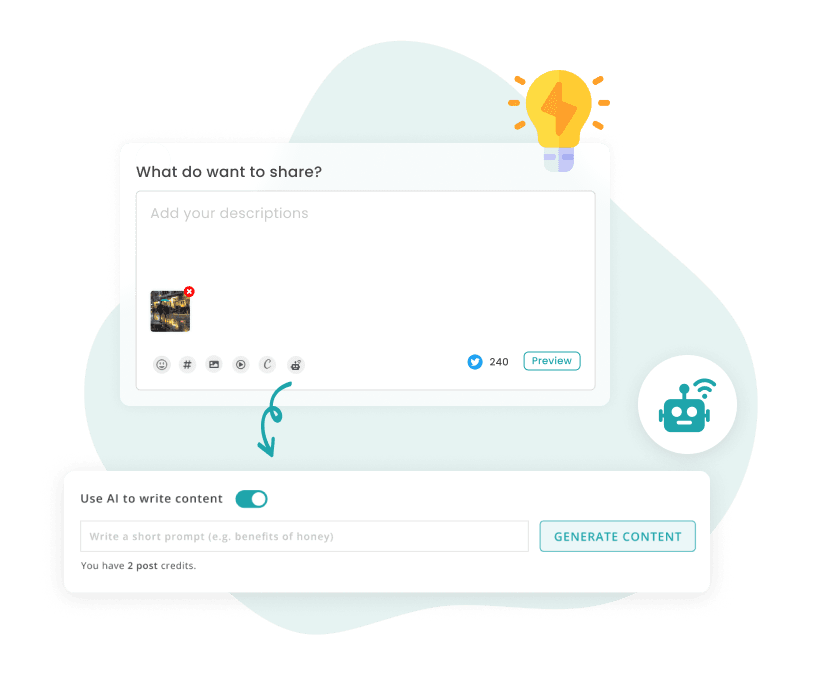 Out of Post Ideas? Our AI Assistant Has Got You!
Feeling stuck in a social media content rut? No worries, we've got your back! Our AI assistant is here to help you break free from the mundane and inject some personality into your posts. 

Forget uninspired content and say hello to a world of endless possibilities. Our AI assistant will generate unique and engaging content that will keep your followers on their toes and wanting more.

So sit back, relax, and let our AI assistant do the heavy lifting. Whether you're a social media guru or a newbie, our AI assistant will help you. It's time to take your social media game to the next level!
Create AI Content That Has The Ability to go Viral
Are you tired of watching your social media posts fall flat? Are you looking for a way to create content that has the potential to go viral? Look no further, because our AI content generator tool is here to turn your dreams into a reality! 
With the ability to generate unique, attention-grabbing content, your posts will be the talk of the town in no time. Whether you're looking to create videos, images, or text-based content, our AI technology has got you covered. 
So why settle for mediocrity when you can achieve greatness? Try our AI content generation tool today and unleash the viral potential of your social media content!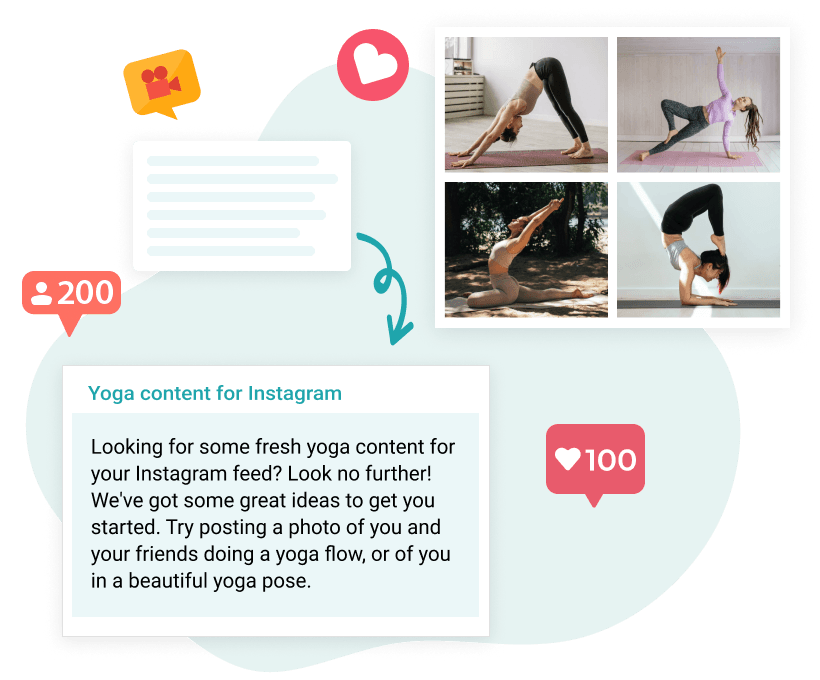 " I've used many scheduling tools over the years and RecurPost is the one that saves me the most time. I can load it up with posts for clients and my own blog content and then not have to touch it again for weeks. I also love having the ability to stop and start libraries at the touch of a button, which is so important in an ever changing news environment. "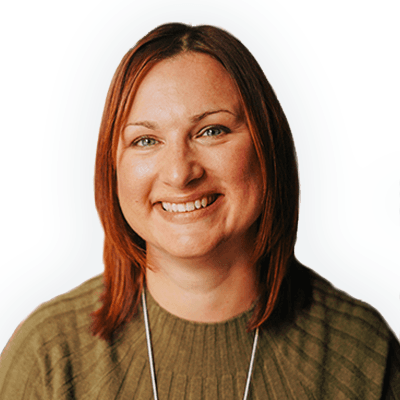 Claire Hall
Freelance PR Consultant and Travel Blogger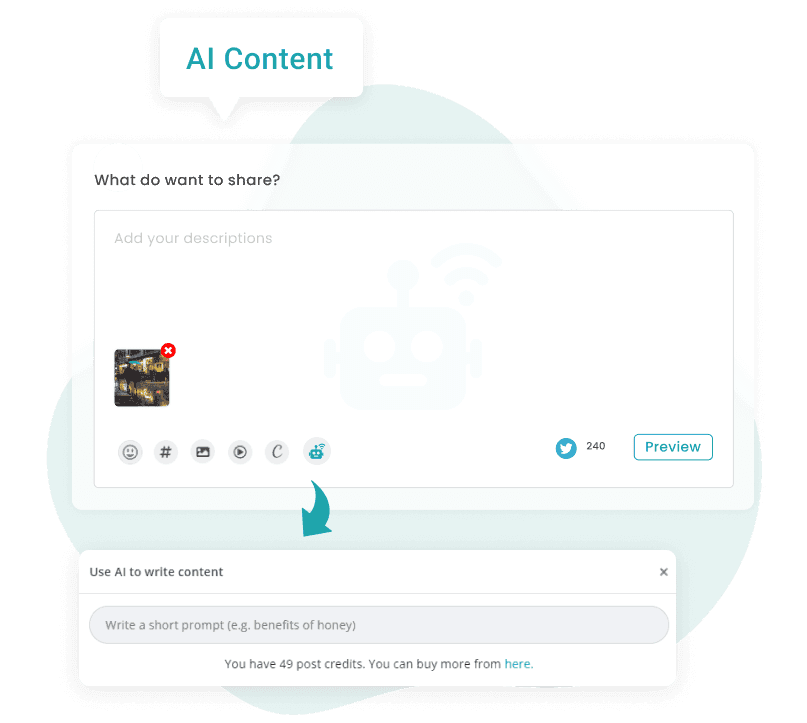 AI Content & Stock Images: A Match Made in RecurPost!
Searching for the perfect image to complement your AI-generated social media post? Look no further, because RecurPost offers seamless integration with stock images, allowing you to create the perfect visual content to go along with your clever captions. 

From cute kittens to stunning sunsets, our stock images have got it all. With just a few simple prompts, our AI technology will generate the perfect content to match your chosen image, making your posts a match made in RecurPost heaven. 

Thus, you can create the perfect post with our winning combination of AI-generated content and stock images. Try it out today and see for yourself!
Work Smarter, Not Harder With Our AI Assistant
Are you tired of spending hours brainstorming social media post ideas, only to end up with a lackluster result? Do you wish you had more time to focus on other aspects of your business? Then it's time to work smarter, not harder, with our trusty AI content generator! 
Our AI content generation tool is designed to save you time and increase your productivity, so you can focus on the things that matter most. With just a few simple prompts, our AI technology will generate high-quality content that will leave your followers in awe. 
Our AI assistant will help you create content faster than you can say 'Recurlution'! So why wait? Take a break and grab a cup of coffee, while our AI assistant does the work for you. With RecurPost, working smarter has never been easier!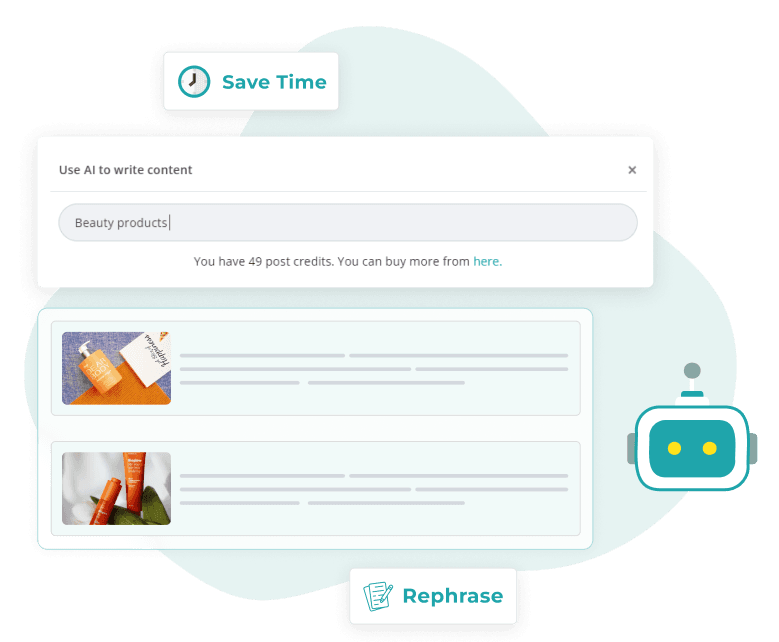 Say Goodbye To Writer's Block
Do you often find yourself staring at an empty screen, hoping to be struck by a bolt of inspiration? Say farewell to writer's block, because our innovative AI content generator is here to save the day! 
Within a few seconds, our advanced technology will produce high-quality content that will leave your audience captivated. No more struggling to concoct the perfect post idea or dedicating hours to polishing your wording. Our AI assistant has got your back! 
So why wait for inspiration to strike when you can generate it yourself? Bid adieu to writer's block and usher in a new realm of boundless opportunities with RecurPost's AI content generation tool. 
Give it a whirl today and prepare to unlock your creative potential!

RecurPost reviews show that customers love us
Over 90,000+ happy users and counting.
Frequently Asked Questions