Collaborate, Organize and Manage Better with RecurPost's Workspaces
Change the way you manage your social accounts with unlimited workspaces
Get Organized with Workspaces
When you are managing a lot of social media accounts, your dashboard might look a bit cluttered. The same goes for libraries. Even 15-20 libraries can make you feel like a lot is going on with your social accounts! This is where workspaces can help. You can create different workspaces to divide your social accounts and libraries into different spaces. Then, whenever you schedule Facebook posts, schedule LinkedIn posts, schedule Instagram posts, or schedule tweets, things would look much more sorted and simple.
For example, if you manage multiple clients then you can create a workspace for each client, or if you have multiple team members, they can create a workspace for each member where common libraries are shared across everyone. This way, you will not be overwhelmed by all the information showing up together and will be able to organize your content well while focusing on one thing at a time.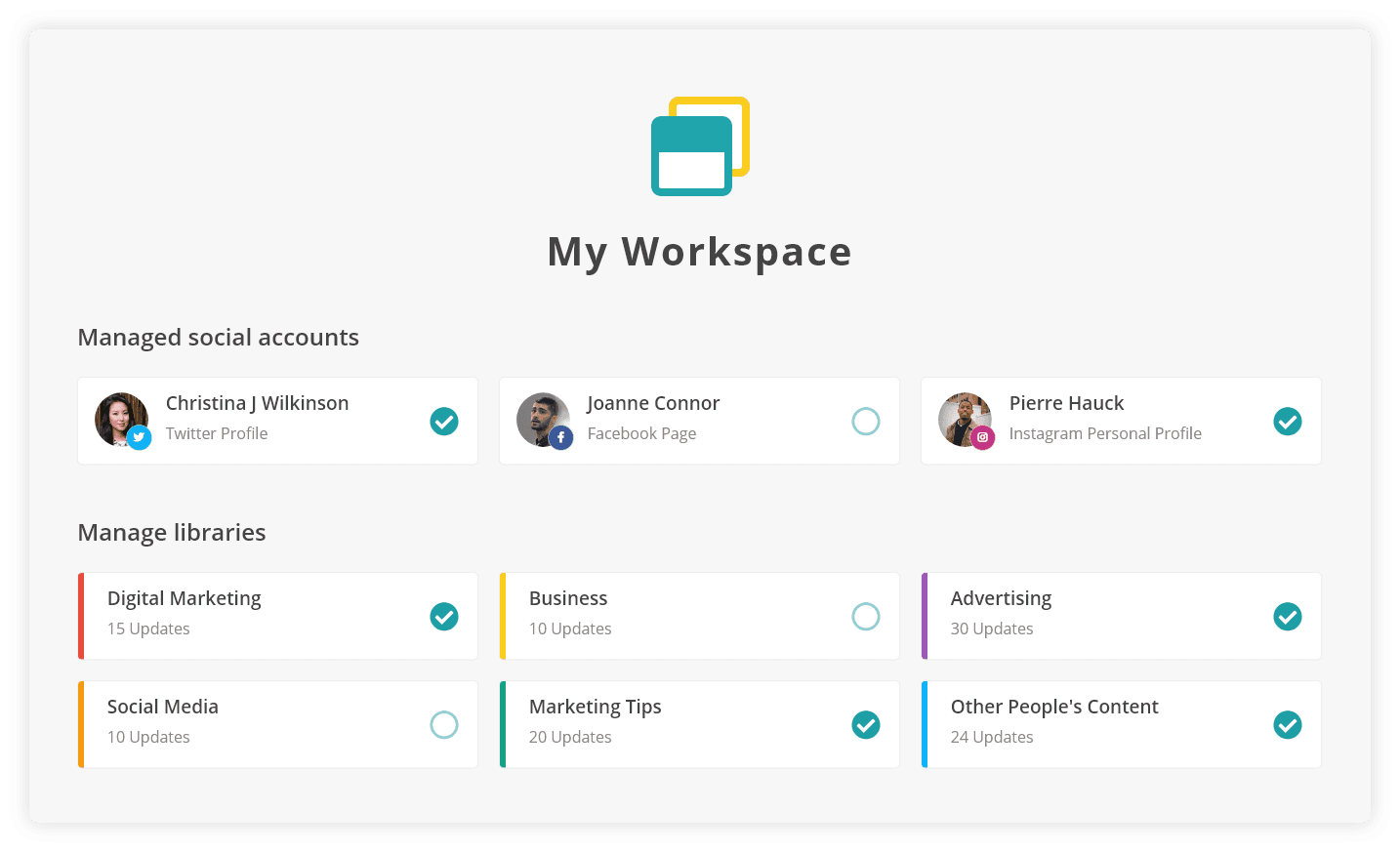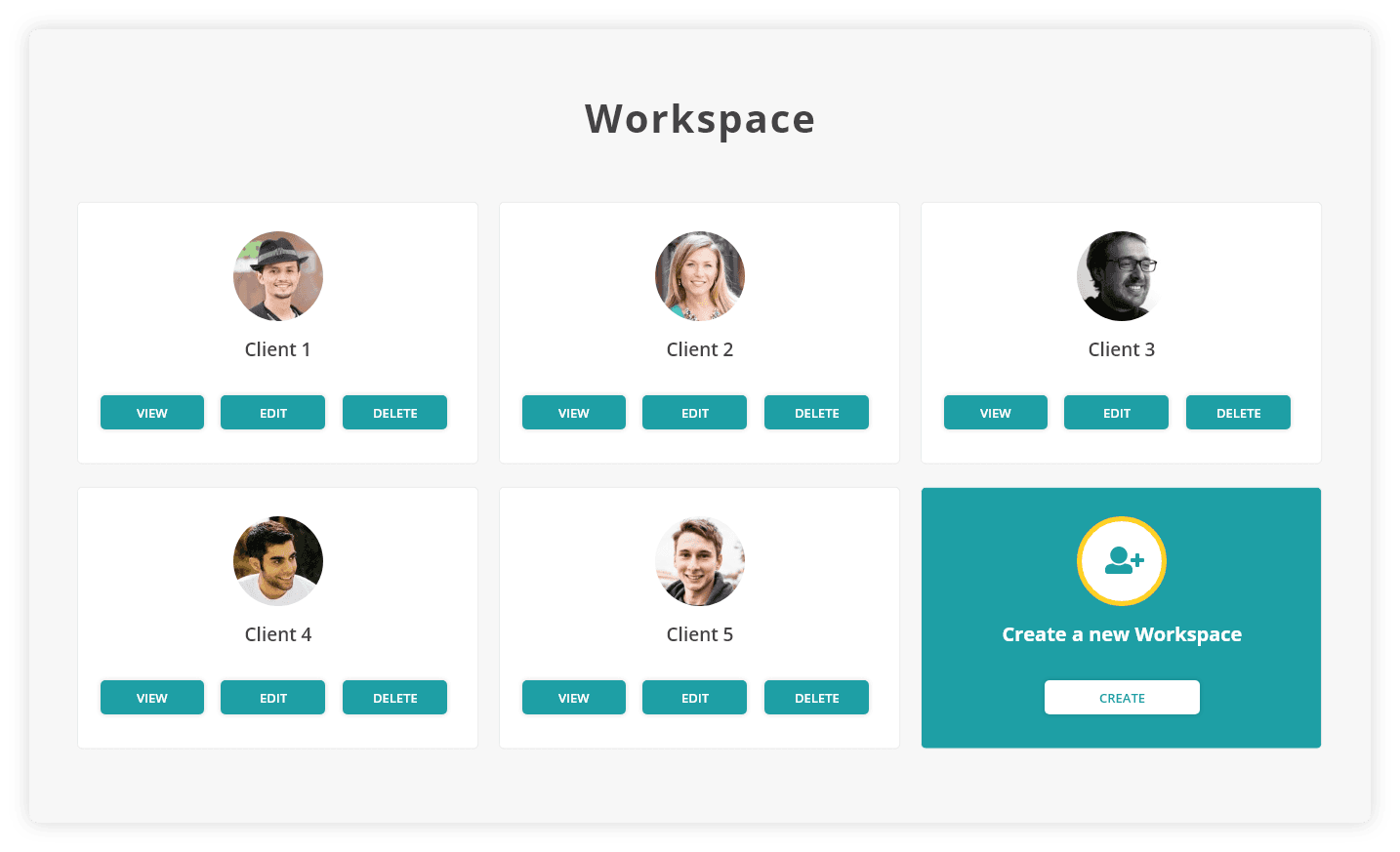 Posted on a wrong profile? Not with RecurPost!
When you are working with different clients and managing their social media accounts, it's important to be able to keep each client's content separated from everything else. And how can you do that? By creating Workspaces!
That way you can make sure that you don't post or schedule anything on the wrong profiles by mistake. You can keep every clients' social media accounts and libraries in one space, which is best for freelancers and agencies who deal with a plethora of clients. Organization at its best!
Delegate Tasks to Team Members like a Pro You are!
A task done in coordination is a task well-done. Following the same belief, our social media scheduling tool allows you to add, manage, and work with your team members or VAs so as to gain maximum control and efficiency in your workplace.
All the workspaces that you create can be shared with your team members who have a RecurPost account. They don't need to purchase any plan for managing your workspaces! This can be effectively used to delegate the management of social accounts of different clients to dedicated team members. The number of team members that you can invite depends on the plan that you are on.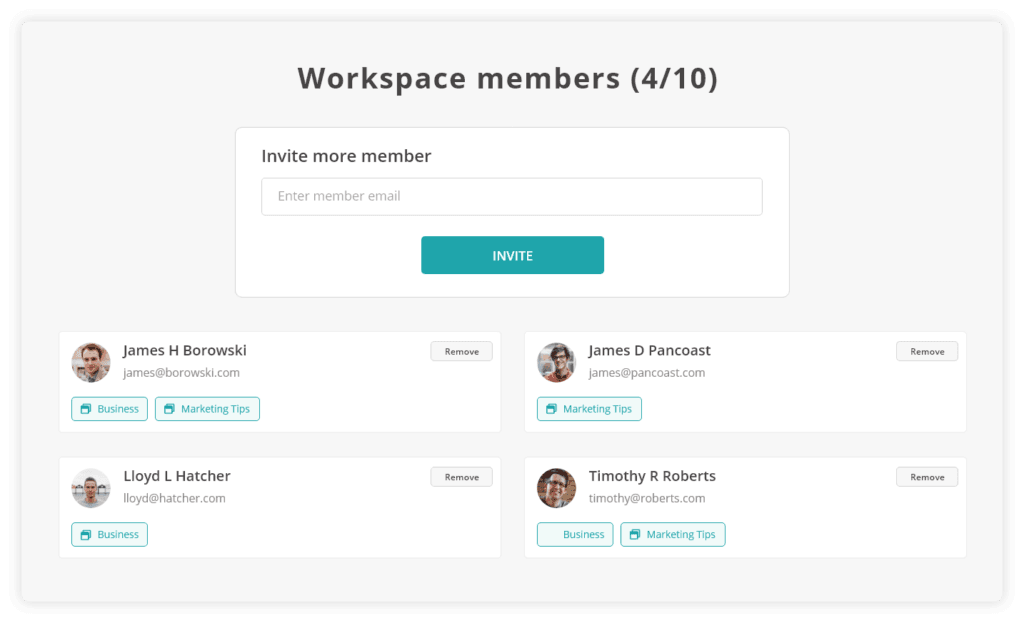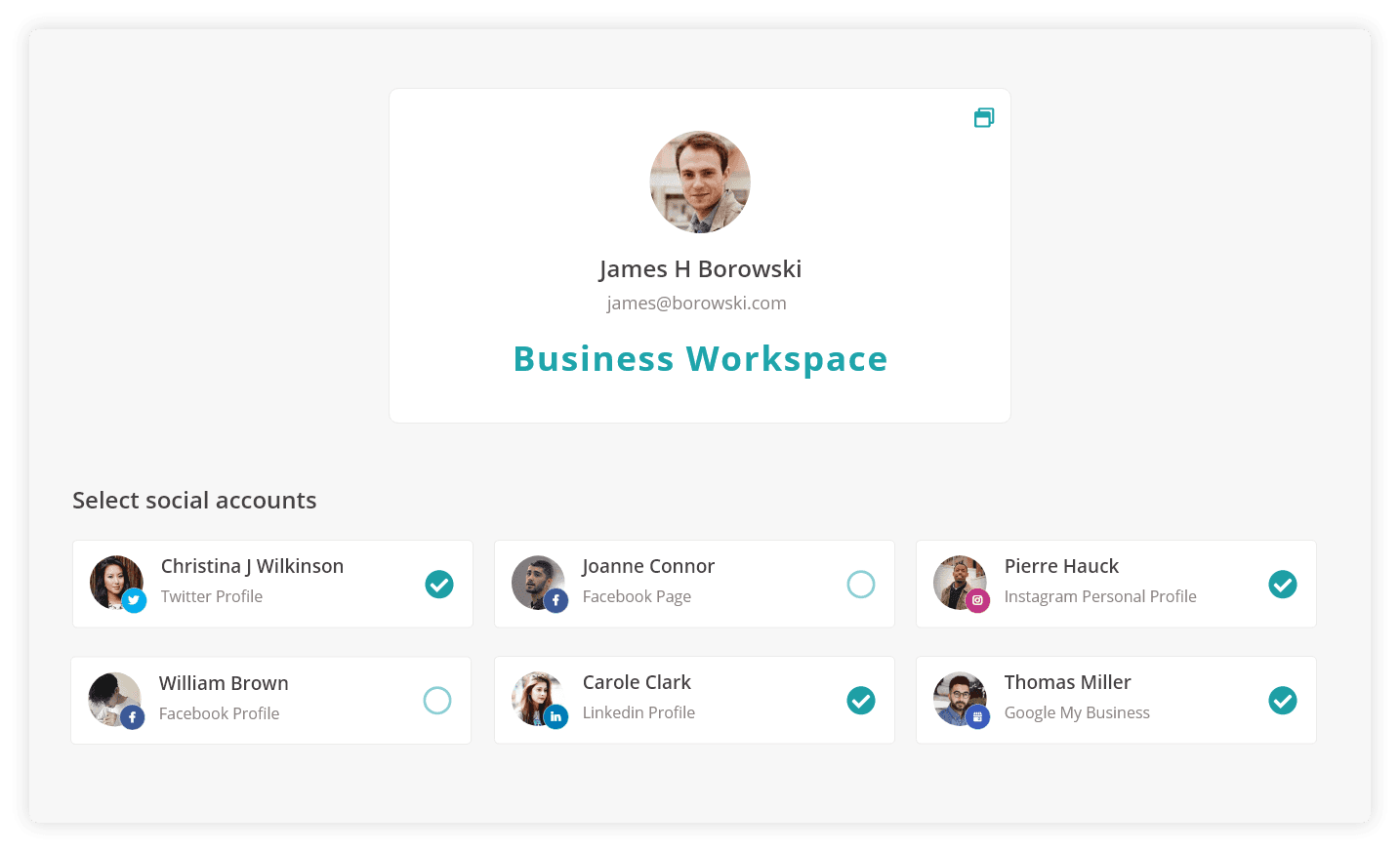 They See Only What They Should See!
With the freedom to create unlimited workspaces, you no longer need to give access to all social accounts to your team members. Simply create a workspace for each team member and add the social accounts that you want them to manage.
You can always make changes to the social accounts or libraries that your team members can access. You can also revoke the access completely and remove them from your workspace anytime.
Get Invited as a Manager to Multiple Accounts
Just like you can share your workspaces with others by inviting them, others can share their workspaces with you too. You will receive an email when anyone sends you an invitation and after you accept it, the shared workspace will appear in the list of your workspaces.
The workspaces that you own and the ones shared by others will be labeled 'Owned' and 'Shared' respectively. This lets you easily differentiate between multiple workspaces. You can switch between workspaces just with a single click. Thus, managing multiple workspaces simultaneously becomes as easy as pie when you want to schedule Google My Business posts or use our tool as a Pinterest scheduler.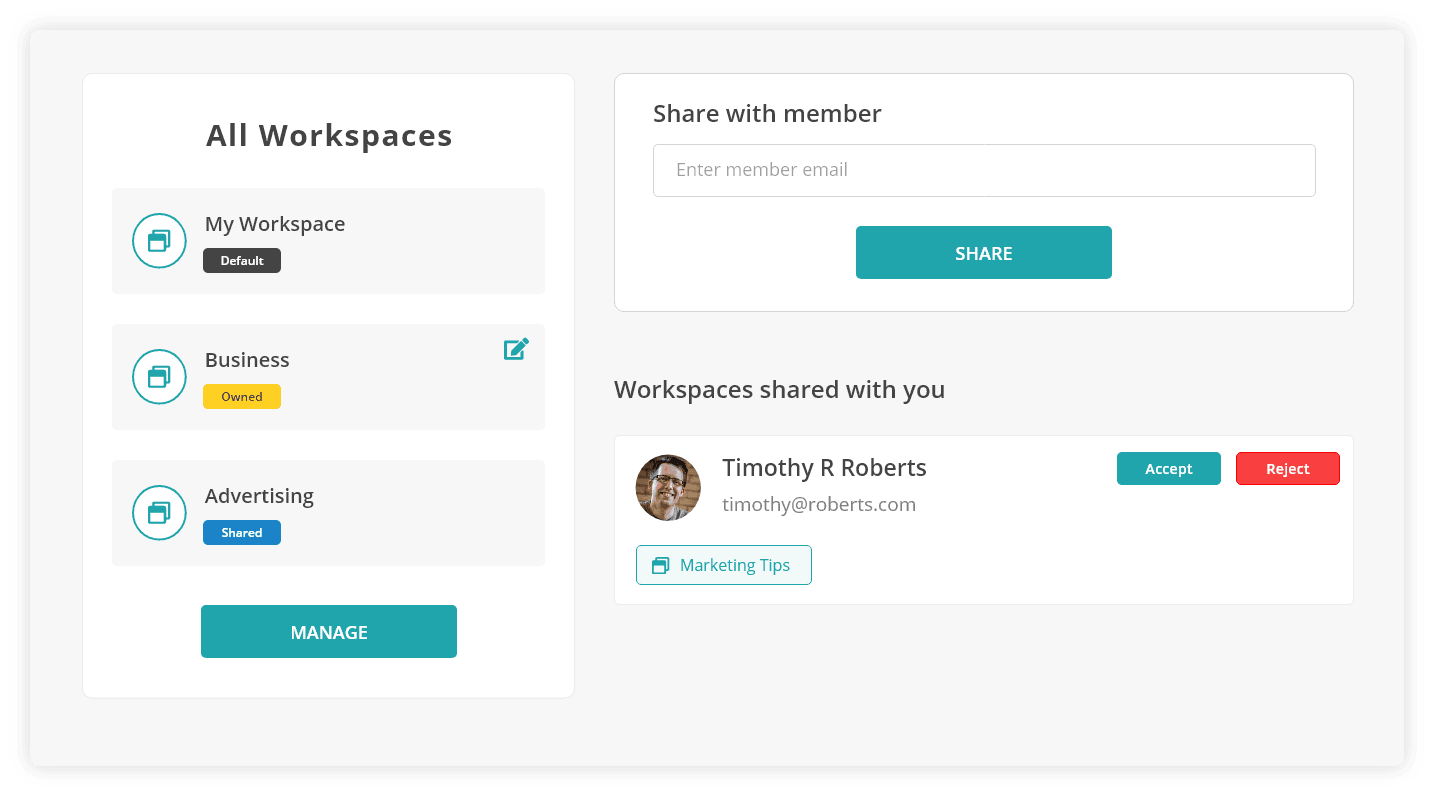 Why Ask Clients for Passwords?
You or your clients no longer need to share their personal account details for you to be able to post on their behalf. Invite your clients to their workspaces and they can add their accounts there. 
Not only this makes you look professional, you will never be responsible if their credentials end up on a hacker database as you never had access to those passwords. Thus, our social media scheduler ensures that you neither need to share the credentials of your RecurPost account nor that of your social accounts.
Keep Clients and Team members on board
Your clients now have a place to stay updated on all the posts in real-time. You can help manage your clients' accounts by providing them access to different libraries and social accounts, assuring that things are kept organized.
When a team member makes any changes to the assigned workspace, it will reflect everywhere and can be seen by all the people managing it. Thus, you as well as your clients can always stay up to date about the changes that are made to your social accounts. whenever you schedule Facebook posts, schedule LinkedIn posts, schedule Instagram posts, or schedule tweets.