Schedule Instagram posts, manage notifications, and analyze your performance – all using our Instagram post scheduler and automation tool.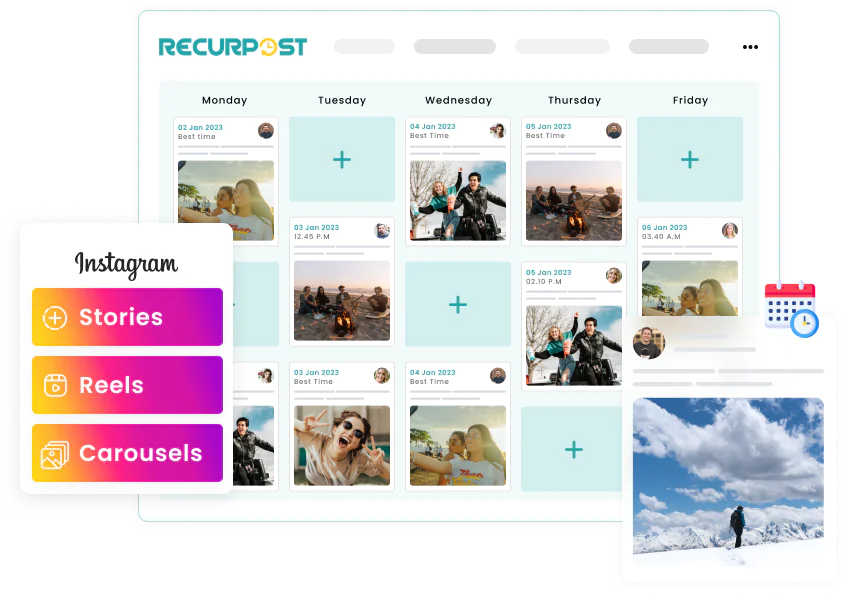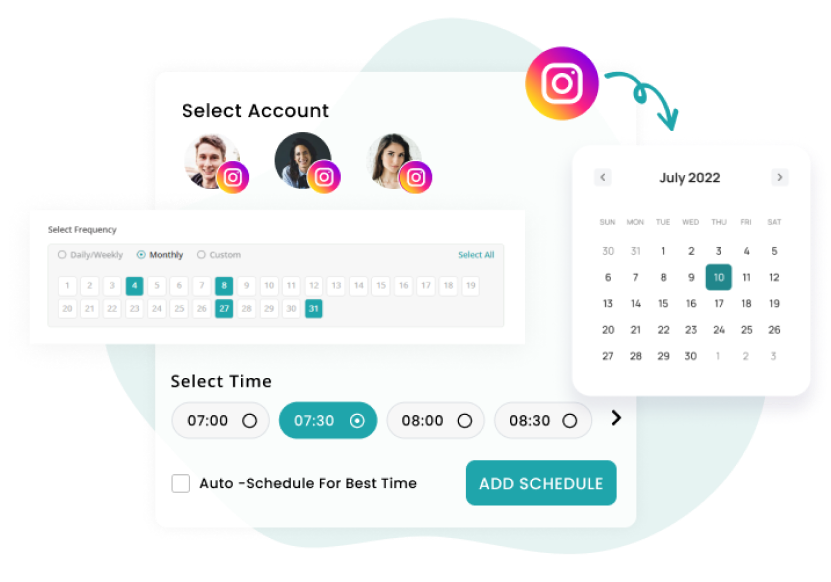 Quickly schedule Instagram posts
Schedule Instagram posts in advance and stay organized and productive
You can schedule posts on Feed, Stories, Reels, and even Carousel posts. 
Create one post at a time or upload in bulk and save time. Images, videos, hashtags – we have got it all. You can write best captions with our ChatGPT integration.
Automatically schedule posts using our recurring schedules to get newer traffic using your existing content such as blog posts.
Automatically upload content at the best times
Get maximum engagement on your posts thanks to our AI-based optimizer
In order to build a presence on Instagram, it is crucial to post when your followers are online.
RecurPost's AI-based share time optimization suggests the best time to post content on your Instagram accounts.
You just need to check the "Auto-schedule for best time" box and RecurPost will schedule Instagram posts at the best time automatically!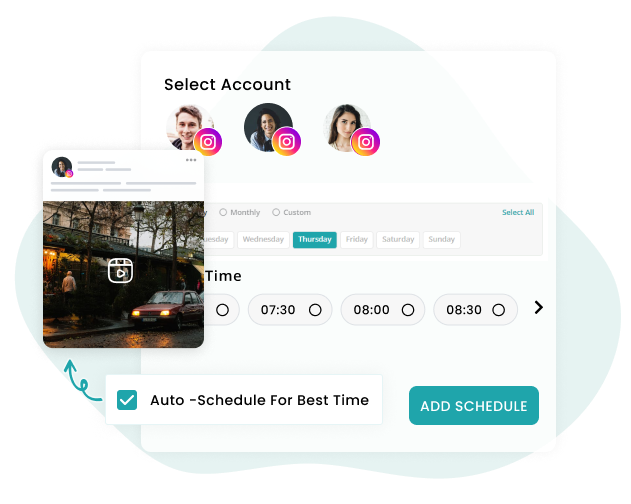 Make The Most Of Your Marketing With Social Media Scheduling Tool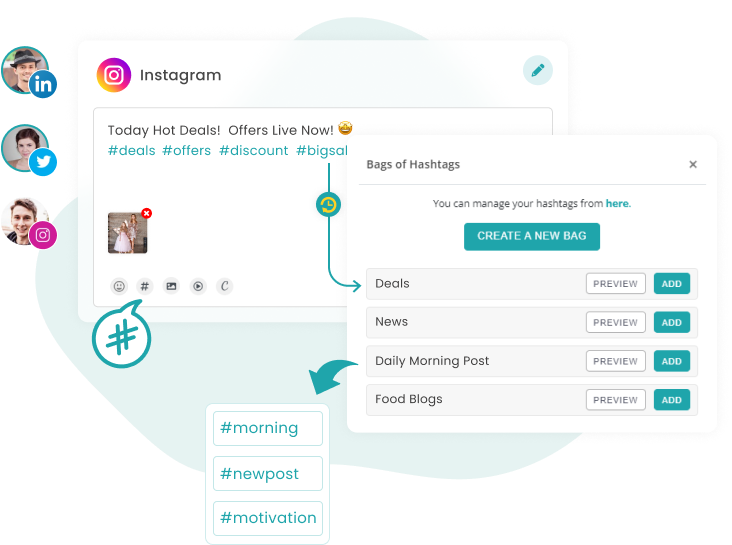 Store hashtags and use them while scheduling posts on Instagram
Hashtags play a very important part while creating a post on Instagram.
They help in increasing the reach of your posts and making them appear in the search results.
RecurPost's Instagram automation tool and post planner lets you create bags of tags that you can store and use while creating posts.
Let's get your every post 30 relevant #hashtags and get you trending today!
An Instagram post scheduler that provides a social inbox
Read and Reply to Incoming Comments, DMs Quickly
Social Inbox by RecurPost is a platform that enables all of your social media inboxes to be connected into one single unified dashboard.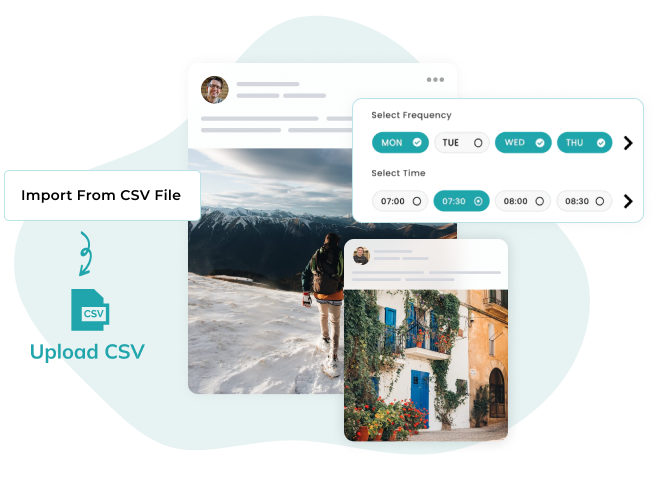 Simple yet Sophisticated Schedules
Upload and schedule content in bulk in just a few clicks
Using RecurPost's Instagram scheduling tool, you can create both one-time posts and recurring ones too.
Upload content through CSV files, import from other websites, or from your social media profiles.
Schedule both posts and stories with its Instagram bulk scheduling app.
You can create the perfect social media content calendar and schedule Instagram posts automatically without giving constant attention to your accounts.
Schedule Instagram posts by adding images, videos, GIFs, and emojis
Create Eye-Catchy Posts in no time
May it be pictures, videos, or GIFs, RecurPost supports a wide range of media allowing you to create exciting new content for your audience. You can add emojis in your captions while creating posts to make them look more friendly.
Understand what goes viral
See detailed analytics and check performance of your posts
With RecurPost's Instagram automation tool, you can not only follow trends but make trends follow you!
In the advanced analytics provided by RecurPost, you can have a look at your top-performing posts.
These will be the posts that received the highest engagement and are loved by your audience.
Using this information, you can analyze those posts and create more similar content in order to hook your followers to your profile.
Additionally, you can also download white-label reports using RecurPost.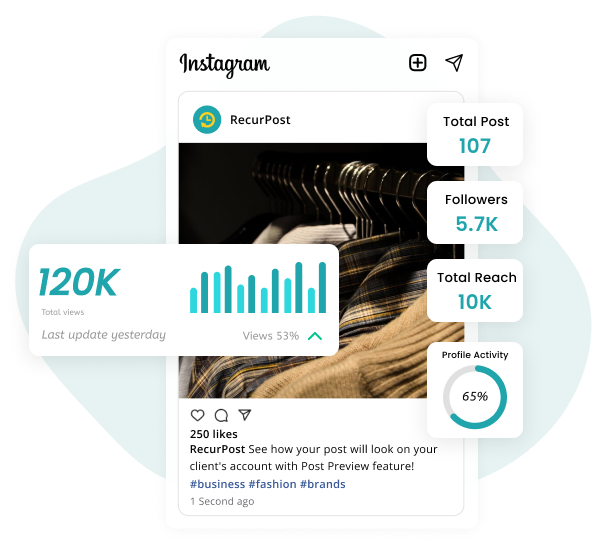 One of the few schedulers that supports posting on personal Instagram profiles
Manage personal & business profiles together
According to the updated policies, you can not post on Instagram's personal profile using any third-party tool. Thus, when you want to automate posting on both personal and business profiles, it can be difficult to find a social media scheduling tool to do the task.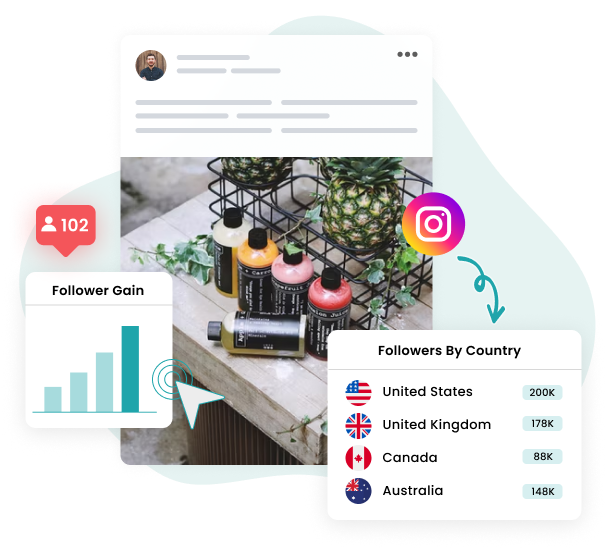 Build your Family of Followers
Understand your audience and create content that matters
With the ability to schedule Instagram posts, RecurPost helps you build a consistent presence on Instagram, and makes your content appear in the feeds of the right people at the right time.
We help you gain loyal hooked followers and increase overall engagement received.
You will be able to check your audience analytics and know a lot of details about your audience's behavior.
This will help you in creating more content that resonates with a majority of your followers.
Schedule Instagram posts using free HD stock images
Use Free Stock Images or Generate with AI
Got no time to create images on your own? Don't worry. You can still keep your calendar full by using our library of free stock images. We have a treasure full of high-quality images which you can freely use to post on your Instagram account. Our AI integration can help you generate images based on your prompt.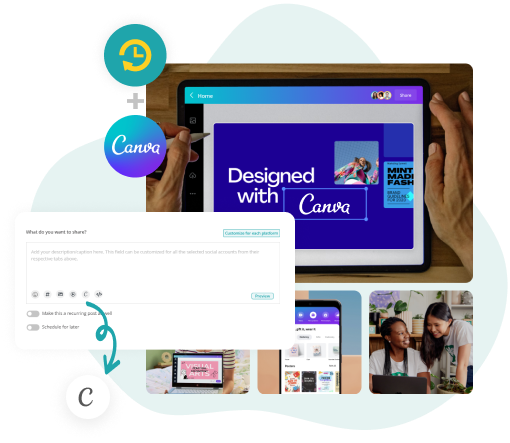 Design great graphics through Canva integration
Create and schedule Instagram posts using in-built Canva's editor
You can edit images and videos in Canva without leaving RecurPost's dashboard. You can do this when you use it as a Pinterest scheduler too.
This means that you can create, design, and schedule your social media graphics with Canva from right inside RecurPost.
You no more need to switch between Canva and RecurPost as you can design and schedule Instagram posts from the same screen.
No more downloading images, re-uploading into your scheduler, only to spot a spelling mistake, and having to start over!
White-label your Instagram reports
Add your choice of logo and download ready-to-present professional reports
Using our feature of generating white-label reports, you can brand your business professionally.
Simply upload your logo and hit the download button to export the reports.
Every metric will be displayed in the form of charts and graphs, making it easy to understand for everyone.
The white-label reports generated by RecurPost are pretty self-explanatory and show all the required information in a single place.
So, with us, along with the ability to schedule Instagram posts, you can also measure their performance and show your clients the required metrics. Performance measurement also comes in handy when you schedule Google My Business posts.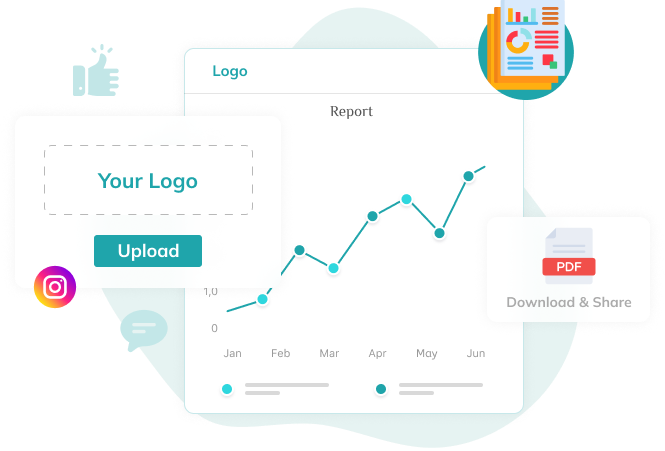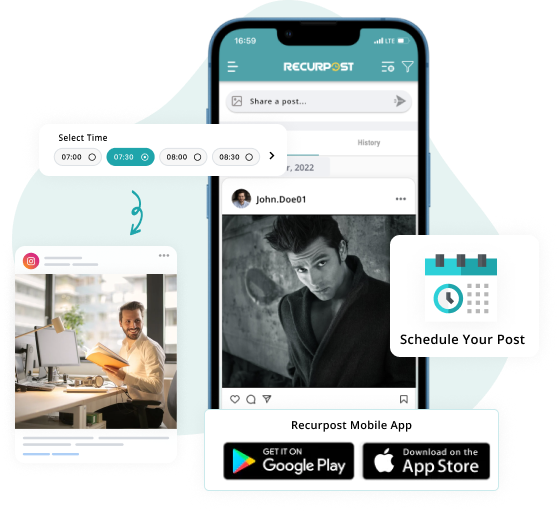 Manage your Instagram accounts on the go
Get the freedom to schedule posts from anywhere using our Instagram scheduling app
Sitting behind your desks or carrying your laptops along just to schedule Instagram posts?
Well, we don't like the thought of it! That's the reason why we provide you with an Instagram scheduling app for iOS and Android.
Post up to 10 images at once in a single post as a carousel.
The app comes in very handy at times when you are out of your office and have to do last-minute changes to your schedules.
Discover the Power of Content Categorization
Add your choice of logo and download ready-to-present professional reports
Organize your visuals neatly into unlimited libraries 
RecurPost's content categorization feature allows you to keep your content organized and streamlined, making it easier to plan and execute your social media strategy. 
Whether you're a business owner, marketer, or agency, you'll find this feature invaluable in managing and maximizing your social media presence.
No more rummaging through cluttered folders or losing track of important posts.
Easily group your content into relevant categories and access it quickly whenever you need to schedule Instagram posts.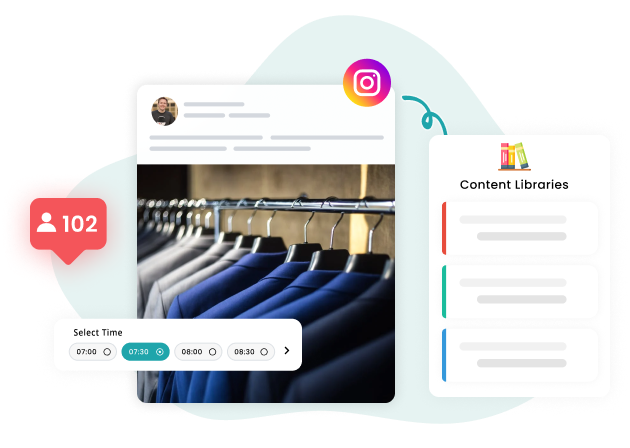 Other platforms supported by RecurPost
Instagram is a dynamic platform to market on. If you want to make the most out of your creativity on it as a brand, use RecurPost. It is an excellent Instagram scheduler. Not to mention, it is just as amazing if you want to schedule Facebook posts, schedule LinkedIn posts, schedule tweets, and schedule Google My Business posts. RecurPost is also a great Pinterest scheduler.
Comparing RecurPost with other social media scheduling tools
There are a lot of tools available out there offering the feature of scheduling posts ahead of time. However, the role of a social media scheduler doesn't stop here. Apart from the features that we talked about in the above paragraphs, RecurPost has got a lot to offer. Some of them include white-labelling reports, simplified content categorization, Chrome plugin, URL shortener, social inbox, etc. You can check our detailed comparisons to know how RecurPost is the best free Hootsuite alternative, one of the top Everypost alternatives, Eclincher alternatives, Socialoomph alternatives and Planoly alternatives.
Check out RecurPost's Instagram scheduler now by signing up for the free trial!
Frequently Asked Questions