SCHEDULE GOOGLE BUSINESS PROFILE POSTS WITH
MAXIMUM EASE AND MINIMUM EFFORT
Schedule Your Google Business Profile Posts as you do commonly. Add an image, a video, or a link, and choose your CTA. Keep them leads coming to you!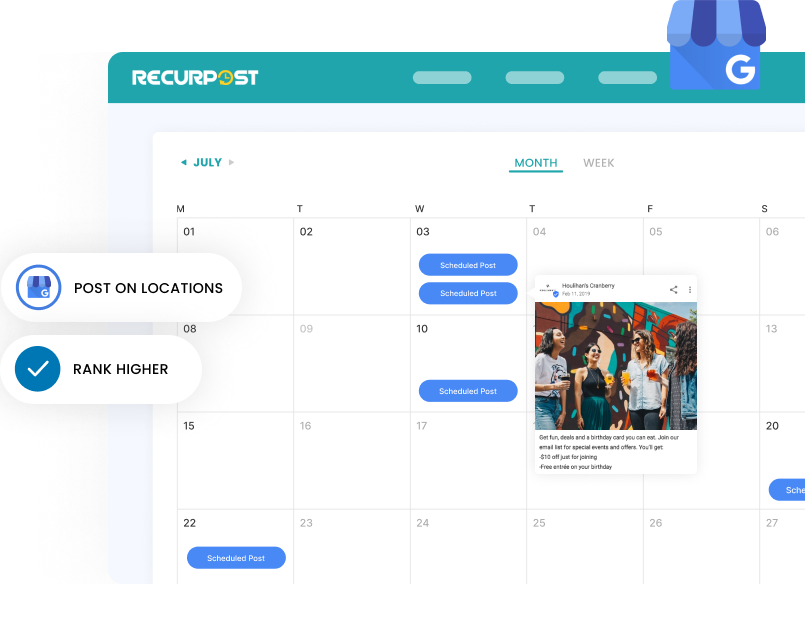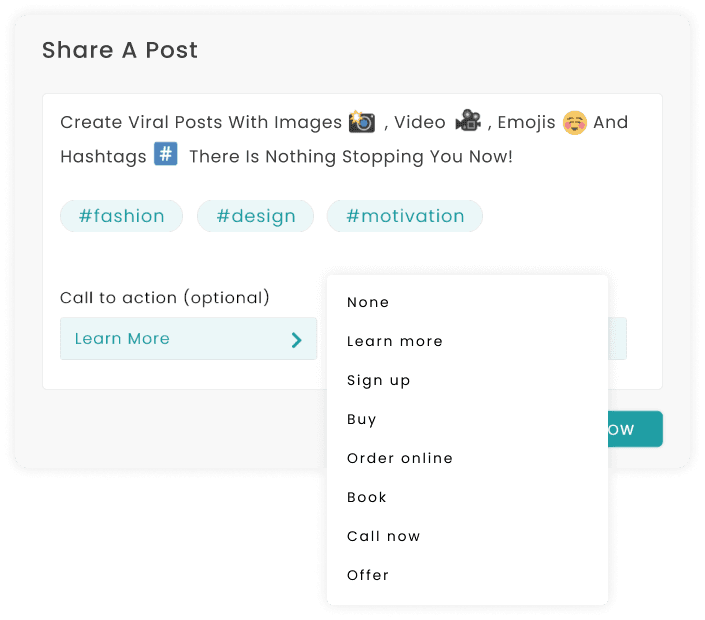 Draw visitors to your page
Keep your listing up and alive all the time with our GBP scheduler!
Now add the most apt CTA button to keep your potential customers engaged. Our app supports all kinds of CTAs like Book, Order, Buy, Learn more, Custom offer, Call Now, and Sign Up.
You can also customize and choose what will happen when they click on your Google Business Profile post.
Good reviews are a weapon to win more customers. Bag them with GBP.
Never add another dull image again! Customize them and create eye-catchy images with RecurPost and then post.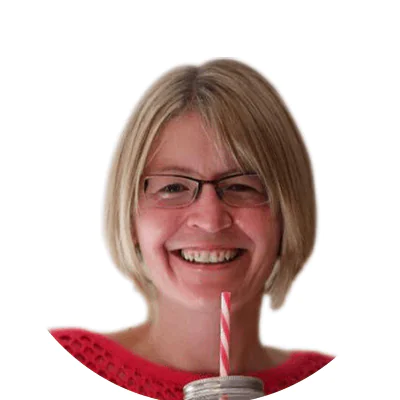 " I have been a huge fan of RecurPost. The customer service is fantastic. I'd absolutely recommend RecurPost to everyone looking for a top-quality, low-cost scheduling tool. "
Charlotte Moore
Smoothie PR
Your brand's presence will be on Google to stay!
Schedule Google Business Profile posts for consistency.
Did you know that  Google Business Profile posts last up to 7 days only? Recurring schedules by RecurPost can overcome this boundary.
When you use the Google Business Profile post scheduling and automation tool by RecurPost, you will have the ability to create recurring schedules. All your Google Business Profile posts will go out on your profile in rounds.
You can schedule Google Business Profile posts for one month by adding evergreen updates to your RecurPost library.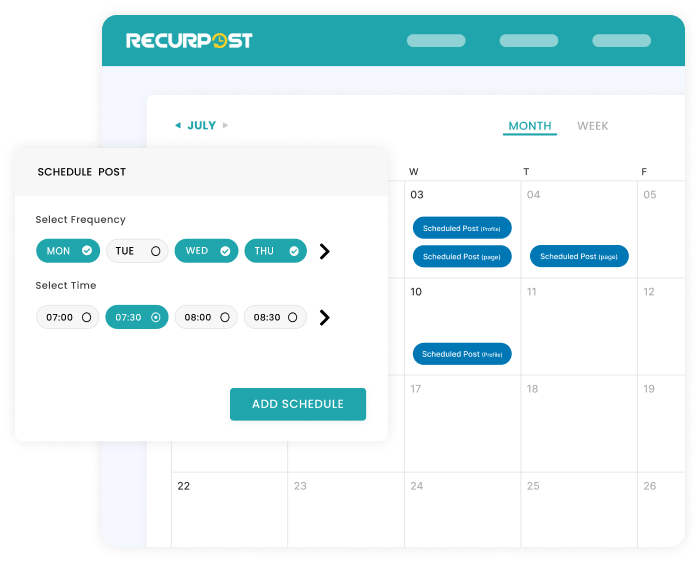 Keeping Your Google My Business Listing Busy Shouldn't be Tedious!
Use the power of media to create interesting posts
Schedule Google Business Profile posts with attractive images and videos.
Ability to add photos of your products, store, or some happy customers to your posts. This will manage to bag more views on your page.
People like to know what they are getting into. You show them how your store looks and give them that.
Customers can make a purchase decision before physically seeing your products when you share pictures and info.
You can also try collecting feedback from customers in video format and then upload that on your listing.
The Google Business Profile Post scheduler will let you do this seamlessly.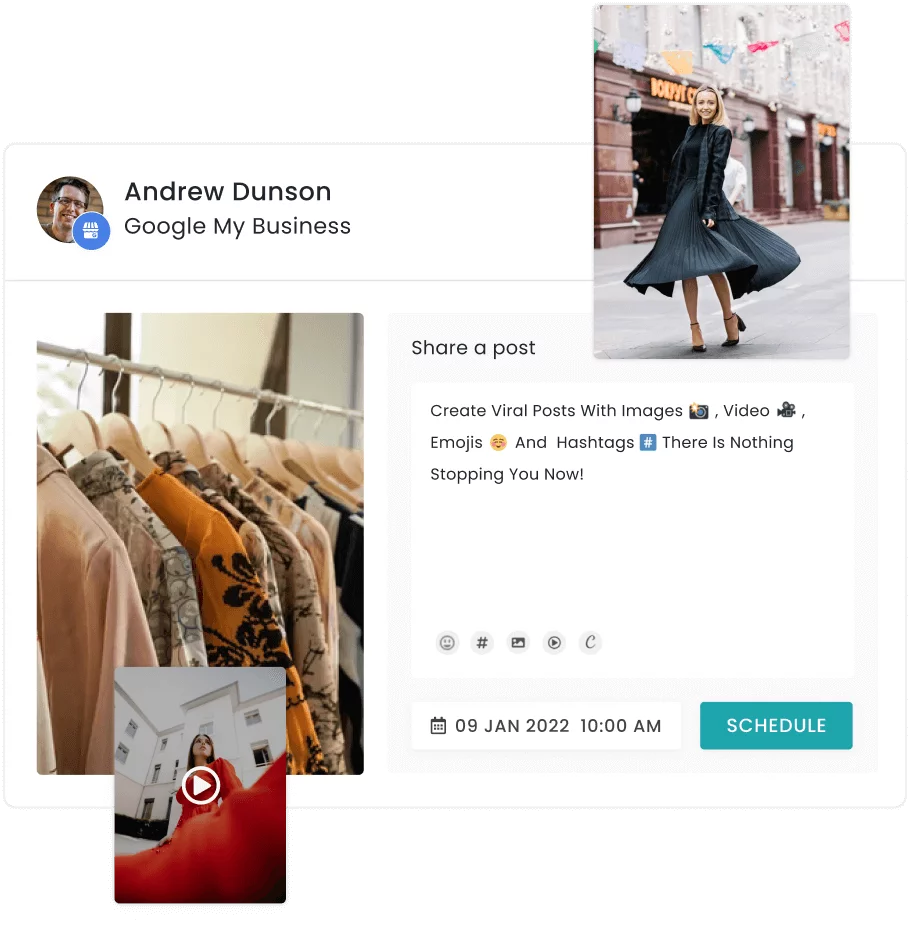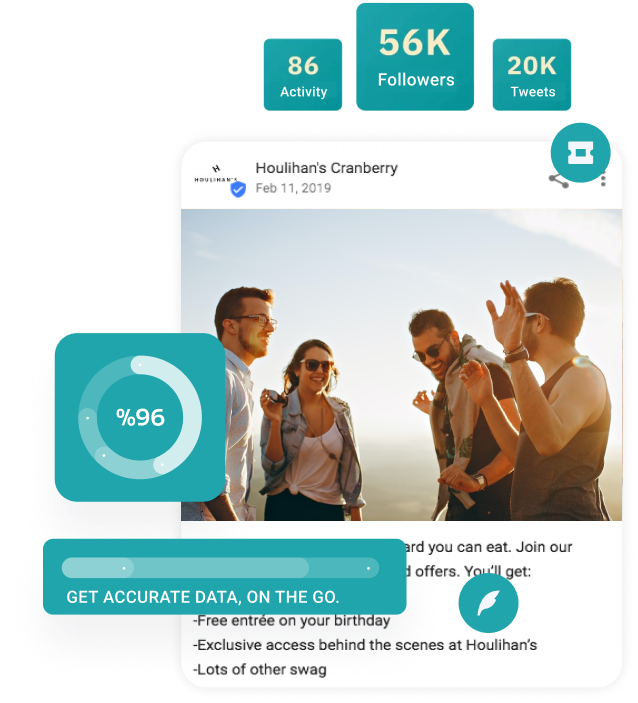 Keep your posting frequent and see the love from Google
Did you know that posting regularly on Google Business Profile will make Google rank your business higher on SERPs?
When you rank higher, you become more visible to the public. There will be more interactions then, in the form of calls, website visits, and direction requests.
When you post consistently, you will have a chance at winning the local pack and getting plenty of new business.
RecurPost will make this process seamless for you. Content will need uploading only once and you will benefit forever when you schedule Google Business Profile posts.
Promote your content in the best way possible
Categorize and put each library on a custom schedule
Have the ability to put all your Google Business Profile posts in different categories like blogs, marketing material, videos, etc.
Each category can have its own custom schedule for posting. Blogs can go out twice a week and marketing content twice a day.
When your potential customers are looking for products and services similar to yours, you will get spotted before other brands.
With RecurPost, you will take charge of your success when you schedule Google Business Profile Posts.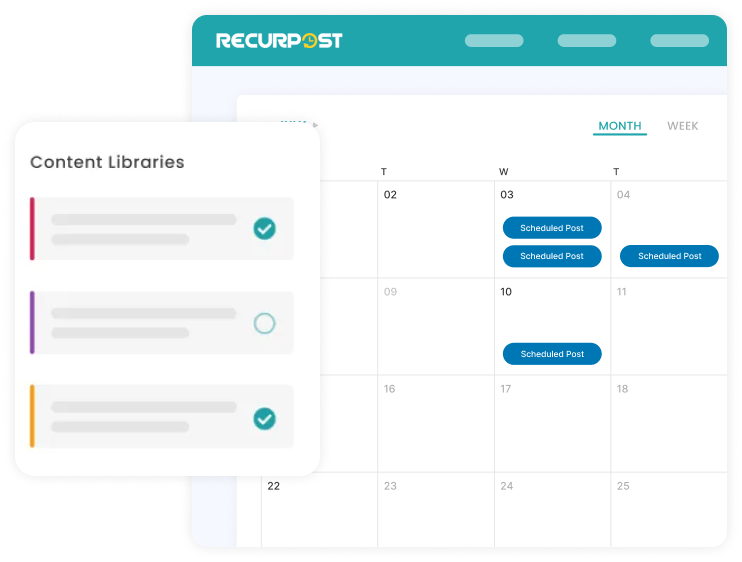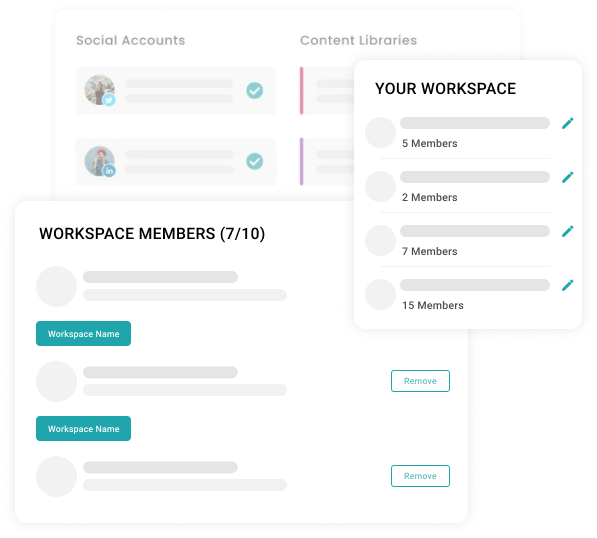 Team collaboration is now effortless
Gone is the need to share credentials for collaborating with the team
RecurPost will let you onboard your team members to work on your GMB listing.
Delegate the management of client accounts resourcefully to responsible team members.
Your star team can take control of your Google Business Profile listing without the need for sharing credentials.
The members can design and schedule Google Business Profile posts on your behalf and you can use post approvals to accept or decline them.
You will have complete control of access to your account and you can manage the addition and removal of team members from different social accounts.
Keeping Your Google My Business Listing Busy Shouldn't be Tedious!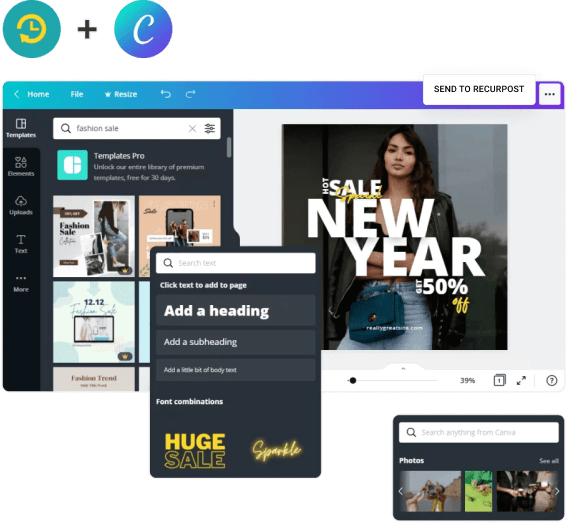 Use our Canva integration to create stellar graphics
In-built designing and scheduling abilities for time-efficient people
The social media scheduler at RecurPost comes with an in-built Canva editor. It is a simple and intuitive drag-and-drop graphic design tool.
With this integration, you will be able to create eye-catchy images without having to leave the RecurPost dashboard.
You will be able to create, design, and schedule all your social media graphics with the help of Canva from within the RecurPost app itself.
There is also the stock image library that you can use while creating Google Business Profile posts. We have integrated with Pixabay, Unsplash, Giphy, etc.
Other platforms supported by RecurPost
RecurPost is an excellent tool for scheduling Google Business Profile posts for sure. But it also supports many other influential social media networks and it will let you schedule Facebook posts, schedule tweets,  schedule LinkedIn posts, and schedule Instagram posts. Not just this,  RecurPost is a great Pinterest scheduler.
How RecurPost compares with other social media scheduling tools
There are numerous tools out there offering social media scheduling services. However, a social media scheduler should be able to do much more. RecurPost is a tool with a wide range of offerings including and going beyond the features mentioned above. Some of these features include white-label reports, a URL shortener, a Chrome plugin, a Social inbox, etc. We have detailed comparisons which you can check to know how RecurPost is the best free Hootsuite alternative, Statusbrew alternative, one of the best Smarterqueue alternatives, NapoleonCat alternatives, and Loomly alternatives.
Check out RecurPost's Google my business post scheduler now by signing up for the free trial period!
Frequently Asked Questions