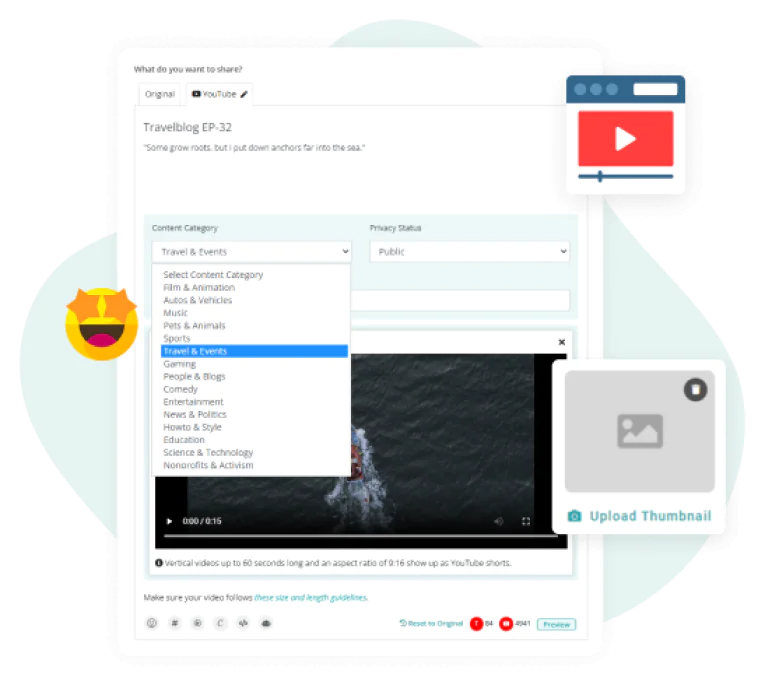 Say Goodbye to Last-Minute Panic Postings!
Schedule YouTube Videos in Advance and Enjoy a Stress-Free Life
We've all been there – it's the night before your video is supposed to go live, and you're scrambling to edit, upload, and promote it all at once. It's a recipe for stress and sleepless nights!
But fear not, because RecurPost has got your back. With our video scheduling feature, you can say goodbye to those last-minute rushes and hello to a more organized and stress-free life.
Now, you can schedule YouYube shorts and videos well in advance and let RecurPost do the heavy lifting. All you have to do is sit back, relax, and watch the views roll in.
So, what are you waiting for? Say goodbye to the frantic editing sessions and hello to a more peaceful, organized life with RecurPost's video scheduling feature. Trust us; your mind (and sleep schedule) will thank you for it!
Public, Private, or Unlisted - The Choice is Yours!
Keep Your Content under Lock and Key with RecurPost's YouTube Video Privacy Settings
Let's face it – not all videos are meant for public consumption. Maybe you're sharing a video with a select few or want to keep a video hidden until it's ready for the spotlight. Whatever the case may be, RecurPost's got you covered with our YouTube video privacy settings.
With RecurPost, you have complete control over who sees your videos. Want to share a video with the whole world? Go public! Want to keep it exclusive to a select few? Set it to private! Want to keep it hidden until the time is right? Choose unlisted!
No matter what your preference is, RecurPost's video privacy settings ensure that your videos are seen by the right people at the right time.
So, whether you're a content creator looking to keep some videos under wraps or a business owner who wants to share videos with a select few, RecurPost's YouTube video privacy settings are the perfect solution for you.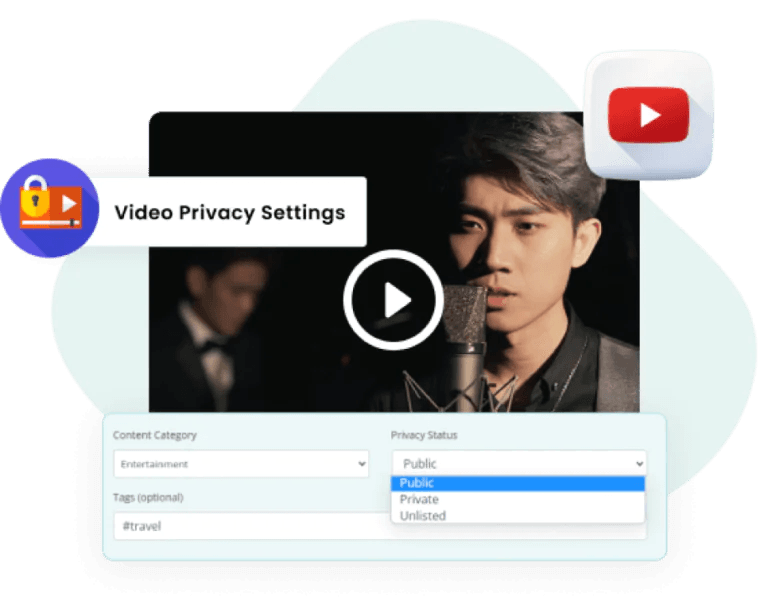 " I've used many scheduling tools over the years and RecurPost is the one that saves me the most time. I can load it up with posts for clients and my own blog content and then not have to touch it again for weeks. I also love having the ability to stop and start libraries at the touch of a button, which is so important in an ever changing news environment. "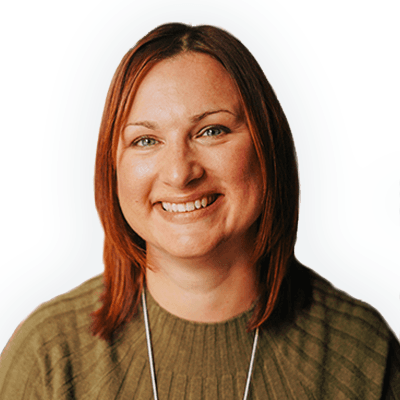 Claire Hall
Freelance PR Consultant and Travel Blogger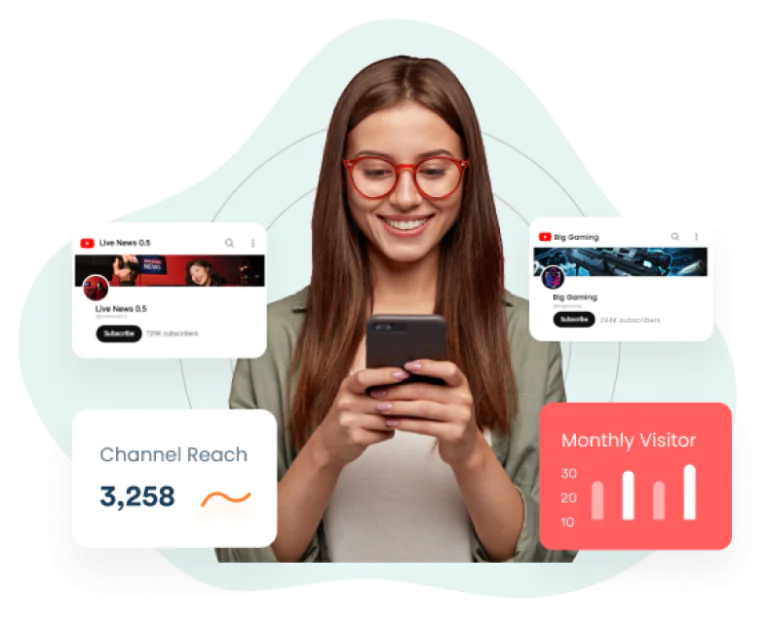 Got Multiple YouTube Channels to Maintain?
RecurPost's YouTube video scheduler is here to save the day!
We understand that many of you are not just content creators but also content curators and managers. With RecurPost, you can easily switch between multiple channels and schedule your videos accordingly. No more logging in and out of different accounts, wasting time and energy.
Our platform supports an unlimited number of channels, so you can manage as many as you need without any extra hassle. And all of our features, including the ability to schedule YouTube videos, content generation, and visual content calendar, are available for each channel, making it easy for you to stay organized and on top of your game.
So whether you're managing multiple YouTube channels for yourself or for clients, RecurPost has got you covered. Sign up today and start managing your channels like a pro!
Post at the Right Times With our AI Best Time Schedules
Schedule YouTube videos for just when the algorithm can fetch the max views
We all know that timing is everything, especially when it comes to posting videos on YouTube. But figuring out the best time to post can be a daunting task, leaving you scratching your head and wondering if you're doing it right.
RecurPost's AI-best time schedule feature fits right in here! Our intelligent algorithm analyzes your audience's behavior, engagement patterns, and other factors to determine the optimal time to post your videos.
So, whether your audience is early birds, night owls, or somewhere in between, RecurPost's got you covered. Our AI finds the sweet spot, ensuring maximum reach and engagement for your videos.
And the best part? You don't have to lift a finger. Just sit back and let RecurPost work its magic. No more guesswork, no more stress, just optimized posting and maximum impact.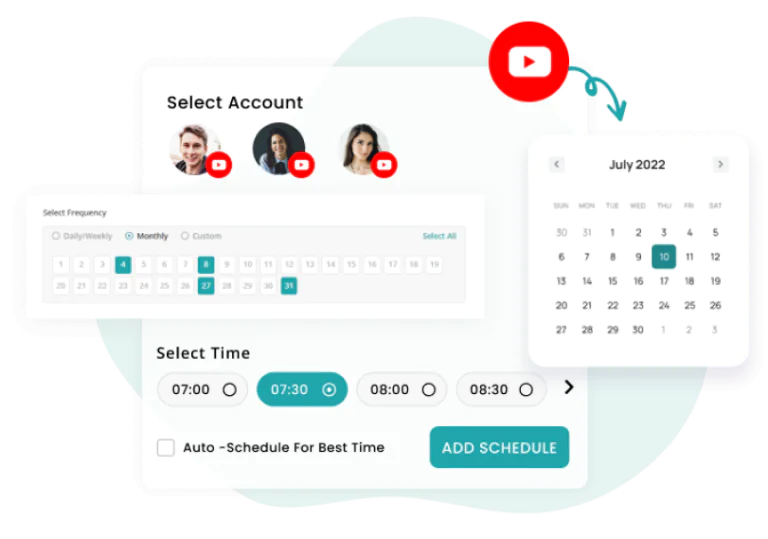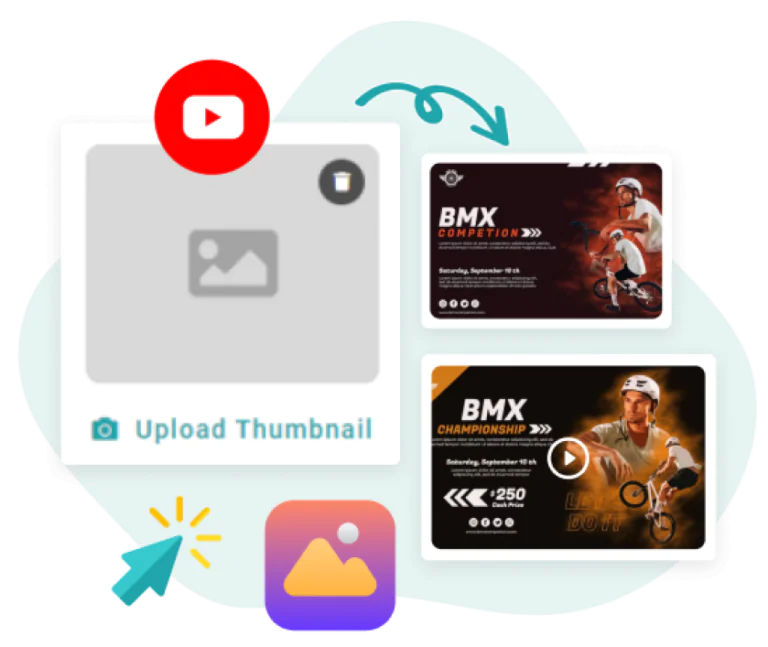 Showcase Your Brand with Custom Thumbnails
Add your choice of thumbnails easily when you schedule YouTube videos
Your YouTube video's thumbnail is the first impression that viewers get of your content. With RecurPost, you have the power to make that impression count. Our platform allows you to choose a custom thumbnail that reflects your unique style and brand. 
Whether you want to feature an eye-catching image, a bold graphic, or a snapshot of a key moment from your video, RecurPost makes it easy to showcase your creativity.
But it's not just about looking good – custom thumbnails can also help your content stand out in a crowded YouTube landscape. With so many videos vying for attention, having a standout thumbnail can be the difference between getting clicks and being ignored. 
RecurPost gives you the tools you need to make your content stand out and get noticed by your target audience.
Make Your YouTube Videos Pop with Engaging Copy
Use RecurPost's AI content generation feature to create eye-catching descriptions
Great content alone isn't enough to get views and engagement on YouTube. You need an engaging copy to complement your videos and make them stand out from the crowd.
That's where RecurPost's AI content generation feature comes in. With just a few clicks, you can create compelling post descriptions that capture the essence of your video and entice viewers to click.
Our intelligent algorithm analyzes your video's content, keywords, and other relevant factors to generate click-worthy copy that drives engagement and boosts your views.
It takes just a matter of seconds, so you can spend less time writing and more time creating killer content.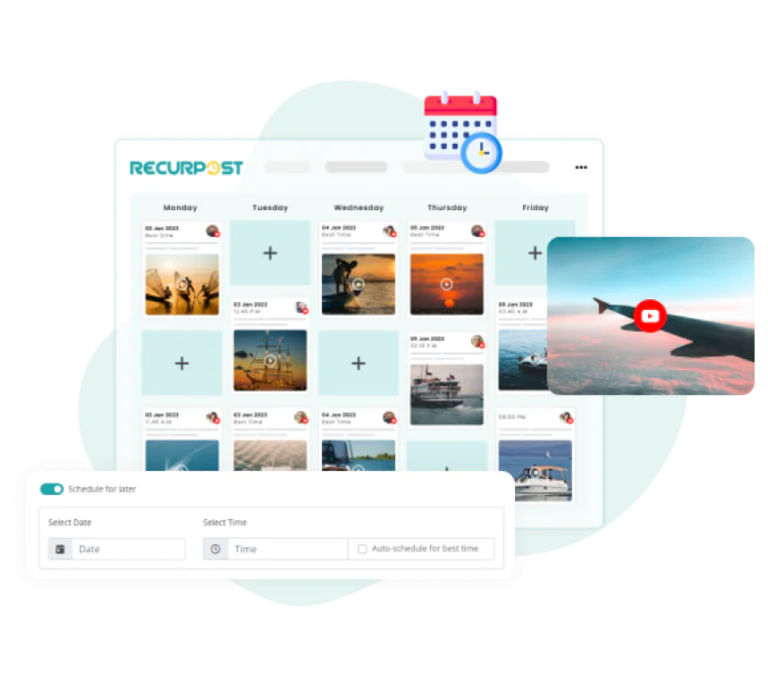 Never Miss a Beat with RecurPost's Visual Content Calendar
Stay Organized and Stress-Free with Our Easy-to-Use Interface
Keeping track of your YouTube posting schedule can be a real headache. You've got videos, shorts, and copy to juggle, and it's all too easy to get mixed up and miss a deadline. But fear not! Our easy-to-use interface to schedule YouTube videos allows you to see all of your past, present, and future posts in one place. 
You can easily drag and drop posts to reschedule them or delete them altogether if needed. No more digging through endless spreadsheets or scrolling through social media to find what you're looking for.
Our platform lets you maintain your YouTube video schedule for any time in the future, ensuring that you always have fresh content ready to go. Our visual content calendar isn't just a great organizational tool; it's also a stress-free way to manage your YouTube channel. 
No more worrying about missed deadlines or last-minute rushes. With RecurPost, you can relax knowing that your content is under control.
Collaborate and Conquer with RecurPost's Team Management Feature
Delegate Tasks and Manage Your YouTube Channel with Ease
RecurPost also allows you to invite and collaborate with team members, giving you the ability to delegate tasks and manage your YouTube channel more efficiently.
With our collaboration feature, you can invite team members to join your RecurPost account and assign them specific tasks to take care of. Whether it's editing videos, writing copy, or managing your social media accounts, you can easily delegate tasks and keep track of who is doing what.
By working together with your team, you can increase your efficiency and get more done in less time. No more scrambling to get everything done on your own. With RecurPost's collaboration feature, you can work smarter, not harder.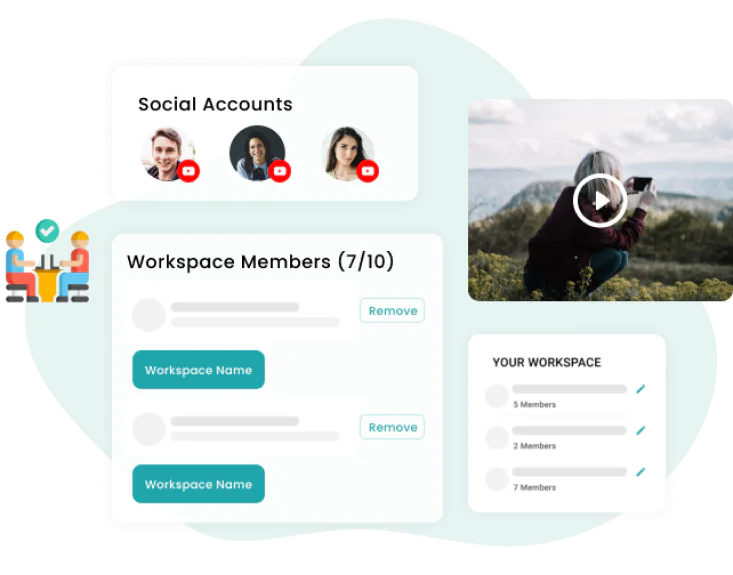 RecurPost reviews show that customers love us
Over 90,000+ happy users and counting.
Frequently Asked Questions