The Swiss Army Knife for social media management
Easily manage unlimited social media profiles with our tools for publishing, analytics, inbox, team collaboration, and recurring schedules for evergreen content.
+923 Businesses
signed up last month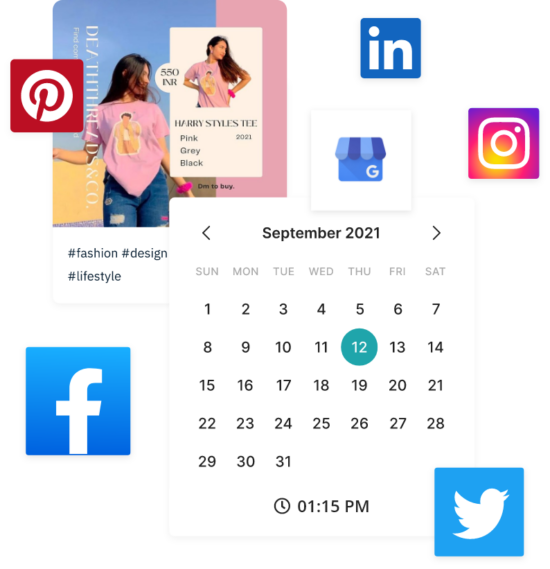 Ugh! Couldn't post on social again?
Take the hassle out of social media management and let RecurPost handle the grunt work for you.
Posting on multiple social platforms is time-consuming for you and your employees.
Most social media schedulers require you to upload the content, select the accounts, and think of a time to post.
With RecurPost, you only need to set posting time for your accounts once. After that, you add new content, which will automatically go out.
As a social media scheduler, we have all the tools you need to keep your social accounts populated, be it on the go using apps, while you surf using our Chrome plugin, or using recurring schedules.
Get started in minutes, not hours—super user-friendly setup.
Most social media schedulers expect you to log in manually and schedule your content.
RecurPost, on the other hand, offers automatically repeating schedules in addition.
Charlotte Moore
Agency Owner, UK
As an agency owner, Charlotte needed a social media management tool to support her business. She liked that our pricing starts at a small price, and you can expand it as your business grows. She is also fond of our excellent customer service and support.
Deb Coman
Coach, Speaker, USA
Deb, a content conversion strategist, shares her views on how crucial RecurPost has been for her small business. She expresses how our customer service is always ready and willing to answer any doubts or solve any difficulties she might face.
Get 10X traffic with repeating schedules!
Your evergreen content, such as your blogs, will bring you traffic forever without your intervention.
Create content libraries such as blogs, videos, etc., and schedule posting time slots for each library.
For instance, you can set a schedule to post one blog post every day on Facebook and Twitter.
Once all the posts from a library are shared, we repeat starting at the top again thereby exposing each content to a new audience.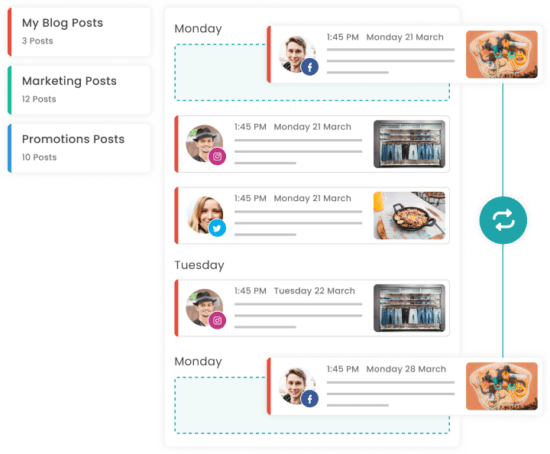 " Before I found RecurPost I was struggling to stay up to date with social media, was lacking engagement, and was losing followers. Since I found RecurPost I have been able to schedule regular content in no time at all, I Feel More Engaged With All My Networks , and my followers have grown exponentially. I'm so glad I found this service and don't know how I ever managed my social channels without it. "
" I've been a huge fan of RecurPost for a long time as it makes a huge difference to those of us who are running a small business. The customer service is fantastic – any questions, issues or suggestions are actioned immediately which is so rare these days. The apps mean I can easily post on the go and I'd absolutely recommend RecurPost to everyone looking for a top-quality, low-cost scheduling tool. "
" I've used many scheduling tools over the years and RecurPost Is The One That Saves Me The Most Time. I can load it up with posts for clients and my own blog content and then not have to touch it again for weeks. I also love having the ability to stop and start libraries at the touch of a button, which is so important in an ever-changing news environment. "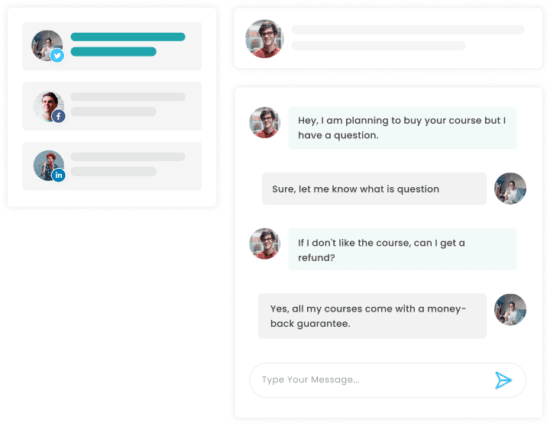 Read and reply to incoming messages with Inbox
More than just a social media scheduling tool
Break down silos to radically improve your customer experience management. 
Quickly read incoming chats, mentions, comments, and conversations.
Take action on them from a trusted social media scheduling tool- for all major social media accounts.
Save a Whole Working Day Each Week at Super Affordable Prices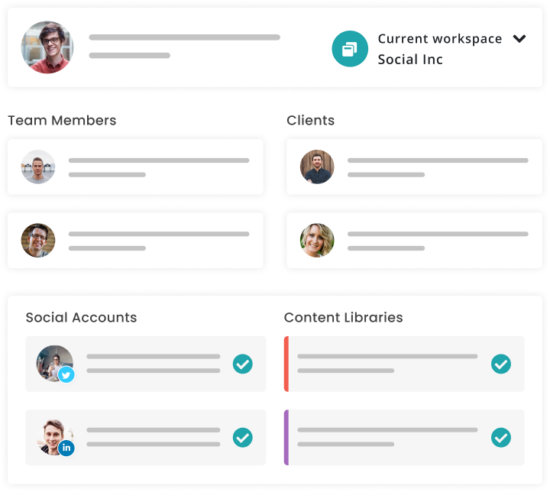 Make your VAs and team members 3X more productive
Bring everyone on the same page with our collaboration feature without regular monitoring
As your social media scheduler, we allow you to add team members and work along with them on your social accounts.
Delegate specific work and provide access only to the social accounts that a team member needs to work on.
Do all the teamwork without sharing the credentials of your social profiles with anyone!
Know what content is working and double down on it
Sophisticated Reports And Easy-To-Understand Social Media Analytics
As a smart social media management tool we show you what is working and what is not so that you can grow faster.
Each metric has been picked carefully to make our reports easy to consume without information overload.
Not just that, you can brand these reports with your own logo and send them to your clients.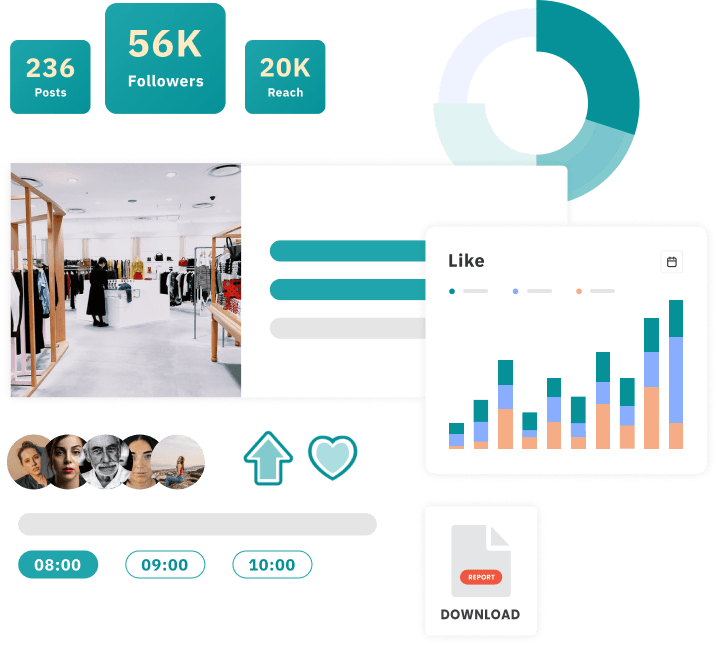 Try the Best
Post Scheduler