Buffer is a popular tool that can be used for managing social media in many different ways. It allows you to write and schedule posts that can be shared across various social media platforms. Additionally, it offers features for monitoring and reporting on social media activities.
Buffer has evolved to support various platforms including Twitter, Instagram, Facebook, LinkedIn, and Google Business Profiles, offering a free version that allows connecting up to three social accounts and storing up to ten posts per channel, making it ideal for newcomers to social media, while paid plans offer more features and a 14-day free trial for those needing comprehensive management across multiple accounts.
Buffer is a fantastic tool for social media marketers, entrepreneurs, and small business owners. It provides a centralized dashboard where users can manage all their social media accounts, which saves them a lot of time and effort. With Buffer, you can optimize your social media strategies and keep everything well-organized.
Buffer is Suitable For: Businesses, Publishers, Non-profits, Mid-stage startup teams, Solopreneurs, and E-commerce businesses.
Buffer Ratings
Although Buffer has a long-standing reputation as one of the oldest social media scheduling tools, the market has witnessed the emergence of numerous new and improved alternatives that offer superior features compared to Buffer. Below is a quick evaluation of the ratings for both Buffer and RecurPost, which is a great alternative to Buffer.
| | | |
| --- | --- | --- |
| Features | Buffer | RecurPost |
| Ease of Use | 9.2 | 9.1 |
| Meets Requirements | 8.6 | 9.0 |
| Ease of Setup | 9.2 | 9.2 |
| Ease of Admin | 9.1 | 9.7 |
| Quality of Support | 8.5 | 8.3 |
| Product Direction | 8.1 | 8.1 |
Buffer user ratings compared with RecurPost
Buffer Reviews
Positive Reviews
User-friendly interface for scheduling and managing social media posts. Robust scheduling and publishing features for multiple platforms. Analytics and reporting tools to track social media performance. Integration with popular social media networks.

~ Popa A. (Capterra link)
I think that Buffer's "suggested media" feature is incredibly intuitive. Rather than having to upload an image for a social media post, Buffer pulls images from the post and prompts me to attach one of the images. Buffer's user interface is uncomplicated and easy to navigate, and I've never had a problem with Instagram posts that I've scheduled not being posted because my Buffer account disconnected from my Instagram account.

~ Charity R. (Capterra link)
I love using Buffer to plan out my social media strategy. Here is what I love most about it: 1) It easily integrates with Twitter and Facebook. It works with Pinterest and Instagram, but I only use it for Facebook and Twitter. 2) You get to use it for free for up to 10 scheduled posts at a time (as of this writing) and this allows you to be sure that it works for you and for your needs. 3) The team at behind Buffer is fantastic. The few times I needed to contact support I was helped right away and my issue taken care of just like that. Their emails are funny and you can tell that they love what they do.

~ Jordan R. (Capterra link)
I've done social media marketing consulting for 3-4 years now and I will always suggest Buffer to my small business clients. The platform is so straightforward it would take the most non-technology savvy person to get lost on it. The free platform works flawlessly and lets you connect quite a few of your social accounts, and I have never had a problem with the mobile app – and come to think of it I'm pretty sure I only use the mobile app for scheduling when I create my own content. If you're not sure which social scheduler to use when you're just first starting out, please consider Buffer. Their team is on top of its game when creating content for its users and keeping their community up to date on the latest Instagram API changes and Facebook algorithms. This platform is the real deal.

~ Erik R. (Capterra link)
Negative Reviews
I really dislike the UI very much. As part of my job, I need to test different software suites to see what makes sense. We manage 50 different social media channels, and having them all populate at the same time when I'm getting ready to schedule a single post is visually cluttered.

~ Crysti C. (Capterra link)
It lacks some convenient features that the competitors offer. I'm talking about features like integrated tagging for Twitter and LinkedIn. Last time I used this software it still lacked the proper tagging features which require you to make an extra step to open a separate tab to check whether you got the username right or wrong. Another aspect I dislike is that Buffer's middle-range plan is intended for two users only. In my opinion, the mid-range option should be for at least three people. At the time of choosing, we decided to go with Hootsuite because it's the mid-range plan, while more expensive, was intended for three people and also offered more of the above-mentioned features.

~ Tigran K. (Capterra link)
I loved using Buffer for the period of time that I actually used it, but quickly discovered that the platform could not suite my needs because of one insurmountable obstacle – price. As a non-profit youth organization, having a low overhead cost for platforms such as this is extremely important, and I quickly found myself unable to continue using Buffer as my social media team grew simply because I could not afford their $65 CAD/month just to be able to have a second user (without admin privileges). The added features like direct Instagram Story & first comment seem interesting for me, but not at the cost $663/annually when there are alternatives (be it, with less features) out there that offer a lower overhead cost AND non-profit discounts. Furthermore, while the platform itself is extremely simple to use, I found their pricing structure & different brand building products to be quite confusing – with products such as "Reply", "Publish" and "Analyze" featuring little to no immediately accessible descriptions, and each one carrying a different pricing structure & subscription requirement. Lastly, one feature I've found on other social media platforms (but not on buffer) that I wish were available is the ability to draft a single post that can be queued in multiple social media channels, and customized for each channel. With buffer, you would need to recreate each post – which can take added time dependent on your social media channels.

~ Darien C. (review link)
I find myself hitting a barrier once again with these types of software. A lot like hootsuite there's a limitation on what you can do for the free account. I'm finding myself also wanting to post on Instagram for carousels and it doesn't quite work right and it makes it more inconvenient than just posting on my own. And at that point I find myself wanting just to use the original method.

~ Kevin A. (Capterra link)
The bad news is, it looks simple but I am not a fan of the usage. I have set up my posting schedule time and frequency, but it appears that what ever I chose to share will post that many times as the frequency I set. So if I set up a post about the weather, it seems that it will share that post about the weather, per my time and frequency, (2 times a day, 7 days a week for example). And to get support, you have to tweet your concerns. I was looking for more of a Q&A sorta thing or at least an email. I dont want to go from one app to the next chasing down my answers.

~ Annette M. (Capterra link)
Buffer: Pros and Cons
Pros
Efficient Scheduling:
Buffer's main strength lies in its scheduling feature. It enables you to plan and schedule your social media posts in advance, saving you valuable time and effort. With Buffer, you can create a content calendar, strategically space out your posts, and ensure a consistent presence across multiple social media platforms. This efficiency frees you up to focus on other aspects of your social media strategy.
Centralized Management:

Managing multiple social media accounts can be a daunting task, but Buffer simplifies the process by providing a centralized dashboard. This dashboard allows you to monitor and control your various social media platforms from a single location. You can schedule posts, track engagement metrics, and even collaborate with team members, providing a cohesive and organized approach to social media management.
Analytics and Insights:
Buffer provides valuable analytics and insights to help you evaluate the performance of your social media campaigns. From engagement metrics to post reach, you can gain valuable insights into your audience's preferences and behavior. This data allows you to make informed decisions, refine your social media strategy, and optimize your content to better resonate with your target audience.
Image Creation Tool:
Buffer offers a free image creation tool called Pablo, which makes it easy for users to create social media images. This is particularly useful for those who want to quickly create images to accompany their scheduled social media posts on Buffer. Pablo provides a convenient solution for making visually appealing social media images in a hassle-free manner.
Cons
Limited Real-Time Engagement:

While Buffer excels in scheduling and planning, it falls short when it comes to real-time engagement. Since Buffer is primarily a scheduling tool, it doesn't provide the same level of responsiveness as manually engaging with your audience in real time. Social media is all about connecting with people, and relying solely on Buffer might result in missed opportunities for immediate interactions and timely responses to comments or messages.
Creativity Constraints:

Buffer's scheduling system follows a structured format, which can sometimes limit your ability to be spontaneous and creative. Pre-scheduled content may lack the timely relevance that comes with live posting. It's important to strike a balance between planned content and the occasional real-time posts to keep your social media strategy fresh, engaging, and adaptable to current trends or events.
Platform Limitations:

While Buffer supports various social media platforms, not all platforms have the same level of functionality. Certain features or integrations available on individual platforms may not be fully supported or optimized. It's essential to familiarize yourself with the limitations of Buffer on specific platforms you intend to use and ensure they align with your social media goals and requirements.
Limited Instagram and Pinterest Features:
Buffer has introduced some basic features for Instagram and Pinterest, but they are relatively simple. If you want more advanced scheduling capabilities for these networks, you would need to use separate tools, which may result in additional costs.
Buffer Pricing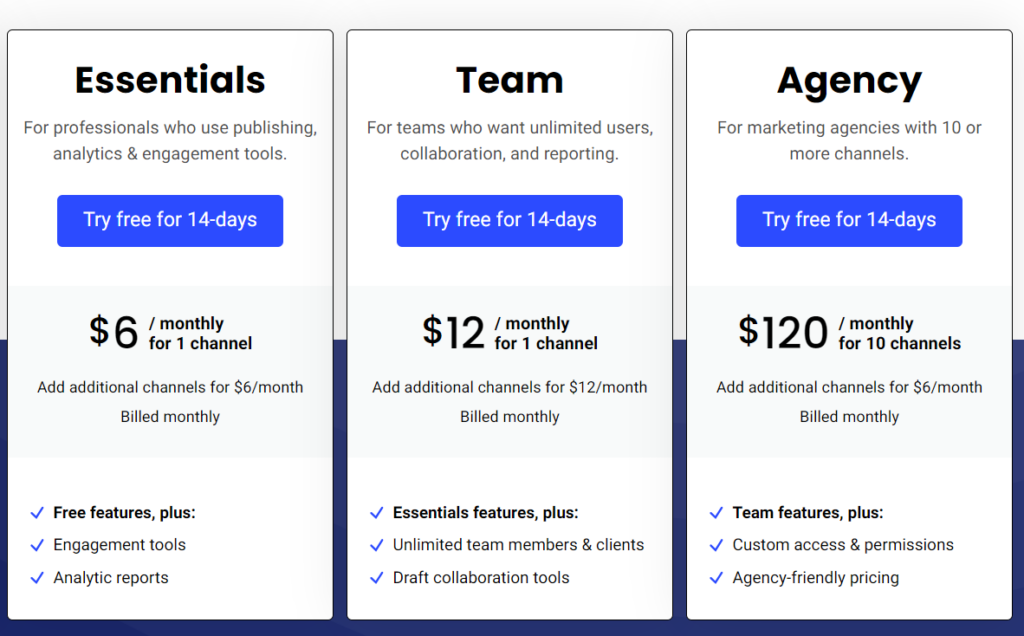 Buffer offers three subscription plans: Essentials, Team, and Agency. The Essentials plan is priced at $6 per channel per month. This can add up very easily when you want to manage multiple social accounts across platforms. And if you wish the team collaboration tools, you need to get the $12 per channel per month plan, which is considerably higher even if you have to manage a few social accounts.
If your requirement is to manage 10 or more social channels, you need to opt for the Agency plan, which costs $120 per month.
Price Comparison
Buffer is widely regarded as an excellent social media management tool. However, for agencies seeking a cost-effective alternative, RecurPost emerges as a viable option. Surprisingly, even for medium to large enterprises, RecurPost proves to be less expensive compared to Buffer.
Let's delve into a more comprehensive pricing comparison between the plans offered by both tools:
Buffer
RecurPost
Essentials
$300 per year for 5 social channels
Personal
$250 per year for 5 social channels
Agency
$1800 per year for 20 social channels
Agency
$790 per year for 20 social channels
Free Trial
Available for 14 days
Free Trial
Available for 14 days
Buffer Features
1. Scheduling and Publishing
Buffer scores a whopping 9.3 rating for its scheduling and publishing features.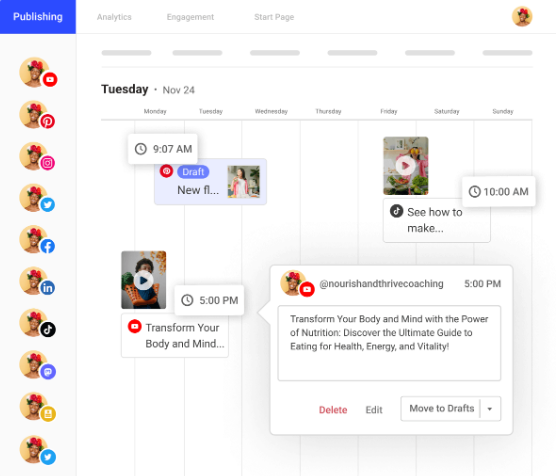 Buffer makes it effortless to plan and schedule your content ahead of time. The user-friendly interface allows you to create posts, add images or videos, and select the best publication time. You can establish a posting schedule, and Buffer will take care of automatically publishing your content at the specified times, eliminating the need for manual posting.
Moreover, the tool provides a convenient content calendar that gives you a visual representation of your scheduled posts, enabling you to maintain a consistent presence on your social media platforms.
2. Analytics and Reporting
For analytics and reporting features, Buffer has been rated 7.8 out of 10.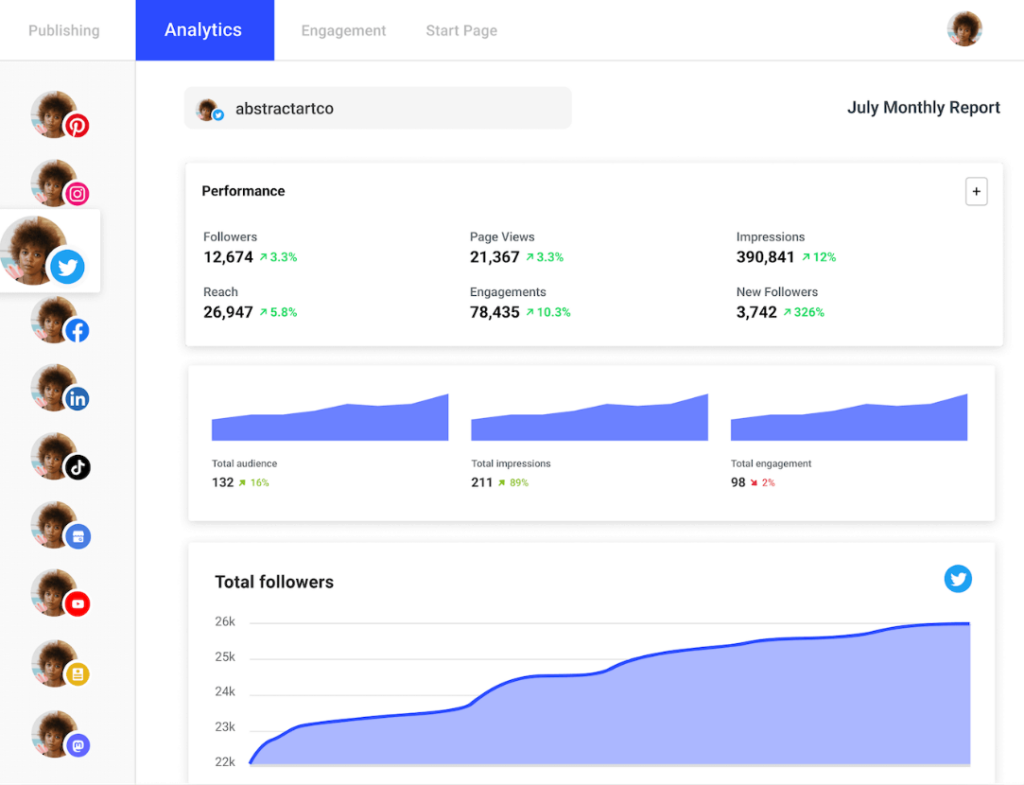 Buffer offers valuable analytics and reporting features that allow you to assess the impact of your social media campaigns. Through Buffer's analytics, you can access essential metrics like engagement, clicks, reach, and follower growth. These metrics provide valuable insights into the performance of your posts and how your audience is interacting with your content.
Additionally, it provides customized reports that offer a comprehensive summary of your social media performance. These reports enable you to track your progress over time and identify trends that can inform your content strategy. With this data readily available, you can make informed decisions to optimize your social media efforts and achieve better results.
3. Social Listening
Buffer's social listening features have grabbed a whole 8.5 rating out of 10 on G2.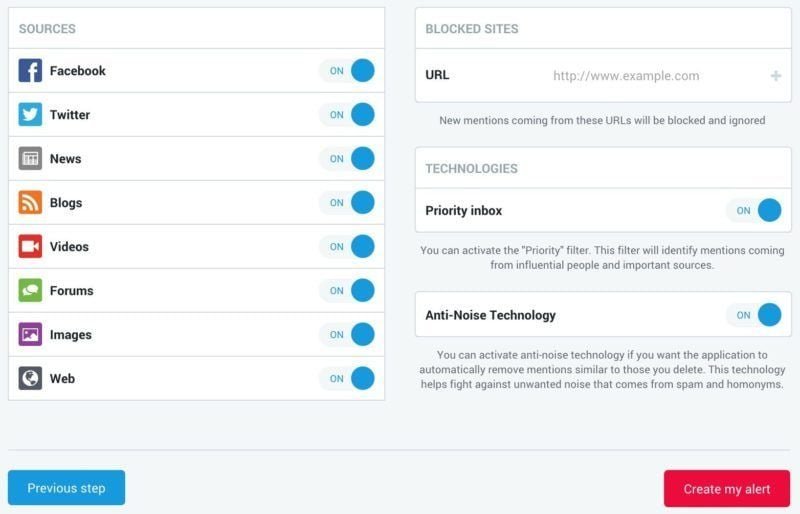 Buffer includes social listening capabilities, which enable you to stay updated on relevant conversations taking place on social media. Using its social listening feature, you can keep track of mentions related to your brand, products, or specific keywords across multiple social media channels.
This feature allows you to proactively listen and respond to customer feedback, questions, or concerns, demonstrating your commitment to valuing their input. By staying engaged in conversations related to your industry or niche, you can identify emerging trends, discover opportunities for meaningful engagement, and gain valuable insights to inform your content creation strategies.
4. Team Management
The team management features offered by Buffer are rated 8.9!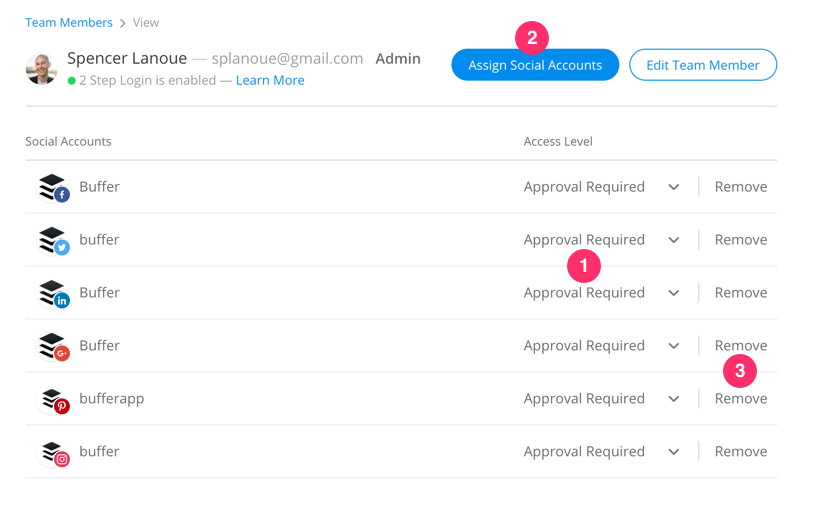 A notable feature of Buffer is the capability to invite team members and assign them specific roles and permissions. This functionality facilitates seamless collaboration within your team, allowing you to delegate tasks effectively. Moreover, it offers an "Approval Workflow" feature, which enables you to establish a content approval process before publishing.
This feature proves particularly valuable for larger teams or organizations that require multiple levels of review and authorization. With Buffer, you can easily communicate with your team members, provide feedback on posts, and ensure that your social media content adheres to the desired standards before it goes live. This ensures better coordination and quality control within your social media management process.
5. Campaign Management
Buffer's campaign management features have received a rating of 8.5 out of 10.

Buffer offers a convenient feature that allows you to create and manage campaigns for your social media channels. Many marketers plan their content in terms of campaigns, which have specific objectives and span across multiple social networks.
Using its social media management capabilities, you can effortlessly create new campaigns and efficiently manage them. The ability to view, edit, and delete campaigns is also provided for easy campaign management.
To create a new campaign, users with Admin access or the account owner can navigate to the Publishing tab in the Buffer dashboard. From there, simply select the Campaigns option located in the top left corner. The process is straightforward and intuitive, enabling you to effectively organize and optimize your social media content according to your campaign objectives.
Final Thoughts
Buffer proves to be an exceptional tool for social media management, offering a range of features that enhance efficiency and effectiveness. With its intuitive interface, users can easily plan and schedule content in advance, ensuring a consistent presence across social media platforms. The analytics and reporting capabilities provide valuable insights into post performance, allowing users to make data-driven decisions and optimize their strategies.
However, considering the limitations and high pricing associated with Buffer, it is advisable to explore alternative options that may better suit your needs. RecurPost stands out as one of the best Buffer alternatives, offering advanced features at a more affordable price point.
To evaluate its capabilities firsthand, you can take advantage of RecurPost's free trial and experience its features for yourself.
Frequently Asked Questions
1. What social media platforms does Buffer support?
Buffer supports scheduling posts on Twitter, Facebook, LinkedIn, Google my Business, Pinterest, TikTok, Shopify, Mastodon, and YouTube.
2. Is Buffer worth the money?
Buffer offers useful features, but there are more cost-effective social media management tools available, particularly for medium to large enterprises. Agencies can find cheaper alternatives to Buffer, such as RecurPost, which fills the gaps at comparatively lesser costs.
3. Is Buffer a good social media scheduling tool?
Buffer is a solid social media management tool with features like customized posts, smart scheduling, and post suggestions. However, it does have limitations. There are a lot of alternatives available that users can explore to meet their specific needs.
4. What are some alternatives to Buffer?
When searching for a top alternative to Buffer, RecurPost emerges as the ideal choice. It stands out for its affordability compared to Buffer and provides the convenience of managing multiple social media accounts through a unified dashboard. To explore its features, you can take advantage of the free trial option.
5. Does Buffer has a free version?
Buffer offers a free plan that allows you to manage up to 3 channels. The number of posts you can schedule is limited, so you eventually need to shift to a paid plan.