If you've ever found yourself overwhelmed by managing multiple social media accounts simultaneously, Later is here to simplify your life.
Designed to streamline your social media management efforts, Later allows you to schedule posts, plan your content, and analyze your performance, all from one convenient platform. Later is a well-known name in the list of social media management tools.
Let's dive into the details and explore what Later has to offer.
Later is Suitable For: Individuals, content creators, small businesses, entrepreneurs, and social media managers.
Later Ratings
When it comes to scheduling tools for social media, Later has established itself as one of the pioneers. However, as the market progresses, newer alternatives with more advanced features have emerged, and RecurPost stands out as an exceptional choice.
When comparing RecurPost to Later, it becomes clear that RecurPost offers a significant advantage in terms of advanced features and seamless management of social media accounts. RecurPost provides access to a wide array of powerful tools, such as recurring schedules, an AI assistant for curating engaging social posts and captions, white-label reports, caption customization, and much more. These features go beyond what Later offers, making RecurPost a compelling option.
To provide a comprehensive overview, let's compare the key features of Later with RecurPost. Here's a breakdown of their respective ratings:
| Feature | Later Rating | RecurPost Rating |
| --- | --- | --- |
| Meets Requirements | 8.7 | 9 |
| Ease of Use | 9.2 | 9.1 |
| Ease of Setup | 9.1 | 9.2 |
| Ease of Admin | 9.3 | 9.7 |
| Quality of Support | 8.9 | 8.3 |
| Product Direction | 9.1 | 9.5 |
Later user ratings compared with RecurPost
Later Reviews
Positive Reviews
Auto hashtags, basic image editing, the ability to select different times for different channels in one post, the post feed preview feature; and a solid, reliable performance 90% of the time.

~ Melle P. (Capterra link)
I like that you can house your unused photos and that it lets you know how many posts you've used a certain photo in. So if I post it to say Pinterest, FB, and Twitter it will say it's been used 3 times. This helps me manage a huge bucket of content. I really enjoy being able to see the whole upcoming week's posts at a glance and move them around easily if needed.

~ Danielle M. (Capterra link)
Later offers a wide variety of post scheduling features for most popular platforms but at a more modest price point. Later also offers some features not commonly implemented in competing products, such as a calendar view that makes it easy to see at a glance what posts are scheduled, and at what date/time.

~ Leighton F. (Capterra link)
Overall, I do really enjoy Later. I think it's appropriately priced and has great features that many other scheduling apps don't. Most important of all – it allows you to schedule Instagram stories which is VERY important nowadays in social media marketing.

~ Kayla S. (Capterra link)
Easy to use even the first time. The functionality to preview your feed is really helpful on Instagram. The freemium version is already enough if you only have one account to manage. One of my Instagram account is exclusively manage with this freemium SaaS.

~ Karel R. (Capterra link)
Negative Reviews
The analytics part of it is really helpful. However, I think it would improve if it could give more details about the overall engagement of our profile. This means it would be great if we could have graphics that sum up all the reactions ( reactions for our stories, posts and clicks on our link all together). One thing I would also improve is to allow the option of uploading more than one still per post. At the moment every time we want to post a few pictures together we need to do it through out phone. I'd also add predictive text when it comes to tag or mention any of our contacts (at the moment you have to enter the full name of everyone, an it takes way longer than doing it though Instagram, specially when you need to tag a lot of people). I'd also like to have the option for adding text to our stories. At the moment Lates lets you crop or apply filters to your stories but it doesn't let you add text or gifs as you would do directly on Instagram.

~ Laura P. (Capterra link)
Started out well, but then communication got flaky. People don't respond to he emails you send asking for help, there is no online chat, just a bot that refers you to useless and sometimes outdated articles.

~ Jeremy C. (Capterra link)
you can't schedule videos. it FAILS all the time… sometime it just doesn't upload, sometimes it uploads late (maybe that is the name "later") sometimes it won't upload a location.

~ Annette S. (Capterra link)
Customer service is terrible. The platform is full of bugs – had to report them every other week. After sending them several emails reporting the bugs, I suggested an improvement to the app (a fix to posting time – every time you edit a future post, the posting time automatically sets to current time which is very annoying because most of the time I want to move it a few days/hours/minutes, but then I forget when I originally scheduled it, so I have to cancel and to check original post time to go back again and edit it – I suggested not to move the time to current time because there's a button to post "NOW" so the time automatically moving to current was very annoying) They just brushed me off and told me to go write that suggestion on a forum and "let the people decide" if it was worth the fix. I mean I already report your bugs every other week, don't ask me to take more of my time to go to a different forum to suggest it. It was a legit improvement. I'm not even going to go and explain the countless of emails I have to send to upgrade my account because apparently, you can only do it the SECOND you are ready not even a day before, but the SECOND you are ready. So, I did so (after already a few emails telling them I would need it in a few days) well, they take a day and a half (I'm still waiting) to upgrade, while I have a deadline tomorrow. But they couldn't upgrade the account when I asked a few days ago.

~ Diana F. (Capterra link)
The App is terrible, clunky and hard to use and missing a lot of the desktop functionality. Also whilst you can upgrade / downgrade at any time, you will not get refunded if you cancel an annual plan. This isn't clear on the website and is unusual for an online service provider.

~ Hannah R. (Capterra link)
Later: Pros and Cons
Pros
Intuitive Interface:
Later offers an intuitive and user-friendly interface that makes it easy for users to navigate the platform and manage their social media accounts efficiently. The clean and organized layout ensures a seamless user experience, even for those new to social media management tools.
Platforms Supported:
Later supports popular social media platforms, including Facebook, Instagram, Twitter, LinkedIn, Pinterest, and TikTok. This wide range of platform compatibility allows users to manage their accounts and engage with their audience across multiple channels from one centralized platform.
Caption Customization:
Later provides the flexibility to customize captions for each social media platform. This feature allows users to tailor their captions to suit the tone, character limits, and best practices of each platform, optimizing engagement with their audience.
Visual Content Calendar:
Later offers a visual content calendar that provides a clear overview of scheduled posts and content plans. This calendar view helps users stay organized and plan their content strategically, ensuring a consistent and well-rounded social media presence.
Pricing Flexibility:
Later offers pricing plans that cater to various budgets, making it an accessible choice for individuals, entrepreneurs, and small businesses. The range of plans allows users to choose the one that suits their needs and scale up as their social media management requirements grow.
Cons
Limited Features:
Later may lack certain advanced features compared to other social media management tools. For example, it does not offer bulk scheduling, social inbox functionality, AI-driven content generation, or advanced analytics. Users seeking these advanced capabilities may need to consider alternative platforms.
Absence of White Label Reports:
Later does not provide white label reports, limiting customization options for presenting social media insights to clients or stakeholders. Users requiring highly customized reports may need to seek additional tools or manually create their reports outside the Later platform.
No Team Management Features:
Later does not offer specific features for team collaboration and management, such as assigning roles and permissions to team members. This may be a limitation for businesses or agencies requiring seamless collaboration on social media campaigns.
Learning Curve for Platform Updates:
Like any software, Later undergoes regular updates and changes to improve functionality. While updates aim to enhance the user experience, they may occasionally introduce changes that require users to adapt and learn new features or workflows.
Customer Support Availability:
While Later provides support resources such as a knowledge base, community forums, and online tutorials, some users may find that direct customer support options, such as phone or chat, are limited depending on their plan. The availability and responsiveness of customer support may vary, potentially impacting immediate assistance when needed.
Later Pricing
Later offers flexible pricing plans to accommodate different social media management needs. The pricing starts at $40 per month, making it a more affordable option for small businesses. The plans offer varying features and capabilities, allowing users to choose the one that aligns with their requirements and budget.
However, if you wish to manage more accounts, the advanced and scale plans can cost much more, with the tag of $80 and $200 per month respectively.
Price Comparison
In comparison to Later, RecurPost offers a different pricing structure, starting at $25 per month. While RecurPost provides more advanced features such as bulk scheduling, AI content generation, and social inbox functionality, Later offers a lower-priced option for those who prioritize simplicity and basic scheduling capabilities.
Here's a side-by-side comparison of the pricing plans for both Later and RecurPost:
| Plan | Later ($/month) | RecurPost ($/month) |
| --- | --- | --- |
| Basic | $40 | $25 |
| Advanced | $80 | $79 |
| Free trial | Available for 14 days | Available for 14 days |
Later Features
Visual Content Calendar: Staying Organized and Strategically Planning Your Content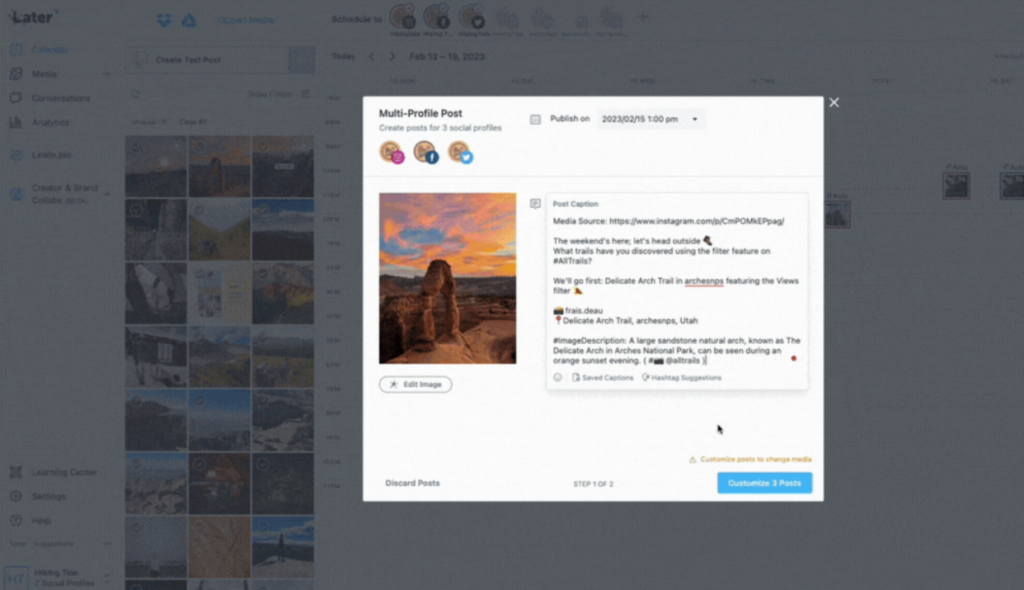 With Later's visual content calendar, users gain a comprehensive and organized overview of their scheduled posts and content plans. This calendar view provides a clear and visual representation of the posting schedule, making it easy to see the distribution of content across different days, weeks, or months. By having a centralized and visual content calendar, users can effectively plan their content in advance, ensuring a consistent and well-rounded social media presence.
The calendar format allows users to identify any gaps or overlaps in their posting schedule, enabling them to adjust and optimize their content strategy accordingly. With this strategic planning capability, Later empowers users to maintain a cohesive and engaging social media feed that resonates with their audience.
Platform Support: Managing and Engaging Across Multiple Channels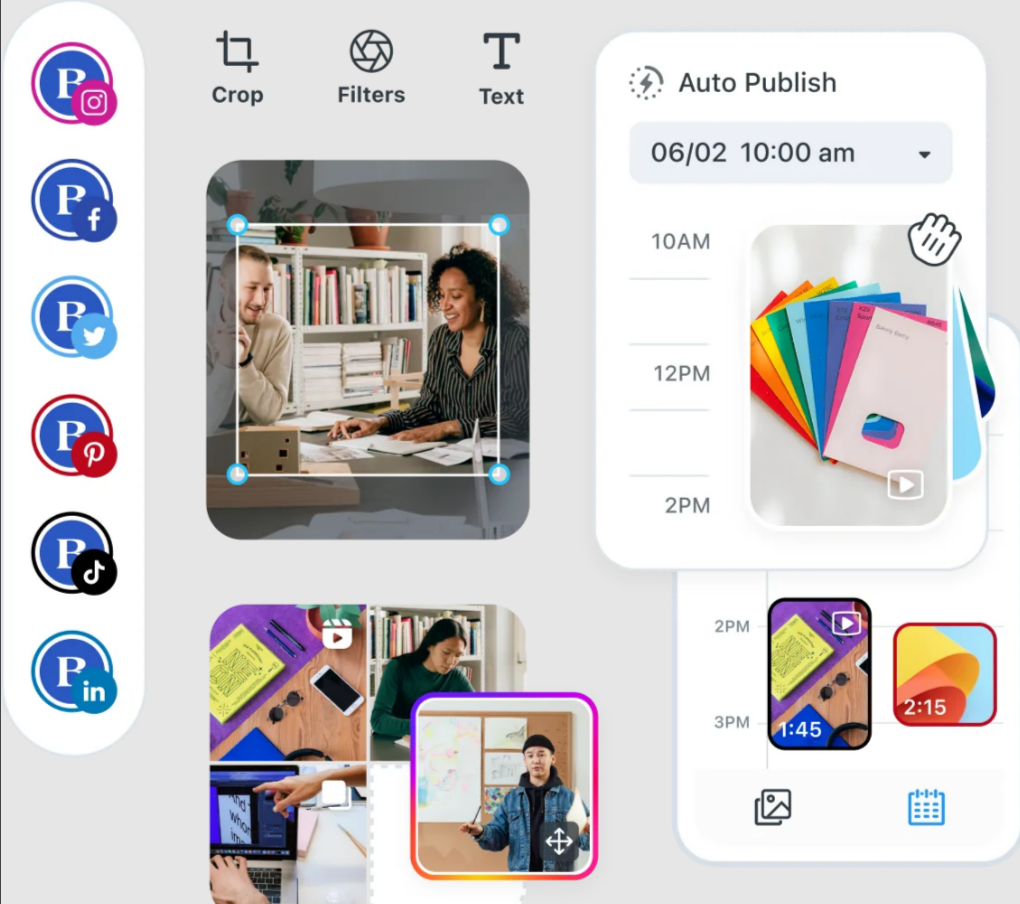 Later offers robust platform support, allowing users to manage and engage with their audience across various social media channels from one centralized platform. With support for popular platforms such as Facebook, Instagram, Twitter, LinkedIn, Pinterest, and TikTok, users can efficiently schedule and publish their content, monitor engagement, and respond to comments and messages, all within the Later interface.
This wide range of platform support ensures that users can effectively maintain their online presence across multiple channels, reaching their target audience wherever they may be active. By providing a convenient and centralized platform, Later saves users valuable time and effort by eliminating the need to log in and out of multiple social media accounts.
User-generated Content Management: Harnessing the Power of Your Community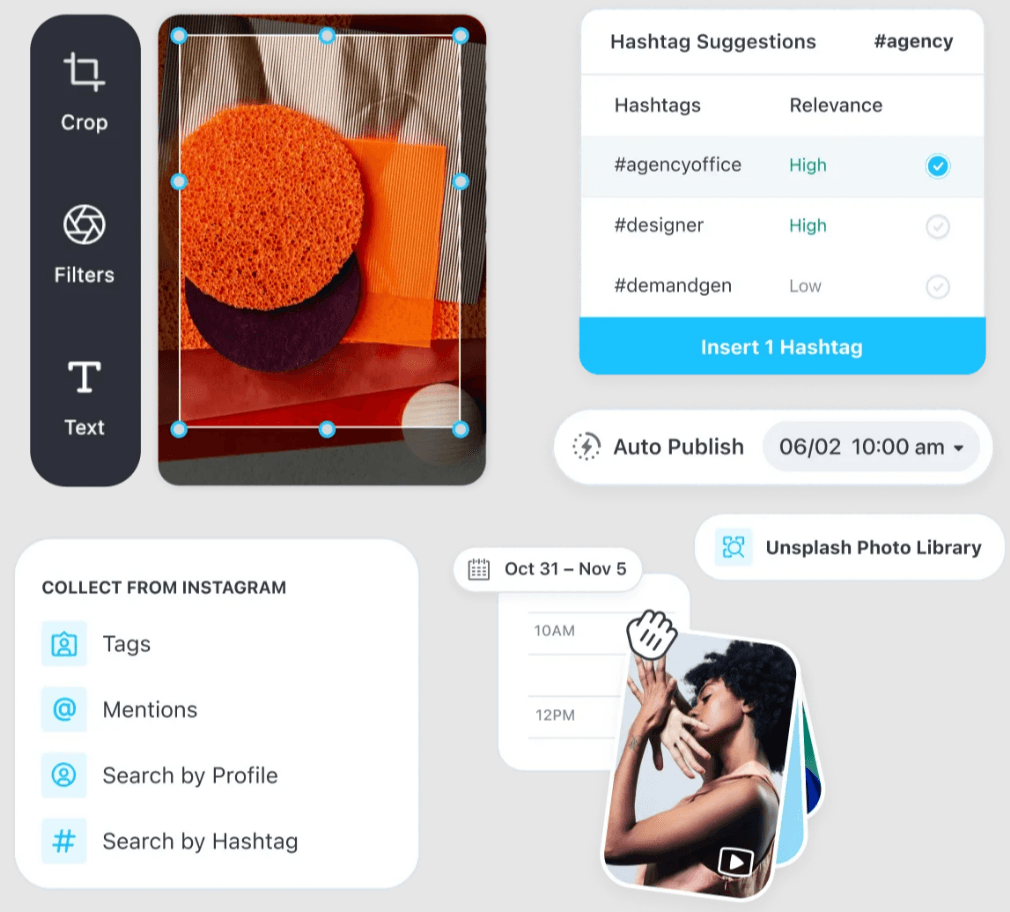 Later provides tools and features that make it easy to collect, curate, and share UGC seamlessly. With the UGC management feature, you can invite your audience to submit content directly to your Later account, whether through a branded hashtag campaign, contest, or by tagging your account. This simplifies the process of gathering UGC, as it centralizes all submissions within the Later platform.
Once UGC is collected, Later offers intuitive curation tools that allow you to review and select the best content to feature on your social media profiles. You can easily organize and categorize UGC, ensuring a consistent flow of authentic content that resonates with your audience. With the ability to preview and schedule UGC posts, you can effortlessly incorporate user-generated content into your content strategy, maintaining a dynamic and engaging social media presence.
Ease of Use: Streamlined and Intuitive Interface for All Users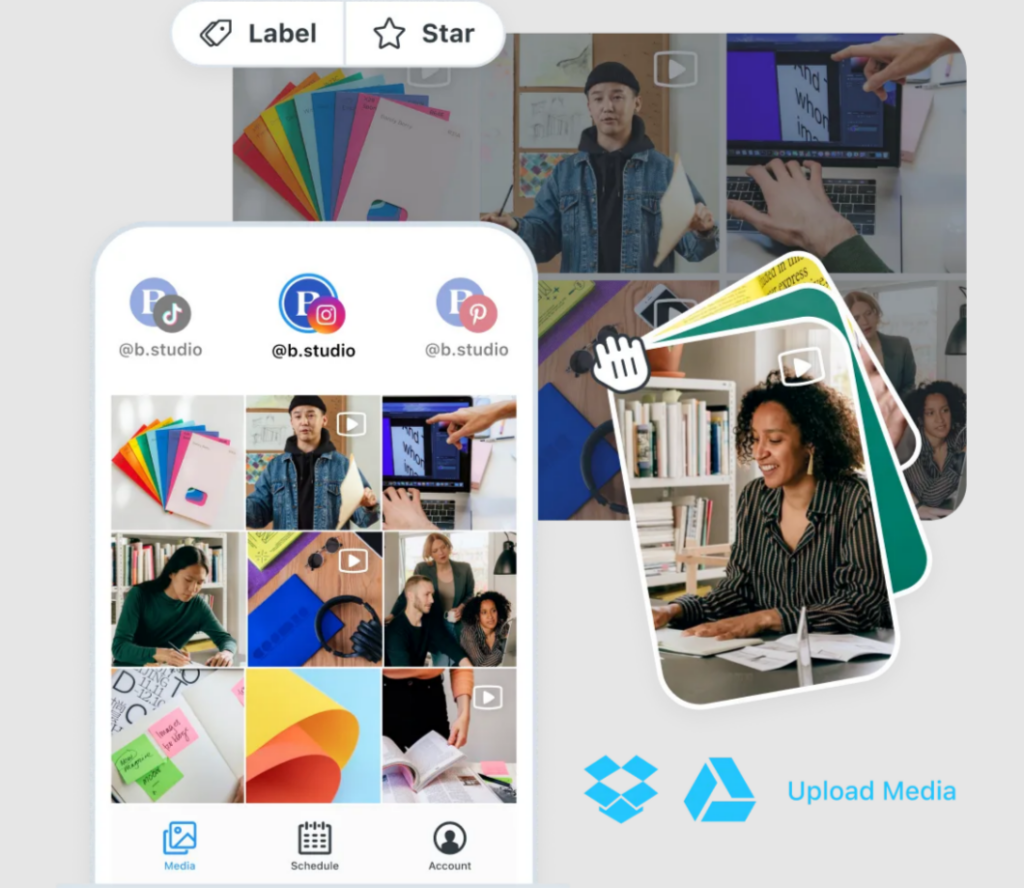 Later takes pride in its user-friendly and intuitive interface, designed to provide a smooth and hassle-free experience for users of all technical backgrounds. The platform's accessibility allows individuals with varying levels of expertise to navigate and utilize its features effectively.
Whether you're a seasoned social media manager or a beginner, Later's user-friendly design ensures that you can easily schedule posts, manage content, and analyze performance without the need for extensive training or technical know-how. By prioritizing ease of use, Later empowers users to focus on their social media strategies and goals, rather than getting bogged down by complex interfaces or steep learning curves.
Analytics and Performance Tracking: Gaining Insights and Optimizing Strategies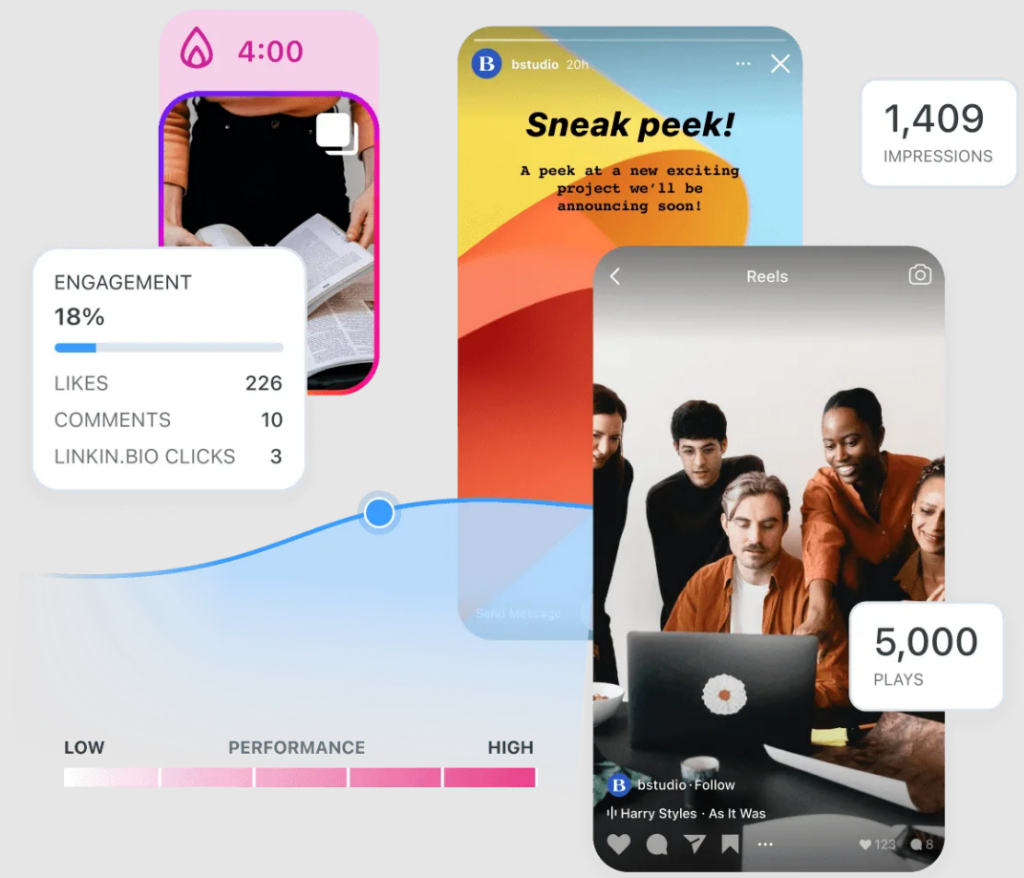 Later provides comprehensive analytics that give you valuable insights into your content performance, audience engagement, and growth trends. With Later's analytics, you can track important metrics such as post reach, impressions, likes, comments, shares, and follower growth across multiple social media platforms. These insights allow you to identify which posts and content types resonate most with your audience, helping you refine your content strategy and create more engaging and impactful content.
Moreover, Later's analytics also provide information on the best times to post based on your audience's engagement patterns. By leveraging this data, you can schedule your content for optimal visibility and engagement, increasing the likelihood of reaching a larger audience and maximizing your social media impact.
Final Thoughts
While Later offers a simplified and affordable option for social media management, RecurPost provides a more comprehensive suite of features for those seeking advanced functionalities. With its intuitive interface, caption customization, visual content calendar, and pricing flexibility, Later caters to individuals and small businesses looking to streamline their social media management efforts without breaking the bank.
However, for those in need of features such as bulk scheduling, AI content generation, and social inbox functionality, RecurPost emerges as the ultimate Later alternative to meet their requirements. Consider your specific needs and priorities to choose the social media management software that aligns best with your goals and budget.
Experience the capabilities of RecurPost firsthand by taking advantage of its free trial. During the trial, you can evaluate and explore its features to get a true sense of what it has to offer!
Frequently Asked Questions
1. What social media platforms does Later support?
Later supports scheduling posts on Facebook, Instagram, Twitter, LinkedIn, Pinterest, and TikTok.
2. Is Later worth the money?
Later offers useful features, but there are more cost-effective social media management tools available, particularly for medium to large enterprises. Agencies can find cheaper alternatives to Later, such as RecurPost, which fills the gaps at comparatively lesser costs.
3. What are some alternatives to Later?
If you're looking for a great alternative to Later, look no further than RecurPost. It offers affordable pricing and the convenience of managing multiple social media accounts in one dashboard. Take advantage of the free trial to discover and explore its impressive features.
4. Does Later has a free version?
Later doesn't offer a free plan. After the 14-day free trial, you can select from a plan starting from $40 per month.
5. How does later work?
Later is a social media scheduling platform that allows users to plan, schedule, and manage their social media posts across various platforms.