Welcome to our comprehensive review of Agorapulse, a top-notch social media management software. If you're on the lookout for a reliable solution to streamline your social media activities, Agorapulse might be the perfect fit. In this article, we'll explore the features, pros, and cons of Agorapulse and compare it with RecurPost to help you make an informed decision for your social media needs.
Agorapulse is Suitable For: Small and Medium-sized Businesses, Digital Agencies, Content Creators and Influencers, Large Enterprises.
Agorapulse Ratings
Agorapulse is often regarded as a popular option for businesses seeking social media management tools. Nevertheless, there are plenty of other alternatives in the market that claim to offer even better features at competitive prices. One such notable substitute is RecurPost, which has consistently proven to be the ultimate alternative to Agorapulse.
RecurPost stands out by providing a wide range of features that are lacking in Agorapulse. By using RecurPost, you can access recurring scheduling, content categorization, tweet variations, an AI content assistant, Google alerts, URL shortening, and a host of other valuable functionalities that greatly enhance your social media management experience.
Let's now compare the key features of Agorapulse and RecurPost in the table below:
| Feature | Agorapulse Rating (Out of 10) | RecurPost Rating (Out of 10) |
| --- | --- | --- |
| Ease of Use | 9 | 9.2 |
| Social Platforms | 9 | 9.5 |
| Bulk Scheduling | 9 | 9 |
| AI Content Generation | 8.9 | 9.1 |
| Pricing | 8 | 8.1 |
Agorapulse user ratings compared with RecurPost
Agorapulse Reviews
Positive Reviews
Anytime I have had an issue with Agorapulse (my issues were user errors, lol) my chat interactions with support have been absolutely delightful. The response to any of my inquiries has been surprisingly quick and everyone I have dealt with has felt real and with just the right touch of humor to keep things fun. Agorapulse has made social media management FUN and giving me confidence when managing it all by myself could easily have turned into a scary nightmare! I can't say enough good things about my experience with Agorapulse. I'm a huge fan and advocate!

~ Sara B. (Capterra link)
Agorapulse has proven to be instrumental in resolving numerous challenges by providing us with efficient management of multiple accounts and seamless scheduling of content across various platforms. Additionally, Agorapulse enables us to establish different levels of access for team members, empowering them to schedule posts even outside regular business hours and ensuring continuous workflow.

~ Lain A. (Capterra link)
Agorapulse is a master social media management platform that enables us to provide customers with interesting information at the most suitable time. In addition, it provides certain workflow management features that enable us to delegate duties to team members and monitor their progress. Additionally, there is a terrific reporting feature there that enables us to create team performance reports rapidly.

~ Christophe B. (Capterra link)
All in all, AgoraPulse is an exceptional social media management tool. It is packed with features and has an easy-to-use interface. I highly recommend it to anyone looking to manage their social media presence.

~ Karolina B. (Capterra link)
Agorapulse is constantly looking to improve the platform and there is a built-in forum that allows users to suggest improvements. So with this continuous development they are able to keep ahead of the competition and roll on new features on a regular basis.

~ Lainey T. (Capterra link)
Negative Reviews
This is not a robust solution. You can't really do much with Instagram stories, it is very difficult to clear out messages and comments, posting from within the platform is more difficult than doing it from within the social media platforms themselves. The analytics is lacking and it is much more difficult to collaborate than we hoped it would be when we started using this solution.

~ Amy C. (Capterra link)
Now it still restricts the function of scheduling video on Instagram, that's really weird. Because other apps like HootSuite, buffer, are able to help us to post the video via their platform. The report function is not available on Youtube and Google +.

~ Faye Y. (Capterra link)
Our experience with AgoraPulse has been incredibly frustrating. Our team has experienced a range of issues: – images posted to social networks come out soft and blurry, despite us using good quality images – the interface doesn't communicate the limitations of AgoraPulse's integration well. For example, the app can't post images to LinkedIn. We discovered this by posting images and text, only for the images to be dropped on the post. – the customer service is responsive, but our problems are not being resolved.

~ Ian P. (Capterra link)
Reports: you need to work in them to have a full report for clients with differents social pages doing things that don't add value as unify reports of differents social media in one documents. Suggested best time to publish: it's so useful. Could be useful to have an image /video editor included in the platform: change dimensions, add text (choosing the letter family), or some emoji… Actualize the list of emojis, please, we have to look for them in google, cut and copy to add the most of them.

~ Anabel S. (Capterra link)
When publishing content with images to multiple platforms, the post was often not optimized by platform-specific-formats and would often grab the incorrect thumbnail. I contacted Support about this issue, who recommended posting to each platform separately. As this required more time and energy, we decided to pursue another platform that mirrored our expectations much better and fluidly.

~ Jessica (Capterra link)
Agorapulse: Pros and Cons
Pros
Intuitive User Interface:
One of the standout features of Agorapulse is its intuitive user interface. It offers a clean and user-friendly design that is easy to navigate. Whether you're a seasoned social media manager or just starting out, the platform's intuitive layout makes it a breeze to find the tools and features you need. You won't waste time fumbling through menus or searching for options – everything is logically organized, allowing you to focus on what matters most: crafting compelling content and engaging with your audience.
Comprehensive Social Platform Support:
Agorapulse takes the stress out of managing multiple social media accounts across various platforms. With support for Facebook, Instagram, Twitter, LinkedIn, Google Business Profile, YouTube, TikTok, and more, you can ensure a comprehensive presence on the most relevant social networks for your brand. No need to switch between different tools or platforms – Agorapulse consolidates all your accounts in one place, streamlining your social media management and saving you valuable time.
Bulk Scheduling and Content Calendar:
Time is of the essence when it comes to social media management, and Agorapulse understands that. Its bulk scheduling feature and content calendar empower you to plan and schedule your posts in advance. You can create a content calendar that aligns with your marketing strategy, ensuring a consistent and timely presence on your social platforms. By scheduling in bulk, you free up more time to focus on other aspects of your business, knowing that your social media content is taken care of.
Advanced Analytics and Reporting:
Data-driven decision-making is essential for any successful social media strategy, and Agorapulse delivers on this front. With its advanced analytics and reporting tools, you gain valuable insights into your social media performance. Measure engagement rates, track follower growth, and monitor the reach of your content to gauge its impact. This data allows you to identify trends, spot opportunities, and fine-tune your social media approach to maximize results.
Competitor Analysis:
Agorapulse goes beyond managing your own social media presence. It also empowers you to gain a competitive edge by analyzing your competitors' performance. The competitor analysis feature allows you to compare your social media metrics with those of your competitors.
By benchmarking against industry rivals, you gain valuable insights into what works well and what can be improved in your social media strategy. Armed with this knowledge, you can refine your approach, seize opportunities, and stand out in your niche.
Cons
Limited Free Trial Duration:
One major drawback of Agorapulse is its limited free trial duration. Some users may find the trial period insufficient to fully explore and evaluate all the features and capabilities of the platform before making a purchase decision. A longer free trial period could provide a more comprehensive understanding of Agorapulse's suitability for individual or business needs.
Lack of Support for Certain Platforms:
While Agorapulse supports a wide range of social media platforms, it may not cover all the channels that some users require. For instance, the absence of support for platforms like TikTok and Pinterest could be a limitation for businesses or creators seeking to reach audiences on these popular channels.
No AI Image Generation:
Although Agorapulse boasts advanced AI content scheduling, it currently lacks an AI image generation feature. This means users must rely on external tools or manually create visual content, which may add extra steps and time to their content creation process.
Pricing Plans for Advanced Features:
While Agorapulse offers competitive pricing plans, some advanced features may be available only in higher-tier plans, which can be a disadvantage for users on a budget. Access to certain functionalities, such as additional analytics or premium support, may require upgrading to more expensive plans.
Cross-Posting Limitation:
Agorapulse's approach to cross-posting content from Instagram may be a limitation for users who prefer to post separately on Facebook or Twitter. The platform's cross-posting feature may not be suitable for those seeking more tailored content strategies for different social media channels, as it automatically duplicates content across platforms.
Agorapulse Pricing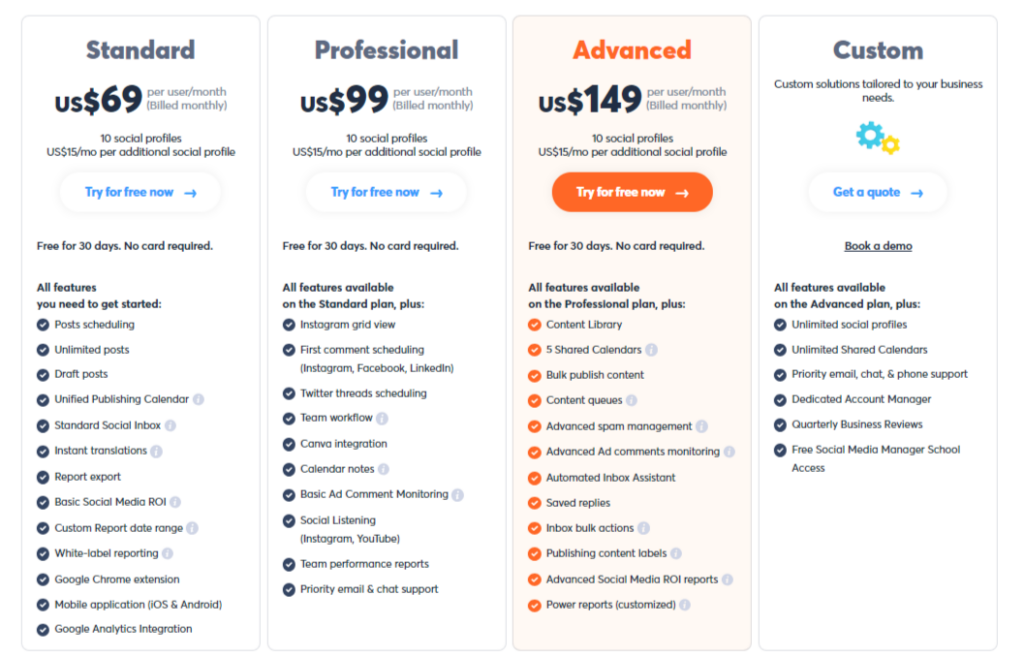 Agorapulse offers three pricing plans to accommodate different user needs: Standard, Professional, and Advanced. The Standard plan is priced at $69 per month. It provides essential features for individuals or small businesses looking to manage their social media presence effectively. For $99/month, the Professional plan includes Standard features and extras like Twitter threads scheduling and Canva integration.
For larger-scale or enterprise-level needs, Agorapulse's Advanced plan at $149/month includes all Standard and Professional features, with extras such as shared calendards, content library, and social media ROI reports. Ideal for businesses managing multiple accounts, it provides advanced functionality for efficient social media management.
Price Comparison
When comparing the pricing plans of RecurPost and Agorapulse, it becomes evident why RecurPost stands out as a superior choice. RecurPost's plans start at $25 per month, providing a robust set of features at a competitive price. Here's a comparison of the pricing plans for both tools:
| Plan | Agorapulse (per month in USD) | RecurPost (per month in USD) |
| --- | --- | --- |
| Starter | $69 | $25 |
| Pro | $99 | $79 |
| Free trial | Available for 30 days | Available for 14 days |
Agorapulse Features
Social Inbox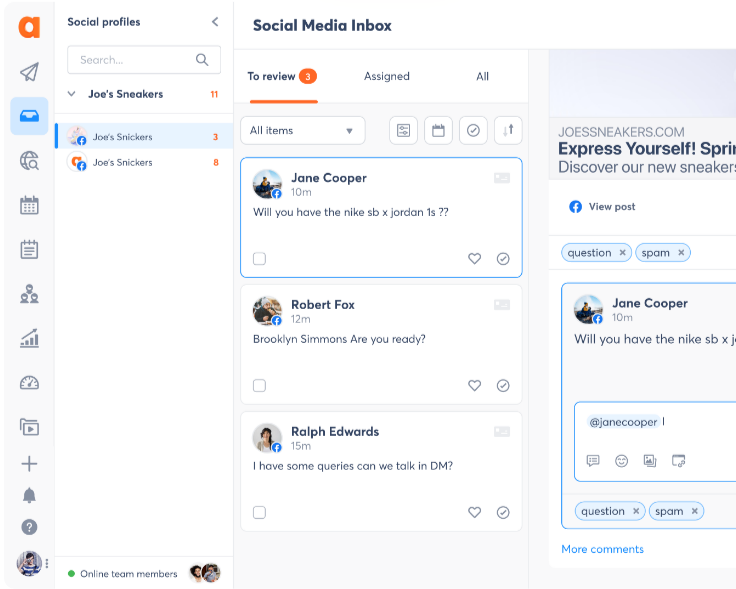 Agorapulse's Social Inbox is a game-changer when it comes to managing your social media interactions. Agorapulse unifies comments, messages, and mentions into one inbox, eliminating the need for multiple platform navigation. This not only saves you time but also ensures that you never miss an important engagement opportunity.
Whether it's a customer query, a positive review, or a mention from an influencer, Agorapulse's Social Inbox allows you to promptly respond, engage, and build meaningful connections with your audience.
AI Content Scheduling
Agorapulse takes the guesswork out of posting times with its intelligent AI-powered content scheduler. By analyzing audience behavior and activity on different social platforms, Agorapulse determines the optimal times to publish your posts for maximum reach and engagement.
This means that your content will be delivered to your audience when they are most active and receptive. This increases the chances of driving meaningful interactions, likes, shares, and clicks. The AI content scheduling feature ensures that your content is delivered with precision and efficiency, saving you valuable time and effort in the process.
Social Listening and Monitoring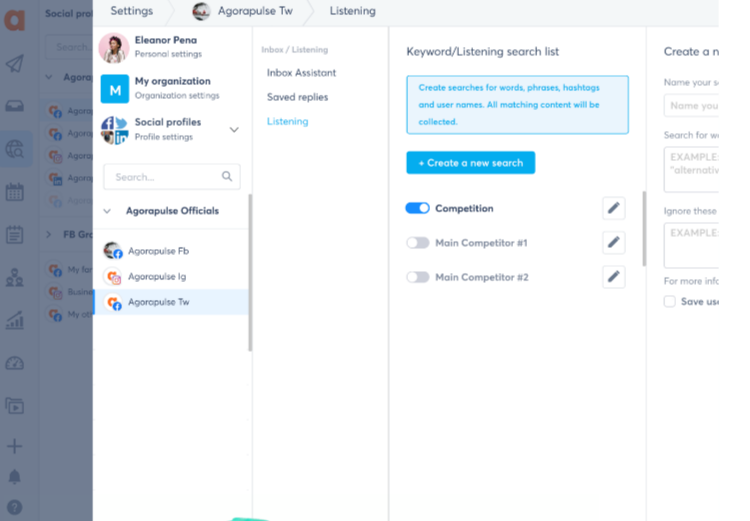 Keeping your finger on the pulse of your brand's online presence is essential in today's digital landscape. Agorapulse's social listening and monitoring features empower you to stay informed about what people are saying about your brand, products, or services.
By tracking brand mentions, hashtags, and keywords, you gain insights into public sentiment and industry trends. This valuable information allows you to address customer feedback, manage your online reputation proactively, and identify potential opportunities for engagement and growth.
Automated Moderation
In the age of social media, maintaining a positive and safe online community for your brand is paramount. Agorapulse's automated moderation feature acts as your virtual gatekeeper, automatically filtering out spam and offensive comments from your social media posts.
By eliminating harmful or irrelevant content, you create a more pleasant and engaging environment for your audience, fostering trust and loyalty. With automated moderation, you can focus on fostering meaningful interactions with your community while Agorapulse takes care of maintaining a respectful online space.
Collaborative Team Management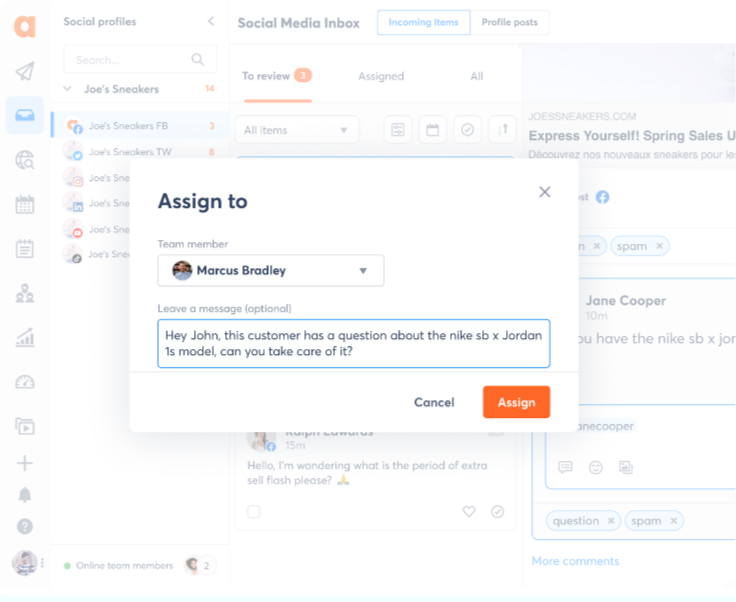 For businesses and agencies with multiple team members handling social media, Agorapulse offers collaborative team management features. You can assign specific roles and permissions to team members, allowing them to work together seamlessly while maintaining control and oversight. This fosters better communication, boosts efficiency, and ensures a cohesive social media strategy across the entire team.
Conclusion
Agorapulse is a commendable social media management software with impressive features. But when it comes to a winning combination of cost-effectiveness, extensive platform support, and user-friendliness, RecurPost emerges as the ultimate tool for social media management. Embrace the power of RecurPost and elevate your social media strategy to new heights!
Experience the features of RecurPost today by taking the free trial!
Frequently Asked Questions
1. What platforms does Agorapulse support?
Agorapulse offers support for scheduling posts on Instagram, Facebook, Twitter, LinkedIn, YouTube, GMB, and TikTok.
2. What is Agorapulse used for?
Agorapulse is a social media management tool used by businesses and marketers to schedule and publish content. It also helps engage with their audience, and analyze their social media performance across various platforms. It helps streamline social media management tasks and provides valuable insights for better social media strategies.
3. Does Agorapulse have a free version?
No, Agorapulse offers a 30 day free trial, after which users need to upgrade to a paid plan.
4. What are the disadvantages of Agorapulse?
The cost of Agorapulse may be a drawback for some users. It also lacks integration with certain less popular social media platforms.
5. Does Agorapulse have an app?
Yes. Agorapulse offers a mobile app that can be used to manage your scheduled posts on the go.