Sendible is a robust social media management tool, used for managing and amplifying your brand presence across various social media platforms. It's a tool that streamlines the process of scheduling posts, curating engaging content, and measuring ROI. With Sendible, you can easily manage your social media accounts, including Facebook, Instagram, Twitter, LinkedIn, Google Business Profile, YouTube, and TikTok.
In this article, we'll delve into the features, pros, and cons of Sendible. Let's begin!
Sendible is Suitable for: Marketing teams, social media managers, content creators, bloggers, and small business owners.
Sendible Ratings
Sendible is frequently considered among the top choices for social media management tools by businesses. However, when discussing social media management tools, it's impossible not to mention RecurPost – a highly-rated, user-friendly tool that offers a comprehensive range of features at an affordable price point, making for the perfect Sendible alternative. Here is a quick comparison of Sendible and RecurPost based on various important parameters.
| Feature | Sendible | RecurPost |
| --- | --- | --- |
| Star Rating (out of 5) | 4.5 | 4.3 |
| Meets Requirements (out of 10) | 8.7 | 9 |
| Ease of Use (out of 10) | 8.8 | 9.1 |
| Ease of Setup (out of 10) | 8.6 | 9.2 |
| Ease of Admin (out of 10) | 8.9 | 9.7 |
| Quality of Support (out of 10) | 8.9 | 8.3 |
| Product Direction (% positive) (out of 10) | 9 | 8.1 |
| Pricing (per month in USD) | 29$ | 25$ |
Sendible user ratings compared with RecurPost
Sendible Reviews
Positive Reviews
Scheduling Google My Business (GMB) posts was important to me. Sendible not only has this feature, but allows the utilization of the 'button' feature when creating a post. Sendible also allows scheduling to Instagram… true scheduling, not a reminder that you then have to post from your phone.

~ Nikki S. (Capterra link)
There are many pros with Sendible. First, I love that they are always evolving and introducing new features to the platform. It's easy to schedule content on many platforms including Instagram, Pinterest, Google my Business (yes, you should be posting there!). There's a Canva integration which makes creating graphics much easier and efficient. Also, very easy to curate new content and add RSS feeds.

~ Lee'Ann B. (Capterra link)
Sendible has a fantastic range of features available that are easy to use and make posting to social media and tracking performance a piece of cake! The support is also fantastic and they are always adding new features to keep up to date with various changes on social media e.g. the ability to schedule Instagram reels and TikToks.

~ Georgia B. (Capterra link)
Pre-scheduling posts is great as my day-to-day varies, so I can work on and schedule social media during dedicated time. Adjusting the days of scheduled post if something more time-pressing appears is a great feature. Really easy to use, i.e. if someone has to use it while I'm away. Very intuitive.

~ Evan F. (Capterra link)
My overall experience with Sendible has been incredibly positive. The customer service is wonderful, which I haven't found in other platforms. I look forward to growing my business with Sendible. Partnering with them to accomplish my content management has been like having a business partner.

~ Summer S. (Capterra link)
Negative Reviews
I landed on Sendible after recommendations from colleagues and after reading many reviews. From the time I read a review (published May 8) to the time I tested out the software (May 15) the trial changed from 30 days to 2 weeks. Okay no problem, I can roll with that. Android app worked great and I really liked the Canva integration, how easy it was to use, the different available planning calendars, the ability to include multiple images on an Instagram post, and that you could schedule the first comment for an Instagram post. Within the first day, the Android app stopped working (could not schedule a one image post let alone multiple images). There was no help available and the troubleshooting tips did not resolve my issue. An email request for assistance received a response after at least two days. The gist of it was "well those on a trial plan don't receive any assistance." Furthermore, the pricing plan I was considering had changed and was now less money but also had less features. Someone then emailed me stating she wanted to correct the situation and offered different alternatives. It's now going on a week with no response. One star for the attitude I perceive from them and one star for the overall experience.

~ Freddy S. (Capterra link)
Sendible often had video publishing issues; videos that were scheduled ahead of time often failed to post. Another down fall of Sendible is that it does not have the capability to post Instagram Carousels nor Instagram Story scheduling. In the end, these were the deciding factors for changing from Sendible to Hootsuite.

~ Juanita I. (Capterra link)
This software is so glitchy. I often have to log out and back in to make features work. Sometimes the disappear altogether, or when I click them they don't fire. The users and accounts in the administration settings only work about 20% of the time. Literally every time I tried to change a user to a team member or anything with the user roles the changes never saved, wasting my time. We asked the sendible reps to make a custom service for us and their wesbite was unable to process our credit card, 3 separate times. After all this, the custom service they delivered was not what we needed. Linked in services have to be reconnected every 60 days requires some upkeep.

~ Caitlin L. (Capterra link)
They are very slow to roll out new product integrations. Most other companies beat them to product development, and when you ask them about it they will say "Yeah, we will do this for you if we charge you an extra fee, or you can wait like everyone else who has our product." Third support help respond time is also painstakingly slow.

~ Rebekkah A. (Capterra link)
If you have a need for simplicity, this may not be the option for you. There's a bit of a learning curve. Some troubles with the non-major social networks. And, mobile is not a viable option (a HUGE drawback of course).

~ Susan B. (Capterra link)
Sendible: Pros and Cons
Pros
Multi-Channel Integration:
Sendible provides seamless integration with a variety of social media platforms, such as Facebook, Instagram, Twitter, LinkedIn, Google Business Profile, and YouTube. This broad coverage enables businesses to manage and schedule their social media posts across various channels from a single dashboard. Additionally, Sendible supports integration with WordPress. This unique feature allows businesses to schedule, manage, and post their blog content directly from Sendible.
Content Calendar:
Sendible's content calendar is a central hub where you can organize, schedule, and visualize your social media content across different platforms. It presents a clear, holistic view of your planned posts, allowing you to see at a glance what content is scheduled to go live, on which platform, and when.
This comprehensive overview helps ensure that your posting schedule is consistent and evenly distributed, which is critical in maintaining an active and engaging presence on social media. Any scheduled post can be easily edited, rescheduled, or deleted directly from the calendar, offering flexibility and control over your content strategy.
Bulk Scheduling:
The ability to schedule posts in bulk is one of the standout features of Sendible. With this feature, businesses can schedule multiple posts at once, thus saving valuable time. Bulk scheduling is particularly useful for businesses that create and plan their social media content in advance, allowing them to upload and schedule their posts for the future in one go.
This feature can also prove beneficial when businesses plan to launch campaigns or promotional activities, ensuring that their message is consistently conveyed at the right times across all their social media platforms.
Content Recommendation:
Sendible can recommend relevant content based on the user's industry or interests. It can also help curate content from various sources, allowing users to keep their social feeds fresh and engaging with minimal effort.
Mobile App:
Sendible provides a convenient mobile app compatible with both iOS and Android devices, empowering users to manage their social media activities seamlessly while on the move. This valuable feature proves especially beneficial for business owners and social media managers who frequently find themselves away from their desktops, allowing them to stay connected and engaged with their audience at any time and from any location.
Whether it's scheduling posts, responding to messages, or monitoring campaign performance, the Sendible mobile app ensures that users can efficiently and effectively handle their social media presence even while on-the-go, making it a must-have tool for maintaining a strong online presence.
Cons
Pricing:
With its plans starting at $29 per month, Sendible's pricing could be considered on the high end for social media management tools, especially for small businesses or individual users with limited budgets. While the platform offers a comprehensive suite of features, its pricing may not be as competitive when compared to other tools in the market that offer similar functionalities at lower costs.
Hence, while large businesses or agencies might find the pricing justified due to the extensive feature set and the potential for improved efficiency, the cost factor could be a deterring point for smaller businesses or individuals.
Limited Features in Lower-Tier Plans:
Sendible's lower-tier plans do not offer the full spectrum of its features. For instance, valuable features like custom reporting and team collaboration tools, which can be critical for businesses that rely heavily on analytics and teamwork, are only available in higher-tier plans. This means businesses on a budget may not be able to fully utilize Sendible's potential unless they're willing to invest in more expensive plans.
Limited Functionality for Certain Platforms:
Despite supporting a wide variety of social media platforms, Sendible does not offer the same level of functionality across all of them. For instance, while the tool supports auto-scheduling for most platforms, this feature is not available for Instagram. This lack of uniformity can be a hurdle for businesses that use Instagram as a primary platform for their social media activities, as it could lead to a less efficient process compared to managing other platforms.
Interface Complexity:
While Sendible is packed with powerful features, some users have reported that its interface can be somewhat complex and not as intuitive as other platforms, particularly for beginners. Learning to navigate the interface and use all of its features can take time, which may cause frustration or a delay in achieving full productivity. Therefore, those new to social media management tools may face a steeper learning curve with Sendible, which could impact the overall user experience.
Customer Support Response Time:
Some users have reported that the response times from Sendible's customer support team can be slower than expected. While the platform does offer support through various channels such as email, live chat, and phone, the turnaround time to resolve issues or answer queries might not be as quick as some users might hope for. This can be particularly problematic if a user runs into an urgent issue that needs immediate attention.
Sendible Pricing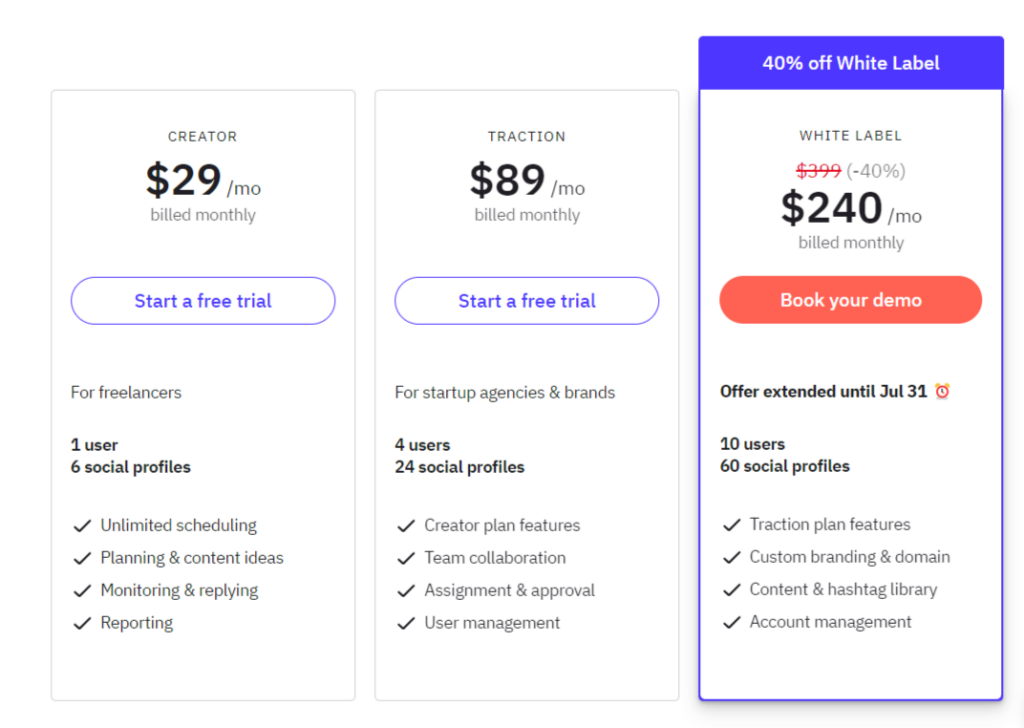 Sendible offers its services at a monthly cost of $29. This pricing is set for managing 5 social media accounts. However, it's worth noting that despite the relatively high pricing, Sendible misses out on some key features such as recurring posts, advanced analytics, and RSS feeds.
The traction plan and white label plan cost $89/month and $240/month respectively, which can be quite expensive for small to medium sized businesses.
Price Comparison
When comparing the pricing plans of RecurPost and Sendible, it becomes evident why RecurPost stands out as a superior choice. RecurPost's plans start at $25 per month, providing a robust set of features at a competitive price. Here's a comparison of the pricing plans for both tools:
| Features | RecurPost | Sendible |
| --- | --- | --- |
| Basic plan | $25/month | $29/month |
| Advanced plan | $79/month | $89/month |
| Free trial | Available for 14 days | Available for 14 days |
Sendible Features
Advanced Analytics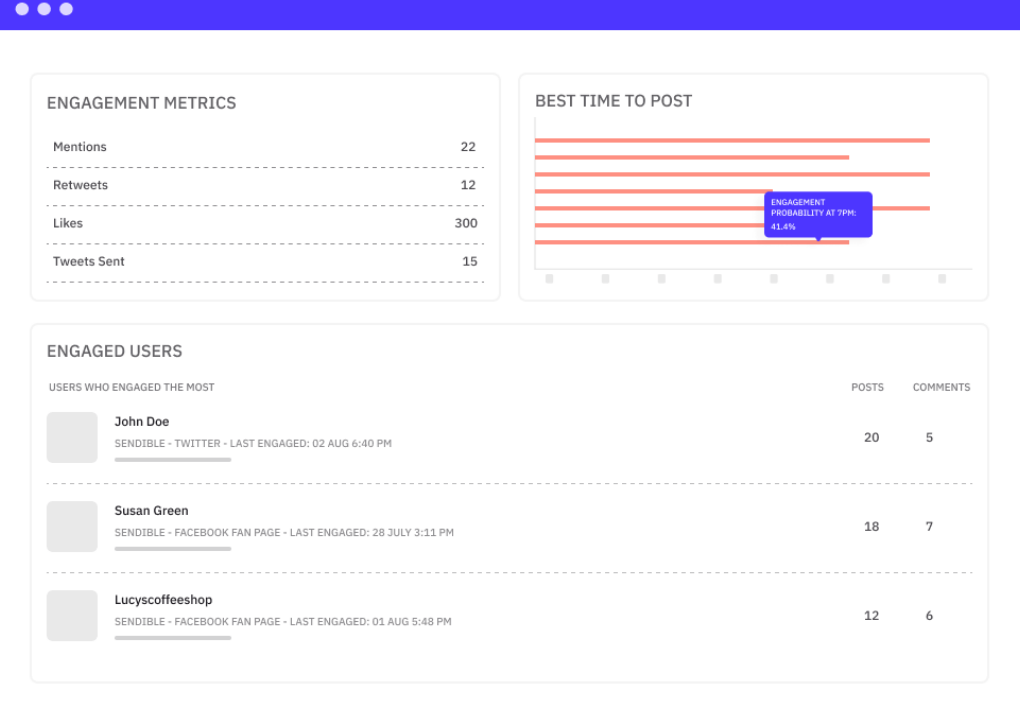 Sendible's advanced analytics feature offers comprehensive insights into your social media performance. It provides an extensive range of metrics that can help businesses understand their audience engagement, track the reach and effectiveness of their posts, and evaluate the success of their social media strategies.
The analytics tool also allows the creation of custom reports, making it easier for businesses to present their social media performance data in a format that best suits their needs. With this data-driven approach, businesses can make more informed decisions to enhance their social media presence.
Team Collaboration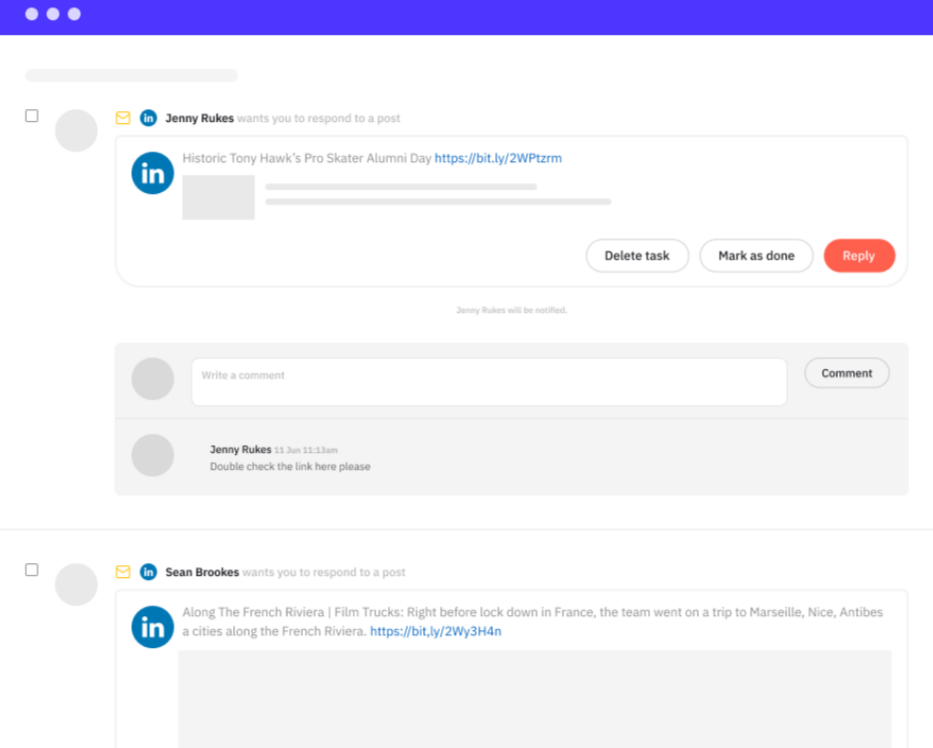 Sendible offers a comprehensive set of features designed to enhance team collaboration and streamline the process of social media management, especially advantageous for larger teams or businesses. The tool allows managers or team leads to assign tasks to specific members of the team. These tasks could range from creating new posts, responding to customer queries, or even managing specific campaigns. This not only helps keep the workflow organized but also ensures accountability within the team.
Sendible provides a space for team members to communicate, discuss, and give feedback on posts or tasks. This fosters a collaborative environment and helps the team stay on the same page.
Social Inbox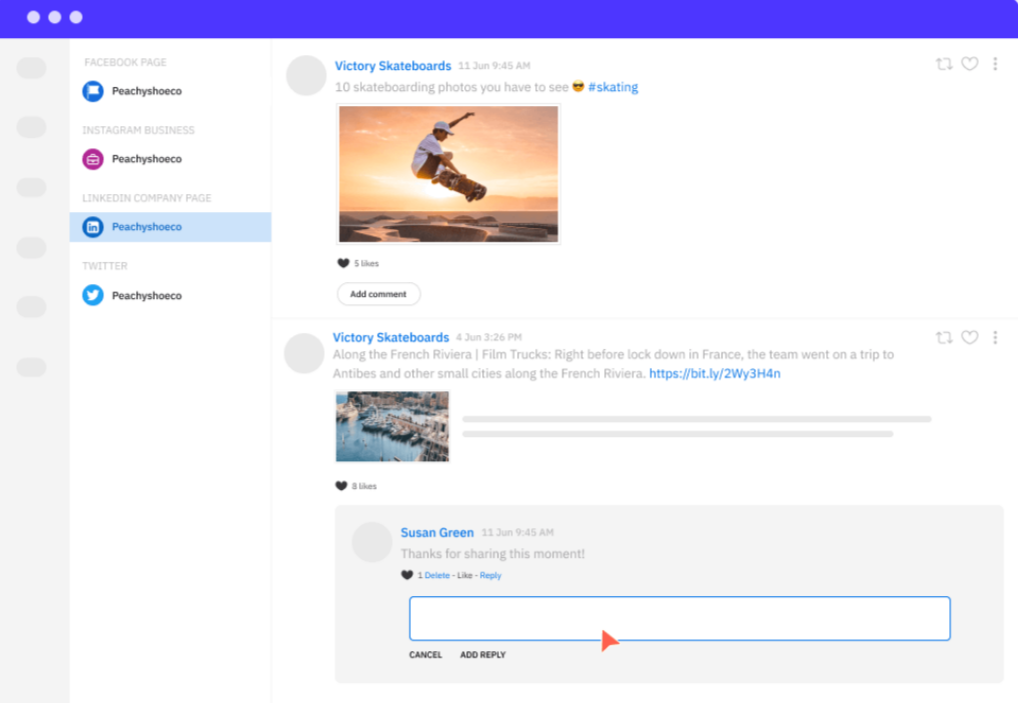 Sendible's social inbox feature is a centralized hub that collects all your social media messages and comments in one place. It offers an efficient way to manage and respond to all your social interactions without having to jump from one platform to another.
This comprehensive overview of customer interactions allows businesses to respond quickly, ensuring no message or comment is missed. The social inbox feature plays a crucial role in enhancing customer engagement and fostering stronger relationships with the audience.
White Label Solutions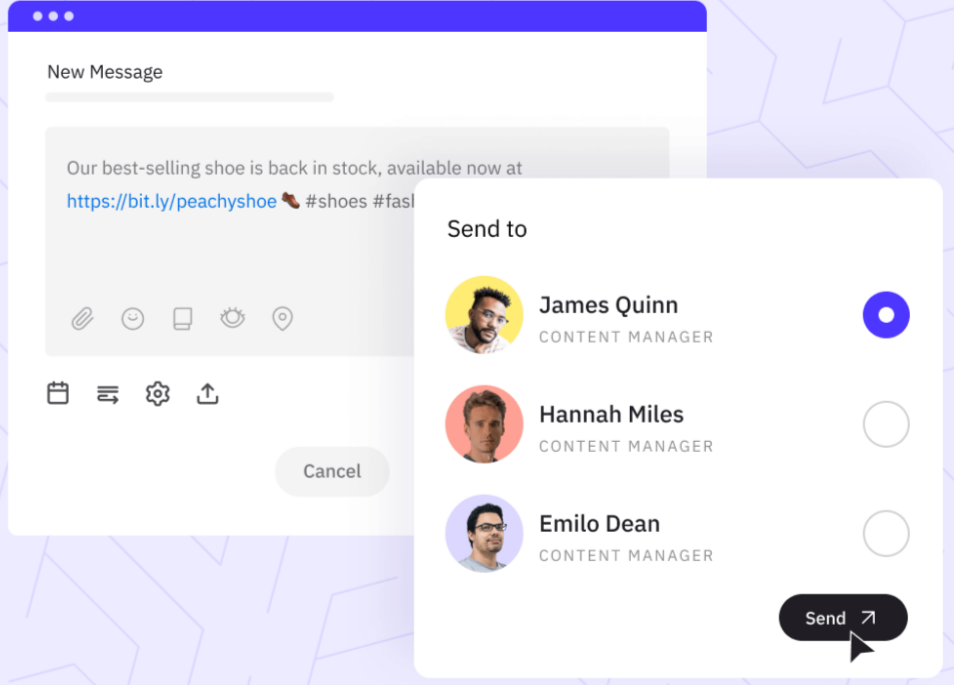 Sendible offers a comprehensive white label solution, providing businesses with the ability to fully customize and brand their social media management platform.
The White Label solution allows you to provide a consistent and professional image across all your services. This means that your clients interact with your brand throughout their entire experience, from logging in to viewing reports. This feature provides a higher level of professionalism and keeps your brand at the forefront.
Furthermore, by utilizing Sendible's white label solution, you can add a layer of sophistication to your services, differentiating your offerings in the competitive digital marketing landscape. Providing your clients with a customized, branded social media management tool can enhance the perceived value of your services, improving client satisfaction and retention.
Canva Integration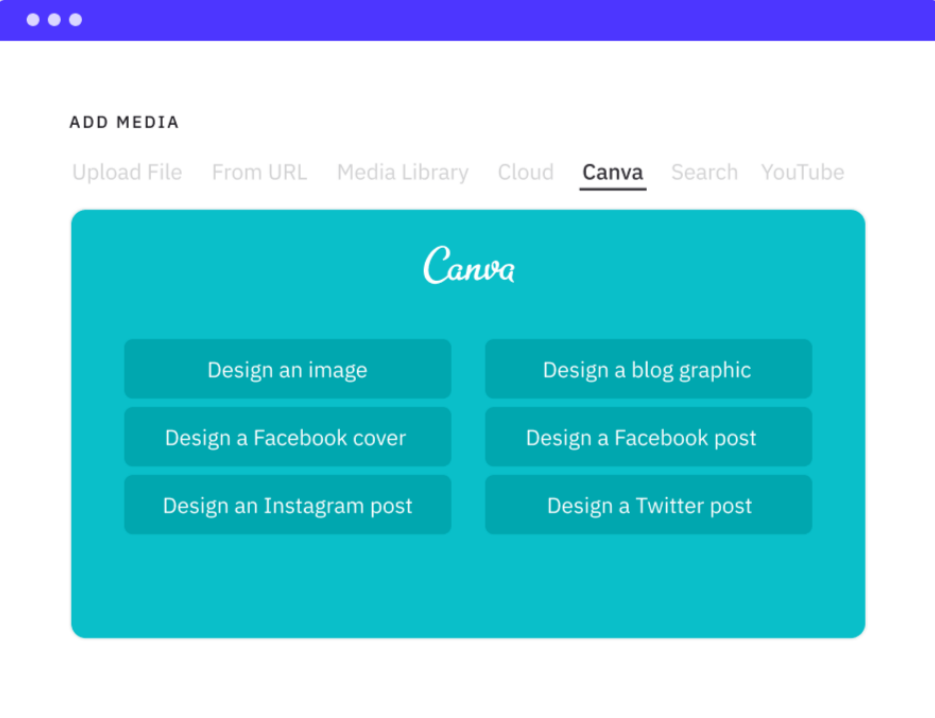 Sendible's integration with Canva, one of the leading online design tools, serves as a key feature that enhances the platform's functionality. With this feature, users have the ability to design eye-catching, professional-quality graphics for their social media posts without leaving the Sendible dashboard.
After creating or editing a graphic in Canva, users can seamlessly add it to their social media posts on Sendible. This could be a stand-alone post or part of a larger campaign. The integration also allows users to save their Canva designs in Sendible, making it easy to reuse graphics for future posts or campaigns.
Conclusion
While Sendible offers a number of useful features, RecurPost stands out as a more affordable and feature-rich alternative. RecurPost's user-friendly interface, competitive pricing, and a wide range of features like RSS feeds, recurring posts, social inbox, AI content generation, hashtag storage, and advanced analytics make it the ultimate tool for managing your social media presence.
So, if you're looking for a comprehensive and budget-friendly social media management tool, RecurPost should be your go-to choice. Take the free trial today to check out its features.
Frequently Asked Questions
1. Which platforms does Sendible support?
Sendible supports scheduling posts on Facebook, Instagram, LinkedIn, Twitter, Google my Business, YouTube, WordPress, and TikTok.
2. Does Sendible have a free version?
There isn't a free plan provided by Sendible. After the 14 days free trial, you will have to choose from plans starting from $29/month.
3. Does Sendible work with Instagram?
Sendible enables you to effortlessly publish photos, videos, Stories, Reels, and image carousel posts directly to your Instagram Business Profiles.
4. How do I use Sendible?
To use Sendible, sign up for an account, connect your social media profiles, create and schedule content, and utilize its various features for efficient social media management.
5. Which is the best alternative to Sendible?
RecurPost is the perfect Sendible alternative that you can try. It offers a lot of advanced automation features at a reasonable pricing.