Post Planner is a powerful tool designed to simplify and enhance your social media strategy, allowing you to save time, engage with your audience, and optimize your content for maximum impact.
With Post Planner, you can say goodbye to the hassle of manually scheduling and posting on various social media platforms. This innovative tool offers a centralized platform that enables you to plan, create, and schedule your posts across multiple channels, all from one convenient location.
In this comprehensive article, we will delve into the key features, pros, and cons of Post Planner. We will also compare Post Planner with RecurPost to help you get the best of the social media management tools.
Post Planner is Suitable For: Businesses, Publishers, Large enterprises, Startup teams, Solopreneurs, and E-commerce businesses.
Post Planner Ratings
While Post Planner has established itself as one of the longest-standing social media scheduling tools, the market has seen a rise in several new and enhanced alternatives that provide more advanced features in comparison to Post Planner.
RecurPost is one of those tools, offering you advanced features at affordable pricing. RecurPost provides users with an abundance of robust resources, such as recurring schedules, an AI assistant for crafting captivating social media posts and captions, customizable reports, and many other valuable features. These offerings go beyond Post Planner's capabilities, making RecurPost an enticing option.
To provide you with an overview of Post Planner's performance, let's take a closer look at the ratings for its essential features, comparing them with RecurPost:
| Features | Post Planner Rating | RecurPost Rating |
| --- | --- | --- |
| Meets Requirements | 8.2 | 9 |
| Ease of Use | 8.7 | 9.1 |
| Ease of Setup | 8.6 | 9.2 |
| Ease of Admin | 8.5 | 9.7 |
| Quality of Support | 8.3 | 8.3 |
| Product Direction | 6.1 | 9.5 |
Post Planner user ratings compared with RecurPost
Post Planner Reviews
Positive Reviews
It is competitively priced. We've used products in the past with comparable features but the pricing always bore down on the already slim budget. Post Planner does that and more. We are yet to use the complete level of features that it offers but all in all, from planning to scheduling across all our various platforms has been a breeze. Never has a post been missed or has required manual intervention. To us, that makes it an invaluable product that has long paid for itself.

~ Simon M. (Capterra link)
Post Planner has all I need for social media marketing. It is easy to create and schedule posts, and if you use the buckets feature it becomes even easier to schedule posts and tweets to different time slots for weeks ahead. I like the analysis feature as well, and how easy it is to repeat-post my favourite and best-performing posts.

~ Martie G. (Capterra link)
The ability to plan posts for specific times and purposes and set up a library of items I want to share with my followers. Post Planner has a vast library to help me with posts to keep good, relevant and encouraging content to my followers. I also love the evergreen option to allow posts to re-post at a later time.

~ Jennifer H. (Capterra link)
What I like most is the fact it allows recycling your posts indefinitely with a much lower price than its competitors.

~ Rita M. (Capterra link)
There aren't many social media schedulers out there that allow you to schedule recurring posts into the foreseeable future. Daily themes on social media are popular, but with most schedulers you have to reschedule a theme for a particular day of the week EVERY week. With Post Planner, I set it and forget it.

~ Sha' C. (Capterra link)
Negative Reviews
Two years ago, I was grandfathered into their 'Guru' plan with a significant discount. Since then, the company quietly changed their pricing plan and, as others have experienced, charged me double (on an annual plan, as well) what I was paying with no prior notification. My direct messages and email to support went unanswered – from the looks of it, this is very much standard for Post Planner. What's ironic, though, is that every time you open the dashboard, you get at least 3 automated notifications from 'reps' wanting to know how they can help you or offering useful advice. Even more ironic is the fact that I received an email from Post Planner a week after I unsuccessfully tried getting my money back from them – directing me to this page to leave my review. Here it is then: DON'T USE POST PLANNER!

~ Jerry S. (Capterra link)
We used Post Planner after a recommendation from Kim Garst (who we later learned has vested interest in PP). After 14 months of wasting our time "accepting" the poor performance and useless helpdesk guy (thanks for nothing Scott), we decided to move our account to an alternative that has now worked flawlessly. From our experience, Post Planner are dodgy and with so many useful alternatives, can not in good faith send even my worst enemy to their "service".

~ Andrew (Capterra link)
Very basic product that lacks the functionality or ease of use of other products on the market. Worse of all, once they have your credit card they make it very difficult to cancel. The automated cancellation process does not work and even though I cancelled by email they still debited my card a year later and refused to refund. Beware of this lot!

~ Russ S. (Capterra link)
They have NO pro-rated refunds at all. The day after they auto-renewed me with NO NOTICE at all, it became impossible to get any kind of refund. They are the greediest SaaS company I've ever done business with by a long shot.

~ Ben P. (Capterra link)
This company automatically charges your credit card without consent. I requested to CANCEL our subscription and was told that my account name did not match their records (even though I was logged in to Post Planner to click CANCEL ???). I am then fed a load of rubbish about my email being ONE day out and they would need to charge me for another full year, quoting some fine print buried in their Terms of Service. We are a proactive, innovative company using many SaaS providers. This would be BY FAR the worst I've ever dealt with.

~ Kim F. (Capterra link)
Post Planner: Pros and Cons
Pros
User-Friendly Interface:
Post Planner excels in providing a user-friendly and intuitive interface, making it accessible to users of all skill levels. Whether you're a social media novice or an experienced manager, the platform's clean and well-organized layout ensures easy navigation and effortless utilization of its features. With a minimal learning curve, you can quickly adapt to the tool and harness its capabilities to boost your social media presence.
Free Trial Opportunity:
Post Planner understands the importance of making an informed decision before committing to a social media management tool. That's why they offer a free trial period, allowing you to explore the tool's features and functionalities without any financial commitment.
During this trial period, you can fully immerse yourself in the platform, experiment with its various features, and evaluate how well it aligns with your specific needs and goals. This opportunity to test-drive the tool enables you to make a confident and well-informed choice.
Broad Platform Support:
Post Planner caters to the diverse social media landscape by providing comprehensive platform support. From popular networks like Facebook, Instagram, Twitter, and LinkedIn to niche platforms, Post Planner ensures that you can manage your social media presence across various channels from a single, centralized dashboard.
This streamlines your workflow, eliminates the need to juggle multiple tools, and saves you time and effort in maintaining consistent engagement with your audience.
Time-Saving Bulk Scheduling:
One of the standout features of Post Planner is its bulk scheduling capability. This feature empowers you to schedule multiple posts in advance, effectively automating your content distribution and freeing up your valuable time.
With the ability to plan and schedule posts in bulk, you can create a well-curated and consistent posting schedule, ensuring a steady flow of content to keep your audience engaged even when you're busy with other aspects of your business. This time-saving feature boosts your productivity and allows you to focus on creating high-quality content.
Effective Content Curation:
Post Planner understands that finding engaging and relevant content can be a challenge for social media managers. To address this, the platform offers an intuitive content curation system. With this feature, you can easily discover captivating and share-worthy content tailored to your audience's interests.
By leveraging Post Planner's curated content suggestions, you can expand your content strategy, diversify your posts, and provide valuable and interesting content to your followers. This effective content curation capability helps you maintain an engaging social media presence while saving you the time and effort of manually searching for content ideas.
Cons
Limited Advanced Features:
One notable drawback of Post Planner is its limitation in offering certain advanced features. While the platform provides essential tools for social media management, it may lack more advanced functionalities such as RSS feeds, recurring posts, social inbox, AI content generation, and advanced analytics.
If your social media strategy requires these advanced features for comprehensive campaign management and analysis, you may find Post Planner's offerings to be somewhat limited.
Pricing Structure:
While Post Planner offers a range of subscription plans to cater to different needs, some users may find the pricing structure to be less flexible compared to other alternatives. Depending on your specific requirements and budget, you may need to carefully evaluate the features included in each plan and their corresponding cost. Additionally, certain advanced features may only be available in higher-priced plans, potentially increasing the overall cost if you require access to those features.
Lack of Social Inbox:
Post Planner's absence of a social inbox feature is another notable limitation. A social inbox allows you to manage and engage with your audience's comments, messages, and interactions from various social media platforms within a single dashboard.
Without this feature, you may need to switch between platforms or use separate tools to stay on top of your audience's engagement, which can be time-consuming and less efficient.
AI Content Generation:
While Post Planner offers effective content curation capabilities, it lacks AI-powered content generation features. AI content generation tools can help automate the process of creating engaging and relevant content by suggesting topics, generating post ideas, or even generating complete content pieces.
The absence of such AI-driven content generation features may require you to rely more heavily on manual content creation, which could be a potential limitation for those seeking more automation in their content strategy.
Advanced Analytics:
Post Planner's analytics capabilities may be relatively basic compared to more robust social media management tools. While the platform provides basic insights and performance metrics, it may lack in-depth analytics and reporting features that can provide granular data and valuable insights for optimizing your social media strategy.
If detailed analytics and data-driven decision-making are critical to your social media management approach, you may find Post Planner's analytics to be somewhat limited in meeting your needs.
Post Planner Pricing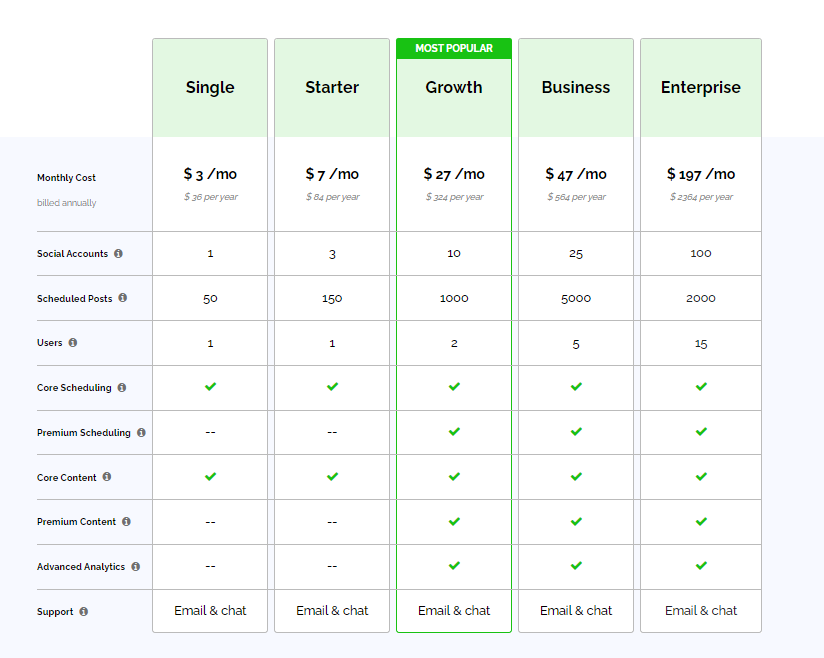 Post Planner's provides a range of pricing plans starting from $3 per month, which lets you manage 1 social account. This, however, is not suitable for businesses looking to streamline multiple social media profiles and manage them from a single dashboard.
The Growth plan, which allows to manage up to 10 social accounts, is priced at $27 per month, and the Enterprise plan costs a whopping $197 per month.
Post Planner Features
Bulk Scheduling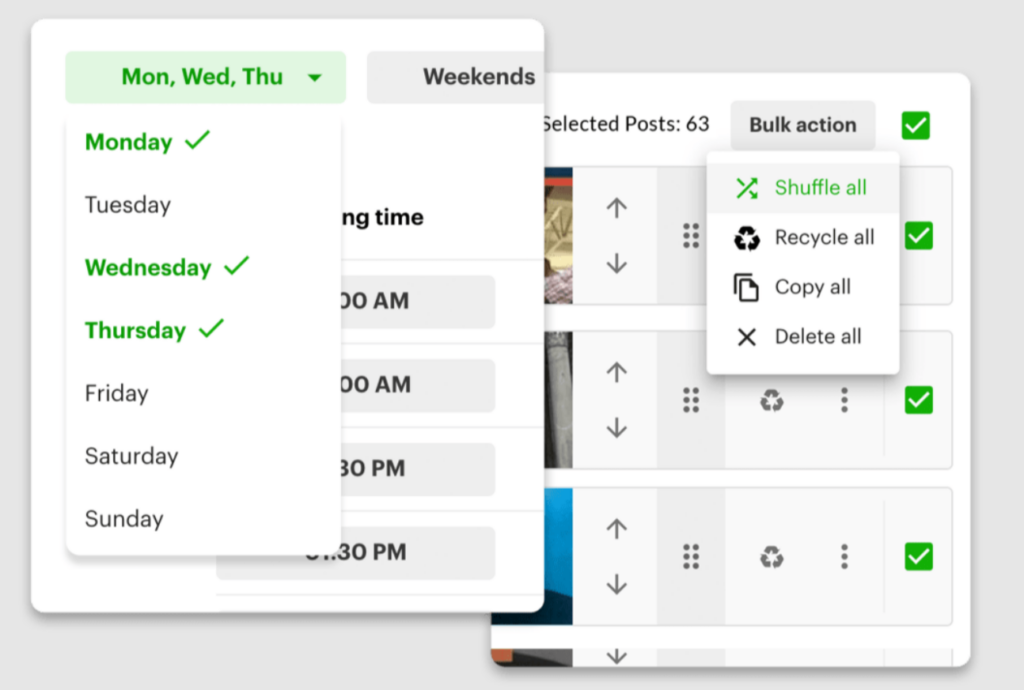 Time is a precious resource when it comes to social media management, and Post Planner recognizes this. The platform offers a powerful bulk scheduling feature that allows you to save valuable time and streamline your content distribution. With bulk scheduling, you can plan and schedule multiple posts in advance, ensuring a consistent presence across your social media platforms.
By dedicating a focused period to schedule a batch of posts, you can free up your time for other important tasks and maintain a steady flow of content, even during busy periods. This feature enables you to stay organized, maintain a consistent posting schedule, and maximize your efficiency as a social media manager.
Content Curation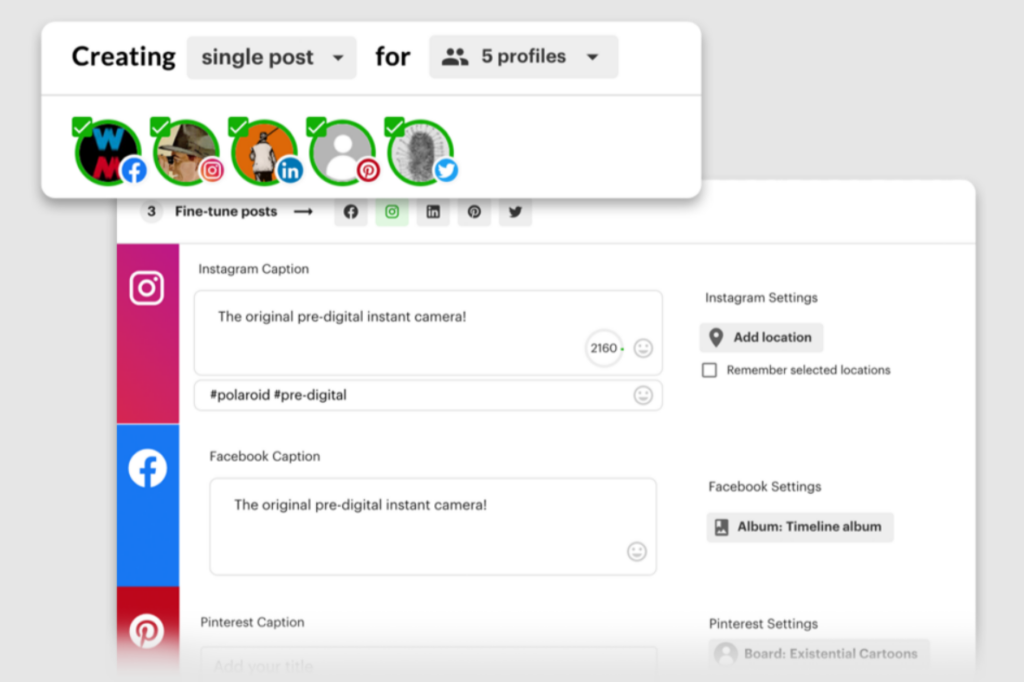 Discovering engaging and relevant content is a key aspect of successful social media management, and Post Planner excels in this area. The platform offers an intuitive content curation system that simplifies the process of finding captivating posts tailored to your audience's interests.
With Post Planner, you can effortlessly discover and curate high-quality content from a variety of sources, including industry influencers, thought leaders, and trending topics. This feature empowers you to augment your content strategy, diversify your posts, and provide valuable and interesting content to your followers.
Social Media Analytics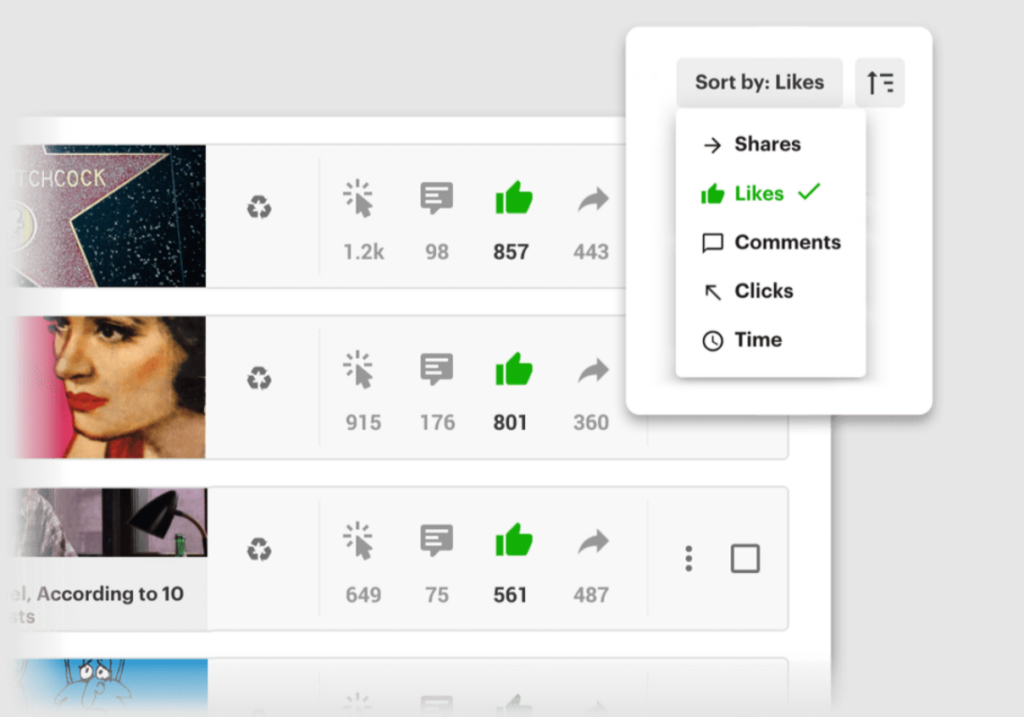 Post Planner provides valuable insights into your social media performance through its analytics feature. Gain a deeper understanding of your audience engagement, post reach, and overall social media impact. Analyze metrics such as likes, comments, shares, and click-through rates to measure the effectiveness of your social media campaigns. With these analytics, you can make data-driven decisions and refine your strategies for better results.
Content Calendar
Stay organized and maintain a strategic approach to your social media content with Post Planner's content calendar feature. Visualize your scheduled posts, upcoming campaigns, and important events in a centralized calendar view. Plan your content ahead of time, ensure consistency, and avoid any scheduling conflicts or gaps in your posting schedule. The content calendar helps you maintain an organized and cohesive content strategy.
Social Listening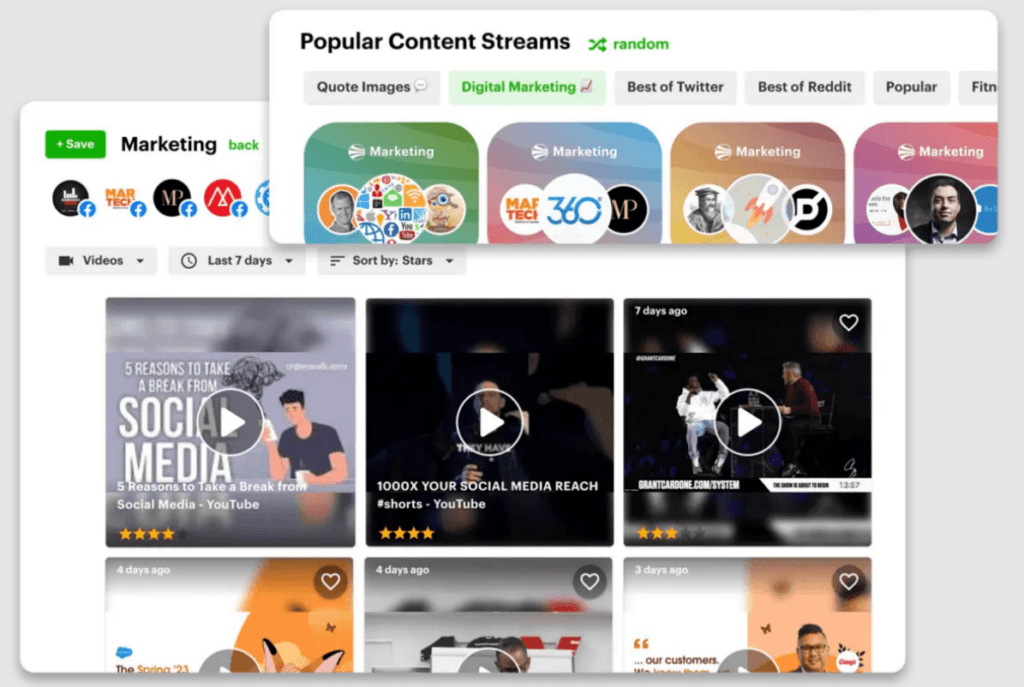 Enhance your social media monitoring capabilities with Post Planner's social listening feature. Keep track of brand mentions, industry trends, and relevant conversations happening on social media. By monitoring keywords and hashtags, you can identify opportunities for engagement, respond to customer feedback, and stay updated on the latest trends in your industry. Social listening empowers you to proactively engage with your audience and build stronger relationships.
Conclusion
While Post Planner offers a range of useful features, RecurPost emerges as the superior alternative to Post Planner. With RecurPost, you gain access to a comprehensive set of features, competitive pricing, and top-notch customer support.
Whether you're an individual content creator or a business seeking to maximize your social media potential, RecurPost is the ultimate tool for efficient and effective social media management. Experience the difference today and elevate your social media presence to new heights with RecurPost! Take the free trial now!
Frequently Asked Questions
1. What social media platforms does Post Planner support?
Post Planner offers support for Facebook, Instagram, LinkedIn, Twitter, Pinterest, and TikTok.
2. What does Post Planner do?
Post Planner helps users to measure and predict engagement of the social media activities on Twitter, Facebook, Instagram and others.
3. How much does Post Planner cost?
Post planner costs $3 per month for managing 1 social account. For businesses who want to manage 10 social profiles, the Growth plans costs $27 per month.
4. Which is the best Post Planner alternative?
RecurPost stands out as an excellent choice when searching for a superior alternative to Post Planner. It sets itself apart by providing a more budget-friendly alternative while also offering the convenience of managing multiple social media accounts from a single dashboard.
5. What are the limitations of Post Planner?
Post Planner's limitations include the absence of advanced features like AI content generation, social inbox, and in-depth analytics, which may restrict users seeking more comprehensive social media management capabilities.