Hootsuite has been one of the first popular social media management tools. While it enjoyed its incumbency for a long time, there are many Hootsuite alternatives in the market. In this article, we review the good, the bad and the ugly of Hootsuite.
Hootsuite is designed with the sole purpose of streamlining your social media management efforts. As a robust tool, Hootsuite serves as your all-in-one platform that empowers you to stay organized. Hootsuite can help you effectively engage with your audience and analyze what is working and what not.
Let's dive into the details and explore what Hootsuite has to offer.
Hootsuite Ratings
In the realm of social media scheduling tools, Hootsuite has long held a reputation as one of the pioneers. However, as the market evolves, newer and more feature-rich Hootsuite alternatives have emerged, e.g., RecurPost stands out as an exceptional option.
We will compare Hootsuite's ratings with those of RecurPost in this section. You may find this useful that with RecurPost, you gain access to a plethora of powerful tools. The list includes recurring schedules, an AI assistant to generate images and captions, white-label reports and many others. These features surpass what Hootsuite has to offer, making RecurPost a compelling choice.
Let's take a brief look at the ratings of both Hootsuite and RecurPost, which is an excellent alternative to Hootsuite.
| Feature | Hootsuite Rating | RecurPost Rating |
| --- | --- | --- |
| Meets Requirements | 8.3 | 9 |
| Ease of Use | 8.4 | 9.1 |
| Ease of Setup | 8.4 | 9.2 |
| Ease of Admin | 8.5 | 9.7 |
| Quality of Support | 7.9 | 8.3 |
| Product Direction | 8.3 | 9.5 |
Hootsuite user ratings compared with RecurPost
Hootsuite Reviews
Positive Reviews
Hootsuite makes it easy for our distributed team of content contributors to submit content, and our internal team can then create a posting calendar and use automated posting to make the management of all of our social platforms fast and simple.

~ Brock P. (Capterra link)
Hootsuite is a social media management tool with millions of users. It has the advantage of allowing you to view up to five social networks simultaneously, and its easy to use interface lets you easily flick between different social media profiles, campaigns, and customers. However, it does have some limitations.

~ Shaheer M. (Capterra link)
Hootsuite enables users to manage multiple social media accounts from a single dashboard, making it a popular choice for businesses with a strong social media presence. Hootsuite offers advanced scheduling and automation tools, which can save time and streamline social media management workflows. Hootsuite provides detailed analytics and reporting features, enabling businesses to track social media engagement, performance, and customer interactions.

~ Ripon C. (Capterra link)
Hootsuite has been a lifesaver for my business! The platform is user-friendly and offers great features for managing multiple social media accounts. I love the scheduling capabilities, as well as the ability to monitor analytics and conversations. Hootsuite also provides great customer support – they are always willing to help and provide solutions quickly.

~ Sardorbek M. (Capterra link)
I like this tool because it is a network management system that is financially and commercially convenient for companies, it is a marketing system that helps manage everything from contention to campaign performance analysis, it is a social media administration tool in the company, capable of handling different sites with the accuracy and efficiency required in this type of system.

~ Deyna R. (Capterra link)
Negative Reviews
Awkward to use, I like using FB Meta and LinkedIn scheduling better. Seems like I'm always getting SM accounts disconnected and I find out later that my scheduled posts never posted. I don't see any email correspondence or IMs or anything to alert me of this. I find out by accident. Customer Service. Hootsuite is not meeting my needs and I am underutilizing it as such. I asked for a partial refund and they refused. It's a lot of money for something I can't utilize easily. It's a lot of money for just 10 SM accounts. I think that this platform is intended for deep-pocketed larger organizations with Social Marketing teams/depts. than for small business. There is no opt-out for auto-renewing subscriptions.

~ Erin D. (Capterra link)
We had an auto renewal on our subscription with no notifications about upcoming renewal sent (shady company practice), we ended up charged for another year when we hadn't touched Hootsuite in over a year. They were unwilling to refund any portion of the annual subscription even though it was only three months into the year when I contacted them and they can see that we are an inactive user. This speaks volumes to their CS and values as a company. I would recommend to put your money elsewhere. There are plenty of tools available and choose companies who stand with start-ups during this period and beyond.

~ Sarah G. (Capterra link)
I didn't like the fact that scheduling posts wasn't as easy as some other software. I need the option to schedule recurring posts across multiple platforms and this just didn't fit my content needs.

~ Shaniece M. (Capterra link)
Do not use their free trial. I used it for our social media page and was offered a 30 day free trail which i took. Three days before the trial ended i tried to cancel my subscription as we realised we couldn't post certain images due to size and shape to Instagram but we could post those same images via mobile device or just logged in so we were having to manually upload when the point is to schedule defeating the objective. I called and mentioned that we were having problems cancelling from the back office. They told us to try again in a few hours we did still nothing. We then called again. I sent a tweet which was ignored, now we've been charged the full 1 year subscription for a service that doesn't match our business needs and can't seem to get in touch with anyone how very convenient. I can't believe that in 2020 these are the types of tactics we result to, to steal consumers money.

~ Gloria G. (Capterra link)
Not user friendly and terrible customer service. I have been discussing with them for over a month on a very serious issue and they will not resolve it for me. Not happy with this company at all.

~ Anne-Lauren G. (Capterra link)
Hootsuite: Pros and Cons
Pros
Extensive Platform Support:
Hootsuite supports a wide range of social media platforms, including Facebook, Instagram, Twitter, LinkedIn, Pinterest, YouTube, and TikTok. This broad platform compatibility allows you to manage all your accounts across various social media channels. Whether you're targeting specific demographics or utilizing different platforms for various purposes, Hootsuite ensures comprehensive coverage.
Bulk Scheduling:
Saving time is crucial when it comes to managing social media accounts effectively. Hootsuite's bulk scheduling feature allows you to plan and schedule multiple posts in advance. Bulk scheduling ensures a consistent and timely presence on your social media channels. By uploading multiple posts at once, you can dedicate more time to crafting high-quality content.
Built-in URL Shortener:
With Hootsuite, you no longer need to rely on third-party URL shortening tools. Hootsuite provides a built-in URL shortener, allowing you to shrink long URLs and track click-through rates directly from the dashboard. Short URLs provide valuable insights into the engagement and effectiveness of your shared links.
Powerful Analytics:
Understanding your social media performance is essential for optimizing your strategies. Hootsuite offers robust analytics capabilities, providing valuable insights into your audience's engagement, post reach, click-through rates, and more. Hootsuite presents your data in an easy-to-understand format, allowing you to track your progress, identify trends, and make data-driven decisions. By measuring the impact of your social media efforts, you can refine your content and focus on strategies that drive meaningful results.
App Integrations and Customization:
Hootsuite allows you to integrate with a wide array of third-party apps and services. Integrations expand the functionality of Hootsuite and provide a customized experience tailored to your specific needs.
You can seamlessly connect with various tools and platforms that are essential for your social media strategy. Hootsuite has support for most of the popular apps, such as Canva, Google Analytics, Salesforce, Mailchimp, and more. You can leverage the power of these tools alongside Hootsuite's core features.
Cons
Pricing Structure:
One potential downside of Hootsuite is its pricing structure, which may be relatively expensive for some users, especially for small businesses or individuals on a tight budget. While Hootsuite offers various pricing plans to cater to different needs, the cost can add up, particularly if you require advanced features or manage a large number of social media accounts. It's important to carefully consider the pricing options and ensure that the features align with your specific requirements and budget.
Lack of AI-driven Features:
Hootsuite's feature set does not include advanced AI-driven capabilities such as content generation and image recommendations. While it excels in providing efficient social media management tools, it may not offer the same level of automation and AI-powered content creation as some other platforms. Depending on your needs and preferences, this limitation might require you to rely on additional tools or manual content creation to enhance your social media presence.
Limited Support for Advanced Analytics and White Label Reports:
Although Hootsuite offers robust analytics, some users may find that it lacks certain advanced analytics functionalities and white label report customization options. Advanced analytics features such as sentiment analysis or detailed audience demographics may not be as comprehensive as desired. Additionally, if you require highly customized white label reports to present social media insights to clients or stakeholders, Hootsuite's reporting capabilities might be somewhat limited in terms of customization options.
Platform Updates and Learning Curve:
As with any software, Hootsuite undergoes regular updates and changes to improve its functionality and address user needs. While these updates aim to enhance the user experience, they may occasionally introduce changes that require users to adapt and learn new features or workflows. For individuals who are accustomed to specific processes, this learning curve may take some time to navigate, potentially causing temporary disruptions in workflow efficiency.
Customer Support:
While Hootsuite offers support resources such as a knowledge base, community forums, and online tutorials, some users may find that the level of direct customer support is not as extensive as desired. Depending on your plan, access to personalized support channels such as phone or chat may be limited. In certain situations where immediate assistance is needed, the availability and responsiveness of customer support may vary.
Hootsuite Pricing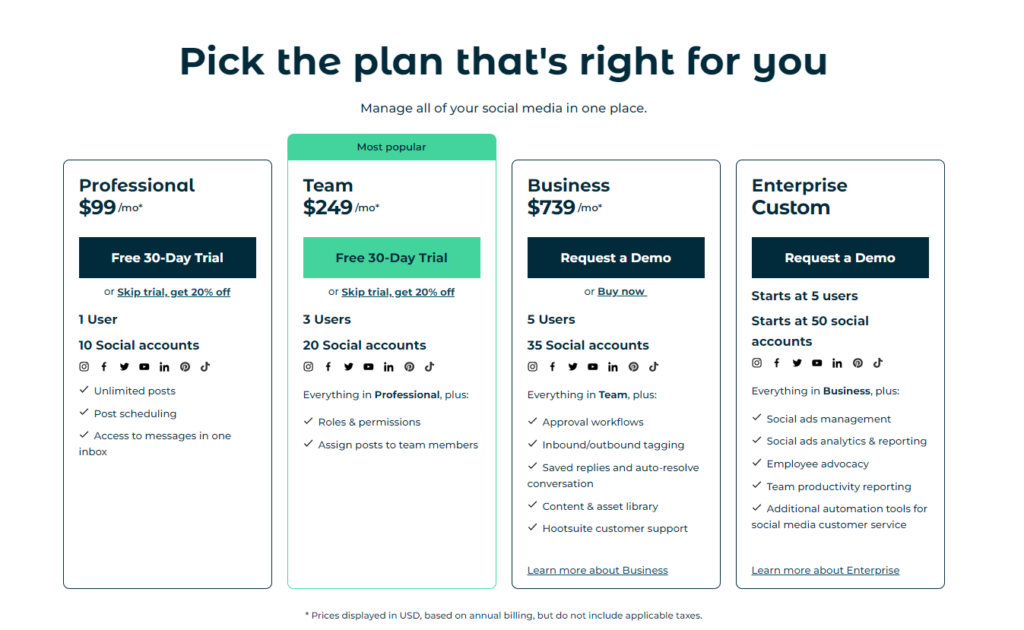 Hootsuite offers 4 pricing plans:
Professional
Team
Business
Custom
The pricing starts at $99 per month, granting you access to their comprehensive suite of features. The cost can be on the higher side, meeting needs of only businesses with extensive social media requirements. With a team of 5 or more people managing their social accounts, businesses need to opt for either 'Business' or the 'Custom' plan, which can cost a whopping $739 per month and above.
Price Comparison
In comparison to Hootsuite, RecurPost offers a more affordable alternative for social media management. With plans starting at $25 per month, RecurPost ensures that businesses of all sizes can access their robust feature set without breaking the bank. By choosing RecurPost, you can enjoy substantial savings without compromising on functionality.
Here's a side-by-side comparison of the pricing plans for both Hootsuite and RecurPost:
| Plan | Hootsuite ($/month) | RecurPost ($/month) |
| --- | --- | --- |
| Basic | $99 | $25 |
| Advanced | $739 | $79 |
| Free trial | Available for 30 days | Available for 14 days |
Hootsuite Features
Bulk Scheduling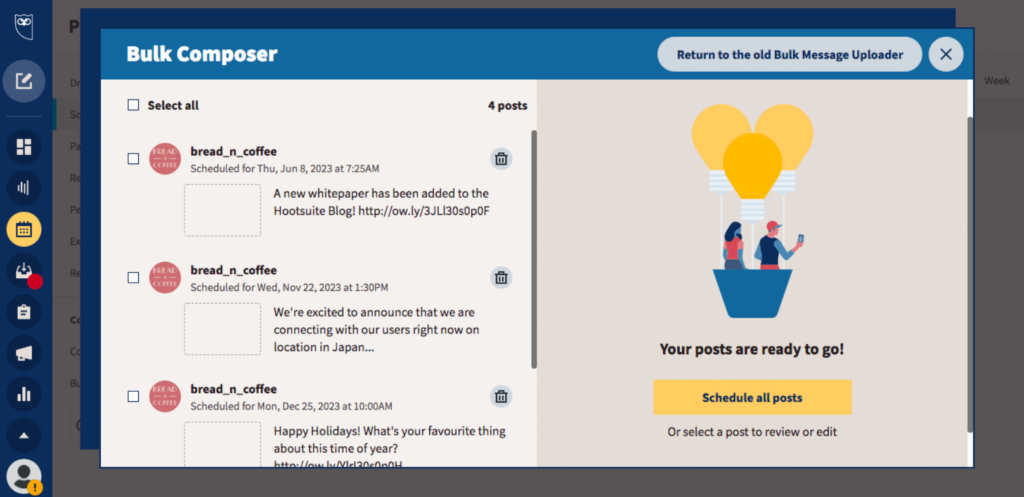 Hootsuite's bulk scheduling feature is a time-saving gem for social media managers. With this feature, you can easily schedule multiple social media posts in advance, eliminating the need for manual posting at specific times. By planning and queuing up your content in one go, you can maintain a consistent posting schedule, even when you're busy or away. This ensures that your audience receives a steady stream of content, boosting engagement and brand visibility.
Social Inbox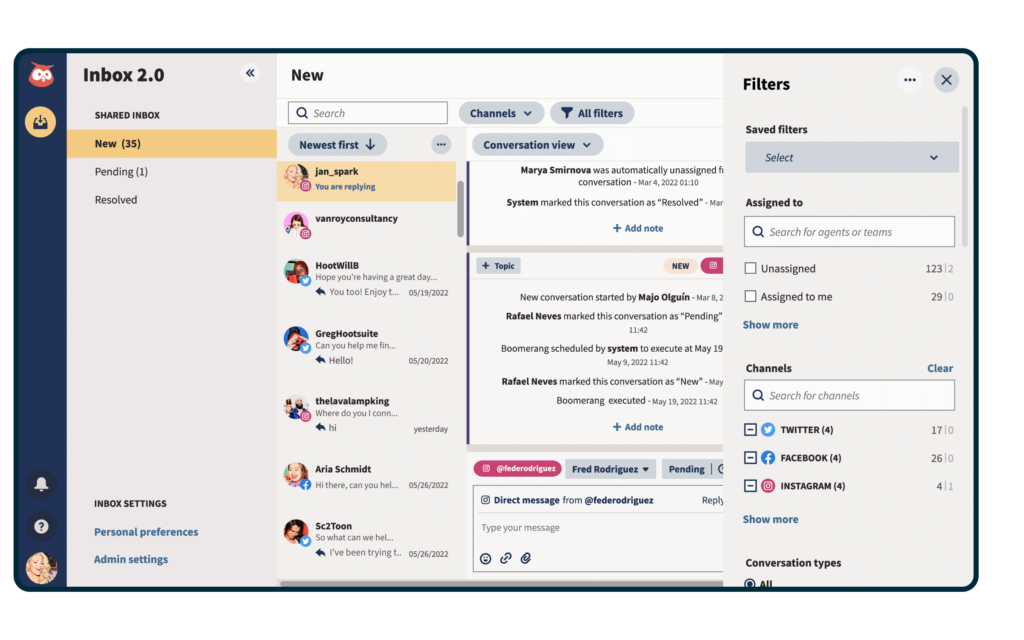 The Social Inbox feature of Hootsuite acts as a centralized hub for managing all your social media messages, mentions, comments, and notifications. Instead of logging into each platform separately, you can conveniently view and respond to messages from different accounts within Hootsuite. This streamlines your communication process, allowing you to engage with your audience promptly and maintain excellent customer service.
URL Shortener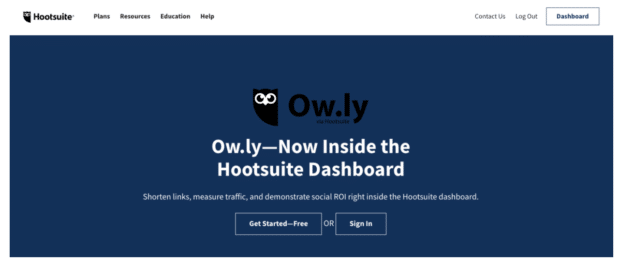 Hootsuite includes a built-in URL shortener that simplifies sharing links on social media platforms with character limits, such as Twitter. By shortening long URLs, you can save precious space in your posts while still providing valuable content. Additionally, HootSuite's URL shortener tracks click-through rates, enabling you to measure the effectiveness of your shared links and gain insights into audience behavior.
Caption Customization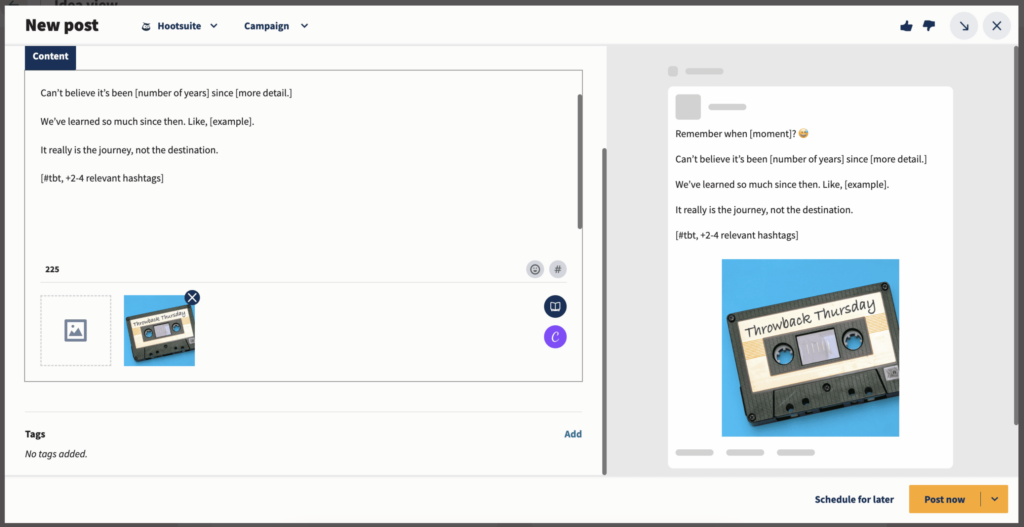 Customizing captions for different social media platforms is crucial for optimizing engagement and resonating with your audience. Hootsuite allows you to tailor captions to the specific requirements and best practices of each platform. With the ability to write and adapt captions within the platform, you can craft compelling, platform-specific messages that capture attention and drive interaction.
Team Management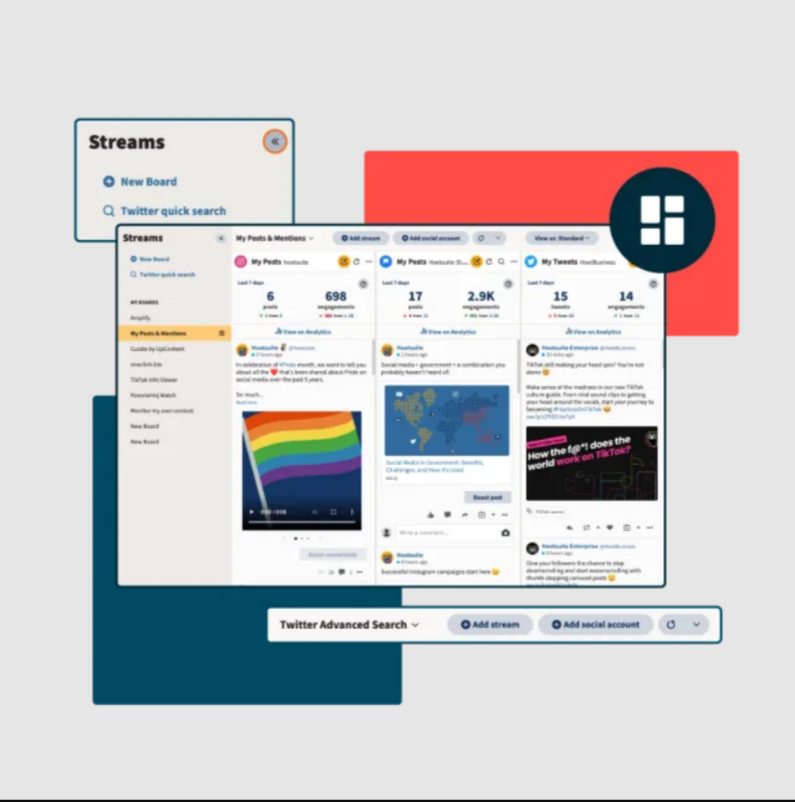 Collaboration is made seamless with Hootsuite's team management feature. This feature enables you to invite team members, assign roles and permissions, and streamline your workflow. Whether you're working with a social media team or collaborating with clients, Hootsuite ensures that everyone has the appropriate access and responsibilities. By facilitating effective teamwork and communication, you can enhance productivity and maintain a cohesive social media strategy.
Conclusion
While Hootsuite offers a range of features for social media management, RecurPost emerges as the ultimate tool and Hootsuite alternatives for content creators, marketers, and businesses alike. With a more affordable pricing structure, advanced AI-driven features, and extensive platform support, RecurPost ensures that you can effectively manage your social media presence without compromise.
Take advantage of RecurPost's user-friendly interface, powerful scheduling capabilities, and cost-effective plans to enhance your social media strategy and achieve your business goals. With RecurPost, you'll experience the perfect balance of functionality, convenience, and value.
To evaluate its capabilities firsthand, you can take advantage of RecurPost's free trial and experience its features for yourself.
Frequently Asked Questions
1. What social media platforms does Hootsuite support?
Hootsuite supports Facebook, Instagram, Twitter, LinkedIn, Pinterest, YouTube, and TikTok.
2. Is Hootsuite worth the money?
While Hootsuite provides valuable features, there are more affordable options for social media management tools, especially for medium to large enterprises. Agencies can discover more cost-effective alternatives to Hootsuite, such as RecurPost, which offers comparable functionalities at a lower price point, effectively bridging the gaps in their social media management needs.
3. Is Hootsuite free to use?
No, Hootsuite's plans start from $99 per month. You can explore more cost-effective options like RecurPost, which is one of the best Hootsuite alternatives.
4. What are the limitations of Hootsuite?
The limitations of Hootsuite include its relatively high pricing, lack of advanced AI-driven features, limited support for advanced analytics and white label reports, platform updates that may require a learning curve, and availability and responsiveness of customer support.
5. Is there a free alternative to Hootsuite?
When looking for a superior alternative to Hootsuite, RecurPost emerges as the perfect selection. It distinguishes itself by offering a more cost-effective option than Hootsuite and enables the convenience of handling numerous social media accounts from a single dashboard.