The Instagram Reel is a passport to building your brand presence on Instagram. On average, Instagram Reels create more engagement than Instagram stories, so it's time to schedule Instagram Reels.
With the response to the growth of TikTok and YouTube shorts, Instagram is emphasizing Reels – short videos more. Scheduling Instagram Reels daily seems difficult for many due to a lack of time or ideas.
If you are looking for ideas to help create exciting Instagram Reels, then you are at the right place. This article will help you to guide on how to schedule Instagram Reels that empower your brand reputation and increase your reach. We aim to get you more likes, shares, and comments on Instagram to amplify your brand's voice. You should take the help of a social media scheduler for the regular posting of reels on your Instagram accounts.
Table of content for How To Schedule Instagram Reels
What are Instagram Reels?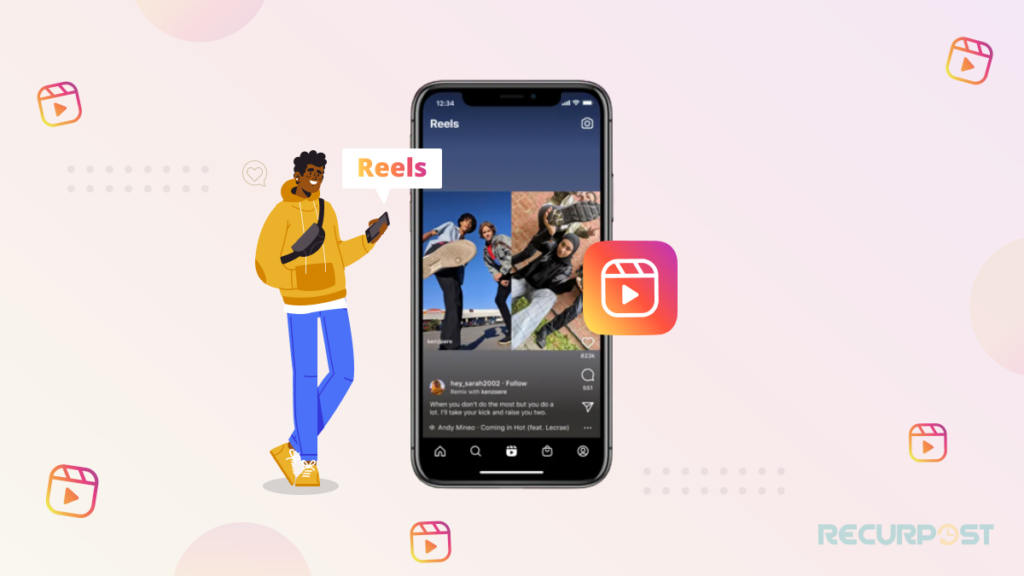 Instagram Reels are entertaining and immersive short videos containing your brand story and educational content. Your Reels get broadcasted to your audience that appreciates your business.
Instagram Reels include music, filters, and screen effects to make the video captivating and engaging. Reels remain on your feed as long as you want.
Added to the Instagram navigation bar in November 2020, Reels exist in the form of a tab, which shows its significance for the platform. Reels look similar to Tiktok videos; the Head of Instagram agrees that Tiktok videos are their direct competitors.
Like other elements of Instagram, you can like, share and comment on Reels. When the Reel first came into the picture, it was only 15 seconds long. Later it extended to 30 seconds duration, and today, it can be up to one minute long. Like images, you can create Reels through the Instagram app or upload them from a video gallery.
What are the benefits of scheduling Instagram Reels?
Scheduling Instagram Reels in advance helps you in executing the marketing strategy effectively. Here are the benefits.
Posting when there is an active audience on Instagram
According to statistics, the best time to post a Reel on Instagram is between 9 am and 12 pm, from Monday to Thursday. You can post on Saturdays at 9 am and Sundays at 7 pm.
But we know it's not feasible to remain online daily when your audience is active. RecurPost understands it well and enables users to schedule Instagram Reels using the "Best time to post" feature.
Schedule Instagram Reels consistently
When you post consistently, Instagram will create more impressions of your posts. If you stop posting for a week, you will see a significant drop in the results.
People generally make mistakes. When a new idea strikes, they create a Reel and post them randomly on any day. Some days have multiple Reels while others have nothing. Instead, you should schedule Instagram Reels daily to optimize for the Instagram algorithm. Practice scheduling at least four to seven Instagram Reels per week.
RecurPost is an Instagram Reels scheduler. It makes it easy to schedule Instagram posts for the next few months. We at RecurPost, maintain the consistency of your posting regularly, even repeatedly, if you have yet to share anything new.
Plan to accelerate marketing campaigns
Are you planning to run offers on your products in the coming month? With RecurPost, you can plan and execute marketing campaigns by scheduling Instagram Reels for future dates. You can create Reels for every event and schedule them for the next month. In today's market, video marketing is the most helpful way of growing your sales.
How does the Instagram Reels algorithm work?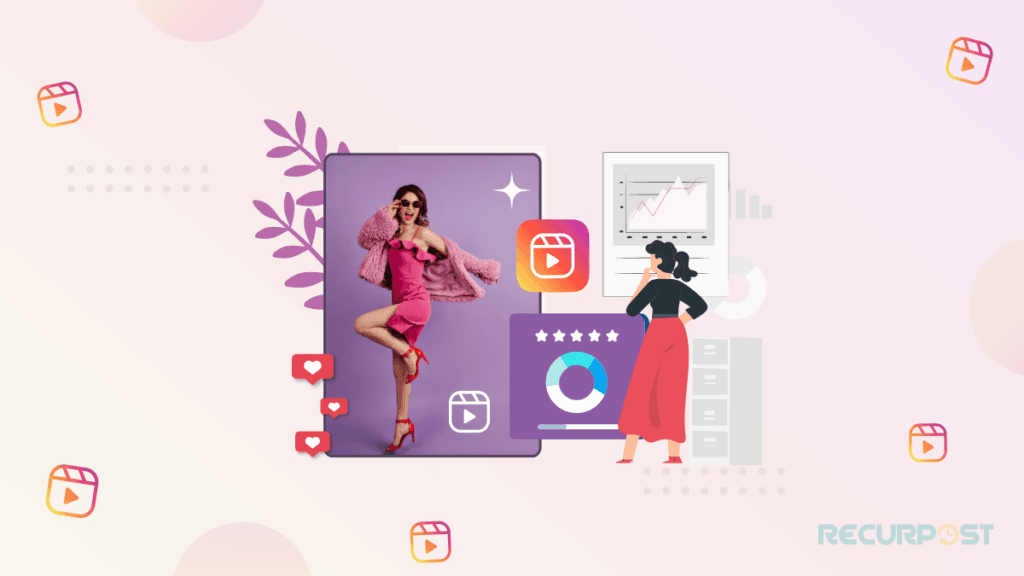 An algorithm is a set of rules to decide the indexing of content. The Instagram algorithm comprises a set of multiple algorithms. They determine the order in which the content ranks.
Additionally, it fixes the place where Instagram will show the Reels, posts, and Instagram carousels. Whether on the Instagram feed of all the users, Reel feeds, or hashtag pages. Instagram analyzes every piece of content before showing it to its audience. For Instagram, Reels must be entertaining as short videos.
You must consider how the Instagram algorithm shows your Reels to the right person. It depends on
The type of account the user interacted with earlier
The type of Reels the user liked earlier
Whether the user interacted with your Reels when they came across it in the past
You must be curious about the content the Instagram algorithm considers engaging and worthy of interaction. Instagram decides on the bases of specific standards. Whether the audience watches the Reel till the end, people like and share it with others and tap on the music information.
According to the Instagram algorithm, when someone turns on music, they are inspired to use the same for their Reels. It helps your Reel to rank higher.
So if you want to extend your reach with the Instagram Reels,
Add music to your Reels, as Instagram emphasizes Reels with music.
Instagram will show your Reel to more people if it gets instant interaction.
The video must be with higher resolution, have clarity, and include trending content (avoiding crime or political issues).
Tips for creating Instagram Reels to grow engagement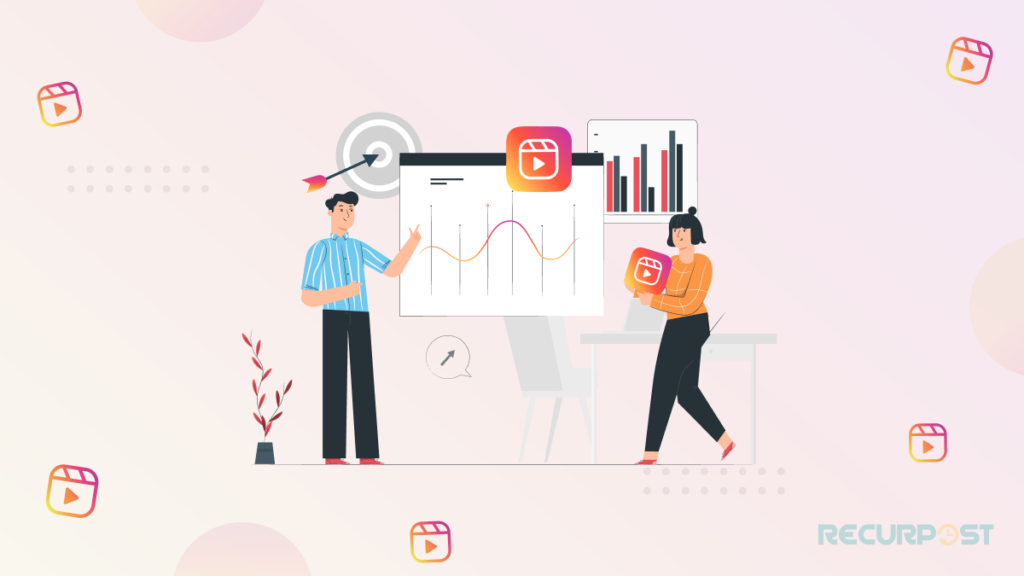 You dedicatedly put efforts into making the best Instagram Reel for your audience. But you always need to determine whether your Instagram Reel will secure a place on the Reels page.
Here are some tips to help you create a Reel that gives you good exposure and assured engagement and make your digital storytelling game stronger.
Experiment with new ideas
Instagram Reels are all about creating fun with your content. Either go with the latest trends or come up with something innovative. If the Instagram audience engages with your new idea, it may become a new trend in your industry, and others will start following it.
If your audience happily engages with your new Reel, Instagram will show it to more people. As a result, you will get more followers for your brand.
No one becomes successful whenever they try something new. So keep going if you try something for the first few times and are still waiting for results. Learn from it and create Instagram Reels that your audience appreciates. You can build high-level engagement with Reels that stand out from the crowd.
Focus on what is popular on the platform
When you identify what people like the most, you can follow the same format to create the Reel for your brand. Keep up with the specific sound and popular video content.
When you follow the popular trends in your industry and schedule Instagram Reels, there are more chances to grow views of your Reels.
An easy idea to rock your brand through Instagram Reels is to pay attention to what is happening on TikTok. Scroll through your 'For you page' and see what is popular there. What you see on TikTok's latest trends will soon appear on Instagram reels.
You can make your brand the new trendsetter on Instagram by following what is coming on TikTok. I am sure your efforts in making Reels will be well-spent. You will surely boost engagement by showing your audience what they appreciate.
You can't miss out on adding captions
Marketers need to add captions to their Instagram Reels. People often avoid tapping on the sound and scroll through the Reels feed. Adding a caption enables viewers to see what is there in the video. Video captions also provide clarity to non-native English speakers.
Instagram allows users to add caption stickers before scheduling Instagram Reels. Using a caption sticker, you can ensure that it does not block the video's content while playing. Because it is an auto-generated caption, take a minute to go through it so that if there are any mistakes, you can correct them with clarity.
How to Schedule Instagram Reels to your Instagram feed
The logic is simple. The more people see your reels, the more engagement your brand receives. When you schedule Instagram Reels, Instagram allows you to share them on your main feed. Make sure you do that, as it increases the chances of being viewed by a large audience. You can create video for Instagram Reels in an excellent way to showcase your creativity and bring new ideas to the table. If your audience happily engages with your new Reel, Instagram will show it to more people. As a result, you will get more followers for your bran

To make the most engagement out of every content idea is to utilize it for repurposing. After you share it with your Instagram Reels, you can also share it on Instagram Story.
Keep captions short, including hashtags
Instagram shows only the first fifty-five characters of the caption while showing Reels, and then viewers will see '…more.' It indicates how long a caption is; the viewer can only see the first few characters.
I suggest taking advantage of these few characters by including relevant hashtags. It will help you get your content in front of the right audience.
RecurPost offers a feature of hashtag recommendations for helping users to add a set of trending hashtags. Using appropriate hashtags boosts engagement with the RecurPost's auto post Reels.
Don't upload videos with a TikTok watermark
Recent trends show that Instagram Reels and TikTok videos are the two most popular forms of quick brand building. You can create the video once and use it for both platforms. It saves a lot of time and is the most brilliant way of playing with your content.
To use the same content for two separate platforms, you cannot create a video from any of these platforms as it creates a watermark of the platform. The Instagram algorithm does not allow videos with a TikTok watermark.
To play smart, you have to film a video on a camera, edit it and then schedule Instagram Reels and TikTok videos individually. However, some tools help you remove the watermark of TikTok and reuse it for Instagram Reels. You can use that as well.
How can you schedule Instagram Reels with RecurPost?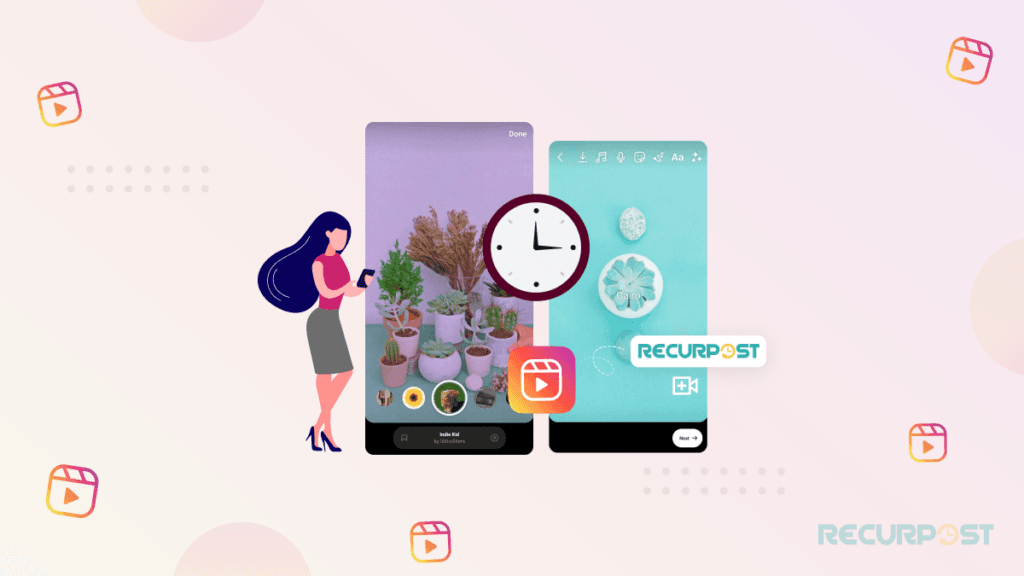 Follow the easy steps to learn how to schedule Instagram Reels directly from your RecurPost account.
Create an Instagram account and connect with RecurPost
First, log in to your RecurPost account. If you have an Instagram account, then connect it with the RecurPost; else, create it. RecurPost allows you to schedule Instagram posts on both personal and business profiles. By adding login credentials to your Instagram account, you can easily connect it with RecurPost and schedule posting in just a few simple steps.
Additionally, using RecurPost, you can schedule Facebook posts on your personal profiles, groups, and business pages and schedule LinkedIn posts on your personal and business pages.
Prepare a short video for posting as a Reel
Create an interesting short video. Add filters, visual effects, and music to make it more interesting. Make sure the video has clarity and does not have any watermark effect. Hi-resolution is preferred. After creating it, download it to your laptop from where you want to schedule Reels on Instagram.
RecurPost helps you to get the best web content with its Google Alerts and Chrome plugin. You can add them to the libraries and schedule them as Instagram Reels in a few clicks.
The RecurPost Social Inbox feature fetches fresh updates from your Instagram accounts. Here you can see the likes and shares your every individual Reel received. At the same time, you can interact with your audience in real-time by replying to their comments.
RecurPost also provides the flexibility of working with mobile apps. If you want to know how to schedule Instagram Reels free from your mobile app, you can directly upload videos from your mobile to the RecurPost.
Isn't that great for your brand to boost engagement with your audience?
Create a post and schedule Reels on your Instagram account
RecurPost allows you to choose to post once (One-off post) or repeatedly (Recurring post). After selecting one of them, a new window, "Share the Post," will pop up. You can pick your Instagram social accounts, upload the video, and choose the post type as Reel. You can either schedule it or post it instantly.
The best part of using RecurPost is that it is an excellent social media scheduler. As you know, how to schedule Instagram Reels, now you can also schedule the same video for other platforms.
Videos are the most engaging form of content today. You can schedule tweets on your Twitter account, schedule Pins on Pinterest, and schedule Google My Business Posts for utilizing the same content.
RecurPost makes it easy to schedule posts on multiple platforms, all at the same time.
How can you grow your audience with Instagram Reels?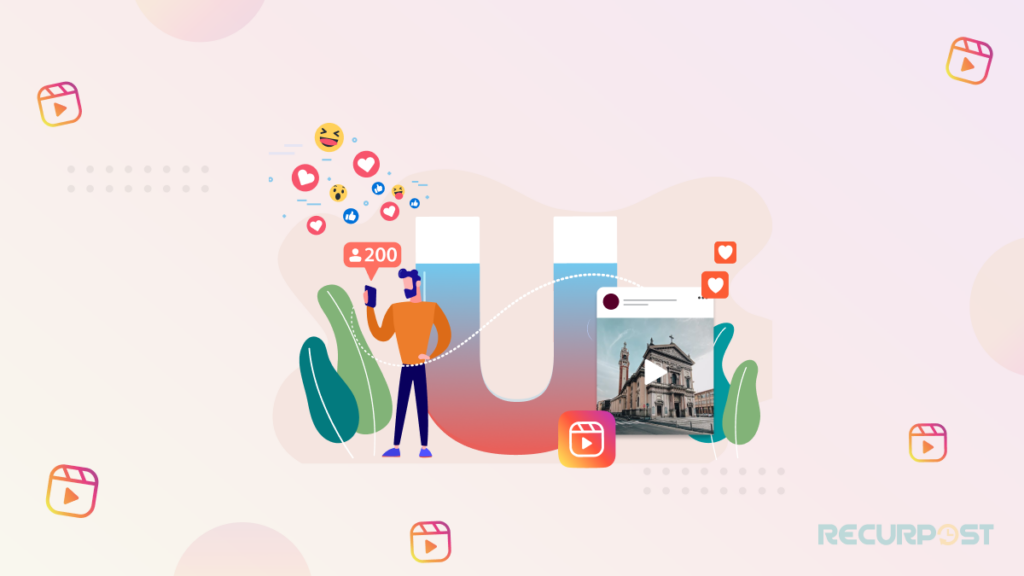 Reels can quickly grab your audience's attention. Today, Instagram Reels are the fastest way to grow your audience on Instagram. As a result, you can improve your brand presence. You can convert your audience into buyers through a consistent brand presence.
Here are some simple tips to help you grow your followers by scheduling Reels on Instagram.
#Tip 1- Post Regularly
You will reach more people if you post consistently. Per the rules, Instagram will show your new posts to those who reacted in the past.
The more regularly you post, the more people will see it. Some will react to your Reels, and they will start receiving notifications whenever you post new Instagram Reels. Consistency also applies to the subject you post around. Big brands use brand mentioning to know how people perceive their brand.
#Tip 2- Use tools that help you to create incredible videos
Instagram emphasizes the music component of the Reel. If the viewer taps on the music, they are more likely to be interested in using the same for their Reels.
According to the algorithm, when the audience plays the music in your Reel, they find it entertaining, and Instagram will show your Reel to more viewers. There are some tools available in the market that help you schedule Reels free by adding visual effects and filters to create more engagement.
#Tip 3- Schedule Instagram Reels as per the current trends
The best way to do this is by following your industry's best Instagram accounts, micro-influencers, and relevant hashtags.
Look at popular Instagram Reels in your niche for inspiration. Once identified what people engage with, try to apply similar things in your Reels without copying the same.
RecurPost is an excellent choice among OneUp alternatives and a free Hootsuite alternative for offering business-specific hashtag recommendations. It helps to schedule Instagram Reels effectively and extend your audience reach.
#Tip 4- Make your product the star
Schedule Instagram Reels around your products or services. You can schedule Instagram Reels to showcase your customers' success stories or communicate what you offer. You can also use Instagram Reels to promote the event that you created on Facebook.
RecurPost is an intelligent social media bulk scheduling tool offering a free trial. You must try its various plugins to schedule Instagram Reels.
Conclusion
Now you know how Instagram Reels play in building your brand position. We discussed the best ideas to create exciting Reels. We also shared tips on how to schedule Instagram Reels easily with the help of RecurPost.
Social media is a great way to build the community around your brand. Big brands have been reaping the benefits of social media for years. The most common thing is that they post regularly.
Consistency is the key to successful brand-building on social media. And you can achieve this by using an efficient social media scheduling tool.
RecurPost is an excellent tool helping marketing agencies to manage multiple social media accounts. RecurPost offers exclusive features and advanced analytics and allows you to create stunning reports for your clients.
You can start your journey with a FREE sign-up!
How have you used Instagram Reels to create great results? Comment below.
FAQs
1. What is the difference between an Instagram Reel and vs. story?
Instagram shows Reels to a broader public, not only to your followers. It is a short video, and viewers find it more entertaining. Instagram stories are shown only to your followers. It can be a short video, an image, or a boomerang.
2. Which one is better, an Instagram Reel or a post?
The Instagram reel is a short video serving your audience with creative and entertaining content. Post is a better option if you want to talk about in-depth content. Choose Instagram options smartly as per your marketing goals.

3. What is the benefit of using Instagram Reel?
Instagram Reels are short videos that display information filled with fun and humor. Consistently engaging the audience with entertaining videos help you to build brand awareness and increase followers.

4. How can you beat the Instagram algorithm?
Here are the ways to boost engagement by optimizing your post for the Instagram algorithm.
– Post consistently
– Add relevant hashtags
– Follow the trends
– Keep the caption short, using appropriate keywords
– Make the best-quality video 

5. Is it possible to know who viewed your Reels?
It is possible to know how many views and likes you received for a specific Reel. But unlike Instagram stories, a feature can't track who watches your video.

6. Are Reels public for private Instagram accounts?
Only your followers can view and share your Reels if your Instagram account is private. If someone from your followers lists shares your Reel, then only your followers can see it.
7. Where should you post your Reels?
Post Reels on your Instagram feed to get the most views and increase the chances of making the Reel go viral. Otherwise, there is a chance of your Reel going unseen by your community members.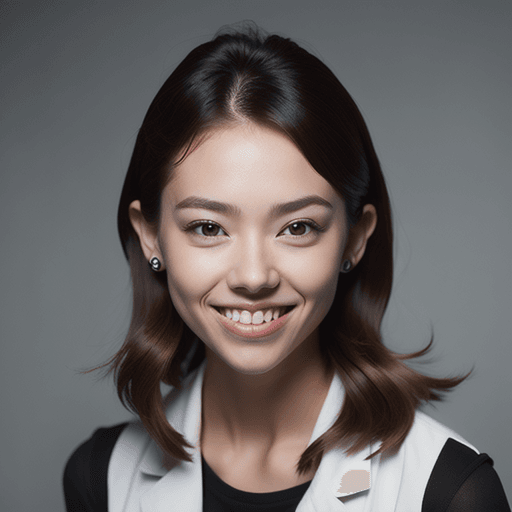 Debbie Moran is a Digital marketing strategist with 5+ years of experience producing advertising for brands and helping leaders showcase their brand to the correct audience. She has been a part of RecurPost since 2019 and handles all the activities required to grow our brand's online presence.