Social media is a part of our modern lifestyle. Businesses recognize that social media platforms are where they can find their prospects. By taking advantage of social media platforms, businesses are promoting their brands by creating eye-catching social media posts. You get only one chance to grab your audience's attention. If you want someone to stop scrolling and take a closer look at your post, your social media image sizes must be correct. Otherwise, it will be a mess, and people will push away instead of pulling in. You can save time and effort by using a social media scheduler that offers advanced functionality.
This article is a complete guide to the perfect social media image size for the world's most popular social media platforms.
Table Of Content
What is a social media image sizes guide?
Posting on any social media platform requires an ideal chart of image sizes respective to the social media platform. A social media image size guide is a collection of information about numerous image sizes organized by social media platforms. It helps agencies working on various social media platforms create an optimum image size for efficient social media marketing.
Every platform keeps updating its features to create a better user experience. With updates, new features are added. Sometimes they introduce a new social media image with a definite size to their image category, or they can change the existing image size for the specific platform. Referring to a social media image sizes guide will give you the latest update on every platform's image size.
Are you using the correct social media image sizes?
There might be a time when you worked hard after creating an engaging social media post. But when you post it, it looks weird because your image size doesn't match the one allowed by the specific social media platform.
You must work on various social media platforms to run an efficient marketing campaign. No one can memorize the image size for all the platforms. The tricky thing is that every platform has varying image sizes, confusing anyone.
Suppose you are facing the above challenges and, after putting in the effort, cannot create good results because you lack the knowledge of image sizes for social media. In that case, this article will help you to transform your social media marketing to the next level.
Why using correct social media image sizes are essential for marketing?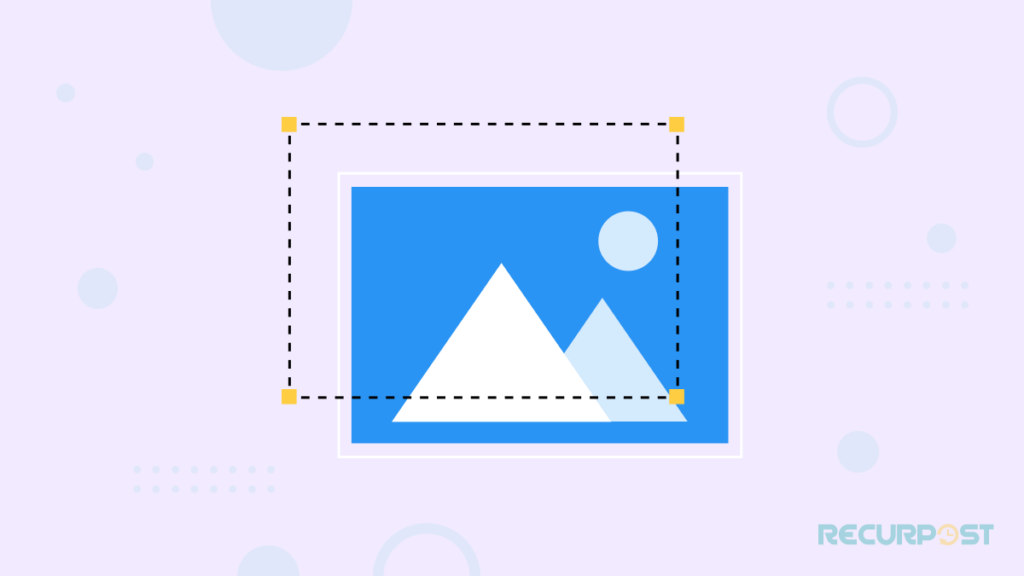 Research shows that people consume images and video content more than text. That is the secret of current social media platforms. Using the perfect image size in your social media proposal will win the trust of your prospective clients. Understanding the fact emerging social media platforms are image-oriented and video-oriented. Let's look at the advantages of keeping the correct image size on your social media pages and posts.
Social media updates
Social media keeps updated, which may impact image sizes. Any social media platform changes its ideal image size, affecting all the existing images on your social media page. You can modify images accordingly by referring to the social media image size guide.
Repurpose the content
Time is crucial for every business. They use it across different social media platforms to make the most out of every image. As every social media platform uses its ideal image sizes and aspect ratios, one image size will not fit all the platforms. Knowledge of different image sizes will help you repurpose the same image by creating different versions per the requirements of the platform.
Different platforms, different sizes
Every platform wants different image sizes. A few prefer horizontal images, others want vertical images, and the rest use square images. Following the social media image size guide is essential to avoid crop images, pixelation, or stretched images. It will help your images to get optimized for every social media feed. Choosing the correct image size will look perfect to watch on any device.
Images play a crucial role
Images are the backbone of social media marketing and the key to success. If your images are eye-catching, you can win the battle of engaging with the audience. Social media image size is the critical element for creating compelling images.
Visual effect
According to research, people recall 65 percent of visual content after three days. So, you cannot ignore the power of visual effects in social media marketing. When you post weird images, the impact of visuals decreases and negatively affects your brand.
Best social media image sizes your agency must know
There are plenty of social media platforms. It's stressful for any agency to remember the size dimensions of all the platforms. While working for many clients on numerous platforms, an agency needs an up-to-date cheat sheet of image sizes.
With time new social media channels will be added, having their own standard image size dimensions. In this growing social media channel world, every agency needs a social media image size guide that holds every platform's last updated data on image sizes. This article will serve you with recent information for all the major platforms.
Facebook image sizes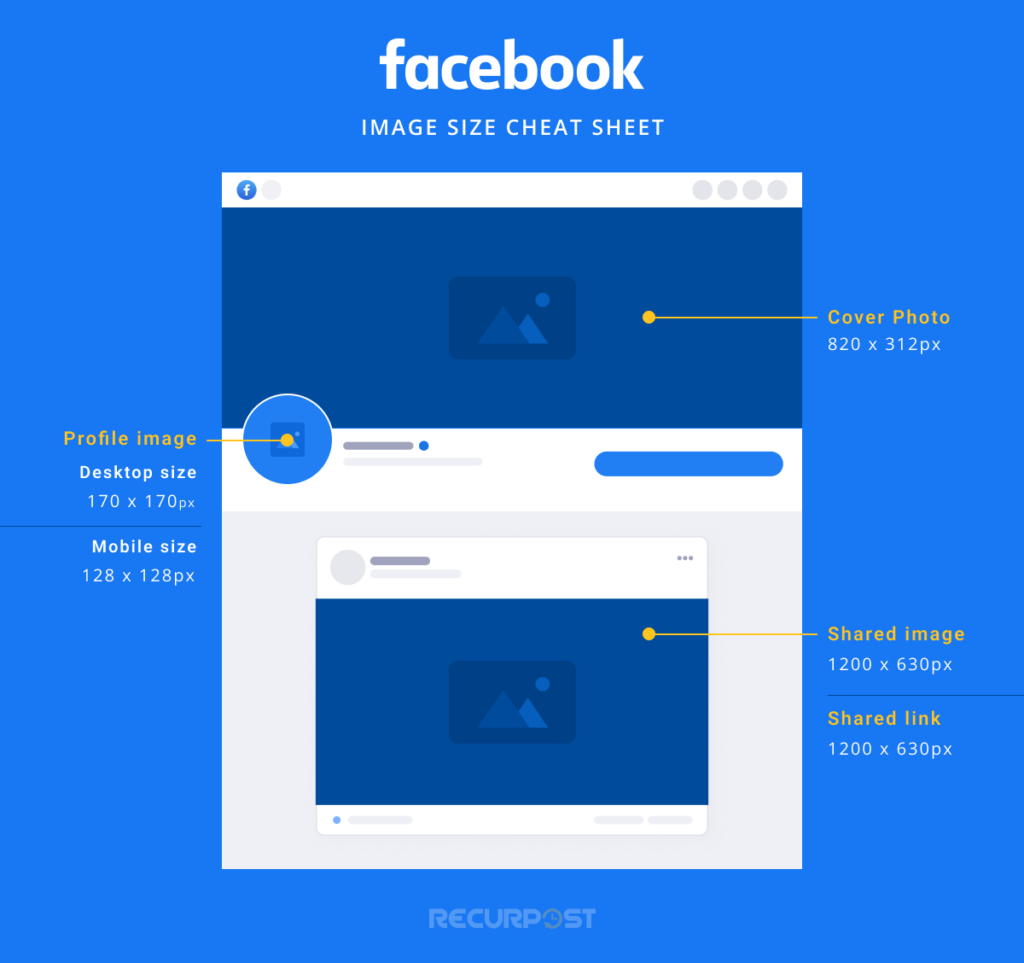 There is a list of images you need to consider when it comes to Facebook images. We divided it into multiple subpoints to make it easy to understand. You might be thinking, why Facebook has so many image size variations? It is because of the variations of the devices.
Using Facebook on a desktop, the screen is horizontal; on a mobile, the screen is vertical. The change in devices demands variations in image sizes. For more queries, you can connect with a Facebook support team.
Facebook doesn't stretch out your images; instead, it crops them.
Facebook profile picture
The image of your Facebook profile picture on your Facebook page is displayed on your desktop as 170 * 170 pixels and 128 * 128 pixels on your mobile phones. The profile picture is cropped and shown in a circular image when displayed in a post or ad. If your profile picture has text, it is better to use a PNG file format.
Facebook cover photo
The image behind the Facebook profile picture and on the top of the Facebook page is a Facebook cover photo. The Facebook suggested size for a desktop is 820 * 312 pixels and 640 * 360 pixels for mobile phones.
The minimum Facebook cover photo size must be 400 * 150 pixels. It will load faster if the file is in JPG format and if the file size is less than 100kb. Similar to a Facebook profile picture, if the Facebook cover photo contains text, then a PNG file format is advised.
Shared Facebook image post size
Facebook's recommended image upload size of a shared post image is 1200 * 630 pixels. It will be displayed in the feed at a width of 470 pixels max and on a Facebook page at 504 pixels max.
A 1:1 aspect ratio is the maximum it will scale to.
Shared link
The Suggested shared link Facebook post image size is 1200 * 630 pixels.
For square images, the minimum size is 154 * 154 pixels in the feed and 116 * 116 pixels on the page. For rectangular images, the minimum size for the feed is 470 * 246 pixels, and for the page, 484 * 252 pixels. If your image size is less than the minimum recommended size, Facebook will scale them accordingly.
Facebook event image
If you want to announce an event, there is no better place than a Facebook event. You can reach a larger audience, send them reminders, and run an ad through Facebook event images. The suggested Facebook event image upload size is 1920 * 105 pixels.
For best social media marketing practice, you should use RecurPost to schedule a recurring post on your Facebook profile, Facebook page, and Facebook group. Using the above-listed dimensions will help you create an eye-catching post, helping your brand to attract more audience.
Instagram image sizes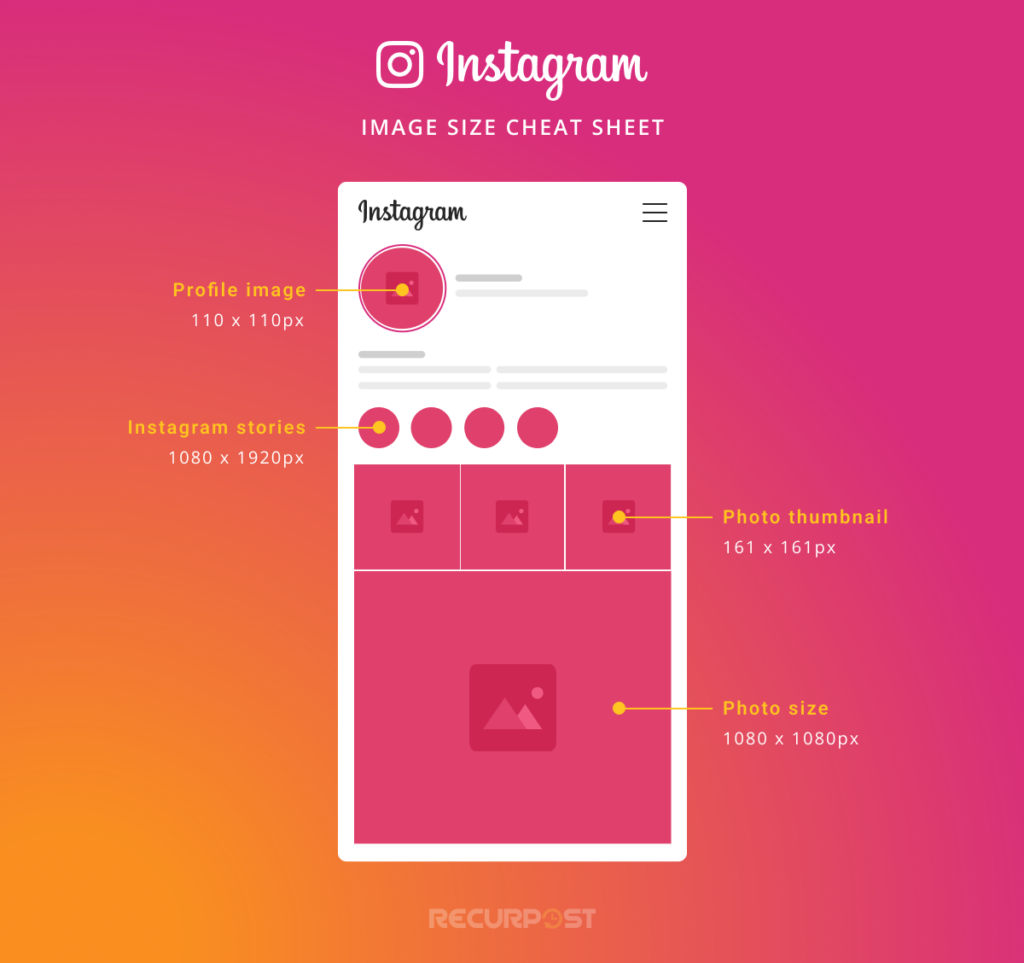 Instagram is a social media platform that runs on images and short videos. Using the Instagram recommended sizes are most preferred here. Instagram does not have a particular cover photo.
Instagram profile picture
The suggested Instagram profile picture size is 110 * 110 pixels. This square image is cropped and will be displayed in a circular image. So select the image accordingly.
Photo thumbnail
Recommended Instagram photo thumbnail size is 161 * 161 pixels.
Instagram photos
This is the most competent social media platform for quality images. It's essential to follow Instagram image sizes to maximize image resolutions.
Instagram keeps the image width between 320 and 1080 pixels. Images with lower resolutions are enlarged to 320 pixels, and higher resolutions are reduced to 1080 pixels. Instagram recommends uploading a photo with a width of 1080 pixels with an aspect ratio between 1.91:1 and 4:5.
Square images should be 1080 * 1080 pixels, rectangular should be 1080 * 566 pixels, and portrait images should be 1080 * 1350 pixels. It suggests downloading the most recent version and using a high-quality camera while taking photographs for the best results.
Instagram stories
It dominates the social media channels for these unique features. It is the most popular feature through which your brand can interact with people. The suggested size is 1080 * 1920 pixels with an aspect ratio of 9:16.
Consider a social media scheduling tool like RecurPost for getting the utmost engagement with less effort. It will help you with writing for social media as well.
Twitter image sizes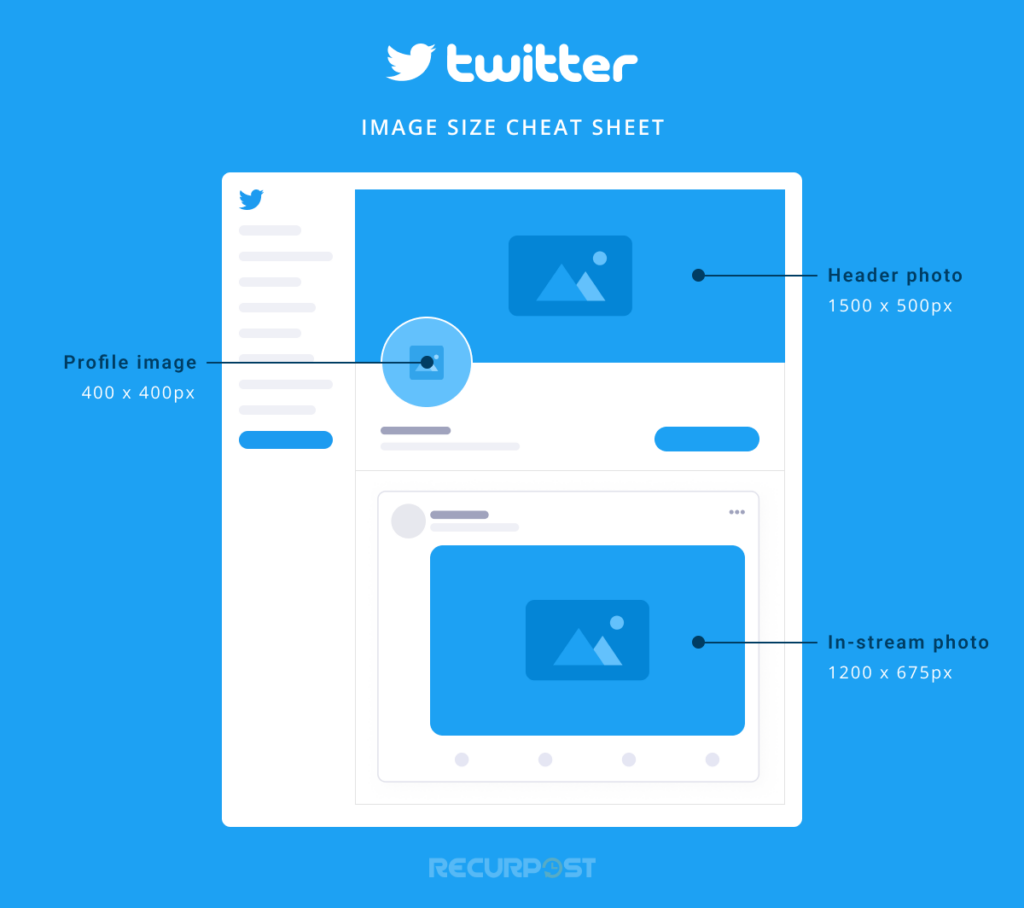 Twitter is a text-dominant platform where people go to see what celebrities such as politicians, movie stars, and entrepreneurs say. People attach an image with their tweets to stand out in the feed.
Twitter profile picture size
Twitter's recommended profile picture upload size is 400 * 400 pixels. The file size for a Twitter profile picture must be less than 2Mb. You have to be careful about choosing the correct Twitter profile picture, as the square image will be cropped to a circular image.
Header photo
Twitter's suggested upload size for header photos is 1500 * 500 pixels, and the file size must be less than 5Mb.
Twitter post size
Twitter allows you to add GIF images or up to 4 images and recommends an image size of 1200 * 675 pixels or an aspect ratio of 16:9. The maximum file size allowed for images is 5Mb. The maximum file size limit for GIFs is 5Mb for mobile and 15 Mb for web applications. Image file format can be JPG, PNG, or GIF.
Sharing more than one photo will change the aspect ratio per the number of images. Like,
Two images: side-by-side images at a 7:8 ratio
Three images: one on the left at a 7:8 ratio and another two stacked on the right at a 4:7 ratio
Four images: all images are displayed as a grid with a 2:1 aspect ratio
Twitter allows the looping of GIFs. If GIF doesn't loop, then it will play once and remain as a static image.
Twitter doesn't allow you to post the same content multiple times. RecurPost is a social media scheduling tool that allows you to auto-generate your Twitter post's alterations, making RecurPost the best sendible alternative.
Ad size
Twitter has varieties of ads for running your marketing and advertising campaigns. Suggested image sizes are
Single and multi-images Ads: 600 * 335 pixels or larger than the same aspect ratio
Twitter cards: 800 * 418 pixels with 1.91:1 aspect ratio or 800 * 800 pixels with 1:1 aspect ratio.
Carousel: The same as Twitter cards but with 2-6 images
LinkedIn image sizes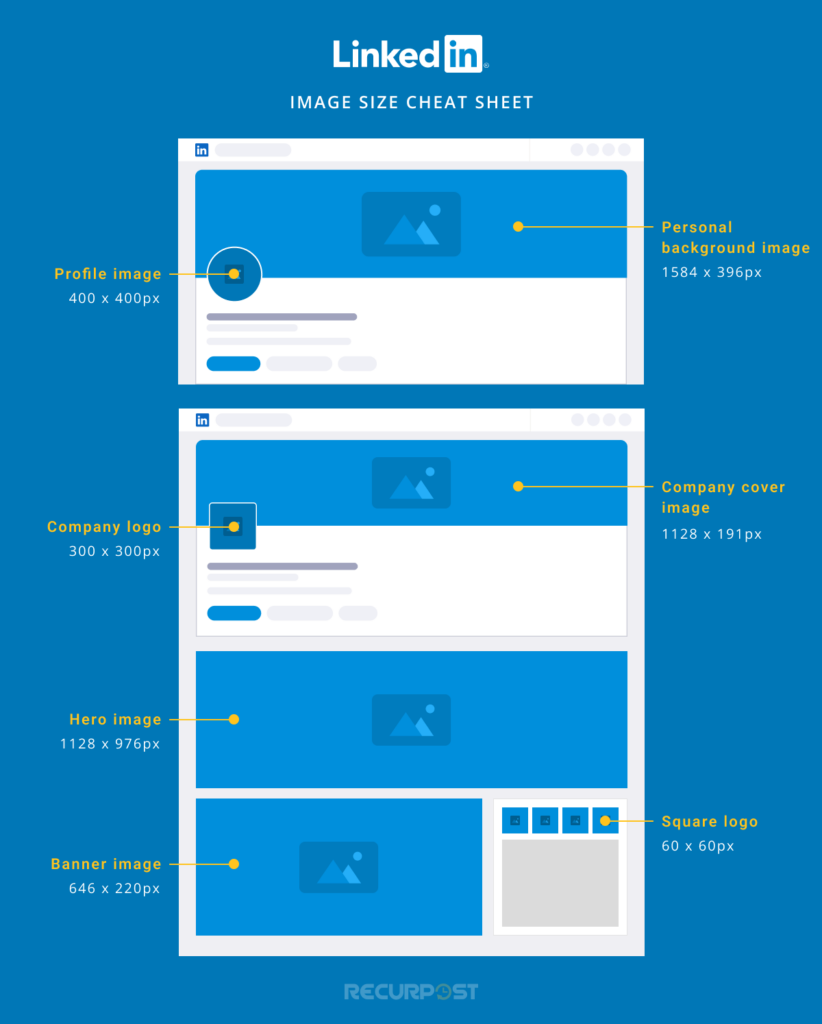 LinkedIn is considered a professional network and is an excellent place for selling B2B products and services and for recruiters to connect with industry experts. Poor-quality images damage your business's credibility. It's essential for every business to keep their LinkedIn images business-specific and professional. For details other than image sizes, you can connect with LinkedIn Help.
LinkedIn profile image
LinkedIn's suggested profile size is 400 * 400 pixels with a maximum file size of 8Mb. LinkedIn profile photo must be a headshot, or else LinkedIn will remove it. According to LinkedIn criteria, LinkedIn profile images cannot be logos, text, landscapes, or a company logo.
LinkedIn background image
Recommended LinkedIn background image size must be 1548 * 396 pixels. You can upload a file maximum of up to 8 Mb.
LinkedIn company logo image
Recommended company logo must be 300 * 300 pixels with a file size limit of 4Mb.
LinkedIn Cover photo size
Recommended LinkedIn company background cover photo size is 1128 * 191 pixels, and the file size should be less than 4Mb.
LinkedIn article images
You can upload a cover image to your LinkedIn articles. The upload image size should be 744 * 400 pixels, and the size of the file not be more than 10 Mb. You can also add images within the article with a maximum 10 Mb file size.
LinkedIn post size
LinkedIn's suggested shared image size is 1104 * 736 pixels, the maximum allowed size for shared images. The LinkedIn post size for sharing the link image is also 1104 * 736 pixels.
RecurPost is a great content marketing tool that helps you to schedule LinkedIn posts. There are popular tools like Hootsuite in the market. If you compare the features of both tools, you will find RecurPost, a class of free hootsuite alternatives for this.
Pinterest Image sizes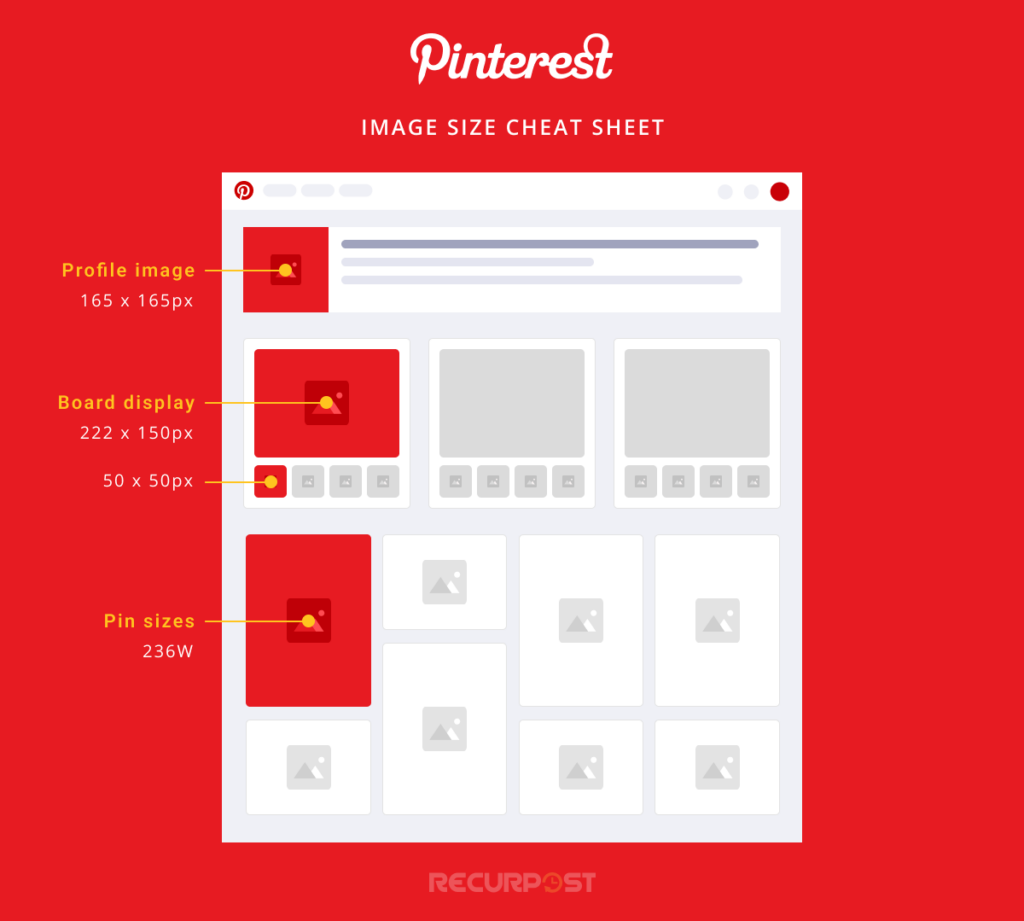 Pinterest images work great to target audiences with specific niches like cooking, nail art, etc. Google list Pinterest images in its search results. By taking advantage of Pinterest images, you can increase traffic to your Pinterest page.
After Instagram, Pinterest is all about images. So it's important to follow Pinterest's recommended image sizes guidelines to show your clients the best quality images.
Most of the images on Pinterest are vertical images. Pinterest is the best platform for sharing vertical infographics.
Pinterest profile picture size
The minimum recommended Pinterest profile picture size should be a minimum of 165 * 165 pixels.
Pin image size
For the best quality pin images, the suggested image size should be 1000 * 1500 pixels with an aspect ratio between 1:3.5 to 2:3. Images have a set width of 236 pixels, but the height may vary. So on Pinterest, pin sizes can be different. That does not mean that you can add images of any height. Images that are too long will be cropped depending on the view, which generally happens for long infographics images. Pin images are supported for JPG and PNG file formats.
Board display thumbnails
Thumbnails are the images on your Pinterest board. As per Pinterest, small board display thumbnails must be 55 * 55 pixels, and large board display thumbnails must be 222 * 150 pixels.
Using RecurPost, you can schedule Pinterest posts for your brand. We offer a 14-day free trial to help you understand our features. Sign up to RecurPost and start posting today.
Google business profile image sizes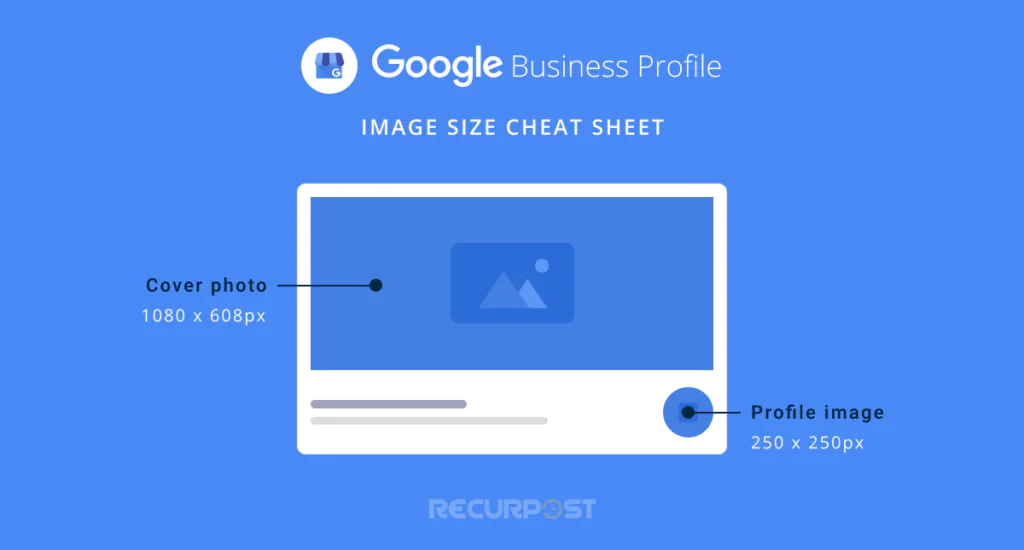 Google Business Profile is mainly for attracting local businesses. When someone searches in Google about your product or service, Google will list your Google Business Profile if your business category matches the user's query. So it's required that your Google My Business Listing Profile contains the best images. It will also help you outperform your competitors.
Google business profile cover photo
The cover photo reflects your business identity. Choosing to upload a cover photo tells Google that you prefer to display this image. Recommended size is 1080 * 608 pixels with a 16:9 aspect ratio. The file size should be between 10Kb and 5Mb. The minimum size should be 480 * 270 pixels, and the maximum size should be 2120 * 1192 pixels. Use JPG and PNG file formats to upload the cover photo.
Google business profile logo
When someone opens your Google Business Profile or you reply to comments, the Google Business logo will appear. The ideal size of a Google Business profile logo is 250 * 250 pixels with a file size between 10Kb and 5Mb.
Product photos
Adding images of your products is an excellent way to showcase your product. For the best appearance, your images should be in JPG or PNG format with a file size between 10Kb and 5Mb. An image should be a minimum of 720 * 720 pixels.
Google business post image
The recommended Google Business post image size should be 540 * 405 pixels with a 4:3 aspect ratio. The standard image size is displayed correctly for both the post and the thumbnail.
Want to start scheduling posts on your Google Business Profile? RecurPost offers you the best features for posting on Google Business Profile. Check RecurPost pricing plans and start posting with a free trial.
YouTube image sizes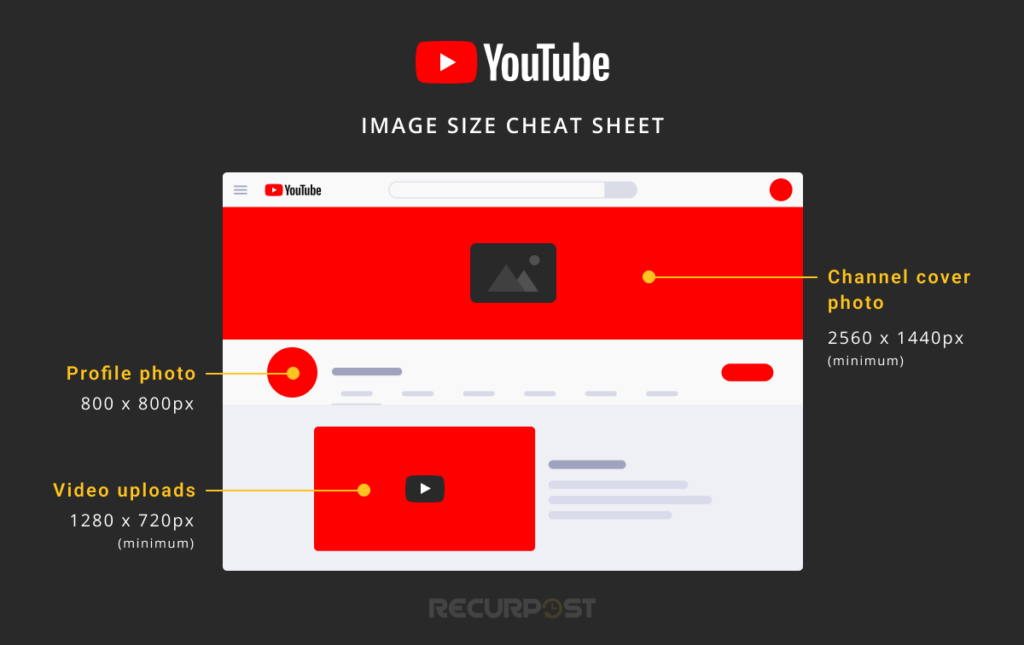 YouTube is the world's second-largest search engine and the most competent social media platform. Suppose you create an interesting video, but if its thumbnail is not enticing, no one will click on it.
YouTube channel profile photo
The recommended profile photo size is 800 * 800 pixels and displayed at 98 * 98 pixels. The minimum size should be 600 * 600 pixels, and the resolution is recommended at 1200 * 1200 pixels for the best image quality. It is cropped and displayed in a circular image.
YouTube banner image size
The recommended size of the banner image or cover photo is 2560 * 1440 pixels and a file size of 6Mb.
YouTube video size
YouTube video should be a minimum of 1280 * 720 pixels to meet HD standards. The aspect ratio is 16:9.
YouTube thumbnail size
The size of the Youtube thumbnail should be the same as the video, which is 1280 * 720 pixels. The thumbnail size should not be more than 9600 * 5400 pixels.
TikTok image sizes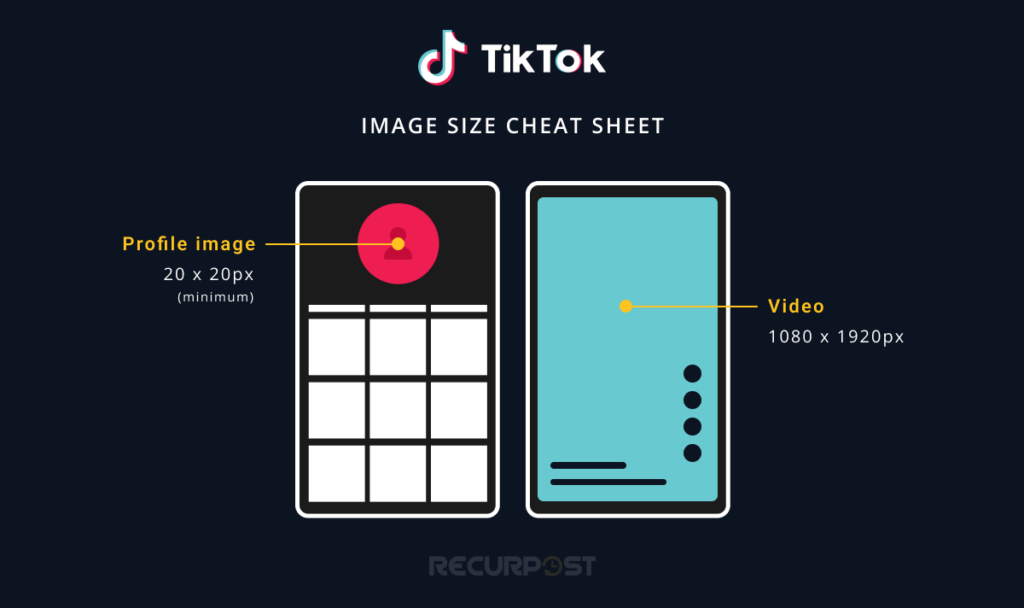 TikTok is gaining more popularity than Instagram. Because of its video editing capabilities and a wide array of music options, TikTok has become a more engaging platform with the potential to reach a large audience.
TikTok profile photo size
The minimum size of a TikTok profile photo should be 20 * 20 pixels.
TikTok video size
TikTok is a video-oriented platform. The recommended video size is 1080 * 1920 pixels, and an aspect ratio should be 1:1or 9:16.
Snapchat image sizes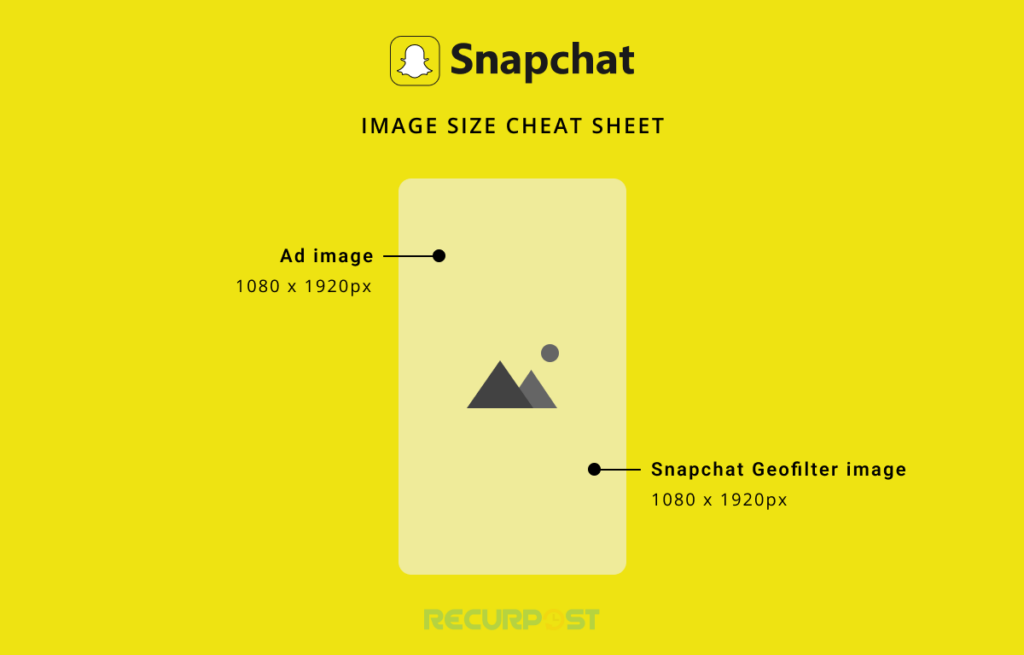 Snapchat is popular among young people and is another highly visual social media platform. Compared to other platforms, social media post sizes are pretty simple.
Snapchat ad image size
Recommended ad image size should be 1080 * 1920 pixels, and the file size should not exceed 5Mb. An aspect ratio should be 9:16.
Snapchat Geofilter image size
Snapchat's suggested image size should be 1080 * 1920 pixels with a maximum file size of 250 Kb and an aspect ratio of 6:13. The image file should be in transparent PNG format.
Tools to create eye-catching social media images with the correct dimensions.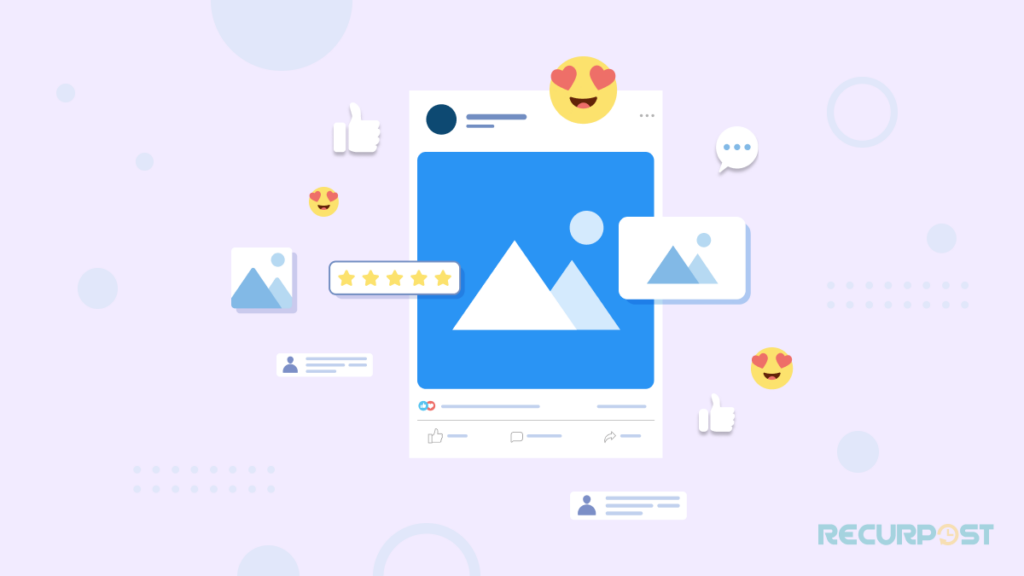 Are you design-challenged? No worries. Image tools such as Pablo, Adobe Spark, and Stencil make your work easy. They have customizable social media image templates sized for each platform. You can create images using these free tools and use them to schedule Christmas social media posts or any other types of social media posts.
Our integration with Pixabay, Unsplash, and Giphy provides an extensive collection of professional quality image stock. These images are free to use. You can use these images in social media bulk scheduling using the RecurPost.
Keep your social media profile professional using the right social media photo sizes
Images are the best way to engage your customers or to gain more Tiktok followers. Choosing the right image size will keep your profile professional on social media platforms. It is tedious to follow the guidelines for every social media platform. To stand out on social media, you need to accept that it is essential, and you can't miss that.
Suppose you created a professional social media profile. You put a great brand logo and cover photo in your social media profile. Still, if it doesn't look great on your audience device because you miss out on selecting the right image size, then your business will lose credibility. When someone finds your post interesting and wants to start a business with you, they will first check your business profile. If your profile looks unprofessional because of distorted images, it will negatively affect your business's credibility.
Your social media profile is your face to the world. Keep your social media profile image the right size to create online professionalism.
RecurPost-supported social media platforms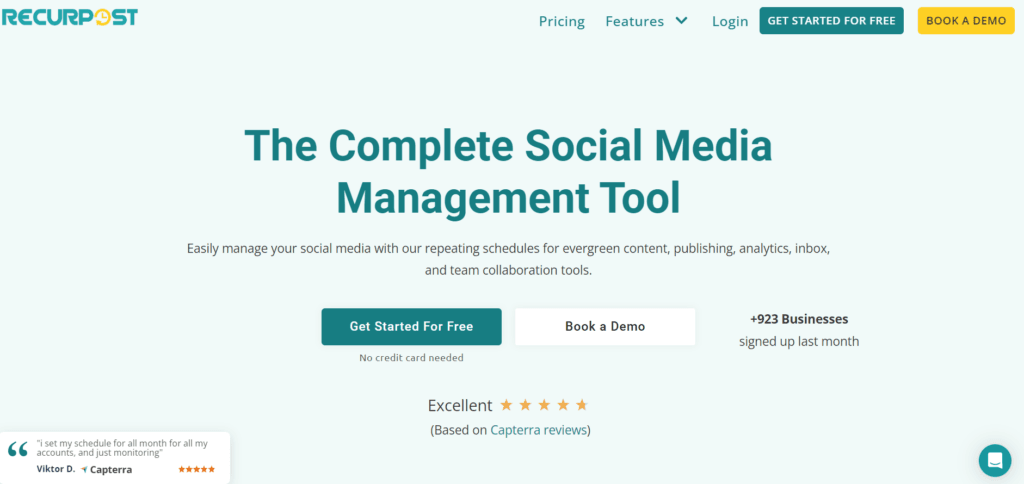 RecurPost allows you to turn your company's ambitious goals into impressive accomplishments. Using the tool, you can create content and schedule in advance without worrying about upcoming holidays.
You can schedule Facebook posts on your profiles, groups, and pages and engage your audience by creating entertaining content. It allows you to schedule Instagram posts on your personal and business profiles for sharing images, stories, and reels that talk about your customer success stories.
RecurPost lets you schedule tweets at the best time by keeping in mind Twitter norms. You can also schedule LinkedIn posts on personal and business pages.
RecurPost is also an excellent Pinterest scheduler for taking advantage of the visual platform. It is also possible to schedule Google Business Profile posts using RecurPost to attract local buyers.
Summary
Images are the best way to grab attention on social media platforms. Your agency works hard to create an eye-catching image. If you are using the wrong dimensions, it will not work for you. Using the correct image size for every social media platform is essential for successful social media marketing.
We regularly update this guide with new social media image sizes. Ensure to bookmark this page to get the latest updates!
How are you managing social media image sizes for different platforms? Let me know in a comment below?
FAQs
1. What size should social media images be?
Every social media platform recommends image sizes for its page and posts. Keeping the chart handy helps you to upload images with the best resolution.
2. What are the most common image sizes for social media platforms?
The most common image sizes are
1920 * 1080 pixels
1080 * 1080 pixels
1280 * 720 pixels
1024 * 768 pixels
3. Why does use the right image sizes for every social media matter?
Selecting the wrong image sizes for social media will mess up things and negatively impacts your business. If the image is cropped or stretched out for selecting inappropriate sizes, people will ignore your post and will remain unnoticed.
4. How many pixels make a 16:9 ratio?
A 16:9 is the standard aspect ratio of the number of pixels for videos. DSLR cameras and smartphones record videos at 1920 * 1080 pixels, which is the standard 16:9 ratio.
5. What is the best resolution for social media?
The best-recommended resolution is 1080 * 1920.
6. How can you resize an image without losing its quality?
High resolution means more pixels and better image quality. To resize an image using Photoshop, make sure you uncheck the checkbox "Resample image." This tells Photoshop to change the number of pixels and ensures resizing the image without losing the quality.
7. Can you upload 4K videos to Instagram?
Instagram doesn't support 4K videos. You can upload the video on Instagram with a maximum resolution of 1080 * 1924. If you upload 4K videos, Instagram will automatically compress them and will show them in Trash.
8. what is the best image size for a Facebook post?
Recommended Facebook timeline photo size is 1200 * 630 pixels. The minimum size should be 600 * 315 pixels.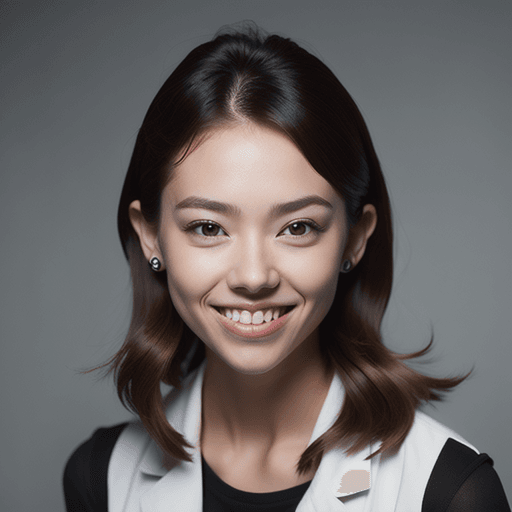 Debbie Moran is a Digital marketing strategist with 5+ years of experience producing advertising for brands and helping leaders showcase their brand to the correct audience. She has been a part of RecurPost since 2019 and handles all the activities required to grow our brand's online presence.