Whether you are a brand trying to make a presence on Instagram or a high school student trying to gain maximum likes and comments, finding out the best time to post is the ultimate deal. Instagram's algorithm keeps playing with the content that it shows to its users. Back in the days of the chronological feed, you could simply post at weekends or evenings, as time was the first factor considered for posts to show up on top.
But, today, along with creating the most compelling content, it is mandatory to find just the right time to post the right content. Otherwise, your audience might never be able to see your content. 
When you know the correct time to upload your posts, you can make sense of the content overload that occurs many times when you scroll your Instagram feed. Whether you want to use the data to find out the peak times, or you want to take advantage of quieter hours – you can coordinate these insights with your social media management tool, and prepare the best plans to schedule Instagram posts. 
In case you are searching for a universal answer to the best time to post on Instagram, we'd be happy to throw light on the fact that there is no one-size-fits-all solution. Every industry is different, every brand is different, and so is the audience. 
The basic thing that you need to know to get more engagement is your audience's behavior. The more you know about your audience, the better you'll be able to cater to their content needs. And the more customized your content is, the higher engagement you will receive on your posts. Instagram offers the feature of insights that you can use to find out data about your audience's behavior. 
We have studied different industries and categorized the best time to post on Instagram for all of them.
The Best Time to Post on Instagram by Day:
Best time to post on Instagram on Monday: 6 am, 10 am, and 10 pm EST
Best time to post on Instagram on Tuesday: 2 am, 4 am, and 9 am EST
Best time to post on Instagram on Wednesday: 7 am, 8 am and 11 pm EST
Best time to post on Instagram on Thursday: 9 am, 12 pm, and 7 pm EST
Best time to post on Instagram on Friday: 5 am, 1 pm, and 3 pm EST
Best time to post on Instagram on Saturday: 11 am, 7 pm, and 8 pm EST
Best time to post on Instagram on Sunday: 7 am, 8 am, and 4 pm EST
Instagram is the second biggest social media platform after Facebook, and the daily logins are only expected to increase in the coming years. Looking at the platform as a whole, the best time to post from Monday to Friday is from 9 AM to 4 PM.
Every day, from 4 PM to 6 PM, the engagement levels drop down comparatively. During the mornings, a bit of activity is noticed, maybe because of the stories that are easy to check at any time.
Now let's see different industries and the best time for them to post content on Instagram.
1. Best time to post on Instagram for technology industry
Best days: Monday, Tuesday, Wednesday, Friday
Best time: 7 AM to 10 AM
Worst days: Saturday and Sunday, especially afternoons
Mostly, tech companies think that they cannot grab much attention from people on social media. But, there are plenty of ways in which you can create compelling content in the form of BTS videos, employee stories, case studies, etc.
2. Best time for Education sector
Best days: Friday, Saturday
Best time: 9 AM to 8 PM
Worst days: Sunday and Monday, especially mornings
To engage the people with your content, highlight activities that are undertaken at the institute, campus life, events, workshops, etc. During the night, a reasonable proportion of people stay online, so you can also experiment posting between 8 PM to 11 PM.
3. Best time for media industry
Best days: Wednesday, Thursday, Friday
Best time: 8 AM to 4 PM
Worst days: Saturday and Sunday, especially in mornings and nights
Media companies usually get engagement during odd hours. Thus, it is no harm in experimenting with your posting schedules. Fridays (9 AM to 5 PM) are the best days to post, followed by Monday to Thursday from 8 AM to 4 PM.
4. Best time for healthcare industry
Best days: Tuesday, Thursday
Best time: 7 AM to 7 PM
Worst days: Friday, Saturday and Sunday
The Healthcare industry has limited options with the kind of content it can show on social media. However, there is a scope of connecting with local authorities and providing people with education related to health issues. 
5. Best time for finance sector
Best days: Wednesday, Friday
Best time: 10 AM to 4 PM
Worst days: Saturday, Sunday, Monday
At the first glance, financial sectors may not even consider growing a presence on social media. But, you can ideally use it to highlight events, customer feedbacks and stories, video content, and short articles. 
6. Best time for non-profit sector
Best days: Monday, Tuesday, Wednesday
Best time: 9 AM to 8 PM
Worst days: Saturday, Sunday, especially in midnights and evenings
Social media platforms have been the hot favorite for non-profit organizations, as they can spread awareness and gain volunteers easily for contributing in their social work. Weekdays and afternoons make the best combination for building engagement in this case. 
7. Best time for consumer goods
Best days: Monday to Friday
Best time: 9 AM to 5 PM
Worst days: Sundays
Well, the visual nature of Instagram is the perfect fit to showcase and sell products of almost all kinds. A huge number of brands have already built their presence and are generating sales using influencer marketing, organic efforts, and paid ads.
8. Best time for non-retail e-commerce
Best days: Monday to Friday
Best time: 4 PM to 9 PM
Worst days: Saturdays
The top non-retail e-commerce brands observe the highest engagement during nights and evenings, on all weekdays – majorly on Thursday. It's because the audience is particularly interested in watching entertaining videos after work hours. Thus, if you belong to this industry, your work to manage your social media will begin after the regular work hours. But, if you don't wish to sit behind your desks all the time just to post, you can use a scheduling tool and schedule your content beforehand to go out on the best time on Instagram.
Point to note: You might have thought that weekends are the best days to post content on Instagram, as everybody is free from work. But, from the above research, it is quite clear that weekdays are better to post, especially for brands. On weekends, people generally post their own pictures or scroll through content that is entertaining; for example, memes. 
Best time to post on Instagram during lockdown (Covid-19)
We know that a lot has changed because of the pandemic. Covid-19 has impacted every life aspect, including social media behavior and usage. There has been a massive increase in the use of social media platforms and considerable shifts in the users' active time. For brands, this resulted in an increased opportunity of putting out great content and get more engagement.
Thus, we have gathered data based on engagement trends and found out the best time to post on Instagram in lockdown. Overall, the best times to post are on Monday, Tuesday, and Friday from 11 am to 2 pm.
As compared to other social media platforms, Instagram has seen an expansion in active times. You can experiment with posting times without any issues and still see considerable engagement on your profile, as a majority of people are scrolling through their feeds. Try to post more on weekdays in the mornings and afternoons.
Best practices to play with the posting timings
While the above timings are the best times to post on Instagram on an average, we think that if you want to gain more engagement, it's great to find your customized best time to post on Instagram on the basis of your unique audience. According to the Instagram algorithm, timeliness has always been a crucial factor. But ever since Instagram updated the algorithm, when you post has become more important than ever.
Therefore, if you want to conquer the Instagram algorithm, you must optimize your posting time for when most of your audience is online. As Instagram is now prioritizing both new and relevant content on the feed, the only way to get your content right in front of them is by uploading content when they are actively scrolling. And that's the reason why it is very important to know your own best time to post content on Instagram. If you do it the right way, you can hack the algorithm and maximize the reach of your posts, get more engagement, and increase your followers.
1. Learn about your audience
As we discussed in the beginning, knowing your audience is the most crucial to find your best time to post on Instagram. And the best way to learn about your audience is through the native Instagram tool known as Instagram Insights.
When you have a business account or a creator account on Instagram, you can find the option of viewing insights. This section is a rich source of information about your followers. It will provide you with all the data that you need related to your audience – their location, age, gender, and when they are the most active on Instagram.
When you are using a creator account, you will get access to the Instagram creator studio dashboard, which provides you with valuable insights related to your audience, including detailed information of when they are online. There is also access to growth insights and discovery data.
2. Carry out A/B testing
Do not limit your post schedule on Instagram to only the best time. Try and experiment with other time schedules too. There is nothing like "set it and forget it" on Instagram, as the algorithm keeps on changing. 
Start by picking up at least 5 different posting times throughout the week. For example, if your insights section shows that your audience is active between 6 pm-10 pm, schedule your posts for 6, 7, 8, 9, and 10 pm. In the following week, switch the posting times. For example, if you posted on Monday at 6 pm in first week, post at 7 pm in week 2. Maintain all this data in a spreadsheet. This process might take a few weeks, but this data can be used to find your own best time to post on Instagram and receive the maximum engagement. 
3. Measure your progress
As discussed above, when you carry out A/B testing, prepare a spreadsheet that contains information about the posts, the date and time of posting, the likes received, and the comments made. Do this for a month, and you will have your own Instagram data that can be used to choose the best time to post thereafter.
4. Optimize your content
Posting on the best time will not give you all the results that you want. You need to work on the content that you put in front of your audience. Post high-quality photos and videos which will make people stop and check out your content. Write indulging captions and ask people to leave their reviews and opinions in the comments. Use the correct hashtags that belong to your niche to reach the maximum number of people. Thus, clubbing the best-optimized content with the best time to post will work wonders for your Instagram profile.
5. Schedule your content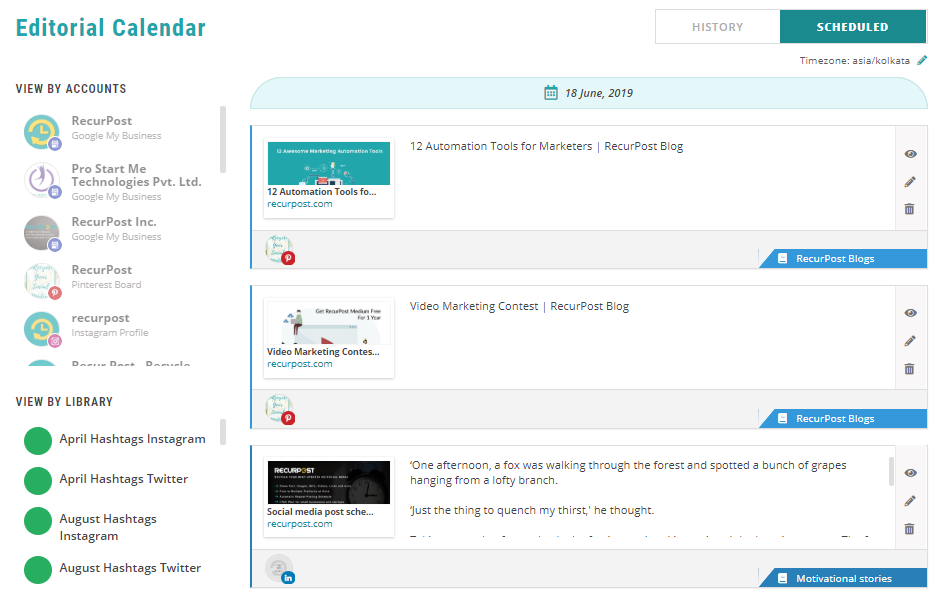 Prepare your entire month's content well in advance and schedule them using a social media scheduling tool, such as RecurPost. When you use RecurPost for scheduling, it will study the engagement level of your Instagram profile and recommend you the best time to post. This way, you can make sure that the right content goes out at the right time on your Instagram feed. You can even use the personalized insights that are provided by RecurPost. As an addition to the above data provided, you will have an extra perspective of what can be your unique best time to post on Instagram.
6. Save your important posts for weekdays
As the B2B companies and other brands get the most engagement during weekdays, make it a practice to post your best content during that time on Instagram. Experiment on weekends using content that does not affect much to your brand even if fewer people see it. Make a spreadsheet and start jotting down every single detail related to engagement received to know whether weekends are your cup of tea or not.
Generally speaking, the best times to post on Instagram are during lunchtime (11 am -1 pm) and evening (7 pm -9 pm). But how can you manage posting during job hours? Instead of posting from your work-desk, schedule your Instagram posts whenever you are free so you don't have to worry about posting them in real-time!
How to Schedule for Best Time to Post on Instagram
Now you practically know everything about the right time to post on Instagram and how to gain the highest engagement levels. Next, you need to schedule all your content according to the data collected. 
There are a lot of reasons for you to use a social media scheduler, but the best being the ability to send out posts consistently on appropriate timings. Using RecurPost, doing that is as easy as pie.
You just need to upload all your content in the content libraries and select the timings to post. Its drag and drop editor is amazingly convenient to use. You can also create recurring schedules that will help to keep driving traffic from your best performing content. Additionally, it will show you your tailored reports of timings when your content is performing the best (and the worst).
When you are unsure about when to schedule a particular post, you can leave that on RecurPost. There is an option of 'Auto-schedule for best time'. Just select the checkbox while scheduling a post and RecurPost will automatically upload it according to your audience's past interactions with your account.
Strategically plan, schedule, and post your content during the best time on Instagram, and you will be able to drive more engagement, gain followers, obtain leads, and build your brand's identity!
Frequently Asked Questions
1. What is the best time to post on Instagram in 2021?
As stated above, the best time to post on Instagram depends on your audience as well as the industry you're in. overall, the best times are observed to be from Monday to Friday between 9 am to 4 pm. Take a look at the timings related to specific industries listed above for better understanding. 
2. What is the worst time to post on Instagram in 2021?
The worst time to post on Instagram is observed on Saturdays and Sundays, particularly in the morning and midnight. Overall, people are the least active from 1 am to 5 am. It all comes to your specific audience and when they are most active on the platform.
3. Is it better to not post on Instagram in the morning?
Morning hours are generally good to post as everybody just wakes up and can't resist checking their phones to go for a quick scroll. You can try posting from 7 am to 10 am in morning and see how it turns out for your account.
4. Is it bad to post on Instagram at night?
It is believed that posting on Instagram at night doesn't yield the required results. Some people might be active but it will only be a small proportion of your audience. According to every metric, the best time to post on Instagram is generally mid-mornings, early afternoons, and late evenings. However, time zones need to be considered too. If your audience belongs to a different time zone, you might need to post during your night times to make your content visible to them.
5. How often should you post on Instagram in 2021?
As long as you post quality content consistently, there is no specified limit. If you want to grow in a short time, it is better to post at least once each week. The optimal frequency is once or twice a day, and if it's not possible to achieve that, you can post thrice a week. Also, avoid sharing huge chunks of content at the same time or disappearing from the platforms for weeks.
6. How to get more likes on Instagram in 2021?
Getting more likes and engagement on Instagram depends on the content that you post, when you post it, and how often do you post. To get the most likes, make sure you do the following:
Create incredible photo and video content

Find and use the right hashtags to increase reach

Know what your audience likes to see on their feed

Write good and engaging captions

Follow a consistent posting schedule

Post when your audience is the most active
Summing Up,
Instagram can sometimes feel like a minefield, and that is the reason why it is important to be in sync with your audience. Knowing the best time to post will serve as a foundation of a successful presence on Instagram. You can utilize all the above data and you will soon have an audience that looks out for your posts and shares them enthusiastically! 
Also, you might be interested in topics revolving around social media and learning how Instagram ads work, how to do Twitter marketing, or the steps to run Facebook Ads. We have got a complete source where you can get rich information that will help you in making your social strategies strong. Click here to check out!