Unlike retweeting on Twitter and sharing posts on Facebook, you can't repost on Instagram in a click as it doesn't have a repost option. Instagram allows to schedule Instagram posts but hasn't officially given a repost feature, but many users have been doing it for a while now. And this has become a common and effective part of brands' Instagram marketing strategy by adapting social media scheduler.
Although there are ways and tools to repost on Instagram, you should keep a few things in mind. In this article, we'll show you how to repost on Instagram, and things to watch out for.
Do you need permission to repost on Instagram?
Instagram's community guidelines say, " To make sure that the content that you post on your profile doesn't violate any community guidelines is to only post content created by yourself." However, it also says, "You might use someone else's content if you have gotten permission, or if your use is covered by fair use, or any other exception to copyright."
Then the instructions get very ambiguous. Thus, It is advisable to get consent before sharing someone else's content, and the permission should be somewhere in writing. It is not defined how written permission can be obtained. And thus, it seems the best option to ask the original user in a comment or DM.
For example, you can send a simple message saying "Hello, I really like this post. Is it okay if I repost it with due credits?" Also, keep in mind that the person who has posted the content might not actually be the original creator. You must always make sure that you mention picture credits if you have permission to repost. It's not enough to simply tag someone in the post.
How to repost on Instagram
1. Repost on Instagram manually
The oldest and the simplest way to repost someone's content on your profile is with a screengrab. However, this method, obviously, works only for images and not for videos or GIFs.
Find the image that you want to post and take a screenshot of it.

Once the image is saved in your camera roll, tap on the '+' icon on the upper-left corner of the Instagram screen and select the screenshot that you'd like to share with your audience.

Next, you're going to want to change the size of your post so that only the main image shows. You can do this by using Instagram's resize feature itself, or you can crop the photo before uploading through your camera roll's edit functionality.

Make sure to give credits to the original sharer by mentioning their Instagram handle in your caption and also tag them in the post.
That's it. This is a very simple easy way to post other's images without downloading any third-party app. However, it can hamper the quality of the original image and the post may appear blurry on some users' screens if your phone model's resolution is low.
2. Use 'Repost for Instagram'
'Repost for Instagram' is an app available for both iOS and Android users. This app is compatible with all smartphones and connects straight with Instagram, enabling you to share content of other users on your feed. Follow the below steps to repost on Instagram using this app:
Download the 'Repost for Instagram' app.

Open your Instagram and go to the photo/video post that you want to repost.

Tap the '…' icon on the upper right-hand corner of the post.

Click on 'Copy share URL'. The photo/video will be copied to your clipboard.

Open 'Repost for Instagram'. The post that you copied will automatically show up on this app's homepage.

Tap on the '>' arrow on the right side of the post to edit how you wish the repost icon to appear on the post.

Click on 'Repost' and then 'Copy to Instagram'.

If you wish, apply a filter to your post and tap 'Next'. If you wish to use the original post's caption, simply tap on the caption field and press 'Paste'. The caption will appear with a citation that gives credit to the owner along with your reposted post.

When you are done adding all the details, click on 'Share', and your post will be uploaded.
3. Use 'InstaRepost'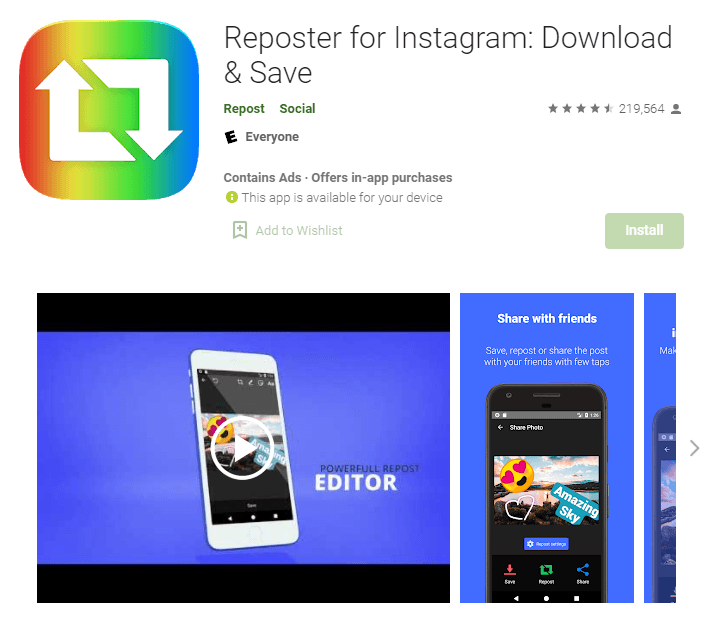 'InstaRepost' is also an application available both for iOS and Android users. Download the app and follow the steps below:
Open 'InstaRepost' and log in using your Instagram account credentials. The app will ask for some permissions. Authorize it to access photos, friend lists, and similar content.

You will see a small selection of your Instagram feed in InstaRepost. Tap the magnifying glass icon in the toolbar at the bottom of the screen to access the explore tab and find the post that you'd like to repost. Enter the Instagram handle of the person whose photo/video you want to repost.

Tap the arrow in the lower right corner when you find a post you want to reshare. Then click on 'Repost', then 'Repost' again.

This will save the photo on your device so you can find it in the Instagram app.

Open your Instagram app and click on 'Library'. Select the saved photo and add any filter if you want.

Paste the original caption and add a citation to give credits to the original creator. Click on 'Share' and your post will be uploaded.
4. Use 'DownloadGram'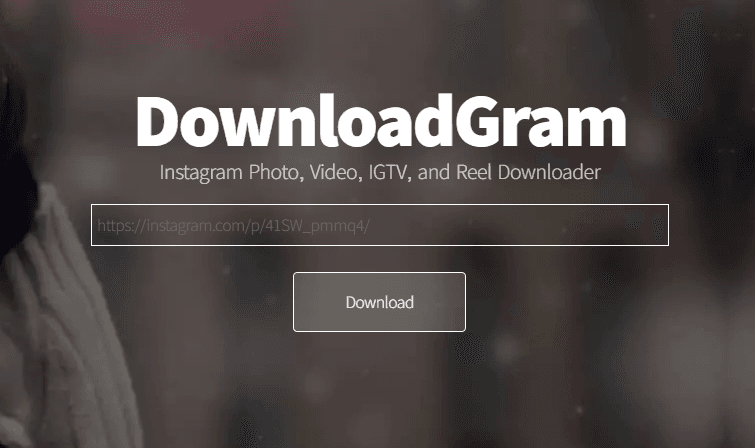 DownloadGram allows you to download high-quality copies of Instagram photos and videos and repost them on your account. You don't need to download any app to repost using DownloadGram. It can be accessed through your browser. Here's how to repost on Instagram using it:
Open Instagram and go to the post that you'd like to repost. Tap on the '…' icon and click on 'Copy Share URL'.

Open your internet browser and go to downloadgram.com.

Paste the URL into the text box that shows up on the homepage. Then click on 'Download'.

Click on the green button saying 'Download image'. You will be redirected to a new page where your content will be ready to download. Tap on the download icon and click on 'Save image'.

Open Instagram and click on the '+' icon. Select the downloaded image, and edit as per your preferences.

Credit the original creator by mentioning their username in the caption and click on 'Share'.
These were the four easy ways in which you can repost any content on your Instagram account easily!
How to repost on Instagram stories
We discussed how to repost on instagram via zapier feeds. But, what about resharing content on stories? A majority of times, you are going to come across content that you'd like to reshare with your followers, but it might just not fit into your feed every time. The post might not go well with your brand's theme or maybe you just want to reshare the story of someone who mentioned you. So, here are some ways to do it:
1. Repost from Instagram feed to story
It's quite easy to repost a post from your feed to your story. There's one thing to remember while doing this – if you are sharing the content of a private account, you will only be able to send it through DMs and can't share it in your story. If you don't know whether the account is private or public, a warning will show up when you try to share it. This, however, is a great way to share user-generated content. Follow the below steps to reshare content from a public account to your story:
Go to the post that you want to reshare and click on the share icon (paper plane icon).

Click on 'Add post to your story'.

The Instagram story will appear with the selected post placed in the center of the screen. You can edit it here by adding text, doodles, GIFs, or stickers.

You can tap on the post to change its design and show the first few words of the caption.

Click on the 'Your story' icon to post it.

When your followers see your story, they can tap on the embedded post and go directly to the original account.
2. Repost from Instagram story to story
This can be done in two situations – when someone's story is so good that you want to reshare it or when someone mentioned you in their story and you want to repost it. It is, too, a way of sharing UGC. In case of the former, it is necessary to take the permission of the user whose story you want to share and then take a screenshot to share it on your story. In case of the latter, follow the below steps:
When someone mentions you, the story will be shown in DM.

Go to the DM and click on the 'Add this to your story' prompt that appears below the story.

It will be added to your Instagram story where you can resize it, add filters, or other graphics, and share it.
3. Repost from Instagram story to feed
This can be done when your story gained a lot of engagement and you think it will perform well in your feed too. Below are the steps to do so:
Open the Instagram story that you want to post on feed. If the story is not currently live, find it from your archives.

Click on 'Share as post'

This will take you to the post creation screen where you can crop and edit the image, include a caption and other details, and share it on your feed.
Why reposting can be important for brands
Instagram has become a vital part of any brand's content marketing strategy, as it generates 10 times more engagement as compared to Facebook, 54 times higher than Pinterest, and 84 times higher than Twitter. There are over 25 million business profiles on the platform, and the ones already using it for a long time are seeing great results.
But how does reposting help in increasing engagement?
Marketing setup and Crowdtap conducted research where they found that millennials and other generations trust user-generated content 50% more than other media posted by brands. Additionally, 84% of millennials stated that user-generated content had influenced their decisions to make a purchase.
Thus, making content repurposing a key part of your Instagram marketing strategy is a tactic that will help in significantly growing your account.
What you should repost on Instagram
1. Share user-generated content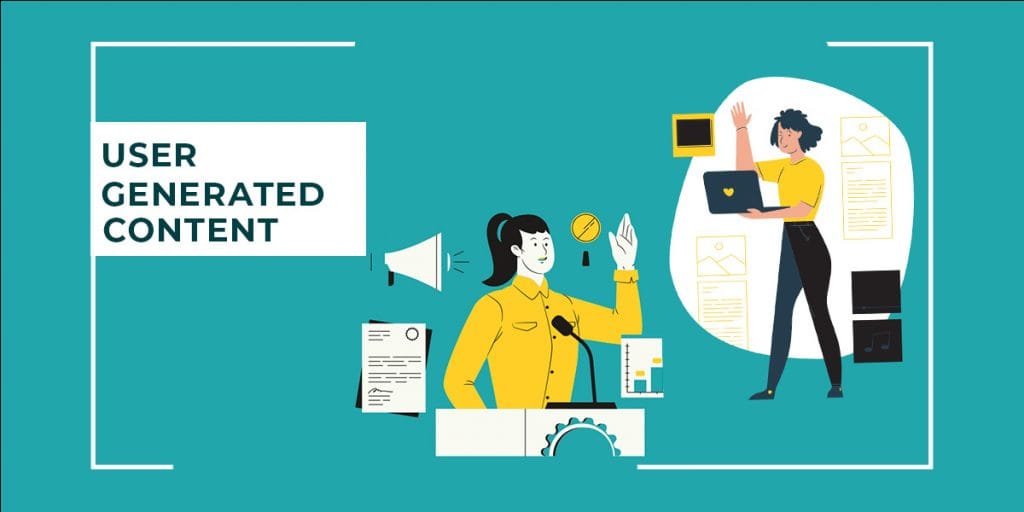 Apart from product reviews, live events, meetings, and discussions are perfect occasions to create content. This would be a perfect opportunity to repost any content on Instagram. You can create a hashtag for your brand that people can use while sharing content related to your products or events. Even you can use social media bulk scheduling to post your content in advance to generate higher reach.
2. Monitor brand mentions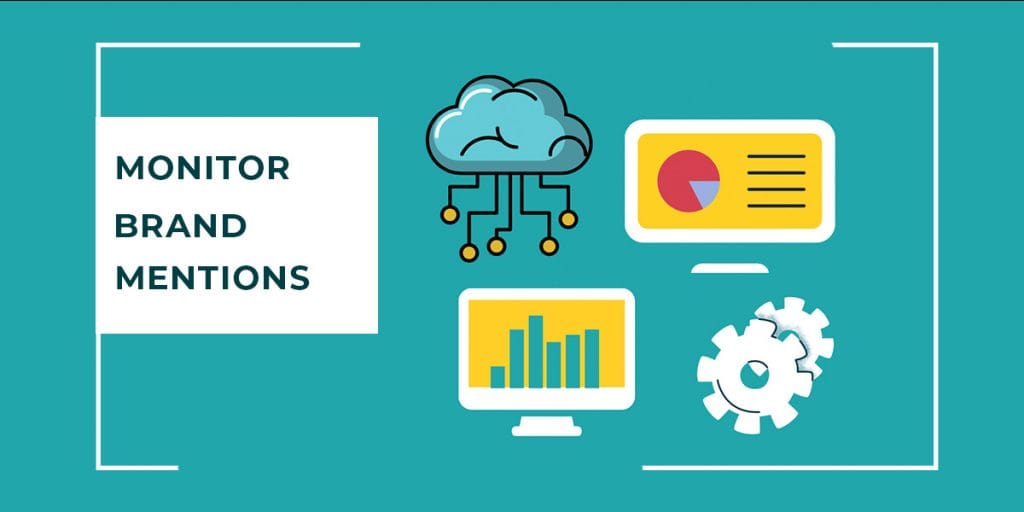 You can also find user-generated content from your Instagram notifications. Look out for any new brand mentions or tags. They can provide you with great content for your Instagram feed. Whenever someone uses your hashtag in their posts or mentions you in their story, you can easily repost it on your feed or stories too.
3. Share content from community members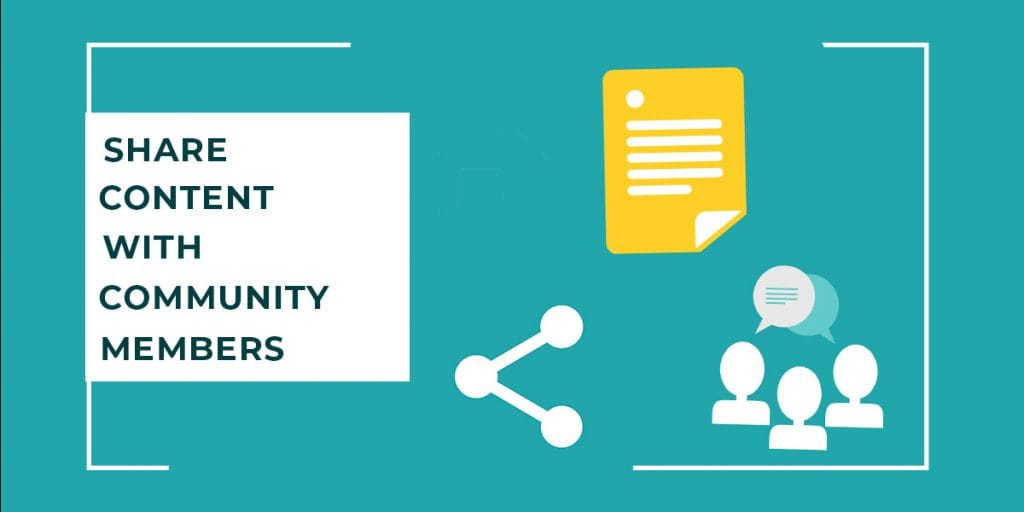 People like being recognized for the content they share on social media. And it can be a fantastic way to appreciate their work and also search for new brand ambassadors, often by approaching them and asking about sharing content on your profile.
Best practices to repost on Instagram
Now that you are aware of how and what to repost on Instagram, let's see some best practices. Keep the below points in mind while reposting content.
1. Permission and credits
According to Instagram policy, the original photographer owns the rights of using the photo. So, if you use their photo without obtaining their permission, it's a violation of this policy. The owner can file an intellectual property violation in such a case. This can lead to post removal or disablement of account with repeat offenses. To ask for permission, you can leave a comment under the post, or DM the user.
2. Avoid editing
Try not to crop or edit the original image that will take away the original essence of the post. If a caption is written with the photo, use that completely along with your own content.
3. Mix original and reposted content
If your feed only contains reposted content, it is really just a repost account. If your brand has products and services to offer, the original content will perform better. Using user-generated content in such cases should highlight consumer feedback and demonstrate your products' uses.
4. Think about your brand
The items that you want to repost should visually match the theme of your brand. For instance, if your brand color is blue and it shows up on your entire feed, you'd not want to use something with green as a dominating color.
Wrapping up,
With all the tools and tips listed, you know that it is quite easy to repost on Instagram. It creates strong relationships with your customers and gives you additional content to post.
If you want to manage your social media for photographers from a single place, try out RecurPost. It is a social media scheduling tool that offers a social inbox.
In addition to Instagram, RecurPost allows you to schedule Facebook posts on your profiles, business pages, and groups. You can schedule tweets to build a Twitter community for your brand.
Schedule LinkedIn posts on your personal and business pages to connect with professionals worldwide. RecurPost is also an excellent Pinterest scheduler. You can schedule Google My Business posts with CTAs to attract buyers from your local market.
This is also amongst the free Hootsuite Alternatives as well as a statusbrew alternative in which you will be able to track all comments, mentions, and notifications from a single screen. This can also help in identifying opportunities for user-generated content for your brand! Try out the 14-day trial now.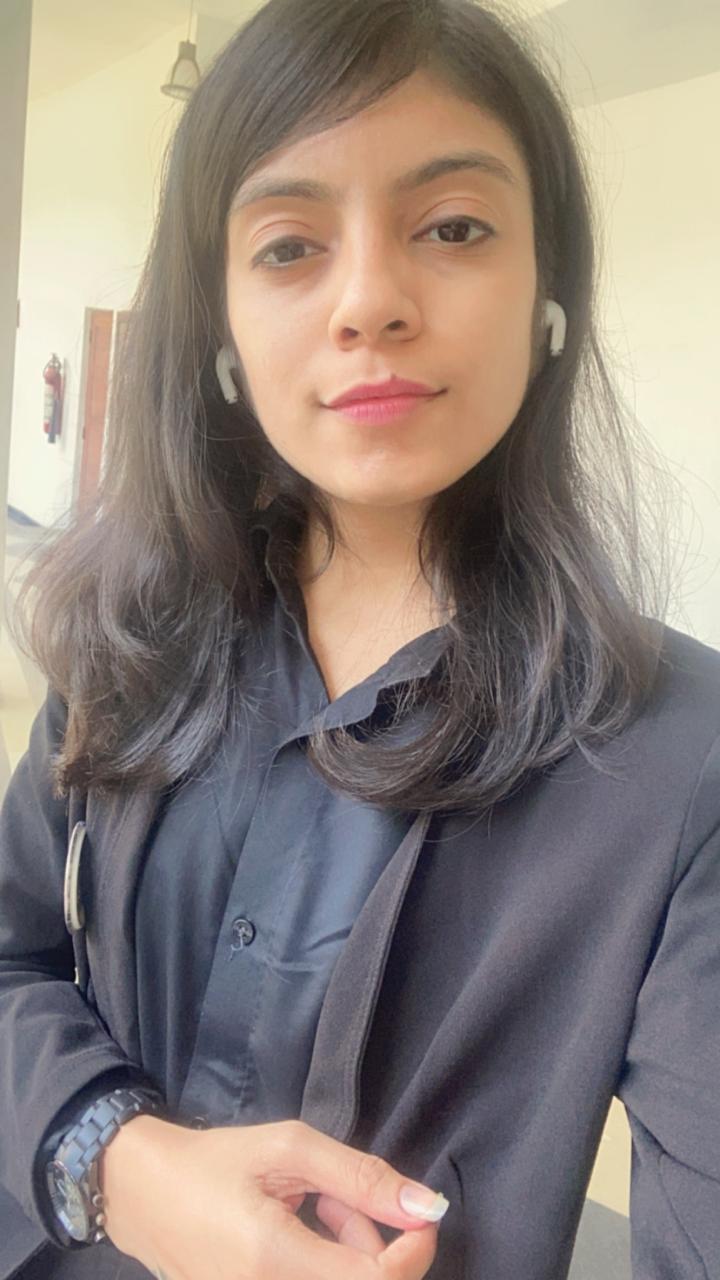 Amaiya Rathi is a Senior Content Writer at RecurPost. She helps RecurPost communicate with their readers in their own language. Whether it is the web copy, social media posts or blogs, Amaiya has worked on all aspects of copywriting. You can reach out to her at [email protected].