Social Media Scheduling tools will help you stay active and schedule posts across multiple social platforms, even after your social media management team has called it a day at the office.
Time and tide wait for none, and this fast-paced world is not going to stop for you. With information technology taking over the world, more and more manual work is being handed over to technology.
So what makes you think your social media cannot be automated?
With your numerous clients, different accounts, busy life, and limited time, it is indeed essential that you manage your client's social media pages with sheer smartness.
For this purpose, you are going to need a smart social media scheduler to take the burden off your hands and automate your social media posting.
In order to automate all your client's social media activities, you need the right kind of tools that are in abundance online.
Don't worry, we have carefully picked out the 18 best social media scheduling tools for you so as to help you share posts automatically and manage a lot of other activities.
1. RecurPost – One of the Few Complete Social Media Scheduling Tools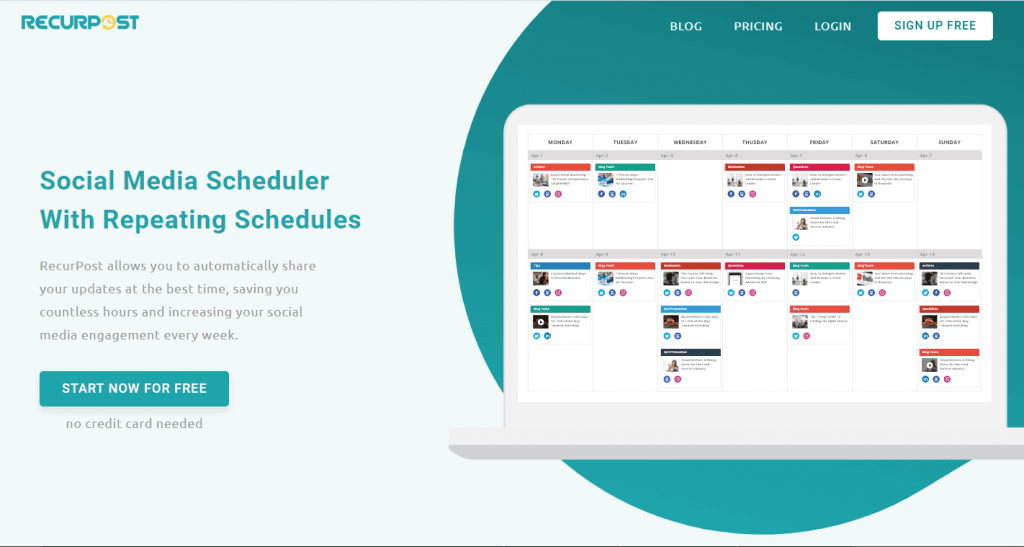 RecurPost allows you to automatically share your updates on multiple social media platforms at the best time. It does so using its advanced AI-based scheduling system and is one of the best Facebook post scheduler in the market.
Not just that, RecurPost also helps you repurpose your content indefinitely so you can make full use of your content!
As a social media marketing agency, you have to manage multiple accounts and meet your client's expectations. It is only possible by working with an efficient social media scheduler like RecurPost.
Using RecurPost, you can schedule Facebook posts on your profiles, multiple groups, and company pages. It is possible to schedule Instagram posts on your business and personal profiles for sharing achievements through images, reels, and stories.
RecurPost is also a Pinterest scheduler for an audience that relies on a visual platform. It enables you to schedule tweets at the best time to help your clients to create a Twitter community.
You can schedule LinkedIn posts on personal and business pages to put your clients' businesses on a professional network. RecurPost allows you to schedule Google My Business posts with a choice of CTA to attract local customers for your clients.
It helps you post the right content at the right time. A unique feature that RecurPost offers to help you stay updated. RecurPost even offers the option of downloading weekly white Label reports. 
Its one-of-a-kind reposting feature helps you generate new traffic without having to create new content every time. It does so by repurposing your content and even helps you create variations.
As a result, it helps you stay active on social media without having to spend all your time on it. Consequently, you will save hours every week for undertaking other important activities.
Pricing: Starts from $25/month with 14-day free trial
"Very easy to use. Easy to add content and schedule upcoming posts. Will automatically rotate through all of your content so same posts are not being submitted everyday. Using the free version right now, might be upgrading soon to allow video posts."

Sheng A.
2. Post Planner – A No-frills Social Media Scheduler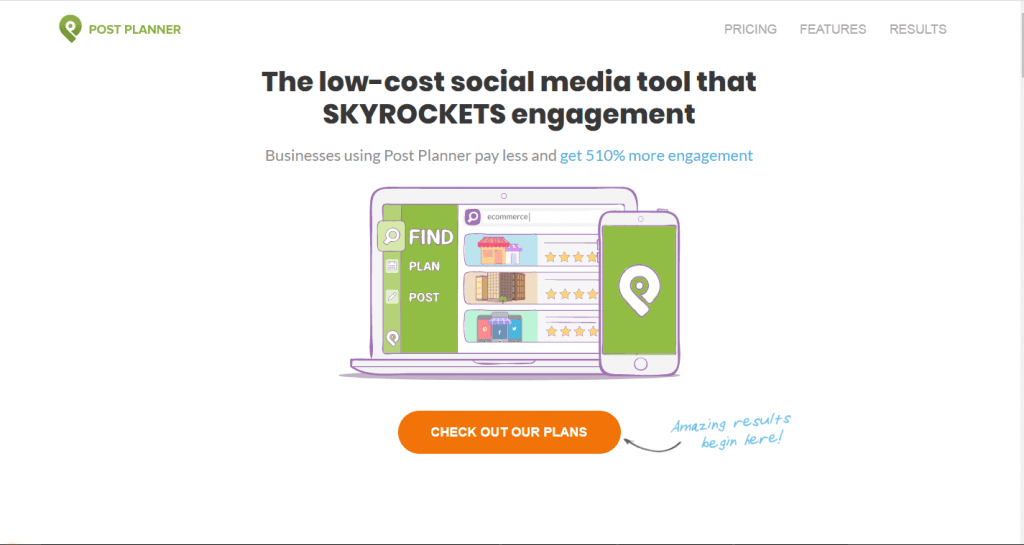 Post Planner is an innovative, result-oriented platform. and a simple social tool that aims to provide forecasted, measurable and exceptional results for your social media accounts.
Their algorithm transforms the curation of information and social media engagement into science and art!
Using the "Find" option, you can search for the memes and posts that are currently trending and can curate the same for your own social media accounts.
It thus reduces the time that you spend in looking for content, planning and posting it.
More than 276,000 businessmen use this tool to search for popular content and schedule it. It also provides great opportunities to communicate with customers and clients throughout the world.
Pricing :$9/mo ( Most popular plan)
"Post Planner simplifies everything I do, giving me more time to focus on cultivating and growing my online community."

Rebekah Radice
3. SocialOomph – A Feature Rich Social Media Scheduling Tool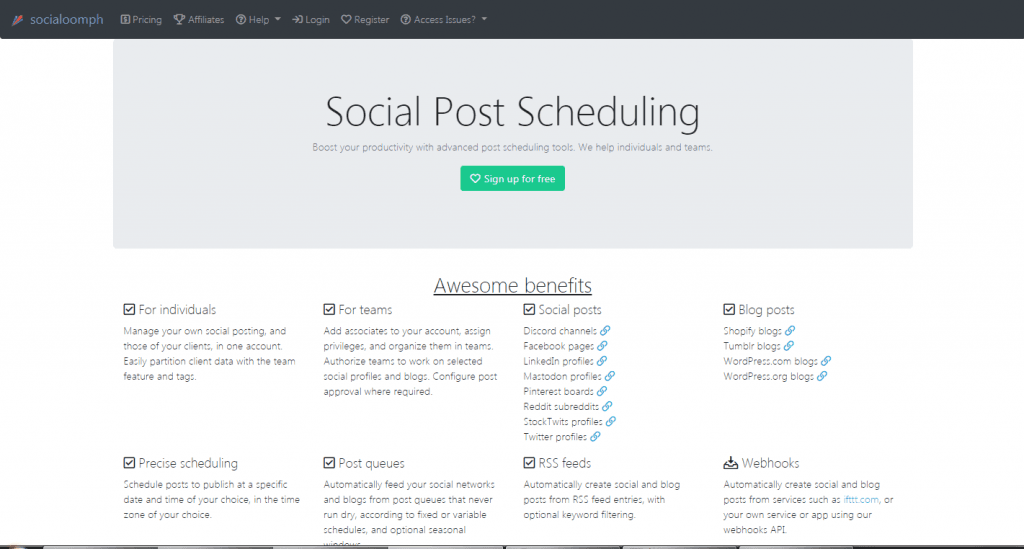 SocialOomph offers multiple features for multiple social media platforms.
It is a great tool for people working in teams as you can add associates to your account, assign them work and organize people in different teams. It offers a 30-day free trial which includes all the premier offerings. It works great for people who know how to schedule tweets on Twitter using a social media scheduler.
You can also create posts that self destruct after a specific period of time.
Prior to this innovative username, they were known as TweetLater.com.
They broadened their horizons to all social media platforms in 2009. Their main features include post scheduling & analytics.
Pricing: Free ( Limited features)
"I am super happy with SocialOomph. It's made my tweeting experience so much more enjoyable and easy to manage. And the customer service is amazing!"

Debbie
4. Sendible – The Ultimate Tool to simplify your Social Media Scheduling activities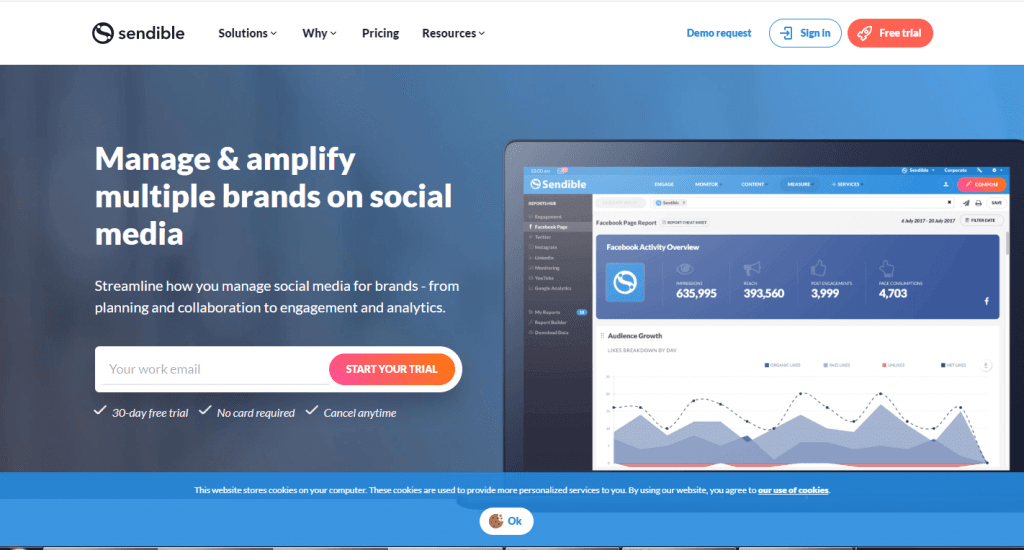 Sendible helps you schedule your posts individually.
It claims that it is more than just a social media scheduling tool. Sendible helps in improving the social accounts overall.
It is a very popular tool amongst businessmen, marketing companies, and freelancers. This platform has a smooth user interface that is so easy to navigate. It provides integrations to more than 20 social media sites and communication tools.
They also analyze your performance through google analytics integration.
Pricing: Starts at $29/mo
"We needed a tool that would be easy for our clients to use and for us to teach them. With Sendible, once our clients have gone through the training, they require little to no help from us."

Jennifer cox
5. E-clincher – One of the Cleanest Social Media Scheduling Tools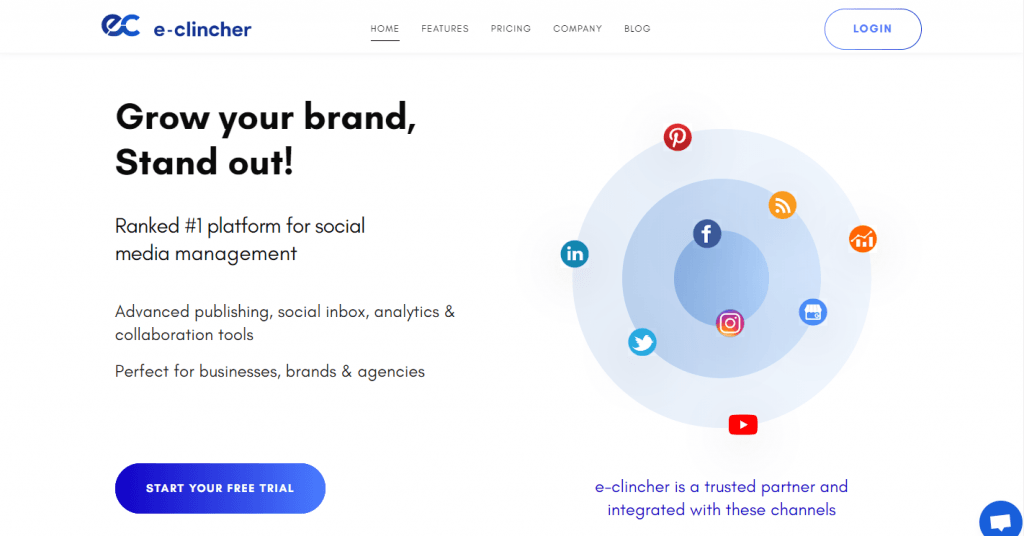 With its top-of-the-line features, eClincher is one of the simple social tools that help you stay on top of your client's social media activities. It does so with the help of its features that let you schedule, publish posts.
It's SaaS technology is based on the best cloud infrastructure and complies to the best security requirements. You can easily connect your blog page RSS and publish your blogs automatically to your social media channels. It also has free media libraries to find, create and share images, videos and gifs.
This tool also suggests content and engages with the audience.
Pricing :$59/mo (Basic)
"This platform is the best we've used (and we've used a few). We use e-clincher to schedule posts and reply to messages on various social platforms. The reporting is wonderful! Easy to generate and easy for clients to read."

Soraya McKay
6. MeetEdgar – One of the Earliest Social Media Scheduling Tools with Repeat Scheduling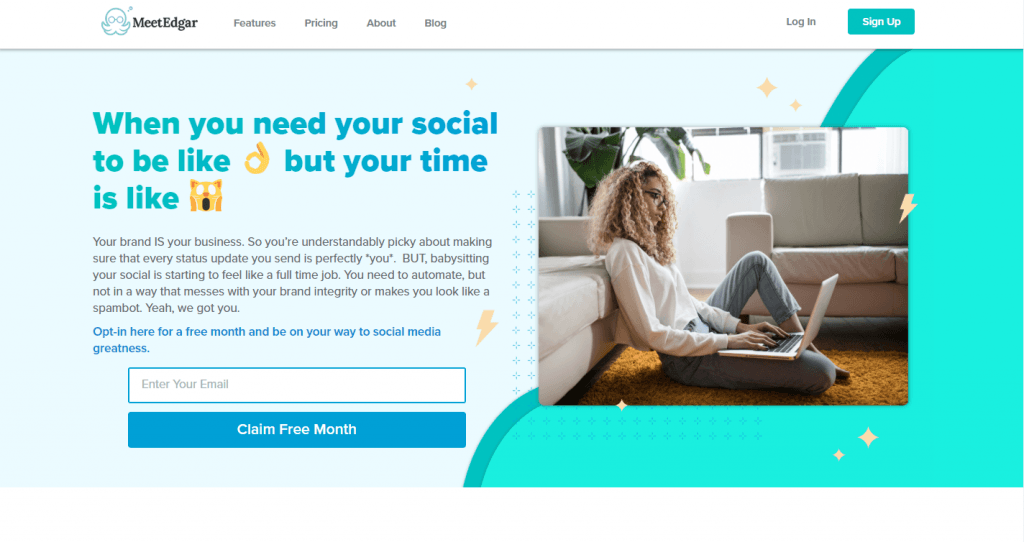 MeetEdgar was created with an idea of creating consistency and saving your time. For this purpose, it assists you in uniquely scheduling your content.
It has a feature of evergreen posting that doesn't leave your queue empty. It automatically refills your queue when you run out of new updates.
The tool also writes your posts for you. Not only that, but it also auto-schedules your posts in its library and as a result, helps you manage your engagement.
It stores all of your updates, even after they have been posted, according to a category-based library. It's super friendly support team is always available to assist with all kinds of queries.
Pricing: $19/mo ( Basic plan)
"Edgar freakin' rocks. It's shaved hundreds of hours off my workload. I honestly don't know what I'd do without it now."

Stu McLaren
7. AgoraPulse – Social media scheduling tool with one-click reporting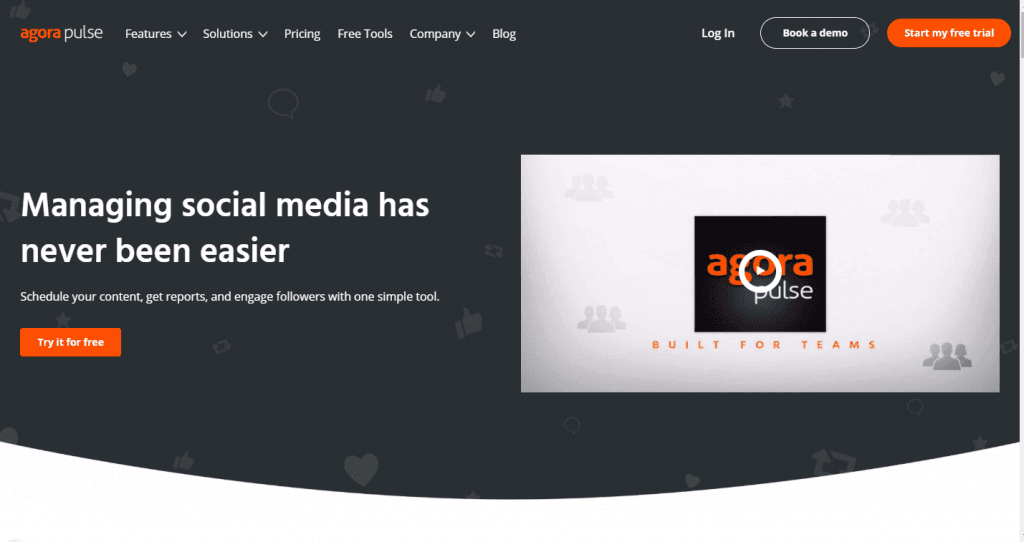 Agorapulse has flexible scheduling options and unlimited one-click reports. One of the best features of this tool is indeed the social inbox.
It basically allows you to go through your social media mentions quickly and effectively. To help you even further, it even allows you to bulk upload and has a special queuing system.
However, this software is good only for FaceBook, Twitter and Instagram. The analysis tool provided in this software will help you find the people who engage the most with your content. You can also invite team members to use the software instead of making multiple accounts.
Pricing: $79/mo (Starting plan)
"The Best Kept Secret: Social Media Marketing Tool, Agorapulse is the magician behind the curtain"

Sara B.
8. Zoho Social – A social media scheduling tool to manage your brands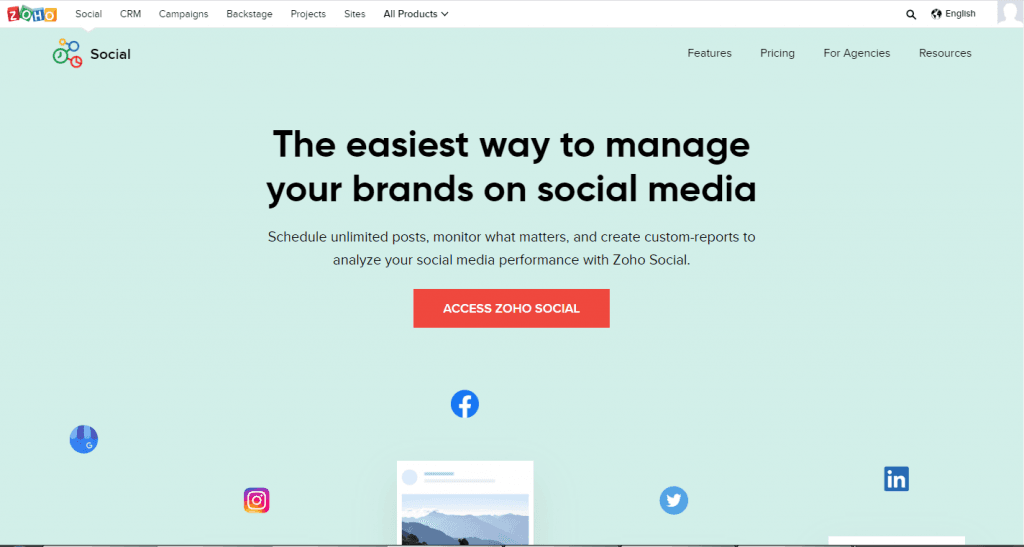 Zoho Social gives you the best time predictions to post. One of its most awesome features indeed is letting you create a publishing schedule and visualize a content pipeline.
This helps you make sure what your content strategy looks like in real-time so as to help you manage things further. Like all other social media automation & scheduling tools, it also has an analytics feature with built-in reports.
Here is a brief list of all the features of this software:
Automatic and bulk scheduling
Activity logging and keyword tracking
Multi-channel marketing and one window management
Twitter lists and brand mentions
Chrome, Firefox extensions, and shortened links
Pricing: Free (Special edition, limited features)
"As a marketing manager, it makes my life a lot easier—to schedule content out, do all the reports and see what's going on with each of our brands. It's so nice to be able to do that all in one place."

Sheldon Maxwell
9. Crowdfire – A simplified social media scheduling tool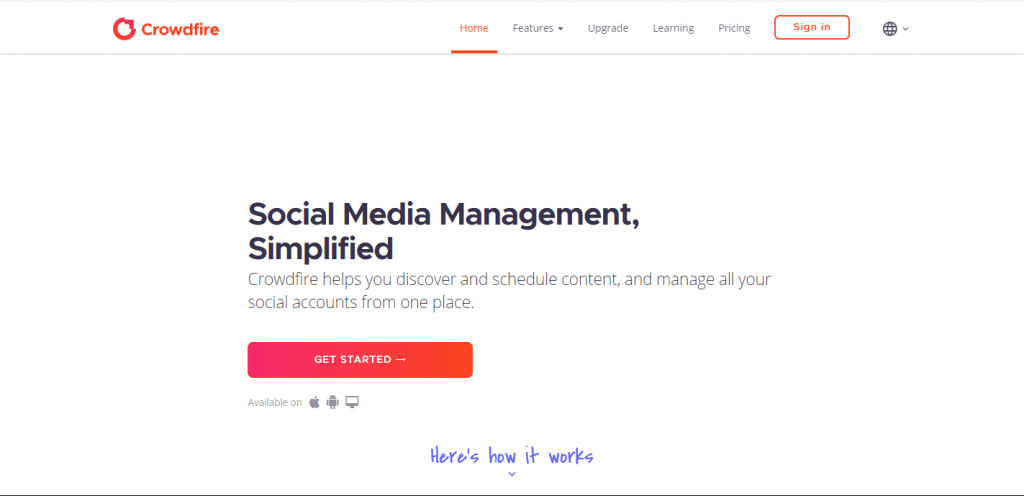 This social media manager helps you to discover relevant content and publish the same. Pre-scheduling is, of course, a basic feature that it offers. It's different from others as it helps you get tailored posts for different social networks.
Crowdfire lets you link and manage multiple social media sites. You can also search for third-party content that your audience is interested in. You can check and monitor how your competitors are performing and can make changes in your strategy accordingly.
This simple social tool has its application which is available both for ios and android.
Pricing: Free (Limited version)
"Crowd fire enables me to share my business news, posts and others in an easy and robust way. Content and user suggestions are a little off sometimes, but apart from that the app is a standard."

Nathaniel C.
10. Hootsuite – One of the Largest Social Media Management Tools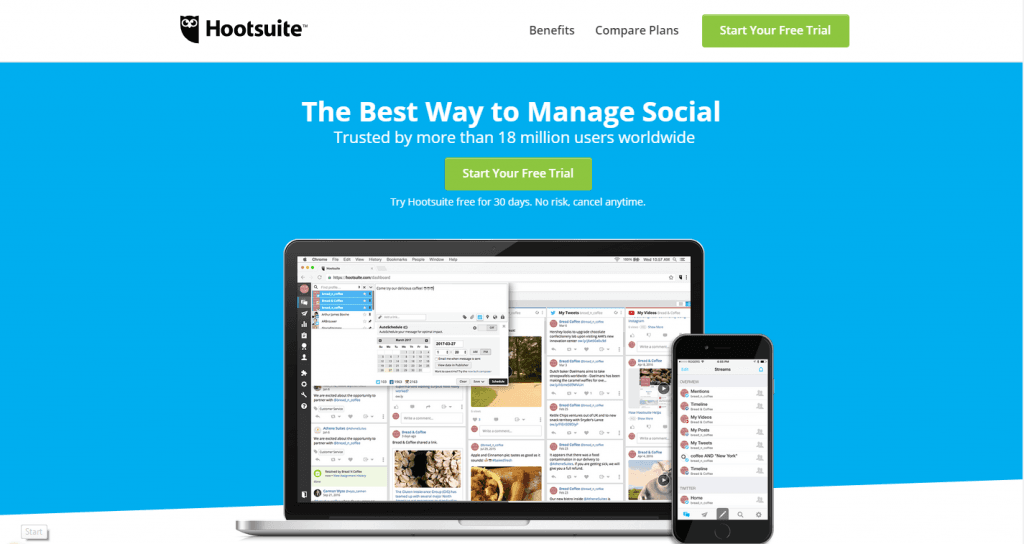 Hootsuite is one of the most widely used platforms, preferred by more than 16 million people from all over the globe. It can be used to manage multiple social accounts, including Facebook, Instagram, LinkedIn, Twitter, Pinterest, and YouTube.
This software provides tools that are helpful for social media marketing, reputation management, social media analytics, social media monitoring, and social selling.
However, it is not that great for growing an organic following, but it provides amazing features to schedule and share content at once. If you are operating several pages and are confused about where to post and when Hootsuite can help you out. You can also check out one of the top free hootsuite alternatives if you are looking for one.
Pricing: Free (For individuals, basic plan)
"Overall, I'm satisfied with Hootsuite and will continue to use this platform to manage my social media accounts. With the ability to schedule up to 30 posts on the free plan, including scheduling Instagram posts, and viewing different social media accounts all on one dashboard, it beats other social media management platforms that require plan upgrades to access similar features."

Charity R
11. CoSchedule – A time-efficient social media scheduling tool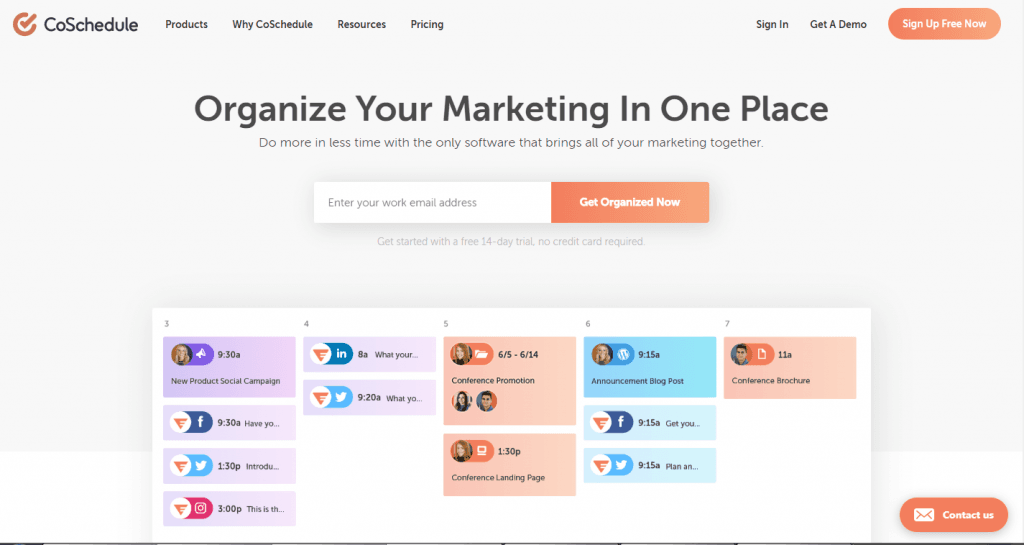 CoSchedule is a one-stop destination to organize your marketing. It is a time-efficient tool that has content calendars so as to help you ideate, schedule, create & publish.
To help you even further, it allows agencies to organize all of their projects for every client.
It provides a plethora of features including Project marketing, Campaign management, Content marketing, Digital asset management, Social media management, and Content management.
It also features a free headline analyzer which helps a lot in examining your titles and choose the best headline for your post.
Pricing: $20/mo (individual, varying prices for different features)
"As the head of a small marketing team, my time is stretched incredibly thin. CoSchedule provides the ability to gain more time in my week by having routine content planned will in advance so I can more on ideas quicker."
12. Smarterqueue – A flexible social media scheduler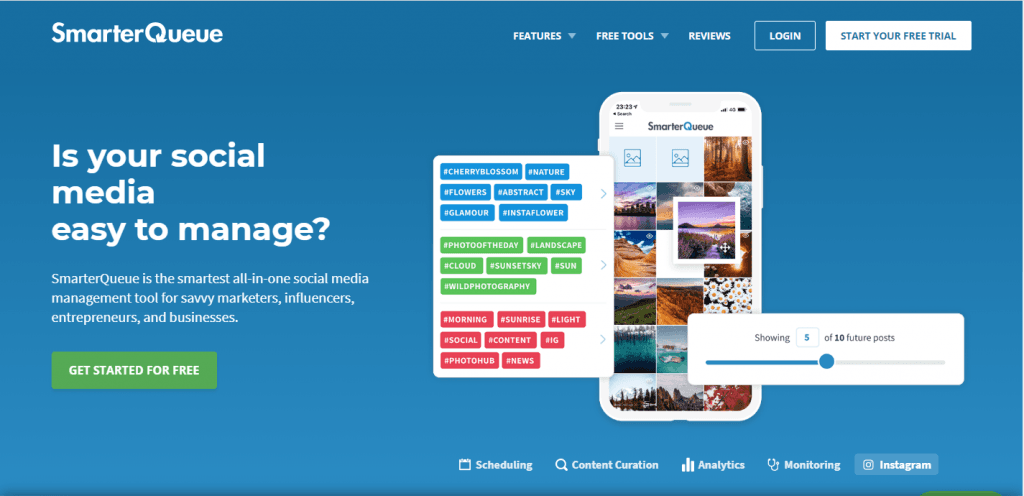 Smarterqueue helps you manage all of your top social networks. The features have been tried and tested to help you speed up social media scheduling.
To help you even further, it has Content Categories with a drag-and-drop Posting Plan. As a result, they make it possible for you to never manually schedule a post ever again.
If you are looking for a social media scheduler that is not only easy and flexible but also light to your pockets, this is the tool that will fit right for you. It is affordable even for the smallest business owner and has an easy to operate platform.
Pricing: Around $70/mo ( Starting plan)
"I've tried most of the top schedulers and came back to SmarterQueue. I run three businesses so it helps me to organise my content, make sure I am posting to all of my profiles, easily see gaps in the schedule and keep my best stuff on repeat. It is one of the essentials of my business tool box.Only con is that Instagram isn't auto posting (yet)."

Angela Tempest
13. Buffer – A popular social media scheduling tool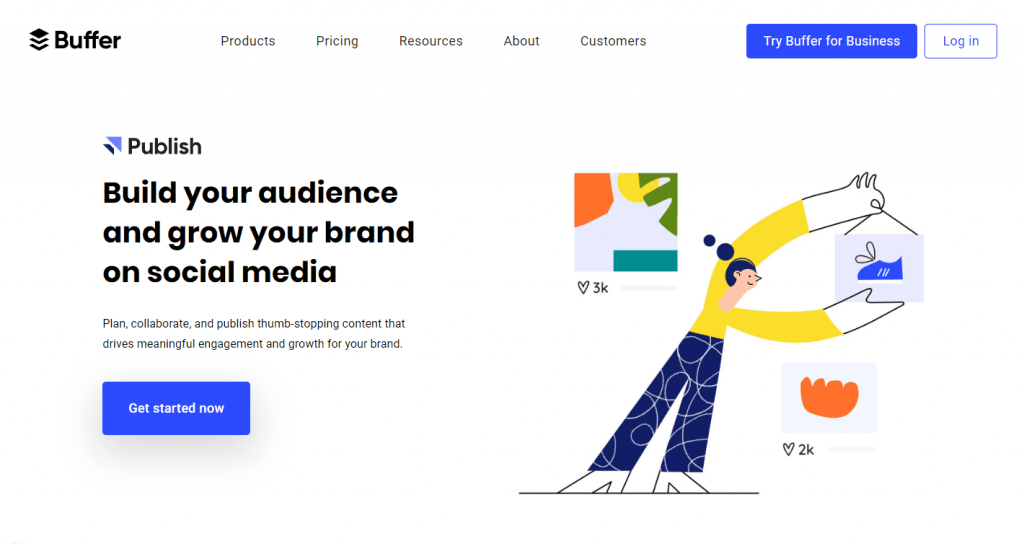 With its industry-leading features, Buffer helps you craft the perfect post for each social network so as to step up your social game. It is, in fact, a team of real people managing things for you.
As a result, it helps you take marketing to the next level. It is indeed one of the most organized tools out there.
It is a complete social media scheduling tool. Also, it has become one of the leading software because of modern practices. Buffer's Open Blog consistently features articles on work culture, self-improvement, and ways to work smarter. You can also use buffer alternatives to help you automate your social media.
Pricing :$15/mo(Starting, limited features)
"The best thing Buffer provides us is posts scheduling feature, it's really useful to get our blog posts live at a given time and I can even schedule posts for many days. Overall, it is a must have for Social Media users who can't spend waking every hour to post."

Anmol D
14. ContentStudio – Unified Social Media Management Platform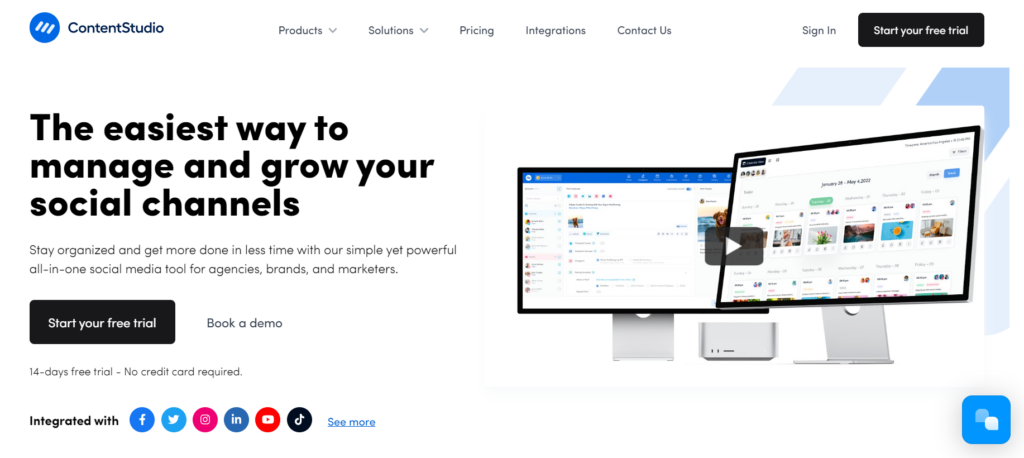 ContentStudio is an easy-to-use social media management tool for agencies, brands, businesses, and marketers. It is a unified platform that allows you to plan, create, organize and schedule your content on all your social media channels.
It helps you create your content, build your brand, connect with your audience, engages your followers, track your progress, and monitor your social media analytics.
With Content Studio, you can easily add, edit, and schedule new posts. It also provides a Media Library that upholds all your images and videos. It's also integrated with Canva and VistaCreate. You can use the calendar view to plan your future posts. In addition, ContentStudio predicts the best times for you to post. Creating and visualizing content categories and multiple publishing options (Publish, Draft, Add to Queue, Schedule, Add to content category) are some of its most outstanding features.
It ensures that all stakeholders are involved, including content creators, social media managers, and even the client, to ensure on-spot post approvals and rejections. In addition, you can assign tasks to your team members. With seamless approval workflows and easy scheduling, your team can achieve more.
Over 30+ social media sites, video publishing platforms, blog publishing sites, automation tools, image enhancement tools, and URL shorteners are integrated with ContentStudio.
Pricing: Starts from $25/month with a 14-day free trial
"ContentStudio allows us to have a variable team with all players on one platform. It aggregates all elements of social media management into one app; social media content scheduling and publishing, customer service, and analytics. It is quite astounding how much value this platform packs. ContentStudio rocks it for us."

CEO at Lake Placid Film Festival
15. SocialChamp – A social media scheduling tool with easy bulk scheduling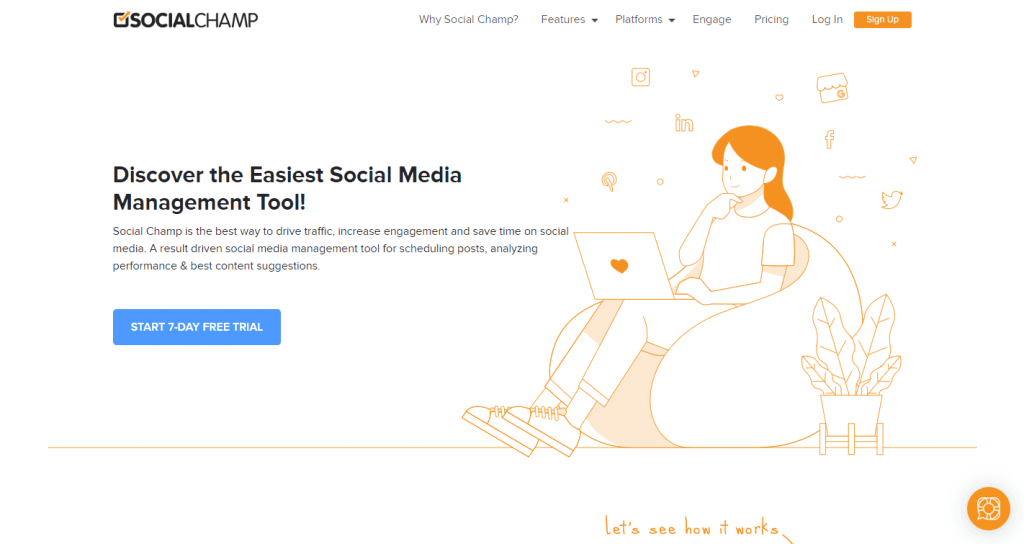 With Social Champ, you just create your content once. Then, let the software post your content in all your profiles with just a single click of a button.
The software works with Facebook, Twitter, Pinterest, Instagram, LinkedIn, and LinkedIn ads. Social Champ makes scheduling tons of content seem like a walk in the park with its bulk scheduling capability.
It is one of the best software to drive traffic and thus boost engagement on social media accounts. Similar to most of the simple social tools and scheduling software, Social champ provides:
Automated publishing
Customer engagement
Social media monitoring
Multi-account management
Reporting / Analytics
Pricing: $10/mo (Professional plan)
"Social Champ has been a fun/easy experience to set up my social media postings. It's a tool that is great for social media management.I think the UI/UX could be better and could use more features like buffer/hootsuite."

Newaz C.
Read More: How to Use Instagram for Business?
16. Later – A Social Media Scheduler With Instagram Specialization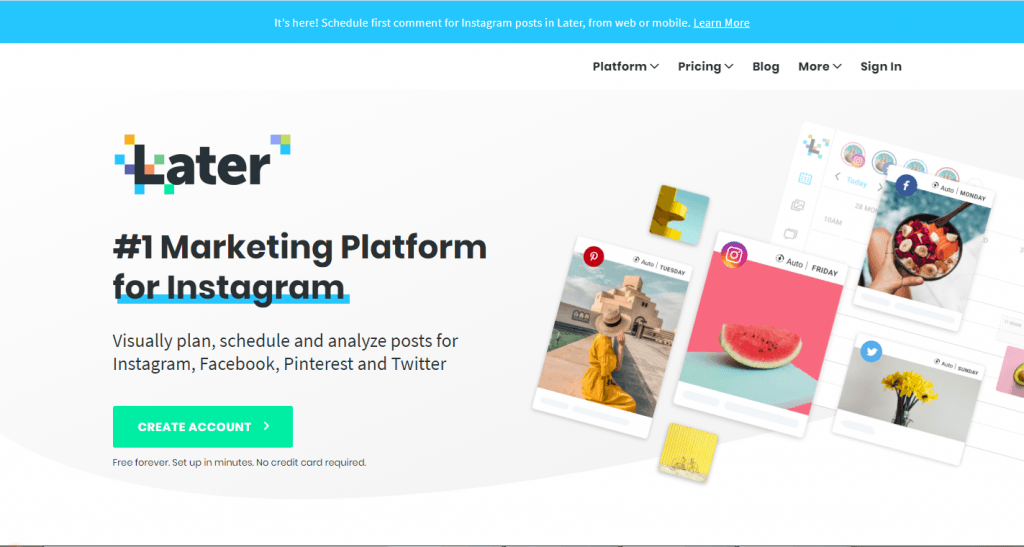 Later helps streamline your social media strategy so you can set yourself up for more sales and success. This tool focuses on visual scheduling, media management, marketing, and analytics.
A cloud-based platform that helps you plan, manage and schedule your visual social media posts and marketing campaigns on Instagram.
It was first developed for Instagram, but now also supports Facebook, Pinterest, and Twitter. You can even view your feed of Instagram after scheduling the posts, and see how will your profile look like. The saved captions allow you to store hashtag groups or other text for future purposes.
Pricing: $16/mo (Most popular plan)
"I can go on vacation and not worry that my Team's social media channels will be without content while I am gone. It is so seamless people think I never take a vacation! The disadvantage is using the free version, you are limited in the number of posts that you can schedule per month. And you can't see the statistics also."

Renee H.
17. Social Aider – An affordable social media Management tool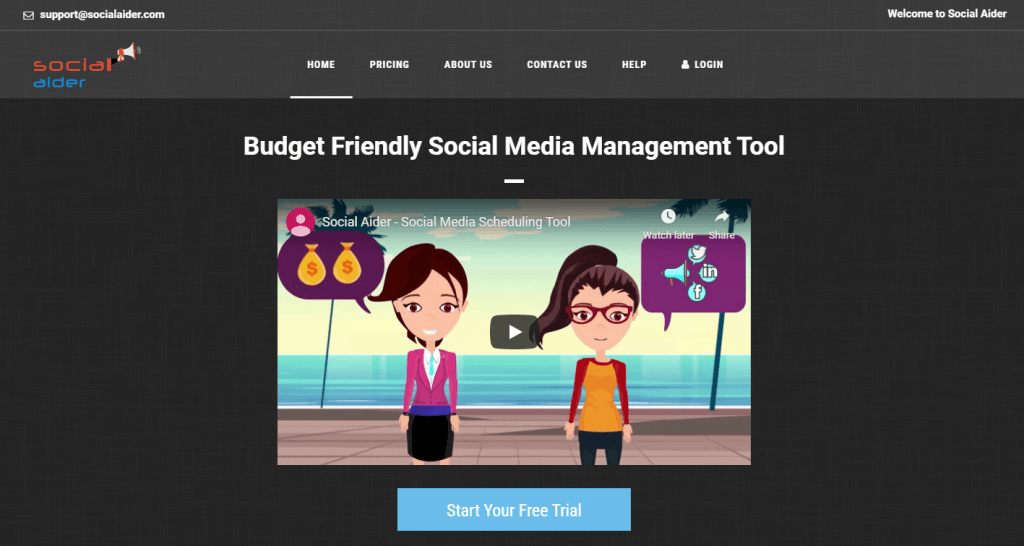 Social Aider is one of the best social media scheduling tools. Consequently, it allows you to automate all your social media accounts from ONE Dashboard.
It has been designed to save your time and effort. It schedules your posts to be uploaded at the time, date & frequency of your requirement.
You can add unlimited social media profiles to this tool. You can even line up the content of a month and also get real-time notifications of your posts.
Additionally, it provides you hashtag suggestions, RSS import options and the ability to post in different time zones. They also have the option of customizing plans according to your requirements.
Pricing: $10/mo (Personal)
"I've found the Social Aider program very easy to use for scheduling. All my social media posts for my business and those I work with.I'd like more posting suggestions that are ready-to-post, but other than that, the software is very good."

Kyle C
18. Social Report – A social media Management tool with easy-to-use interface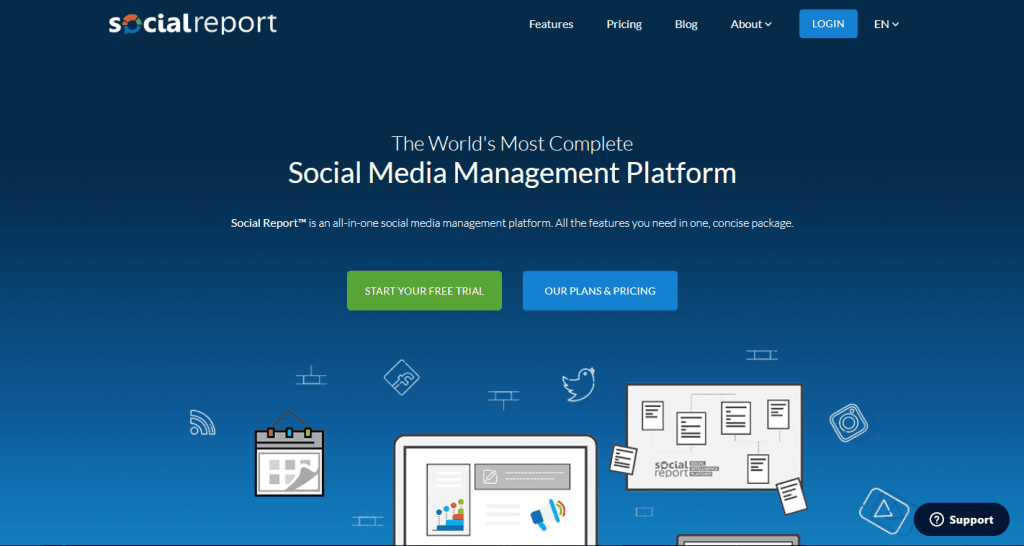 Social Report has advanced tools for social media posting, scheduling, and real-time communication across networks and devices.
To help you further, it has features like targeted management, advanced scheduling, social listening, unique automation, sophisticated analytics, etc.
If you are looking for a very high-powered social media scheduling tool at a very low price, then this tool is for you. Social Report has been flying with all the posting calendars, social listening, and high-level reporting or analytics. Along with a professional-looking front end, this tool is also super easy to use.
Pricing: $49/mo
"I really appreciate Social Reports ease of use. I've spent the last year trying out several social media platforms. I wanted to find out which would be the best for me and my clients. Items that were most important to me in my pursuit of finding the best was the ease of use, customer service, completeness, and price. The platform is extremely easy to navigate. A few clicks and you're ready to schedule a post."

LaToya G
What should you look for in social media scheduling tools?
That's it, folks. There are plenty more social media scheduling tools that you will chance upon if you search online. Find out which plan works best for you. Compare pricing with each other, and voila, you will turn into a social media copywriter savvy person or at least seem like one.
Most of the social media scheduling tools offer a free trial and have different features that not only help you schedule posts but also teach you other things.
Other things include creating better content and analyzing social media performance.
The most important part while choosing social media scheduling tools is knowing your needs. The better you know your brand needs, the more you will know which areas need improvement.
Amaiya Rathi is a content writer at RecurPost. She helps RecurPost communicate with their readers in their own language. Whether it is the web copy, social media posts or blogs, Amaiya has worked on all aspects of copywriting.