"It's not the best content that wins. It's the best promoted content that wins."
Content marketing can indeed be tricky. One of the reasons it's hard for so many marketers is the fact that they lack a proper start. In order to be successful with your content marketing efforts, you need a well-crafted plan and a set of the right tools to do the job.
According to research, on average, the most popular marketers use five content marketing tools to produce awesome results.
BUT, which are the right content marketing tools that works great as social media scheduler? Where will you find them? Are they free or paid?
There are a plethora of tools to choose from, and the ones that really work to deliver you outstanding business results can be hard to find out. And, that's exactly where we come in. We searched the web to gather the most beneficial tools for content marketing that will help you rock your visual content marketing strategy. the following tool will be covered:
Let's begin with the paramount list of content marketing tools ever!
Tools to search for trending content marketing topics
1. Google keyword planner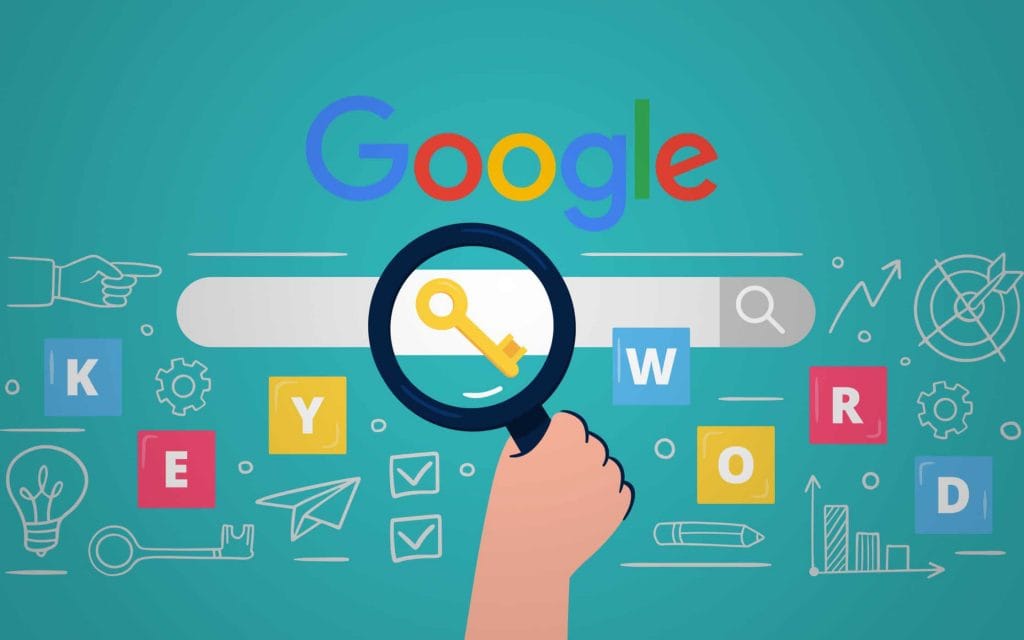 The Google Ads keyword planner tool is a helpful tool to create strong listings of keywords and help launch your PPC campaign. The free-to-use tools in Google Ads will help you prepare your content marketing campaign by generating keyword ideas and bid estimates. By using it strategically, you can find the questions that your customers have and create content to answer them.
2. Google trends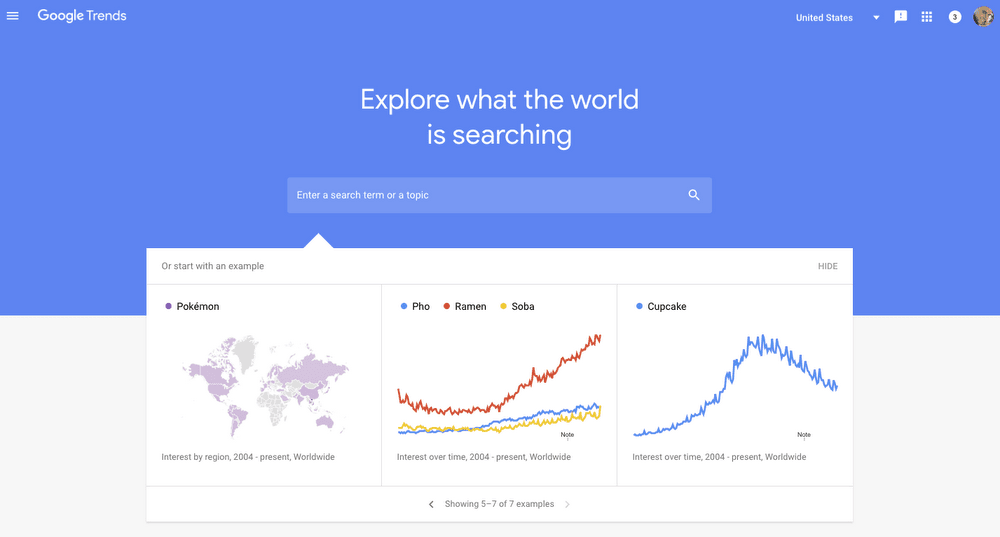 Google Trends is a search trend functionality that indicates how often a search word is searched in Google's search engine compared to the overall search volume of the site for a specified period of time. It offers keyword-related data, comprising search volume index and geographic data about users of search engines.
3. Soovle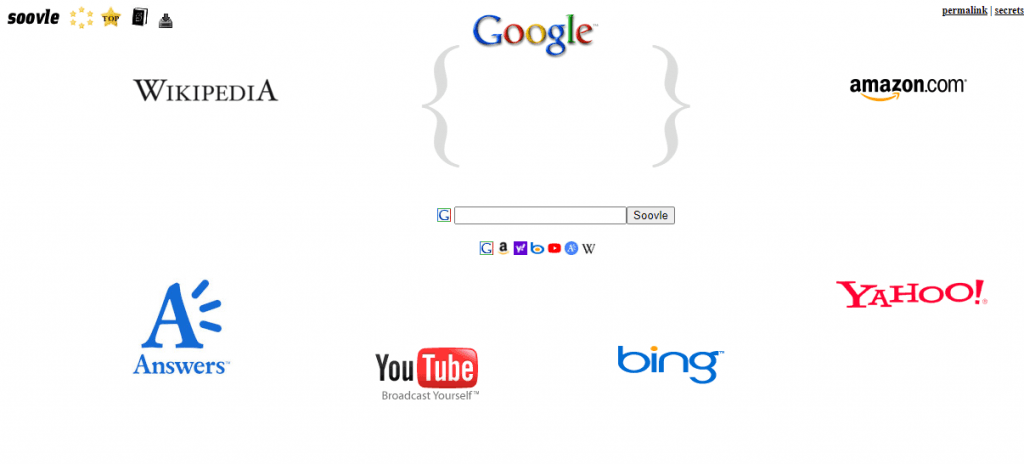 Soovle is basically a search engine for search engines! It takes out information from Google, YouTube, Bing, Amazon, Wikipedia, Yahoo, and Answers.com. This keyword information is useful, as they show you every platform's interest and demand. With Soovle you can calculate demand on specific platforms for specific subjects, goods, and services.
4. BuzzSumo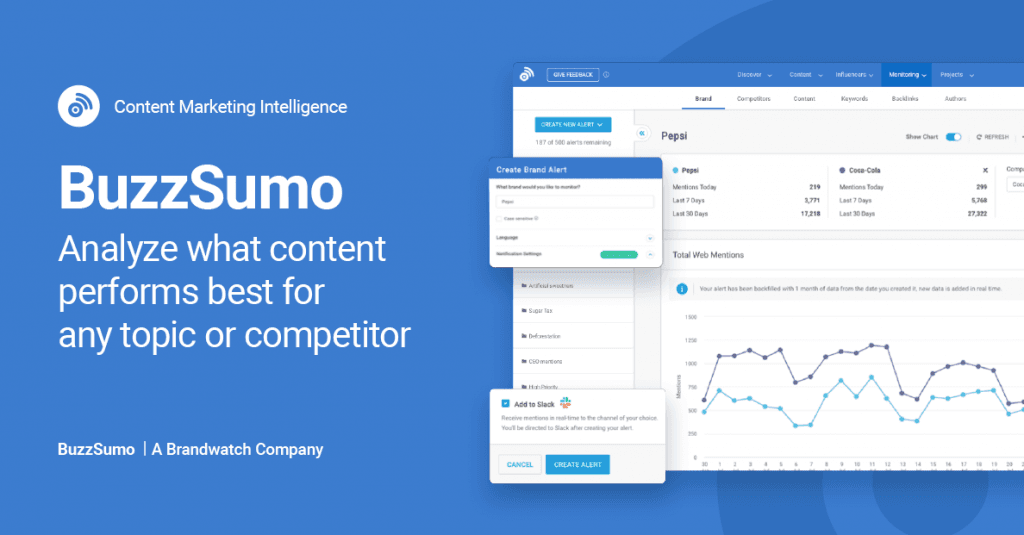 Buzzsumo is a tool for finding unique and interactive content and exploring new marketing opportunities for outreach. Using this tool, you can search for content that has received the maximum likes, shares, and comments. It also helps you to identify key influencers in a certain region, track brand mentions, check backlinks, and more.
Tools to generate headline/titles for content marketing
5. Portent's content idea generator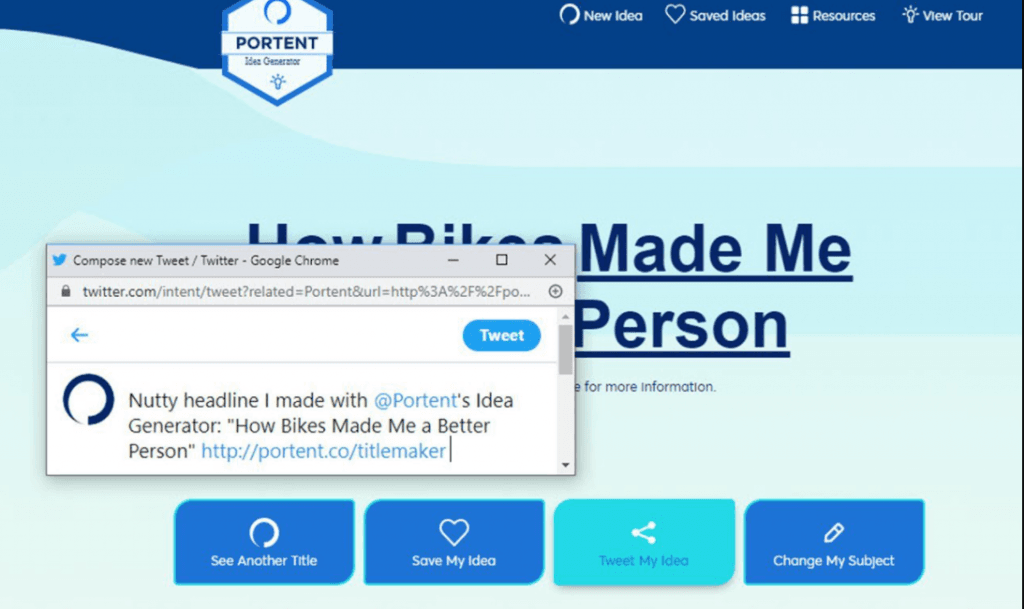 Portent's Content Idea Generator helps you to create captive headlines for your next blog, video, podcast, etc. Just type in your topic and the Idea Generator tool will give you a clever title and suggestions to take it the title to the next level. It also lets you save ideas to refer to in the future. You might have to do some adjustments on the grammar part though.
6. Content row Headline generator

This headline generator will provide you with a lot of interesting blog topic ideas on the basis of the keyword entered. It divides the tile ideas into 6 categories – clickbait, evergreen, seasonal, topical, trending, and new. However, use the clickbait ones carefully, as they can create controversy among readers, and if your content delivers to fail, the entire purpose will be ruined.
Content marketing tools to find and save trending news
7. Pocket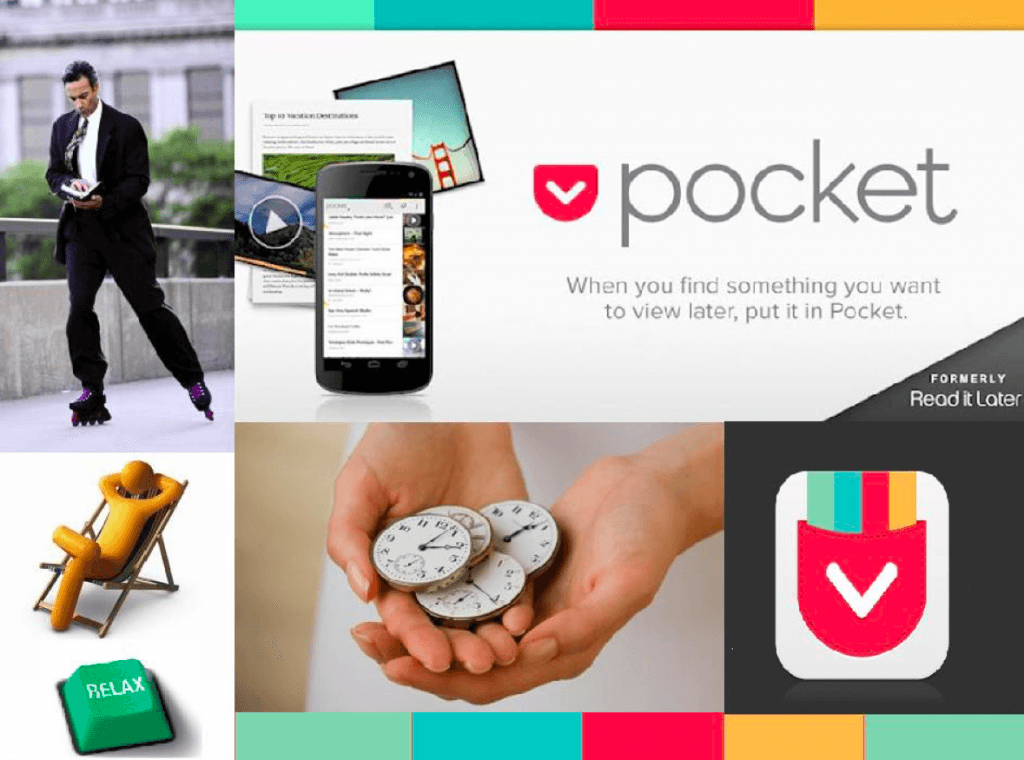 Pocket is a perfect way to save all the cool stuff you've found online. It literally serves as a customized pocket of interesting information from around the web. Pocket is designed to allow you to save posts, videos, and websites with a click of a button. It just saves text, videos, or pictures for a list of fantastic things you want to see without distraction later on.
8. Reddit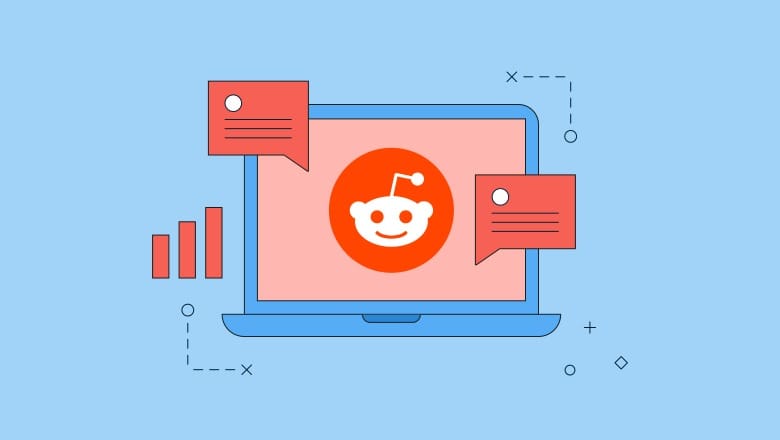 The popular website Reddit goes by the slogan, "The front page to the Internet." It has gained this name by providing a forum to discuss the best web content for users with similar interests.  
It is a social news site for users to have conversation and vote on content uploaded by other users. One amazing feature of Reddit is certainly the smaller communities that put people and their interests together, called sub-Reddits.
9. Smart news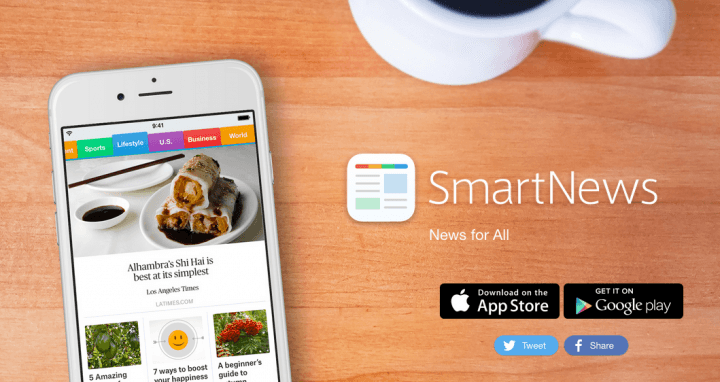 It is a mobile news aggregator which curates trends, breaking news, and popular media articles automatically. You can also build channels that are based on your preferences and follow articles or stories that appeal to you as they occur. This can help you with viral marketing techniques by creating content on trending topics. 
SmartNews delivers high-quality news stories and news updates from leading news media companies: NBC News, MSNBC, USA Today, TIME, The Huffington Post, Bleacher Report, Quartz, The Verge, VICE, VOX, AP, Reuters, Buzzfeed, Fast Company, and more.
10. Quora

It is a renowned question-and-answer platform where professional and expert users give comprehensive answers and advice on a broad range of topics. The questions offer a significant amount of value when it comes to finding problems on which people are seeking solutions. The 'related questions' section of Quora can be very detailed, precisely what content creators need to produce a lot of beautiful, detailed content.
Content marketing tools for writing and editing
11. Google docs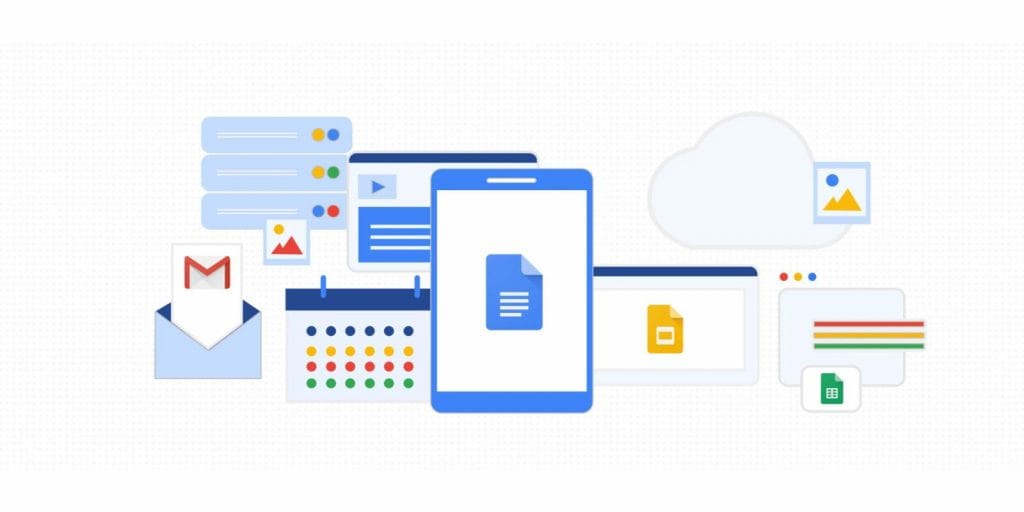 You probably might be already aware of Google docs, but it's worth mentioning when talking about content marketing tools. Google Docs is a versatile platform for document creation and real-time collaboration. 
Multiple users can make changes to a document simultaneously while viewing the changes of each other instantly. Users may create text docs, diagrams, presentations, spreadsheets, drawings and surveys, etc.
12. Hemingway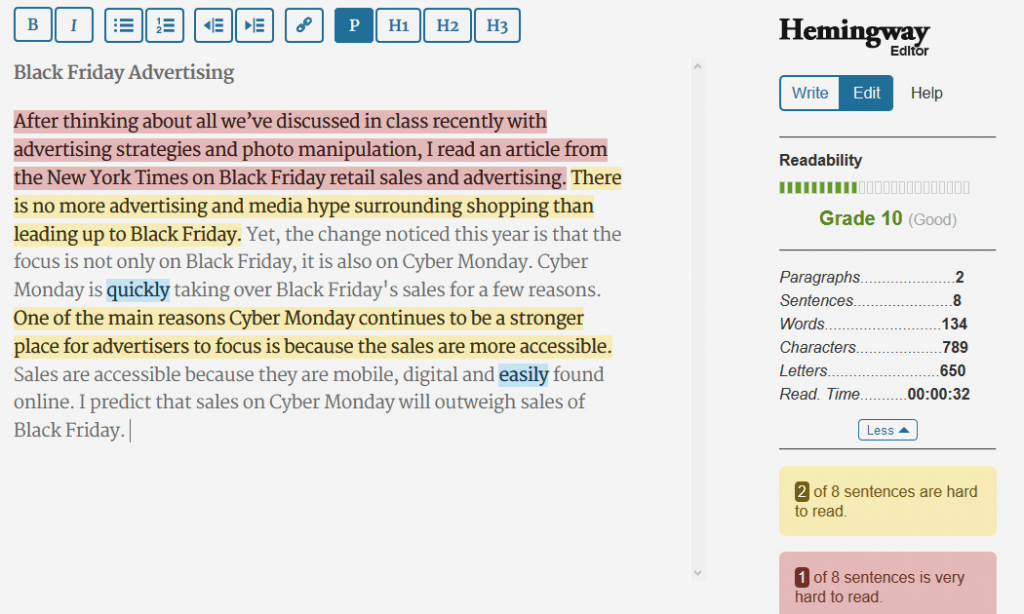 Hemingway is a distraction-free writing and editing application intended to help enhance your writing. It aims at recognizing common errors that reduce the quality of your writing: confusing sentence construction, overuse of weak adverbs, excessive passive voice, and the like. It offers a free plan, but if wish to use more robust features, you can get a paid plan too.
13. Grammarly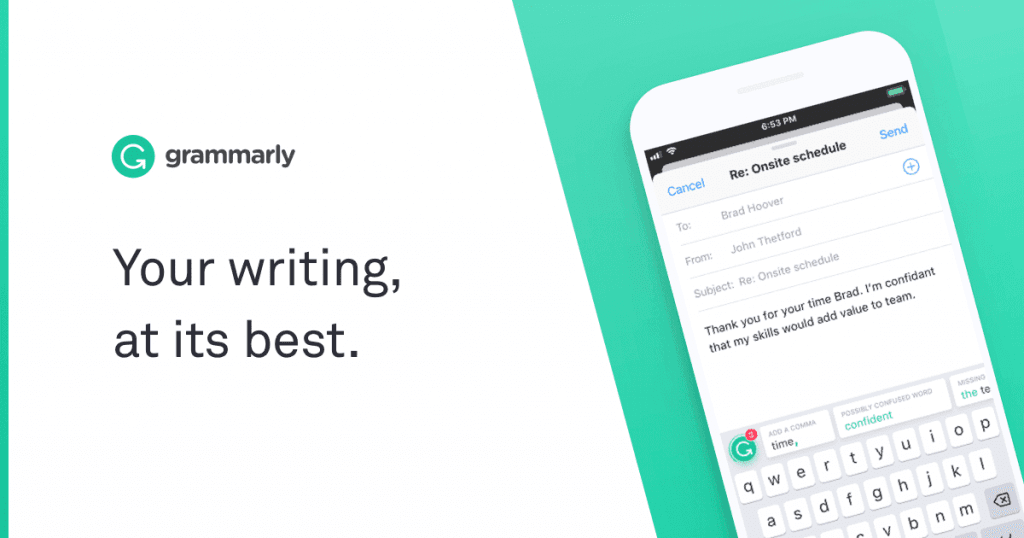 Grammarly's writing app ensures that anything you type is not only right but also simple and easy to read. Grammarly's algorithms flag possible problems in the text and make context-specific recommendations to assist with grammar, spellings, vocabulary, style, sentence structure, punctuation, and even plagiarism. You will also get tips to enhance your style of writing and feedback/context for your errors.
14. PrepostSEO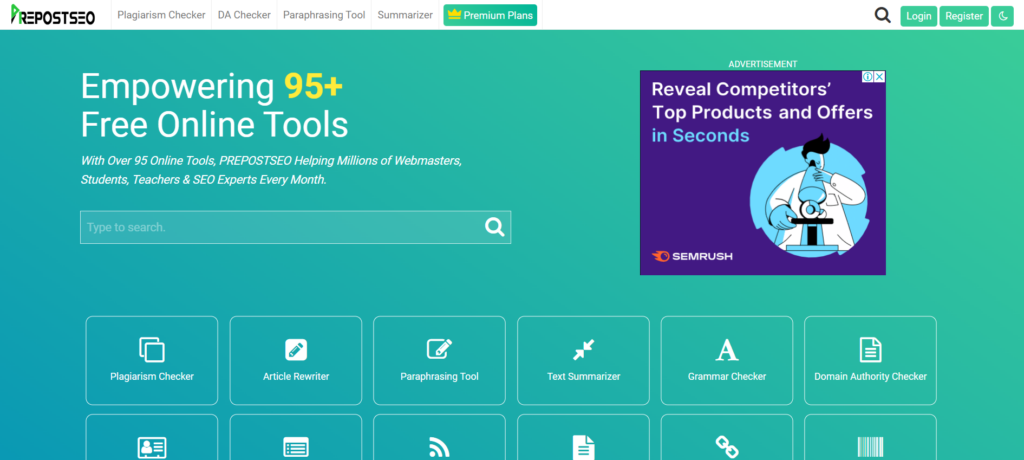 PrepostSEO let you helps in the curate your content by paraphrasing it. This helps you make your content unique and also, its grammar checker will make your text smooth. Then its other tools will make your text shine among the others making it a prominent. So this is a go-to tool for your Pinterest content curation.
15. Cliche finder

In order to produce a well-written piece of content, it's important that you avoid overused terms, phrases, and expressions. Unfortunately, it's really hard to do it on your own, which is where the cliché finder comes into place. This sort of tool will remove clichés effectively and enhance writing.
Not just this, but it can also boost communication skills to a large degree, as you will be conscious of the eliminations, you automatically exclude over-used text from regular conversations and writings.
16. Evernote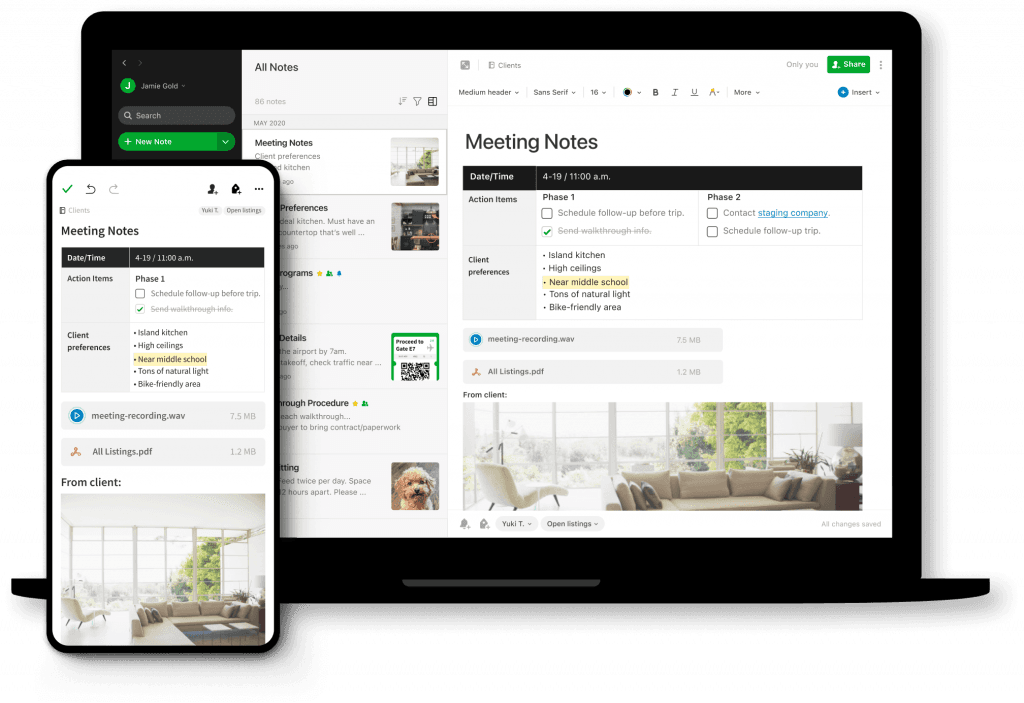 Evernote is a feature-rich collaboration and document organization tool, that excels at organizing a large number of notes, articles, and files, allowing you to access them from multiple devices and share with team members.
Far beyond than notes, Evernote is a tool where you can store anything from personal docs to business projects, and know they're always secure, protected, and available whenever you need them.
17. Google Keep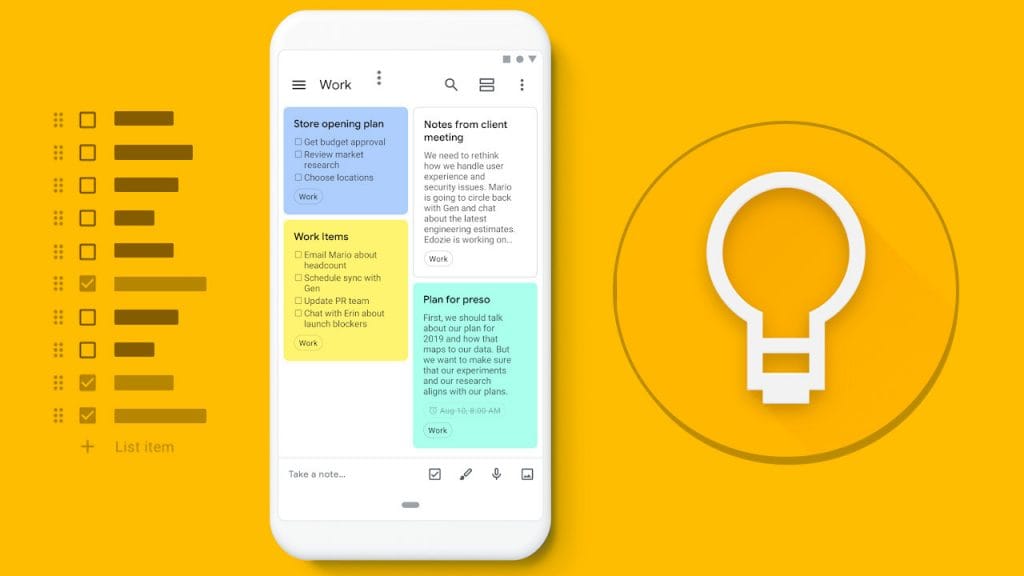 You can make, share, and interact with people on notes and lists using Google Keep. It's synchronized through all of your devices, so your notes and documents go with you everywhere you are. With Google keep, you can capture ideas in your voice, add photos to notes, cross things off your to-do list, and more.
Tools for creating graphics for content marketing
18. Pexels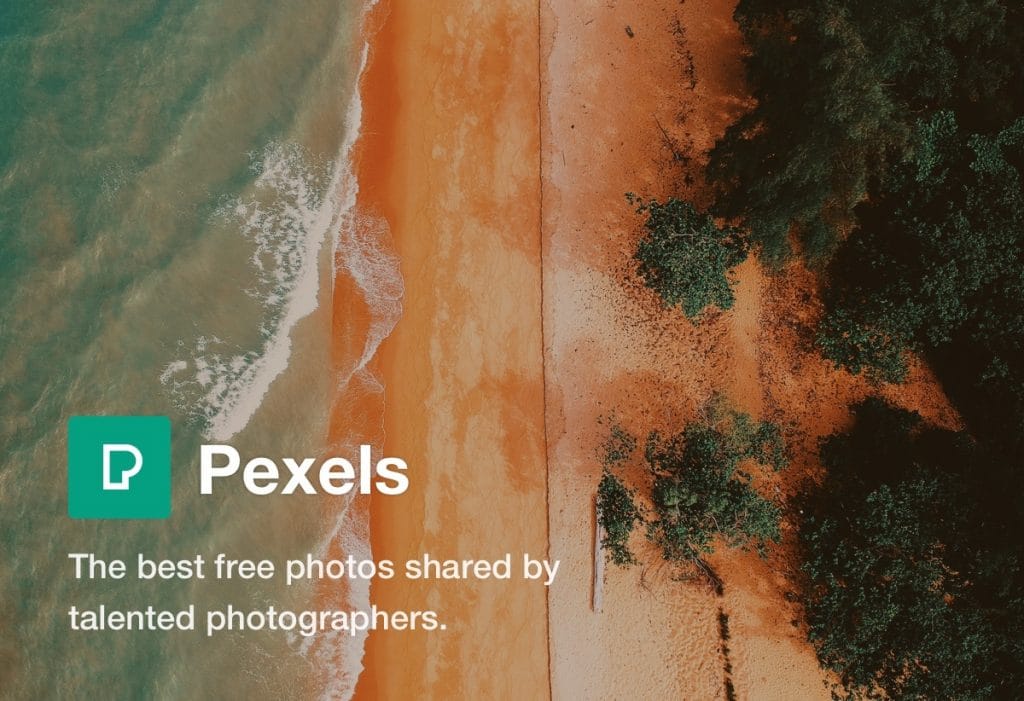 What's a blog without images? In order to complete your blog or article, you need some high-quality images to complement the text that you've written. However, it's not always easy to shoot or design images manually. And this can be easily taken care of by using a website that offers stock images. Pexels does just about that – it offers you high definition pictures, absolutely free! 
19. Canva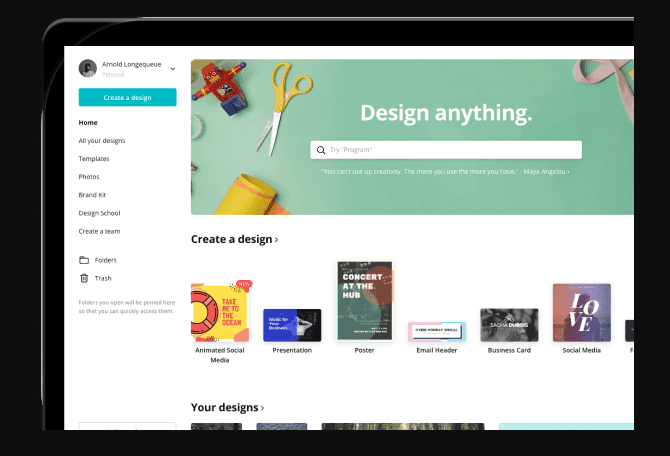 When it comes to producing entertaining and original social media content, it can often feel like a beast that needs to be fed on a regular basis. Canva makes this process easier by allowing you to design anything and everything that you want. You can design Facebook cover pages, Instagram posts, stories, brochures, logos, presentations, quotes, Creating Invoices – just about anything!
Content marketing tools for social media
20. RecurPost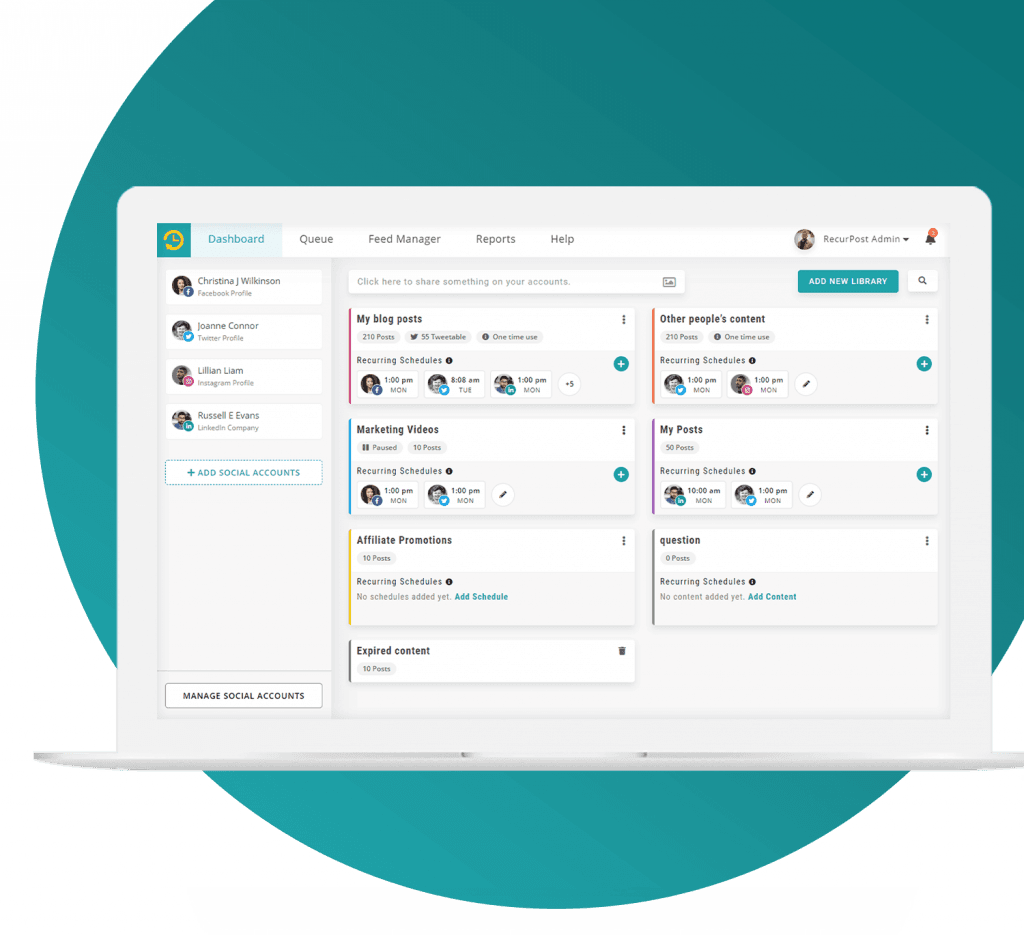 Content marketing is definitely not complete without proper social media marketing & Social Media Post Design Ideas. Your content needs to be constantly promoted on social media channels. However, juggling between a large number of social sites and managing them all together is a task that consumes a lot of time and effort.
Using a social media scheduling tool can help you ease the process by enabling you to manage multiple social platforms/accounts from a single dashboard.
You can manage your content marketing strategy effectively by investing in an excellent social media tool like RecurPost. It enables you to plan for a scheduled posting on major platforms in a few easy steps.
RecurPost lets you schedule Facebook posts and schedule Instagram posts to increase your brand awareness. RecurPost allows scheduled posting on profiles, pages, and groups on Facebook. You can create fun with reels and short stories while scheduling posts on Instagram.
Promote your brand where industry professionals are active. Schedule LinkedIn posts on personal and business pages and connect with them. Utilizing this tool, you can schedule tweets at the best times of the day.
Additionally, RecurPost is a fantastic Pinterest scheduler for the visual-heavy marketer. It enables you to schedule Google Business Profile posts to share coupon codes or inform about an event to call your local customers on the party floor.
RecurPost is one such tool that provides an advanced social media calendar, automates posting, recommends the best time to post, provides in-depth analytics, and helps you grow your social accounts. Also, it offers reasonable plans that go easy on your pocket!
21. Followerwonk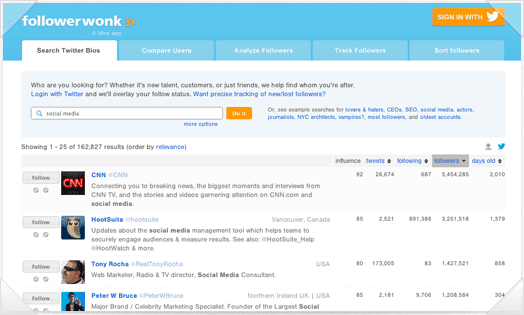 Followerwonk is a Twitter analytics tool that enables users to collect and interpret data on Twitter users, identify patterns in the mentioned social networking tool, and extend their scope to broaden their audiences, raise their follower base, and pursue their business objectives.
This analytical framework helps businesses discover current and future followers, classify them by category (location, opinions, who they follow, etc.), compare Twitter accounts, and more.
Tools for content tracking
22. Google alerts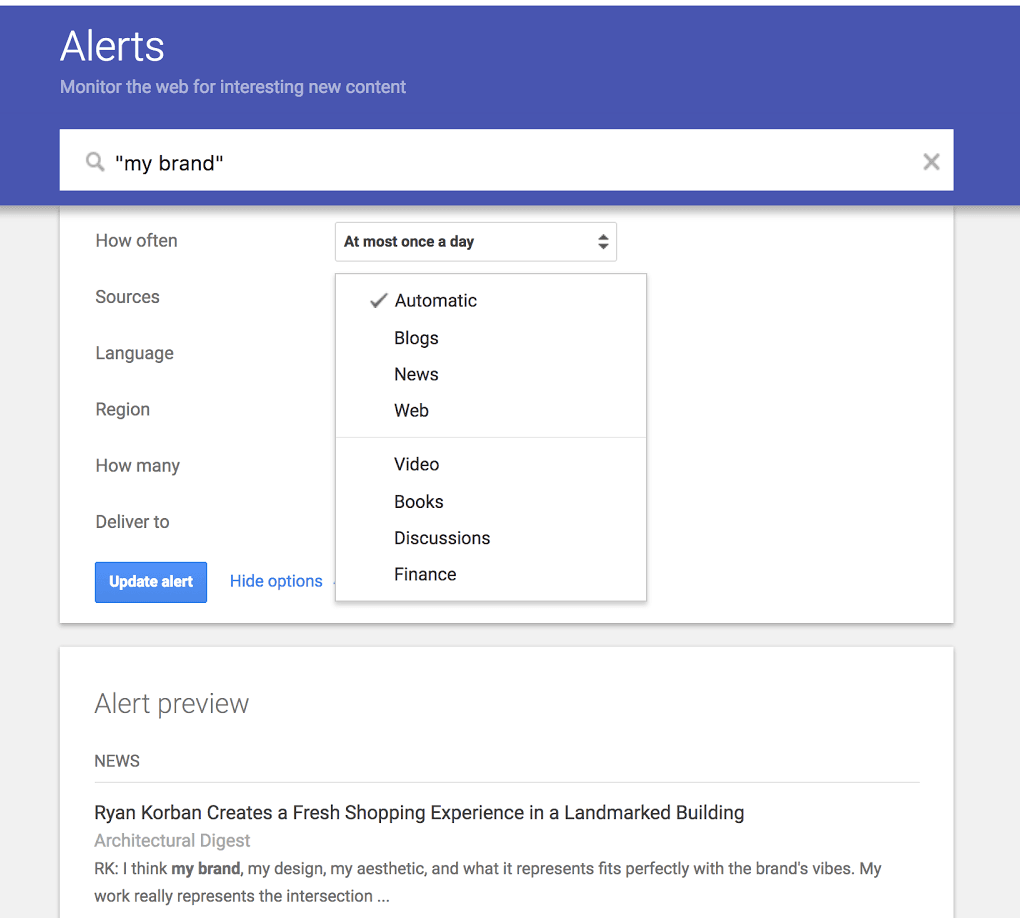 Google Alerts is a very powerful web monitoring tool, but very few companies use it to the fullest extent possible. Do you wish to receive notifications every time your name, your business, or your most relevant keywords are discussed anywhere on the web? Google Alerts is one of Google's best applications for you to do precisely this, and to start using this free service, you'll need just a couple of minutes.
23. Feedly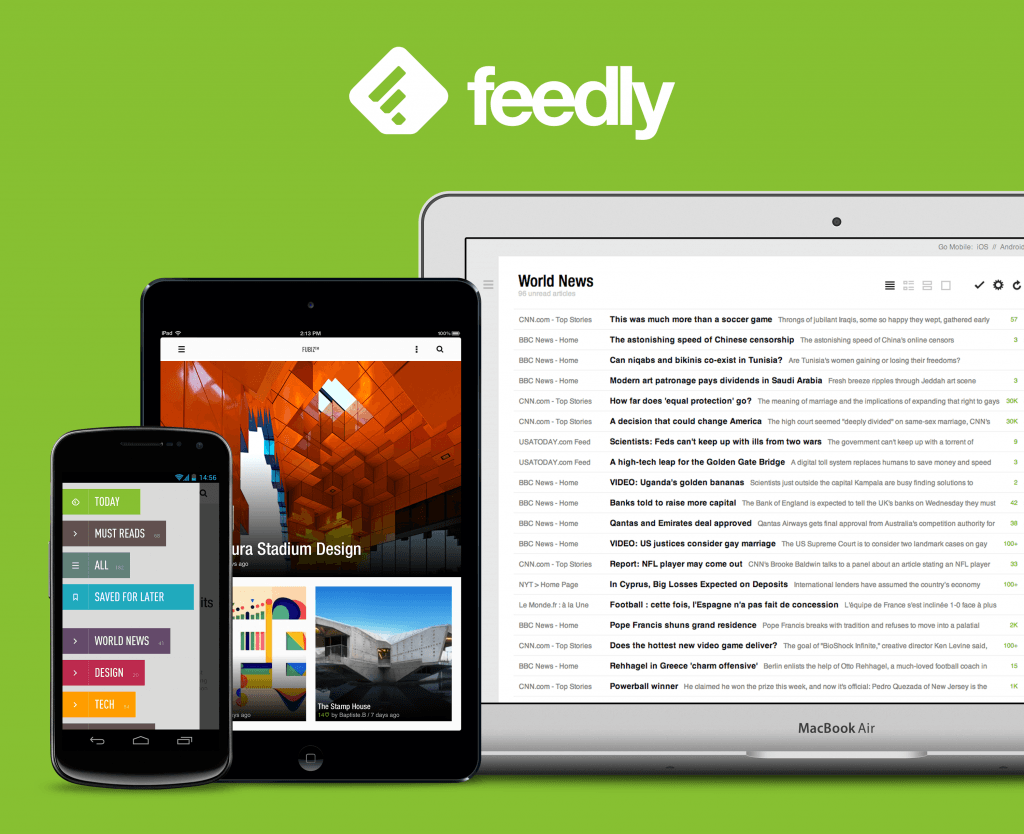 Feedly is a smart reader framework and aggregation service that enables users of all types to collect, sort, organize, and consume web content in a coherent way. Feedly's smart reader interface automatically puts together the reader's favorite content sources, websites, news sources, blogs, digital magazines, and even YouTube channels in one place.
Tools for content marketing through emails
24. MailChimp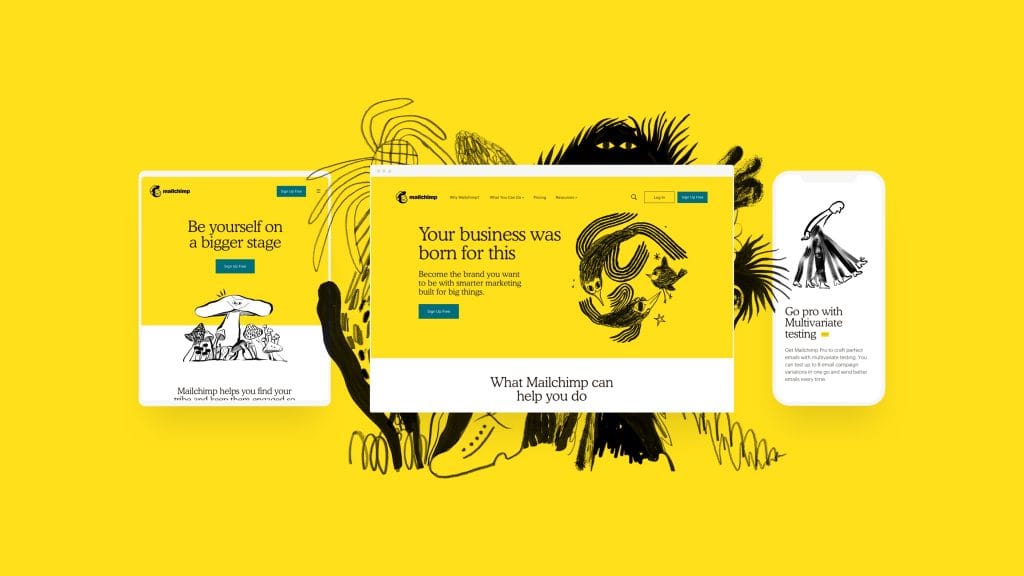 MailChimp is a marketing automation tool that allows users to create, deliver, and analyze email and advertisement campaigns. Users get full campaign accountability, email monitoring, view performance, and click-through rates, produce custom reports, manage subscribers, and unsubscribers.  It lets you build customized templates and also select from pre-made templates and campaigns.
25. WP Forms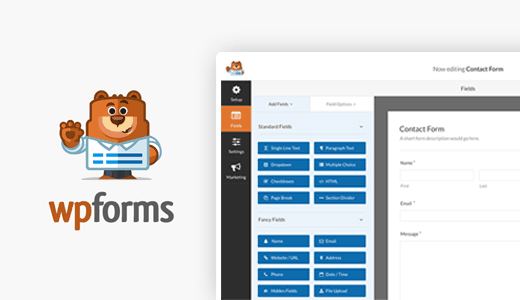 WPForms is a well-known WordPress contact form plugin. It lets you easily construct a wonderful form without writing any code in just a few minutes, or choose from the built-in templates. Moreover, it is compatible with all kinds of devices including mobiles, laptops, and tablets. Using this tool, you can create beautiful contact forms, feedback form, subscription forms, payment forms, and other types of forms for your site in mere minutes.
26. Sendinblue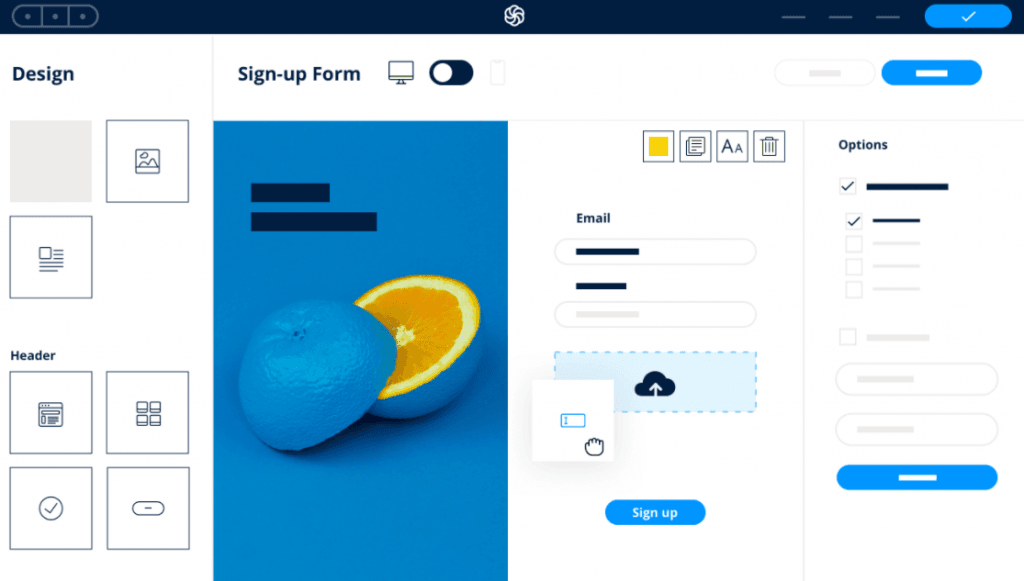 Sendinblue is also an option for crafting out emails with ease. It empowers companies to create and build partnerships through email campaigns, transaction-oriented emails, SMS messages, marketing automation, Facebook Advertising, chat, CRM, and retargeting ads. Moreover, you can also integrate Sendinblue with Google Analytics to track the traffic sources to your site.
Tools for content promotion
27. Google ads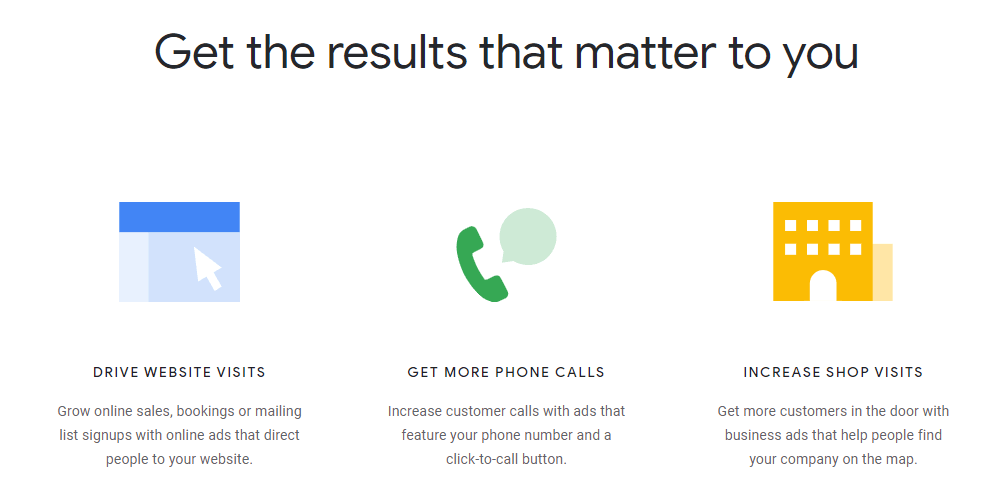 Google Ads enables you to take advantage of the strengths of online advertising: display your ads to the right audience, at the right place, and at the right time. In other words, it lets you target your ads precisely on the basis of keywords, ad location, age, location, and language of your audience, dates, time, and frequency of the ad display, and the devices on which your ad will appear.
28. MozBar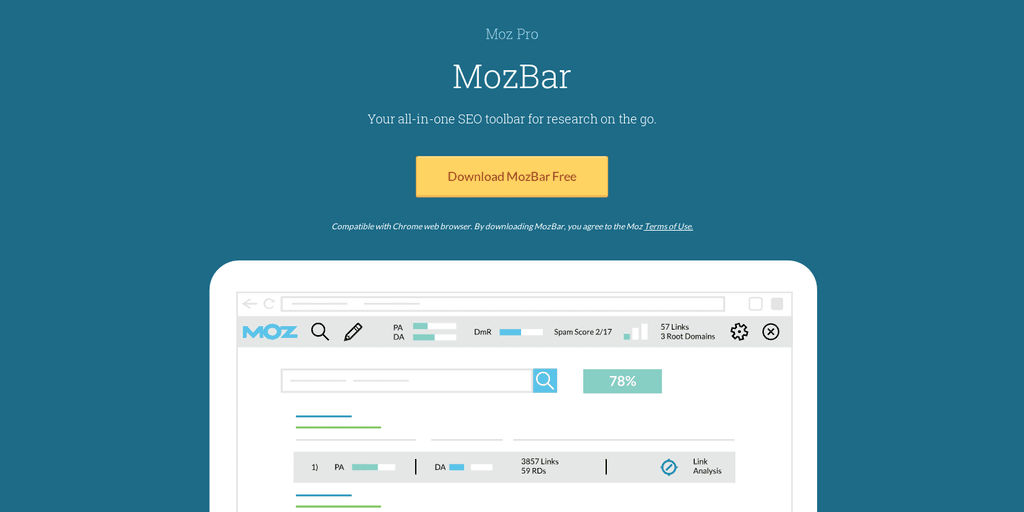 MozBar is a browser add-on provided by Moz that shows you the page authority and domain authority of every website you visit, its spam score, the number of backlinks, and other relevant metrics related to your site. Overall, it is designed to provide you a lot of features including SERP analysis, creating custom search profiles, highlighting links, rank tracker, and much more.
29. Outreach Plus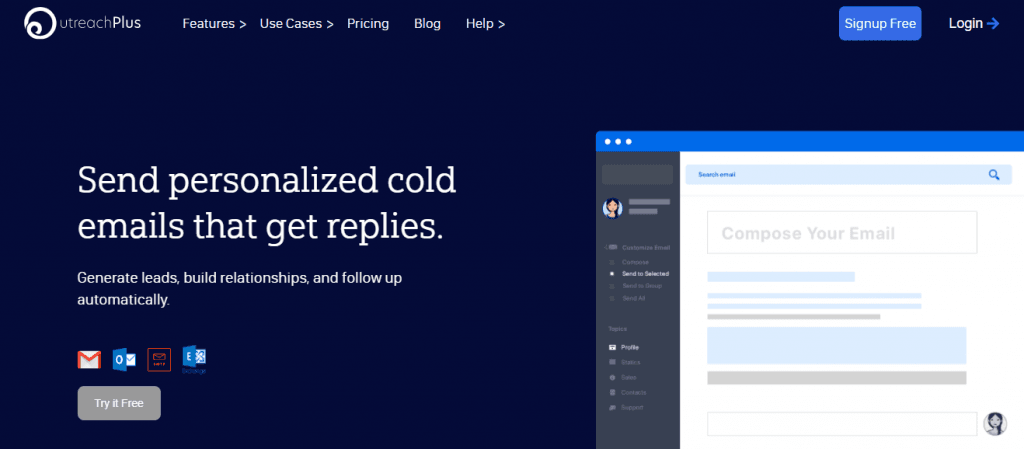 Update: It looks like they could not keep their lights on and have now shut down.
Content marketing tools for SEO
30. SEMrush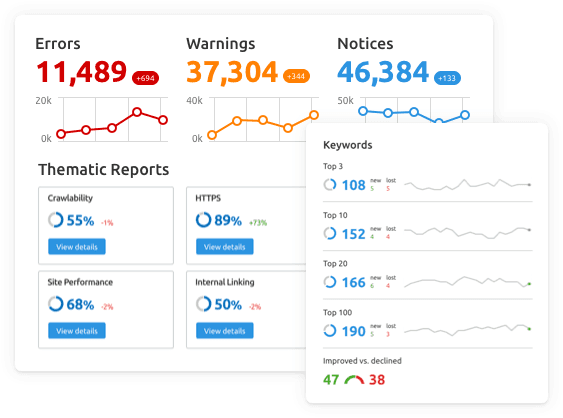 SEMrush is being billed as a full marketing toolbox for SEO experts. The platform certainly offers important SEO functionalities for marketers in an easy-to-use interface. Main features include data reporting modules, advertising analysis, keyword research, backlink research, market explorer, and traffic monitoring.
It also provides a tool for monitoring statistics on social media. In addition, it offers an SEO Writing Assistant feature that lets you refine your content based on your Top 10 rivals on Google.
31. Uber Suggest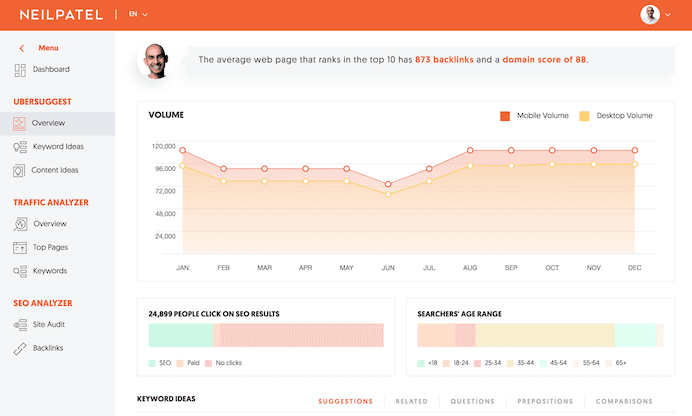 Ubersuggest is a free SEO tool that lets you find new ideas about content, know about your rivals, and get keyword recommendations for your content. On Ubersuggest, you can select a domain to see what keywords your rivals have ranked well for and how their traffic has been in the last few weeks. 
Ubersuggest 's strongest feature might certainly be its ability to evaluate keywords that you're already thinking about using, to show you how many people are already looking for it, how difficult it would be to rank for that keyword organically or in paid searches, and how much the cost per click (CPC) would be.
32. Ahrefs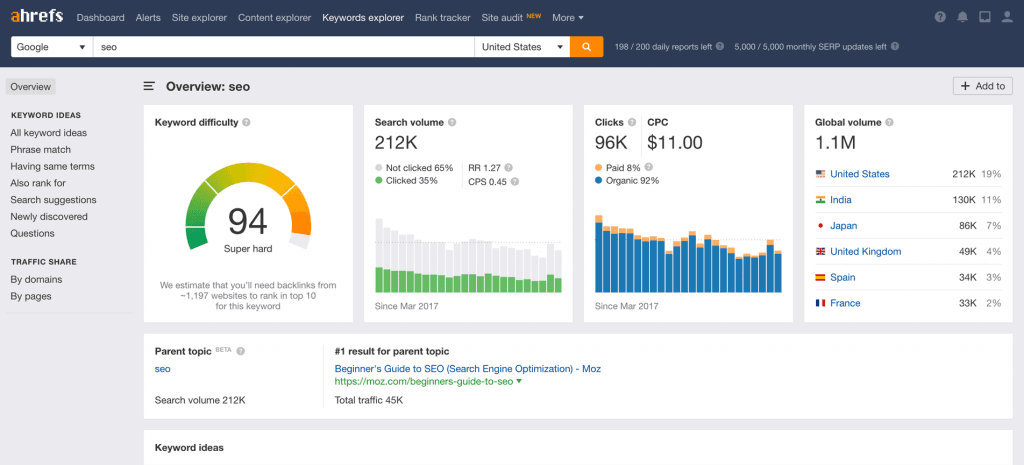 Ahrefs provides a series of SEO tools that you can utilize to improve your website or client website. It is a SaaS-based SEO software that lets you check any domain ranking (including your competitors), keyword ranking, backlink profile, site layout, and more.
For example, some tools that you can use in Ahrefs include: Keyword research, Find search traffic of any website, Keyword gap tool, Backlink gap tool, Backlink profiling tool, Internal link audit, Site SEO audit (Cloud-based), and Content Explorer.
33. Backlinko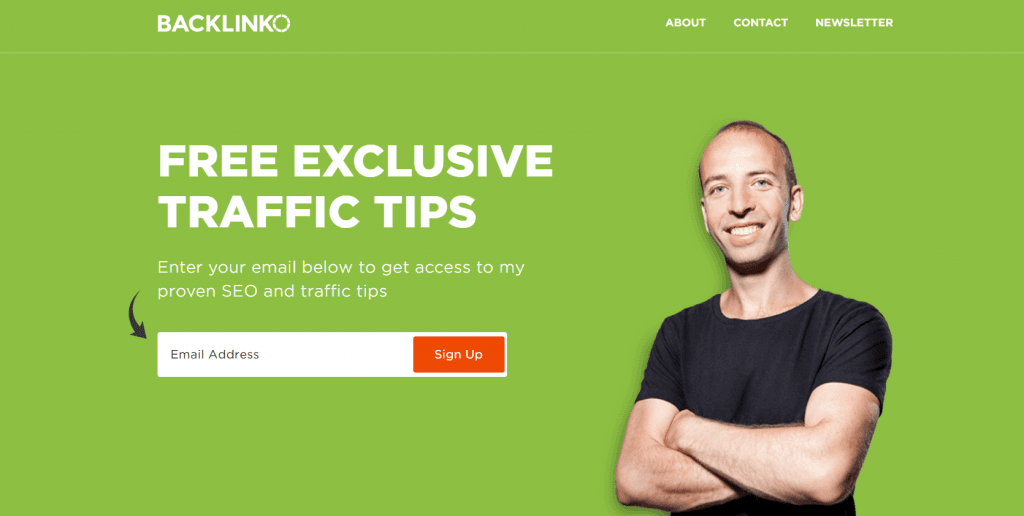 To be very fair, Backlinko is more of a resource than it is a tool. If you are trying to learn about SEO, it is indeed a good resource to use. Brian Dean, the owner and his team, have written unbelievably detailed about all the SEO techniques. While it is not an SEO tool in itself, it will definitely guide you towards the appropriate tools.
To sum up,
Now you have a huge list of content marketing tools to help you nail your strategy. There is a tool to help you with all the stages, from producing a piece of content to marketing it to the targeted audience. So pick up your favorite digital marketing tools and start producing some amazing content! Meanwhile, give RecurPost, one of the most trusted napoleoncat alternatives, a thorough try. With features that allow you to repurpose your evergreen content, helping keep it fresh in your customers' minds to gain more leads with minimum effort, RecurPost is one of the top free hootsuite alternatives on the market. Additionally, you can use RecurPost's feature social media bulk scheduling for automation, as it provides all the features you might need for posting to all different platforms at a low cost.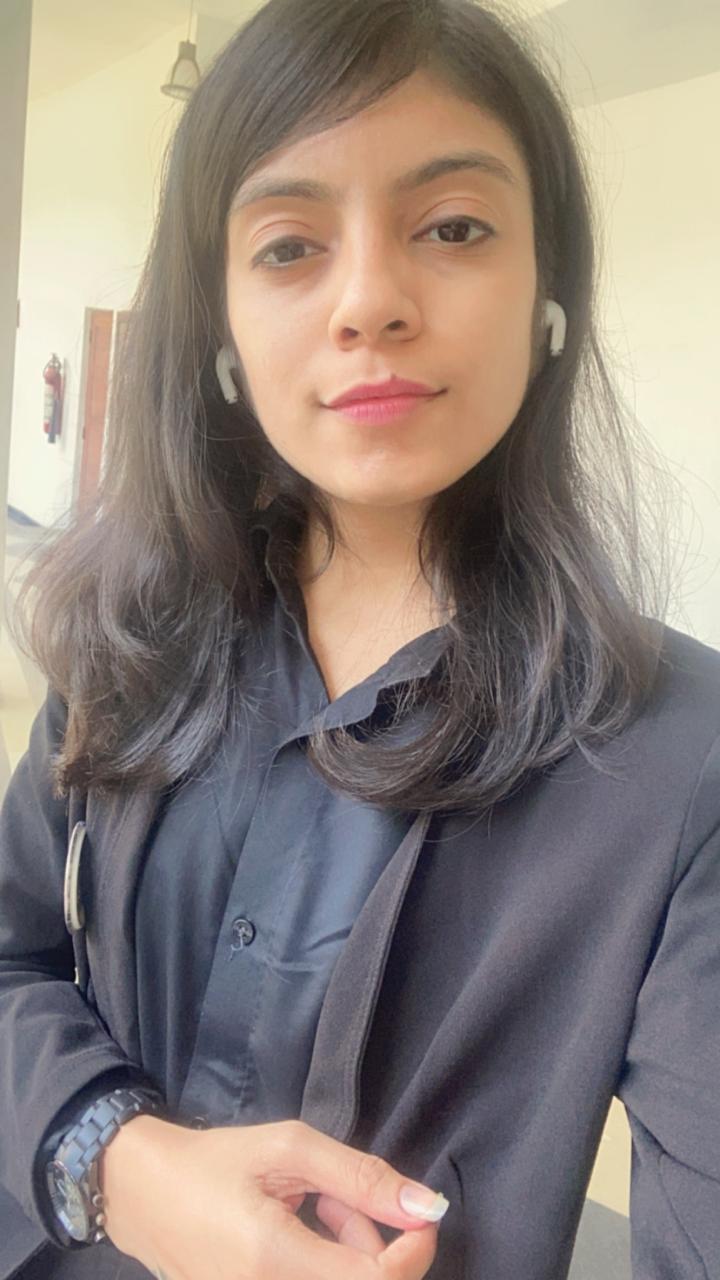 Amaiya Rathi is a Senior Content Writer at RecurPost. She helps RecurPost communicate with their readers in their own language. Whether it is the web copy, social media posts or blogs, Amaiya has worked on all aspects of copywriting. You can reach out to her at [email protected].