In almost no matter of time, GIFs have become one of the most popular and exciting ways to express feelings. People usually use GIFs as great comeback replies! They are often a short piece of muted footage and have a punch line written as text. They are a great option lying between videos and photos – as they require less time to load and view than a video, and are more expressive than photos. So, if you are thinking about how to make your custom GIF, read along to find out the best ten tools that you can use for free and stand out from others! Also, a social media scheduler will let you add GIFs to your scheduled content easily. How cool is that?
Popularity of GIFs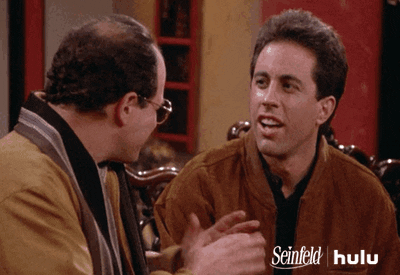 The GIF trend that you see right now is actually 30 years old. Back then, people used sophisticated softwares to make them. But now, they can be created in just a few minutes while sipping your coffee on the side!
Google says that there are millions of GIF searches every day. Behind this popularity, there are mainly three reasons.
It enables people to express their emotional responses while chatting quickly.
It conveys a sense of identity of the user through the pop culture references it carries.
GIFs capitalizes on the meme culture that continuously provides new references.
The most used GIFs are the ones that express a single emotion. Whether it is joy, sorrow, shock, or any other reaction that you want to give, you will find a GIF for it. They perfectly portray how you feel without the need for awkwardly putting your emotions into words. Therefore, they should be a part of your viral content marketing strategy. You can use apps that make gifs and create your own stickers easily.
In today's age of digital marketing, the expressive qualities offered by a little looping animated picture are a huge draw for consumers and businesses too.
How to make a GIF online?
You can use these GIF making tools for making a GIF online:
1. Filmora meme maker
Wondershare Filmora is a prevalent software for making GIFs and videos as well. What is excellent about the meme maker is that it allows you to make image, video, and GIF memes and download them without a watermark. An excellent way to inculcate everything in your video marketing strategy right?
You need to import the images or videos that you want to use for making the GIF. There are options to change the text size, color, fonts, and adjust the location of the caption. You can also keep the text inside or outside the GIF. The format in which you want to download can also be selected. You can find all the detailed instructions on how to make a GIF on their website.

2. MakeaGIF.com
There are a lot of options provided by this tool to make GIFs, which includes the following:
Images to GIF
Videos to GIF
YouTube to GIF
Facebook to GIf
Webcam to GIF
With so many options available, this is one of the best tools to unleash your creativity. You can pick up a visual from any platform and convert it into a GIF! It also has an extensive collection of GIFs that you can use or edit. There are GIFs related to animals, fashion, food, nature, science, sports, and a lot more. You can also make your GIF and upload it on the platform for others to use!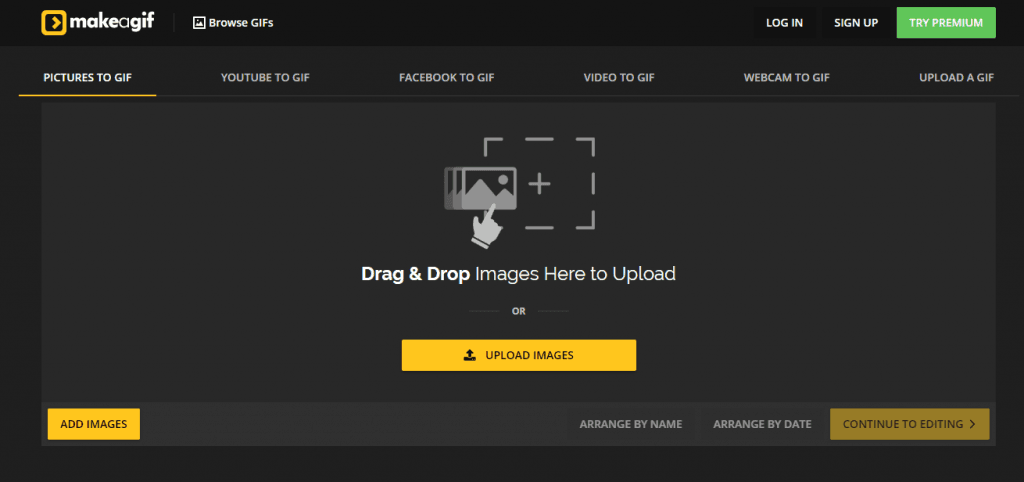 3. Picasion
Picasion enables you to import pictures and videos from platforms like Picasa, Flickr, and other galleries. It is available in 4 languages – English, Spanish, Portuguese, and Russian, which makes it stand out from other tools.
You can adjust the size of the images and even make your avatars or funny animations using this tool. Post them on Tumblr, MySpace, Hi5, Facebook, Orkut, etc. without the need for Flash.
Here are the steps on how to make a GIF using Picasion:
Go to the Picasion website in your browser.
Upload the pictures using which you want to create a GIF.
Set the size, speed, order, and hit on the 'Create' button.
That's it. Picasion will create your GIF.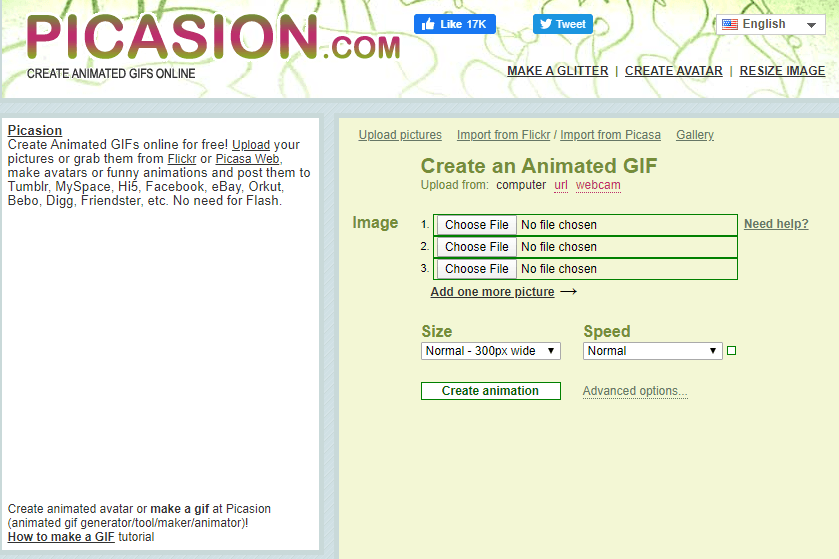 4. GIF Maker (Gif-animator.com)
GIF maker is a highly recommended tool for creating GIF images, animated buttons, and banners – you can use it in emails, documents, or websites. It consists of a wizard tool to make animation fast and easy. It supports creating eye-catchy multiple graphic formats, including JPEG, PNG, TIFF, BMP, PSD, WMF, AVI, and many others.
There is a built-in image editor with a full set of editing tools. New users need some time to learn how to make a GIF using this software, but it will provide amazing results in the end. The interface is also straightforward and intuitive. There are a lot of effects and customization options to enhance your GIF animation.
It has advanced optimization to make the smallest possible files, which decrease the page loading time, reduces server load, and saves space.

5. Screen to GIF
Screen to GIF is a software for Windows that employs a bit different approach to create GIFs. It is dedicated to allowing users to record activities from web cameras, sketch board, and their screens, which they can use to create GIFs. You can go to the site and download it for free – it is available for Windows 7 and later versions.
It has a powerful editor with a lot of in-built editing tools, where you can edit your recordings or GIFs from other resources. It offers over 18 languages. When you download it, it automatically detects the language of your system. How cool is that!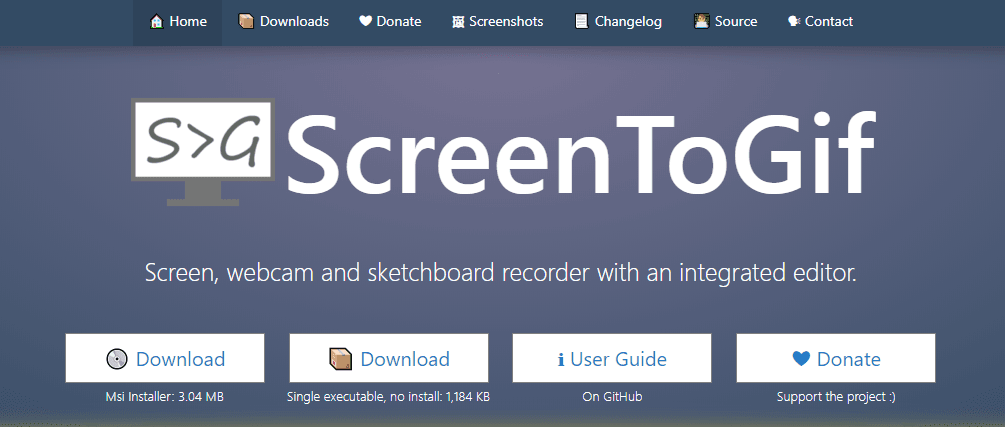 6. EZ GIF
EZ GIF is a simple and easy to use online tool which was designed primarily to create and edit animated GIFs, but now also supports basic video editing. It also has a GIF to Mp4 converter, online video cutter, video reverser, and video rotator.
There is an editor provided on the site to edit GIF files. Additional functionality that you can use with EZ GIF is image conversion, which lets users change image formats from one to another without any hitches. If you do not want the hassle to download a GIF maker, this is one of the best options out there.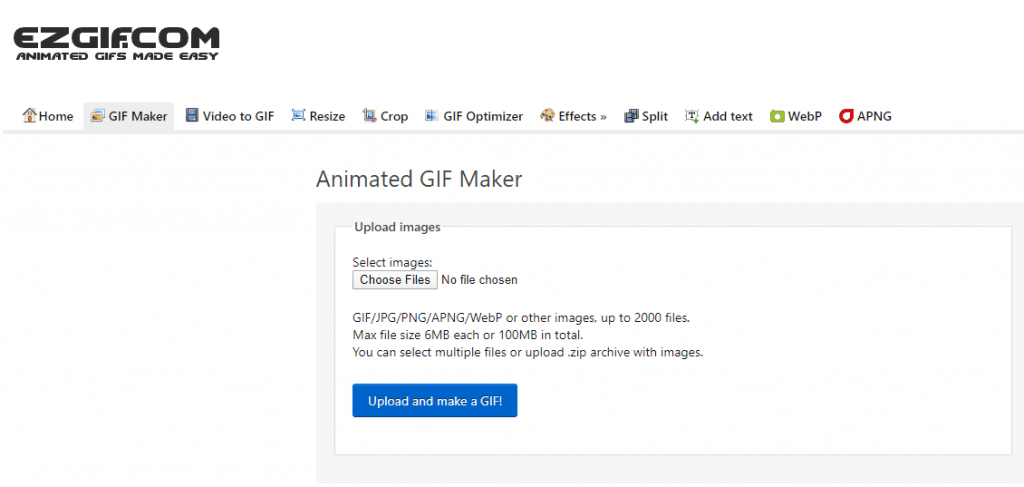 7. Kapwing
Kapwing is also one of the top options for people who would want to know how to make a GIF using a desktop. No download is required, and it can run well even on a smartphone. It allows you to edit images, videos, and GIFs by adding various effects, transitions, and titles.
Start with a blank canvas or upload the files directly from your computer to create a masterpiece. Cut the video, resize, divide the clips, and make an attractive loop using Kapwing. Once you create your GIF, you can straight away share it on your social media platforms from the screen itself.

8. Img Play GIF maker (App for iPhone)
The developers of Img Play GIF maker designed this app mainly to provide a fun platform for iPhone users. It has options available for canvas sizes, which is great to modify the GIF according to the site you want to post it on.
For example, if you wish to upload the GIF on Instagram, a 1:1 canvas size would be preferable. Similarly, for Twitter, a canvas of 2:1 size is ideal. This app can also be used for creating memes. You can also customize GIFs when you make a GIF from video, Live photo, and Burst. After generating, you can directly share it to Twitter, Instagram, Messenger, or iMessage.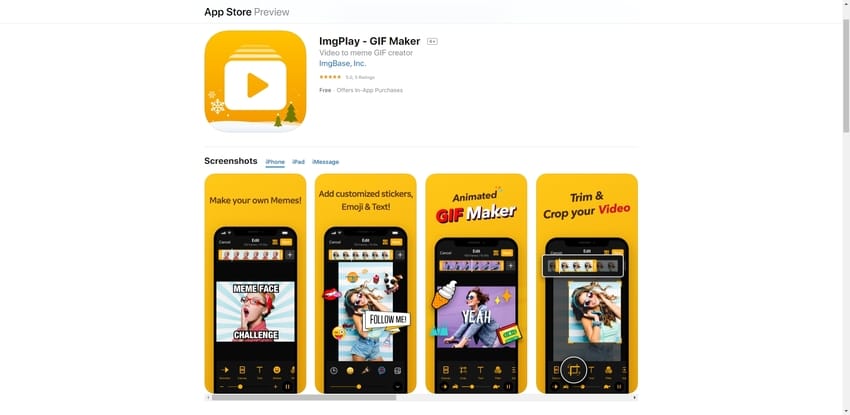 9. GIF Maker – GIF Editor (App for Android)
GIF maker – GIF editor is a popular app available on the play store. It has the feature of adding up to 200 images at once. It runs smoothly and meets the requirements of those who would want to know how to make a GIF using Android.
Before creating a GIF, you can cut, crop, or edit your video, and add titles to it. You can also choose from hundreds of stickers available in the app. It has a manager section where you can access all your created GIFs and edit them whenever you want. The only con is that there are in-app purchases.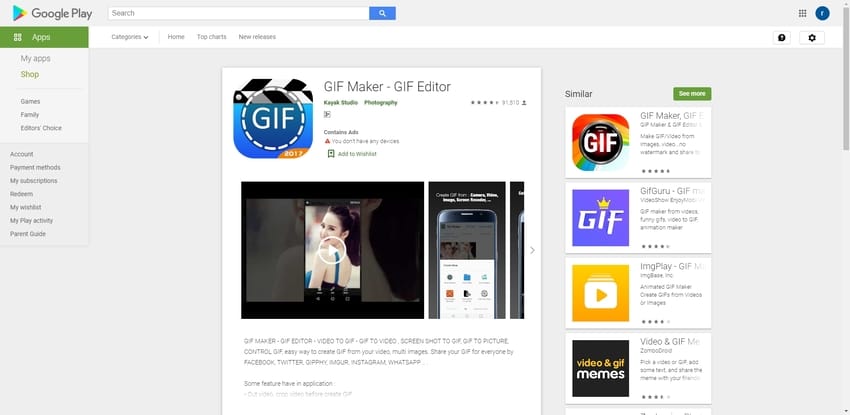 10. PicGIF (Mac App Store)
PicGIF is a software available on the Mac App Store. You can make creative GIFs using any kind of images and videos. Also, you can re-edit previously created GIFs by adding texts, changing speed, or resizing.
It has some great text editing features for personalizing the color, font, size, outlines, and shadows. It also supports overlapping text and stickers, and you can easily set their opacity levels. A lot of image formats are supported, which makes it very simple to use. You can preview it before exporting and can share it directly to social media platforms.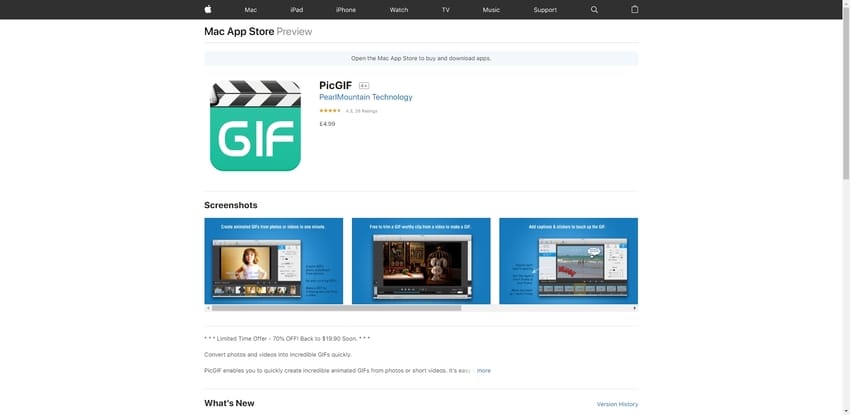 How to make a GIF from images in Photoshop
Creating GIFs in photoshop might a little bit more time, but it gives you the complete freedom to create and control the formation of GIFs as per your needs. You can play around with the tool to create exactly what you want. You can also schedule social media posts with the GIFs made by photoshop. It is also probably the best way to make gifs.
1. Load images into photoshop
GIFs are made of a series of images or frames. So, if you have a sequence of images ready with you, open Photoshop and click on 'File'. Select 'Scripts' > 'Load files into stack'. Then select 'Browse' and choose which files you'd like to include within your GIF.
If you don't have a sequence of images ready, you can create a new set of layers that act as frames. To add a new layer to your Photoshop project, chose Layer > New > Layer.
2. Open the timeline window
Before you can begin to animate anything, you're going to need the ability to create keyframes. To do this, you'll have to open the Timeline window. This is not open by default when creating an animated GIF in Photoshop, so navigate over to Window > Timeline and select the option to get started.
3. Create animation
In the timeline, click on 'Create frame animation.' Then click the menu in the right-hand corner of your Timeline and select 'Make Frames From Layers'. All your frames will come in place. Now hit the play button and see the animation created. If any frame is out of place, you can drag and drop it to a new position in the Timeline.
4. Export your GIF
Once you are done with the frames and are happy with the output, export the GIF to share on your social media profiles and other platforms. To export your GIF, click File > Export > Save for Web (Legacy).
How to make a GIF from video?
Here is the best way to make a GIF from a video:
Go to GIPHY.com and click on "create"
Punch in the web address of the video that you want to create a GIF with
Select the part of the video that you would like to capture, and pick a length
Add hashtags to your GIF if you want
Upload the GIF to GIPHY
You're done! To upload the GIF on your social media handles, simply copy and paste the GIPHY link or download the GIPHY file and attach it.
How to make your own GIF?
Now we know all about how interesting and fun GIFs are and how they contribute to your social media content strategy. But if you are confused about how to make one yourself, we will help you out.
How to make your own GIF on iPhone?
You will have to follow these steps:
Open up your iPhone gallery
Select the live photo that you want to convert into a GIF
Press and hold at the bottom of the picture
Slide your finger up to bring up the moving picture menu
Select "loop" to turn the photo into a GIF
How to make your own GIF on Android?
Here are the steps to follow for making your own GIF on Android:
Select the record video or select video option
Pick the section of the video that you want to convert into a GIF
Choose all the frames in the video that you want
In the bottom right corner, there is an option saying create GIF text, select it to finish.
How to make your own GIF on WhatsApp?
To make a GIF on WhatsApp, follow these steps:
Open the chat on WhatsApp in which you want to send the GIF
Select the attachment icon on Android or "+" icon on iPhone
Choose gallery and look for the video that you want to send as a GIF
With the help of the trimming tool, trim the video to 15 seconds or less
Click on the option for switching from video to GIF
Now just hit the send button
How to make your own GIF on Snapchat?
Here are the steps you should follow if you want to make your own GIF from within Snapchat itself:
Go to the application's camera and take a picture
Click on sticker and select a GIF of your choice
Put the GIF in your desired position and click on share
How to make your own GIF on Instagram?
If you want to make your own GIF on Instagram, you will have to follow these steps:
Create a brand or an artist account on GIPHY
Now create an animated GIF sticker with Procreate
After the GIF sticker is created, upload it to GIPHY
Add the GIF sticker to your Instagram story
How to add text to a GIF?
Making GIFs is a creative process and it's fun. If you want to make it more interesting, you can add text to your GIFs and make your message loud and clear. Here is your guide to adding text to a GIF in different settings:
How to add text to a gif on iPhone?
The easiest way to modify your GIF and add text to it would be via GIPHY CAM. Here are the steps to follow:
Download the GIPHY CAM app and launch it on your phone
Now, upload a video of your choice by selecting the Camera roll icon. You can also capture a video and convert it into a GIF
Once the video is uploaded, select the white arrow icon
Now, add the effects and text that you want
Select "Next" when you are satisfied with your GIF
Then choose "Save GIF" to save it.
How to add text to a GIF on Android?
You can add text to a GIF on Android with the help of Gboard. Here is what you have to do for adding text to your GIF:
First you will to create your custom GIF on the Gboard App
Once the GIF is created, select the "A" icon on the top of your screen and begin typing overlaying text on your GIF
There are different color options to highlight your text
Once your text is done, you can send the GIF instantly by selecting the send button.
How to add text to a GIF on GIPHY?
GIHPY is an excellent tool for making GIFs and provides various options like stickers, captions, filters, etc. To add text to your GIF, simply upload your animated GIF first and begin adding text with the "Caption tool". The only prerequisite is that you will have to sign-up and login to start editing.
How to add text to a GIF on Photoshop?
In order to add text to a GIF via Photoshop, you will have to follow these steps:
Open your GIF with Photoshop
Show your timeline by clicking on "Window" > "Timeline" in order to see the sequence of images in a liner animation
Have the top layer selected in the right hand side panel
Select the text tool in the left side toolbar and drag a box over the image. Type your text in that box
Select "File" > "Save for web…"
Cross-check all your settings and save it.
How to make a GIF meme?
There are a limited number of tools for making a GIF meme. Here are two that you can use:
To create a GIF meme with this tool, you will have to go to its homepage and tap on "create" in the top right corner. You can take a video for converting it into a GIF or upload a video that you already have.
Select the GIF from your photo library and upload it. Once the upload is complete, select the Aa icon to add your text. All the other icons can be chosen for adding filters and stickers.
Head to Kapwing's meme maker and select "get started". On the page that opens up, upload a GIF by clicking on "click to upload" or dragging it into the window. Once it is uploaded, you can begin with meme-making. You will have the option of adding text, image, audio, and elements option.
Once you are done with designing your content, click on the arrow next to export the video, and then export your GIF.
Websites to find the outstanding pre-made GIFs
1. Giphy
Giphy is an American online database and search engine that allows users to search for and share GIFs. The content on GIPHY's website, app, and API is all of the best and most popular GIFs on the web, along with content created by talented GIF artists and world-class brands.
Find the content you are looking for by searching a term or set of terms in the search bar atop giphy.com. It automatically returns results based on the relevance of the term you searched. If you don't see what you're looking for, add some more specific terms to the end of your search. The top of your results would show the related GIPHY channels aligned with your search word. You can see the GIPHY Clips, GIF, and Sticker results right under it.

2. Google image search
Google is undoubtedly the best place to search for anything, including GIFs. To see only GIFs in your search, do a normal image search first. Then click on Search tools and select 'Animated' under the 'Type' option.
3. Tumblr
Tumblr is the perfect place to find great memes and GIFs before any other social platform. It is the ground zero for GIF culture and finding cool things before they blow up on the mainstream media.
4. Imgur
You never quite know what you're going to find on Imgur. It is a viral photo, video, and GIF platform that receives over 150 million monthly visitors. You will find all new as well as viral GIFs on this site.
How to make GIFs as a brand
To stay culturally connected with the customers, brands must speak their language. If you, as a brand, also want to tap into the GIF trend and culture, here are some suggestions that you should consider.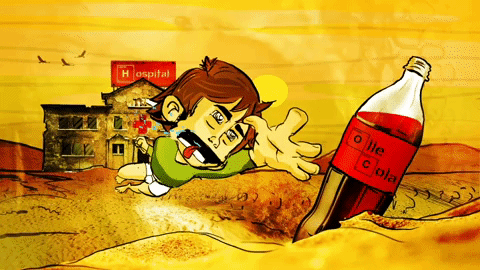 Be funny. But do not try too hard. To appeal to the younger audience, brands try to go overboard to be funny. You do not need to use a GIF every now and then. A well-timed GIF that represents your brand's personality is much better than many mindless ones.
Choose your GIFs carefully. They carry cultural references and memes and sometimes can lead to controversy. Use GIFs according to the taste and preferences of your target audience, and also keep in mind the sensitive social issues going on at the moment.
Be creative while preparing your GIFs. They can be a significant generator of memes, and the brands that adopt early to viral topics are getting noticed by millions of people in very little time.
Increase your audience retention by preparing targeted GIFs. Many social media marketers prefer to use visuals and GIFs to encourage people to stay longer with the brand. They also show the brand's creativity and personality and add a human element. To enhance the experience, use an online animated gif maker.
A list of social networks supported by RecurPost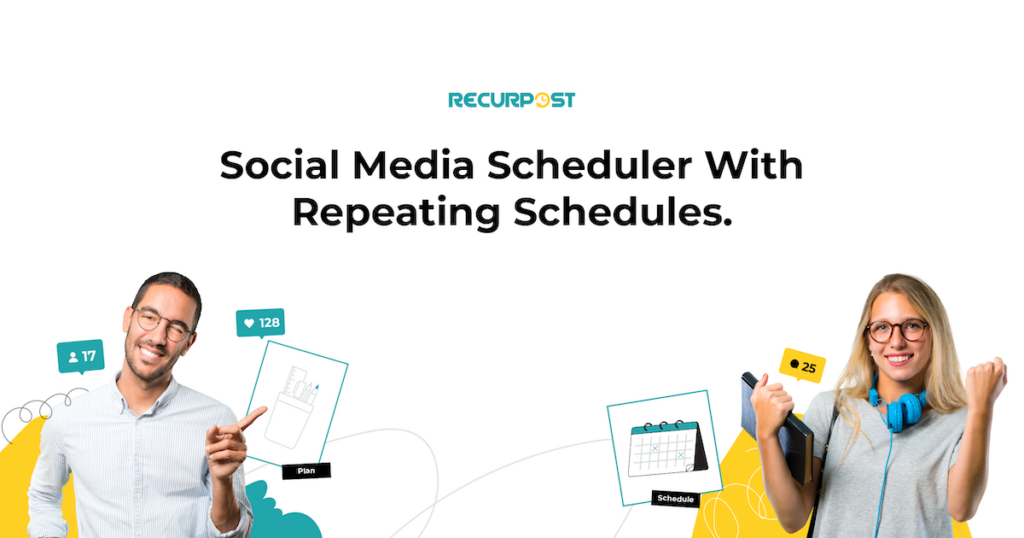 Communicate effectively with your audience using RecurPost, a social media management tool that helps you to build a solid brand presence and grow followers.
RecurPost allows you to schedule Facebook posts on your profiles, groups, and pages to engage your audience with entertaining content. You can schedule Instagram posts on your personal and business profiles and add fun to your content by sharing reels and short stories.
It allows you to schedule LinkedIn posts on your personal and business pages to start networking with professionals in your industry. You can schedule tweets with RecurPost hashtag recommendations to reach your post to an appropriate audience.
RecurPost is also a Pinterest scheduler for engaging your audience on the visual platform. It is possible to schedule Google My Business posts with the tool for calling the local audience to a special event or offering them a coupon code to increase walk-ins.
Takeaway
If we look ahead, GIFs will be a part of our lives as long as social media prevails and dominates our digital interactions. Maybe there will be apps that we will use to make GIFs using our faces. Possibly there will be hologram versions for it. It doesn't matter how they will evolve; it is pretty clear that they are essential in the digital culture. And as a brand, you need to be fluent in speaking GIFs – just like your audience!
Also, a social media scheduling tool like RecurPost would definitely make the process easier. You can simply create a GIF and put it on schedule without worrying about anything else with social media bulk scheduling. You can also get the best time to post on social media with RecurPost and add content as per that for the best engagement. Considering the price point and value, this is one of the best free hootsuite alternatives and socialreport alternatives in the market.
All your questions on how to make a Video to GIF using different devices are answered above. So, get up and get creative!
Frequently asked questions
1. How to make a gif for free?
Making GIFs is fun and rewarding at the same time. But you do not necessarily have to pay for that. Here are the tools that can help you make GIFs for free:
– GIPHY
– com
– Imgur's video to GIF
– Boomerang for Instagram
– LICEcap
2. How do you make a GIF on mobile?
Making a GIF should be all fun and no complication. There are mobile apps like GIPHY cam that allow you to make GIFs on your mobile with great ease. Here are the steps you can follow to make a GIF with GIPHY cam on your mobile:
– Launch the app on your phone and record a GIF
– Customize your GIF with filters or stickers if you want
– Save it and share wherever you like
3. How to make a GIF for Facebook?
Making a GIF for Facebook is very easy. You can use GIPHY to get readily made GIFs or customized GIFs that you can share on your social media platforms. Go to the website choose to upload your own video or a trending video to create the GIF you want. Once you are done creating the GIF, click on the Facebook icon to share it with everyone on Facebook.
4. Which is the best GIF making website?
Here is a list of websites that let you make animated GIFs easily and for free:
– Loogix
– Picasion
– Gickr
– MakeaGIF
– me
– ImgFlip
5. How to make a GIF your wallpaper?
Having a GIF as your wallpaper can super fun. Here is what you have to do for making a GIF your wallpaper:
– Download a GIF
– Get the GIF live wallpaper
– Grant all the permissions
– Select your GIF
– Resize it
– Change the background color as you like
– Take a preview in the landscape mode
– Change the speed of your GIF if you want
– Make any more edits if needed
– Confirm your GIF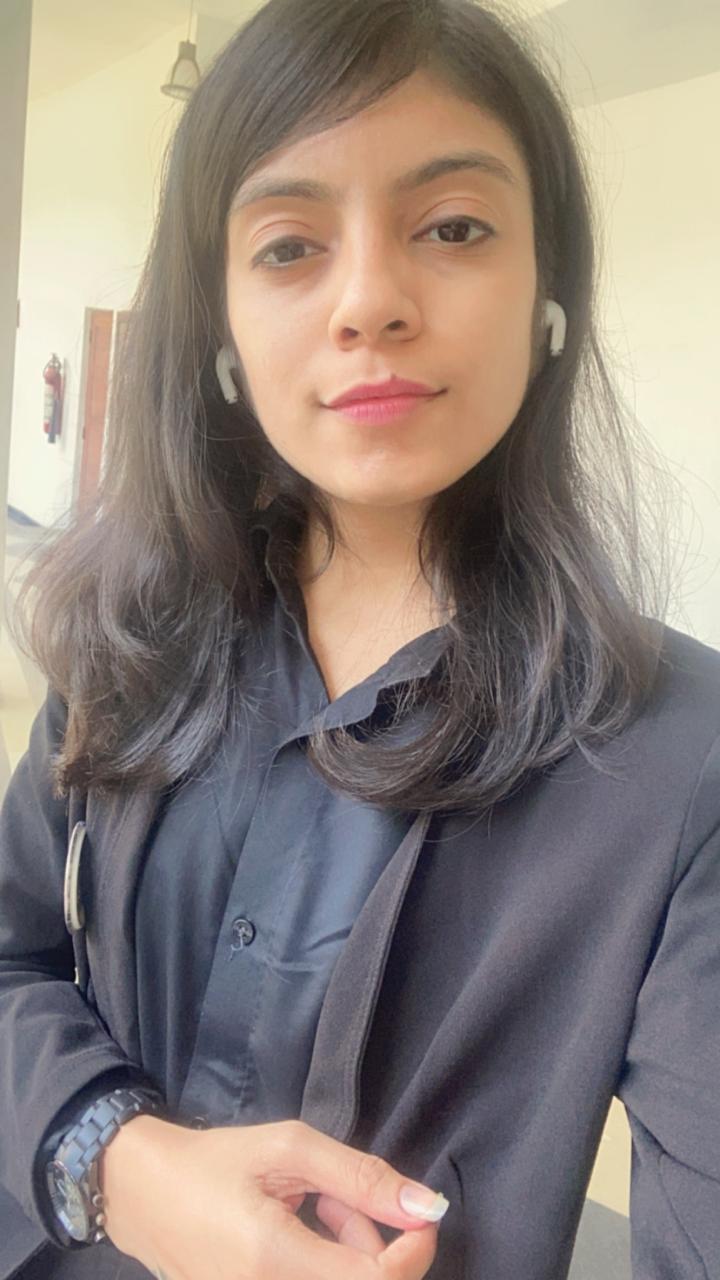 Amaiya Rathi is a Senior Content Writer at RecurPost. She helps RecurPost communicate with their readers in their own language. Whether it is the web copy, social media posts or blogs, Amaiya has worked on all aspects of copywriting. You can reach out to her at [email protected].