A lot of writers are producing a long fleet of content, but almost half of them fail at getting the results that they desire from it. Content creation is no easy task. Producing content that would be able to hold the attention of your readers for real can be downright challenging.
Come to think of it, content is all around us, from websites and social media channels to newspapers, magazines, radio, TV, emails, and the list goes on. It is estimated that an average American is exposed to around 4000 – 10,000 ads per day. The amount of advertising content that we consume daily is simply astonishing.
Today you can easily create and publish a single piece of content, but making it accessible and meaningful is challenging. However, with the ability to schedule social media posts with social media scheduler, some of these challenges can be mitigated.
Your guide to content creation:
What is Content Creation in Marketing?
Types of Content That You Can Create
7 Free Tools to Make Your Content Creation Tasks Easy
What is Content Creation in Marketing?
Content creation can be explained as the process of identifying a new topic that you would want to write about, deciding upon the form that the content should take, forming a strategy for keywords and structure, and then producing it in accordance with all the criteria.
Forming a content creation strategy is not a quick and one time thing. These processes usually go through multiple rounds of edits and revisions before finalization. In marketing, your end game or audience is always the customer. And that is when you would know that your purpose of creating content would be to sell an idea or product, directly or indirectly to them. The purpose of writing blogs could be simply generating traffic, but the ultimate intent will always be a profitable customer.
The Content Creation Process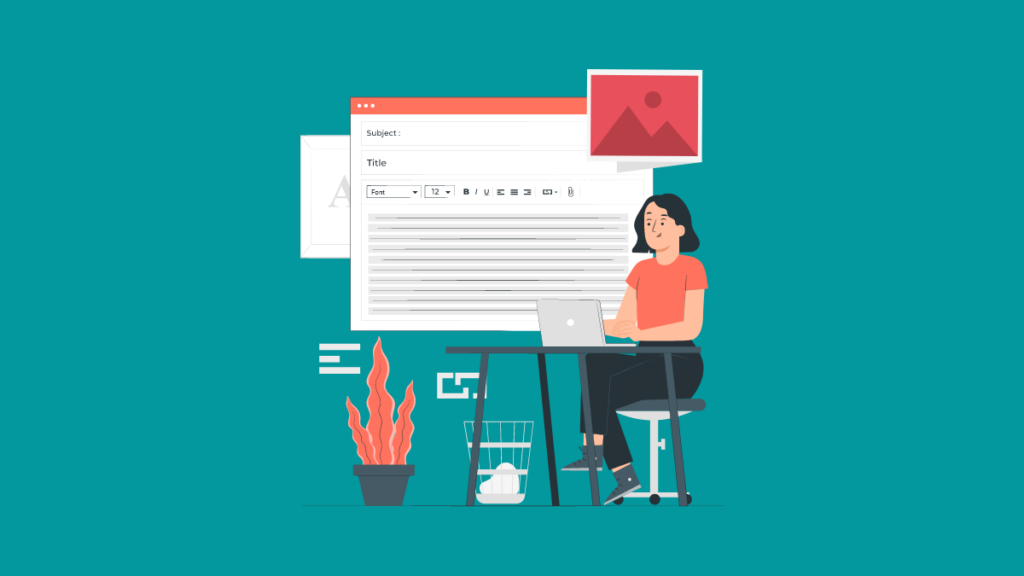 For creating great content, you will need a well-established process for letting things flow. As marketers, we have a lot on our plate and we cannot waste time on inefficient systems. That is why we have set processes for everything that we do. Once we devise a plan, we start implementing it for developing campaigns or viral content marketing strategies, we tweak the plan at certain points to make it work, and repeat the system for successful results. We will walk you through every step that is involved in devising the plan, that is the content creation process.
1. Research
Perhaps the stepping stone for any big task to be successful is conducting research. This stands no different when it comes to content. If you want to generate highly competitive branded content creation ideas, you will have to begin with a formal and thorough research. This research can be segregated in two steps:
For coming up with ground topics and questions that you want to answer through your content, you will have to develop a buyer persona through some research. Find out what your audience is discussing and what topics interest them the most. Note what your ideal customer looks like and how he/she acts in the marketspace. All of this will give you some ideas and direction to pick your topics.
After you have some direction with the topics, you need to conduct keyword or SEO research to find out the search volume around the keywords that you would be using in the topic picked by you. A good way to begin keyword research can be to write down some questions that your users might have as per their goals. You can then conduct research manually around these topics to see how many of them are asking the same question. There is also the option of using third-party tools for SEO research.
2. Ideation
Once you have come up with the keywords that you want to target, it is time to begin brainstorming content ideas. One of the best models through which you can organize your content is topic clusters. Here, you can create a long-form, comprehensive pillar page that is based on a keyword that will link to content created by you on related subtopics.
Brainstorming becomes easier with this model because you will have a structure to follow. The central keyword picked by you can be used to create a pillar content piece that explores the topic in-depth. Then, shorter pieces of content can be created to help your audience dive deeper into the topic and target long-tail keywords.
3. Writing
Once you have your topics and keywords, it's time to begin with the writing process. When you write, you need to keep the following points in view:
You need to write to your buyer persona. For this, use their language and humor to develop a piece that relates.
Use the right titles, meta descriptions, and supporting teasers to attract your audience.
Try to create something unique with your content. You can use a unique writing style or cite new research to emphasize your points.
Always stick to one idea and make it uniform throughout your content. Do not confuse your readers by changing courses during writing.
Be concise and clear in what you want to communicate.
Stay true to your voice.
4. Editing
Editing is a very important step of the process. You might think that you have written the most perfect piece of content but you should always look out for bottlenecks or content gaps in your piece. How you want to edit depends on your choice. But there are a few points that you should always keep in mind when you edit, like usage of active voice, clear language, short sentences, and ample whitespace.
5. Uploading
Once your content is ready after all the strategy and editing, you will need to put it up somewhere for the audience to read. A content management system is a software that can be used. It hosts digital content and lets you display it on your website or anywhere else on the web. The advantage of using a CMS is that it connects all your content and stores it in one place. So, linking to a landing page in your blog becomes quite easy. The system also makes analyzing the results of all the content you created for a specific campaign easier.
6. Publishing
This part might seem extremely simple and you might think why need an explanation on something as simple as hitting the publish button. But, we want to emphasize on the fact that publishing at the best times can maximize the impact of your content.
When you are just starting out, clicking on publish right away might not impact your audience much. But if you have a schedule, like publishing posts every Tuesday, then your audience expects one on Tuesdays. A social media scheduling tool can help you set a publishing schedule and automate it.
7. Promoting content
After going through all the above mentioned steps, it is finally time to promote the content created by you. This can be done through multiple mediums like email marketing, social media, and even PPC ads, or else you can use different content marketing tools like content syndication to leverage your content assets and ensure the content you publish for your audience is useful, interesting, and relevant.
When you promote your content to grow your business, you need to consider the channels your audience is most active on. It can be Facebook, Instagram, or YouTube. There is also the option of collaborating with influencers or other brands that will help you promote your content and reach more audience.
Types of Content That You Can Create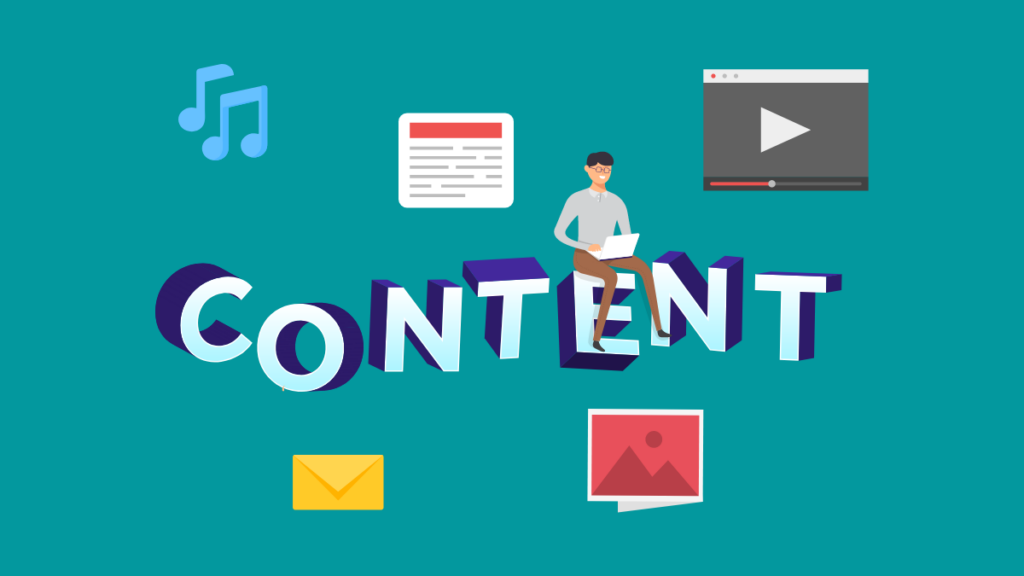 Content can come in different forms. It can simply be a piece of writing, or audio, video, and an image. Here are some common content types that you will find in marketing:
Blogs
Articles
Emails
Social media posts
Infographics
Podcast
Audiobooks
Animations
These are the types of content that can be created. Now we will dig deeper into how digital content creation can be done from different viewpoints. It can be content for SEO and content for social media.
Social media content creation
It is known that social media posts have a shorter lifespan than other content types, but they are still highly valuable. In fact, a huge number of marketers think that social media can drive customer engagement and lead to higher sales.
Social media posts can also bolster your other content marketing efforts or else you can use content marketing tools to strengthen your content creation. The most important thing to remember when you create social media content is that you have very little time to grab your reader's attention. You need to make content that will take their attention in that limited amount of time. Here are a few tips to create engaging social media content:
Use short-form content
Make use of eye-catchy visuals or graphics
Add relevant hashtags
Utilize keywords in generating hashtags and title
SEO content creation
Keep this in mind, whenever you create content, you are making it for two audience groups: your customers and the search algorithms. The customers are the easier part to crack, the latter is a little more complex because it retrieves information and forms patterns. Modern day search engines like Google are very intricate.
If you want to make your content rank highly, it is not easy, especially for high search volume keywords that signal and intent to make a purchase. You need to tailor your content in a way that includes keywords for every stage of the buying decision made by the user. Content that goes into blog posts and videos should be optimized for search so that users can easily find the information they are looking for. Here are the things you can keep in mind for cracking the complex modern search engines:
Use high quality keywords in your content that matches the user search intent
Write supporting content like blogs
Use on-page tactics to increase rankings. For this, structure your content with HTML in which you can use headings and subheadings that search engines can easily recognize.
Read More: How To Post on Pinterest?
7 Free Tools to Make Your Content Creation Tasks Easy in 2023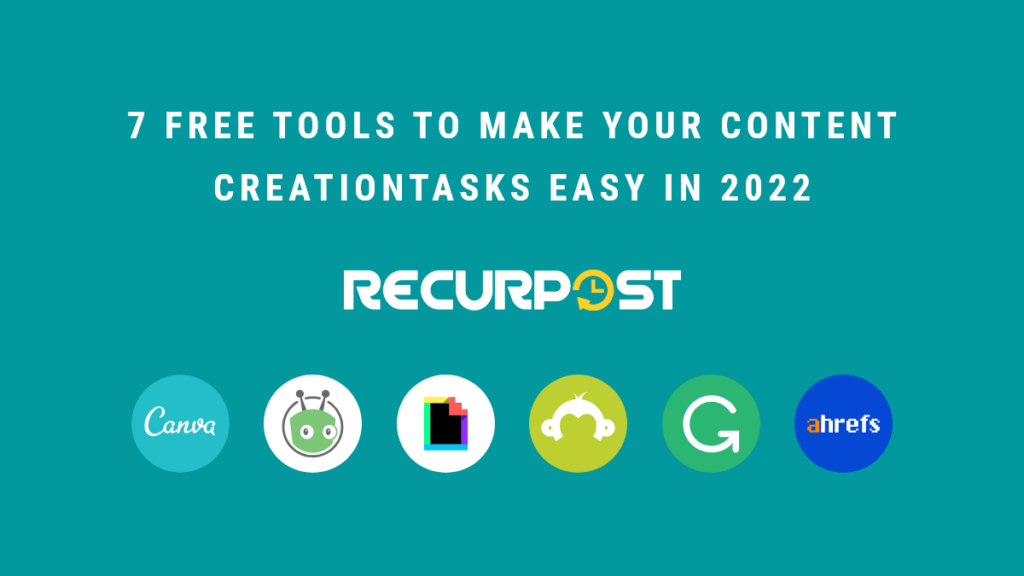 We read about how a CMS can help you manage your content better. But if you need help with creating better content and making your publishing tasks easy, there are many content creation tools in the market. So, if you lack the creative talents and do not have the resources to hire talent, you can take help from these tools to make successful content anyway.
1. RecurPost
It is the best social media scheduling and automation service in the market, without a doubt. RecurPost gives you cutting-edge content solutions that can be applied to all major social media platforms simultaneously. It has a 14-day free trial plan that you can use to see how it fits with your content marketing strategy with unique features such as social media bulk scheduling, white-label reports, URL shortening, & much more. The best part about it is that it facilitates content repurposing too. You can create and publish evergreen content with this app. Also, You can check how RecurPost happens to be one of the best post planner alternatives & free Hootsuite Alternatives with a detailed comparison.
2. Canva
This tool will let you create beautiful designs for any platform that you want. You can create everything from social ads to Facebook cover photos or infographics. The templates presented on Canva are aesthetically pleasing and can be customized in terms of colors, text, and images.
3. Vidyard
If you want to implement your video marketing strategy at the best cost point, use Vidyard. It is a video hosting platform made for marketers. You can customize your videos here by adding text, overlays, transcribing, and CTA buttons, and it has SEO features too.
4. Giphy
GIFs have replaced emojis as a completely routine form of communication, and therefore, has become a popular form of presenting content. GIPHY will let you search for millions of pre-created GIFs from their database. You can even create your own GIF with this app.
5. SurveyMonkey
Every good marketer knows the importance of creating surveys to get feedback from customers. SurveyMonkey is a leading platform to help with this very task. You can create and distribute survey forms with the help of this app.
6. Grammarly
This is a very helpful tool for a layman as well as an advanced content writer. Grammarly lets you put your content through a thorough scanner that will detect all the errors in your language, grammar, sentence formations, and even detect plagiarism. This tool is a must have.
7. Ahrefs
Need something for keywords too? We got you! Ahrefs is a full blown SEO software suite that includes tools for keywords research, rank tracking, link building, site audits, and competitor analysis.
Start Creating Content Today!
Now that you are equipped with a beginner's handbook to creating content that will perform, you must not wait and begin asap! The process of content creation is an interactive one and it pays off very well with your audience. 
Social media scheduling tools RecurPost can always prove to help with the process greatly.
With RecurPost, you can build a community on various networks by posting regularly and repeatedly. You can schedule Facebook posts on your profiles, pages, and groups. It enables you to schedule Instagram posts on your personal and business profiles.
RecurPost lets you schedule tweets and build a Twitter community of your business-specific people. It allows you to schedule LinkedIn posts on your personal and business pages and start conversations with professionals anywhere in the world.
RecurPost is a great Pinterest scheduler for enjoying the benefits of the visual platform. The tool enables you to schedule Google My Business posts with your choice of call to action button.
If you are a writer or a blogger who is looking to generate and auto-publish kickass content, sign up here.
Also, read about the RecurPost pricing plans for more details.
Frequently Asked Questions
1. What is a content creation example?
Content creation is all around us. Anything we consume in the form of print, videos, images, or graphics in general can be termed as content. For example, YouTube videos are content creation along with Instagram posts, newspaper print, radio and TV ads etc.
2. What type of content works best on Facebook?
Facebook is a massive social media platform and to be successful with content here, you need to know these 7 best performing post types:

User generated content
Funny posts
Giveaways
Live videos
Native videos
Current events
Inspiration quotes
3. What is video content creation?
Videos are the best way to connect with your customers, build long-term relationships, and generate strong customer loyalty. Video content creation is the concept of creating video content for different platforms. The key purpose of videos should align with your brand and should translate something meaningful to the audience.
4. How to learn content creation?
If you want to learn content creation for free and at your convenience, you can take up courses online. There are many platforms like Udemy, Coursera, Skillshare, and Edx that provide good quality courses on content creation.
5. How to select topics for content creation?
Selection of topics for content creation is an important step. This can be done by conducting a ground research on your audience's buyer persona. Once that is discovered, manual research on certain keywords and questions can be conducted. Topics for content creation can be built around this research.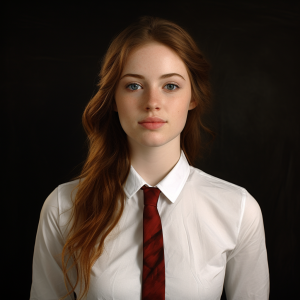 Debbie Moran is a Digital marketing strategist with 5+ years of experience producing advertising for brands and helping leaders showcase their brand to the correct audience. She has been a part of RecurPost since 2019 and handles all the activities required to grow our brand's online presence.