"Change is the only constant", said the famous Greek philosopher Heraclitus. We can't exactly say what things he referred to while writing this, but Facebook updates were definitely one of them!
2020 is coming to an end, and we are going crazy about the updates that Facebook has made this entire year. Sometimes, the updates are a pure delight; sometimes, it causes outrage among Facebook users. In the next few minutes, you'll be taken through the roller coaster of all the 14 updates that Facebook launched in the last 3 months of 2020 (August, September, and October) and all major updates made in 2021.
Facebook updates of late 2020 and 2021 are fascinating and will help individuals, businesses, and marketers to use Facebook better. Also, if you are using Facebook for business, it is necessary that you focus on the content strategy.
Excited to see what's new? Let's get started with this blog by RecurPost, a social media scheduler, which also allows you to schedule Facebook posts.
Major Facebook Updates in 2021
1. Live audio rooms on Facebook
One thing which was in discussion for the longest is now finally out in the USA, the live audio rooms. The clubhouse has become a massive hit in the last few months and now Facebook has developed its live audio room which would act as a competitor to Clubhouse.
The Live audio room is quite similar to the clubhouse but has some added features. Live audio room on Facebook can accommodate 50 speakers and unlimited listeners. Public figures can have live audio rooms available and call their friends, family, and fans.
Any live audio room host can conduct a fundraiser campaign or any NGO donations in the room itself, where other speakers and listeners can donate directly. This new feature is still in the trial zone and has not been completely available to everyone.
2. Podcasts
Just like any other podcast featuring apps, Facebook has started its own. However it's not in the final stage yet, it's still experimenting and adding new features. Facebook has started with a few podcasts and is planning to expand in the coming time.
The initial podcast included creators like Joe Budden of The Joe Budden Podcast; "Jess Hilarious" of carefully Reckless from the Black Effect Podcast Network and iHeartRadio; Keltie Knight, Becca Tobin, and Jac Vanek of the Ladygang; and Nicklaus Matthews Okome of Side Hustle Pro. People can listen to the podcast while surfing Facebook using a mini player or full-screen player experience.
People can listen to the podcast even while their phone display is off, letting them multitask. They'll have access to share, comment, and react to varied types of podcasts. It is expected to have some additional features such as the ability to create short clips of a podcast, use captions, and much more.
3. Facebook Pay
Facebook Pay is a seamless and secure way to make payments on Facebook, Instagram, Messenger, and WhatsApp. It is super easy to use and offers some great deals on it. To set up Facebook Pay, you need to go to Facebook or Messenger and then go to Settings, select Facebook Pay, and enter your payment details.
You can use Facebook Pay for buying a product from a Facebook shop or donate it to some fundraiser being organized on Facebook or just to send money to your friend or family. If you are concerned about security, Facebook Pay has you covered there, you can use Pin or Biometric to keep your money safe and secure. Although this feature seems cool, it hasn't been made available in all countries yet.
Facebook updates in October 2020
1. Introduction of discount feature in FB shops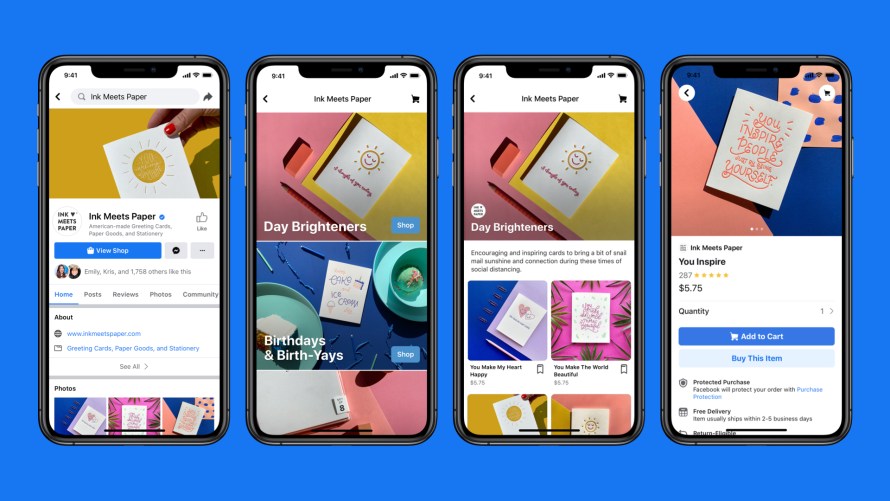 If you are the owner of a Facebook Shops, you can now give discounts to customers while they follow your digital storefront. Set individual items up for sale, build automatic discounts for eligible orders, or trigger promotion codes to level up your Facebook marketing. Discounts can also be extended to the entire store or to individual collections.
Whatever delicious discounts you give, you can let your consumers know about them by uploading a banner to your store. For now, this feature is only available for Facebook shops in the U.S., but if it is loved by everyone, expect the same updates soon in Shops around the world.
2. Facebook Messenger API now supports Instagram messaging
With this upgrade to the Messenger API, companies can now incorporate Instagram Messaging with a range of apps to make customer interactions more effective. Messages sent by customers via Instagram accounts, Stories, or Shops can now all be viewed (and answered) on a single platform.
This updated API is currently in beta version, which means that it is available to only a few businesses. But early findings have shown high response rates, faster resolution of customer queries and problems, and deeper insights related to the audience.
3. There's a new way to connect with groups and brands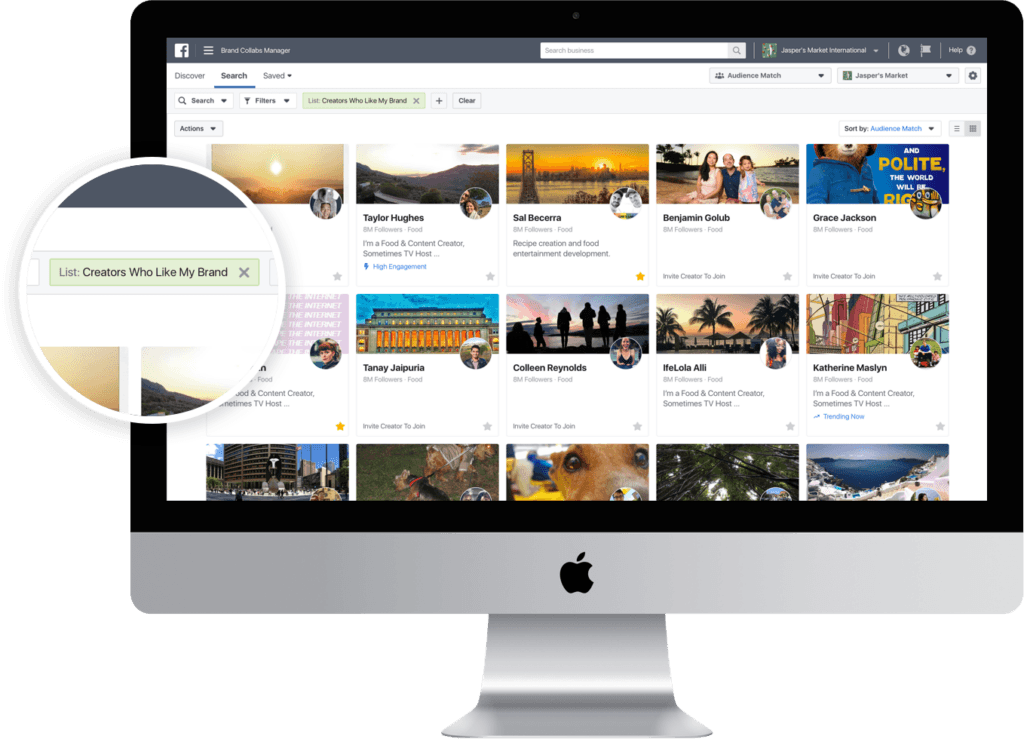 A group of people united behind a cause could be a wonderful thing, but how about a group of people united behind a cause who are getting support from a brand? Facebook is seeking to make this possible by extending its Brand Collabs Manager to include Public Groups.
The Brand Collabs tool is available since 2018. But it was previously used only to connect brands for paid product placement with creators and public figures, which is now available for public groups as well.
4. Canada and US get the prediction platform 'Forecast'
Wait. Did Facebook really announce that its users can predict the future? The new crowd-sourced 'Forecast' platform on Facebook allows users to gather answers to questions regarding companies, sports, (of course) politics, etc. The platform consists of what Facebook considers "a market for predictions". People can trade on future results using virtual points.
The prediction updates were released this Spring in beta and are now available via the Facebook app or website to everyone in Canada and the United States.
5. Facebook provides the 'Vanish mode' updates
Since Snapchat has been the pioneer of the disappearing messages from back in 2012, Facebook has been playing with its own technology. Now, these automatically deleted messages are readily available with Vanish Mode on Messenger. When you send a message in Vanish mode, it will self-destruct after reaching the view for maximum privacy.
Additional updates to your Facebook Messenger toolkit include new color gradients and personalized emoji reactions for your chat background. In order to use all these new updates, simply update the Facebook messenger app and get going!
6. Introduction of the oversight board
If your content is removed from Facebook and you feel that the reasons are unfair, you can now appeal to a board of real humans. A global panel of independent experts is the new Facebook Oversight Board, which takes binding judgments on select problems. It is somewhat like the Supreme Court, but for your Facebook account!
The Board's aim is to make decisions on freedom of expression and protection from the hands of Facebook in exceptional cases. On individual complaints of dubious content, the Board shall make binding, unbiased decisions.
Facebook updates in September 2020
7. Updates on forwarding limit on Facebook messenger
Finally, Facebook realized the horror caused by forwarded messages! To help battle the spam, it has set limits on the number of forwards you can make per message. Now you can forward one message to only five groups or individuals at a time.
This action could be a powerful measure to slow the spread of misinformation, particularly in times of pandemic crisis and so many major global elections. COVID-19 Community Portal and Voting Information Center on Facebook are two other ways that the organization seeks to become the voice of authority and mitigate conflict in the wake of these problems.
8. Facebook Campus launches for college students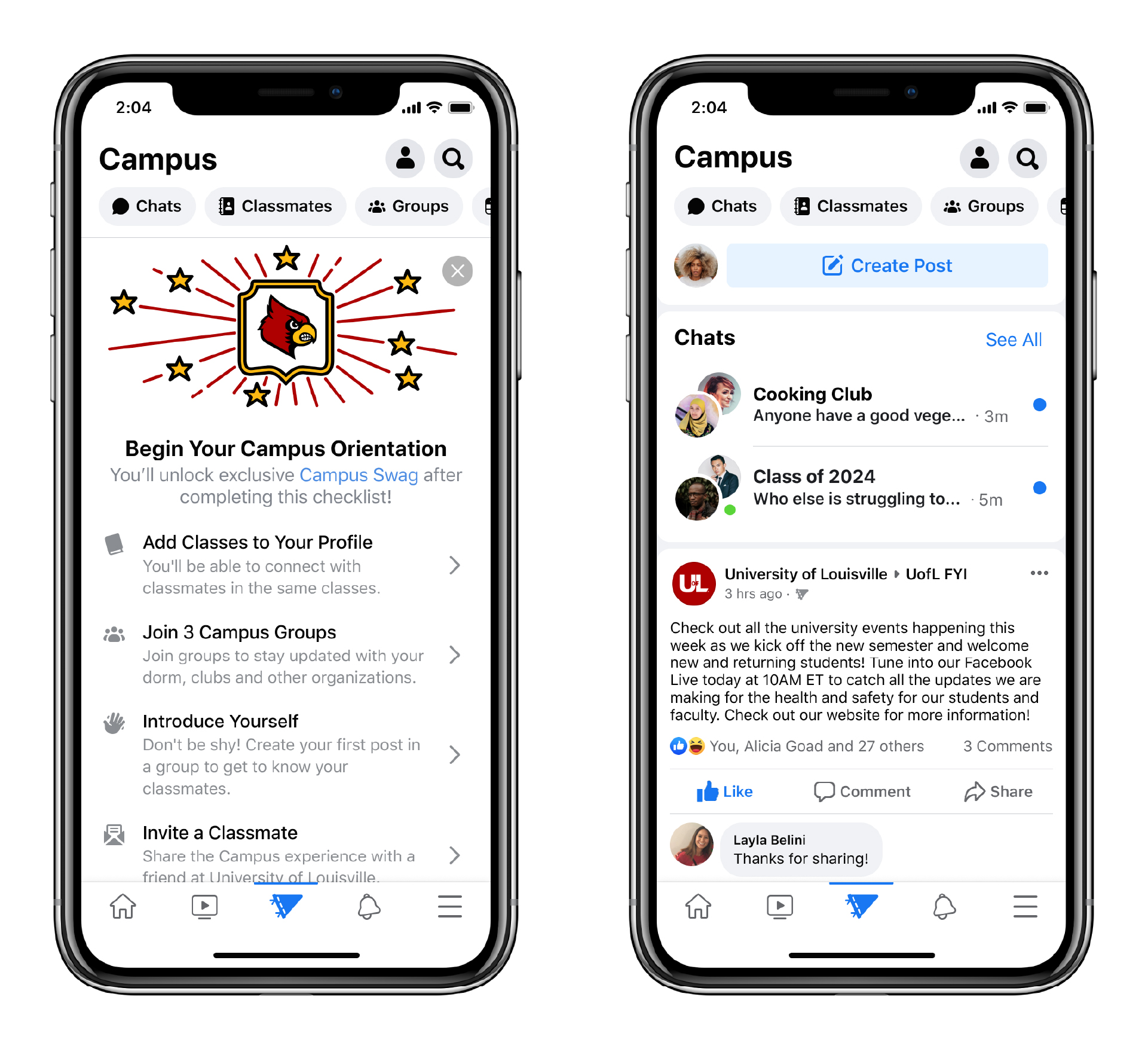 The campus is a new update of the Facebook app that provides a section for students to connect and communicate. For the ones who became a part of Facebook back in 2005, this might seem a bit familiar, as the platform was originally used by students itself. But apparently, times have changed and the demographics of people using FB have broadened.
At a time when so many university students are attending classes from home, the Facebook Campus will provide an opportunity to virtually interact with classmates through clubs and study groups.
9. Launch of Facebook business suite interface
Facebook has been striving to include solutions like Facebook Shops and targeted Facebook ads. In order to integrate these efforts, the Facebook Business Suite is introduced, an interface designed for business owners to control Facebook and Instagram accounts and profiles from one location, as well as messages for these networks, Messenger and Whatsapp. On the Facebook business suite, you can also find Insights for both Facebook and Instagram.
10. Improvements to safety features for Facebook Groups
Over the past year, Facebook has removed 12 million pieces of hate speech material from groups. It has also closed down more than one million groups. However, unfortunately, community standards appear to be broken on a daily basis in both public and private organizations, and the race to delete Facebook groups continues.
Therefore, Facebook recently announced some updates to keep the groups a safe place to have conversations. It doesn't allow repeat offenders to create new groups on the platform. Proactive detection can recommend admin positions to participants for active groups who have an admin step down or quit.
In order to prioritize credible health outlets, Facebook will no longer give recommendations to user-created health groups. Facebook seeks to limit the spread of violence-related groups by eliminating them from recommendations, banning them from searches, and soon reducing their content from News Feed.
Improvements to safety features for Facebook Groups have become a priority, considering the platform's vast user base. With a focus on user protection, Facebook has implemented enhanced moderation tools, content monitoring algorithms, and reporting mechanisms. Additionally, Facebook has introduced features like scheduled Facebook Group posts, allowing admins to manage and streamline content dissemination efficiently, promoting a safer and more organized group experience.
11. Rights Manager is now available for images
Copyright is a true minefield in the digital era. There have been countless incidents of creators' work being used and uploaded on the net without their consent. Let's hope that this latest iteration of Rights Manager in Creator Studio will help potential creators escape such a fate.
The system is intended to help image content on a scale by using image matching techniques to monitor unauthorized use across Facebook and Instagram. Page Admins may submit a request to use this feature to identify the misused content. Facebook also provides a fast IP reporting system and a repeat infringement policy.
Read More: How to Post on Instagram From PC?
Facebook updates in August 2020
12. Facebook updates online events
Obviously, the utility of Facebook's Events functionality has decreased in a pandemic. So Facebook has intelligently rotated its Events pages to help companies organize online events and make money. Business owners will be able to determine ticket prices, advertise their online event, receive payments, and host a virtual event, all from one page.
At this stage, Facebook isn't collecting fees for the tickets sold on the web or Android devices. This has stricken fear at the core of all other ticket booking and event platforms.
13. Facebook business pages get Diverse-owned business categories
Facebook gave $100 million as grants to Black-owned non-profits, entrepreneurs, and creators earlier this summer. Now, the dedication to boost Black voices expands with the latest Diverse Business labels for Business pages. This self-applied mark allows the Business Page to classify itself as Black-owned. It will allow users to easily locate it using the Nearby Business feature.
In order to be considered a diverse corporation, the organization must be at least 51 percent owned, managed, and regulated by one or more persons from a specified diversity category. The Diversity Categories updates will gradually be introduced to everyone. So keep checking if you do not yet see it in your Facebook page settings.
14. Facebook Messenger is taking over Instagram's Direct messages
The great messaging merge is here! Last year Facebook revealed plans to integrate WhatsApp, Facebook Messenger, and Instagram Direct messages. The move begins this month, with Messenger taking over the direct messaging tool of Instagram. When you update the app, the direct messaging logo of Instagram will be replaced by the logo of Messenger.
The merger will allow cross-communication amongst Facebook and Instagram users and will allow for emoji reactions and swipe-to-reply features.
What is Facebook's October 1 2020 update?
Facebook october 1 2020 update has been in the news for a while and the reason for that is change in their terms of service. In this new terms of service, Facebook holds the "authority to remove or restrict access to user's content, service or information if they feel that it's reasonably necessary to avoid or mitigate adverse legal or regulatory impact to Facebook." This section of Facebook's TOS also comprises agreement about who can and cannot use the social networking platform and things one is allowed to do on Facebook.
The notification for this update looks something like this: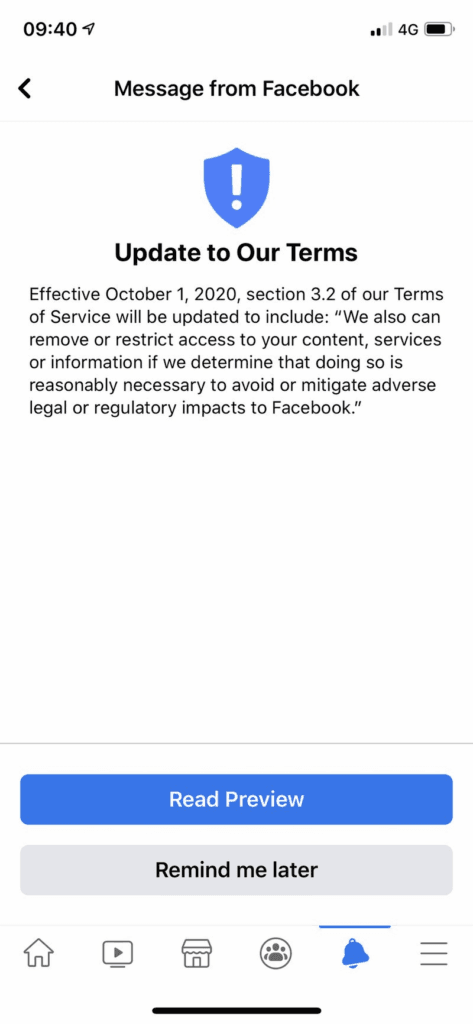 However, customers ain't happy with this new update, and some users have even lashed out their anger as they feel it's invading their freedom.
Final thoughts
All these updates are fascinating and will help individuals, businesses, and marketers to use Facebook better for book promotion or any promoting stuff. Also, if you are using Facebook for business, it is necessary that you focus on the content strategy.
Using a social media scheduling tool will help you plan, edit, and let you know how to schedule Facebook posts easily. RecurPost is one such tool that provides a Free Facebook Post scheduler. Using it, you can upload content in bulk with social media bulk scheduling and secret recurring schedules.
In addition to Facebook, RecurPost allows you to share reels and stories showing your customer's success journey. It lets you schedule Instagram posts on your business and personal profiles using the tool to make it possible.
With RecurPost, you can schedule LinkedIn posts on your company and personal pages to communicate with global leaders who belong to your niche. It is also possible to schedule tweets with variations using RecurPost.
Using the tool, you can schedule Google My Business posts with a call to action button to stay on the top of Google ranking for the local search. RecurPost is among the rare social media tools that offer to post on GMB. It is also a great Pinterest scheduler for engaging your audience through images and infographics.
It will also detect your unique best time to post on Facebook and automatically upload posts at that time! This makes it one of the most desirable free Hootsuite Alternatives and Crowdfire alternatives in the market.
So, what are you waiting for? While you get access to all the above-mentioned Facebook updates, start planning and growing your profiles, pages, and groups with all Facebook publishing tools! Click here to sign up for RecurPost's free 14-day trial now.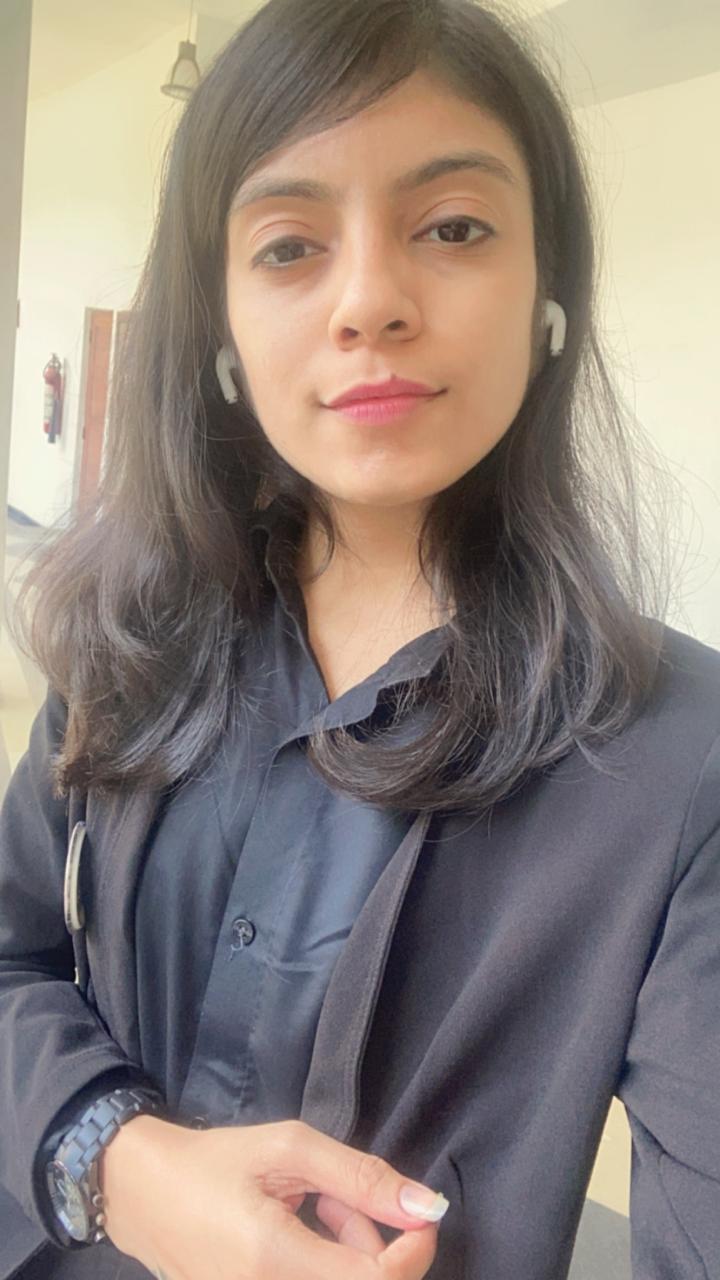 Amaiya Rathi is a Senior Content Writer at RecurPost. She helps RecurPost communicate with their readers in their own language. Whether it is the web copy, social media posts or blogs, Amaiya has worked on all aspects of copywriting. You can reach out to her at [email protected].