When it comes to social media management, finding the right tool can make a significant difference in streamlining your content creation and engagement processes. If you've searched for "Crowdfire" on a search engine, you're in luck! Crowdfire is a popular social media management software designed to help content creators like you effectively manage their online presence.
In this article, we'll delve into the features, pros, and cons of Crowdfire and show you why RecurPost is the ultimate tool for social media management.
Crowdfire is Suitable For: Individuals, content creators, small businesses, entrepreneurs, and social media managers.
Crowdfire Ratings
Crowdfire is frequently considered among the top choices for social media management tools by businesses. However, the market offers numerous alternatives that boast superior features at competitive prices. One such noteworthy alternative is RecurPost, which has consistently proven itself as the ultimate Crowdfire alternative.
RecurPost sets itself apart by offering an array of features that Crowdfire lacks. With RecurPost, you gain access to recurring schedules, content categorization, tweet variations, an AI content assistant, Google alerts, URL shortener, and an extensive list of other valuable functionalities that enhance your social media management experience.
Below is a table rating the features of Crowdfire and RecurPost:
| Features | Crowdfire | RecurPost |
| --- | --- | --- |
| Meets Requirements | 7.9 | 9 |
| Ease of Use | 8.7 | 9.2 |
| Ease of Setup | 8.8 | 9.1 |
| Ease of Admin | 9 | 9.7 |
| Quality of Support | 8.1 | 8.3 |
| Product Direction | 7.3 | 9.5 |
| Pricing | 7.48 | 8.1 |
Crowdfire user ratings compared with RecurPost
Crowdfire Reviews
Positive Reviews
Easy to use, makes good recommendations, can link to most popular social media accounts. The abilities to track your followings/followers accurately and schedule postings are a must-have should you want to grow and manage your profile in the current rush of social media and IoT.

~ Nathaniel C. (Capterra link)
Crowdfire allows you to create brand posts and schedule them to post automatically later at the set/scheduled time.You can customize brands to be posted on all your social media channels than creating an individual post for each platform.

~ Doreen N. (Capterra link)
Crowdfire has excellent post scheduling and I love the fact that their best time option is very very effective in driving more engagement for a brand than any other. This feature is better utilized at Crowdfire than anywhere else. I love that posts are adjusted according to the platform type and I love that the AI does that for you. Their posts end up looking aesthetically pleasing. I love that they give you content to post so that even when you don't have content on hand, you have a place to start and I love that they do the posting really really fast and at the best time. Crowdfire's analytics roll in really quickly and they're pretty pretty accurate.

~ Amanda B. (Capterra link)
1.Allows scheduling of posts on major social networks 2. Provides you with a plethora of options of what to post as per the social network(based on your existing content as well as choices) 3. Enables Community Building and communication with fellow Creators by showing shareable content you'd likely be interested in 4. Simple UI and a good to use app(has one of the most simplified interface I've come across) 5. Gamification to ensure consistency remains on the table.

~ Akshay A. (Capterra link)
Crowdfire is particularly useful if you run lots of social media accounts as it can streamline your operations and keep your timelines fresh, both with curated content and content of your own. There's a good range of features, including scheduling for posts.

~ Ben T. (Capterra link)
Negative Reviews
There are number of quirks and features that fall short. The overlay for the Chrome extension requires at least three clicks to choose a social network and then choose a time to post. There's no queue in the free tier as there is in every other tool I've tried. If you change your mind, it's not immediately apparent how to remove the post from a particular network. You have to add another post, even if you don't want to post there, untick the checkbox in the resulting popup and then click done. Not ideal to say the least. There's no preview of what will post in the extension overlay, so whether or not the extension succeeded in grabbing an image can only be confirmed after the post was shared. The suggested content so far has not been very helpful and the suggested images weren't relevant at all. Fairly useless features really. Content Gems is better but a pro should do her own research and use a feed reader to curate manually. I have yet to find an automated curation tool that works very well. The dashboard is clean but confusing in how features are organized: There's leftside navigation and also top menu navigation with completely different features and terms. Certain terms are unclear as to what they mean in context. The Manage menu item, for instance, is the third term in the top menu and is where you'll find 11 different features basic to social media management. I kept forgetting that that's where they were located.

~ Rick P. (Capterra link)
LinkedIn Scheduling is useless. You can't upload a video or tag others. They claim to offer this feature but didn't work and support didn't help.

~ Andoni S. (Capterra link)
They took a lot of the convenient features away, even though you would upgrade to a paid account to have these features. (for instance, they put caps on how many accounts you could follow or unfollow) this was EXTREMELY annoying. When autorenewal came around they did not send any notification that you had an auto renewal coming and they raised their prices too. I have no problem with programs raising their prices, but you should be able to cancel your account before getting charged ridiculous amounts of money when all they have done is take things away.

~ Todd G. (Capterra link)
I purchased the software plan for the sole purpose of using its Instagram features. Unfortunately, most of the beneficial features, such as insights, had been disabled and were no longer useful. Additionally, you have to have the app to post to Instagram unlike Hootsuite, Coschedule and other social media management software. I also disliked that when you log into the Instagram feature, you virtually see nothing. You don't have access to your timeline. You can't see follow/unfollow information, and the software is pointless for the Instagram platform. There are simply much better options out there.

~ Dawn M. (Capterra link)
Crowdfire: Pros and Cons
Pros
Efficient Content Scheduling:
Crowdfire excels in simplifying the process of scheduling and publishing content across multiple social media platforms. With its intuitive interface, you can plan and organize your posts in advance, ensuring a consistent and timely presence on various networks. By eliminating the need for manual posting, Crowdfire saves you valuable time and effort.
Bulk Scheduling:
In addition to individual post scheduling, Crowdfire offers the convenient option of bulk scheduling. This feature allows you to upload and schedule multiple posts simultaneously, making it especially useful for content creators who want to plan their social media presence in advance. With just a few clicks, you can schedule an entire week or month's worth of content, streamlining your content management process.
Cross-Platform Compatibility:
Crowdfire supports integration with a wide range of popular social media networks, including Facebook, Instagram, Pinterest, and LinkedIn. This cross-platform compatibility enables you to engage with your audience across multiple channels, ensuring maximum reach and visibility for your content. With Crowdfire, you can easily tailor your posts for different platforms and connect with your followers wherever they may be.
Integration with RSS Feeds:
Crowdfire offers seamless integration with RSS feeds, allowing you to automate content curation from your favorite sources. By connecting your preferred blogs, websites, or news outlets, you can effortlessly discover and share relevant articles, blog posts, or news updates with your audience. This integration ensures a steady flow of quality content on your social media profiles, establishing your expertise and keeping your followers informed.
Social Inbox:
Crowdfire's social inbox feature provides a centralized location for managing and responding to messages, comments, and interactions from multiple social media platforms. Instead of switching between different apps or platforms, you can conveniently access and monitor your social media conversations in one place. This streamlined approach saves you time and ensures that you never miss an important message or engagement opportunity with your audience.
Cons
Limited Team Management:
One of the drawbacks of Crowdfire is its limited team management capabilities. If you work in a team or collaborate with others on your social media strategy, you may find Crowdfire's features for team collaboration and communication to be lacking. The tool doesn't provide robust options for assigning tasks, managing permissions, or facilitating seamless collaboration among team members.
Lack of AI Content Generation:
Unlike some other social media management tools, Crowdfire does not offer AI-powered content generation capabilities. This means that you'll need to create or curate content manually, which can be time-consuming, especially if you're managing multiple social media accounts or aiming for frequent posting. The absence of AI-generated content suggestions or creation tools may limit your efficiency and creativity in content production.
Higher Pricing:
Crowdfire's pricing plans may be relatively higher compared to some competitors in the market. While the tool offers useful features, the cost may be a consideration, particularly for individuals or small businesses with budget constraints. It's important to evaluate the features and value you receive against the pricing to ensure it aligns with your specific needs and financial considerations.
Limited Analytics and Reporting:
Although Crowdfire provides some analytics and reporting functionalities, they may not be as comprehensive as those offered by other social media management tools. The depth of insights and data visualization options might be limited. This makes it challenging to track and analyze the performance of your social media efforts in detail. This can hinder your ability to make data-driven decisions and optimize your strategies effectively.
No Advanced Features:
Crowdfire lacks certain advanced features that are increasingly sought after in social media management tools. For example, it doesn't offer features like advanced audience targeting, competitor analysis, or influencer identification. These features can provide valuable insights and help you refine your social media strategy. This will help reach your target audience more effectively and stay ahead of the competition.
Crowdfire Pricing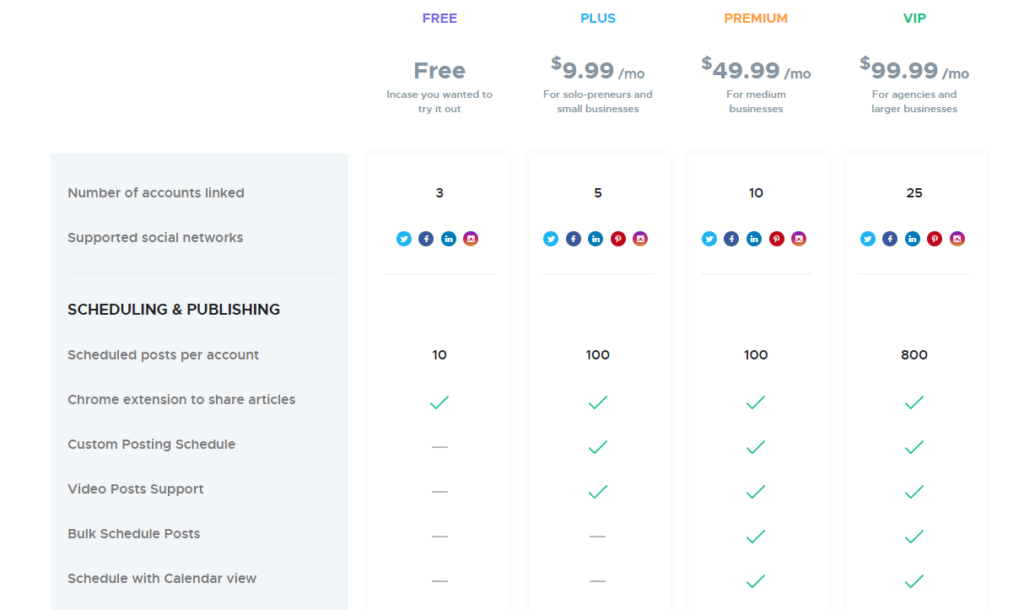 Crowdfire offers three pricing plans to accommodate different user needs: Plus, Premium, and VIP. The Plus plan is priced at $9.99 per month, providing essential features for individuals or small businesses looking to manage their social media presence effectively. With the Plus plan, you can schedule and publish posts, curate content, and access basic analytics to track your performance.
Crowdfire's Premium plan, priced at $49.99/month, offers advanced features like analytics, competitor analysis, custom posting schedules, and priority support. Gain deeper insights and optimize your social media strategies for better results.
For larger-scale or enterprise-level needs, Crowdfire's VIP plan at $99.99/month includes all Plus and Premium features, with extras such as white-label reports, team collaboration, and dedicated account support. Ideal for businesses managing multiple accounts, it provides advanced functionality for efficient social media management.
Price Comparison
When comparing the pricing plans of RecurPost and Crowdfire, it becomes evident why RecurPost stands out as a superior choice. RecurPost's plans start at $25 per month, providing a robust set of features at a competitive price. Here's a comparison of the pricing plans for both tools:
| Features | RecurPost | Crowdfire |
| --- | --- | --- |
| Basic plan | $25/month (5 social profiles) | $9.99/month (5 social profiles) |
| Advanced plan | $79/month (20 social profiles) | $99.99/month (25 social profiles) |
| AI Content Generation | Yes | No |
| Advanced Analytics | Yes | No |
| Team Management | Yes | Limited |
Crowdfire Features
Content Curation Suggestions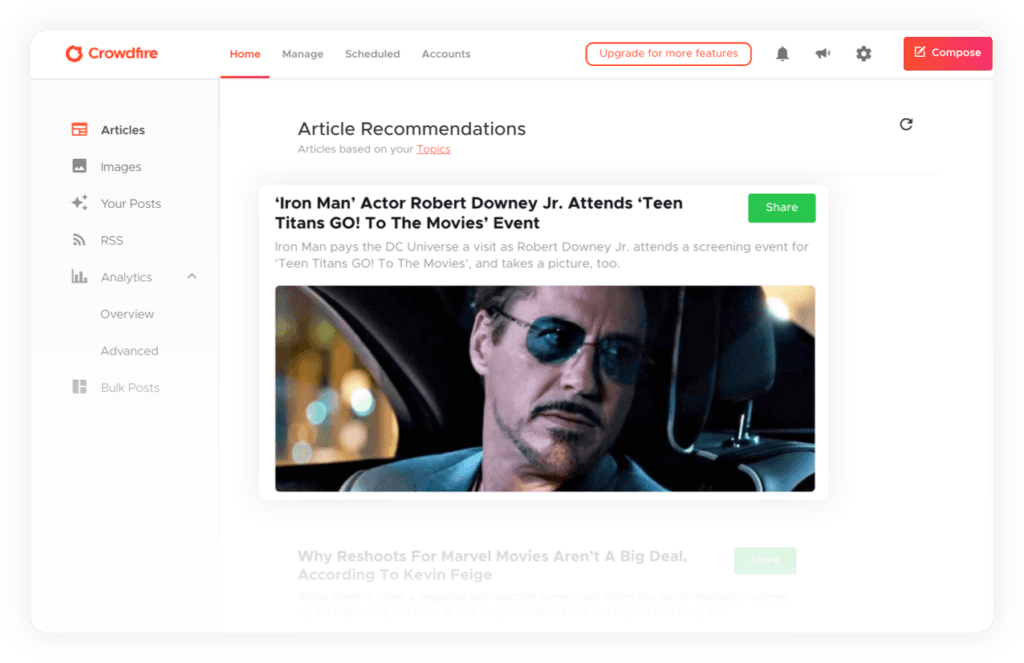 Crowdfire's content curation feature takes the guesswork out of finding and sharing valuable content with your followers. Through intelligent algorithms and machine learning, Crowdfire provides personalized content recommendations based on your interests and industry. It scours the web to find articles, blog posts, videos, or images that are relevant to your niche.
Crowdfire suggests high-quality content aligned with your brand's voice and values.
It streamlines your content curation efforts and maintains consistent engagement with your audience.
Hashtag Recommendations
Hashtags are essential for increasing the discoverability and reach of your social media posts. Crowdfire's hashtag recommendation feature analyzes trends and suggests effective hashtags based on popular topics and keywords. It helps optimize your content reach.
Incorporate recommended hashtags to expand reach, attract followers, and improve engagement with your audience. This feature saves you time and ensures you use the right hashtags. It maximizes the impact of your social media efforts with ease.
Mentions and Insights Tracking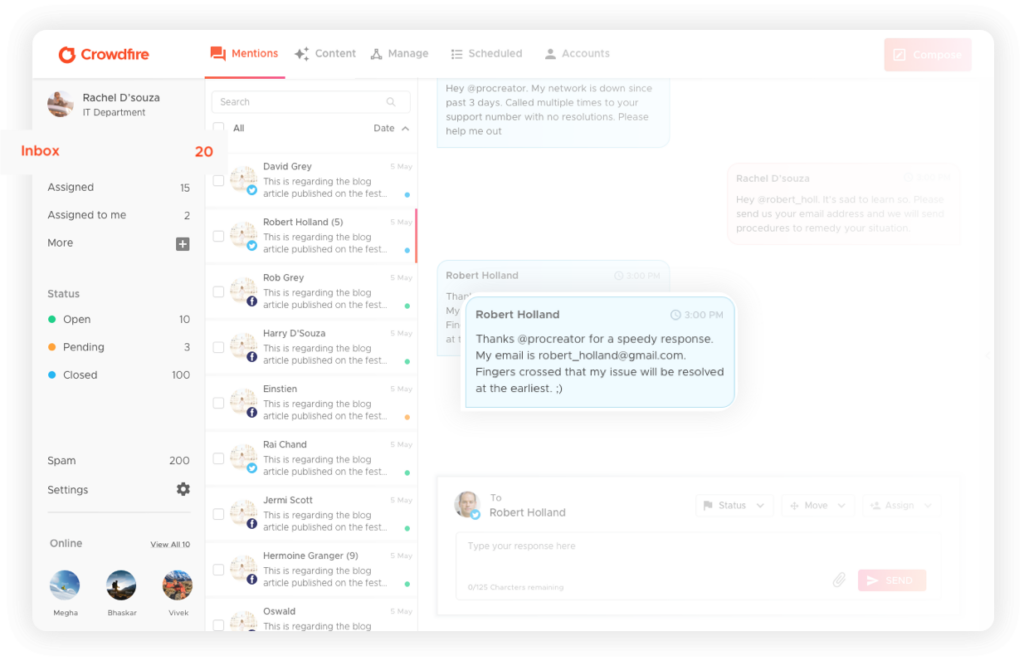 With Crowdfire, you can track and analyze your brand's mentions, engagement metrics, and overall social media performance. The tool provides detailed insights and analytics that help you understand how your audience is interacting with your content. By monitoring metrics such as likes, comments, shares, and follower growth, you can gain a better understanding of what content resonates most with your audience and make data-driven decisions to optimize your social media strategy. Track campaign performance, measure effectiveness, and adjust as needed with this feature.
Social Media Listening
Crowdfire's social media listening feature goes beyond simply scheduling and publishing content. It allows you to monitor conversations and mentions across various social media platforms, including Twitter, Facebook, and Instagram. By keeping track of what people are saying about your brand, industry, or relevant topics, you gain valuable insights into the sentiment and feedback surrounding your business. This enables you to engage with your audience, address any concerns or questions promptly, and identify opportunities for collaboration or partnerships.
Customizable Reporting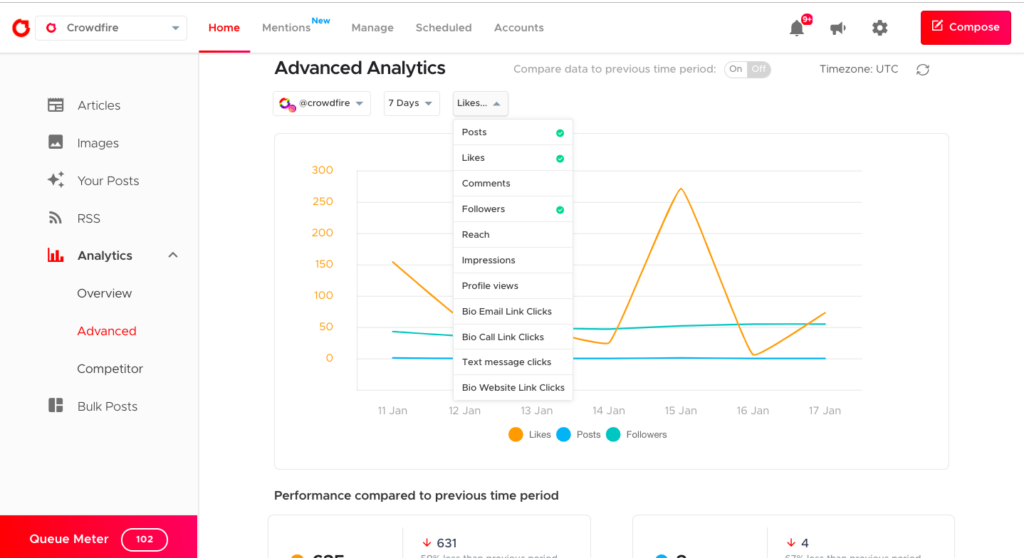 Crowdfire's customizable reporting feature empowers you to create comprehensive reports on your social media performance. Customize reports with chosen metrics, timeframes, and styles for objectives and stakeholders' needs. Whether you're preparing reports for your team, management, or clients, Crowdfire's reporting functionality enables you to showcase your social media results effectively. Visually display metrics, trends, and growth to showcase social media impact and identify success/improvement areas.
Conclusion
While Crowdfire offers valuable features for social media management, RecurPost emerges as the ultimate tool for content creators. With RecurPost, you'll enjoy superior ease of use, advanced analytics, AI content generation, and comprehensive team management capabilities. Moreover, RecurPost's competitive pricing plans provide excellent value for your investment.
Simplify your social media management and elevate your content creation process by choosing RecurPost as your go-to social media management tool. Experience the difference today by taking the free trial!
Frequently Asked Questions
1. Which platforms does Crowdfire support?
Crowfire provides scheduling support for Twitter, Facebook, LinkedIn, Instagram, and Pinterest.
2. What is the use of Crowdfire?
Crowdfire is used for social media management and growth, including scheduling posts and analyzing audience engagement.
3. What is the key feature of Crowdfire?
The key feature of Crowdfire is its ability to schedule and automate social media posts across multiple platforms.
4. Is Crowdfire worth it?
While Crowdfire provides valuable functionalities, enterprises and agencies can explore more budget-friendly social media management tools like RecurPost, which offer similar features at a lower cost.
5. Which is the best Crowdfire alternative?
Seeking an excellent Later alternative? Consider RecurPost, with budget-friendly rates, centralized multi-account management, and an impressive feature set – all available for exploration during the free trial.