Social media and healthcare may not sound like a great combination, but they go hand in hand these days. It is a powerful combination when you use it correctly with a scheduling tool that works perfectly to post stuff online using a social media scheduler. The World Health Organization has more than 12 million followers on Facebook. This shows that more and more people are consuming healthcare-related information on social media.
Thus, creating a social media marketing strategy can help the healthcare industry reach more people and spread the correct information. Below, we at RecurPost, have listed 13 things that you can do to stay in touch with your patients and hook them to your social profiles by providing the best and most authentic information.
13 ways to use Social media in Healthcare
1. Answer common questions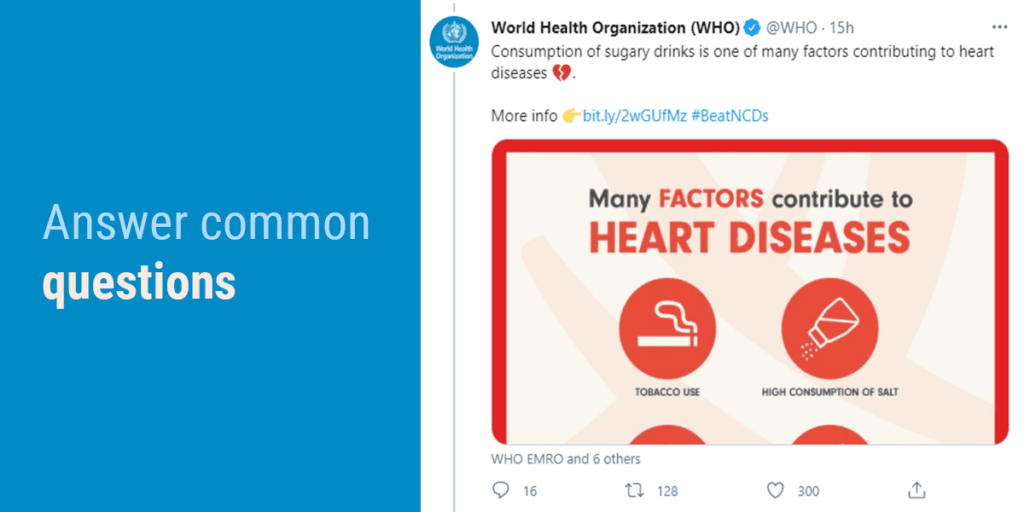 You might have realized during the Covid-19 that people have a lot of common questions, for which they seek answers on the web. And who's a valuable source of information other than health organizations and healthcare professionals?
WHO keeps updating its followers by giving out relevant information related to the questions that people might have in their minds. The government of India uses chatbots to provide answers to common questions and provide people with the right resources on Facebook messenger.
2. Raise awareness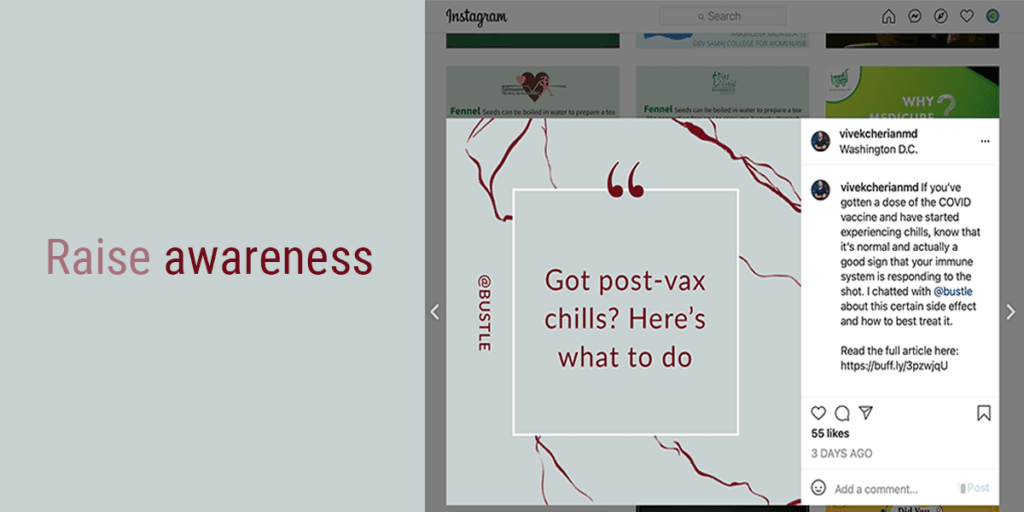 Social media is the perfect place for the healthcare industry to spread awareness regarding the ongoing as well as emerging health concerns. Social media demands healthcare professionals to put out reliable and authoritative information on immunizations, ebola, therapy, flu virus, and more.
Raising awareness doesn't always have to be related to a health crisis or during a pandemic. It can be as simple as reminding people of basic health practices or addressing common healthy living concerns. Provide people with info related to the latest issues and guidelines related to them. Direct people to other credible sources of information that you find. Share links to helpful articles as tweets or FB posts.
3. Combat misinformation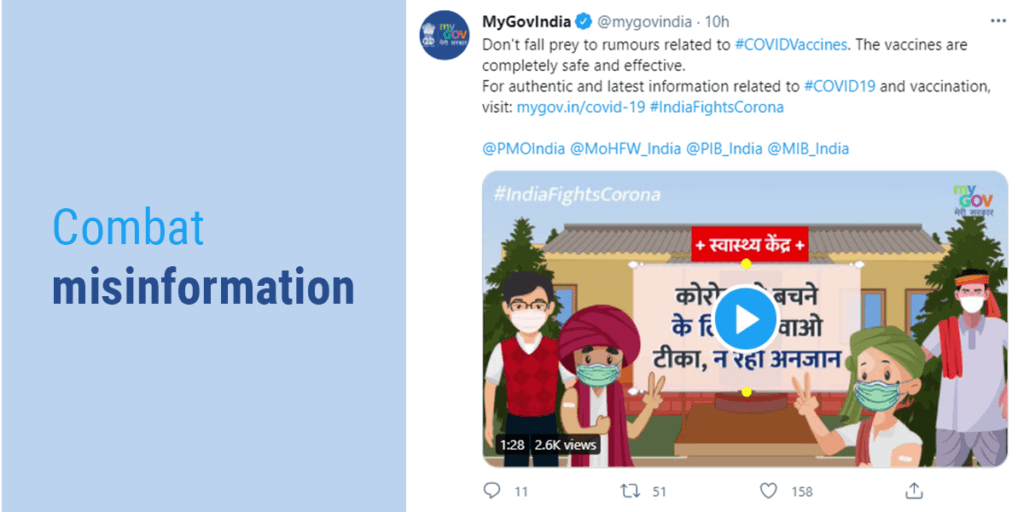 When it comes to social media and healthcare, the elephant in the room is definitely misinformation. Social media holds the power to make any piece of content viral overnight. Now, this is great when the information is true, reliable, and given by trusted healthcare professionals.
However, if it is not fact-checked, it can harm huge masses of people. And unfortunately, social media is full of misinformation. Sometimes, you can easily know whether the info is authentic or not and easily debunk it.
But, sometimes the disseminators of misinformation use reputed health organizations' names, and people trust it without verifying. So, provide people with reliable information regularly and help them stay away from false information.
4. Educate and share valuable content
As we already said above, tens of thousands of people use social media to consume health-related information. To engage with people, you need to continuously educate them by providing valuable content. The information needs to be credible and true, of course. But, you can adopt creative and fun ways to showcase it, if it goes well with your brand image.
Whether it is through blog post ideas, videos, or infographics – anything that you do to provide real information to your followers can work wonders. It will help them stay away from the danger of self-diagnosis and treatments given by Dr. Google!
5. Automate the right way
Being in the healthcare industry, it is a fact that you won't get much time to sit and post every day on multiple social media handles. That's where automation can help. All your posts do not have to be uploaded in real-time. Scheduling pre-approved content in advance will save lots of time and keep your account active even outside of office hours.
Social media scheduling tools like RecurPost will help you schedule your posts in advance on all major social media channels. It's one of the most trusted Meetedgar alternatives and the best free Hootsuite alternatives out there. It will also help you in repurposing content. This will give you time to engage with your followers, reply to their comments and DMs, and create posts for any urgent real-time news.
Using RecurPost, you can schedule Facebook posts on Facebook personal profiles, business pages, and groups, schedule Instagram posts on Instagram personal and business profiles, and schedule LinkedIn posts on personal profiles and company pages easily.
With RecurPost being a great Pinterest scheduler, you can easily schedule pins to attract users to your website. You can create variations of Twitter posts, allowing users to schedule tweets with the same content multiple times against its policy. Also, if you have a GMB listing, RecurPost lets you schedule Google my business posts with the CTA of your choice. You can schedule posts on your GMB profiles to promote your brand on Google and rank for local searches.
6. Help patients feel more comfortable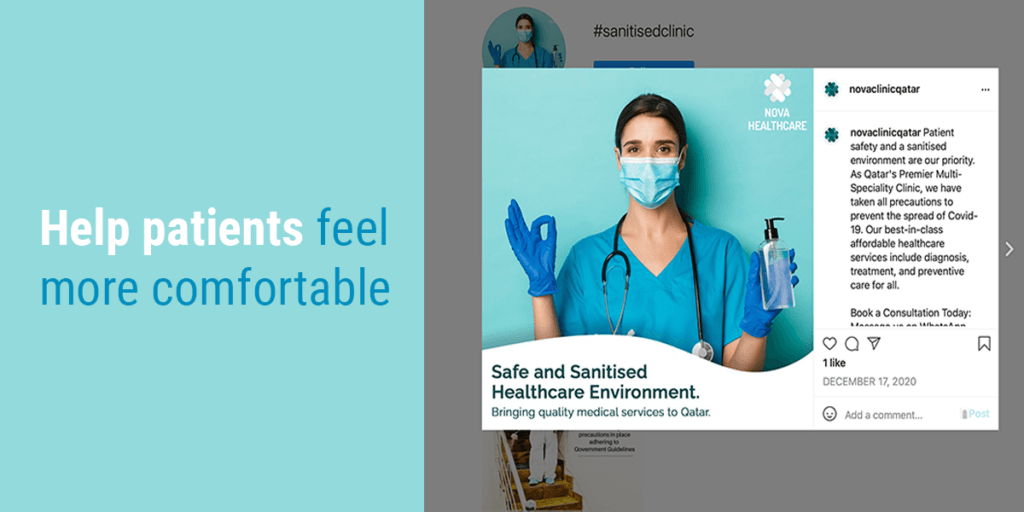 Most people are afraid of visiting a doctor. Something as simple as a regular health checkup can be daunting for people. And for someone who has to undergo a more tough diagnosis, the anxiety is even higher. Thus, when it comes to treating patients, you need to be empathetic.
Through social media, you can show people the measures you take to make patients feel at home in their time of need. This will help them become comfortable with you even before visiting your clinic. They will already know what to expect when they visit you. It will also increase the number of people who will prefer your services over others. Furthermore, by incorporating innovative approaches such as telemedicine and outsourcing healthcare solutions, you can extend your reach and cater to a wider audience, ensuring that patients receive the care they need, regardless of their physical location.
7. Post inspirational content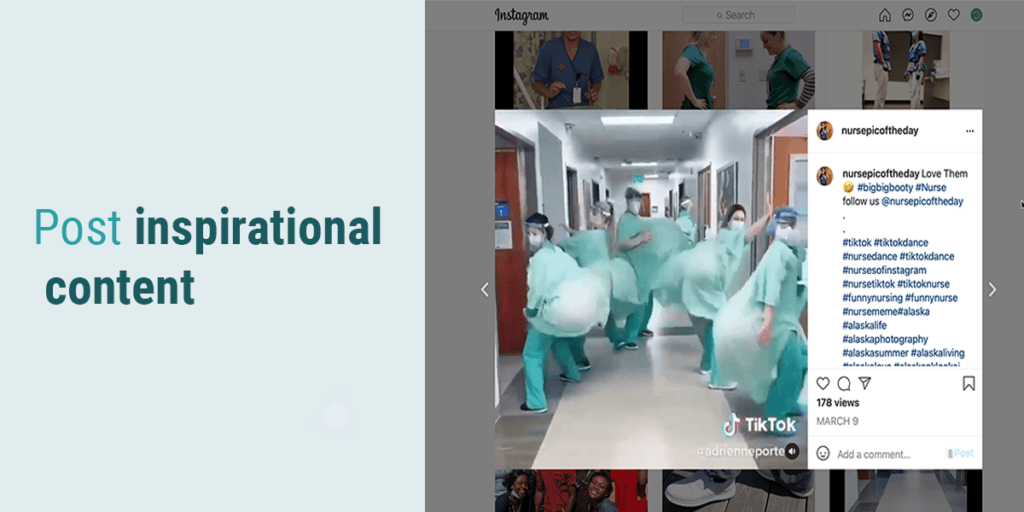 During the Covid-19 pandemic, we have all come across inspiring videos from online doctors and other health care professionals on social media. We have seen them dancing and singing in the wards, cheering patients up, and motivating people to stay positive.
Share tips and little hacks that they can execute from their homes to stay healthy. Help them get rid of habits that can be harmful to their bodies. You can share the success stories of your patients and promote your own digital marketing strategy videos to show how you can make a difference in people's lives through your services.
8. Take patients behind-the-scenes
No, behind-the-scenes content is not just for B2B businesses or the media industry. Highlighting your human side is important for all professionals, including healthcare professionals. Instagram stories are a great way to post behind-the-scenes content.
Obviously, you don't have to record doctors operating on a patient – a simple selfie of nurses taking their little time off or ward boys sanitizing a room after a patient discharges also makes for great content. These small glimpses of day-to-day activities can help make a personal connection and stay transparent with your followers.
9. Respond to comments and DMs quickly
Around 76% of people expect quick responses from businesses and social media for healthcare is no different. It is best to reply to comments and DMs within a day or a maximum of two. So, make sure to reply to each and every comment on your posts and every DM that you receive.
If they leave positive feedback, thank them. If they are looking for any information, provide them with credible sources. And if they leave a negative comment or review, try to solve it instead of ignoring or deleting it. Prompt actions and replies on comments and DMs will make your followers feel valued.
10. Post consistently, especially during a global crisis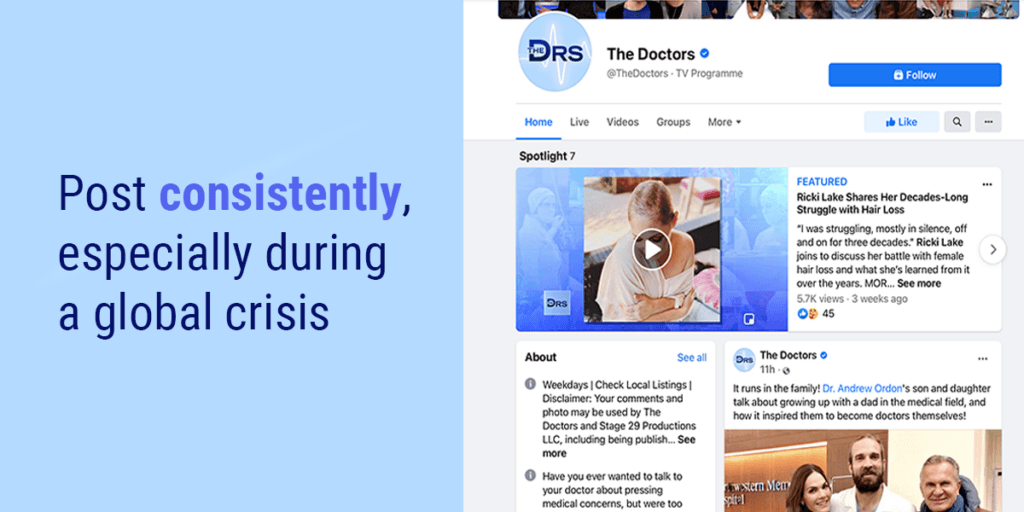 Like any other industry on social media, healthcare professionals also need to stay active and post consistently. There's no hard and fast rule about how many times you should post in a week, but the ideal frequency is – Every day on Instagram, Once in two days on Facebook, and 2-3 times a day on Twitter.
Since your followers' feeds are already flooded with a lot of posts from other people, you need to make sure that your posts don't get buried. Apart from this, in a time like this when the pandemic is going on, the healthcare industry needs to be more active and churn out more content to keep people updated.
11. Stay HIPAA compliant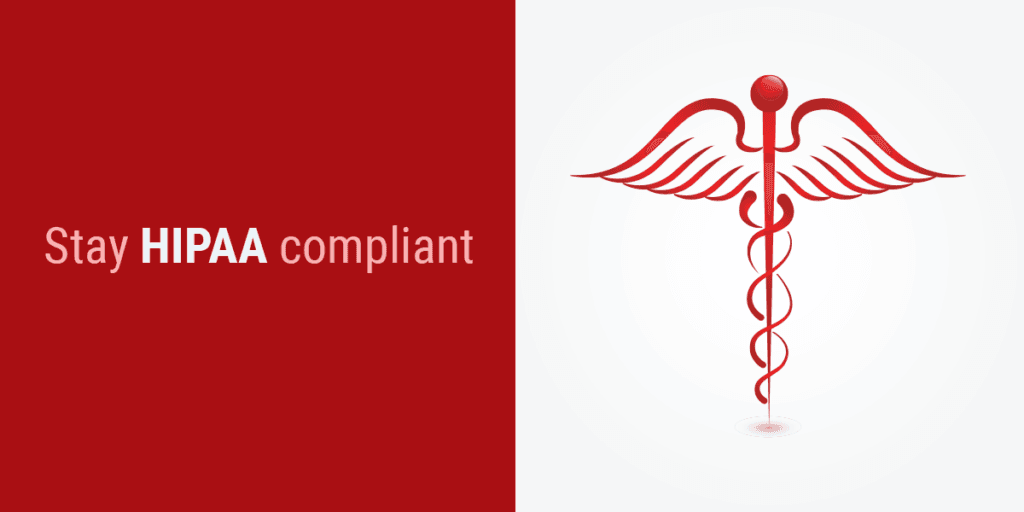 Health Insurance Portability and Accountability Act (HIPAA) is a federal law that requires the creation of national standards to protect sensitive patient health information from being disclosed without the patient's consent or knowledge. This means that you need to take special care while using patients' information which is sensitive in nature.
As you adopt a patient-first social media strategy, it is important to consider the confidentiality of the patients before using anything related to them such as images or testimonials, or doing video marketing.
12. Build a responsive healthcare website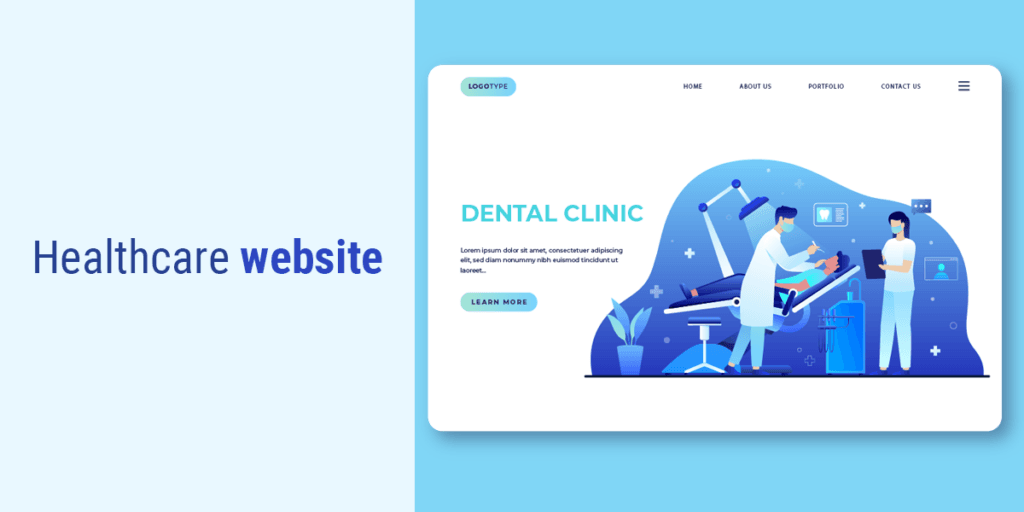 By building a responsive website, we mean creating a website that adjusts to the size of the screen that people are using and provides the same browsing experience whether the website is accessed using a computer, tablet, phone, or any other mobile device.
It is a must-have for every website today as it is something that search engines are looking for while crawling any site. It also decides how your website will be ranked. Google always prioritizes user experience, thus it will only rank websites that are responsive. If you already have a responsive website, make sure that your content and images load quickly.
13. Take feedback from patients
Patients only leave reviews in two cases – when they have received highly exceptional service or a poor one. Unless you ask for reviews, you will never get them. This makes you miss the opportunity to receive positive feedback from patients who were satisfied with their visit. Now it can be difficult for your front-office staff to collect feedback manually.
You can keep forms or keep a computer/tablet which they can use to rate the quality of service they received on a scale of 1-10. The people who rate higher can be asked to leave a review on your website or GMB listing. Promote positive reviews on your social media channels and take action to overcome the negative ones.
Want to launch your brand on social media? Read this guide to get started.
Conclusion
Now that you know about the ins and outs of social media in healthcare, start using it to your advantage, as social media is one of the best types of marketing you can implement for your organization. If you need help automating your social accounts, scheduling posts in advance, collaborating with your teams, and growing your accounts – RecurPost can help! Take the 14-day free trial to check it out now.
Frequently Asked Questions
1. How is social media used in healthcare?
The top ways in which the healthcare industry uses social media are:
– Share valuable information: Social media is used by healthcare organizations to provide credible and valuable information regarding immunizations, ebola, therapy, flu virus, and more.
– Combat misinformation: Social media is full of fake information. Healthcare professionals should help in controlling its spread by providing authentic information.
– Communicate in times of crisis: In times like Covid-19, healthcare professionals provide detailed information every day to help people stay aware and positive.
2. What are the advantages and disadvantages of social media in healthcare?
Advantages of using social media in healthcare:
– Large audience base: Around 3 billion people worldwide are using social media.
– Build relationships: 42% of adults want to stay connected with healthcare professionals on social media.
– Cost-effective marketing: Social media marketing is completely free and only requires investment for running ads
– Educate and promote health: Social media can be easily used to spread awareness and educate people on health-related topics.

Disadvantages of using social media in healthcare:
– Security risk: There's always a risk of patients' data being compromised.
– Misinformation: False information is 70% more likely to be reshared than the truth. This is a huge drawback of using social media in healthcare.
– Lack of control: There will be criticism and unrelated responses.
– Self-diagnosing: People try to self-diagnose using the internet instead of visiting a doctor.
3. What are the challenges of using social media in healthcare?
Below are the 4 major challenges of using social media in healthcare:
– Legal consequences: You need to stay compliant with the rules of HIPAA and if anything goes against it, you can face legal consequences.
– Damage to reputation: Everything on social media is not rainbows and butterflies. You can get called out for rude behavior, bad experiences, dishonesty, misinformation, etc.
– Low-quality information: As a healthcare professional, you need to combat low-quality and fake information which is already prevailing on the internet.
– Time-consuming: Social media will suck the time out of your work schedule. You will have to be always active and post continuously on multiple platforms.
4. What is the importance of social media in healthcare?
– Social media is now used widely by healthcare professionals to stay in touch with their patients and promote health. 
– The major importance is information dissemination. Healthcare organizations can share health tips, recommendations, and relevant news to the people.
– Positive relationships can be built with patients and consultation can be given online.
– You can promote healthy habits, combat misinformation, and provide people with fact-checked data through social media.
5. What is the role of social media in improving health education?
– Social media plays a huge role in spreading motivation and correct information during a health crisis like the Covid-19 pandemic. 
– People rely on social media to get news updates related to the healthcare industry. 
– Through social media, people get educated about things that they don't normally talk about with their parents.
– Healthcare professionals can point out little habits that can affect a lot on peoples' health and motivate them to do better.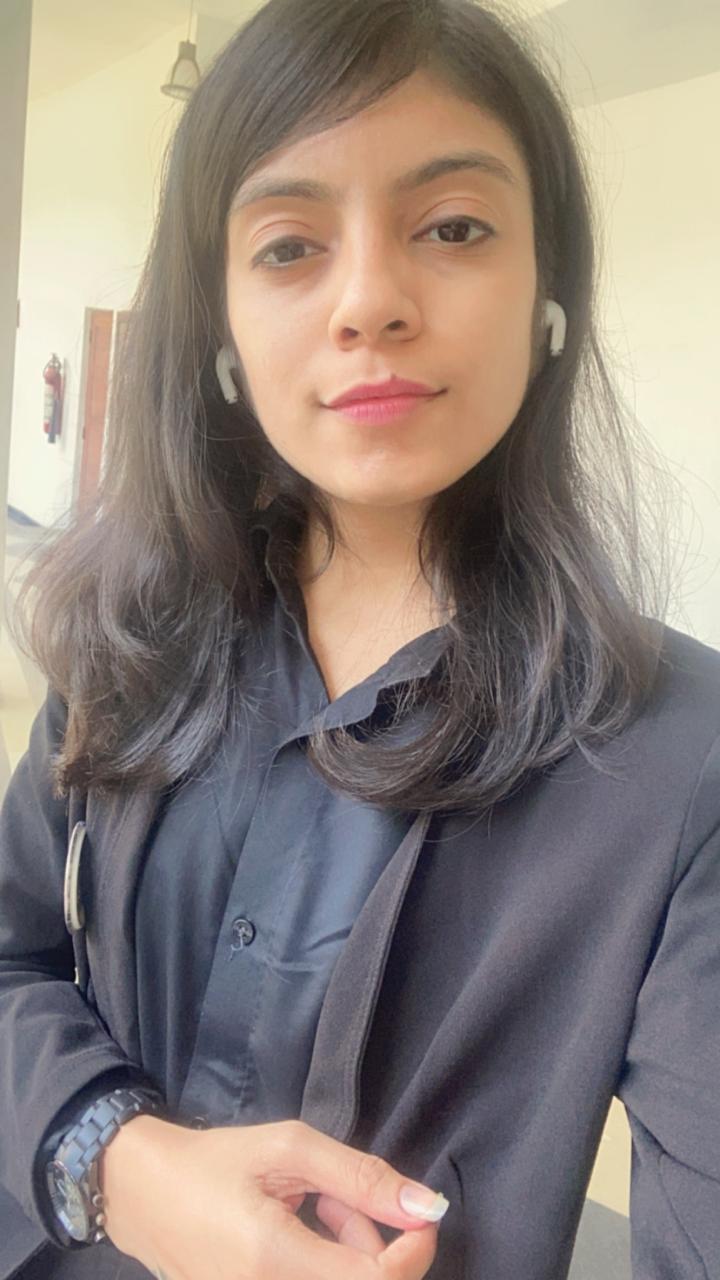 Amaiya Rathi is a Senior Content Writer at RecurPost. She helps RecurPost communicate with their readers in their own language. Whether it is the web copy, social media posts or blogs, Amaiya has worked on all aspects of copywriting. You can reach out to her at [email protected].