There can be numerous reasons behind the need for managing multiple Twitter accounts. If you are a social media manager, it is inevitable that you will be in charge of multiple Twitter accounts of your clients that you need to manage on a daily basis.
You might be a brand on social media that needs to create multiple accounts in order to support different objectives of your business on Twitter. Brands or organizations do not need to have an international presence in order to create multiple Twitter accounts.
When you have a huge audience, multiple products, or different departments with different goals; then you have to create more accounts to obtain relevant traffic from Twitter. You can schedule Tweets on all accounts to manage them effectively with social media scheduler.
Whatever your reason may be, you need a platform to manage all the Twitter accounts from a single interface instead of jumping from one account to another. You need a perfect strategy to manage, monitor, listen to, and respond to multiple Twitter accounts in a timely manner.
You need to monitor, listen, and respond to all the messages you receive without spending loads of time logging in and logging out on the platform. Thus, in this blog, we will show you how you can manage multiple Twitter accounts from your desktop as well as from your phone seamlessly.
Can I Have Multiple Twitter Accounts?
Yes, it is very much possible to have more than one Twitter account. There are multiple reasons why businesses would want to manage multiple Twitter accounts at once. They might want to have a dedicated channel or account for customer service. Sometimes the owner of a brand would have a personal account and a separate business account to maintain his/her personal brand. Knowing how to Use Twitter for Business can be a cherry on top. Multiple accounts on Twitter are also made if a brand wants to do regional tweeting or niche tweeting. You can manage all your accounts effortlessly with a social media scheduler, especially a tweet scheduler like RecurPost, and post on all social media at once.
How to Have Multiple Twitter Accounts
Twitter allows you to manage Twitter multi accounts straight from the site at the same time, but the limit is only 5! Thus, if you are in the need to look after more than 5 accounts together, you cannot do that from Twitter's platform itself. You will have to take the help of a social media scheduling tool in order to manage more accounts and level up your Twitter marketing strategy.
Hence, basically there are only 2 ways in which you can take care of multiple Twitter accounts:
From Twitter's platform (When you want to manage up to 5 accounts)

A social media scheduler / Twitter post scheduler (For more than 5 accounts)
Let's have a look at both the options one by one.
How to add multiple Twitter accounts with one phone number
On Twitter, you can have only one account attached to one phone number. In case you have a dual SIM device, you will have to choose one number to attach to your account. There is no option to have a Twitter account with two or more phone numbers.
How to Switch Twitter Accounts
Log in to any one of your Twitter accounts. While on the homepage, you will be able to see your profile name at the end of the menu on the left-hand side of the screen. Click on the arrow and a pop-up will appear. Select the option of 'Add an existing account'.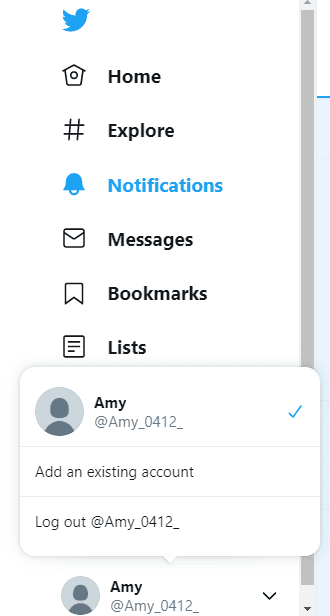 A pop-up window will appear asking you to fill your login credentials. Enter the Twitter handle/Phone/Email address and password for the account that you want to add.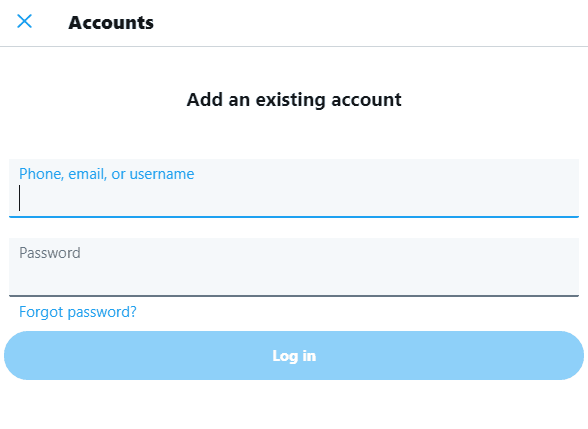 Now the newly added account's homepage will appear. Go to the left-hand side panel again and click on the username shown at the bottom of the screen. You will be able to see all the accounts and can switch between any of them. Repeat the same procedure for adding more accounts.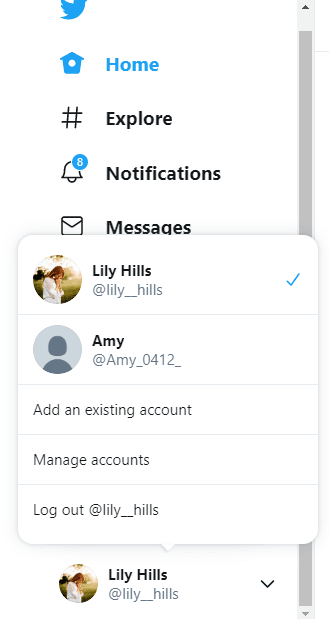 Read More: How to Get Twitter Followers?
Using a social media scheduling tool to manage multiple Twitter accounts
Tedious tasks require more effort to be done efficiently. Well, not always. To make your work super easy, you can use RecurPost, our social media management platform, to manage multiple accounts on Twitter app from a single dashboard. (Not only Twitter, but you can also manage other social platforms, such as Instagram, LinkedIn, Facebook, and GMB!)
Using the Twitter post scheduler provided by RecurPost, you can view, schedule, and post content on all your Twitter accounts from the same interface. So no more need to toggle between multiple Twitter accounts! Before committing to a plan, you can try out the tool free for 14-days and experience the features that it has to offer.
Now let's dive into the steps that you need to follow to make the most out of RecurPost and learn how to automate tweets.
Step 1: Getting Registered with RecurPost
The first step is obviously to register for an account. Go to www.recurpost.com. From the right-hand hand upper corner, click on the "Sign up" button.
On the next screen, RecurPost will ask you to fill in the following details:
Email Address

First name and Last name

Password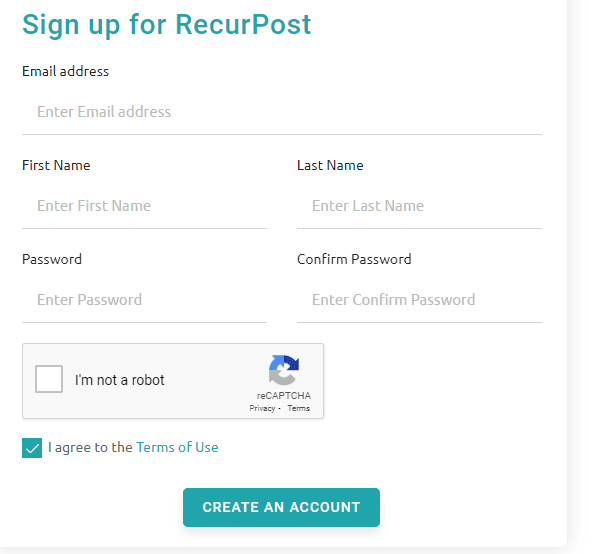 Click on 'Create an account' and that's it. You will be taken to the dashboard of your account.
Step 2: Connecting multiple Twitter accounts
On the left-hand side of your account's dashboard, there will be a panel from where you can connect social accounts. Select 'Connect Twitter' and a pop up will appear containing all the options of accounts that you can add.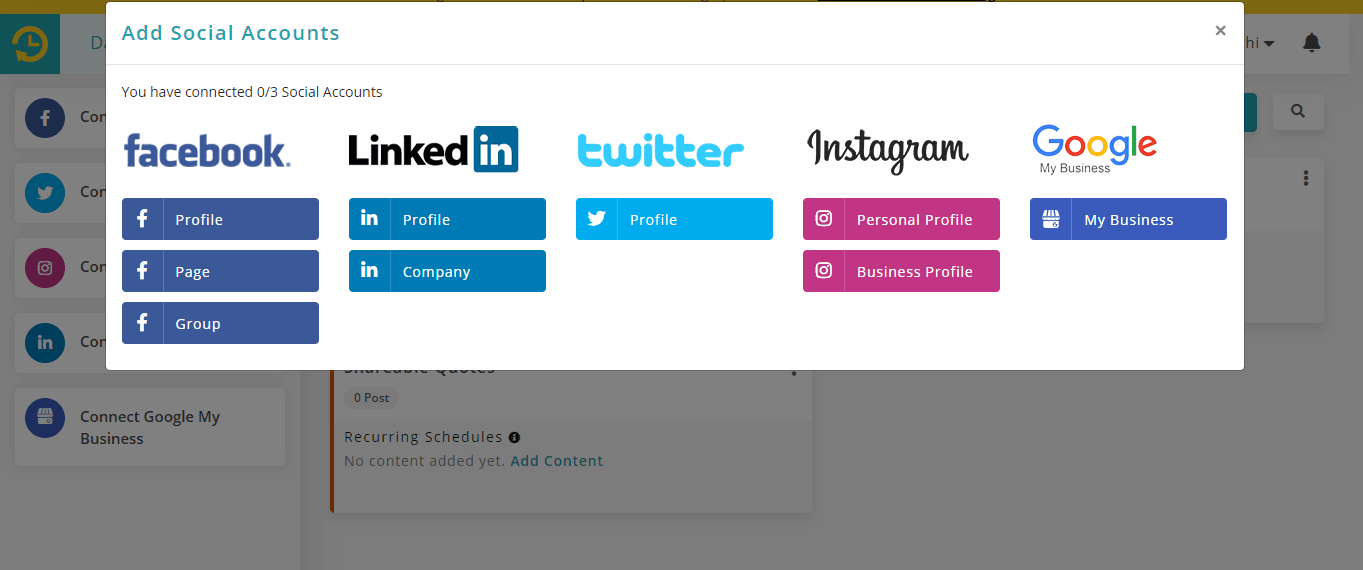 Click on the 'Profile' button below Twitter's column. The next page will ask you to fill in your Twitter username and password.
Enter the details and click on 'Sign in'. You will then be redirected to RecurPost's dashboard and the Twitter profile will appear on the left-hand panel.
Step 3: Scheduling tweets
After connecting social accounts, you can start making content libraries and add your posts to them.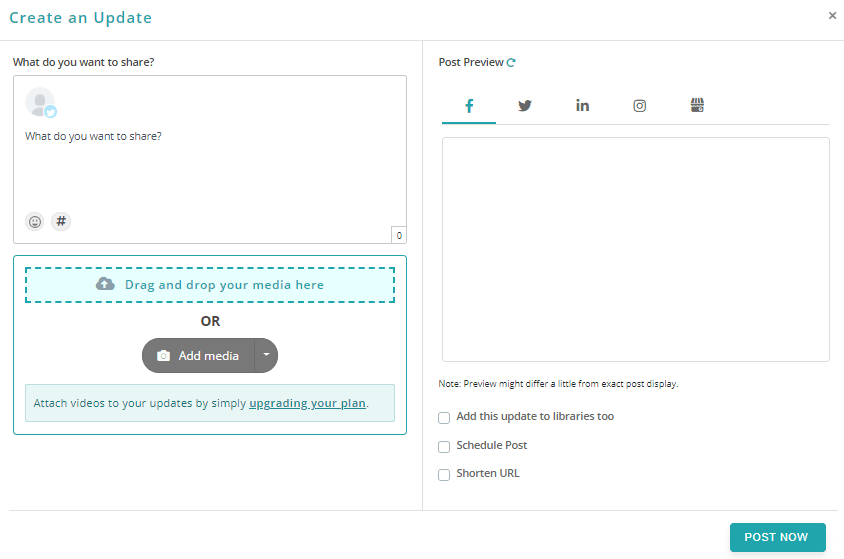 While creating a post update, you can use emojis in the text. You can also create a bag of tags (group of hashtags) to use while adding posts. Images and videos can be uploaded in the post too.
After adding all the details, you can preview the post and see how it will appear on your feed. You can also post it to other social accounts simultaneously with Twitter Advanced Search. You can either upload the post immediately by clicking on 'Post now' or schedule to post it at a later date and time. The tweets can be scheduled as per the best time to tweet as suggested by RecurPost. You can even shorten the post's URL, making sharing easier.
RecurPost offers bulk scheduling, which will help you in saving a lot of time while sharing your posts at the perfect frequency.
Step 4: Tracking reports
RecurPost offers an amazing feature of Reports, using which you can analyze the audience insights, engagement levels, check out the demographics of your target audience, and much more.
Go to the 'Reports' section. By default, you will see the reports of all the connected accounts together. You can filter the reports according to individual accounts. Select the account and you will see the following graphs:
a. Audience engagement: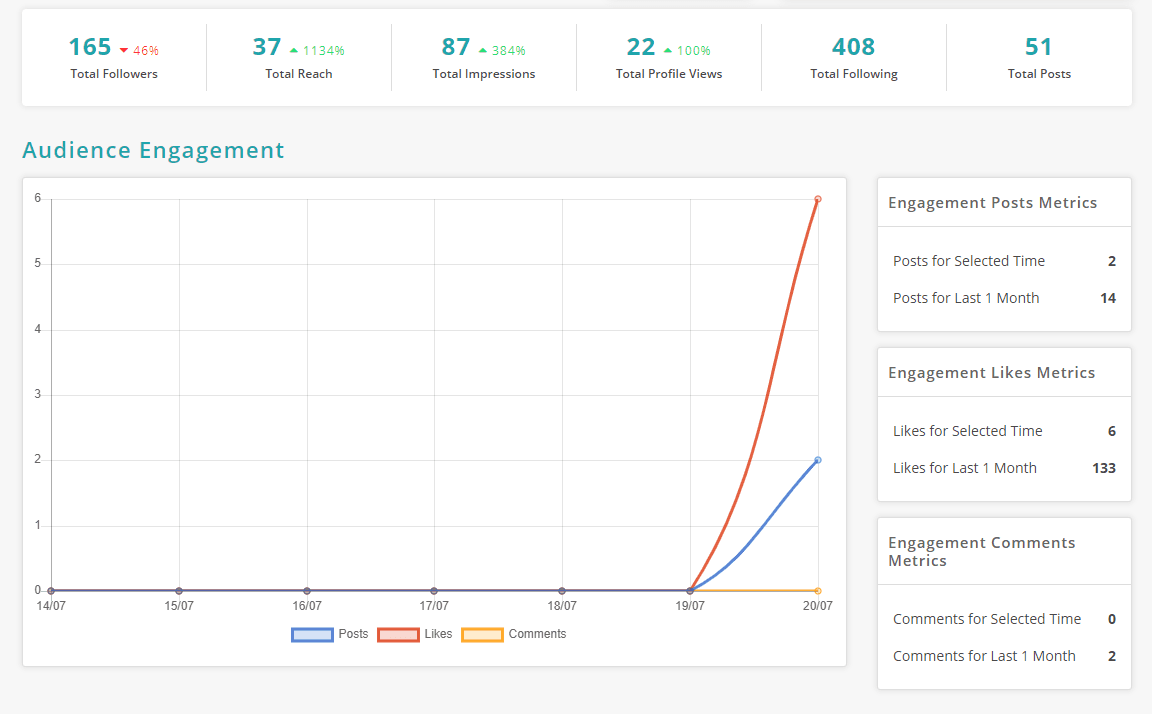 In this graph, you will be able to see the number of posts made and likes and comments received.
b. Insights: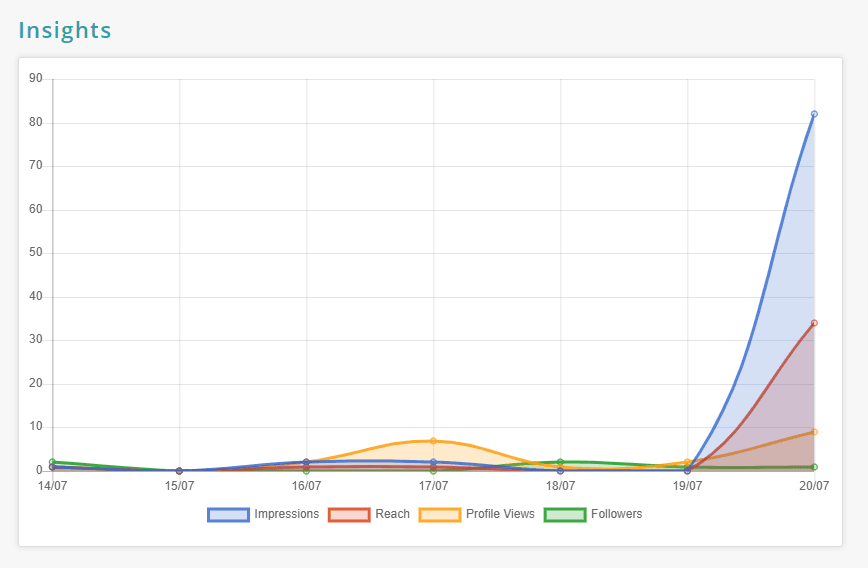 Here, you will get a lot of valuable information. The number of impressions received, profile views, reach, and the number of followers gained will be visible. Apart from that, you will also see the number of clicks that people made to call you, visit your website, see the directions, email, or text you.
c. Audience country: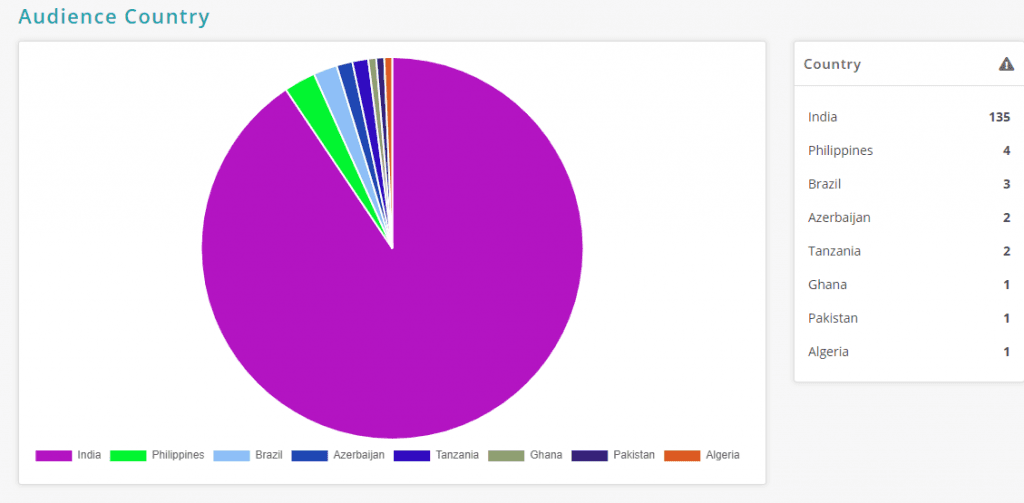 A pie chart will be displayed in this section, bifurcating your target audience according to the country they are from. You can hover on different ranges to see the number of people from each country. It will also be written in the box beside the chart.
d. Audience demographics: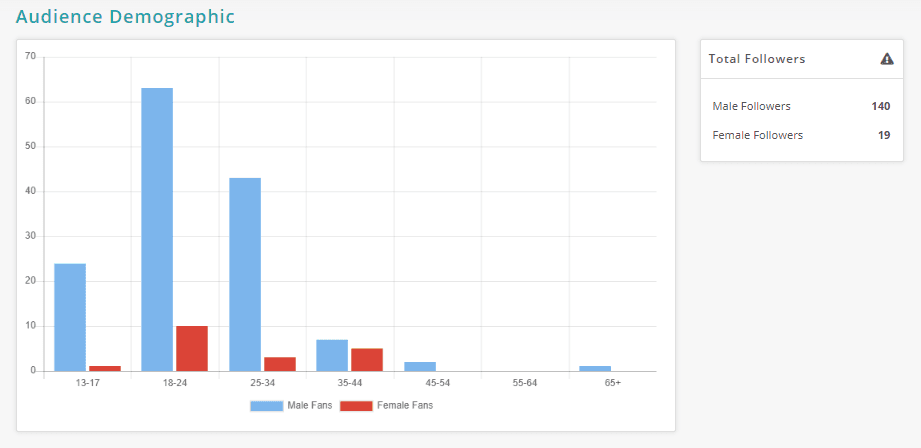 In this section, your followers and fans will be divided according to their gender and age group. But remember that, some people don't provide their complete information (birthdate) while making an account, so there might be slight differences in the total number of followers in this report.
e. Post performance:
For the selected time period, you can see the posts that you uploaded, post type (image or video), number of likes, and comments received. You can see the most favorite and popular posts among all of them too – sorted according to the likes and comments received on each of them.
Managing multiple Twitter accounts using RecurPost's app
It is a fact that you need to pay constant attention to your social media accounts. But, it is also a fact that you cannot sit behind your laptops for the entire day. That's where RecurPost's app can help you. Using it, you will be able to manage your accounts from anywhere and anytime.
When it is time to publish your posts according to the schedules set, you will receive a push notification on your phone. You just need to click it and your post will be uploaded.
After scheduling, you can also check how your content will appear on the feed and decide if any changes need to be made. A consistency and harmony could be achieved, thus helping to improve your social branding.
Make use of Tweet variations
Unlike any other social media scheduling tool, RecurPost allows you to create tweet variations. How will it help you? According to Twitter's policies, you cannot post the same tweet more than once. If you do so, it will be considered a violation of policies, and actions can be taken against your account. Meanwhile, give RecurPost, one of the most trusted tailwind alternatives, a thorough try. With features that allow you to repurpose your evergreen content, helping keep it fresh in your customers' minds to gain more leads with minimum effort, RecurPost is one of the top free Hootsuite Alternatives on the market.
Thus, by creating tweet variations, you can post the same message in different ways. You can also use this feature when you wish to share the same message from different accounts.
Can I Have Multiple Twitter Accounts?
Yes, having more than one Twitter account is very much possible. There are multiple reasons why businesses would want to manage multiple Twitter accounts at once. They might want to have a dedicated channel or account for customer service. Sometimes the brand owner would have a personal account and a separate business account to maintain his/her personal brand. Multiple accounts on Twitter are also made if a brand wants to do regional tweeting or niche tweeting. You can manage all your accounts effortlessly with a social media schedule like RecurPost.
RecurPost supports platforms beyond Twitter
RecurPost allows you to turn your company's ambitious goals into impressive accomplishments. Using the tool, you can create content and schedule in advance without worrying about upcoming holidays.
You can schedule Facebook posts on your profiles, groups, and pages and engage your audience by creating entertaining content. It allows you to schedule Instagram posts on your personal and business profiles for sharing images, stories, and reels that talk about your customer success stories.
RecurPost lets you schedule tweets at the best time by keeping in mind Twitter norms. You can also schedule LinkedIn posts on personal and business pages.
RecurPost is also an excellent Pinterest scheduler for taking advantage of the visual platform. It is also possible to schedule Google Business Profile posts using RecurPost to attract local buyers.
Conclusion
RecurPost makes it easier to engage with, analyze, monitor, and schedule tweets on multiple Twitter accounts from a unified dashboard. #LearnwithRecurPost to know more about all marketing nomads. It will also study the engagement levels on your accounts and suggest the best times to post, enabling you to upload the right content at the right time. Apart from this, there are a lot of other features like white-label reports, recurring updates, social media calendars, team management, etc. So without wasting any time, click here to start managing your social sites using RecurPost!
Frequently Asked Questions
1. How to have 2 Twitter accounts?
It is very simple to add another account to your Twitter application. For this, you will have to go to your profile icon and click on the down arrow. Select the option that says "add an existing account" to link the second Twitter account. Once you sign in, you will see all the connected accounts listed and you can switch between them as you want.
2. Can I have 2 Twitter accounts?
Yes, you can definitely have two Twitter accounts and switch amongst them as you want. Twitter allows you to have up to 5 accounts.
3. How many Twitter accounts can I manage?
You have the liberty to create as many Twitter accounts as you like. But you can connect only up to 5 accounts. You switch Twitter accounts within the app once you connect multiple accounts on the Twitter app. Most people find two accounts to suffice their needs.
4. What are the best apps to manage multiple Twitter accounts?
There are many social media schedulers in the market that will help you manage multiple accounts on Twitter. However, RecurPost is the best social media scheduling tool or Twitter scheduler to help you manage all your accounts seamlessly.
5. Can I log into multiple Twitter accounts at once?
Yes, you can add multiple Twitter account to your app. All accounts can be logged into and operated at once. You can keep switching amongst the accounts from within the app.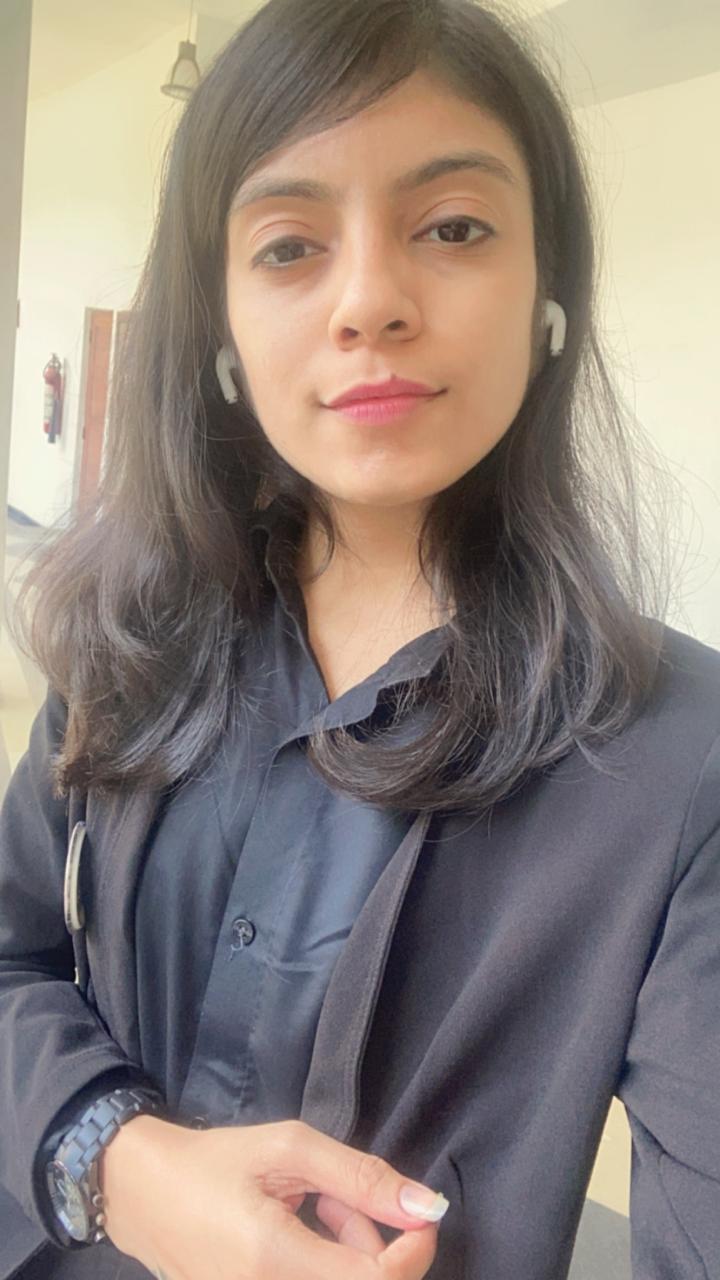 Amaiya Rathi is a Senior Content Writer at RecurPost. She helps RecurPost communicate with their readers in their own language. Whether it is the web copy, social media posts or blogs, Amaiya has worked on all aspects of copywriting. You can reach out to her at [email protected].