326 Million Users, that's the total number of daily active users on Twitter. Yup, we know you already imagine the potential of Twitter Marketing.
Twitter is a platform where you can engage with your target audience on diverse topics, whether it is Politics, Technology, Music, Arts, Pop-culture, or any other trending discussion.
Moreover, there are almost 500 Million tweets posted per day. These statistics correspond to over 6,000 tweets sent per second. So if you have an opinion to share, no other platform is as impactful as Twitter.
It is an excellent platform used by various marketers to accelerate brand/individual growth. To reach out to leads who like your brand, you must create an intriguing business profile on Twitter.
If you are starting with your Twitter strategy, we suggest you should read this blog to create an engaging and impactful twitter marketing strategy — a win-win plan. Before knowing what exactly Twitter Marketing is, One should know how to Schedule tweets with social media scheduler, as nowadays, most companies use scheduling tools as an integrated part of their company.
What is Twitter Marketing?
Twitter marketing is an essential pillar of your social media marketing strategy. To define in simple terms, your Twitter marketing strategy should be all about publishing and creating content that will engage with your audience.
Often Twitter is used as a platform to broadcast news or post about brand's feature updates. This is where users lose touch with your brand. The tweets you send out should strike a conversation or initiate a discussion with the followers.
The goal of your marketing strategy should not just revolve around conversion, new leads, brand recognition or increasing sales; it should instead focus on improving your communication with followers for long-lasting relationships.
If your twitter marketing strategy is successful, you can open doors to a lot of business opportunities online.
Before we get into the nitty-gritty of twitter marketing, keep this golden rule in your mind. In every social media marketing strategy, communication always plays the keynote.
How to ace Twitter Marketing Strategy?
How to create a Twitter business account Profile?
Creating an effective Twitter business account profile marketing strategy is important for your brand's online viability.
Here's a breakdown of key elements to consider:
Account Name: Choose a short, memorable account name related to your brand. It should be easy for users to recognize. Your @name can have up to 15 characters.
Display Name: Set your business account name as your Twitter display name. This should ideally be your brand or business name, up to 50 characters.
Profile Photo: Use your brand's logo as your profile picture. This not only builds brand awareness but also maintains your trademark. The ideal image size for your Twitter profile image is 400×400 pixels.
Banner Image: Incorporate your brand's colors and theme into the banner image. Make sure it represents your products or services effectively. The recommended Twitter banner dimensions are 1500×500 pixels.
Bio: Create a clear bio within 160 characters that define your brand. Consider using a bio generator tool to create an effective description that explains your brand's vision or milestones, or even adds a touch of humor to make your brand stand out. This is where a free bio generator tool comes in handy; you can use it to build a bio that effectively explains your brand without having to write it from scratch.
Link to Website: Include a direct link to your business website in your profile. You can also link to your "About" page or the landing page of your latest campaign.
Business Location: Add your business location to provide more information about your brand's physical presence.
Verification Badge: Strive to get Twitter's blue verification badge (the blue tick). This symbolizes the authenticity of your account and can boost trustworthiness, followers, and engagement.
Remember, consistency in posting engaging content, using targeted hashtags, and interacting meaningfully with your followers are key aspects of a successful Twitter marketing strategy. Using a tweet scheduler can help streamline your posting process and optimize content distribution. Keep these elements in mind to create a strong and recognizable brand presence on Twitter.
Take a cue from this description by Alexa; it is both witty and defines the features of the product.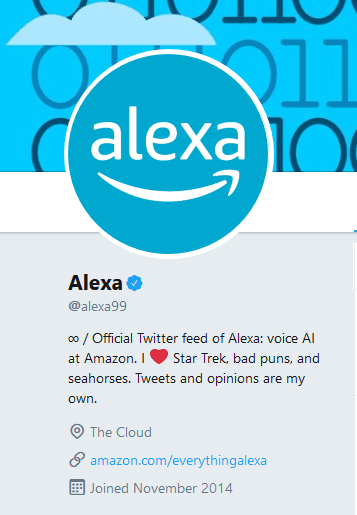 Twitter Marketing via Chats
Twitter Chats is the hidden treasure trove of Twitter Marketing Strategy, and only a few marketers use it to build an audience. It is the most effective way to find out the active and engaging followers for your brand.
Using a Twitter chat, you can interact with the users on twitter who are active on twitter. This audience looks forward to communicating with brands, rather than just consuming the available data.
Invest some time in adding value to your conversation. With Twitter chat, you can target people who are ready to interact with your brand; you have to give them a purpose to keep the conversation alive.
Start with looking for Twitter chats suitable for your industry, and keep updating your chat patterns as you gain knowledge on how the users interact.
Read More: How to Download Twitter Videos?
Strategic Tweets
Don't just post tweets with chic Twitter Quotes to be on the follower's feed; craft strategic tweets. Plan and keep track of your editorial calendar.
Twitter is undoubtedly a platform to share information and create content that is relatable to the user. But with time, you must schedule tweets with the content in correspondence with major events worldwide.
Additionally, You can also use a social media scheduler for making your tweeting consistent and go for later alternatives if you are looking for them.
Incorporate either festive marketing or moment marketing to rank in the trending hashtags. Do thorough research on what could be trending topics in that month and make your social media calendar for it.
You can also start a pre-festive campaign to create hype amongst your followers. This marketing strategy will send out content that people are looking forward to or are excited about.
Hence, you can always be a part of their re-tweets or conversations.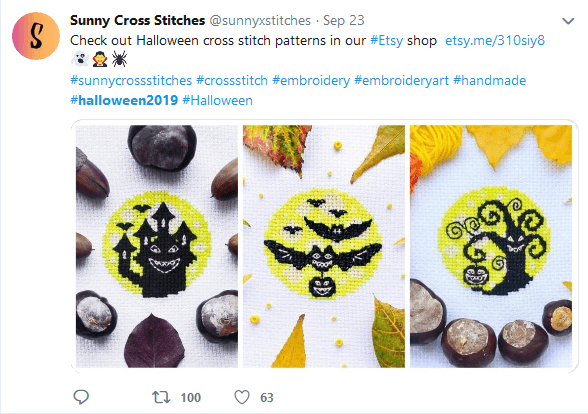 This pre-Halloween campaign by Sunny Cross Stitches markets their Halloween products right before the occasion to increase sales with targeted hashtags.
Video Marketing
Video Marketing is a new sensation in the social media industry, and twitter also enjoys an active share of engagement from this viral marketing tip.
According to a survey, tweets with videos attract 10x more engagement than regular tweets.
The consumers would rather watch a brand or celebrity video rather than reading the text. And it will also last longer in their memory.
If you are posting a blog link as a tweet, you can also include a video in it to grab the attention of the user to read the blog.
There are a lot of other factors involved in Video Marketing, read this blog to understand this new trend better.
---
---
Long Threads
Twitter is not just about making an announcement or broadcasting the news or spreading twitter fake news. It is more than the monotonous one-dimensional tweets, they should engage with the audience, as we said before.
Also, with limited characters to use, often conversation breaks into multiple sets of tweets. Hence, the message seems ambiguous on the follower's feed. To get rid of this confusion of various tweets, you can work with long threads.
Your tweets should spark a conversation with the users, so they can't be just blog links or motivational quotes. After tweeting, respond to the users by leaving a personal comment.
In the long threads, you can also add tweets after posting, thus un-limiting your thoughts or story.
You can create a content calendar that comprises of different kinds of tweets and then schedule them using a social media scheduler like RecurPost. It will make it super easy to decode how to automate tweets and stay consistent on the platform, ultimately reaching more people and gaining followers.
Analysis
All work and no feedback will not help you grow. With all the effort you put in, it is vital to track the progress of your goals. This activity will help you in finding out areas where you have to make improvements.
There are various paid analytics tools in the market, but to make your work easy Twitter has launched its own free tool called Twitter Analytics.
This feature will help you find analytics which is beyond the basic. The twitter activity dashboard has the following metrics which can explain how well is your content performing.
Engagement, Impression, Hashtag, Top Tweets, and Contributors – these are the factors that help in tracking your goals.
If you have a business account on social media, you can also incorporate Twitter trending topics into your profile. Use Twitter analytics for a more in-depth insight into the content your followers are engaging with.
Brand building is an efficient way to grow your business online. Posting regularly on social media is the quickest way to do it. RecurPost is a great social media tool that allows you to create, schedule, and analyze the outcomes in a few easy steps.
Using RecurPost, it is possible to schedule Facebook posts on personal profiles, pages, and groups. As reels and stories are considered more engaging nowadays, RecurPost allows you to schedule Instagram posts on your personal and business profiles.
With Recurpost, you can schedule LinkedIn posts on your personal and business pages to create brand awareness on the professional network. For marketers who rely heavily on visuals, RecurPost is an excellent Pinterest scheduler. You can schedule Google Business Profile posts with a call to action using RecurPost. It helps you to boost engagement with your local audience.
You can also check out RecurPost, one of the most reliable free Hootsuite alternatives, in the meantime. You can divide and organize your updates using RecurPost's cool features according to priorities and projects.
Use Twitter for business tactics as well as the marketing tips and tricks mentioned above and get started sharing content on Twitter.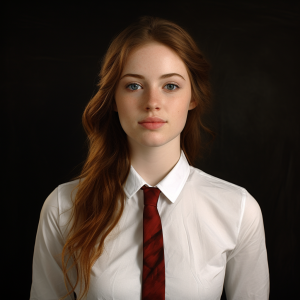 Debbie Moran is a Digital marketing strategist with 5+ years of experience producing advertising for brands and helping leaders showcase their brand to the correct audience. She has been a part of RecurPost since 2019 and handles all the activities required to grow our brand's online presence.