Let's say you are starting a new business. Or maybe you are starting afresh with your marketing strategy for an existing product. What will you choose? Instagram or Facebook? Both go neck to neck, and Instagram vs Facebook is a debate that's been running for quite some time now.
There are a cool 3.78 billion people across the globe that use social media networks actively. Imagine the kind of exposure your brand could get with this kind of magnanimity. This only calls for a diligent social media scheduler, one that allows you to schedule Facebook posts and schedule Instagram posts.
But before you kick start your social media marketing efforts, you will have to decide upon the social media platform that you will be using. This blog will focus on two social media giants; Instagram and Facebook.
Facebook has above 2.8 billion monthly active users and Instagram sports 1 billion monthly active users. Both are superlative platforms for promoting your business via social media channels.
It's time for the showdown to begin! Let's see how these platforms compare with each other on various grounds.
Instagram vs Facebook Based on Statistics
Statistics matter more than anything when it comes to measuring and tracking business growth. The numbers never lie and they can be relied upon heavily for decision-making.
The difference between Facebook and Instagram is vast in terms of the user base. Facebook is clearly on the frontline here. But this does not imply that we undermine the promising growth that Instagram has shown us in terms of user base. Let us look at some statistics that set these platforms apart:
Facebook Stats in the Instagram vs Facebook battleground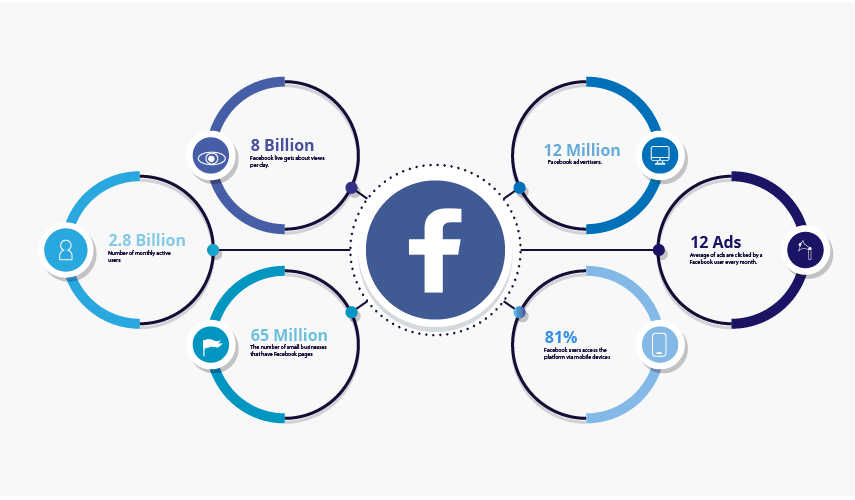 Number of monthly active users – 2.8 billion
An average of 12 ads are clicked by a Facebook user every month.
81% of Facebook users access the platform via mobile devices only.
Facebook live gets about 8 billion views per day.
Facebook has over 12 million advertisers.
The number of small businesses that have Facebook pages is 65 million.
Instagram Stats in the Instagram vs Facebook battleground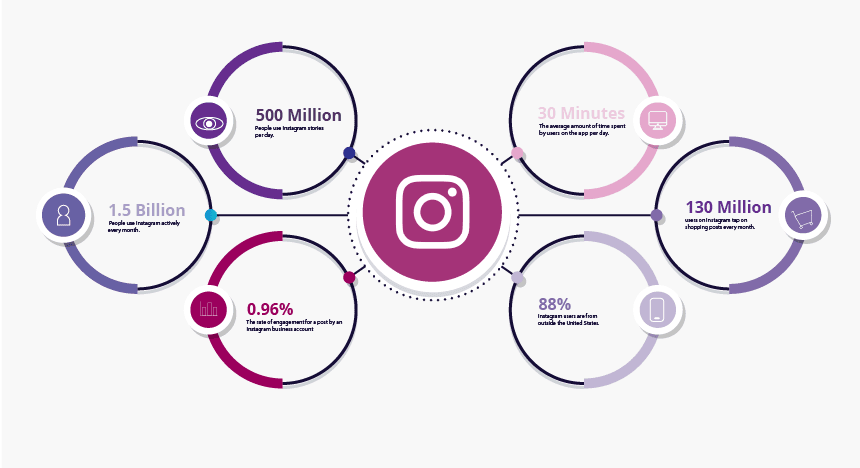 Over 1 billion people use Instagram actively every month.
The average amount of time spent by users on the app is 30 minutes per day.
500 million people use Instagram stories per day.
The rate of engagement for a post by an Instagram business account is 0.96%
88% of Instagram users are from outside the United States.
130 million users on Instagram tap on shopping posts every month.
Here we can clearly see how Facebook's user base is larger than Instagram but the growth statistics sported by Instagram are particularly impressive, especially in terms of engagement figures.
While Facebook has positioned itself as a quintessential social media platform, Instagram can simply not be ignored by businesses for promoting their product.
Instagram vs Facebook Based on Demographics
Creating a social media content strategy can be tricky but it can be navigated by studying audience demographics. By studying the demographic characteristics of the audience, businesses sign themselves up for a solid marketing strategy.
Facebook Demographics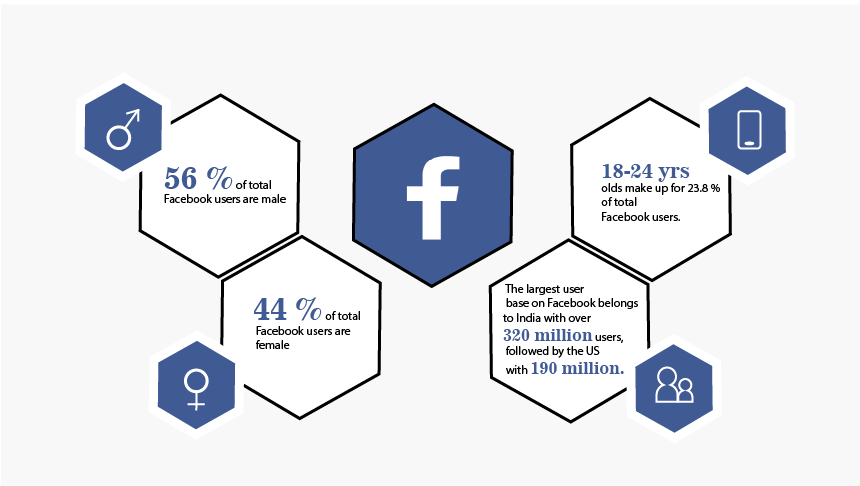 56 % of total Facebook users are male
44 % of total Facebook users are female
18-24 year olds make up for 23.8 % of total Facebook users.
The largest user base on Facebook belongs to India with over 320 million users, followed by the US with 190 million.
Also Read: How To Schedule Posts on Facebook Groups Effectively
Instagram Demographics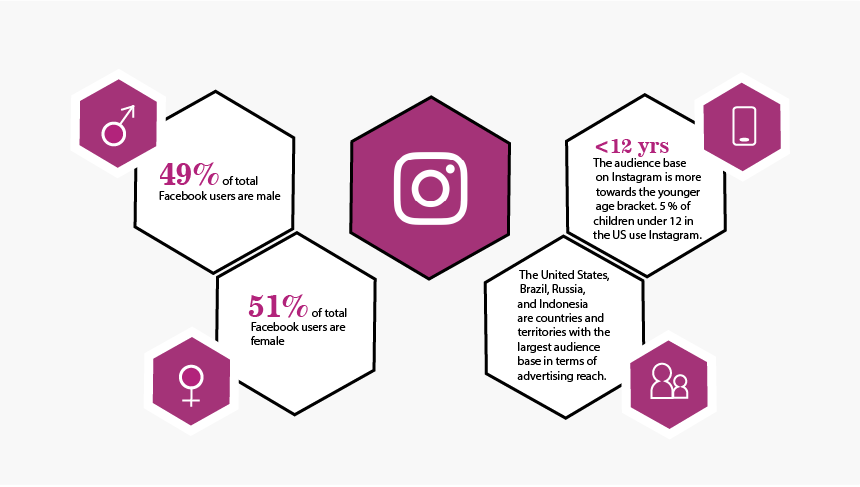 49 % of total Instagram users are male
51 % of total Instagram users are female
The audience base on Instagram is more towards the younger age bracket. 5 % of children under 12 in the US use Instagram.
The United States, Brazil, Russia, and Indonesia are countries and territories with the largest audience base in terms of advertising reach.
When noting Instagram vs Facebook in terms of demographics, the first difference that can be pulled is how Instagram's user base is younger than that of Facebook. This is mainly because younger people thrive on catching trends.
So, it is pretty clear for your brand to strategize based on the audience age group. If your brand wants to appeal to the younger demographic, Instagram seems like the perfect choice. And if your brand wants to target the older age groups (likely to belong to high-income brackets), Facebook can be the most beneficial choice.
Running Facebook ads can give your business an edge over competitors. If you want to generate higher revenues from your marketing efforts, Facebook ads would be your hero. Talking specifically about the age group, Facebook users are more likely to click on your ads and take action owing to their higher income.
If you are new to this and don't know much about running Facebook ads, you can take up courses like Facebook ads 101.
Instagram vs Facebook Based on Engagement Potential
The median engagement rate per post for Instagram is 1.60 % while Facebook has a 0.09 % of median engagement rate per post. This is how Instagram comes in the winning league in the debate of Instagram vs Facebook.
We will look at an example to understand this better. Here is a post by Madfit on both platforms.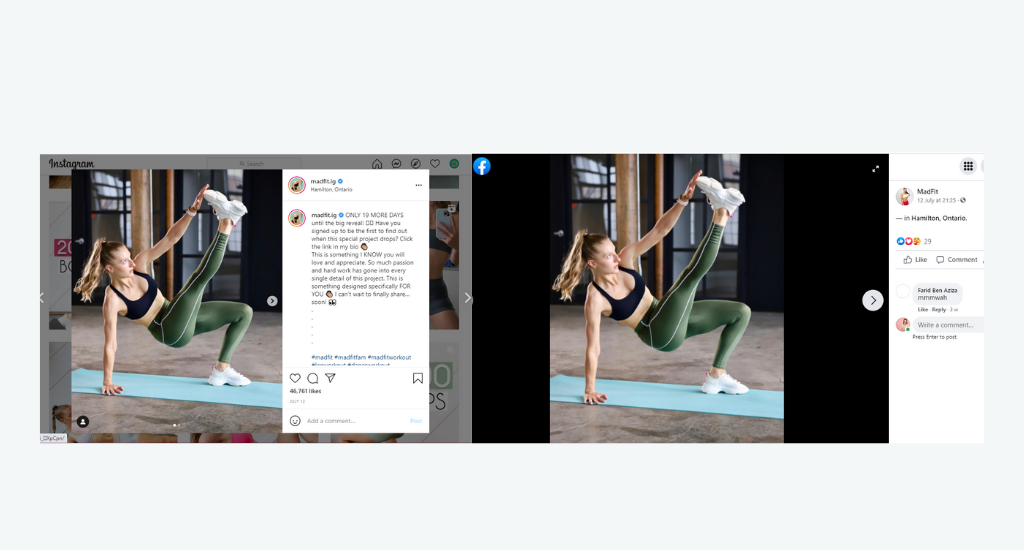 The post on Instagram has received 45.2k likes and the one that went on Facebook has bagged 492 likes. Additionally, if you look at the comments section, you will find 200 comments on the Instagram post as compared to 19 on Facebook.
Another example of that by Fitness blender shows the exact same pattern.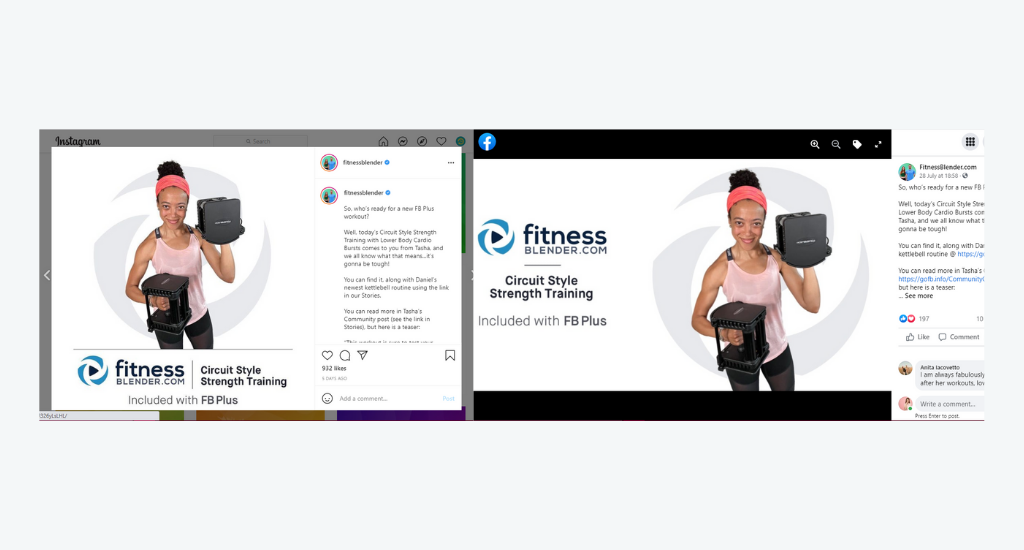 The engagement is clearly higher on Instagram in the Instagram vs Facebook context in both cases. You can take full advantage of this knowledge and tap into excellent Instagram bio ideas and take up a Instagram reels 101 guide to maximize your potential in getting more engagement.
However, you should have a clear sense of what would work on which platform. This is because getting higher engagement on Instagram than on Facebook is not always the case. You need to know which content type would work on what platform among the two.
Another thing to know here is that your content will appear in your user's feed based on Facebook algorithms. Hence, you must try and adopt strategies that will make your content more visible in the herd of posts made by others. For this, you need to study the best & worst time to post on Facebook.
What Are The Benefits of Facebook Over Instagram?
To get a clearer sense of which platform suits your brand strategy in the Instagram vs Facebook debate, we will study the benefits of each platform over the other.
Here are the benefits of Facebook over Instagram:
Facebook has a larger audience base. In fact, it is the second most visited website in the world.
This platform attracts all age groups of adult internet users. Since it is this widely accepted across different age groups, the potential for high brand visibility is huge.
The entire atmosphere of Facebook is very business-friendly. You can include as many direct links within your posts as you want.
Facebook has the ability to schedule Facebook group posts.
Facebook Ads can be very beneficial, but you have to ensure they are engaging.
Videos generate higher engagement than photos. They get more clicks than photos, mainly from mobile users.
Instagram followers are more engaged and valuable than Facebook followers.
Read More: How To Download a Facebook Video?
What Are The Benefits of Instagram Over Facebook?
We just looked at the leverage Facebook holds in the Instagram vs Facebook comparison. Now it's time to see how Instagram trumps Facebook.
The perfect platform if your business wants to reach a younger audience base.
It is more visually oriented as compared to Facebook, making it highly suitable for content belonging to Fashion, beauty, architecture, or any other creative category.
Over one-third of Instagram users have made online purchases via their phones and the average amount spent by them is higher than Facebook.
About 72% of marketers are using Instagram for advertising, making it an obvious choice.
Verified accounts on Instagram hold more credibility and give more potential to businesses for increasing their reach. Most verified accounts were found to have over 1 million followers. Find out how to get verified on instagram and get ahead in the game.
Instagram followers are more engaged and valuable than Facebook followers.
How RecurPost Can Help in Running Campaigns on Facebook And Instagram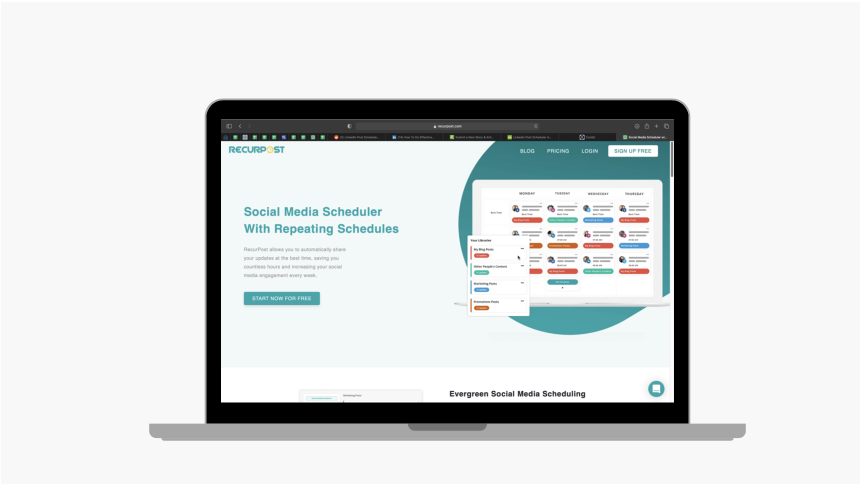 Posting the right content at the right time is critical to ensure success with social media marketing. Different platforms have different algorithms that must be studied to make your content visible amongst other posts.
It is difficult to maintain consistency in posting, along with tracking the best times to post. There are also a million other tasks like planning, scheduling, creating, selecting media, etc. A social media scheduler can be your savior in navigating through these.
Choosing a platform between Instagram vs Facebook is no easy task. Running social campaigns can be very rewarding but also cumbersome to handle. RecurPost is an excellent Facebook Post Scheduler and Instagram Post Scheduler that will simplify running and tracking social campaigns.
You can manage multiple Facebook profiles, groups, and pages at once with RecurPost's social media bulk scheduling services. With the advanced content calendar, reviewing and managing the flow of publishing updates becomes easy. Also, the special features like the ability to create a bag of hashtags and post varied media types like images, GIFs, memes, and videos make it suitable for Instagram and works great as an Instagram post scheduler.
With the services of RecurPost, you will be able to access the best & worst time to post on Instagram as well as Facebook. You will be able to generate white-label reports and get accurate performance reports to track the growth and engagement of your campaigns.
RecurPost is also a brilliant Pinterest scheduler for attracting buyers by showing them the visual content of your products or services. With RecurPost, you can schedule tweets multiple times with the same content.
If you want to connect with business leaders, you can schedule LinkedIn posts on your personal and business pages. Using RecurPost, you can automatically schedule google my business posts without being online every time.
Conclusion
In the conversation around what is better in Instagram vs Facebook, one must understand that both platforms hold a unique stance in the market. One cannot replace the other in terms of usage.
A business has to identify its target audience and the type of content it wants to develop and share and then find the perfect medium for sharing. At the end of the day, it is not about which platform is better; it is about how your business attains its full potential by using a social media network.
Your business has to be clear about its goals and strategy. And as far as the implementation of strategy is concerned, social media scheduling tools can always help. There are many major players in the market, like Hootsuite, Buffer, and Sprout Social. But if you are looking for reliable free Hootsuite Alternatives, sprout social alternatives, and other apps, RecurPost is your best bet.
You can learn more about the plans and pricing offered by RecurPost and choose whatever suits your business needs. There is also a 14- day free trial period that will help you get acquainted with the process and results.
Frequently Asked Questions
1. What apps to schedule social media posts can be used?
There are numerous options in the market when it comes to social media scheduling. There have been market giants like Hootsuite and Buffer for a long time. However, RecurPost is the best choice when it comes to scheduling social media posts.

It provides highly valuable features at a very attractive price point. You should definitely check it out.
2. Which is better in Instagram vs Facebook?
Both Instagram and Facebook are social media giants that have a lot to offer. Your business can grow exponentially with the help of promoting on these networks. Instagram is better for your business if you are looking for higher engagement on your posts. Facebook would work for you if your primary goal is to reach a larger audience base.
3. How is Instagram different from Facebook?
The one big difference that lies in making a choice between Facebook and Instagram for marketing is the type of content that your business is looking to make and the type of audience that your business wants to target. 

Once you are sure of your business goal, you can select a platform for executing your marketing strategy. 
4. Which is safer in Instagram vs Facebook?
Facebook is the parent company of Instagram and therefore shares the same privacy policies. However, Facebook has additional privacy features. You can customize the privacy of every single post on Facebook. Both platforms store user data and allow third-party authorization access.
5. Is Instagram or Facebook more popular?
As per the current stats, Facebook is leading the domain of social media platforms with over 3.1 billion active users monthly. And Instagram has 1.6 billion estimated user count per month. So yes, Facebook is more popular by the numbers. But numbers are not the only thing that matters. Instagram can give very high engagement to your brand's content. So in terms of engagement, Instagram has the potential to make your brand more popular.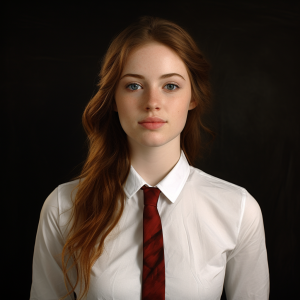 Debbie Moran is a Digital marketing strategist with 5+ years of experience producing advertising for brands and helping leaders showcase their brand to the correct audience. She has been a part of RecurPost since 2019 and handles all the activities required to grow our brand's online presence.