In the age of digitalization, content runs the show. The enormous amount of content offered to users in various forms these days is more than it has ever been, making it very important for a brand to have an extensive and constant presence in order to carry out an effective brand promotion. However, brainstorming your way into new content ideas so often and so quickly can get a little tricky sometimes, but we are here to help!
While you put your mind to content creation ideas with 21 untapped ways from this blog, leave the manual work of posting it to a social media scheduler, digitalization has some perks too after all!
RecurPost offers the best in class, social media scheduling tool with impeccable automation, customization, analytics and other features that make your work easier. 
Your guide to Content Ideas for Brand Promotion:
Why are good content ideas important for brand promotion?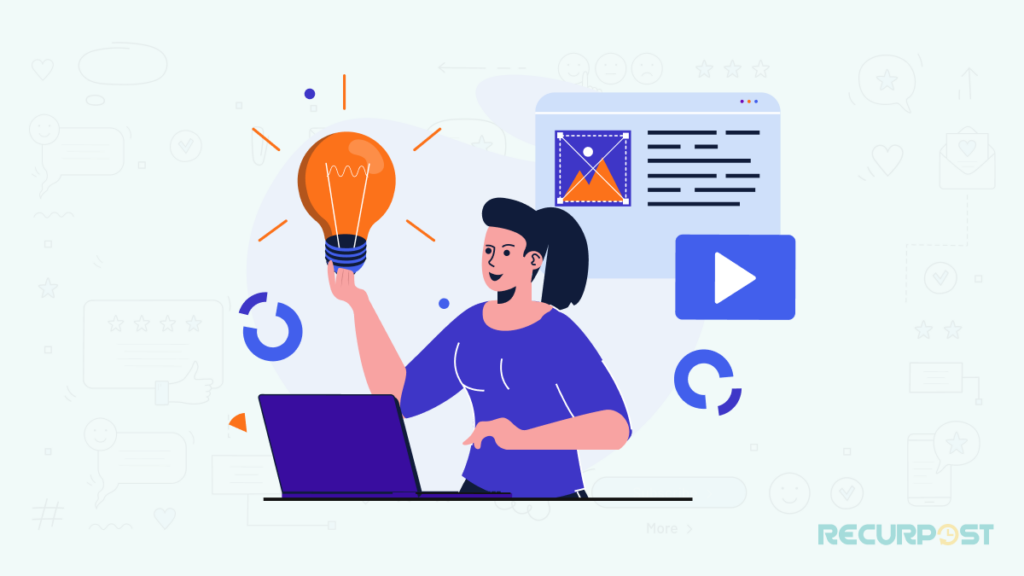 Content marketing is a contemporary approach that has proven to be a core advertising practice in both B2B and B2C companies. It allows a company to develop and reach a larger audience with a common effort, while largely eliminating the significant marketing costs associated with traditional marketing techniques.
Content marketing gives you the freedom to diversify marketing with content creation on different platforms, with content ideas for social media, creating vlog content ideas, ideas for social media content calendars, viral content ideas – anything that promotes the brand through appropriate and qualified content to get traffic and conversions for the business
Good content works as an efficient medium to communicate directly with your clients and not only sell to them but also engage and retain them with the business.
Good content increases traffic to your website, where visitors explore not only your content, but also your product. The constant availability of good content creates a brand association and perception that keeps potential customers coming back to your site again and again, while existing customers are more than happy to receive any additional help and perks your brand can offer, not to mention that such activity is a boon for search engine optimization.
Creating informative and credible content also enhances the dependability of your product and business and enables you to establish trade dominance thereby making you a trusted name in the market.
Moreover, impressive content cannot be the foundation for the success of any other marketing strategy or campaign just by itself. Compelling and coherent content ideas are capable of transforming a potential business opportunity into actual business transaction in any marketing tactic, while a lack of good content in marketing fails to capture the interest of the audience or potential customers.
How to find Content Ideas for Brand Promotion: 21 Untapped Ways
While everyone may be a part of the herd and racing towards a more prominent brand presence, the way to stand out is to see what works for you.
The key is to identify and implement content marketing ideas that are operative and beneficial specifically for your brand, your audience and your organizational goals.
Pitch into brand image content ideas
When trying to sell a product, a marketer tends to focus on only one goal: introduce the product, present the product, sell the product. One crucial aspect we leave out is the focus on brand image. In today's competitive market, there is a substitute or alternative for every product on the market, and many more such alternatives are being worked on as everyone is eager to monetize a good idea. What keeps the boat going is not only creating content that relates to the product, but also content that makes the audience aware of your brand. It's important to have content that reflects your brand's values, inspirations, and goals.
Pinterest is an amazing platform that you can use to collect creative content ideas. You can create Pinterest private boards and store your ideas in there, without making them visible to anyone else. Those ideas can then be used to create your own content for multiple platforms.
Keep user intent in mind
When developing content ideas to promote your brand, it's very important to consider first and foremost what the user wants to see, rather than just focusing on what the brand wants to display. As fine a line as it may be, a significant difference can be a game changer that affects the quantity and quality of traffic your content receives. Coming up with content ideas that match what the user is looking for and what they find useful is crucial to smooth navigation to your content and, consequently, the product that is the focus.
Content ideas that are informative
For any brand, the goal is to grow, do more business and get more conversions, but developing content that's only about marketing and selling the brand can be monotonous and uninteresting to the user, so they don't want to engage with it repeatedly. Creating informative content allows the potential customer to associate the brand name with a credible resource that can ultimately encourage them to purchase services or products. There's an added benefit for existing customers, too, isn't there? Informative content can be a lasting retention factor that motivates users to continue their association with the brand. Informative content with an implicit reference to a product purchase would be an ideal way to project this intent.
Content ideas with business objectives
While a certain amount of content aims to appeal to a larger audience as well as current users and attract visitors, it is also important that a significant amount of content is explicitly and exclusively about the brand and its product. It is important that your content provides the user with information and in-depth details about the brand and its product, how it adds value, and what exceptional benefits your brand offers compared to other alternatives on the market.
Content that serves as a direct selling point and encourages purchase by providing transaction guidelines and rates can be critical when a user is deciding whether to make a purchase or weighing their options. A balance between informational and transactional content is key here.
Audience Interaction
Another elemental approach to user engagement and promotion would be content that not only requires the brand to just state and display content but communicate with its audience and also hear back from them. Social media content ideas or other viral content ideas that encourage the audience to correspond with the brand helps involve the user. Also, interactive content can be created and published, and not to mention, an interactive content idea can be a great advertising campaign that not only attracts a direct audience, but also helps attract the attention of other potential users. Audience interaction also helps us solicit content ideas from existing users, who indicate what they find useful and appropriate, and what would be a suitable addition to the brand's wide range of existing content. This can be done by creating video content for YouTube shorts, which is blowing up nowadays.
Invite guest/audience contribution
While the brand works hard to generate content to promote the brand, welcoming guest and audience contribution makes the user feel a sense of association and accomplishment within the brand, also enabling the brand to form a channel of marketing with the facilitation of any such affiliation thereby created. It welcomes an added effort in the content associated with the brand and also helps the brand discover any talent or resource for a long term association under the goal of promoting a brand. Users see welcomed contributions for the website as an opportunity and are more than happy to work on any such piece.
Stay updated with social media trends
Social media trends are a great way to grasp audience attention. Jumping onto the bandwagon of social media content ideas and incorporating them in your social media content calendar gives you a probability of better reach as viral content ideas are already in the limelight and attention of every social media user and the audience at large. It is easier to get larger reach with such content and also higher chance of your content going viral. Such content not only entertains the audience but conveys what you have to say in a more eye-catching way and leaves a longer lasting impression.
Call in the festivities
Festive times call for brands to embrace the spirit of the season! Be it with their business or with their content every one is in the mood to welcome the holidays and be joyful about them. The festive season gives us an opportunity to get more creative rather than just wishing the audience. Creating festive content leads to more traffic to the brand's website. The user is interested in seeing festive content, and creating festive promotional content that is a treat for the user's eyes will pique their interest making it a perfect time to pitch your deal.
Festive campaigns or exclusive festive deals run on the brands page can be a great promotional idea along with any marketing content created best suited for the use and feasibility of the brand.
Dive into data
Analyzing data helps you understand what are the relevant and current topics specific to your industry and furthermore create content that is apt for your business. Data Analysis can help you define your goals and precisely write for and target the audience right for your business and its goals. You can also get an accurate understanding analyzing the data earlier created to understand what works for your business what does not, what kind of traffic what content gets and how profitable is the traffic for you, sometimes it's not the quantity but the quality of traffic a certain content may attract that may promote your brand better and attain transactional goals more substantially.
Tap into the emotions
Linking your brand to an emotional aspect or happening in the audience's life helps your user correlate your brand with a certain emotion that they may experience. This could be scientific or a very well marketed brand promotion tactic. For example, if you associate happiness with candy, or sadness with a cup of ice cream, or plus-size brands with feminism, users become accustomed to your brand and product and familiarize them with a particular emotion, so they tend to remember your product and associate branding with such an emotional event. In addition, your brand and product can also be associated as a feel-good product, where the user really feels something and associates it with their childhood or family, so much so that they go into raptures.
Collaborative content ideas
Content ideas for brand promotion that are created in collaboration with another brand or company are a great way to attract new potential customers through joint efforts and cross-promotion. Shared content expands audience reach as you reach both your potential audience and your collaborative partners. Association with a larger brand or platform can also increase your brand's credibility and promote it in the nature of your collaborative partners' market potential. Collaborative content can be a great way to increase your sales and engagement. Not to mention the added benefit of growing your social media followers and brand community.
Brand name association
Brand name association is a marketing strategy that can have an enormous impact in the long run. An ingenious tactic that requires building up a certain brand image with a certain product requirement or functionality so as to bring up the brand's name in association with the commodity as a synonym rather than just a brand name option. For example, Band-Aid is such a well-marketed brand name that when we get a bruise, we tend to go straight for the Band-Aid, we tend to call a sticking plaster or adhesive plaster a Band-Aid without realizing that it's actually just a branded product from Johnson & Johnson
Mark a social presence & perspective
Presenting content that supports your presence in social issues is a great way to capture users' attention. A brand that has a presence in society because it supports a cause or charity leaves a positive impression on the audience. Or a brand that has a point of view or opinion on the many social issues in our society is an encouraging move in the eyes of consumers. Consumers tend to associate a brand's credibility and values with such social actions. A brand can gain more by expressing its dissent or agreement with a particular social issue than by taking a neutral stand.
Revisiting old content
A lot of thought and effort goes into every piece of content and marketing campaign created for a brand, and some can produce great fruits of your labor, while others miss the mark. Reviewing such content and identifying changes that can be made is a great way to leverage the old content and present the audience with a revised version that is now likely to have a better impact. Also, some content can always work well for you and be applicable to your brand. We can reuse and repost such content over and over again to reach a newer and wider audience while reminding your existing users.
Get transparent
Transparency is a great way to engage an audience, content related to what goes on around making your brand what it is, content that introduces the people behind the brand, the products and services can help your audience connect better. Introducing each team member, what they do and how they are a helpful resource to the users helps the consumers connect a face to the brand and the services that they may thereafter avail. Often the credibility and experience of the people that are associated with the brand and advocate it, gains the consumers confidence and attracts a potential client.
Quality over quantity
While creating and publishing content is an essential aspect of attracting more visitors to your brand and catching the attention of potential customers, having too much of it can also turn viewers off, especially if it interferes with their daily routine or is perhaps the only thing that constantly pops up in front of them. Such content can also be particularly annoying if it's irrelevant and does not add any value relative to the time they have invested in your content in hopes of getting value out of it. Ensure that the content generated is of high quality and targeted, even if it appears less frequently but has a high reach.
Identify SEO needs
Search Engine Optimization is a crucial requisite for the success of any digital marketing campaign. Identifying SEO trends and requirements for attracting maximum traffic and accordingly developing content keeping SEO framework in mind is an optimum strategy to develop content that assures peak ROI and user attention. User friendly content that is unique and stands out, also any references mentioned therein being from cited credible sources are a few SEO requisites to keep in mind. Analyzing performance of published content and coming up with best practices through trial and error is the way to go!
Content ideas that are entertaining and engaging
Everyone enjoys a little bit of fun. Occasionally creating and posting content that is light and fun and may be directly or remotely associated with your brand can be refreshing for your users and other visitors that you may attract through such interaction. Such content can be in any form, either animations, cartoons or memes that are just there to be seen, or live interaction where the brand is represented and there is back-and-forth communication between users and the company. Viral reels are a great way to do so, you could explore how to use Instagram reels for business.
Content ideas with grass root feedback
Quality and user satisfaction is what matters the most in the long run which can be derived from feedback from users on various platforms like user comments, google reviews for business and so on. Feedback plays an essential role in the development and improvisation of any such [products and services while negative feedback can be a good way to take inspiration from and improve. Including and displaying such feedback and responses to it makes users feel heard and makes customers feel heard. It can also display positive feedback for other potential customers to see what existing users have to say to the brand. More than the stakeholders, it is always more convincing and impactful if it is someone from the other side that shares that experience about the brand.
Content ideas that bring your brand to life
Content that brings the brand to life, the easiest way to bring your brand to life is by making content that helps the user connect the brand to a mascot or personality so that the user not only has a sense of digital association with the brand but also physical connection. A mascot representing your brand or services can be created and marketed to create an association among users, which can furthermore be used to develop further promotional content. Associating the brand name with a celebrity or having a celebrity propagate it can also be great promotional content. If you want to boost Pinterest followers with captivating content ideas, you can share inspiring images, DIY tutorials, recipe collections, and lifestyle tips to engage your audience and attract new followers to your Pinterest boards.
Content ideas with current series of events
Another prospect while coming up with ideas for creating content would be linking it with current events in your digital marketing strategy. Leveraging the audience's interest in current events, whether it's sports or movies or elections, whatever engages people, and creating content that relates to that is a great way to grab their attention and create content that promotes your content along those lines. Such content is a great way to show off your creativity, and also very effective in attracting visitors, not to mention that current events are already a trending topic that the content addresses, so it's more likely to get noticed.
What types of content are usually used for brand promotion?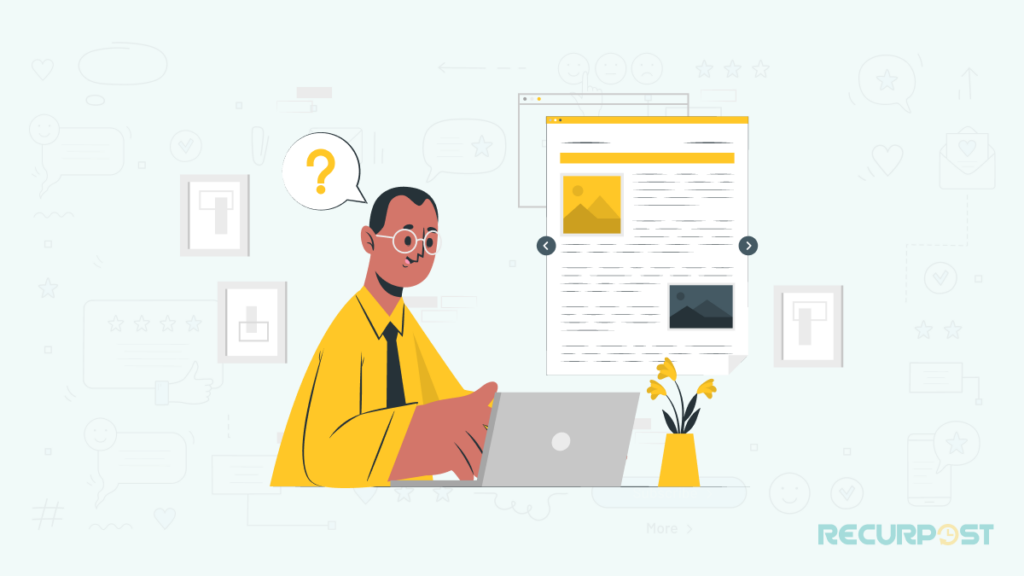 Humans have a tendency of invention, if something is in demand we are bound to come up with new and numerous ways to do it. Sometimes with approaches that make the work easier and sometimes more elaborative ways that may require a little more effort but have a greater impact. Content is no different. There are a plethora of ways and ideas already available and there are no limits bound to coming up with more and better ideas. However let's look at some types of content usually used for brand promotion.
Blogs
Blogs are one of the most common and important components of any content marketing strategy. A blog is an effective way to capture the attention of your audience who are looking for solutions and services that your company can provide. Blogs can be informative to attract users who are already using your services or products as an added benefit, or an informative resource for new visitors. The credibility and usefulness of the content you write in a blog post can be a great way to add value to a brand and increase overall brand awareness.
Social Media Posts
Social Media has proven to be one of the most impactful and cost effective methods of content marketing. Given the numerous social media platforms available and the large number of viewers on each, brand advertising on social media is certainly the best ROI. However, it is crucial that we carefully prepare each post not only with the brand's intent in mind, but also in accordance with the standards and guidelines set by these platforms. Writing for social media well & looking into analytics for the best posting time and appropriate keywords and hashtags is the key here.
Videos
Who doesn't like a quick video during a meal, a snack or even while traveling. The audience spends a large proportion of their time on watching content like videos everyday. While reading is not preferred by some, a video is always an easier alternative that not many ppl are avert to. Making a video may be a bit more of a tedious task but videos on interesting topics are most likely to get great outcome of your efforts and not only get traffic to your page but engage them effectively.
Email Newsletters
Email Newsletters are one of the forms of content marketing that have been around the longest. It adds a personal touch of delivering information to clients inbox. It is a direct communication channel that serves as a medium to inform subscribers about new additions or improvements to your brand's services and products, as well as an ideal platform for announcing your brand's offers or announcements.
Infographics
Some information may get too boring or complex to write or create a video about, infographics serve as a middle path to both these mediums. Infographics are a way to impart complex information in a much easier and comprehensible way with the help of graphical aids like charts, images data and minimal text. It includes a lot of on point information in a very concise way making your content more impactful and crisp so that it is easier to grasp.
What are the top tools to promote your content ideas?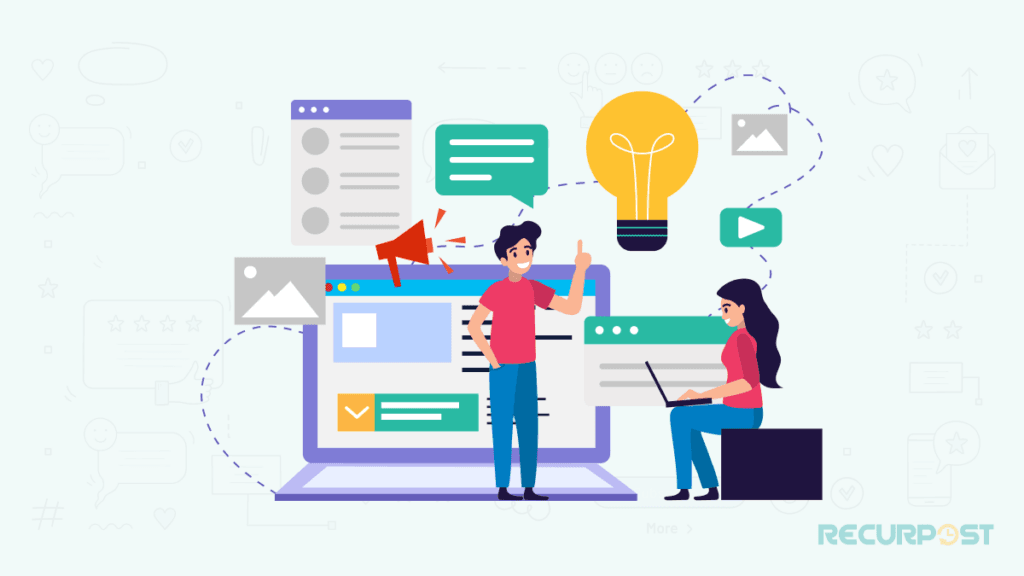 Good content also needs good marketing, coming up with effective content and not being able to market it optimally makes your content ideas and execution futile. While good content may be a really effective way to attract an audience solely depending on the content quality wouldn't be very wise, backing it up with proper promotion and posting becomes a necessity.
However, it's not necessary to do everything yourself; there are tools that could be of great help and maybe an even more efficient way of promotion than you doing it yourself, not to forget the time and effort it saves you. Let's look at a few.
RecurPost
RecurPost is a social media scheduling tool that posts your content for you! A one-stop solution that allows you to create a library of contents, social media bulk scheduling, and post it across multiple platforms while also being able to customize it to add a personal touch according to the requirements and standards of each social media platform.
With RecurPost, you can build a community on various networks by posting regularly and repeatedly. You can schedule Facebook posts on your profiles, pages, and groups. It enables you to schedule Instagram posts on your personal and business profiles.
RecurPost lets you schedule tweets and build a Twitter community of your business-specific people. It allows you to schedule LinkedIn posts on your personal and business pages and start conversations with professionals anywhere in the world.
RecurPost is a great Pinterest scheduler for enjoying the benefits of the visual platform. The tool enables you to schedule Google My Business posts with your choice of call to action button.
You can create a one-time post or a recurring one at regular time intervals decided by you. Not only that, you don't even have to be present while it posts your content for you; easily schedule the posting for a later time or let the tool choose the best time and watch RecurPost post it for you! One of the best tools in the market, check out socialbakers alternative & free Hootsuite Alternatives to compare.
WordPress
A content management system that enables you to host, build and maintain your website with numerous features that makes the job easy for you. It enables you to create easily, edit, delete, and publish content. One does not need much technical knowledge to work with WordPress or any of the WordPress chatGPT plugin. They also offer templates to make your work easier and plugins to make your website look attractive. Besides, the available analytics can help you better plan and manage your content.
Yoast
Yoast is a plugin for WordPress that allows you to optimize the content and keywords of your website, giving you an analysis and suggestions for changes that can help your content rank better. It is a combination of automation and user contributions and input. Yoast is a great solution for your SEO needs, with which you can make sure that at least the SEO aspect of your content is taken care of.
Canva
Canva is a simple design tool that anyone, beginner or advanced, can use to create great graphic content themselves either in the form of infographics, printable material or any digital content. It also offers a number of templates, most of which are free to use, to help users design resumes, posters, and social media posts – all under one roof. Canva also offers the ability to customize each template using drag-and-drop options or create a template from scratch. It's an ideal, easy design, even for a layman.
Conclusion
And that's it for your detailed guide to ideas for creating content to promote your brand and its products and services. We are sure this blog has sparked your thoughts on applying the above to creating content for your brand. But remember, no matter how good the content is, optimal marketing and publishing is what will help you reap the rewards and achieve your goals.
Using the tools mentioned in the blog is an effective way to do so. RecurPost allows you to schedule Facebook posts on personal profiles, groups and pages, schedule Instagram posts, schedule tweets with variations, schedule LinkedIn posts on company pages and profiles, schedule google my business posts and schedule pins on Pinterest.
RecurPost is a brilliant tool to leave the manual work of posting to automation and focus on creating content. You can Sign-up for RecurPost and checkout the RecurPost pricing to select the plan best suited for you.
Frequently Asked Questions
1. Does RecurPost support all social media platforms?
With RecurPost, you can schedule posts across all prominent platforms. For example, you can schedule Facebook posts on personal profiles, groups, and pages; Instagram posts on both business and personal profiles on Instagram; tweets with variations on Twitter; LinkedIn posts on company pages and profiles; Google My Business posts; and even scheduled pins on Pinterest.
2. What are the best content promotion ideas?
Making content that is user friendly, informative, easy to comprehend and applicable to your audience that provides resourceful as well as business solutions to your users would be ideal.
3. What are the most popular types of content?
The most commonly used and effective forms of content marketing methods include blogs, videos, and infographics
4. How do you create brand content?
To create brand content it is essential to keep in mind your brand services and goals, defining your brand while also keeping in mind the audience behavior and response is the key to creating good brand content.
5. How do I search for content ideas?
Analyzing user needs through existing data as well as finding references from online blogs, posts and using appropriate keywords are one of the few best practices.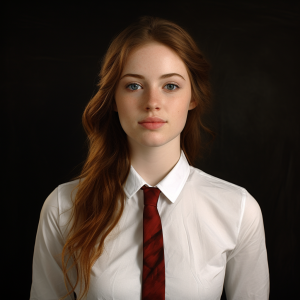 Debbie Moran is a Digital marketing strategist with 5+ years of experience producing advertising for brands and helping leaders showcase their brand to the correct audience. She has been a part of RecurPost since 2019 and handles all the activities required to grow our brand's online presence.