Whether you're an influencer, a marketing agency, a startup, a freelancer, or an average social media user, you need to learn certain social media marketing skills by taking up a course to build a brand image, attract your target audience and leave an impact. You can also learn how to use social media scheduler to post in advance to simplify marketing activities.
What Are The Best And Free Online Social Media Manager Courses in 2022
2. Social media marketing course and certification
4. Social Media Strategy for Small Businesses
7. Marketing Measurement Strategy
But What Exactly is Social Media Marketing?
Social media marketing is using social media platforms to connect with your target audience, increase sales and drive website traffic.
It is an amalgamation of creating good content, promoting it, managing brand campaigns, keeping track of the analytics, interacting with your audience, and regularly engaging with them. You need to inculcate all of this into your content marketing strategy.
Nowadays, businesses use social media in a myriad of different ways. For example, a business that is concerned about what people are saying about its brand would monitor social media conversations and respond to relevant mentions.
A business that wants to understand how it's performing on social media would analyze its reach, engagement, and sales on social media with an analytics tool (social media analytics).
A business that wants to reach a specific set of audiences at scale would run highly targeted social media ads (social media advertising). Businesses can also use social media for education by taking courses on social media management.
All of these activities combined are often also known as social media management.
Is Social Media Marketing a Good Career in 2022?
Yes! Social media marketing is an excellent career choice not only for the year 2022 but for many more to come. Social media platforms have witnessed a major boom in the past few years by using many ways of content ideas, and social media marketing walks along with it. Video to GIF is one major thing that works best to boost social media.
In fact, careers in social media marketing have made it to CNN's top 100 careers with big growth. With the ever-increasing emphasis on paid marketing and organic marketing on social media, this boom is not going to change anytime soon. So, if you are considering a social media marketing certification, you should definitely embark on that journey.
How do You Become a Social Media Expert in 2022?
Social media might seem complex from the outside and as a social media marketer, you might be expected to stay online 24/7 and have an excellent command of the language. But that is not it. To be a social media expert in 2022, you need to do the following:
Be an avid learner
As a social media marketer, you will constantly have to keep evolving with the volatile social media market. Trends change as fast as they come. Therefore, you need to keep educating yourself on the latest tricks and tips. You can take up free social media marketing courses to do that.
Get an education
Formal education will be like the backbone of your career as a social media specialist. It will set the stepping stone for your career. Multiple social media marketing courses are available online offered by institutes as well as universities. Reading other educational material, going to seminars or conferences will help too.
Stay updated
Perhaps the most important aspect of success with social media marketing is to stay updated with the industry trends. Pay regular visits to digital marketing portals and social media influencers.
Get familiar with the industry jargons
A social media marketer should be well versed with digital marketing terms like SEO, PPC, or SEM. This will help them understand and analyze digital campaigns better. You can take up any free social media training to learn these.
Build your brand well
In order to be a successful social media marketer, your brand presence should be rock solid online. Only then will a client trust you with their brand campaigns.
How to Learn Social Media Marketing?
Social media marketing is a very interesting aspect of online business. You need to have specific knowledge and skills to do it right. Not everyone can be a good social media marketer. But you sure can hone your skills over time by learning about it. Here is how you can learn social media marketing:
Get an academic qualification
You need a bachelor's degree before you get started with applying for your position. It is the minimum requirement to do social media marketing for beginners.
Acquire knowledge and skills
Read as many social media blogs as you can and also other channels that educate people on social media. There are many marketing blogs out there that will give you the needed knowledge on facts and figures related to social media.
Certifications
Today you do not really have to enroll in a university to get qualified for social media marketing. You can take up a free social media management course with a certificate online and fulfill your qualification. Once you become a certified social media marketer, your career prospects will grow.
Get some experience
In order to become an expert in the field, you will need some initial experience in the industry. You can try getting an internship at any social media agency to learn the ropes of the work profile. Today exploring employment sites like Jooble you can find more and more social media marketing jobs that require minimum or no experience.
Attend seminars and conferences
Apart from social media certification, you can attend seminars and conferences held on this subject to gain more insights or knowledge about the industry. It is always resourceful to learn from industry experts.
What Are The Best And Free Online Social Media Manager Courses in 2022
Now every time you wish to enroll yourself in a course, it is not feasible to get back to college.
The fast-paced, digitized life doesn't allow people to physically attend classes so online courses are the new colleges.
Especially when it comes to learning something as dynamic as social media marketing, it's better to learn through online courses than any old school textbook course.
Here is a curated list of the top 10 free online courses to learn social media marketing:
1. What is social?
By: Coursera
You will also get a social media certificate at the end of the course which is shareable. This course includes videos, practice quizzes, graded programming assignments, etc.
In each course, you will also receive special toolkits with timely information.
"I really loved this course for three reasons: (1) It was clearly designed for an online audience (as opposed to a recording of a University lecture); (2) it offered good, relevant, clearly-presented information in a concise way, including guest lectures by topical experts; and (3) it was relevant and useful to my current business needs. It met and possibly exceeded my expectations. I was able to glean helpful information and sources without being overwhelming in terms of time expenditure. This is helpful"

– Jody P
2. Social media marketing course and certification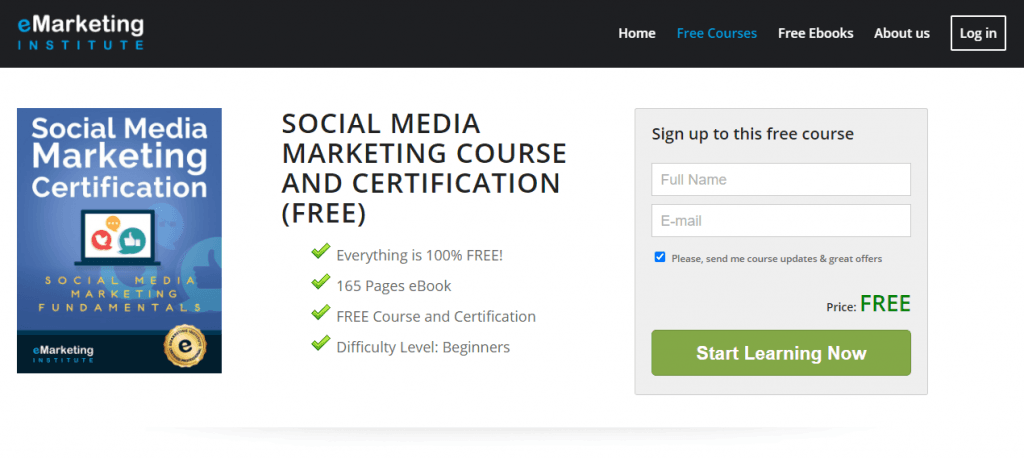 This free online course teaches you social media marketing and a detailed review of social media websites. It will clear your idea about which social networks will actually provide benefit to your company.
It will further polish your skills on how to use these social networks to your benefit for the promotion of your business and the process of reaching potential customers.
The tool here is a free e-book that includes full course material and there will exams before you get your social media certificate.
3. Growth academy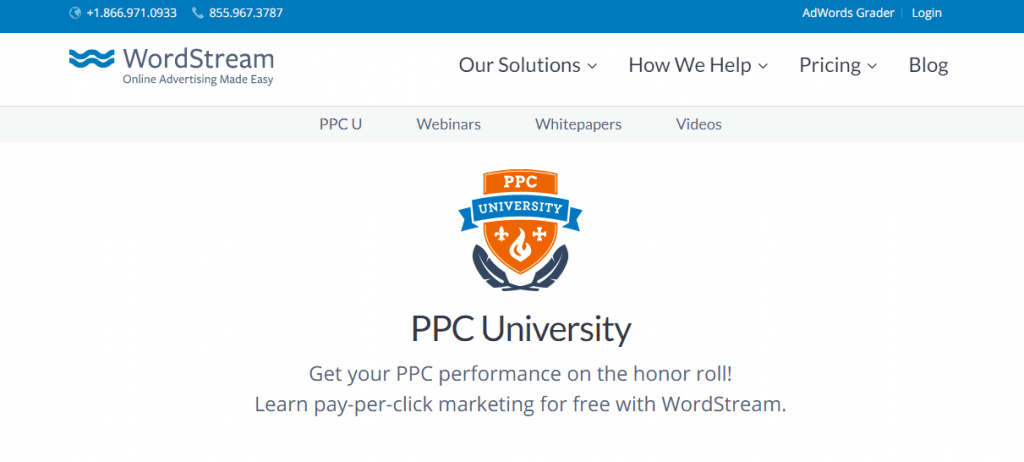 This is a free, flexible, on-demand video training that helps small businesses and marketing agencies. This free social media course will act as a roadmap to growing your business through digital marketing, online advertising, lead generation, etc.
It is taught by some of the top marketing experts in the industry.
4. Social Media Strategy for Small Businesses

This is a free social media marketing course that will help you learn about key concepts of social media along with different ways of creating and promoting content.
You will also learn social media analysis and a practical overview of how to apply this knowledge on all social media platforms.
It is just a 3-hour course with 4 modules. This course will give you a headstart especially if you are a beginner. You will be given a certificate in the end if you pass with an 80% or higher result rate.
The certificates have to be purchased and that is the only downside.
" I have done diploma in web business development and online marketing from this website and I really appreciate the way they let us learn at our own pace. A very good place to learn many things, including developing a website, in an easy and interesting way. I really thank them for providing a good platform for learning whatever we want for free and even providing the certification at low fees. I really recommend it to everyone."

– Danish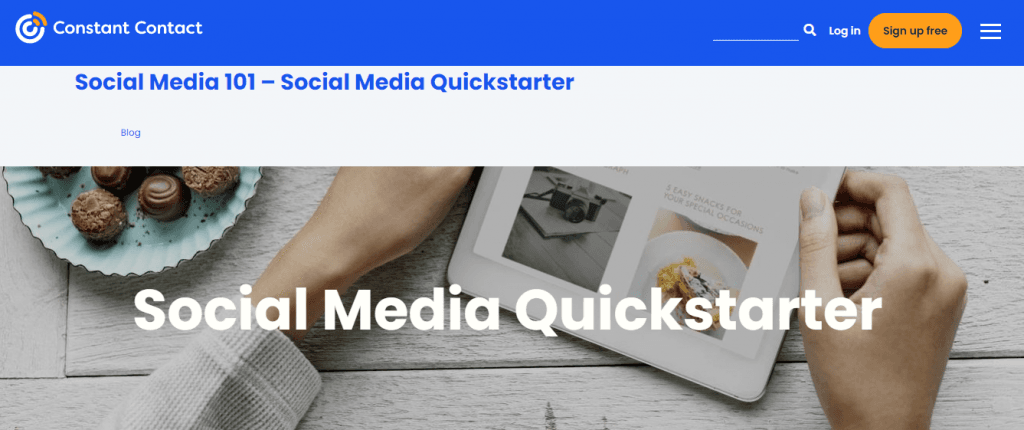 All social media managers and marketers start somewhere. This free social media course from Constant Contact is a great resource for those who are looking to dive into the world of social media marketing without all of the complications.
It offers a step-by-step guide to building a presence on almost every social media platform you can think of.
"I love services from constant contact. From the minute I signed up, they have been incredibly friendly and supportive"

– Kara B
5. Marketing with Ahrefs

This free course by Ahrefs academy includes 5 tutorials.
Through this course, you learn about major marketing features and how to apply them. It teaches you keyword research, analysis and also gives in-depth information about link-building.
It is a 4 hr 57 min video tutorial and every lesson includes solid examples to back up the advice given. Take this course for a quick lesson on strategic SEO techniques.
6. Google Analytics Academy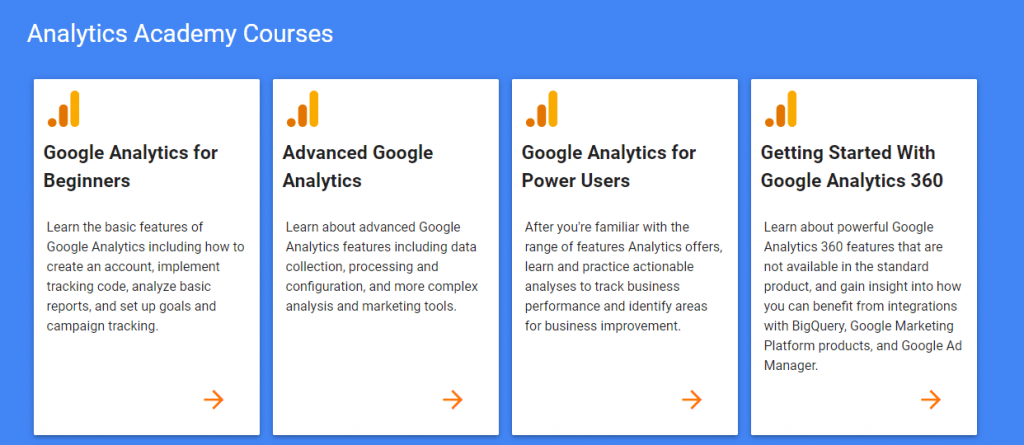 Analytics Academy helps you learn about Google's measurement tools so that you can grow your business through intelligent data collection and analysis.
Google Analytics Academy is an incredible online resource for marketers looking to up their game in everything Google-related.
A beginner can learn from the basic level and then upgrade to a higher level with each course.
You need to score 80% or above to get the Google Analytics Course Certificate.
"Within seven days, we can get results that would normally take us a month,"

– Sarah.

7. Marketing Measurement Strategy

In this marketing course, you'll learn the best approaches and practices for marketing measurement, including how to use metrics to measure success.
The professor, Stephan Sorger, presents hands-on examples of how to identify market trends.
8. Social Media Analytics

This course offered by Quintly covers the basic principles of social media analytics and the fundamentals of social media marketing with proper SEO strategy.
It aims to help everyone involved with social media, i.e., the influencers and brands. The vast course provides a 3 step process of learning analytics.
"I am a marketing student at the University of Zambia. I have developed a keen interest in digital marketing and am grateful to Quintly for the knowledge I have acquired from this free course."

– Peter Senn

9. Social media management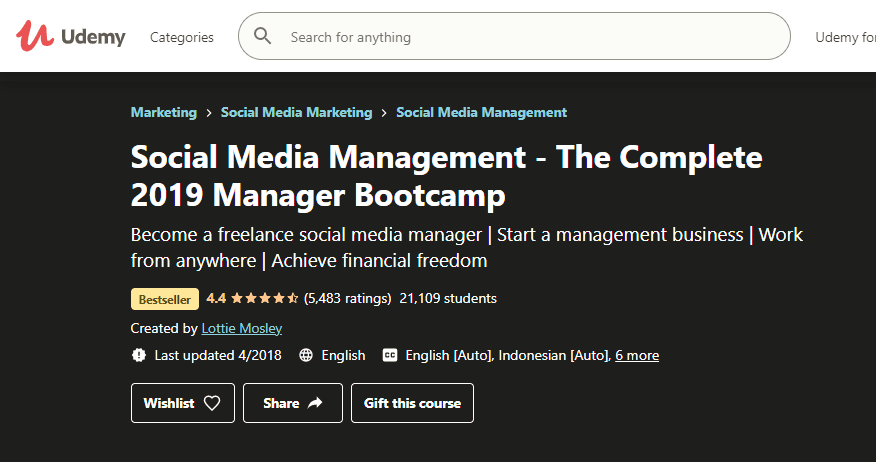 This is one of the few free courses offered by Udemy as you learn how to use social media, social media strategy, and marketing.
It will give you an insight into why social media matters, its benefits & drawbacks.
It includes 38 lectures that focus on how social media can drive business social responsibility.
"This course has given me all the glimpse and help-full resources for understanding more about social media management."

– Naresh Bhati
Conclusion
These free social media online marketing courses are all you need to kickstart your marketing skills.
It is also essential to be original and create your own content rather than leeching off other people's hard work. Be regular in uploading your content and interactions.
In the end, it's not just about what course you've done but about implementing it all. Moreover, Social media is so vital and dynamic that you can get online training for any niche you want, such as OSHAOnlineCenter offers OSHA 30 Hour Construction training which is the primary job safety training.
All these courses will jointly help you to build a brand image that makes a difference.
Social media management is an art, and these courses will help give bolster the latent artist in you.
Also, did you know how a social media scheduler can help you with your social media marketing efforts? Once you become an expert, you can take the help of a social media scheduling tool to further your skills and expertise. These tools will help you implement your plans seamlessly, leaving no room for errors. You can also go for one of the top free Hootsuite alternatives if you are looking for one.
RecurPost is the best social media scheduler for a social media marketer. It has multiple social media scheduling solutions that help a modern-day marketer navigate a busy work schedule. It's also the best socialbakers alternative in the market.
Additionally, RecurPost allows posting on all the worldwide popular platforms. You can schedule Facebook posts on personal profiles, business pages, and groups, schedule Instagram posts on personal and business profiles, and schedule LinkedIn posts on LinkedIn personal and company pages. Businesses can schedule Google Business Profile posts to promote their brand on Google and rank for local searches.
Pinterest is a great platform for lifestyle products. RecurPost is also an excellent Pinterest scheduler that allows you to easily schedule pins to attract users. With RecurPost, You can easily create variations of Twitter posts, allowing users to schedule tweets with the same content multiple times. Also, if you have a GMB listing, RecurPost lets you schedule Google my business posts with the CTA of your choice.
You can take the 14-day free trial to better understand how the plans work.
Frequently Asked Questions
1. What are top free social media classes on internet?
Here are the top free social media classes on the internet for free social media training:
– Social media marketing specialization – Northwestern University by Coursera
– Strategic social media marketing– Boston university by edX
– Social media advertising – university of Colorado by Coursera
– Free social media analytics course – quintly academy
– Quicksprout social media guides – quicksprout university
– Social media quickstarter – constant contact
2. Which is the best free online social media marketing courses with certificates in UK?
Here are the best free online social media marketing courses with certificates in the UK:
– Digital marketing online course by IIDE
– MSc in Marketing by University of Glasgow
– MSc in Digital marketing by University of Southhampton
– Digital marketing courses by Newcastle university
– Digital marketing MSc by University of Brighton
– Digital marketing course by University of Aberdeen
3. What qualifications do you need for social media marketing certification?
There is no set requirement to enroll in a social media marketing certification course. If you want to be a professional social media marketer, you can have a bachelor's degree in any field and take up a professional certification course.
4. What degree is best for social media marketing certification courses?
Although any degree is acceptable if you want to sign-up for a social media marketing course, it is preferable and helpful if you have an education in the marketing, communication, PR or journalism background.
5. Is social media marketing a good career?
Yes. Being a social media marketer can be a rewarding career owing to its exponential growth over the past few years. The digitalization era has given a boost to social media marketing as a career and is only expected to grow in the coming years. It is an exciting field with good remuneration.
6. Can I be a social media manager without a degree?
Yes. You do not need a degree to get started with your career in social media marketing. However, you will need some experience and a social media marketing certification.
7. Is there a degree in social media marketing?
Yes. There are many universities that offer formal education in social media marketing. There might not be fully dedicated degree courses, but you can take up social media marketing as your specialization.
Debbie Moran is a Digital marketing strategist with 5+ years of experience producing advertising for brands and helping leaders showcase their brand to the correct audience. She has been a part of RecurPost since 2019 and handles all the activities required to grow our brand's online presence.