In today's digital age, maintaining an impactful online presence is crucial for individuals and businesses alike. With a myriad of platforms to manage and content to curate, having the right tools at your disposal can make all the difference. Planoly, a popular social media scheduling and analytics tool, has been making waves in the realm of social media marketing.
Join us as we explore the features, functionalities, and benefits of Planoly, and discover how it can streamline your social media strategy, boost engagement, and take your online presence to new heights. Whether you're a seasoned social media expert or just starting your digital journey, our comprehensive review will uncover all you need to know about Planoly's capabilities and how it can revolutionize the way you approach social media management.
Planoly is Suitable For: Content creators, small businesses, entrepreneurs, and social media managers.
Planoly Feature Overview
When it comes to managing your social media presence, there are various tools available in the market. RecurPost stands out as one of the best social media management software solutions and Planoly alternatives, offering an array of features to help content creators, marketers, and businesses effectively manage their social media accounts. To give you a better understanding, let's compare the key features of Planoly with RecurPost in the table below:
| Features | Planoly | RecurPost |
| --- | --- | --- |
| Bulk Scheduling | Yes | Yes |
| Social Inbox | Yes | Yes |
| AI Content Generation | No | Yes |
| Advanced Analytics | No | Yes |
| URL Shortener | Yes | Yes |
| Caption Customization | No | Yes |
| Hashtag Storage | Yes | Yes |
Planoly Reviews
Positive Reviews
I have been using Planoly for almost 4 years now and it is such a great tool! What I like the most is how I can easily see my branding in one glance because the app simulate Instagram. I also really like how you can switch the day of posting by using the integrated calendar or I can do it manually.

~ Arsene T. (Capterra link)
This is a great planning/scheduling tool and is easily accessible for companies of any size and budget range. I've use this tool both at startups and large corporations and it's been an amazing resource for teams to streamline the social planning / scheduling.

~ Michelle S. (Capterra link)
I like that I can have all the content of my feed organized so that it has a perfect aesthetic, it is important the order of your profile because it is the first impression that customers have of your brand, and this tool has helped me in that.

~ Michell T. (Capterra link)
I use Planoly to plan and schedule my Instagram content. I am a small business owner and don't have employees, so get my content planned ahead and scheduled to post for me saves me huge time, which helps me to create even more content to may customers.

~ Samya F. (Capterra link)
We have been using Planoly every single day for the last 5 years and we absolutely love it! It easily allows us to arrange our feed, plan it, caption it, and schedule it.

~ Claire L. (Capterra link)
Negative Reviews
No way to collaborate directly with clients. Doesn't connect to all platforms. Very Instagram-focused. Not a lot of customer support for it, especially in emergencies.

~ Mary R. (Capterra link)
I just didn't like how much it costs so quickly. I wish they had more free options or cheaper plans.

~ Monica C. (Capterra link)
Sometimes the posts end up not being posted at all for whatever reason, you also have to pre-edit the photo before uploading it to planoly.

~ Caroline C. (Capterra link)
Where do I start. I was recommended this app by an influencer and it honestly makes me rethink if she ever even really used it. My content wouldn't post or it would disappear and it was just very confusing to use.

~ Brandi S. (Capterra link)
The design of the website is kind of complex. It took a while to understand the features, a video would have been helpful in the beginning of the subscription.

~ Ayesha H. (Capterra link)
Planoly: Pros and Cons
Pros
User-Friendly Interface:
One of the standout advantages of Planoly is its user-friendly interface, designed with simplicity and efficiency in mind. Whether you're a social media newbie or an experienced marketer, the platform's intuitive layout makes it a breeze to navigate. From scheduling posts to managing your content, Planoly's user-friendly design ensures that you can focus on creating engaging content without getting lost in complex features.
Visual Planning:
Planoly's visual planning feature sets it apart from other social media management tools. This innovative feature allows you to see how your upcoming posts will fit into your Instagram feed. By dragging and dropping images, you can curate a stunning and coherent visual aesthetic that keeps your audience captivated as they scroll through your profile. With visual planning, maintaining a consistent brand image has never been easier.
Instagram Grid Preview:
Creating a visually cohesive Instagram feed is vital for leaving a lasting impression on your audience. Planoly's grid preview feature empowers you to preview your scheduled posts in the exact order they will appear on your feed. This preview gives you a comprehensive view of your content's arrangement, enabling you to fine-tune the sequence for a flawless and engaging feed that aligns with your branding strategy.
Hashtag Manager:
Planoly simplifies hashtag management with its built-in hashtag manager. Save time and effort by organizing and categorizing your frequently used hashtags within the platform. Effortlessly add relevant hashtags to your posts with just a few clicks, ensuring that your content reaches the right audience and gains maximum visibility.
Analytics and Insights:
In the world of social media, data is key to success. Planoly equips users with powerful analytics and insights, providing valuable metrics to gauge the effectiveness of your social media strategy. Track post engagement, monitor follower growth, and identify your top-performing content to refine your approach and make data-driven decisions for better results.
Cons
Limited Platform Support:
One of the significant drawbacks of Planoly is its limited platform support. While it excels in managing Instagram content, it falls short in supporting other social media platforms. Users seeking a comprehensive solution to manage multiple platforms may find themselves needing to use additional tools, leading to increased complexity and potential fragmentation of their social media management process.
Cross-Platform Limitations:
Planoly's lack of cross-platform posting capabilities can be a hindrance for users who wish to post separately on different platforms. This limitation may prove to be inconvenient for businesses and content creators who require tailored content for various audiences on different social media channels.
Pricing Structure:
Despite offering a lower-priced entry-level plan, Planoly's pricing structure may become less competitive as users scale up their social media management needs. The pricing tiers might not be the most cost-effective option for users managing multiple accounts or seeking more advanced features, making it less attractive for growing businesses with expanding social media requirements.
No AI Integration:
Planoly lacks comprehensive AI integration and content generation capabilities, which may be a drawback for users looking to streamline their content creation process. AI-driven features can help enhance productivity, efficiency, and creativity, making it a significant missing component for those seeking a more automated and data-driven approach to social media management.
No Native Support for Facebook and Twitter Cross-Posting:
Another limitation of Planoly is the absence of native support for cross-posting on Facebook and Twitter. As many businesses and content creators aim for a consistent online presence across various platforms, this feature's absence may lead users to seek alternative solutions that offer more comprehensive cross-platform posting options.
Planoly Pricing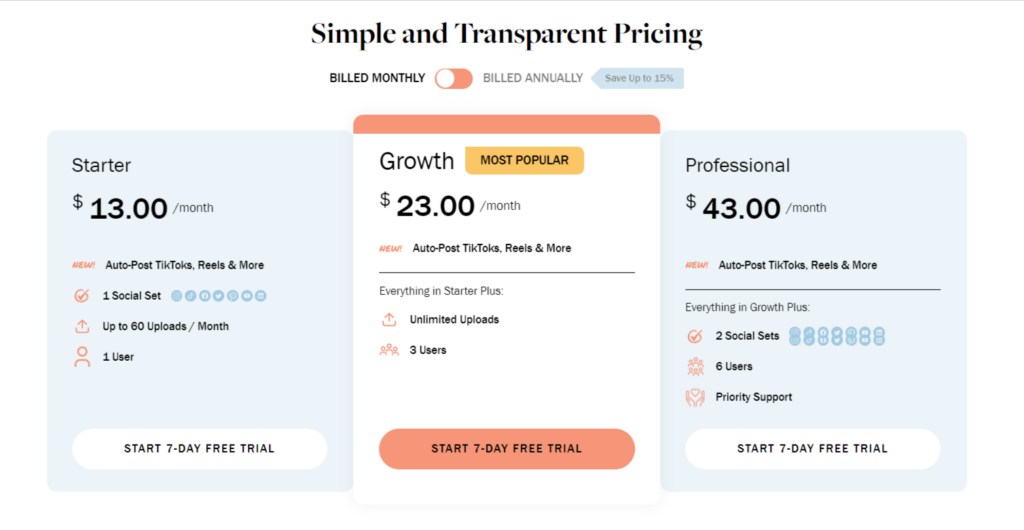 Planoly offers three distinct pricing plans tailored to meet the diverse needs of content creators, businesses, and marketing professionals. The Starter plan, priced at just $13 per month, provides an affordable entry point for those looking to establish a solid social media presence.
For those seeking more advanced capabilities, the Growth plan, priced at $23 per month, offers an array of additional features. Alongside all the benefits of the Starter plan, users unlock the power of Planoly's social inbox, enabling seamless communication and engagement with their audience.
The most comprehensive option, the Professional plan, is priced at $43 per month and caters to businesses and marketing teams with expansive social media management requirements. In addition to all the features available in the Starter and Growth plans, the Professional plan enhances analytics and insights, providing deeper data-driven analysis for optimizing social media strategies.
Planoly Features
Bulk Scheduling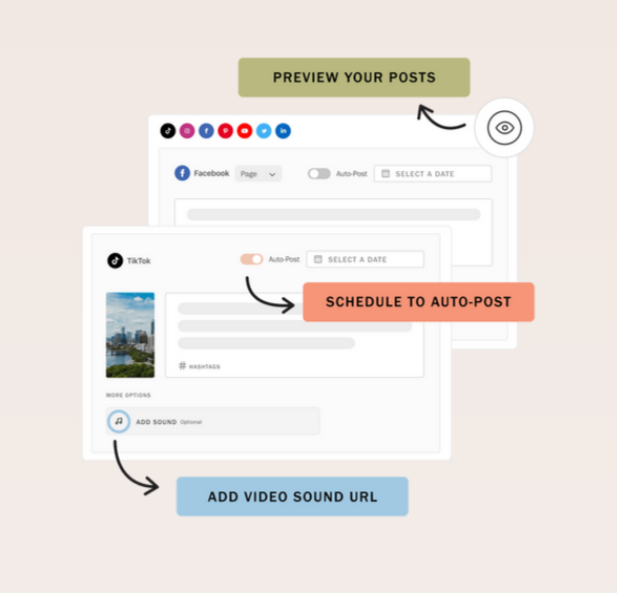 Planoly's bulk scheduling feature is a time-saving game-changer for busy content creators and marketers. Instead of manually posting each piece of content, users can upload multiple images and videos at once, set the desired posting dates and times, and let Planoly take care of the rest. This functionality ensures a consistent posting schedule, allowing users to maintain an active and engaging social media presence without the hassle of daily manual uploads.
Social Inbox
Keeping up with social media interactions across various platforms can be overwhelming. Planoly's social inbox streamlines this process by consolidating all notifications and messages from different social media accounts into one centralized platform. Users can quickly respond to comments, messages, and mentions, fostering better engagement with their audience and building stronger relationships with followers.
First Comment Feature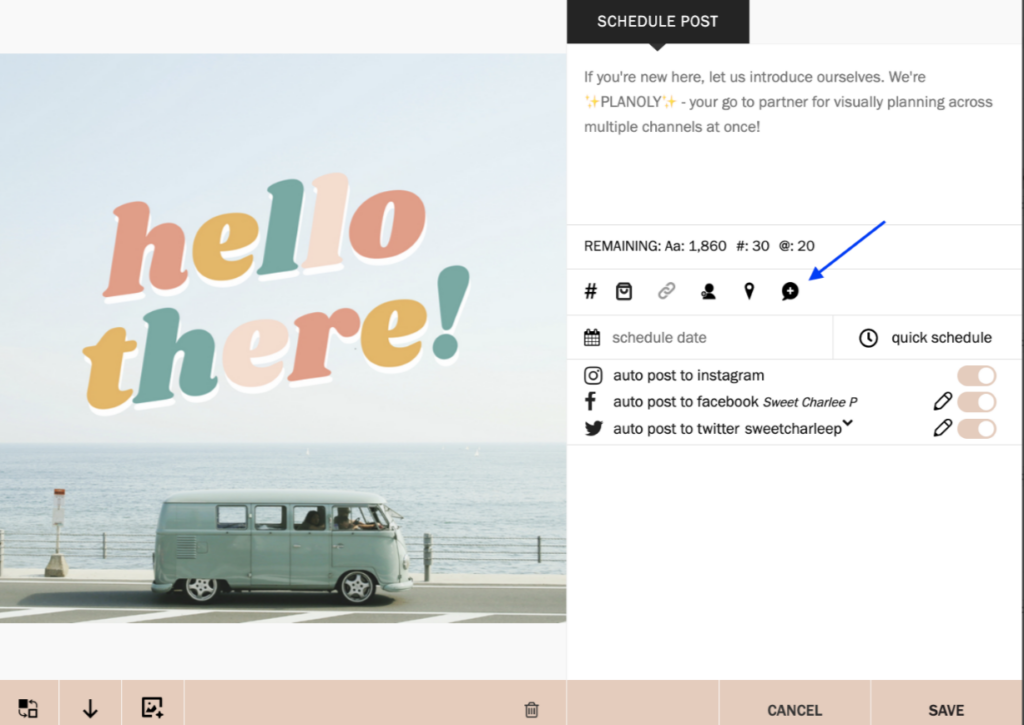 Planoly offers a convenient "First Comment" feature that automatically adds hashtags or captions as the first comment on Instagram posts. This functionality enhances the overall visual appeal of your posts while maintaining a cleaner and more streamlined appearance on your feed.
URL Shortener
Long and cumbersome URLs can be off-putting for users and may take up valuable character space in posts. Planoly's URL shortener feature condenses lengthy links into concise and trackable URLs. Not only does this make links more visually appealing and user-friendly, but it also provides valuable insights into link performance and click-through rates, allowing users to measure the effectiveness of their social media campaigns.
Hashtag Storage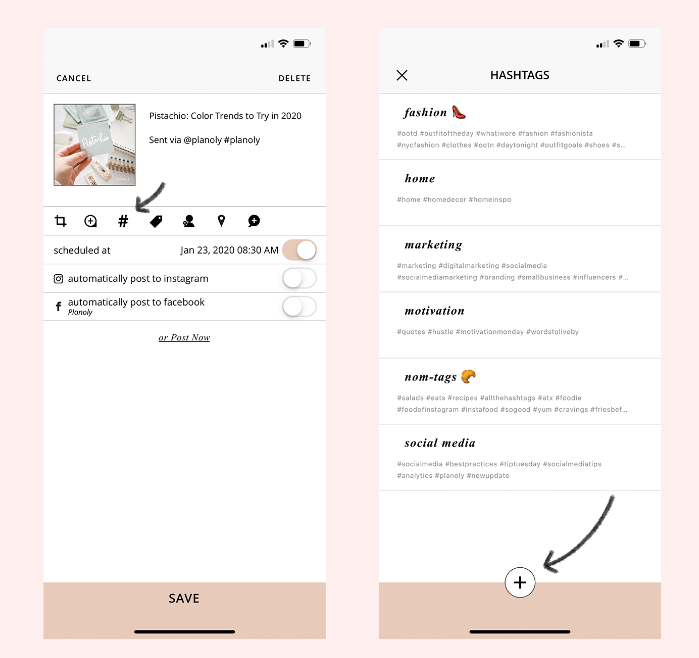 Hashtags play a crucial role in expanding content reach and attracting new audiences. Planoly's hashtag storage feature simplifies the process of managing and organizing frequently used hashtags. Users can create custom hashtag groups for different themes or campaigns, making it effortless to apply relevant hashtags to their posts with a few clicks. This feature streamlines the hashtag selection process, ensuring that content reaches the right audience and increases its visibility on social media platforms.
Conclusion
While Planoly offers several useful features for social media management, RecurPost emerges as the ultimate tool for content creators, marketers, and businesses. With its user-friendly interface, powerful AI content generation, advanced analytics, and competitive pricing, RecurPost provides unparalleled value for managing social media accounts effectively.
Whether you're a seasoned social media manager or just starting, RecurPost is the perfect partner to elevate your social media strategy and engagement. Try RecurPost today and experience the difference it can make for your online presence! Sign up for the 14-day free trial.
Frequently Asked Questions
1. Which social media platforms does Planoly support?
Planoly supports posting on Instagram, Facebook, TikTok, Twitter, Pinterest, YouTube, and LinkedIn.
2. What is Planoly used for?
With the Planoly app and web dashboard, users have the ability to visually organize and plan their posts and content for social media platforms before publishing them live.
3. Is Planoly still free?
Planoly offers a 7 day free trial, after which you can select from plans starting from $13 per month.
4. Is Planoly allowed by Instagram?
Despite Planoly being an authorized Instagram partner, there are specific restrictions imposed by Instagram on certain functionalities. These limitations include the inability to automatically post Reels with cover photos, Carousels with videos, and Stories using the platform.
5. What's better than Planoly?
If you're looking for a great alternative to Planoly, look no further than RecurPost. It offers affordable pricing and the convenience of managing multiple social media accounts in one dashboard.
6. What are the benefits of Planoly?
Regardless of the Planoly plan you are on, you will have the opportunity to visually strategize your Instagram content, leverage our integrated social calendar for important holidays, events, and content ideas, and directly import content from Canva, among other features.