In today's highly competitive digital landscape, brands always seek new and innovative ways to engage with their target audience. However, with so much online content, it can be difficult for brands to stand out and capture their audience's attention.
This is where YouTube video ideas come into play, as they provide a platform for brands to showcase their products and services visually compellingly. To create great results, you must maintain consistency in posting on your YouTube channels.
A good social media scheduler can help you schedule videos in advance. In this article, I will share the best video ideas to help your brand stand out in the competition and establish itself as a leader in your industry. First, let's discuss the benefits of choosing great ideas for your channels.
Let's get started!
Table Of Content For Video Ideas on YouTube
Why do effective YouTube video ideas play an important role for brands?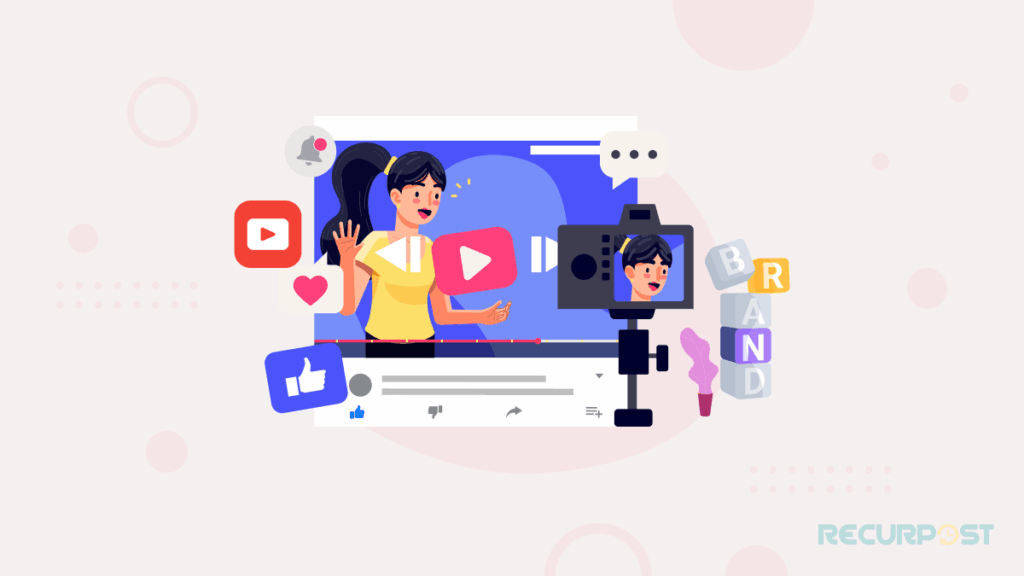 In today's digital age, businesses are constantly looking for innovative ways to expand their reach and attract more customers. One of the most effective ways to achieve this is by utilizing the power of video content, and there's no better platform for it than YouTube.
With its massive user base of over 2 billion active global users, YouTube offers an unparalleled opportunity to reach a vast audience.
When it comes to engaging with audiences, video content reigns supreme. By using YouTube to promote your business, you can take advantage of this fact and create videos that capture the attention of your target audience.
Whether you're showcasing your products, providing helpful tutorials, or sharing your expertise on a particular topic, the possibilities for creative and engaging video content are endless.
Marketing teams are well aware of the benefits of using YouTube as a promotional tool. With its extensive range of features, including video optimization tools and ad targeting capabilities, it's no wonder why this platform is a top choice for businesses of all sizes.
By incorporating YouTube into your marketing strategy, you can elevate your brand and stand out from the competition in your industry.
To make the most of your YouTube channel, it's important to think outside the box and come up with innovative video ideas that differentiate your brand.
By doing so, you can establish yourself as a thought leader in your field and build a loyal following of customers who are eager to engage with your content.
So if you're looking to increase traffic to your website and grow your business, promoting it through YouTube videos is a surefire way to achieve your goals.
Benefits of choosing appropriate YouTube video ideas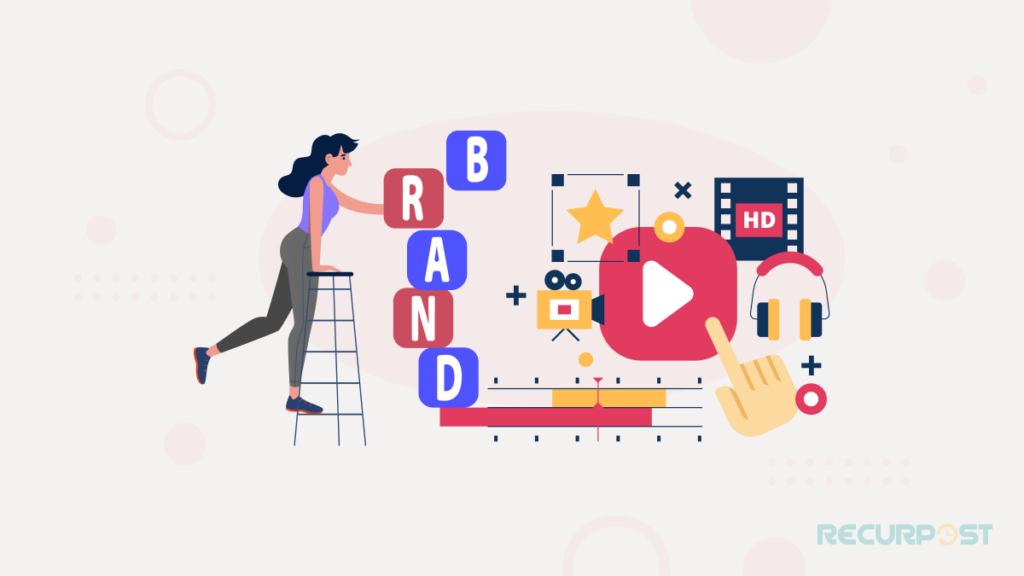 Increase traffic
According to the statistics, 68% of people make buying decisions after watching YouTube videos. In addition, YouTube supports 76 different languages, which allows brands to share information in a local language.
The above numbers clearly establish YouTube as a platform to reach a wider audience by creating videos that appeal to them.
Improve brand visibility
You will see videos appear more prominently on Google's search results than any other form of content. When you create a YouTube video from the content on your website and create backlinks to it, your website will rank better on Google searches.
Build an Email list
One of the advantages of using YouTube videos is that you can easily build an email list. You can embed a sign-up form directly in a YouTube video.
A viewer can pause the video, fill out the form, and subscribe to your channel. This way, you can grow your subscribers and collect information from viewers while providing quality content.
High conversion
Videos evoke emotions better than other forms of content. It takes your message from static to dynamic and engaging. Through videos, you can build trust and authority.
Data says that engaging video content increases your conversion by 80%.
Multiple YouTube video ideas
You can create videos using plenty of ideas. You can go live or create a product explainer, list testimonials, sales, or presentation videos.
Based on your current objective, you can create a video that gives the most engagement and helps you to boost traffic and create brand authority.
29 Best YouTube video ideas for Brands
Here is a list of ideas for beginners that will inspire you to start your YouTube channel. It will help you to make your brand popular among the YouTube audience.
Do a little show-off (Red Bull)
People like to watch content that relates to them. You should create videos that excite your audience and, at the same moment, shows off what your brand is good at.
Red Bull understands the power of YouTube videos. So they chose the YouTube platform to display their brand personality. The brand associated itself with adventure. Red Bull's freefall video of jumping from space has become a huge success, establishing a world record.
Instead of creating videos around the core product, Red Bull introduced adventure as their brand mantra. The brand used incidents to create an experience around its product and implemented the same in its marketing campaigns.
Figure out what emotions you want to associate with your product or service. It can serve as an inspiration for you to find the best idea for your brand.
Product Tutorial
Consumers like to see your product in action. Showing your product's or services' efficacy by displaying how to use it is among cool content ideas for video creation.
By creating such videos, you can create awareness of your brand. These videos will pop up when people search for your brand on YouTube. And whatever you offer through videos will remain irresistible. You should highlight real customers in your videos to make them more transparent.
Phillips has done a great job making product videos showing how to use them.
The above YouTube video shows a recipe using a Phillips All-in-one pressure cooker hosted by a user. Use it to get more subscribers for your brand too.
New product launch
Earlier television commercials were the only way to introduce a new product. Today, YouTube is the most preferred channel for launching your product or services. You can create a detailed video showing its features and benefits without considering the advertising budget for a limited time frame.
Nike launched LeBron 17 with an innovative video idea.
It shows how the product is unique while being the best in comfort and style. Launching a YouTube video with an appealing visual announcement before launching a real product builds anticipation for the product.
Special event announcement
Apple is ahead of other brands regarding the casual style of new product announcements. You will find many recorded events by Apple on YouTube, including Steve Jobs as a host.
Generally, Apple's new product is separate from the existing one. They always come with innovative technology, a pack of simplicity and elegance. Due to the array of features, Apple product announcements can't be short videos. So, it becomes a special event.
As a brand, if you are introducing a new product or service to your portfolio, which is unique and a great service to people, you can think about that special thing. It helps to differentiate your brand in your industry. This type of video typically gets higher engagement and makes your brand popular.
Comparison
While thinking of creating videos, do not ignore the power of comparison. Such videos compare your product with your competitor's, or you can compare a list of products side-by-side with the one you want to promote.
While creating comparison videos, it's crucial not to pull others' products down. Videos that insult others' products or show their audience that the product they use is of low quality compared to your product will never accomplish their business goals.
Instead, try to highlight unique features in your products or services. If you are making comparison videos for two brands, you can discuss the characteristics of both brands and then genuinely tell your audience why you prefer the specific brand.
These ideas can ideally also be used to create YouTube shorts and produce quick-to-consume short-form content for the platform.
This video compares brands Apple and Microsoft without letting any brand down.
Influencer YouTube video
Influencers are the best ways to promote your brand with YouTube videos. Even big brands acknowledge the importance of influencers.
You do not necessarily need to think about big names when it comes to influencers though. Instead, work smart! Approach local industry-specific influencers. They tend to attract your target group with precision. Videos are a great way to show an influencer's connection with your brand.
Marie Forleo is a well-known local influencer. She is a celebrated author and TV host. She is known for promoting books by renowned authors from the US and Canada.
In the above video, you can see how author Robin Sharma became a part of her guest on MarieTV to promote his book 5 AM CLUB,' a perfect example of reaping the benefits by taking help from industry-specific local influencers for your brand.
Talk about industry myths
People like to know when old myths are busted. When you go through customers' comments, reviews, and queries, it will give you an idea about myths people are having around your industry or brand.
If you want to create explainer videos around myths, look for common misconceptions people have about your industry.
Let us consider the above example from a famous MythBusters channel on YouTube named science channel. Based on the scene from Titanic, they showed Jack could survive with Rose since they can share a door.
Celebrate breakthroughs
Celebrating milestones is one of the great tricks. You can create a video to celebrate your business's opening anniversary, introduce a new product in the same video, or announce a special offer over a specific period.
In the above video, Dell Technologies celebrated a breakthrough of reaching one million followers on LinkedIn. The chairman and CEO of the company, Michael Dell, thanked their followers for this achievement by creating a YouTube video.
Aha! What a great idea to thank your audience!
Inspired. Right? Think about how you want to spread the word of gratefulness to your audience.
Share success tips
If you want your audience to perceive you as an authority in your industry, you should make video-sharing tips that help people succeed. People around you want to become like you when they see you are doing great in your business. They like to learn success tips about your industry that can help them to grow their business.
Consider an example of Robert Kiyosaki. He is a great example if you want to learn to build wealth. He shares his expertise in doing great business and becoming rich on his channel, making him a favorite among entrepreneurs.
Talk about the evolution of your industry
You can make explainer videos that talk about the evolution of your industry. Some people might think it doesn't seem exciting.
But it's an excellent idea if your industry has an appealing evolution story that people like to engage with. The evolution of the Apple brand connects with the development of computers. Everyone would love to indulge in it.
Remember, the story that you tell must apply to your audience. Try to add old pictures to your video to make it more interesting.
Give a valuable tip
You can give your clients meaningful tips that are useful in promoting your brand directly or indirectly. Watching your video, people may think of buying your products or services.
The above Starbucks video inspires its audience to try new options at any store. Not only that, if someone comes up with a unique combination of coffee, they will honor you by giving the recipe your name. Indeed, a mind-blowing idea by Starbucks!
Start creating a video that will have your clients buying your products or services!
Share inspirational videos
Videos fueled with emotions get the highest engagement. can touch their feelings, and people will remember your brand forever. People like to see videos filled with humor, surprises, and adventures.
People who watch an inspirational video get positive feelings and put your brand in a positive light. If you are connected to some social cause, you can share someone's heartwarming success story.
Nike ads are ahead of other brands when it comes to motivation. The above video is filled with positivity and motivates you to take action.
Discuss the topic
You don't have to plan for every video content. The best videos are free-flowing. Just pick up the topic people are most interested in learning about and sit in front of the camera.
You should work on creating a mind map and decide the topics that you will talk about. In this type of video, you don't have to prepare your speech word by word. Pick up the topic about which you have good knowledge so that you can easily flow through various sub-topics.
One of the best examples in this category is the Huberman Lab channel by Andrew Huberman, where he discusses neuroscience.
Case studies
One of the best ways to promote your brand is to create content around your customer's journey. Everyone likes to hear real-life stories.
You can go through your social media comments and connect with those who are regular or pick up those who left glowing remarks for your brand. You can ask them to share their unique experience with your brand on a YouTube video. These videos impact local and small businesses and help build trust.
This video is a case study of a digital marketing training student. It shows how he could generate handsome revenue in less than two months.
Testimonials
People prefer to review products or services before buying from any brand. Adding user-generated videos to your YouTube channel is an excellent idea.
You can request your customers to give reviews and feedback about your brand and products, which you can add to your channel. It would be best if you take this as an opportunity to spread good words about your brand. Few brands have a channel specially dedicated to sharing Testimonial videos.
Home or office tour
Your audience would love to see the video that takes them on a tour of your business setup. It can be your gym, saloon, formal desk and chair, or working-from-home setup. Office tour shows your business culture and employee values.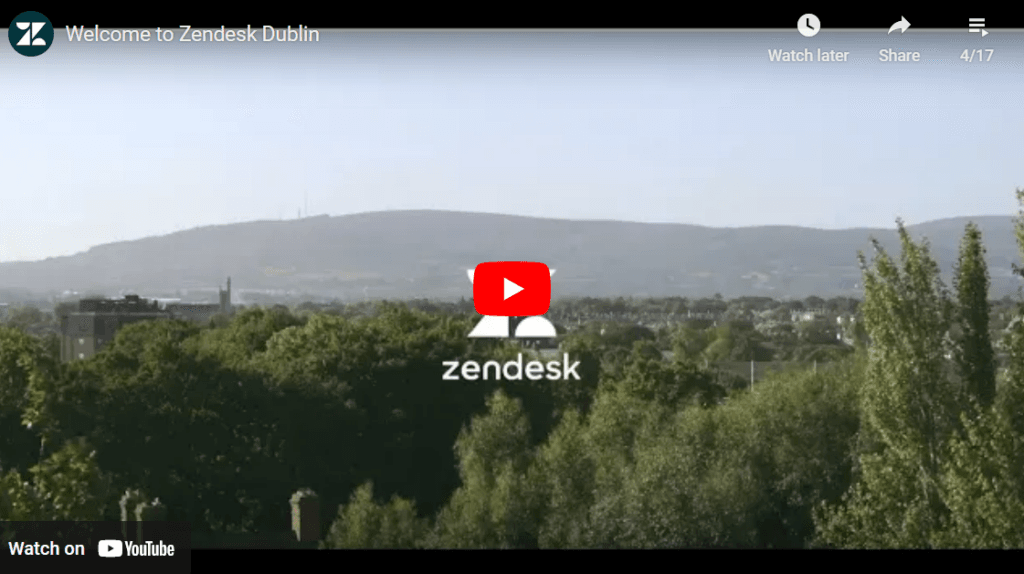 A video from Zendesk shows their people-first, fun-based approach that defines company values.
Backstage stories
Videos that show how your business operates work well. If you are manufacturing products, people die to see how the whole process works and how the final product comes out as a result of the process. Even if you are in a service-based business, people appreciate watching videos showing how the customer's requirements are processed.
Company culture
Another good idea is one that shows your customers your business goals, mission, and values that make you a great company. Your video shouldn't look like it is made for corporations. It should include just the right amount of fun without losing professionalism.
Meet the team
The team members make a brand and build a great organization. Showing the faces of your employees responsible for developing great products or services builds a stronger connection with your customers.
You can highlight their passion and daily responsibilities to make the video more exciting. Meet the Amazon technology team in the above video, which shows internal connections among team members.
Employee profile video
Profiling individual employee videos is a great way to share each person's talent pool. Instead of taking the approach of "Meet the team," you can narrow it down to taking interviews with an individual employee. It's a great way to highlight their background, skills, and contribution to your business. G-Research has this approach. The video displays the motivation of one of their data scientists.
Do-it-yourself – DIY videos
If you can't fix anything, then where will you go? YouTube, right? Whenever you want to find the solution to something actionable, videos on YouTube help the best.
If you are an expert in something, why not offer tips to your audience? 5 Minute Crafts solved everyday life hacks in a few easy steps. When your channel meets YouTube account verification requirements, you can get the badge, which adds credibility and sets you apart.
Products, services, or app tutorials
Showing people how to use your products or services is an excellent way of gaining exposure for your brand. You can walk your audience through the complexity of your product and make it simple to use.
Node influencers app shared a YouTube video tutorial to give businesses a look and feel of using it.
Ask me about anything video
The Ask Me Anything (AMA) discussion is popular on Twitter and Reddit. But you can translate it into a video and upload it on YouTube. This type of YouTube video idea can be used for replying to audience questions. It works best when you invite an expert from your industry.
Elle is a fashion brand. They are well-known for inviting fashion icons to the show and asking them interesting questions that their audience love to hear.
Arrange webinars
If you are in the education industry and host webinars, recording the session and uploading them on your channel is a good idea. It helps your audience revisit the content if they cannot attend the live webinar.
People searching for similar content on YouTube may come across your recorded webinars and be interested in your courses.
Webinars are designed to be interactive. These interactions translate very well in a video that solves people's queries. Digital marketing trainers use these types of videos to repurpose content and extend their outreach.
Live stream event
People find excitement in attending the live event. So next time you plan a special event, why not go live streaming?
The Airline Videos channel on YouTube runs live airport streaming at Los Angeles International Airport. They attracted a huge audience for the live event. After the event, they translated it into a video to upload on their channel.
Interview someone in your industry
Invite an authoritarian personality from your industry for the interview. It is an opportunity for valuable exposure for your brand. It's helpful if you collaborate and upload the video on each other's channels. People find this type of idea interesting and informative. Be sure to work on the interview subject and prepare the questions you will ask.
Guy Goma became a celebrity when he came for a job interview and was interviewed by BBC News.
Whiteboard presentations
Whiteboard videos create engagement when you explain complex ideas with a visual narrative. The traditional approach is to shoot a video where an expert deconstructs the concept. The latest developments replaced it with a digital whiteboard where an animated illustrator draws the story told by the narrator.
A whiteboard presentation is among good YouTube video ideas if you are uncomfortable being in front of the camera.
Rand Fishkin is a charismatic SEO expert skilled in bringing the subject to life through his whiteboard presentation videos.
Contests
Competition or contests are an excellent way to grab your audience's attention. You can ask your audience to make a small video and share it with you. You can give prizes to the best contestant, upload their video on your channel, and announce a prize for their classic presentation.
Podcast videos
Podcast videos on YouTube are recorded video sessions. Podcasts are less formal and more conversational than interviews. Podcasts can be your customer's success journey. You can invite experts in your industry and upload the content on your website and your YouTube channel.
Jay Shetty, a renowned author, and entrepreneur, regularly invites business leaders worldwide to his podcast.
How RecurPost helps brands to promote their videos?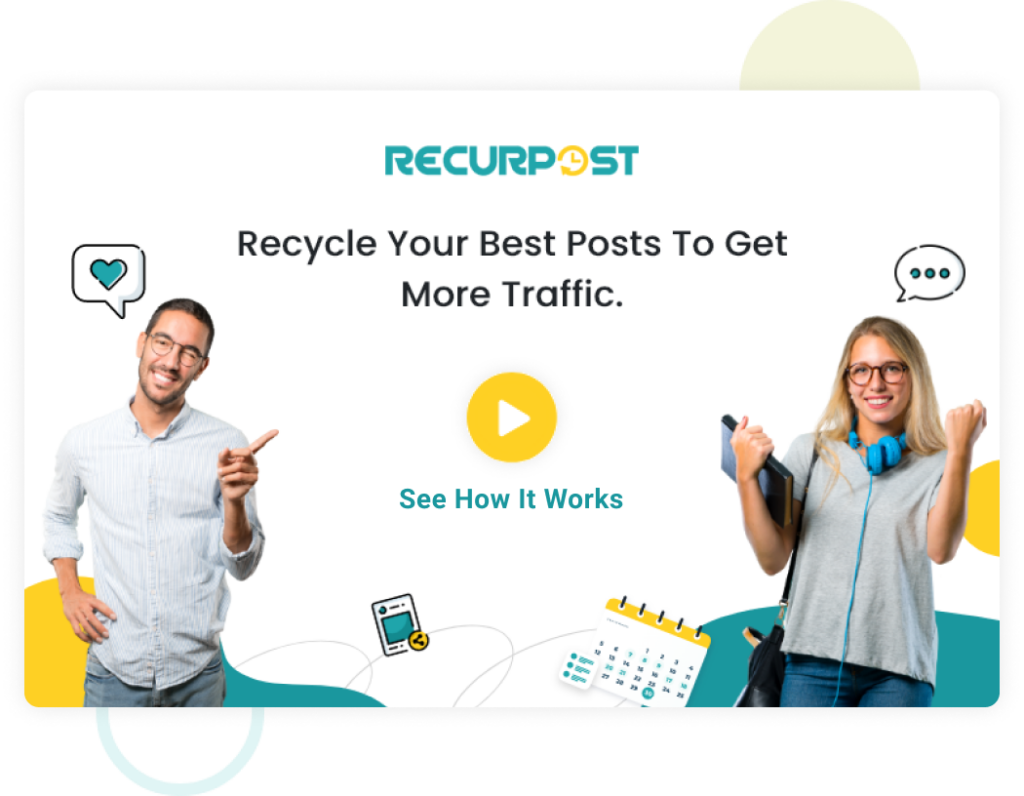 RecurPost allows you to turn your company's ambitious goals into impressive accomplishments. You can create videos and schedule them in advance to go live at a later time when your audience is up.
Your Videos can bring you the additional traffic from social platforms. You can schedule Facebook posts on your profiles, groups, and pages and engage your audience by creating entertaining content. It allows you to schedule Instagram posts on your personal and business profiles to share images, stories, and reels about your customer success stories.
RecurPost lets you schedule tweets at the best time by keeping in mind Twitter norms. You can also schedule LinkedIn posts on personal and business pages.
RecurPost is also an excellent Pinterest scheduler for taking advantage of the visual platform. It is also possible to schedule Google Business Profile posts using RecurPost to attract local buyers.
RecurPost provides unique features and advanced analytics, making them one of the best free Hootsuite alternatives and Planable alternatives. RecurPost pricing is economical compared to other social media tools and provides a 14-day free trial to test its features.
What should be the content strategy for faceless YouTube videos?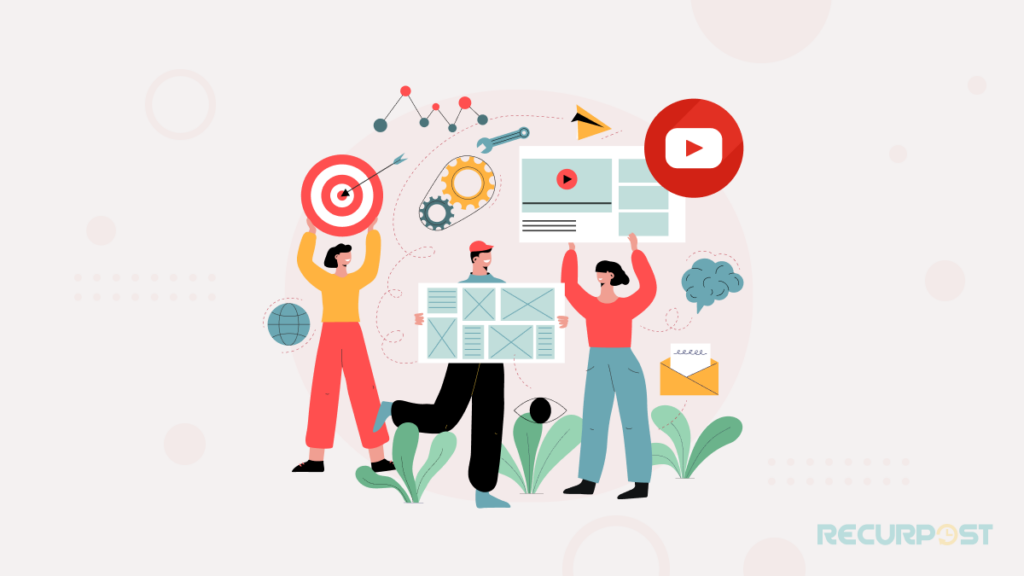 Faceless YouTube videos are a unique and creative way to engage with your audience without revealing your identity. These videos can be entertaining, informative, and even inspiring, offering a fresh take on traditional YouTube content.
Tutorial videos: One idea for faceless videos is to create tutorials on various topics. Whether you're showing viewers how to cook a specific recipe or teaching them how to master a particular skill, you can create engaging and informative content without ever showing your face. Using creative camera angles, close-up shots of your hands, and voiceovers, you can guide your audience through each process step while keeping your identity hidden.
Storytelling videos: By using animation, graphics, and voiceovers, you can tell compelling stories without ever showing your face. Whether you're sharing personal experiences or telling fictional tales, storytelling videos can be a great way to connect with your audience and inspire them.
Comedic videos: Faceless videos can be a great option if you want to create comedic content. You can create hilarious sketches and parodies that will make your audience laugh using props, costumes, and voiceovers. Whether you're poking fun at popular trends or making light of everyday situations, there are endless possibilities for comedic faceless videos.
You can create engaging faceless videos using various techniques, including voiceovers, animation, and creative camera angles. If you want to try something new on YouTube, consider incorporating faceless videos into your content strategy.
How can you schedule YouTube videos using RecurPost?
You can easily schedule YouTube videos on multiple platforms with RecurPost. First, you have to add social accounts on which you want to publish videos by clicking on the tab "ADD SOCIAL ACCOUNTS."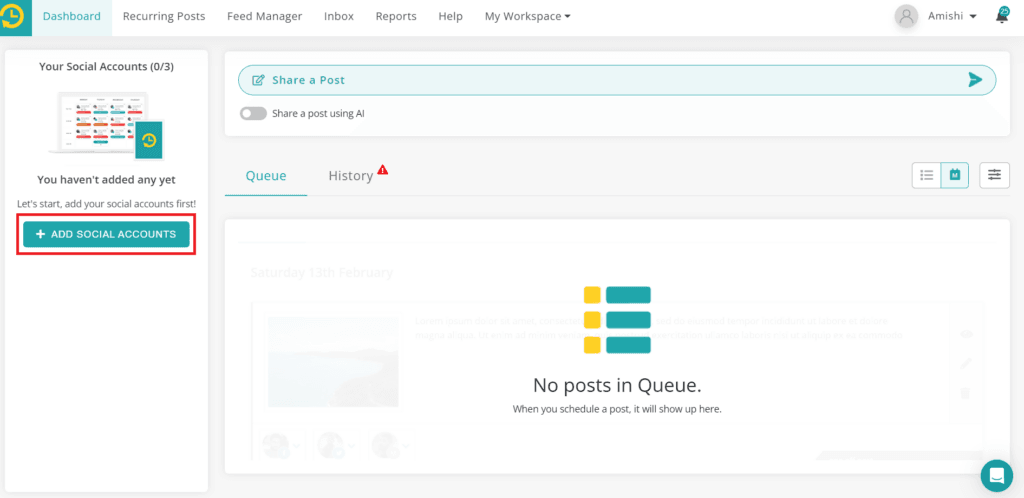 You will be able to select multiple accounts across various platforms to publish videos, including YouTube. After selecting YouTube, you have to add credentials to connect your YouTube channel with RecurPost for easy scheduling.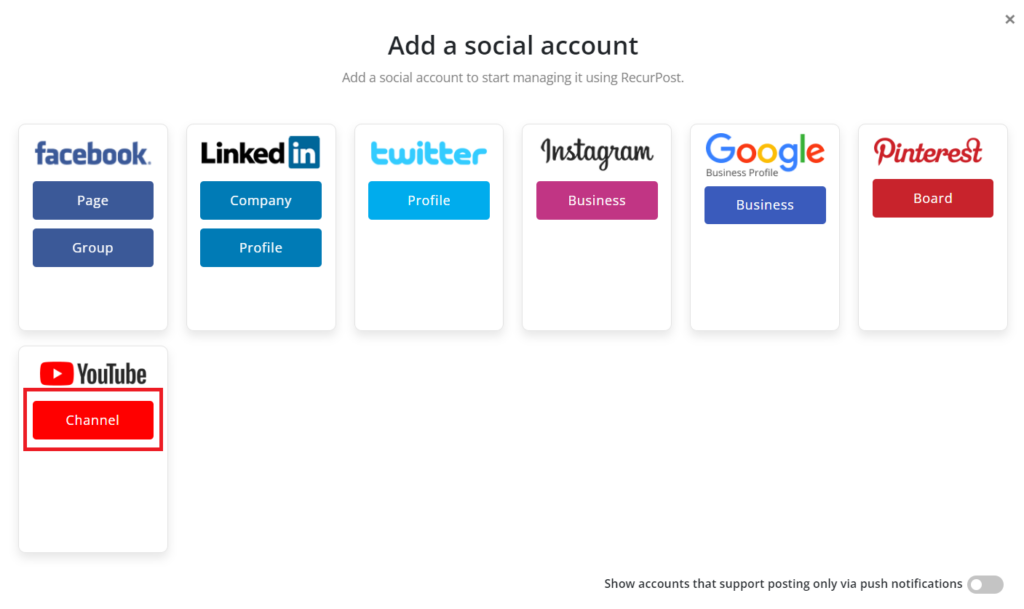 Click on the "Share a post" tab to add content video and schedule it for the day and the time you wish. Also, select channels where you want to publish your content. You can add descriptions for the video including hashtags. Once uploaded the content from your system, you can look at the preview by clicking on the "Preview" button. You can post it immediately by clicking on "POST NOW," or schedule it for later.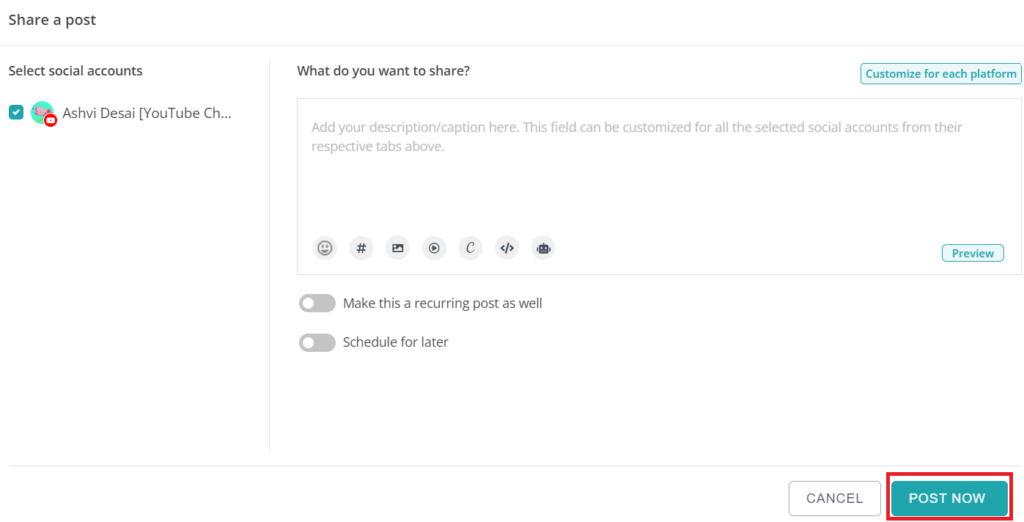 The below image displays a Preview of your video with respect to the selected platform.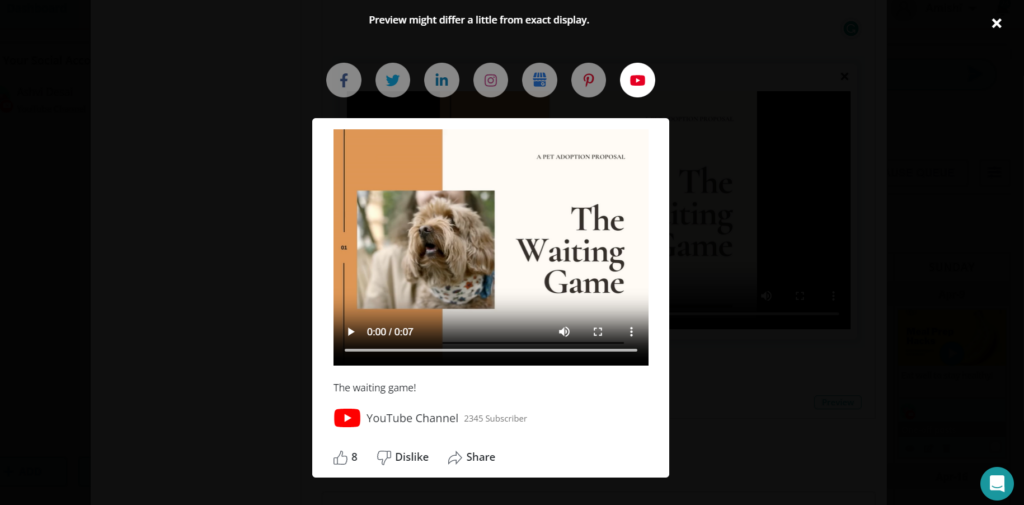 RecurPost allows you to add a Title for your video. You need to select the video category, video status and optionally add tags.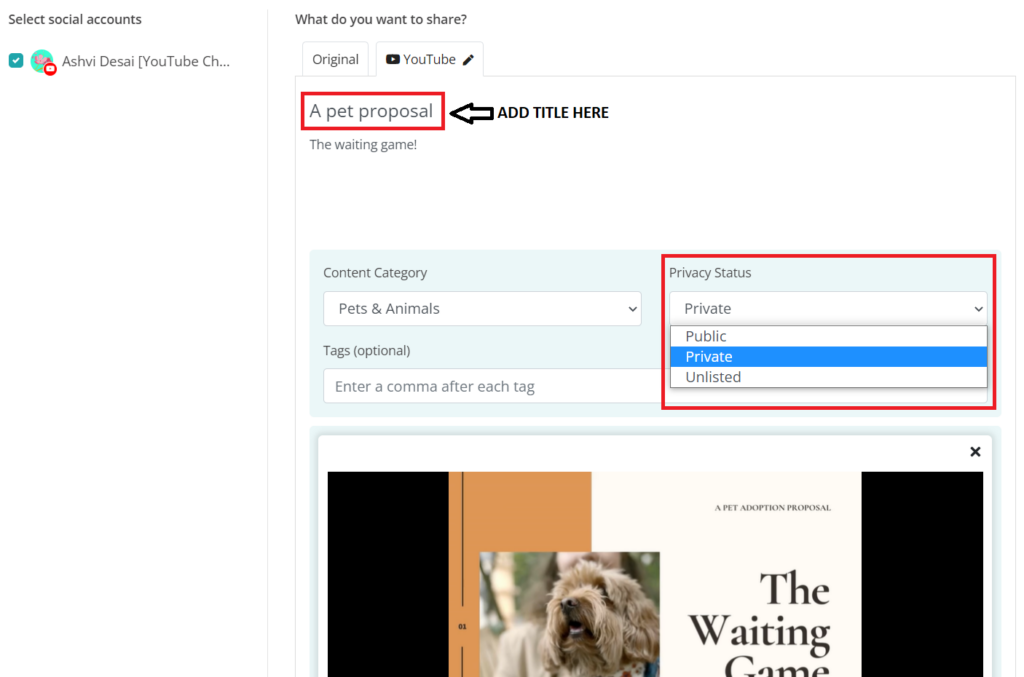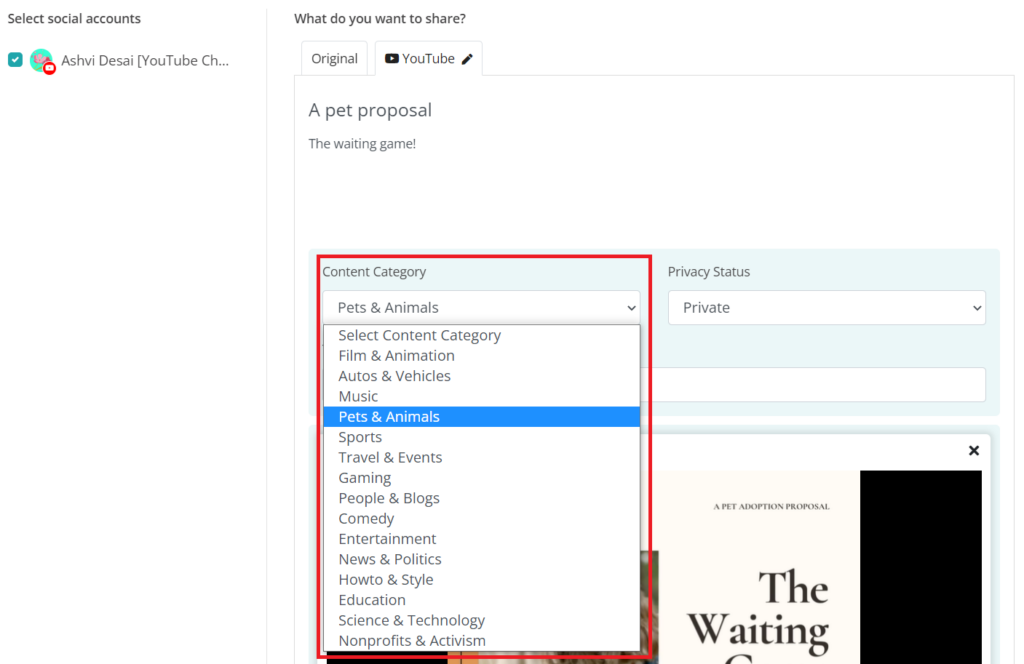 By selecting the best time to post option, RecurPost manages the time of publishing and post when your audience is active.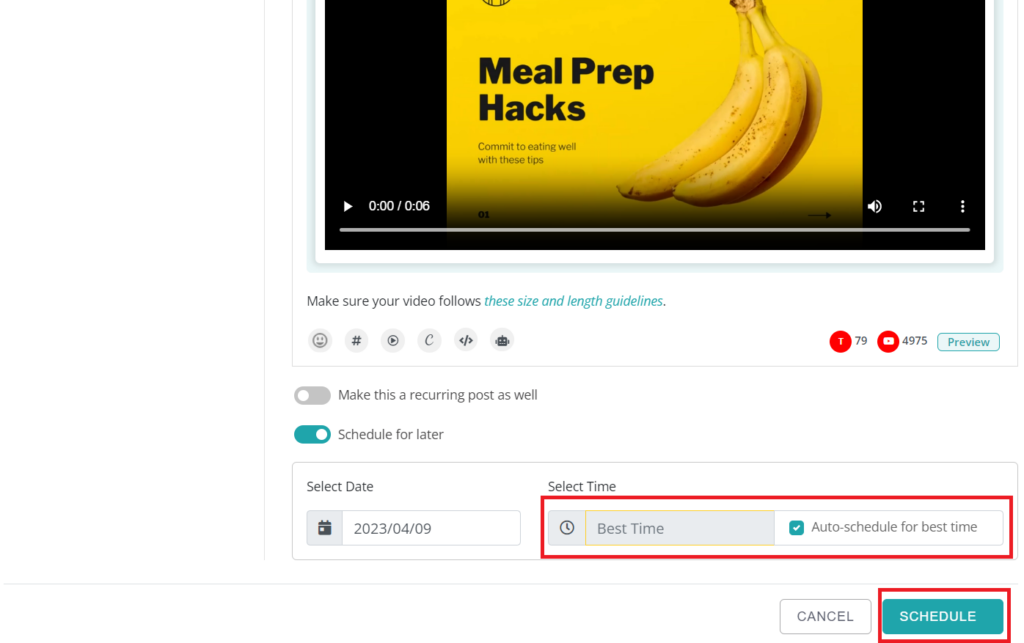 After scheduling multiple videos, you can see all the scheduled posts in RecurPost's calendar view.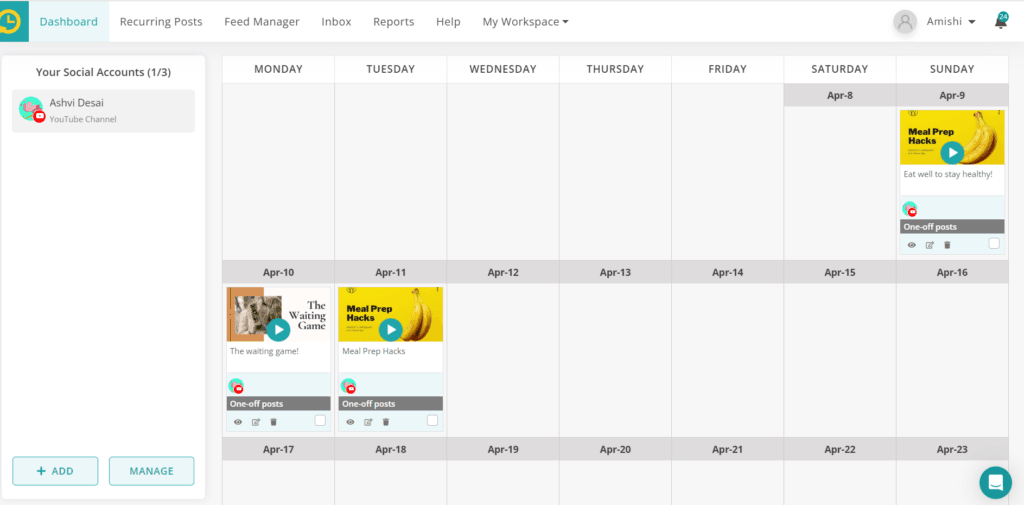 Once scheduled, if you want, you can edit your post or delete it from the calendar.
What should be your strategy for making the best out of YouTube video ideas?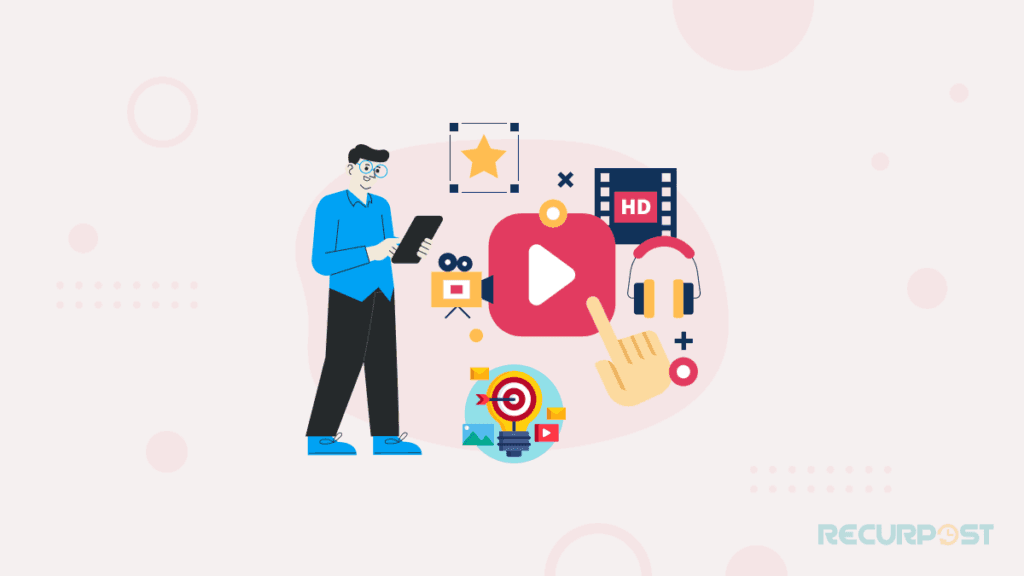 YouTube videos provide immense opportunities to grow your brand. Using the vast number of users of the platform, your brand can easily promote products or services. Let's see how to create an efficient strategy and implement it for your brand.
Step-1: Create a YouTube channel
You can log in to YouTube with your personal Gmail account, which can be handled only by you. To start multiple channels for your brand, you should log in with a company id. You only need multiple channels if you want to upload videos from different niches.
Step-2: Research your audience
Before coming to video content ideas, analyze the demographics (age, location, gender) and interests (viewing preferences) of your audience. Based on your target audience's needs, you will be able to create helpful content for your audience.
Step-3: Conduct competitor analysis
YouTube is a large platform with many businesses selling the same products and services as you. By analyzing the top videos of your first five competitors, you can determine the opportunity for your channel and the challenges to conquer.
Step-4: Create a video by following YouTube guidelines
YouTube has its own video ranking algorithm. To rank your video in the YouTube search results, you should focus on creating an attractive thumbnail and use appropriate keywords while writing the title and description for the video.
Step-5: Upload the video to your channel
Make a schedule to upload the video on a fixed day and time. By deciding the time and day to upload the video on your channel, your viewers will come to know when a new video will be published.
You can determine when your video will get the highest engagement and views by selecting different days and timings. You can check analytics to decide the most appropriate day and time.
Step-6: Provide all the necessary details on your channel
It is crucial to optimize your channel. You should complete your profile, upload your company logo, and fill in the channel description.
It would be best if you also mentioned your other channels so that your subscribers know. Add a link to your website and social media profiles, and create a channel trailer that describes your company and your products or services to viewers.
Step-7: Promote the video
If your video title contains a relevant keyword, your video is more likely to get ranked and garner more views. You should upload the same video to other social networks to increase your website's traffic.
Step-8: Measure success
Once you upload your video, you should keep track of your performance. It will help you understand your video's positive and negative aspects, which will help you get better for your next attempt.
Conclusion
There are countless ways to create videos. You need to be creative and innovative to stand apart. The above list will guide you with your first YouTube video ideas.
Practice makes the man perfect. And gradually, you will be coming up with plenty of new ideas. You can include YouTube marketing in your social media proposal to grow clients' businesses.
Keep in mind that RecurPost can help you manage your social platforms and we are adding support for YouTube in a few weeks.RecurPost is a bulk social media scheduling tool.
With RecurPost, you can repurpose your video content and upload it on multiple social channels with relevant captions. Now you have a list for choosing the best content ideas for creating the best engaging videos.
Do you have any tricks that I missed?
FAQs
What are the best YouTube video ideas for small and medium businesses?
It can be an office tour, team meeting, product showcase, event announcement, and company culture.

What content sells best on YouTube?
The most selling content on YouTube includes topics like food, music, gaming, sports, travel, technology, and fashion.

What type of YouTube video ideas get more views?
Music videos and content for kids top the YouTube video chart.
What type of content is in great demand on YouTube channels?
Channels that include their product or service review videos get the most engagement. People prefer to buy products or services after watching customer review videos.

What YouTube videos grow more subscribers?
Ideas like interviews, product explanations, Testimonials, Webinars, Vlogs, and reviews of products and services assist in growing subscribers.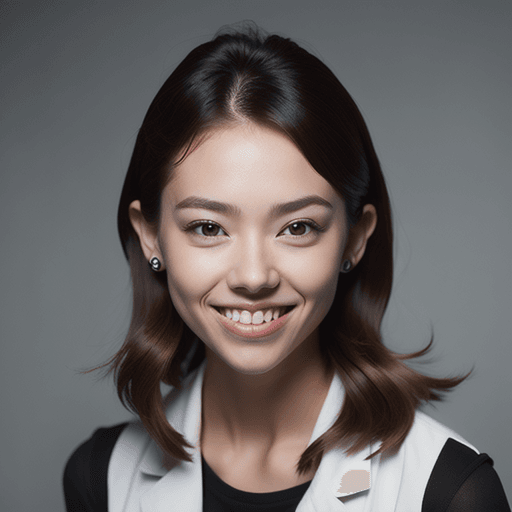 Debbie Moran is a Digital marketing strategist with 5+ years of experience producing advertising for brands and helping leaders showcase their brand to the correct audience. She has been a part of RecurPost since 2019 and handles all the activities required to grow our brand's online presence.