A few weeks ago, Google silently released a feature to selected GMB users. It prompted some GMB listing managers to get their profile upgraded for $50 per month! The feature first appeared publicly in a Tweet from Google My Business Product Expert Tom Waddington.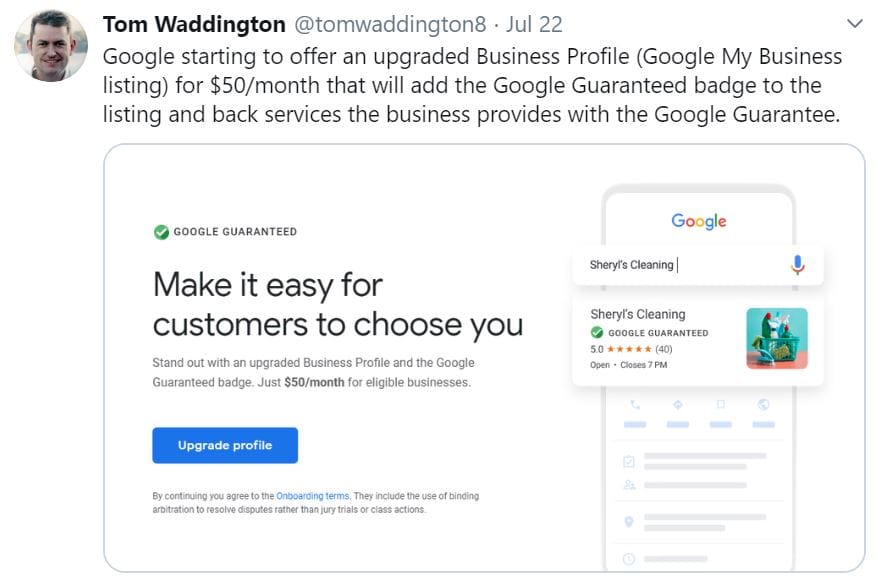 "Google starting to offer an upgraded Business Profile (Google My Business listing) for $50/month that will add the Google Guaranteed badge to the listing and back services the business provides with the Google Guarantee," the Tweet says. Tom later tweeted more details where he revealed that the program appears to be limited to select local service providers: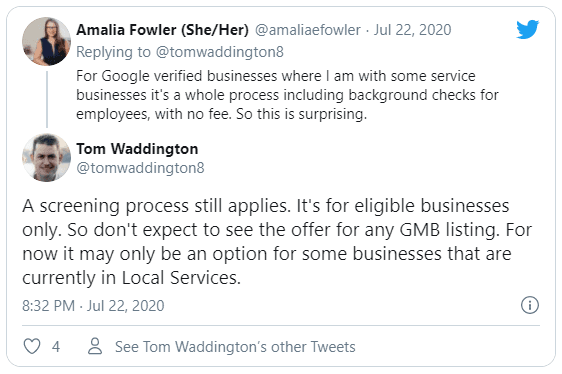 Tom indicated that maybe the companies already in the Local Services program might be the ones that Google would select for an updated company profile.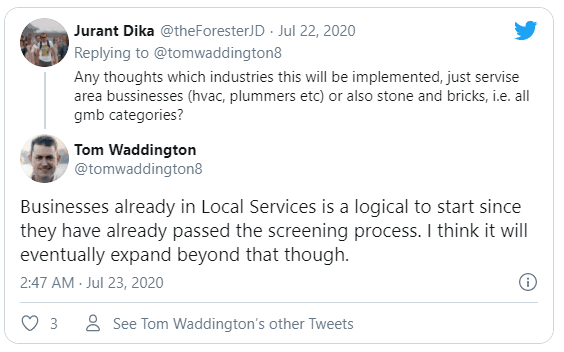 Later in the conversation, Tom indicated that most companies would be keen to have an upgraded GMB profile once their opponents opt for one.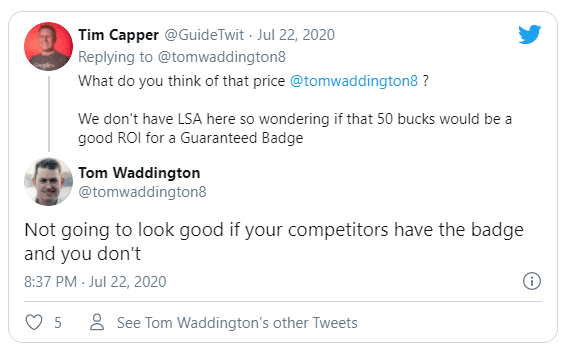 That certainly sounds a bit interesting! A business will begin to lose customers to another service provider if potential customers perceive their profile as less reliable than any other business with an upgraded GMB profile. This blog post by RecurPost, a social media scheduler, allows you to schedule Google My Business posts and gives insight into some points related to this exclusive update!
Here are some things you should know about this upgraded GMB profile feature:
The cost of getting an upgraded GMB profile is $50/month per location.

It is currently under the testing process and has

not been announced officially.
After getting this upgrade, a badge saying 'Google Guaranteed' will be added to the GMB listing.
This badge will appear in the local search results.
'Google Guarantee' isn't a completely new feature; it is just new to Google my business profiles.

The GMB profiles that are already approved will only see the upsell prompt.

Only a small number of profiles are pre-approved at this point.

To get an upgrade, profile holders would have to undergo a screening phase similar to the approval of the LSA.
For how long has the program been ongoing?
There is another program called Google guarantee. The Google Ads support page for this service, called Google Guarantee, dates from 2019, which is seen on the Google Help page dated April 2019.
Since no official announcement was made, the program is presumed to be under testing. However, there is the official documentation of a program with that name, and according to Archive.org, it is dated April 30, 2020.
What is the upgraded GMB profile, and how can you get it?
There have been a few relatively official statements circulating the SEO-verse about exactly what the revamped and upgraded GMB profile is and how to get it. Out of them, one of the most common statements looks something like this:
"We're constantly exploring new ways to enhance our experience for our advertisers, retailers, and users. This particular upgraded GMB profile feature will show a Google Guarantee badge on business listings. We don't have anything additional to announce at the moment."
However, in other communications, representatives from Google have disclosed some more details. They said that only a small quantity of pre-approved GMB profiles will receive the upsell prompt. There is no method to prompt the upgrade. Although there is no public timetable to extend the list of pre-approved profiles, we will see this upselling opportunity offered to a wider pool of sellers in the coming months.
In short, the only option to get an upgraded GMB profile is to be on Google's pre-approved list, and there doesn't seem to be any step that business owners may take to get a prompt approval at the moment.
Benefits of an upgraded GMB profile for businesses
The upgraded GMB profile will cost a whopping $50 every month for business owners. This amount might be a no-barrier for well-established businesses, but for a majority of local and small businesses, the benefits might not offset the subscription fee. Especially in the midst of a pandemic, this amount can be a setback for businesses actually wanting to invest in the feature.
This upgrade has apparently only one tangible benefit which is the badge saying that the particular listing is Google Guaranteed & can be repurposed. It might be possible that the click-through rate of GMB listings would improve after upgrading and getting that little green checkmark. However, nothing can be said without the results of testing and the benefit of increased click-through rate would also get diluted when the competitors too get an upgraded GMB profile.
Benefits of an upgraded GMB profile for Customers
Clearly, business listing owners aren't the only ones who will get benefit from this Google Guaranteed badge. It is also intended to help consumers by backing up screened companies with a "Get it done right or Google pays you back" pledge.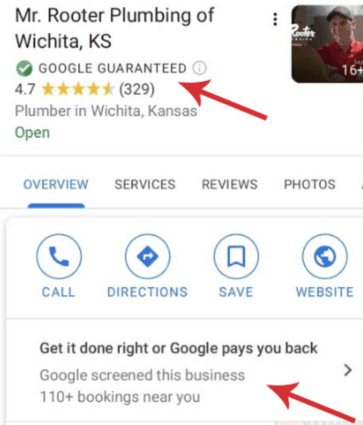 Customers must book the services through Google Local Services. If they contact the business in any other way (such as another phone number or their website or directly from one of Google's partner affiliates websites), then they are not protected by the Google Guarantee.
Google may cover claims up to the cost of the initial service, with a lifetime cap for coverage. The following are the lifetime caps for coverage:
United States: $2,000

Canada: CAD $2,000

United Kingdom: GBP £1,500

Ireland: EUR €1,500

Spain: EUR €1,500

France: EUR €1,500

Italy: EUR €1,500

Netherlands: EUR €1,500

Germany: EUR €1,500

Austria: EUR €1,500

Belgium: EUR €1,500

Switzerland: CHF ₣2,000
The Google Guarantee extends to claims made within 30 days of the date of completion of the initial service. Customers must have a receipt that clearly indicates the amount spent and the business name of the provider. Add-ons or future services, property losses, travel costs, testing fees, discontent with the cost or responsiveness of the company, and cancellations are not protected by Google Guarantee.
This is something that customers will definitely look forward to! The upgraded GMB profile will serve as an extra layer of trust incorporated into the minds of consumers.
Should Business Owners Opt for the Upgraded GMB Profile?
On the one hand, the upgraded Google my business profile option doesn't seem entirely reasonable as Google is traditionally uninterested in constructively removing spam, duplicate, or fake business listings. Google Guarantee badge would not be appropriate in a world where consumers could completely trust the verified companies found on Google Maps.
On the other hand, the upgrade could certainly increase the CTR, leading to more calls, more website visits, more leads, and ultimately more sales. If done right, this feature can pay off very well even when the competitors have the same badge on their listings.
Google My Business is one such reliable platform that has assisted businesses in improving their web visibility and accessibility by posting essential business data online.
RecurPost is a well-known Google My Business scheduler. It is also among the top free hootsuite alternatives and post planner alternatives available today. We were among the first to endorse it as soon as we understood its importance. This article will cover all there is to know about Google My Business with the proper use of social media bulk scheduling.
Alternatives to getting an upgraded GMB profile
We understand that this feature has certain drawbacks currently:
It is not available for everyone and is still under testing.

There is no official announcement of whether this feature will be made public anytime soon.

It has a very high cost of $50/month/location which can't be affordable for every business.
So, what you can do as a Google my business listing owner right now?
1. Update your GMB profile
While you are not certain about the upgrading, let's focus on updating! Having a well-optimized business profile is now important more than ever. A GMB listing that is updated with all possible details has higher chances of appearing in the Google local pack and right on the top of organic listings.
Add links to your website, update your contact number, describe your working hours. Don't forget to add an in-depth description of your business. You can also upload photos and videos of your physical store or office, and also the pictures of your products. This also helps gain potential customers' trust and gives them an idea of what to expect when they visit your location.
2. Focus on getting positive reviews
While contacting any business, the first thing that customers notice is the number of positive reviews that the particular business has gotten from its customers. Use social media listening as the key feature to gain more positive rewievs from customers. Focus on actively cultivating reviews and asking customers for feedback. Then, once a review has been left, respond to it as soon as you can. Doesn't matter the review is positive or negative, you need to respond to all of them!
When you respond to negative feedback, it gives the impression that you're working on improving the service you provide to your customers and are solving any issues they face. 30% of customers said this was an important factor in judging a business!
3. Take advantage of the 7-day posts
Google my business has a very cool feature available for its users. You can upload posts that have an expiry of 7 days. They play an important role in improving your local SEO. Google Posts can be successfully used to promote events and special offers or to put the spotlight on a specific product or service. They're very easy to set up, but you still don't see too many of them on the SERPs. So they're a perfect way to stand out from your competitors.
You can use a social media scheduling tool, in case you find it difficult to regularly post on GMB and keep a track of expiry dates of posts. RecurPost is one such tool which offers a Google my business scheduler. Using it, you will be able to schedule recurring updates on your GMB profile and improve your listing's online presence.
Additionally, RecurPost allows you to schedule Facebook posts on your profiles, pages and groups. To increase engagement, you can schedule Instagram posts, including reels and stories. Schedule LinkedIn posts on personal and business pages to connect with business professionals. Schedule tweets to start conversations with people relevant to your business and organically grow your audience. RecurPost is an excellent Pinterest scheduler for showing your products and services elegantly. Schedule Google My Business posts with the CTA of your choice to grow your business locally.
While waiting for the upgraded GMB profile feature, try out RecurPost free for 14-days! Click here to sign up now.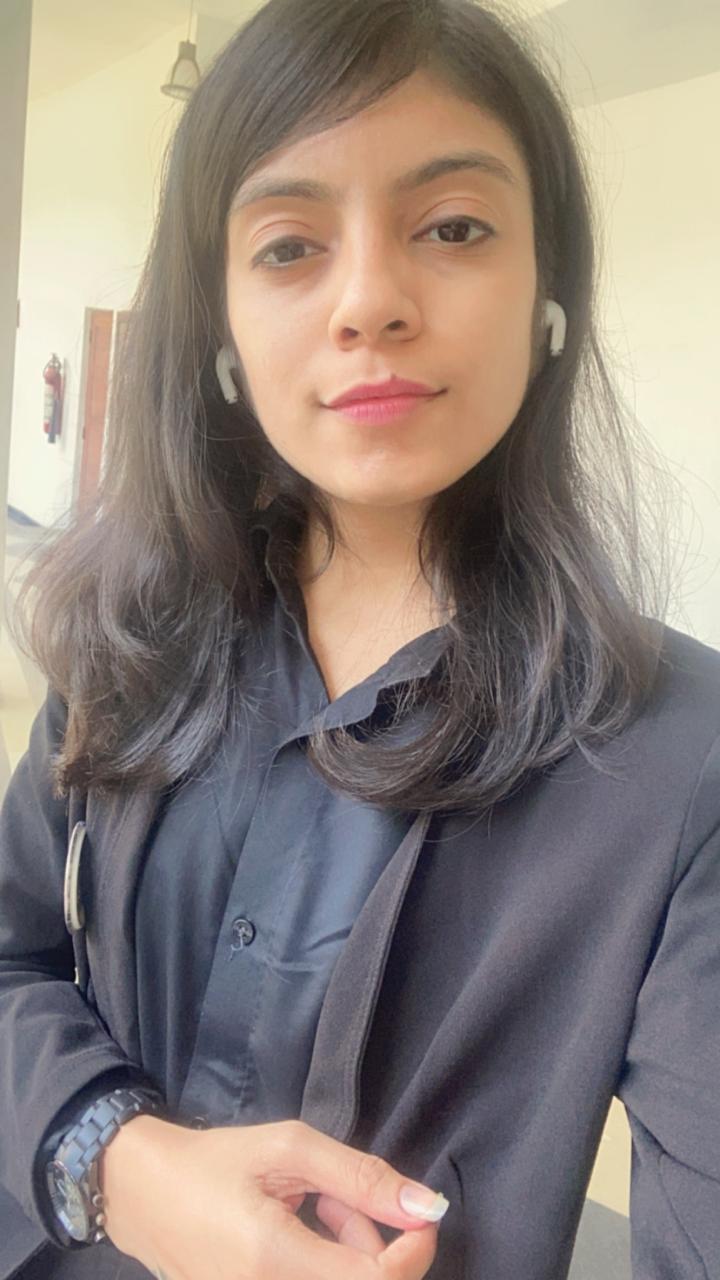 Amaiya Rathi is a Senior Content Writer at RecurPost. She helps RecurPost communicate with their readers in their own language. Whether it is the web copy, social media posts or blogs, Amaiya has worked on all aspects of copywriting. You can reach out to her at [email protected].