The little blue tick mark beside the username on Instagram is on the wishlist of every individual and business using the platform. But we know it can be so confusing and difficult to figure out how to get verified on Instagram. If you've also been wondering how to do it, this guide will answer all your questions!
Your Instagram marketing efforts can produce 5X more results when you get that blue badge on your profile. You might have the perfect Instagram bio and feed, but getting verified takes much more than that. We have researched, analyzed, and tested many ways to find the right ones to get verified on Instagram. So let's dig into the blog by RecurPost, a social media scheduler, which allows you to schedule Instagram posts. Know everything you need to know about getting verified on Instagram.
Table of contents:
What does Instagram verification mean?
Instagram verification is a way to prove that your Instagram account is authentic and presents a notable public figure, celebrity, or global brand. It is basically a symbol of trust – the digital way. You might have seen this verification badge on many social platforms. Twitter, Facebook, and even Tinder give out their own little blue badges to indicate that the platforms have confirmed the account in question is trustworthy and not fake.
These verification badges are specially made to make the real accounts stand out from the fake ones. It is to make sure that people follow the right person or brand. Verified accounts are easy to spot in the search results and convey a sense of authority.
Thus, it's pretty much inevitable why the badge is seen as a status symbol. They are not just given to everyone and their exclusivity leads to a certain amount of prestige. However, this doesn't increase or decrease the engagement that you get on your profile. By this, Instagram has made it quite clear that the engagement that verified accounts get is purely based on the content that they post, and not due to the verification badge.
How many followers do you need to get verified on Instagram?
There is clearly no defined rule on the number of followers you require in order to get verified on Instagram. Of course, celebrities with millions of followers are bound to get the badge, otherwise, their fan accounts will keep getting more followers.
But, you don't always need millions or even thousands of followers to get verified. If you are quite active on the platform and have a recognizable brand, you can get that blue checkmark.
MMA fighter Brian Kelleher has a verified account with 18k followers, he got it at around 15k followers.

Some accounts have even got the badge with less than 10,000 followers. Shopify stockroom is having around 7k followers, and got verified when it had less than 1000 followers!

On the flip side, Urban hydration has got more than 83k followers and still doesn't have the verification badge.

So, the number of followers definitely doesn't mean everything when it comes to getting verified on Instagram. There are many other factors involved in the process.
Official Instagram statements on getting verified
In the help section, Instagram has made its rules on verification quite clear. It says that a verified account means that "Instagram has confirmed that this is the authentic account for the public figure, celebrity, or global brand it represents. Submitting a request for verification does not guarantee that your account will be verified."
It states that "To request a verified badge, you must be a public figure, celebrity or brand and meet certain account and eligibility requirements." Instagram scans each request manually and decides whether the person qualifies as a public figure, celebrity, or a global brand. So even if you have a lot of followers, don't expect to get automatically verified without meeting all the requirements.
Specific requirements to get verified on Instagram
First of all, your account must adhere to the Terms of service and community guidelines. After that, Instagram has specified 5 general requirements for an account to get verified:
Authentic:

Your account must represent a real person, business, or brand. In short, you have to be who you say you are! You cannot hold a meme page or a fan account and expect to get verified.

Unique:

Only one account per person or business can be verified, with exceptions for language-specific accounts.

Public:

Your account needs to be a public account. Private Instagram accounts are not qualified to submit a request for verification.

Complete: You need to have a complete bio, a clear profile picture (probably the one in which your face can be clearly seen), and at least one post. Your bio should not contain 'add me' links to other social media profiles.
Notable:

Not everyone can get the verification badge just by being polite and asking nicely. Your account must represent a well-known entity and must be highly searched for. This is where things get subjective and confuse people about what they actually need to have in order to get verified.
Instagram also states that even though it is owned by Facebook, it follows its own procedure to decide who should get verified. Thus, your followers on Facebook might not necessarily affect the verification process on Instagram.
Now, you also might be thinking about the ways in which you can increase your odds to get verified on Instagram. Below, we have listed some tips that will maximize your chances of success!
Tips to get verified on Instagram
1. Complete your profile and bio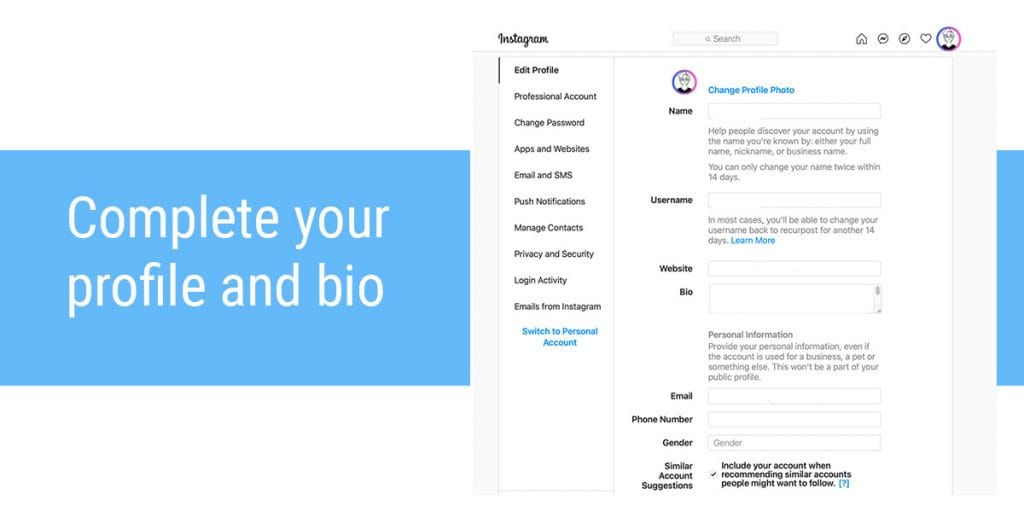 As this is one of the first requirements that you need to fulfill for getting verified, let's see how you can optimize your profile. First, select a high-definition profile picture in which your face is clearly visible.
Second, fill out your bio. Write your full name, specify who you are and what's your account all about, select a category for your account, connect your account with a Facebook page, and set action buttons.
You can include links to your website, blog, landing pages, or other online properties, just don't add any links to other social media accounts. Instagram insists that verified accounts can't have so-called "add me" links in their bio.
2. Post consistently to increase followers and engagement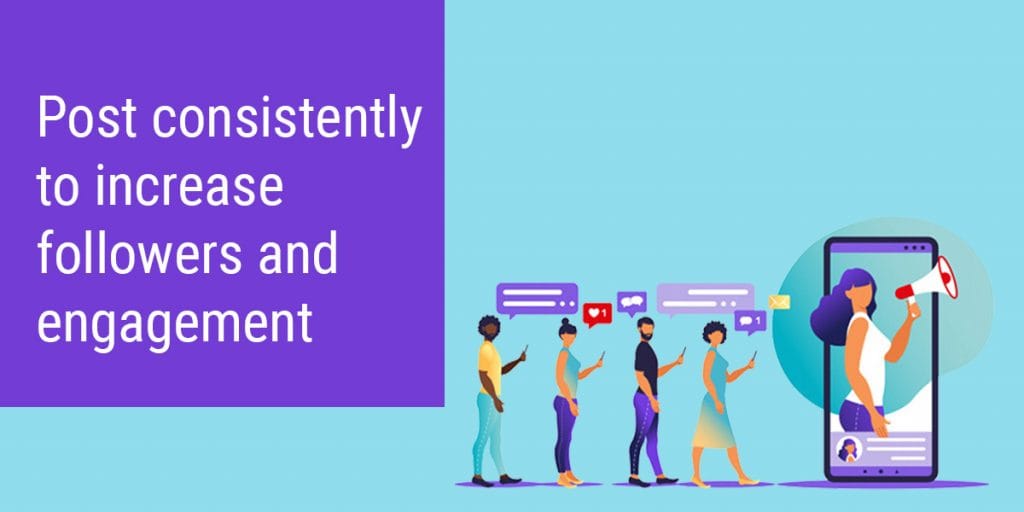 Though the minimum requirement to apply for verification is to have at least one post, we recommend you consistently post on Instagram by knowing Best and Worst Times to Post on Instagram. Otherwise, how will you increase your followers and prove that your account is notable? It's also one of the criteria, after all.
You must define your niche and create relatable content to attract people to your profile. Post at least once a day and add relevant hashtags to make your posts reach more people. Attracting a niche-based audience and posting engaging content will help you increase your followers and establish yourself as a notable account.
If you think it is time-consuming to post daily, you can create and schedule many posts using a social media scheduling tool like RecurPost. It provides an Instagram post scheduler to schedule your posts in advance and keep your profile always active. It also provides the feature of auto-scheduling for the best times to post on Instagram, which will help you increase your reach and engagement. This makes RecurPost one of the market's most trusted Socialoomph alternatives and free Hootsuite alternatives.
Also, if you want to know how to become an Instagram influencer, check out this detailed guide!
3. Cross-promote your social media accounts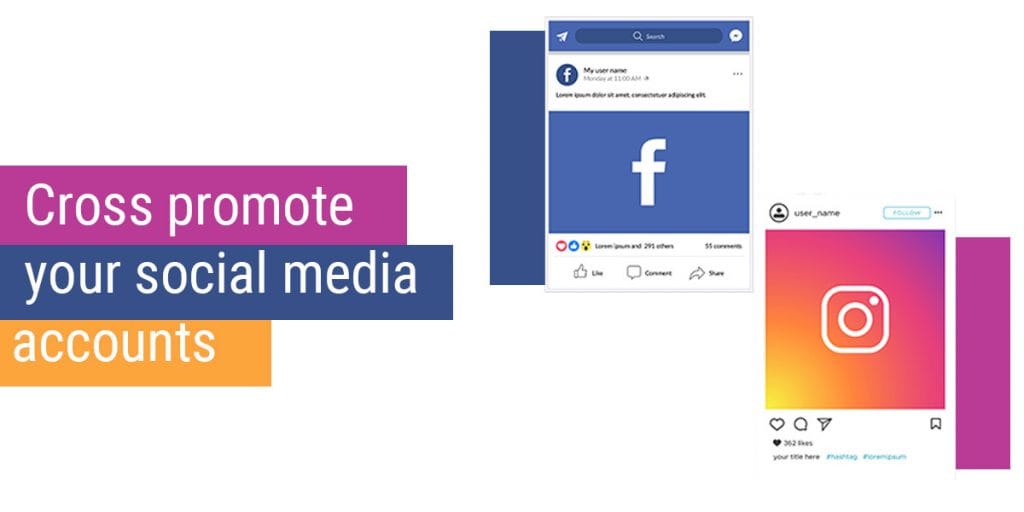 One key thing to do is establish your presence on platforms other than Instagram. We understand that you cannot add their links to your Instagram bio, but it makes a huge impact if people come to your Instagram profile from other platforms.
When you promote all your social channels, your Instagram followers may subscribe to your YouTube channel, your Twitter followers may like your Facebook page, your FB followers may follow you on Instagram, etc. When you establish popularity on multiple platforms, you will slowly be recognized everywhere and it will increase your chances of being verified.
4. Groom your web presence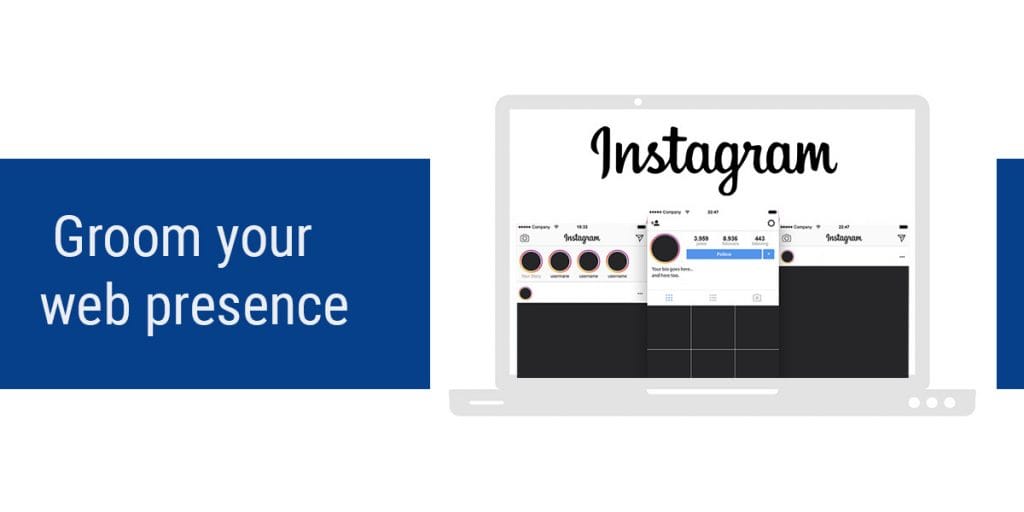 As discussed above, if you are only active on your Instagram account, the chances of getting verified are less. Instagram scans the entire web to see if you are eligible for the badge. Thus, when you make sure that you dominate the search around your name, the chances of getting verified increase on Instagram.
Optimize all your social media accounts to appear higher in search results. Create even more hype around your name by starting your blog, optimizing your website (if you already have one), doing podcasts, or writing guest blogs. You can try out social media trends to increase engagement and attract more people to your profile.
5. Post at the right times to make your posts more visible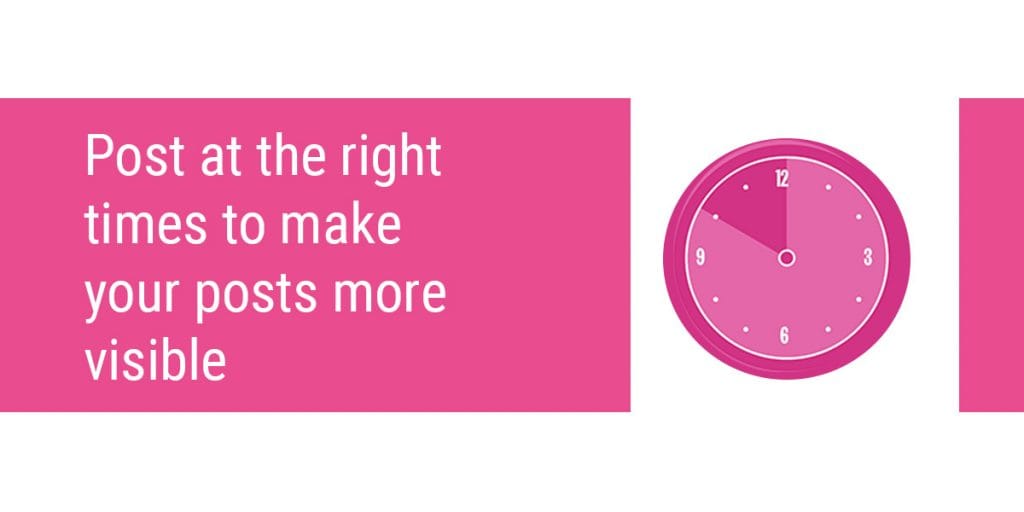 To get the most engagement on your posts, you need to ensure that the maximum number of people see them. For that, you need to find out the times when your target audience is actively scrolling through social platforms.
You can check your insights to see when most of your followers are active and test posting at different times. Finding out the best and worst times to post on Instagram can help you a lot to put out the right content at the right time. RecurPost can be the best way to manage multiple social accounts and automate your posts to go out at the best times with advanced scheduling features such as social media bulk scheduling.
6. Avoid bad social practices
You must avoid shortcuts and spammy activities if you want to establish yourself as an influencer and get verified on Instagram. Never try to buy followers or likes for your profile. These are nothing but bots that will clearly make your account appear fake.
Avoid making spam comments on others' content. Neither Instagram nor other users will consider you an influencer if you make irrelevant 'nice pic' like comments on others' posts.
7. Don't try to buy a verification badge
You will come across many Instagram profiles saying they will get your account verified for a certain amount. Please don't fall for them and waste your money. They might offer you a full refund, but you will never get it.
And if you notice, these accounts will not be verified. That's because, except for Instagram, no one can verify your account. So ignore any DMs, accounts, or third-party apps that promise you to get your Instagram account verified.
The process to request verification
The process to request for verification is quite simple and it takes just about 2 minutes to apply.
Go to your profile and tap on the menu button on the top-right corner.

Click on 'Settings'
Click on 'Account'
Select 'Request verification'

Now, you will have to fill in 4 fields.
Your full name

Your "known as" or working name

Choose a category for your account (Any one from News/Media, Sports, Government/Politics, Music, Fashion, Entertainment, Blogger/Influencer, Business/Brand/Organization, Other)

You need to upload your identification proof. It can be Driver's license, passport, or national identification card). The ID should clearly show your name and date of birth.

Hit the 'Send' button and you're done.
Below are the screenshots for the entire process. First Go to your account settings.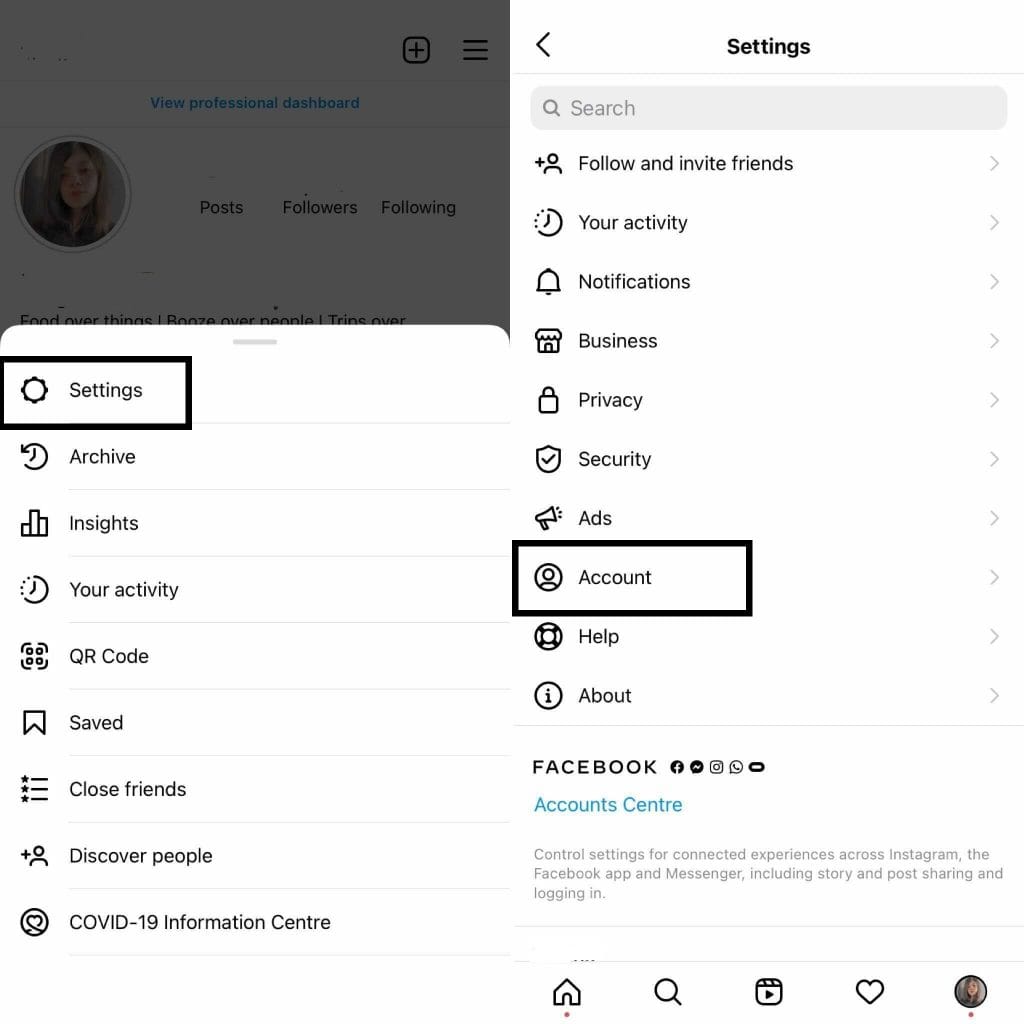 Then fill in the form for verification request.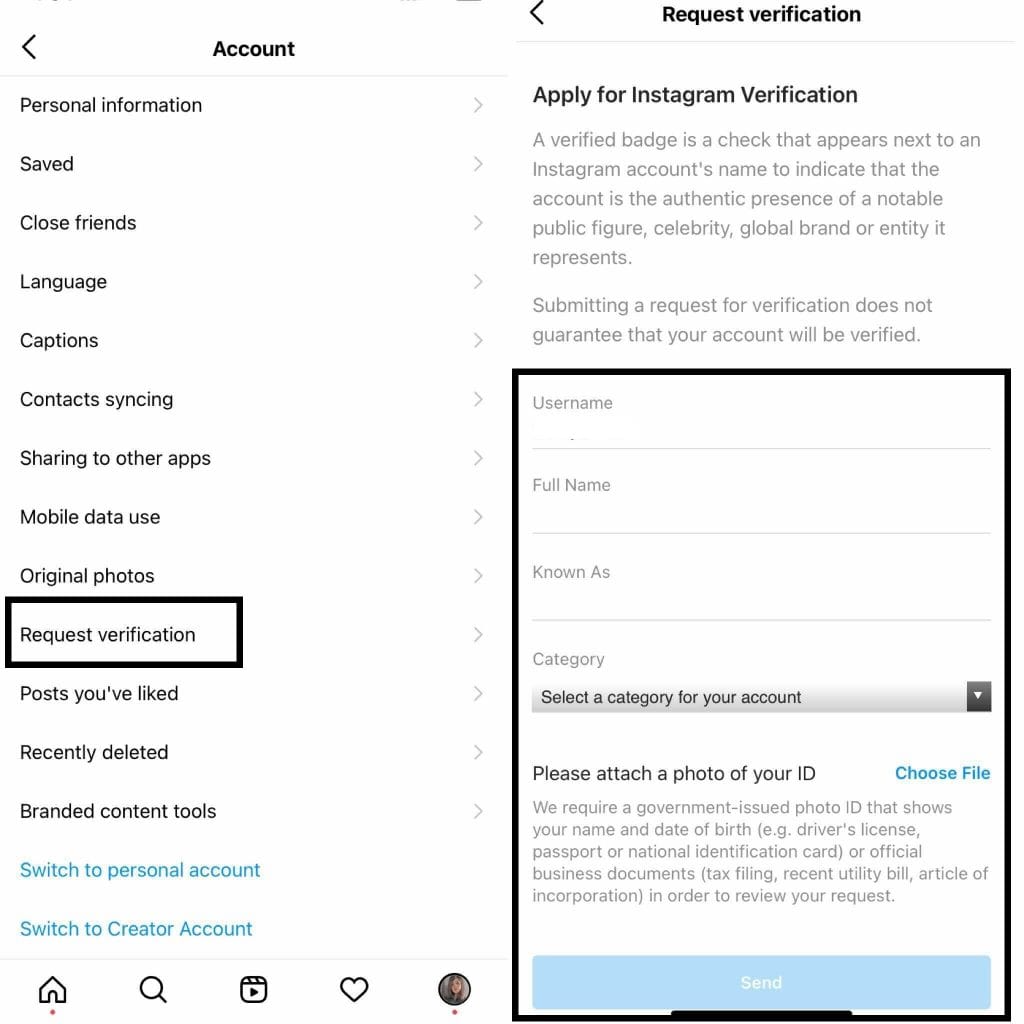 After the Instagram team will review your application, you will get the response in the notifications tab. Remember that Instagram will never email you, contact you on your number, or ask for money.
In just a few days or a week, you will get a response with a direct yes or no. There's no feedback or explanation about the decision that they take.
Here's what a YES looks like:

Here's what a NO looks like:

If you get a No, keep working more on your account and submit another application after 30 days.
Can you help me get verified?
Unfortunately, No. We wish we could do that but nobody can help you in getting verified! Stay away from those who say that they can get your Instagram account verified for a certain amount. Only Instagram can verify your account.
What we can actually help you with is increasing your engagement by posting your content at the right time through our Instagram post scheduler! Our social media scheduling tool allows you to schedule your posts ahead of time, so that you can always keep your account active and get the maximum engagement.
You can manage your Instagram account along with other social media profiles too. Thus, maintaining a cross-platform presence becomes really easy with RecurPost!
RecurPost allows you to schedule Facebook posts on your profiles, groups, and pages to engage your audience with entertaining content. It allows you to schedule LinkedIn posts on your personal and business pages to start networking with professionals in your industry. You can schedule tweets with RecurPost hashtag recommendations to reach your post to an appropriate audience.
RecurPost is also a Pinterest scheduler for engaging your audience the visual platform. It is possible to schedule Google My Business posts with the tool for calling the local audience to a special event or offering them a coupon code to increase walk-ins.
Click here to check out the tool for free for 14 days.
Frequently asked question
1) How do I get verification on Instagram ?
To become verified on Instagram;
– Ensure your account meets Instagram's criteria for verification.
– Open the app and go to your profile.
– Access "Settings" from the menu.
– Look for "Request Verification" in the "Account" section.
– Enter your account name, category, and provide ID.
– Tap "Send" to submit your request.
– Instagram will review your request.
– If denied, wait before reapplying. Keep growing your presence.
2) How to request a verification on Instagram ?
To request a verification on Instagram :
Make sure your account meets Instagram's criteria for verification, such as being a notable public figure, celebrity, brand, or entity.
– Open your Instagram app and go to your profile.
– Access settings from your profile.
– Look for "Request Verification" in account settings.
– Enter your account name and provide required information.
– Submit your verification request.
– Wait for Instagram's decision.
– If rejected, wait for sometime before trying again.
3) Can an Instagram account with the lowest followers get verified ?
The answer to this question is that while having a low number of followers might make it more challenging, it's not solely the number of followers that determines eligibility for verification. Other factors like authenticity, notability, and engagement also play a role in Instagram's verification process.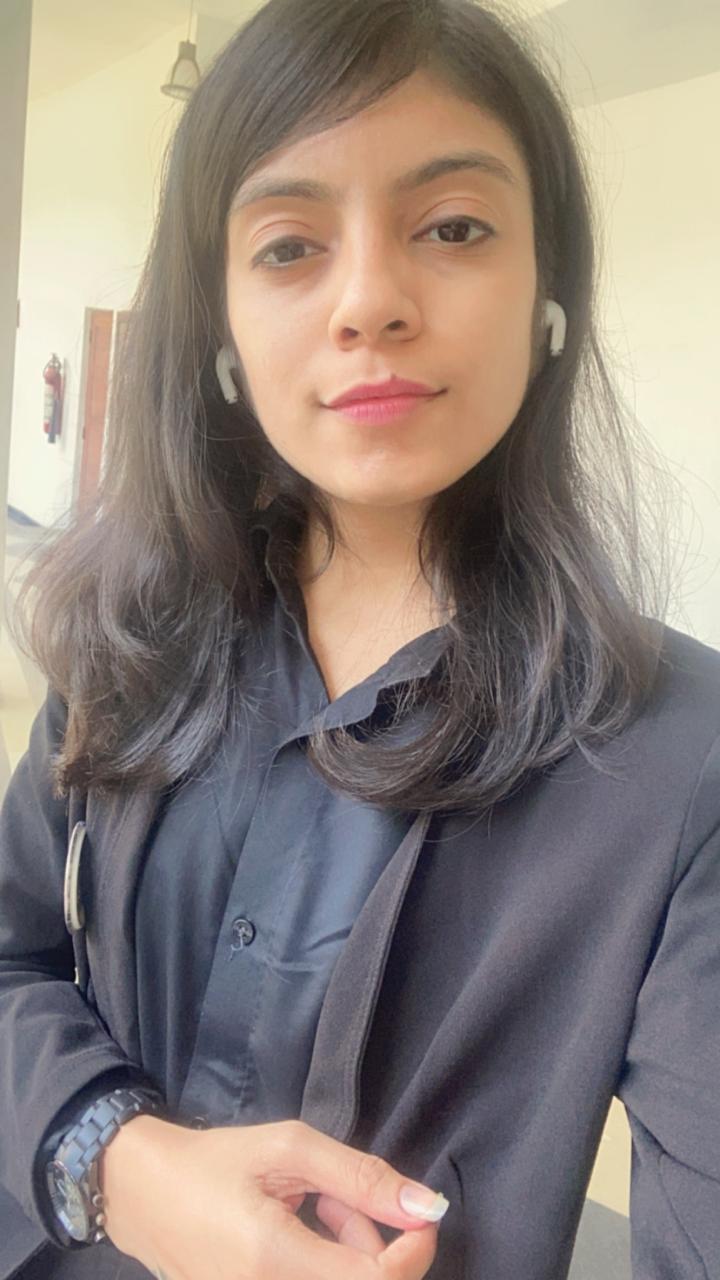 Amaiya Rathi is a Senior Content Writer at RecurPost. She helps RecurPost communicate with their readers in their own language. Whether it is the web copy, social media posts or blogs, Amaiya has worked on all aspects of copywriting. You can reach out to her at [email protected].