Looking to level up your brand management game? Then social media is both your biggest challenge and your greatest weapon.
Social media has been a revolution in how people connect with each other – including brands and their (potential) customers. With over 4.7 billion social media users worldwide, the potential reach for your brand through social media is huge! However, it's important to note some of those social media users are also your competitors – which is where social media brand management comes in to help you stand out in the hyper-competitive digital space.
To ensure that your brand is active on all major social platforms, a social media scheduler can be used to strategically plan and publish content across multiple platforms, saving time and effort while maintaining a consistent brand presence. You can also optimize the timing of your posts, ensuring they are published at the most effective times to reach your target audience.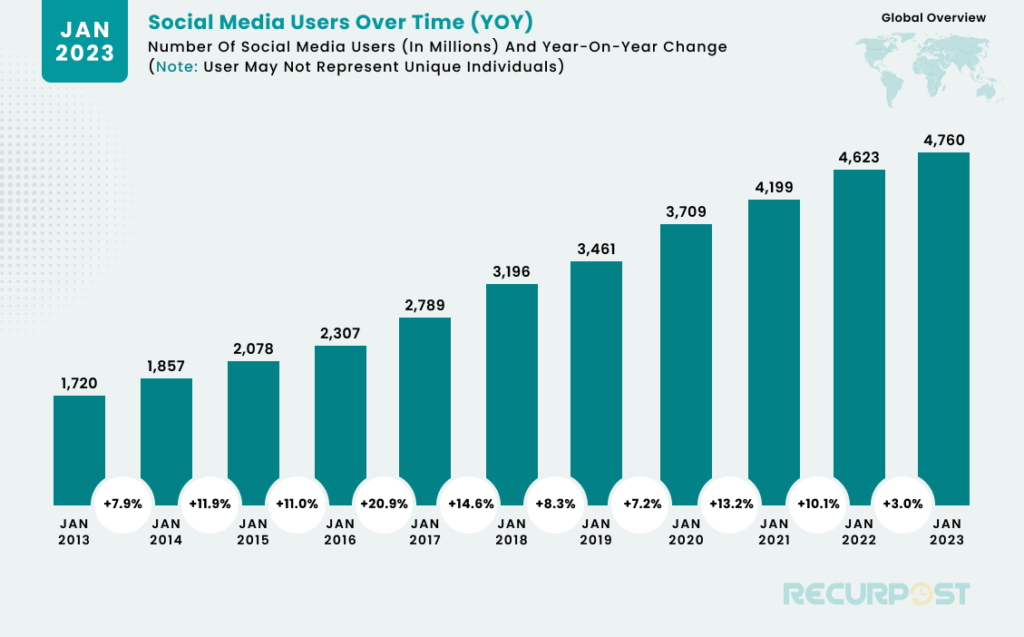 Your social media presence is often the first point of contact between your brand and potential customers. Other forms of communication, like your website or small business phone, are useful channels for consumers to reach you. But social media lets you meet customers and manage their first impression of your brand. Customers can learn about your values and see what you have to offer. If you don't have a strong social media brand, you risk losing out on potential customers to your competitors who do.
So, if you want to take your brand to the next level, then social media brand management is the way to go.
Table of Contents
What is Social Media Brand Management?
Social media brand management is the process of developing and maintaining a consistent brand image across all social media platforms. It requires crafting a personality for your brand, creating engaging content, and building a community of loyal followers. It's all about creating a consistent brand persona that resonates with your target audience and keeps them coming back for more.
The Benefits of Brand Management
Expanding Your Reach
Social media is a powerful tool for reaching a large and diverse audience. As you can see in Hootsuite's research below, a huge percentage of the global population is active on social media, with over 75% in Northern America and Europe. Being active on multiple platforms is key to reaching a huge potential audience.
Building Relationships
Social media brand management can help businesses build brand recognition and loyalty. By consistently portraying a unique brand personality, businesses can create a sense of familiarity with their audience. There's also a level of accountability expected – people can see your replies and engagement to comments, and transparency begets trust.
Becoming a Thought Leader
By actively engaging with customers and building a strong online presence, businesses can establish themselves as thought leaders and industry experts. This can help them stand out from their competitors and attract new customers.
Managing Your Social Media Brand
At first, managing your social media brand can seem like an overwhelmingly huge task. But with the right strategy, it can be more than effective – it can be simple, too.
Here are some simple steps you can take to build and manage your brand on social media. From identifying your target audience to developing engaging content (and even working with influencers!), we'll cover everything you need to know to build a strong and engaging social media presence for your business.
Set your direction
First things first, you need to set your direction and define your brand. Figure out your target audience and what message you want to convey. Are you a fun and playful brand, or do you want to be seen as more serious and professional? Once you know your direction, you can start building your brand identity, including your logo, color palette, and overall aesthetic.
Gather data
Next, it's time to gather data. Use social media analytics tools to see what's working for you, your audience, and even your competitors. Look at engagement rates, likes, shares, and comments.
You can also use tools to track hashtags and mentions of your brand or related keywords online or use tools like Dialpad IVR solutions to see what your customers tend to call in about. This will give you a better idea of what your audience is looking for and what content is resonating with them.
This is also the time to figure out what platforms your audience is on – there's a whole world of difference between TikTok and Facebook, especially in terms of audience demographics.
Develop your strategy
Now that you know your direction and have gathered the relevant data, it's time to develop your initial social media strategy. Create a content calendar with a mix of different types of content, such as photos, videos, and blog posts. Set a posting schedule using social media scheduling tools and stick to it to keep your audience engaged.
Create content
You'll note we mentioned content: it's time to start creating. Make sure your content is consistent with your brand identity, and relevant to your audience. For instance, if you're a B2B technology brand, you'll want to create in-depth guides or engaging posts about industry trends. Whereas if you're a makeup brand targeting teenagers, short TikTok videos showing your products are the way to go.
Make sure you engage with your audience after posting it by responding to comments and messages. Be sure to follow the calendar and posting schedule you created and utilize social media bulk scheduling to guarantee that you release content in a way that maximizes both reach and engagement.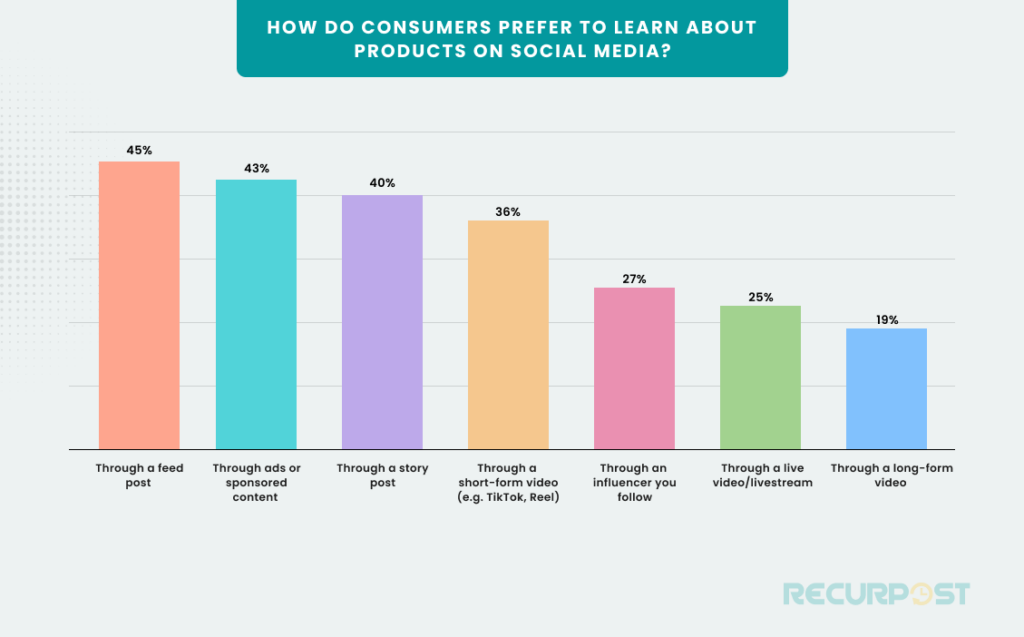 Evaluate results and adjust as needed
As you continue to implement your social media strategy, keep gathering data and doing market research. Be prepared to change course if you need to! Maybe you need to do small changes, like using the data you gather to tweak your content and posting schedule. But even a complete overhaul should remain on the table – provided your new brand management strategy is consistent and even better suited to your audience than your previous one. Remember, social media is constantly evolving, so it's important to stay flexible and adaptable.
10 Tips for Creating Your Best Possible Brand Voice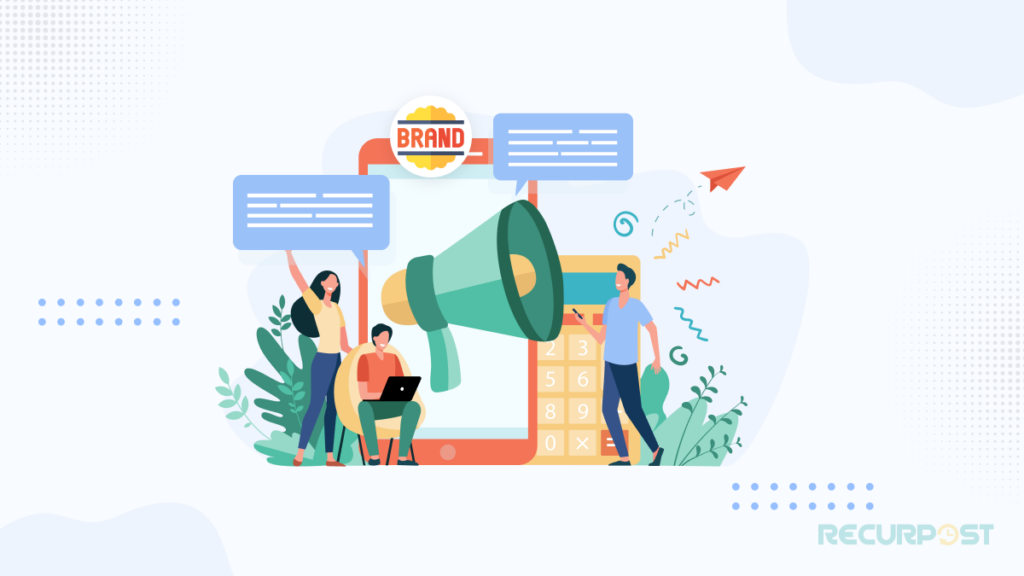 Now that we've gone over a timeline to get started with your social media brand management, let's talk about the best practices and theories.
Whether you're new to social media or looking to fine-tune your existing strategy, these 10 tips can help you stay on track and achieve your goals. So, let's dive in and start getting into the really advanced stuff!
Consistency is key: Keep your brand messaging and visual identity consistent across all social media platforms. Use tools like RecurPost to post consistently and set your accounts on autopilot.
Authenticity matters: Be authentic and true to your brand values and personality to build trust with your audience.
Engage with your audience: Respond to comments, messages, and reviews to show your audience that you care and value their input.
Use visuals: Visuals are essential for grabbing attention on social media, so make sure you use high-quality images and videos to convey your brand message.
Leverage user-generated content: Encourage your audience to create and share content related to your brand, and repost and engage with their content to foster a sense of community.
Use data to inform strategy: Use social media analytics tools to track engagement and adjust your strategy accordingly.
Stay up-to-date on trends: Social media is constantly evolving, so stay up-to-date on new features, trends, and best practices to stay relevant and engaging.
Collaborate with influencers: Partnering with influencers can help expand your reach and connect with new audiences.
Take risks: Don't be afraid to take risks and try new things on social media. Experiment with different content ideas and strategies to see what works best for your brand.
Stay true to your brand values: Above all, make sure your social media strategy is aligned with your brand values and identity. This will help build a strong, authentic brand that resonates with your audience.
What Tools and Platforms Will You Need?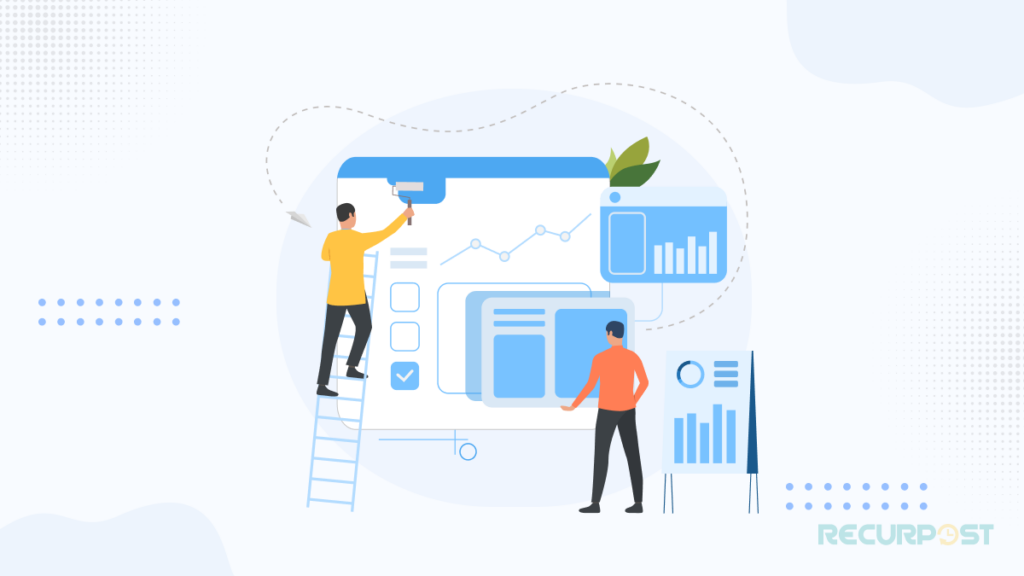 Managing a social media brand can be overwhelming. Good social media brand management has high potential returns, but it can also put pressure on businesses. Fortunately, social media tools can help!
Here are some types of tools you can use to improve your social media brand management:
Social media management tools can help you manage all of your social media accounts from one place, schedule posts, track engagement, and analyze performance. You don't need to spend much on a tool if you're just starting out. There are a lot of options available, which are great alternatives to HootSuite or Buffer.
Analytics tools like Google Analytics or Sprout Social can provide valuable insights into your audience and their behavior.

Hashtag tools like Hashtagify and RiteTag can help you find and track relevant hashtags for your brand and industry.

Content creation tools like Canva, Piktochart, and Adobe Spark can help you create high-quality images, graphics, and videos to use in your social media posts.
A sales engagement platform, like Salesforce or Hubspot can help you keep your eye on crucial business analytics. That way, you can easily tell where conversions are happening and how your customer journey is manifesting across different platforms.

Social listening tools like Brandwatch and Hootsuite Insights can help you monitor social media conversations and stay on top of what people are saying about your brand and industry.

AspireIQ, Upfluence, and Grin are influencer marketing platforms and brand management software that can help you find and collaborate with influencers in your industry. This expands your reach and connects you with new audiences.
Just don't forget the most important tool in your social media brand management: a relevant social media platform. Not only must you tailor your content to specific social media platforms, but you also have to make sure that you're using the same platform as your target audience, and also adopt social media optimization strategies to make the most out of your efforts.
So how do you make the perfect match between platform and content? Simply read on.
Which Platforms Are Best For Your Brand?
As we've mentioned, each platform will have its own demographics. It's worth being active on more than one, especially as you expand your reach, but make sure to target those your potential customers will be most active on.
Facebook
With nearly 3 billion users, Facebook is a great platform for reaching a wide audience. Visuals like photos and videos tend to perform well, and you can also use Facebook Live to engage with your audience in real-time. Facebook is also a great place to share longer-form content like blog posts or articles.
As per the Pew Research Center, Facebook has a broad user base that spans multiple age groups and demographics. However, the majority of users are between the ages of 25 and 54. Facebook is used by a slightly higher percentage of women than men, and it's particularly popular among college-educated users. Its cookie privacy policy and pixels also allow you to run targeted ads and reach the right people.
Instagram
As a visually-driven platform, Instagram is perfect for showcasing high-quality photos and videos that capture the essence of your brand. Hashtags are also a must on Instagram, as they can help your content get discovered by new audiences and help you utilize user-generated content.
In 2021, Instagram had an eye-watering 1 billion monthly active users. It's popular among younger demographics, especially Millennials, but its gender ratio is split evenly between men and women.
Twitter
With its fast-paced, real-time nature, Twitter is great for sharing short, snappy updates and engaging with your audience in conversations. Visuals can still be effective on Twitter, but keep in mind that the platform is primarily text-based.
Twitter is particularly popular among younger demographics, with over 40% of users aged 18-29. Twitter is also popular among urban users and is slightly more popular among men than women.
LinkedIn
As a professional networking platform, LinkedIn is a great place to build thought leadership through content like articles, case studies, and whitepapers. While visuals can be effective on LinkedIn, be sure to keep your content professional and relevant to your industry.
LinkedIn is primarily used by its 740 million members for networking and career development. The platform is particularly popular among college-educated users and those with higher incomes.
Pinterest
With its focus on visual discovery and inspiration, Pinterest is perfect for showcasing your brand's products, services, and lifestyle. You can create boards that showcase your brand's values and aesthetics, and use keywords to help your content get discovered by new audiences.
Pinterest's over 400 million monthly active users are primarily female: about 60%, in fact. The platform is particularly popular among users aged 18-49, and it's heavily used by users with higher incomes.
YouTube
YouTube is perfect for sharing video content and tutorials that showcase information and expertise. You can use YouTube video ideas and also collaborate with other creators and engage with your audience through comments and live streams.
With over 2 billion monthly active users, YouTube is popular among all age groups and demographics. However, the platform is particularly popular among younger users (both Millennial and Gen-Z). Its user base also skews slightly male.
Snapchat
As a platform that focuses on ephemeral content, Snapchat is perfect for sharing candid moments that showcase your brand's personality. You can also use Snapchat's filters and lenses to create playful content that resonates with younger audiences.
Snapchat's 500 million monthly active users tend to be young, particularly aged 13-24. The platform is evenly split between men and women. It's also noticeably popular with urban and suburban users.
TikTok
As a platform that prioritizes extremely short videos, TikTok is perfect for showcasing your brand's personality and creativity with fun glimpses into your office space, or product demos and tutorials.
With over 1 billion monthly active users, TikTok is particularly popular among younger demographics, particularly Gen-Z. The platform is used by a slightly higher percentage of women than men, and it's markedly popular among urban users.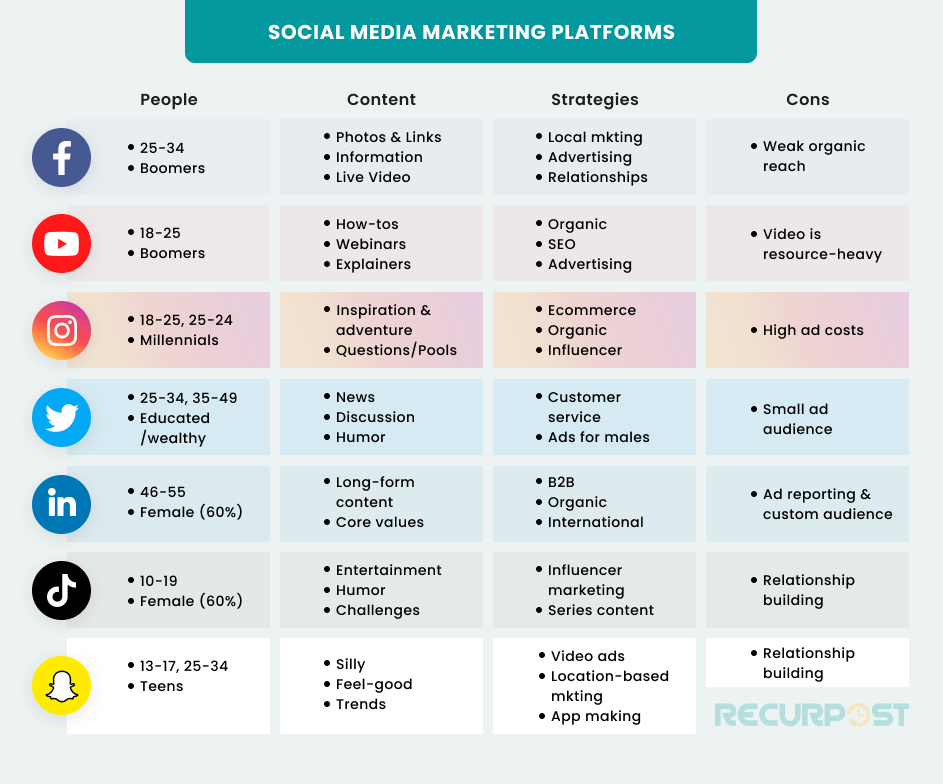 This can seem like an overwhelming number of platforms. But don't worry – you don't need a presence on each and every platform. Instead, choose the platforms where your audience is already spending their time. Plus, you can consolidate many social media platforms with integrations for tools like Make to make your life a lot easier.
Manage all the Platforms From One Dashboard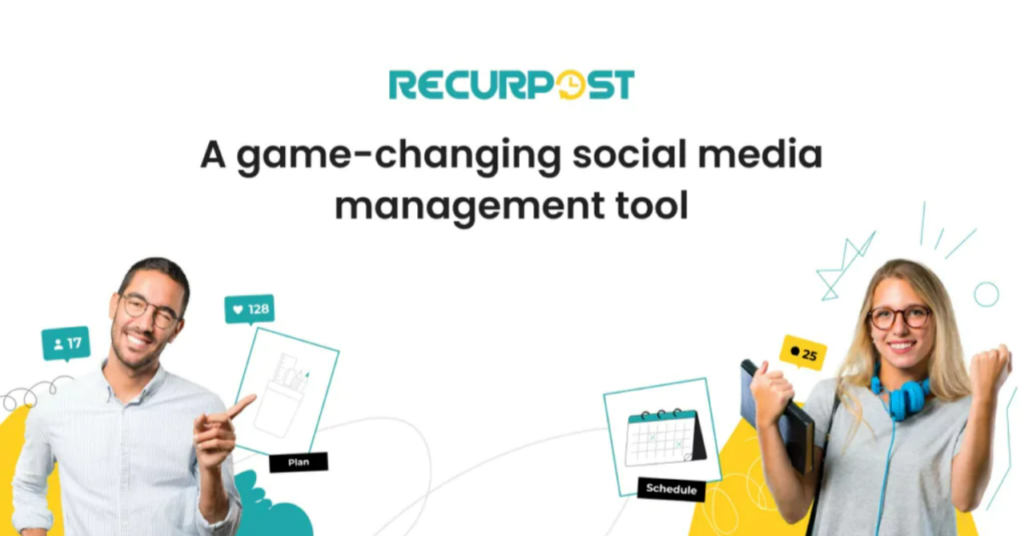 We know it might seem crazy to create content for multiple social media profiles and post on them consistently. However, it can be achieved easily by creating content in batches and scheduling them beforehand using a social media scheduling tool.
RecurPost is one such tool that enables you to manage 7 different platforms from a single dashboard!
Using RecurPost, you can schedule Instagram posts on personal profiles, creator, and business accounts.
RecurPost offers the ability to schedule Facebook posts on your profiles, groups, and pages. RecurPost provides a content library that allows you to efficiently store and organize your social media posts, simplifying your content strategy management.
Effortlessly schedule tweets on multiple accounts and create variations of your tweets to post the same message multiple times, all without worrying about being banned.
With RecurPost, you can also schedule LinkedIn posts for your personal and business pages, allowing you to connect with fellow professionals in your industry. Additionally, you can use RecurPost's Pinterest scheduler to easily schedule pins and promote your products and services.
Managing your social media posts on the go is made easy with RecurPost's mobile application, which allows you to schedule, edit, and organize your posts while on the move. The social inbox feature allows you to conveniently view and manage messages, notifications, and comments from all your connected social accounts in one place.
Furthermore, RecurPost enables you to schedule Google Business posts with a call to action to effectively target your local audience.
And, if you are running a YouTube channel, you can also schedule YouTube videos and shorts by adding a thumbnail of your choice!
Getting It Right
Social media brand management helps businesses build and maintain a positive online presence, engage with their customers, and stay ahead of the competition. Obviously, neglecting social media brand management can have pretty undesirable consequences, like a damaged reputation, loss of customers, and missed opportunities to connect with audiences.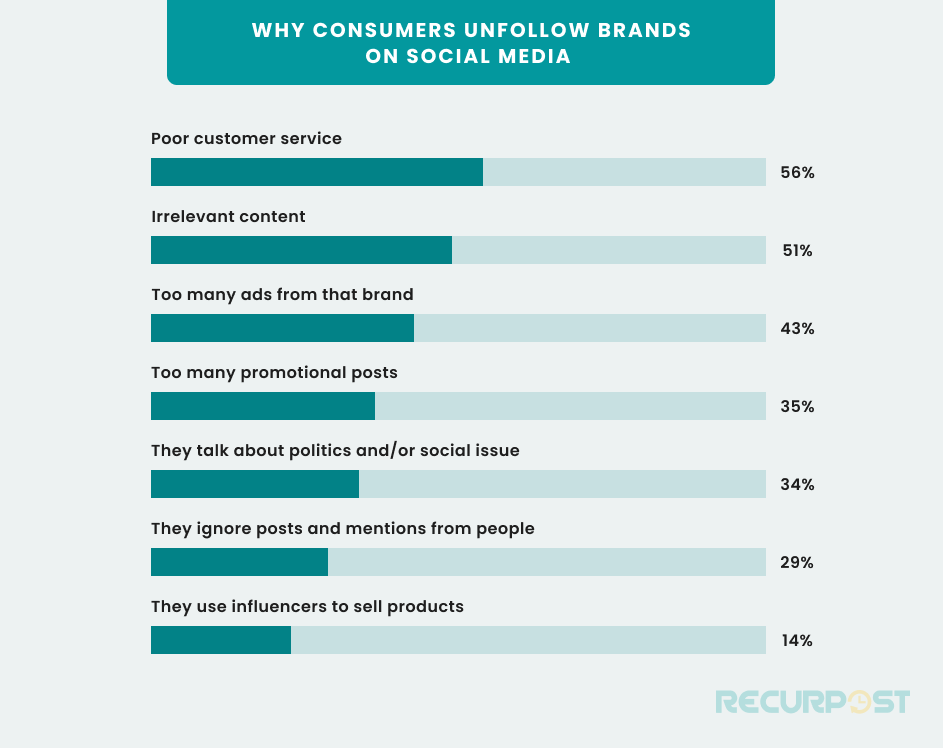 Beyond these obviously bad consequences, there are more mundane issues with badly-managed social media brands – namely, a waste of your valuable time and money. But how do you know if your social media brand management is working? And how do you know when it's time to go back to the drawing board and re-strategize?
Here are three basic analytics to keep your eye on:
Engagement
This absolutely critical metric includes likes, comments, shares, retweets, and any other interactions that users have with your brand's social media content. If you notice a decline in engagement, it may be time to evaluate your social media strategy and make some changes to increase interest and engagement.
Website Traffic
Next up is tracking how many people come to your website from social media. This can provide valuable insights into how well your social media brand management is driving conversions. By monitoring your website's analytics, you can determine how many visitors are coming from different platforms, and whether they are taking the desired actions on your website, such as making a purchase or filling out a form.
Brand Reputation
Make sure to watch your brand's reputation on social media through brand monitoring. If you notice an increase in negative comments or reviews, it may be time to reassess your social media strategy and address any issues that may be causing dissatisfaction among customers. Of course, the issues might not be with your content, but with your product or omnichannel customer service, so make sure you keep in touch with other departments.
By tracking these metrics and regularly evaluating your social media brand management strategy, you can ensure that you are making the most of your social media presence and maintaining a positive online reputation.
Final Thoughts
In our digital world, social media brand management has become a crucial aspect of running a successful business. Your brand's social media presence can build and maintain a positive reputation, engage with your customers, and put you ahead of your competition.
With so much at stake, it's important to take social media brand management seriously and invest the time and resources necessary to develop and execute an effective strategy. Remember, your brand's online presence is often the first impression that potential customers will have of your business, so make sure you're putting your best foot forward!
So, go ahead and start building your brand's online presence by signing up for RecurPost free trial! You can also check out RecurPost's pricing and see which plan fits your needs the best!
Frequently Asked Questions
1. What is brand management?
Brand management is the strategic process of building, maintaining, and enhancing the perception, reputation, and value of a brand in the minds of consumers and stakeholders.
2. Which is the best social media brand management tool?
RecurPost is one of the best social media brand management tools as it enables you to manage your presence across multiple channels and automate your marketing efforts.
3. What is the role of social media in brand management?
Social media plays a crucial role in brand management by providing a platform for brand communication, engagement with consumers, monitoring brand sentiment, and building brand loyalty.
4. Is there a brand management group on social media?
Yes, there are various brand management groups on social media platforms where professionals and enthusiasts discuss and share insights, strategies, and best practices related to brand management, especially on Facebook, LinkedIn, and Twitter.
5. What are the most important brand management skills?
The most important brand management skills include strategic thinking, brand positioning, brand communication, brand monitoring, and brand analytics.
6. What is social media branding marketing?
Social media branding marketing refers to the strategic use of social media platforms to build, promote, and manage a brand's identity, image, and reputation, while engaging with target audiences and driving business objectives.
7. Why is social branding important?
Social branding is important because it allows brands to establish and maintain their identity, reputation, and relationship with consumers on social media platforms, leading to increased brand awareness, customer engagement, loyalty, and ultimately, business success.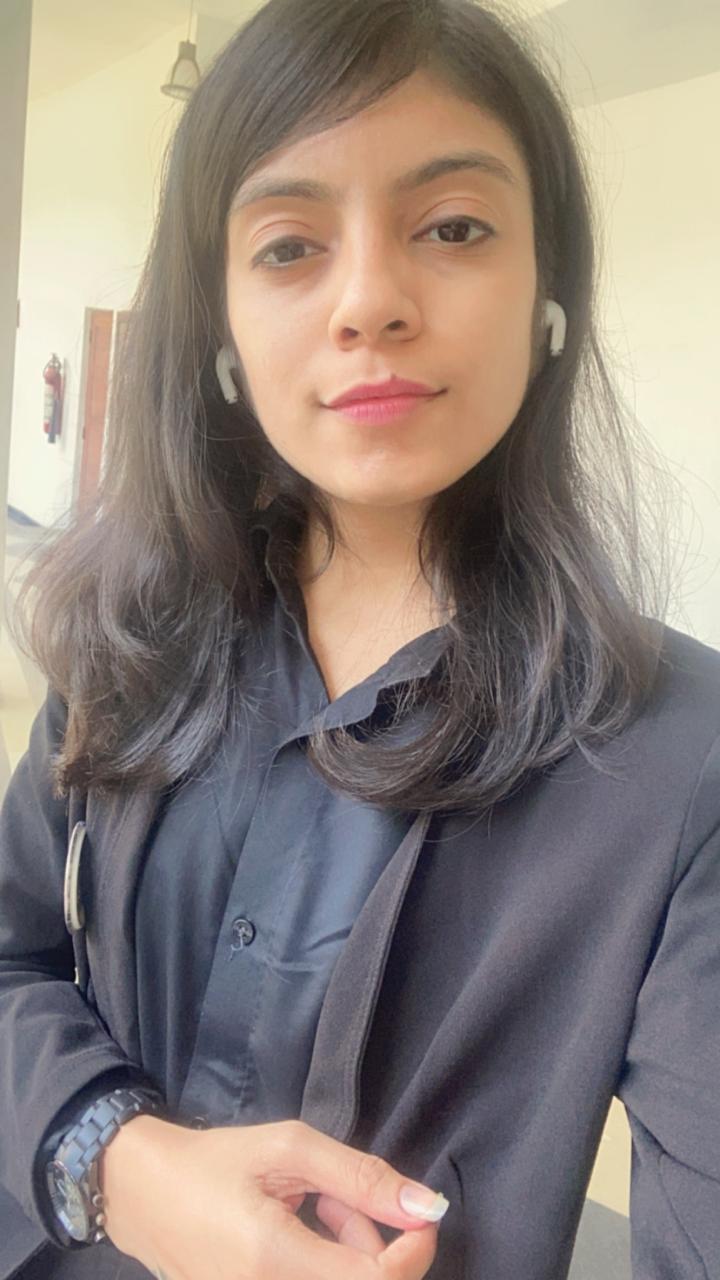 Amaiya Rathi is a Senior Content Writer at RecurPost. She helps RecurPost communicate with their readers in their own language. Whether it is the web copy, social media posts or blogs, Amaiya has worked on all aspects of copywriting. You can reach out to her at [email protected].