With more than a billion users worldwide, TikTok may be the most effective platform for promoting brands. As the network continues to grow, marketers are always looking for innovative video creation ideas such that they can make their brand stand out in the industry and receive more TikTok views.
You might be wondering how to get more views on TikTok. Jumping on the latest trends is the quickest way to get more eyeballs on your content. However, there is no sure way to get views on TikTok. It's still possible to improve the chances of increasing views by implementing a few techniques.
In this article, RecurPost, a social media scheduler, shares the best tips and tricks to help you make videos to get the maximum number of views. Before we go any further, let's look at how TikTok counts views.
Table of content To Get More Views on TikTok
Grow your brand's social presence on multiple networks
RecurPost enables you to schedule, analyze and respond to comments from one platform
What is a TikTok 'view'?
Every social network has its way of numbering views. From the very second your video starts playing, TikTok counts it as a view. If a person replays the same video again, it is again added as a view. Whether the video auto plays or the same user comes back to see the same video multiple times, it is added in a number of views every time. The only exception is that it is not counted as a view if you keep watching your own video.
Counting views on TikTok is simple compared to other platforms, which makes it easy to get more views on TikTok for posting videos.
How to get more views on TikTok?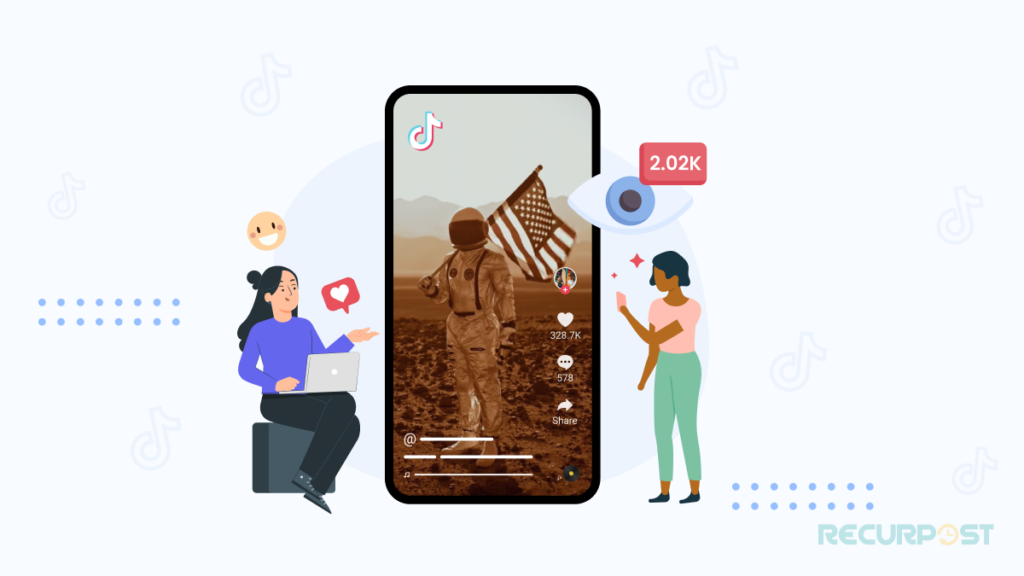 Posting videos on TikTok aims to increase brand awareness and reach. Increasing the number of views on TikTok can build your brand's social presence and improve authority. For the best results, you should post more videos on TikTok. Start stretching your creative muscles and come up with unique ideas to entertain your visitors. People will be more likely to revisit your account more often if your videos have a high level of engagement.
Here are 13 proven hacks that may help you to get into the list of most watched videos on TikTok.
1. Post valuable content consistently
Credibility and consistency in posting the content are crucial to increase views on TikTok. You can choose content that shares tricks, tips, how-to videos, guides, and sharing information. Your aim should be to serve content in TikTok videos that people can relate to.
Content that provides value to your audience will bring more views. When you post consistently, people start recognizing your brand. It helps build your brand's social authority and, in turn, brings more free TikTok views.
Posting videos related to the current topic grabs your audience's attention and create familiarity. Ultimately TikTok will feature your brand on the For You Page for those interested in watching your videos.
2. Add hashtags
Choosing the right set of hashtags is helpful to get more eyes on your video on TikTok. Using trending hashtags relevant to your TikTok video helps the algorithm identify what this video is about and who might be interested in watching it.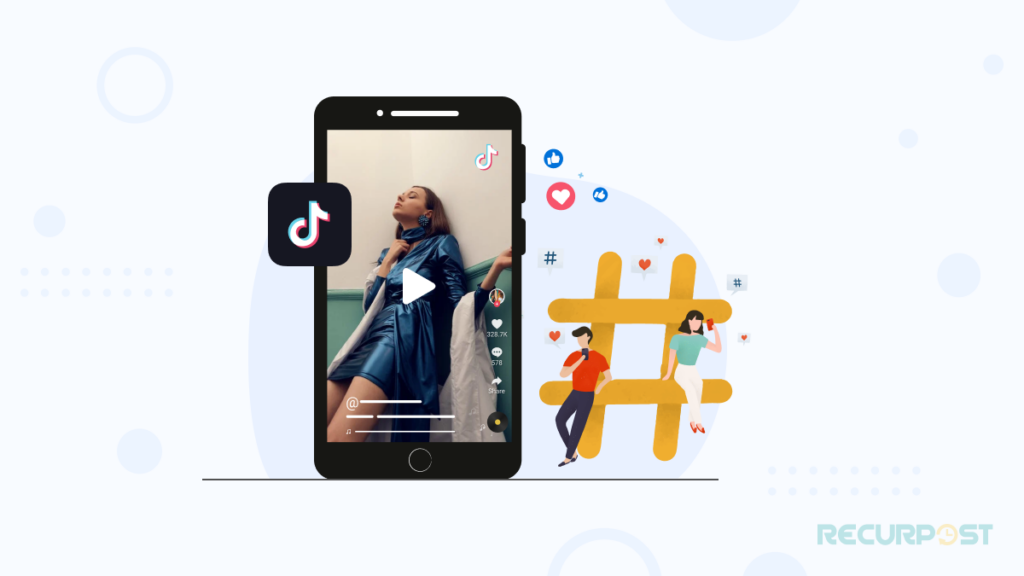 We prefer not to use too many hashtags. Instead, select them wisely, giving you a spike in views. More views will help your brand be featured on the explore page and reach a bigger audience. Suppose you are a fashion brand. In that case, you can add hashtags like #fashiontrends, #latestfashion, #beauty, etc.
3. Attaching sound effects
Add trending sounds to your video to create an appealing first impression on your target audience. TikTok algorithm prioritizes videos with sound over those without it.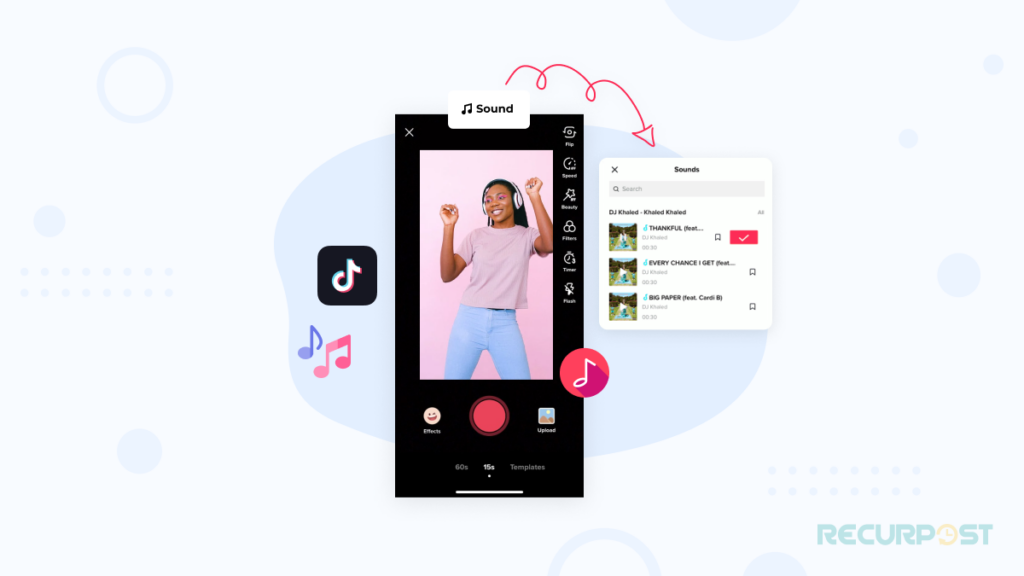 However, TikTok shows videos as per the viewer's watch history. On TikTok, people come to have fun, where music in trends makes sense. When you make videos following the latest trends, people interested in the same trend will discover your video quickly on TikTok, and you can easily score more views.
4. Find your audience
On TikTok, you will find people interested in a variety of niches. To promote your brand in front of an interested audience, first, you must identify with whom you wish to hang out. Choosing the right audience is crucial for gaining more views on TikTok. To create the most appealing videos, you should discover trending TikTok accounts in your niche. Understand the hashtags they use, the trends they follow, and the content they serve. It will help you to create the most relevant videos on TikTok for the same audience and help you to earn more views.
5. Use keywords in the caption
TikTok allows only 150 characters in the caption to tell your audience what your video is all about and why they should watch it or start a conversation. You can use them wisely to influence viewers to play the video. Ultimately, we want our audience to watch the video till the end so that the algorithm counts it as good content. Play strategically on TikTok by using SEO keywords in your captions. TikTok gives you an opportunity to make a pitch with an action-triggered caption, which may start a conversation or urge your audience to play the video.
6. Keep your content short and interesting
Though TikTok allows video length to be 3 minutes, and 30 seconds, videos are getting more chances to appear on FYP. People enjoy short videos more compared to time-consuming ones. If the video is of shorter length and someone finds it exciting, they might prefer to rewatch it, which helps you to win more number of views.
7. Try the how-to video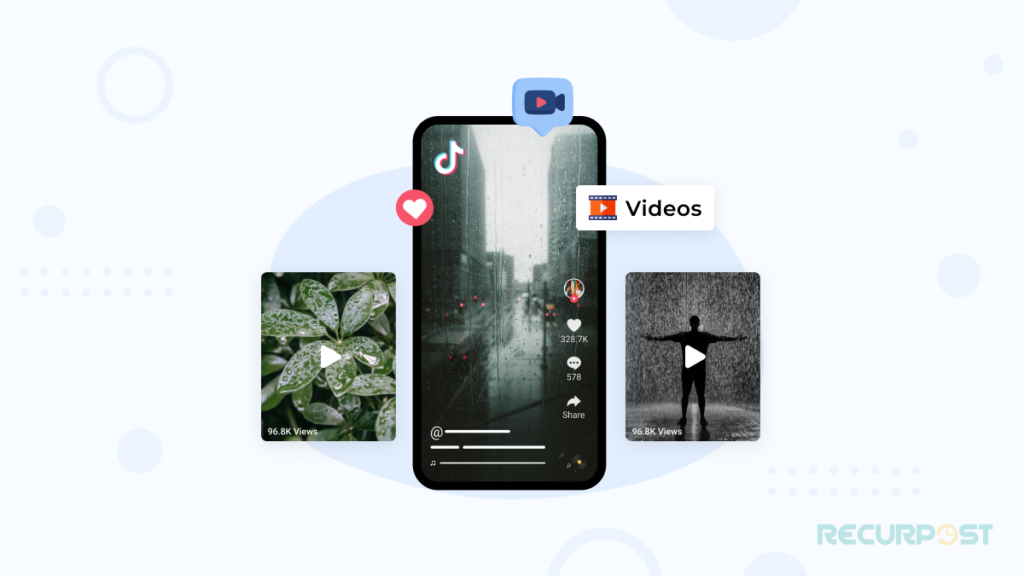 How-to videos work best on TikTok. People appreciate step-by-step guides for using products or services or fixing things. You can take inspiration from frequently asked questions on Google and answer people's queries through short videos. Information-sharing videos are the best ways to grab your audience's attention and get more views.
8. Posting videos at the best time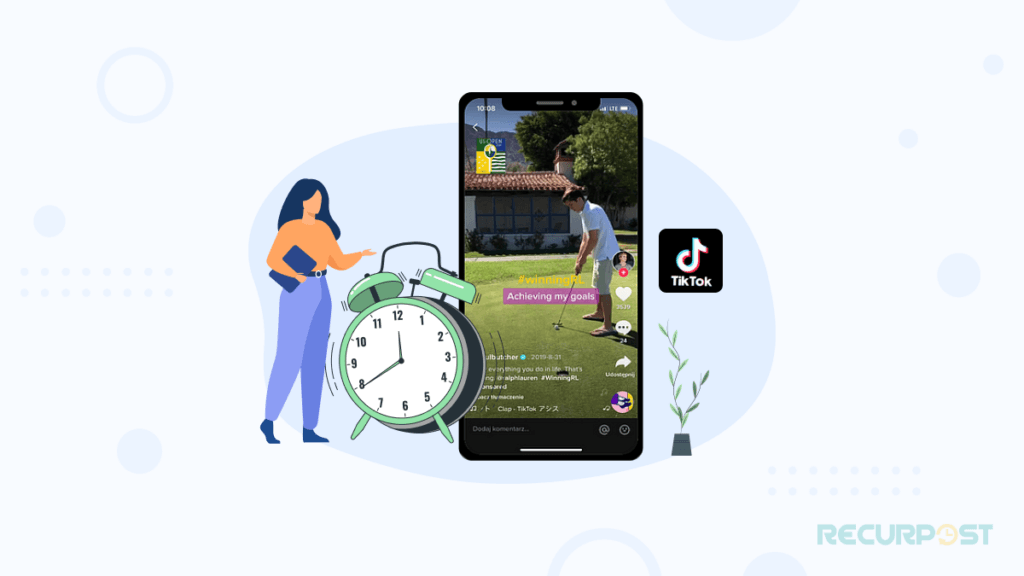 You will hardly get any views if you post videos when no one is using the TikTok app. To discover the best time to post on TikTok, check your account analytics to know when your followers are active. It will help you to drop the video at the right time to get the maximum views.
9. Post multiple videos daily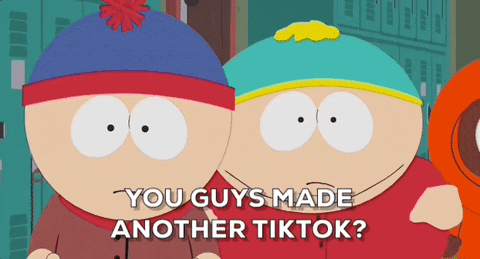 Try to upload more videos to your business account every day. You don't need to worry about looking spam to your viewers or thinking of oversaturating your audience while posting videos. Instead, focus on adding creativity and entertainment to your videos. Posting more on TikTok helps you to appear on someone's For You page. If someone finds it interesting, they will consider visiting your TikTok page and becoming your follower forever. On average, four videos per day works best.
10. Create high-quality videos
When people scroll through their feeds and see your video, you get a little chance to appear interesting. If it is a high-quality video, then only they will prefer to watch it and support you in receiving more views. Make sure to create videos with enough lights and sound to appear interesting when someone plays them. If your video meets these criteria, your video will get more likes, shares, and comments. When you are in the real estate business, you should consider posting an appealing video to get people to your physical site.
11. How to get more views on TikTok by doing duets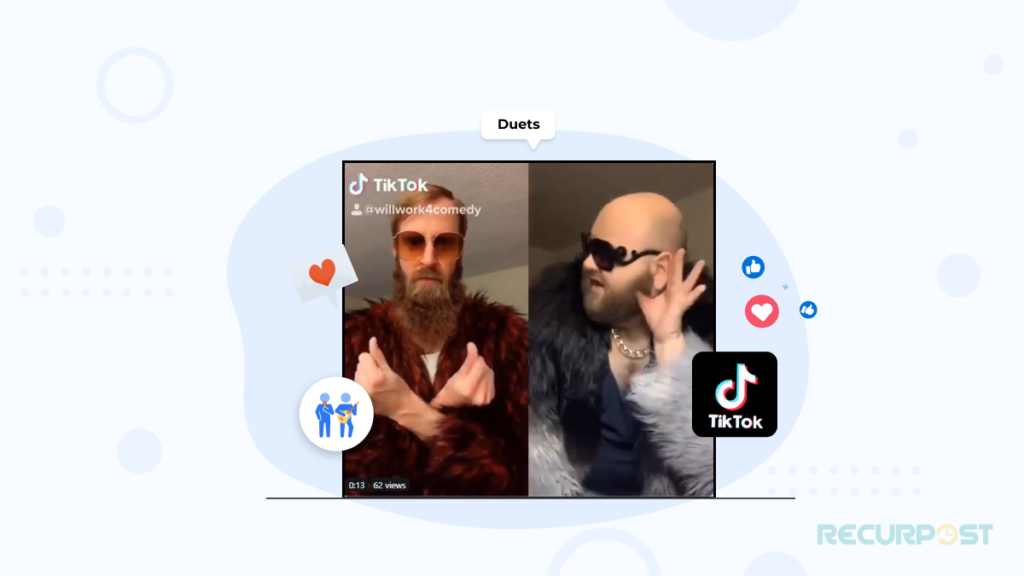 Perhaps one of the most engaging videos on TikTok is duets. You can mix creativity and fun in a single video. In duets, you can split your screen into two videos. The first half would be about yourself. And in the second half, you can show your product, DIY hacks, or any popular piece of content. This type of video gets more views and makes a creative impression on your brand.
12. Get TikTok users to watch the whole video
If you just want to earn more views on TikTok, then it's enough if someone plays a fraction of it and does not watch till the end. But as per the algorithm, TikTok prioritizes those videos with a high completion rate first to increase brand awareness and reach. If you want your viewers to pay attention till the end, you can play with their curiosity or provide them value. You can promise them to give the offer if they watch till the end or include it in the caption to wait till the end to get the offer. 
13. Team up with influencers
You can either hire an influencer or call them as a guest to make videos. The best idea is to collaborate with other connected brands and make videos in collaboration, where you complement both brands by buying together. It helps you reach a new audience and get more views on TikTok. Another way is that you can grow your creativity by making videos with TikTok influencers in your niche. You might be thinking of how to start it. You can contact influencers and request them to collaborate with you to create the most viewed videos on TikTok. This type of video helps you to get more views.
Grow your brand's social presence on multiple networks
RecurPost enables you to schedule, analyze and respond to comments from one platform
Why is TikTok an essential part of marketing?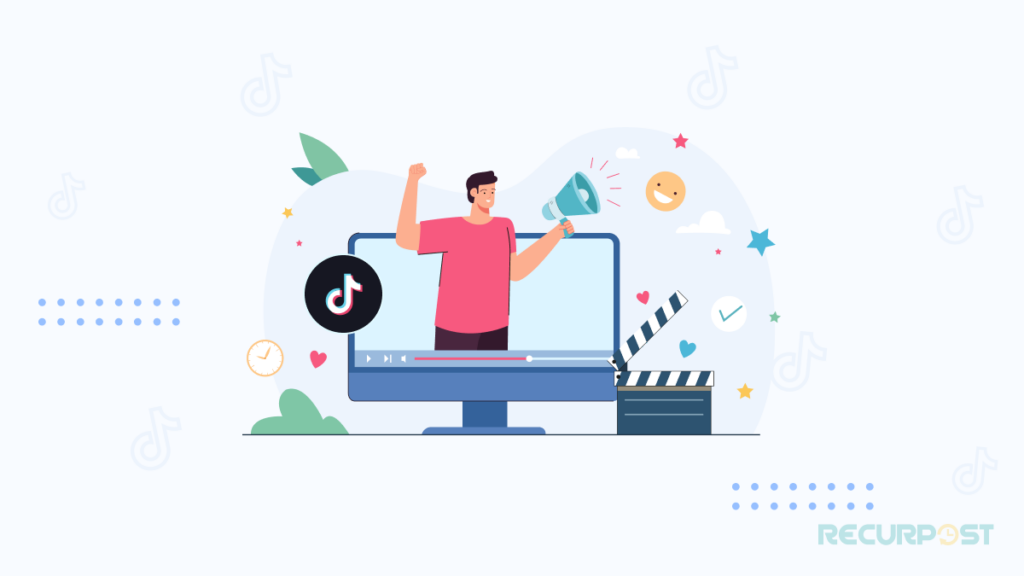 Video is considered the highest form of engaging content used for marketing on TikTok. TikTok is the most popular platform for grabbing your audience's attention with shorter videos and simultaneously building your brand's social presence. Cross-promotion of videos will lead you to grow more TikTok followers on other social networks as well. RecurPost is a leading software tool that supports major social media platforms for scheduling posts and analyzing the outcome of your posting. It allows you to schedule posts on multiple platforms in a few easy steps.
With RecurPost, you can plan, create evergreen content, schedule, and measure the results of posting. The RecurPost chrome plugin helps you to pick up content from other websites and add it to the libraries for scheduling on multiple networks.
Repeated posting is one of the key features of RecurPost. We help you schedule tweets using the same content multiple times without worrying about your Twitter account being banned. Navigation to RecurPost is easy from any other tool, and you don't have to worry about losing your past data.
Social Inbox is one of the unique features offered by RecurPost. Very few tools available in the market provide an in-built Inbox plugin, which allows users to handle customer interaction on a single platform. RecurPost Inbox enables you to reply to customers' comments in real-time. Here, you can switch to different social accounts to view the number of likes and shares for each post. RecurPost is a social media bulk scheduling tool. Using it, you can schedule a large number of posts at once. We help our users to upload data through a CSV file, which makes the process hassle-free.
RecurPost supports the cross-promotion of content on multiple social networks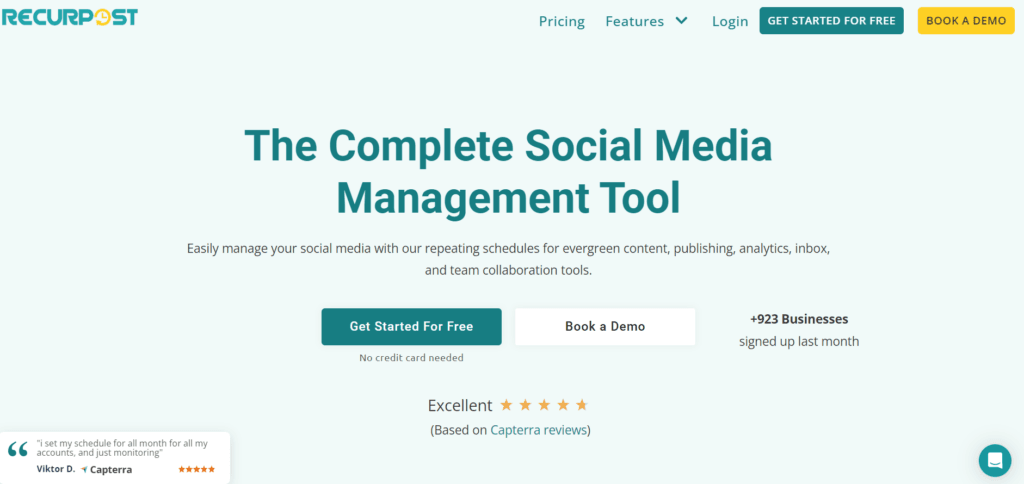 With RecurPost, you can build a community on various networks by posting regularly and repeatedly. You can schedule Facebook posts on your profiles, pages, and groups. It enables you to schedule Instagram posts on your personal and business profiles.
RecurPost lets you schedule tweets and build a Twitter community of your business-specific people. It allows you to schedule LinkedIn posts on your personal and business pages and start conversations with professionals worldwide. RecurPost is an excellent Pinterest scheduler for enjoying the benefits of the visual platform. The tool enables you to schedule Google My Business posts with your choice of call to action button.
If you compare RecurPost with other popular tools, RecurPost provides prime features, advanced analytics, and enables generating white-label reports. It makes RecurPost one of the best choices among free Hootsuite alternatives and the best of Loomly alternatives.
RecurPost pricing is cost-effective, offering first-time users a 14-day free trial to test its features. Why don't you sign up and claim your free trial NOW?
How to get more views on TikTok live?
Going live is one of the most exciting features TikTok offers. You can invite a maximum of up to 20 people at once. TikTok live can be useful for expanding businesses as it allows you to co-host with someone who belongs to your industry. You can explore new audiences where you can promote your brand. Take advantage of TikTok to live by adding relevant hashtags, keeping it short, projecting the right audience, and, if possible, teaming up with influencers. If you are a digital marketing agency, brand monitoring helps you know the difference in brand recognition across multiple networks.
Take inspiration from the most talked about brands on TikTok
TikTok videos that showcase products are the best way to win more customers for your e-commerce. Here are some of the most popular brands that used TikTok to create popularity among their audience compared to their competitors in the industry.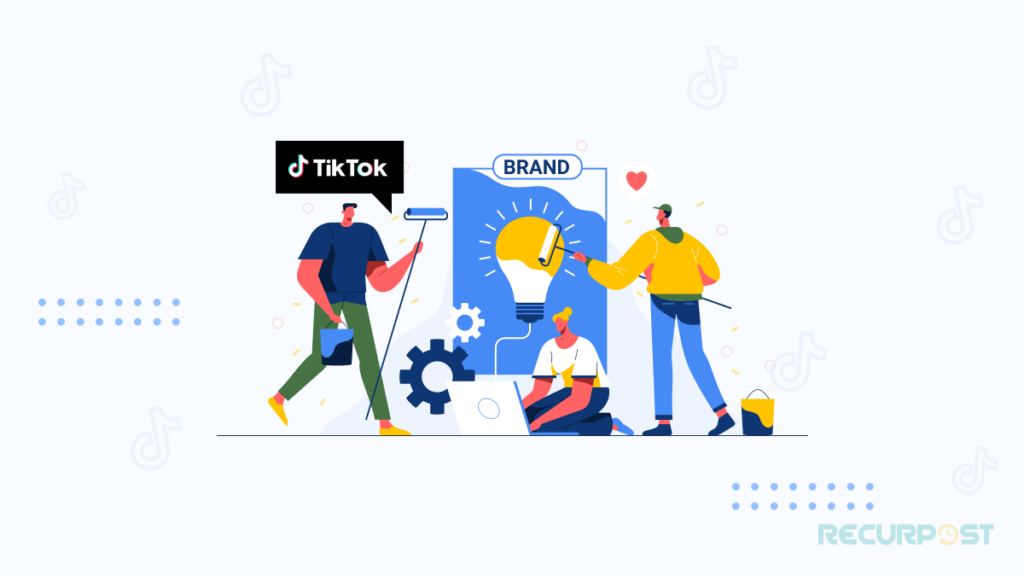 Gucci
Gucci is a luxury brand with a creative vision and impeccable execution. However, implementation takes a big price. The brand spends millions of dollars to always remain on top of other brands and aligned with its vision. Its TikTok feed is overwhelmed with stunning videos that give viewers dreamy vibes.
Chipotle
You can't skip Chipotle from the list regarding accounts on TikTok. Chipotle has more than 1.2 million followers. They are creative enough to grab their audience's attention. The brand has partnerships with comedy creators to engage the audience with humor.
Grow your brand's social presence on multiple networks
RecurPost enables you to schedule, analyze and respond to comments from one platform
Wrapping up
I hope your query is resolved regarding getting more views on TikTok. To reap benefits from videos, you should invest your efforts in an efficient TikTok content and marketing strategy that entertains your audience. You can't compromise on video quality if you are obsessed with stealing your audience's attention.
When someone finds your video in their feed, they will watch it. If they like every time they see your video in their feed, they might think of visiting your social account on TikTok. You should have enough videos in your account to convert them into your brand follower.
To receive more views on TikTok, start working on making quality videos with innovative content. And TikTok will keep rewarding you with more views and grow followers.
Invest in video strtaegies to reach new audience on TikTok and build brand authority.
FAQs
How to get more views on TikTok free?
You can get more views on TikTok by posting informational content, daily posting, maintaining consistency, using relevant keywords in captions, and using appropriate hashtags.
How much does TikTok pay for 1000 views?
You get 2 to 4 cents for earning 100o views. It means you get an amount between $20 to $40 when you touch one million views.
What is a TikTok pro account?
It is an extended version of TikTok that enables users to track their weekly and monthly results of posting videos.
How to get 1,000 views on TikTok?
To get 1000 views, you should first understand who can be your audience and help TikTok by adding relevant hashtags. Make videos that relate to your audience. Focus on sharing entertaining content, and make it more interesting by adding music. Keep the video shorter, post daily, and you are ready to touch your first 1000 views.
How do views matter on TikTok?
When you open your TikTok app, you will see the For You Page. If your video gets a good number of views, TikTok prioritizes your content and shows it above other videos. TikTok algorithm works on the view count. So to rank your video at the top, views are crucial.
How can I claim money for views on TikTok?
TikTok creators fund pays you on the bases of a number of video views and engagement. You will be paid if you meet the TikTok community's terms and conditions. If you become eligible for payments, your paid amount will appear on the creator fund dashboard, which you can transfer to your account through Paypal or other payment gateways.
How to get more views on TikTok hashtags?
To derive the most relevant hashtags for TikTok, you can use what your competitors use or get ideas from the hashtags used by big brands in your niche. You can also take help from some of TikTok's search tools to discover hashtag ideas.
How long does it take for a TikTok to get views?
You will start receiving views for posting on TikTok as soon as it is posted. You will get more views if TikTok shows your video on the For You Page. You must post consistently if you want your videos to land on the For You Page.
Should you buy TikTok views?
You should never buy views on TikTok as it will initially give you a hike in views but will not give you engagement or followers. Once identified, TikTok will remove them anyways.