You'll need a Facebook Business Page if you own a business, and you'll want to understand how to create Facebook page for business. With 1.82 billion day-to-day dynamic clients, Facebook is an informal organization that can't be overlooked. Perhaps this is why over 200 million businesses use Facebook's free services. That includes business pages—yes, establishing a Facebook Page is a free way to promote your brand.
Nonetheless, the Facebook platform is large enough to provide you with excellent results. However, you will succeed if you can overcome the algorithm by determining the optimum times to post and reach your target audience. RecurPost, a social media scheduler, can assist you to schedule Facebook posts on your profiles, business pages and groups that will help you to increase traffic.
Table of Contents to Create Facebook page for Business:
Fortunately, making a Facebook represent a business is moderately basic, and you meet the necessary requirements in general.
What is a Facebook Business Page?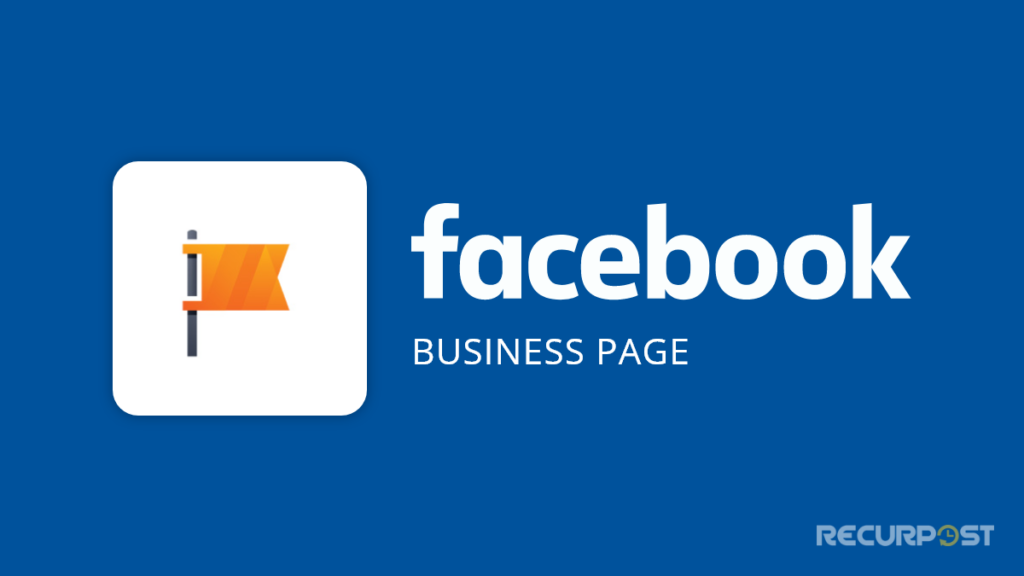 A FB Page is a public Facebook account that brands, associations, artisans, and well-known people can use to promote themselves. Businesses use Pages to offer contact information, post updates, share content, promote events and releases, and, maybe most importantly, connect with their Facebook audiences. Pages can also be linked to Facebook ad accounts and Facebook Stores.
How to create Facebook Page for business?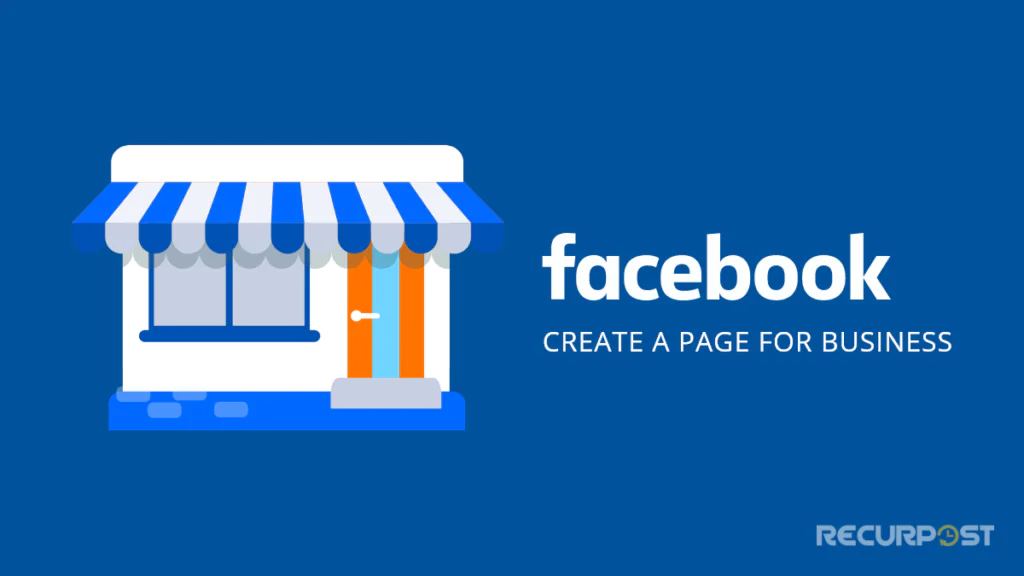 You must first log in to your personal Facebook account before creating your Facebook Business Page. But, don't worry; your personal information will not be available to the public on your business page.
This is because one or more page administrators manage each business page. People with personal Facebook profiles serve as administrators. Your personal account functions as a key to unlock your new business page. If team members assist you with your page, their accounts will also allow access to their respective roles and skills. So, if you haven't already done so, log in and go to the Page creation stages.
Step 1: Sign up
Go to facebook.com/pages/create.
On the left-hand side, enter your company's details. Then, as you scroll down, the page preview on the right will refresh in real-time.
Use your company name or the name that people are most likely to search for while looking for your company.
Type a couple of words that describe your business in the classification area, and Facebook will propose different choices. You can decide on up to three of the ideas.
Fill in the Description field straightaway. This is an outline that is shown in the list of items. It should just be a couple of sentences long (maximum 255 characters). Click "Create Page" after you're happy with your depiction.
Step 2. Add pictures
Your Facebook Page's profile and cover photographs will be uploaded next. Again, making a strong visual first impression is critical, so choose wisely. Make sure your pictures are consistent with your brand and immediately identified as belonging to your company.
Using your logo is the safest approach if you have a well-known brand. If you're a star or a well-known individual, a photograph of your face will work wonders. A well-shot snapshot of your distinctive offering might suffice if you're a local business.
The most crucial thing is to make it as easy as possible for a potential follower or buyer to recognize your page. As a result, the profile photo should be 170 × 170 pixels in size. Because it will be cropped to a circle, don't include any crucial information.
Once you've found a nice photo, click "Add Profile Picture." It's now time to select your Facebook cover image, the most visible image on your page.
This image should communicate your company's or brand's personality while capturing the spirit of your firm. Facebook suggests that you use an image with a 1640 x 856 pixels resolution. Click Add Cover Photo after you've chosen an appropriate image.
Toggle between desktop and mobile views after uploading the photographs using the buttons in the top right corner of the preview. Use these to check that your photographs appear correctly in both displays. You can move the images in the left column around by dragging them. After this, click the save button.
Step 3: Create your username
Your username, often known as your vanity URL, is the address where others can find you on Facebook. On the page preview, click Create Username to create your username.
Fill in the name you'd want to use. If it's accessible, Facebook will notify you. You're good to go if you obtain a green checkmark. Just click Done.
Step 4: Add your business details
While you may be tempted to save the details for later, you must fill out all of the fields in the About section of your Facebook Page right away.
Because Facebook is frequently the first place a customer looks for information about you, having all of your data is critical. Thankfully, Facebook has made the process easier. First, expand the Provide Info, and Preferences box in the Set Your Page Up for Success section of your Page view.
Begin by filling out the necessary information on your website. For example, if your business is open to the public during specific hours, include them here. This information appears in the search results. Next, remember to finish the Add an action button section. The right CTA button, for example, will entice visitors to learn more about your company, shop, download your app, or schedule an appointment.
Step 5. Create your first post
Before you start requesting individuals to like your business's Facebook page, you should create some useful material. You can write your own pieces or share useful content from industry thought leaders.
To make special postings, such as an event or an offer, select one of the choices in the Create box at the top of the page. To increase the likelihood of your visitors staying on your Facebook Business Page, make sure whatever you post delivers value.
Step 6. Invite an audience
Your Facebook Business Page has evolved into a powerful online presence that allows potential customers and fans to communicate with you quickly. You must now gain some followers!
Begin by inviting your current Facebook friends to become fans of your page. Then, use your existing platforms for advertising your new pages, such as your website and Twitter. Add "follow us" emblems to your promotional materials and email signature. If you're okay with it, you can also invite your clients to leave a review on Facebook.
Check out our post on How to Increase Facebook Followers & Likes?
Create a business Facebook page without a personal account.
You can build up a duplicate Facebook profile with just a first name or nickname but authentic credentials and then establish privacy restrictions to keep your profile as concealed as possible.
To separate your profile from your business, you can utilize this profile to create a Business Manager Account. That's your best chance of keeping your personal and professional profiles separate.
Create an event on Facebook business page.
Anyone on or off Facebook can see a public event. They have access to information such as the event description, images, conversations, and videos. The event may also be found using a search.
Now that you've decided to create a public event, you can fill in all of the details. This data includes the following:
Name of the event
A photograph or video of the incident
A specific location
The frequency (you have the option of setting up recurring Facebook events)
Your event's date and time.
Any other co-hosts.
A ticket URL
If you don't want the guest list to be visible to the public or other attendees, uncheck the option that says 'Display guest list.'
You can also use SEO information to make your public Facebook event more discoverable. A category, description, and keywords are all included.
For example, if you're hosting an online marketing workshop, you could want to include keywords like marketing," social media," and " online workshop." Then, when someone searches for an 'online social media workshop,' they may come across your event, which may assist in increasing registrations. If your event is held in person, include your keywords' location, such as 'London' or 'Bristol.'
Once you're satisfied, click 'Create' to start creating your event, or save it as a draught to work on later. You can also choose to host the event from your personal profile or from a set up Facebook business page under 'Event Host.'
Create a custom URL for Facebook business page.
When you create fb business page, you may notice that the URL for your Facebook business page is a little, well, nasty. It's also lengthy, making it challenging for individuals to recall. Furthermore, Facebook's original URL for a business page will have a series of digits following www.facebook.com/ that have nothing to do with your company name.
It will be tough to explain to people how to reach your Facebook page with such a long URL, and it will look terrible on your business card or other marketing materials. Fortunately, Facebook offers a custom Facebook business page URL for those of us looking for a shorter, cleaner version of the connection. To create your own Facebook business page URL, follow these steps:
Step 1:
Go to your business page and, on the left side of the page, click "Create Page @Username."
Step 2:
Create a username and a unique URL.
Step 3:
Click "Create Username" if the username isn't already taken.
Remember to follow Facebook's username guidelines while picking a custom URL.
Having a personalized Facebook business page URL puts you one step closer to fully utilizing your social media platforms. You can remember it more easily now that you have a customized URL, and your followers/potential customers can too!
Remember that your unique URL (sometimes known as a "vanity" URL or, as Facebook refers to it, a "username") should be memorable and relevant to your company & your Facebook business manager add admin knows your URL pretty well.
How to start Facebook marketing for small businesses?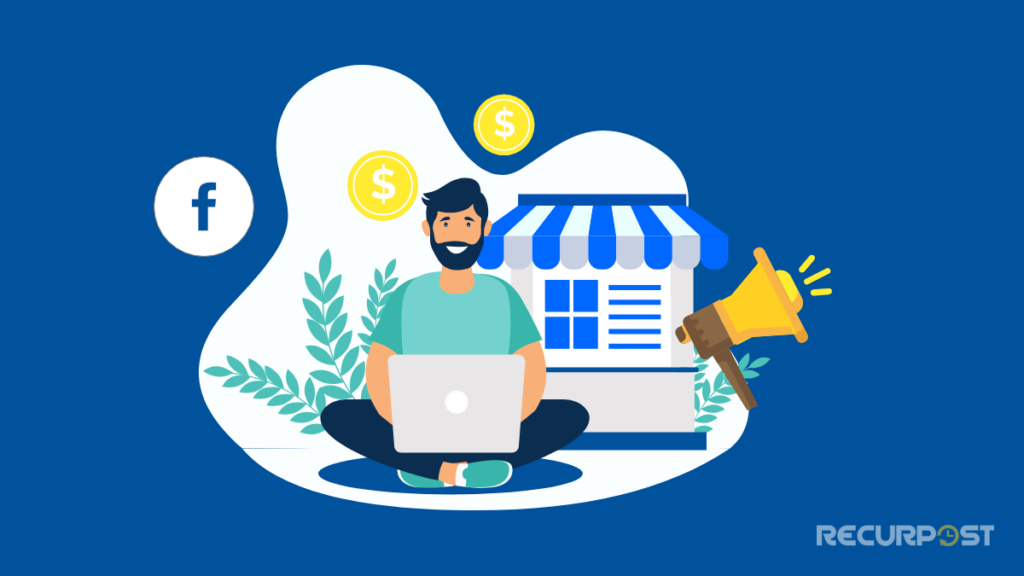 The importance of building a Facebook profile for your small business cannot be overstated. Of course, this isn't your personal profile but rather a public one that provides essential information about how your organization operates. There are a variety of reasons why your business should have a page, including but not limited to:
It increases brand recognition.
It can assist in the generation of leads.

You'll have to compete with your competitors if they have one.
Whether you already have a page or are planning to build one, there are probably a few best practices that you may learn about. The steps outlined above are only the beginning of creating a Facebook Page for a small business.
Suppose you have set up a Facebook business page and now wish to focus on other business things. In that case, you just need to get started with a Facebook post scheduler to enhance your client base by increasing your sales pitch via social media! So now let's get into how to schedule Facebook business page posts using a social media scheduler.
Facebook marketing is a powerful strategy to promote businesses and engage with target audiences. One important aspect is knowing how to schedule posts on Facebook groups. This feature allows marketers to plan and automate content delivery, ensuring consistent visibility. Scheduled posts enhance the efficiency, reach, and overall effectiveness of marketing efforts on the platform.
Related Article:

21 Facebook Marketing Tools To Use In 2023!
Save time on Facebook marketing with a social media scheduling tool.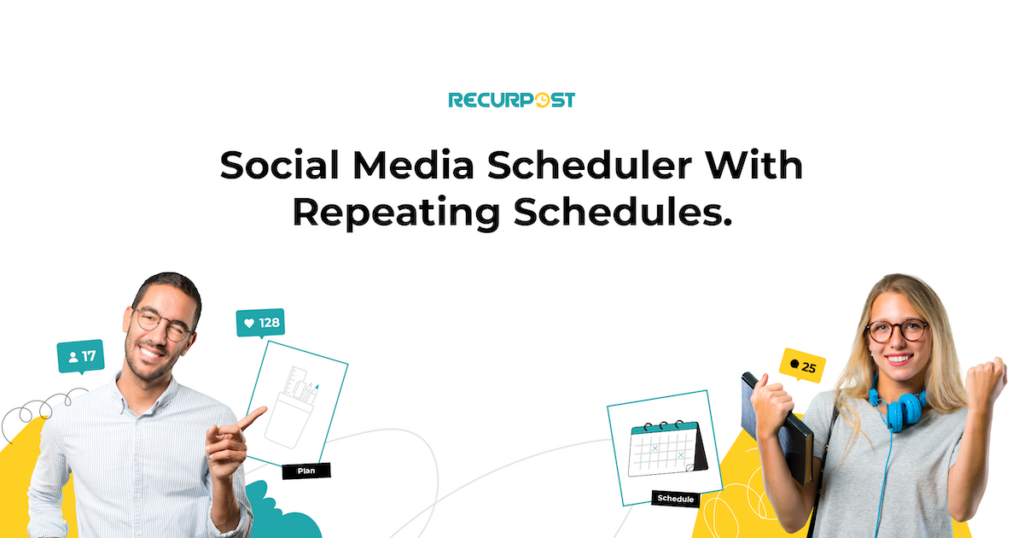 Marketing on Facebook as a small business is a difficult task. You're in charge of dozens of projects and a tiny staff to complete them. As a result, it's sometimes a one-person show! As a result, it's preferable if you make creating and maintaining your Facebook content calendar as simple as possible.
RecurPost, a social media marketing tool, can help you save time. You can schedule your posts weeks in advance, ensuring that you never go dark on Facebook. With features like social media bulk scheduling, Google alerts, Hashtags recommendations, etc., RecurPost is amongst the best free hootsuite alternatives & mavsocial alternatives.
It is possible to schedule Instagram posts on your business and personal profiles for sharing achievements through images, reels, and stories. RecurPost is also a Pinterest scheduler for an audience that relies on a visual platform. It enables you to schedule tweets at the best time to help your clients to create a Twitter community.
You can schedule LinkedIn posts on personal and business pages to put your clients' businesses on a professional network. RecurPost allows you to schedule Google My Business posts with a choice of CTA to attract local customers for your clients.
Some of the advantages of utilizing RecurPost to schedule Facebook posts are listed below:
Post Content at the Most Appropriate Times
Posting at the optimum times is one of the best methods to combat the current drop in organic reach on Facebook. RecurPost's AI engine is specifically developed to give you the optimum moments to reach your target audience. To determine the optimum time to add material, your previous articles' engagement levels are examined. Check RecurPost pricing to know better about the tools.
How to optimize your Facebook Business Page?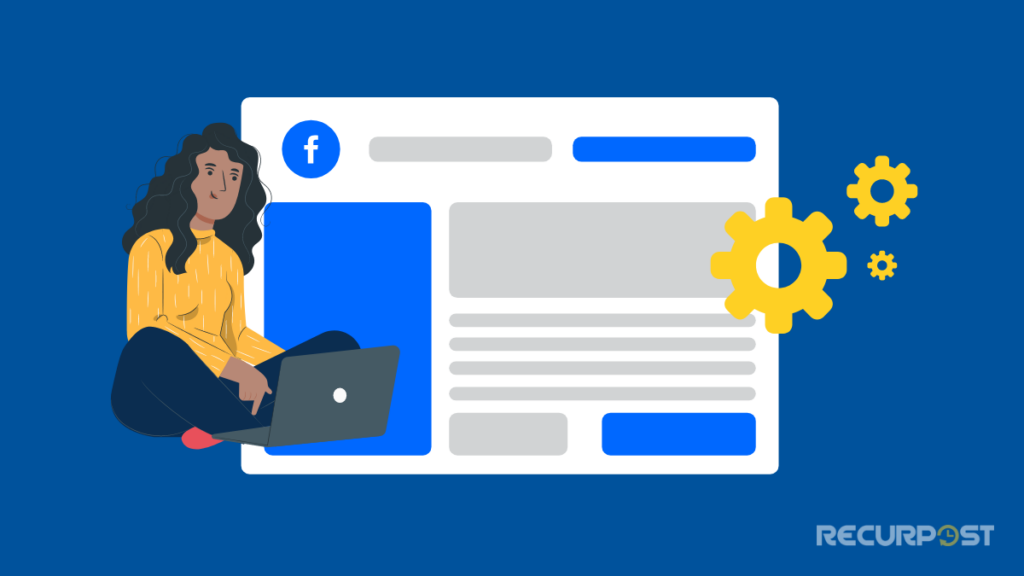 After you've filled out the essentials, you can use customization options to improve your page. For example, select Edit Tabs from the More drop-down menu while on your page. You can then select templates for other types of businesses, such as nonprofits, shopping, services, restaurants, cafes, etc.
Go to More > Edit Tabs to choose a template or manually customize tabs on your Facebook Business Page.
By moving your mouse over the template, you can see the default call to action (CTA) button and tabs. For example, the Restaurants & Cafes template replaces your primary CTA button with getting directions and adds tabs for your menu, offers, reviews, and images. After choosing a template, you can adjust your tabs by removing or rearranging them so that the most important ones appear first.
This takes us to the conclusion of our blog on how to create Facebook page for business.
Conclusion
The first step is to learn how to create Facebook page for business. Maintaining consistency with your content once you've created your page is critical. You don't want to invest so much effort in creating your page and growing your audience only to publish infrequently. Repurpose your content and be everywhere; that's how you will achieve quick and long-lasting growth.
RecurPost is a one-stop shop for managing your Facebook posting schedule and analyzing your outcomes. So sign up now for a free 14-day trial to get started. Understanding that each platform has a distinct position in the industry is important when discussing which platform is better—Instagram vs Facebook. In terms of use, one cannot take the place of the other.
Did you find the strategies listed in this article helpful? How have they worked for you? Do let us know in the comment section below. Feel free to share your thoughts.
Frequently Asked Questions
1) Can your small business do well on Facebook?
Customers use Facebook to find new businesses, research them, and receive advertisements, among other things. Furthermore, having a Facebook Page establishes brand trust and allows some businesses to service customers from beginning to end without ever leaving the site.
2) Is it possible to build a Facebook page create without account?
No, you cannot build a company page without first linking it to a personal profile on Facebook. As a result, any company page requires an administrator or someone who manages the page. However, you can assign duties and make other accounts administrators once it's up and running.
3) What is the difference between a Facebook business page and a business account?
Suppose you don't want a personal Facebook profile. In that case, you can create a business account designed specifically for people who wish to manage advertisements without having a personal profile. Business profiles have restricted access to personal profiles, and they can't contact them unless they create a page.
4) Is a business account on Facebook free?
A Facebook Business Page is a free and open channel for organizations to increase brand awareness and create deals on Facebook.
5) Can I create a Facebook page for my business without a personal account?
While you must have a Facebook account to create a Facebook business page, you can avoid creating a personal profile that all of your friends can search for. Instead, create a new account on Facebook's homepage with your business email address to create a Facebook page without a personal Facebook account.

6) What type of Facebook Page should I create for my business?
Currently, Facebook offers 4-page types. These are:
– Local Business or Place
– Company, Organization, or Institution
– Brand or Product
– Artist, Band, or Public Figure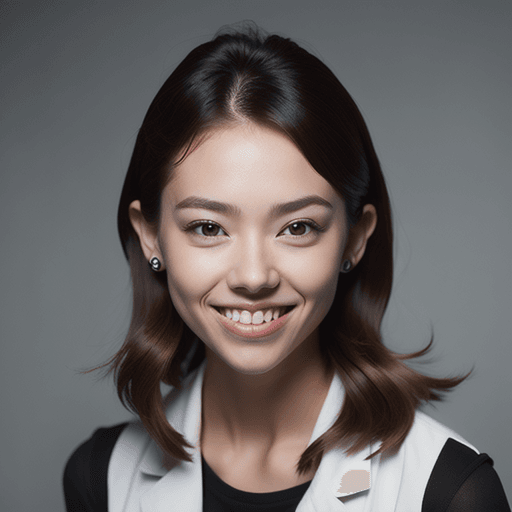 Debbie Moran is a Digital marketing strategist with 5+ years of experience producing advertising for brands and helping leaders showcase their brand to the correct audience. She has been a part of RecurPost since 2019 and handles all the activities required to grow our brand's online presence.