Let's say your savings have matured just about enough for you to be able to buy a car. It is your dream, and you have been saving for this day for a long time. How would you get started? Where are you going to look first? If you are a millennial, probably an online automotive marketplace. And that is why an Automotive marketing strategy is needed.
This is where online branding for generating more leads comes into the picture, and an automotive marketer would know that. Even though most car sales occur at a dealership today, online automotive marketing can bring good leads to the dealership. Talking specifically about the present-day consumer, he/she checks a deal online and verifies all sources before visiting the dealership.
Modern buyers are turning to digital platforms for researching their cars. In fact, Autotrader says that more than 70% of millennials deem technology and infotainment features as necessary while purchasing a car. 61 % of car shoppers conduct their research via videos. Automotive marketing will need cutting-edge digital marketing ideas to run a successful car campaign. Even they include social media scheduler in their digital marketing strategy to ace online presence.
Like any other industry, the Automotive sector will likely undergo a remarkable transformation this year. There are constant changes in the Automotive industry trends, and companies must keep track of those to remain relevant.
The Automotive Marketing trends to adopt in 2023 are:
The creative strategies for Automotive Marketing to attract modern buyers in 2023 are:
Here Are The Automotive Digital Marketing Trends That Will Dominate The Year 2023:
1. Mobile Optimization
More and more people are turning to their mobile device for researching the automobile purchase that they want to make. Mobile has changed the way in which consumers search and shop. Therefore, placing mobile ads can be highly beneficial, it can lead up to 45% increase in the conversions.
2. Mapping Customer Journey
The journey of a purchase could last anywhere between 5 to 12 weeks. The customer purchase journey begins from the buyer starting to look for models online. Then they narrow down their selection based on opinions and reviews. Next, they pay a visit to the dealership to take a test drive of the vehicle. Post that the consumer makes the final choice pertaining to what model he/she wants to buy. Hence, it is important to keep the customer on the right channel, in the right time, and the right place.
3. Focus on Customer Service
There is an increasing competition amongst automobile companies based just on customer service. A study said that the majority of the consumers were willing to pay higher prices to dealerships owing to their customer service. Consequently, simplified processes and improved experiences will lead to higher customer retention.
4. Personalization of Videos
Personalized videos are interactive in nature and can adapt to the user. These videos are designed focusing on the personality of the audience that they will cater. A huge portion of car buyers watch YouTube videos for making a purchase decision. Therefore, brands are exploiting this medium of communication to their fullest by personalizing the experience.
5. Usage of Messaging Applications
The top messaging apps would be WhatsApp, Facebook messenger, and Snapchat. The car dealer must keep up with the messaging trend and consider communicating with their audience through these platforms. These apps are definitely more effective than emails because they have a higher response rate. The user experience is much better as compared to emails. However, the companies must meet the GDPR Compliance while using these.
6. Optimization of Voice Search
Over a 100 million people make use of voice search and the number is only expected to increase in 2023. Dealerships can improve customer experience by integrating paid search, website, and blogs for voice search. The content that is not optimized for voice search will receive a lower rating through the Google algorithms.
Dealerships can optimize their content for voice search by using long tail-keywords and answering questions. The tone should be conversational for all their key phrases.
Here Are 5 Creative Strategies For Automotive Marketing To Attract Modern Buyers:
1. Stay Relevant By Using Influencer Marketing
If used in the right manner, influencer marketing can be very useful for brand promotions. Additionally, think of launching your campaigns on landmark days like National Youth day or April fool's day. This will give you a chance to connect with your audience in the best possible way and even allow room for humor in automotive marketing strategies. You can connect with massive influencers or celebrities for carrying out your brand campaigns. And it can drive hysteria through the crowds.
A brand that nailed it: CHEVROLET – "BEST DAY EVER" CAMPAIGN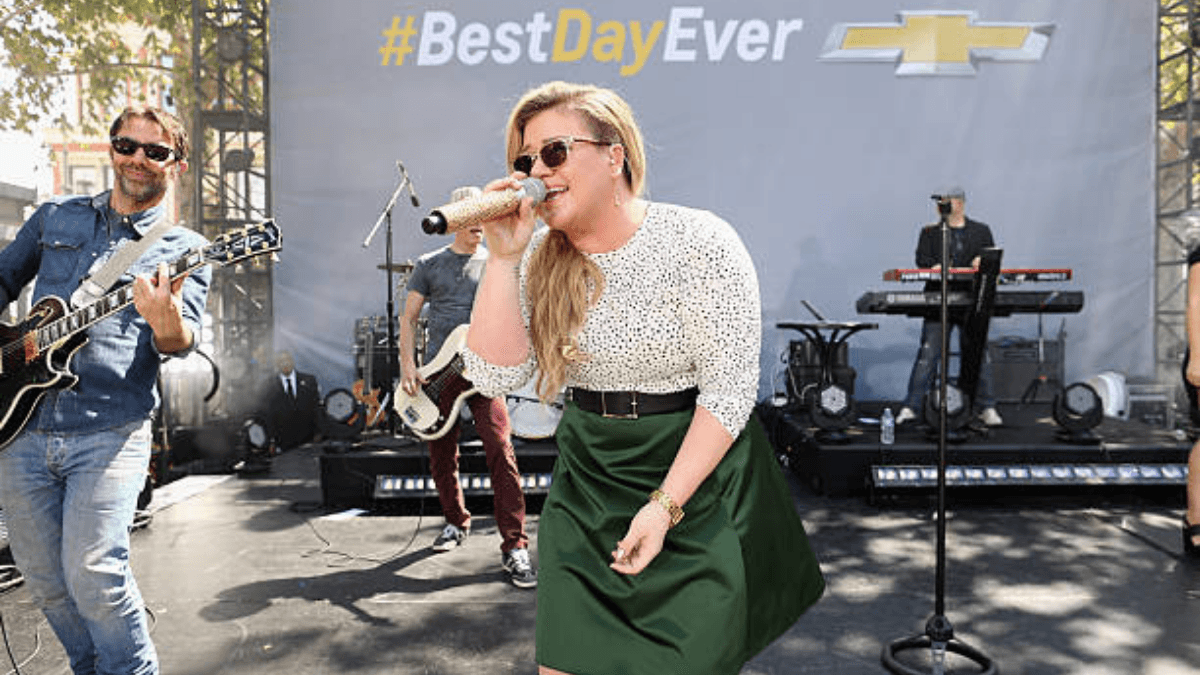 Back in the day when Chevrolet thought it might be missing out on popularity among Millennials, it came out with the #BestDayEver campaign which was launched on April fool's day. They took big names on board like Alec Baldwin and Olivia Wilde and made them takeover college classrooms. Singer Kelly Clarkson hosted a luncheon for new moms.
To boost the promotions, Chevrolet partnered with YouTube and conducted a live stream on an 8-hour long event. This whole campaign was a massive success and generated over 1.5 billion social media impressions for the brand. Way to go for a digital marketing strategy that targets the modern buyers directly.
2. Tap into Video Marketing And Target Societal Issues
You know what can be an intelligent idea for automotive marketing?
Picking societal issues and turning them around into your benefit. You can pick a specific notion or a preconception that breeds in the society and make a campaign that targets that, positively of course. This is a good way to give a fresh angle to your car marketing strategies. Also, videos would be the best way to put it across.
Video marketing strategy has gained extreme popularity and it is a clever way to get the message across in a way that plain text or simple words would never be able to. You can draft an engaging post for social media handles belonging to your brand and release your videos.
A brand that nailed it: MUSTANG – "SPEED DATING" CAMPAIGN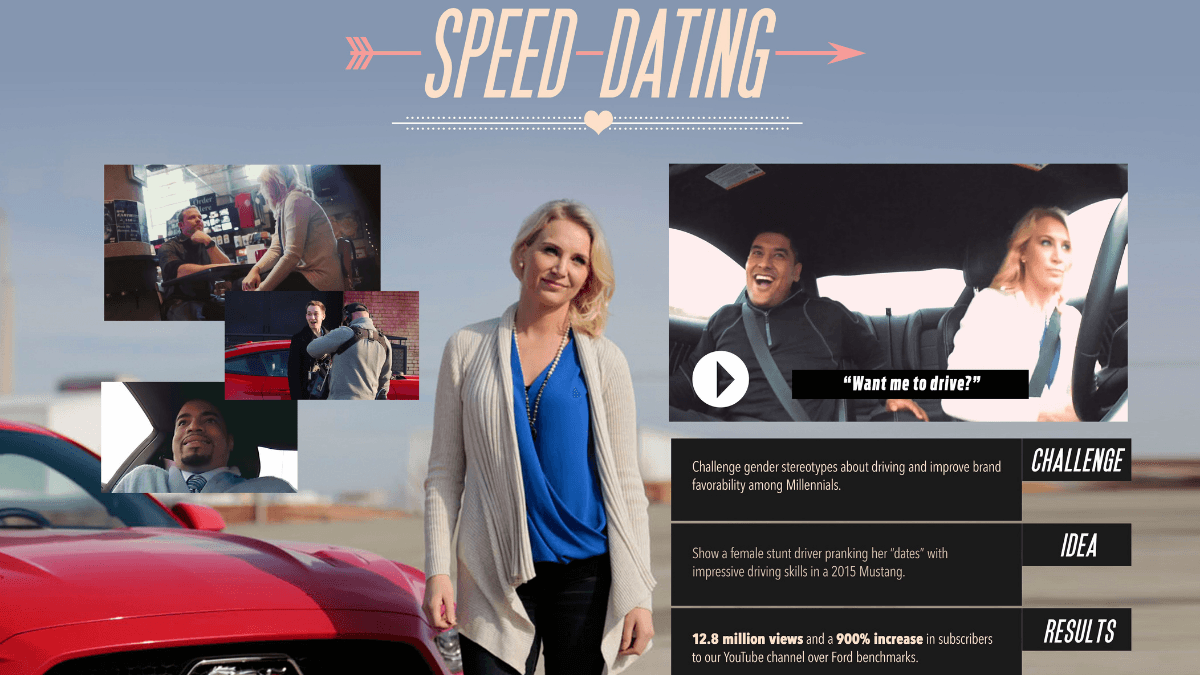 Ford picked up Valentine's day and set out to attract viewers to their Mustang prank video. The video showed a talent agency scouting for young actors for their all-new dating show. The actors were required to meet up with the show's apparent "star," who happened to be a female stunt car driver. The lady asks the actors to join them for a drive in her Mustang, and there are hidden cameras.
Initially, she pretends not to know how to drive but grabs pace later and performs stunts while driving daringly. The campaign was articulated to fire the notion that women cannot drive well. This killer viral content marketing strategy gained 12.8 million views on YouTube. Smaller brands, like this truck accessories seller, can also benefit from video marketing by creating a dedicated YouTube channel and growing an audience there.
3. Use High-Tech For Engaging with Customers
Technology updates can change the face of a market, especially in industries like the automotive sector. New technologies provide unique ways to interact with the audience. The ability of AR and VR to generate immersive experiences gives brands an opportunity to actually put people in their cars and let them experience the feel of it without any physical contact. Imagine the kind of scope that this brings to the automotive industry.
A brand that nailed it: PORSCHE – "VIRTUALLY PORSCHE CAMPAIGN"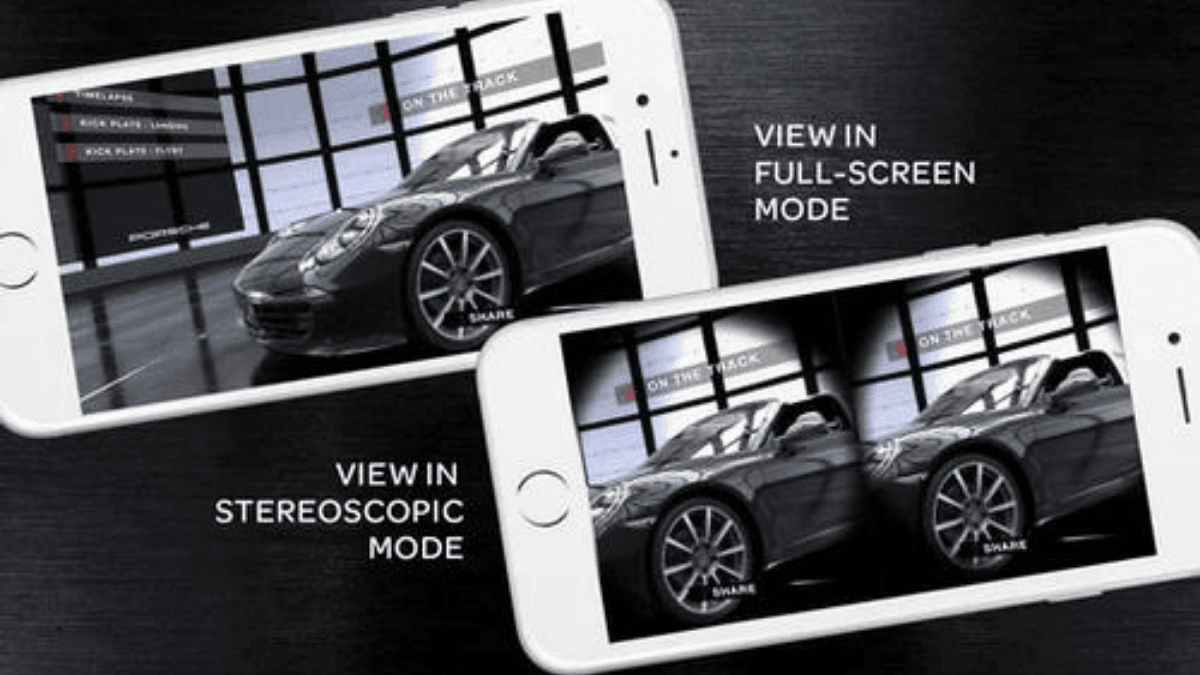 When Porsche launched its Panamera 4 E-Hybrid, it released a VR experience campaign across the globe for the customers to experience the car's feel. The brand new well that not everyone could access VR technology, so it came up with 5000 limited edition Porsche- branded Google cardboard viewers.
They managed to create a full-blown VR experience for even those who didn't have the technology. These cardboards were sent to influencers, Porsche loyalists, and potential buyers. Owing to all of this, the automotive marketing campaign was a grand success.
4. Communicate a Sense of Giving Back to The Society
A brand should try and incorporate a sense of charity or giving back in most of their automotive dealer's marketing campaigns. The holidays can be targeted, and your customers should know what you do to help others and foster the holiday spirit.
There are multiple ways to incorporate your charitable work into campaigns and make it publicly visible. You can always get help from digital marketing professionals or agencies if you get stuck. With social media bulk scheduling features, you can also schedule your holiday posts according to the best time to post on social media with RecurPost – one of the most preferred post planner alternatives and free hootsuite alternatives in the market. It will surely take your SMO and SEO game to the next level.
A brand that nailed it – CARMAX CARING TREE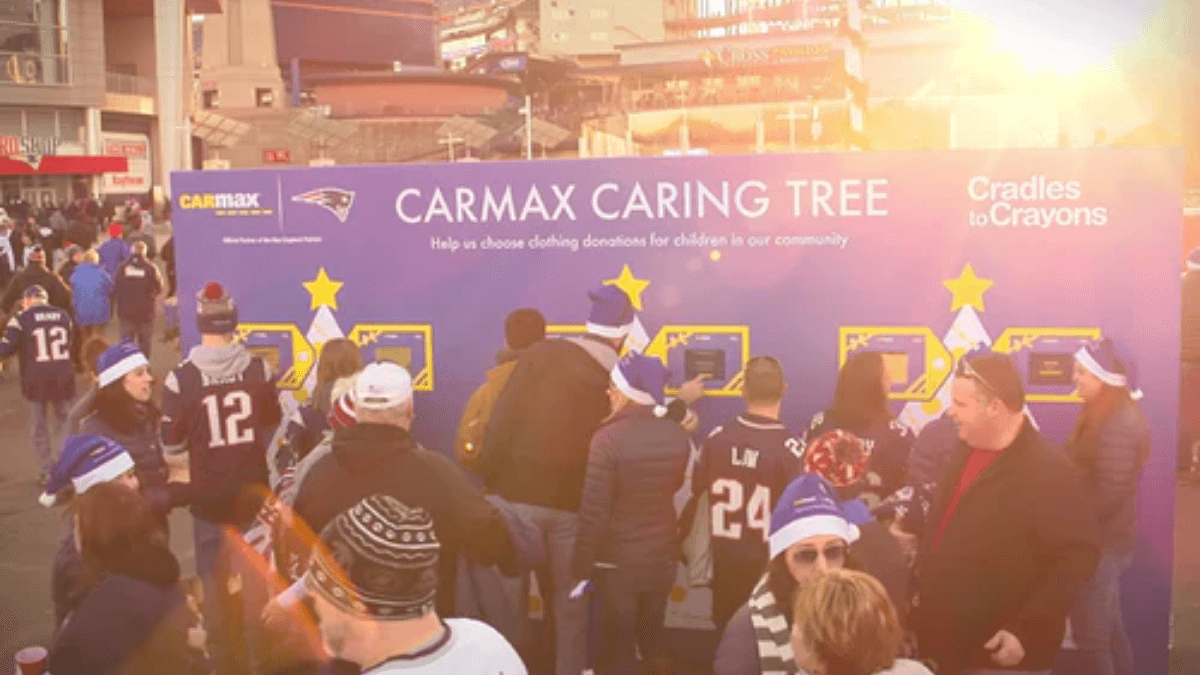 When CarMax was about to open two new stores in Boston, it partnered with a nonprofit organization called Cradles to Crayons. They created an interactive tree display that enabled customers to choose gifts, winter clothing items, and accessories for the underprivileged. It was an excellent way to help people in need, and marketing would show how your brand cares.
5. Target Live Events with Your Campaign
Sometimes mediums like videos and photos just don't work. You need to conduct live events to deliver a life-like feeling or connect with the audience at a very human level. There are a plethora of options as to how you can conduct these events. You can get super creative with your automotive marketing through live events.
A brand that nailed it – FORD CANADA
Ford Canada displayed their new vehicles in a very smart manner. They did not simply highlight them; instead, they hosted multiple live events with the help of their automotive digital marketing agency. During the hosted engagements, customers were encouraged to try out things they had never done before. The buffet of activities was insane and included bull riding, MMA fighting, axe throwing, and test driving a vehicle by Ford.
Social media platforms supported by RecurPost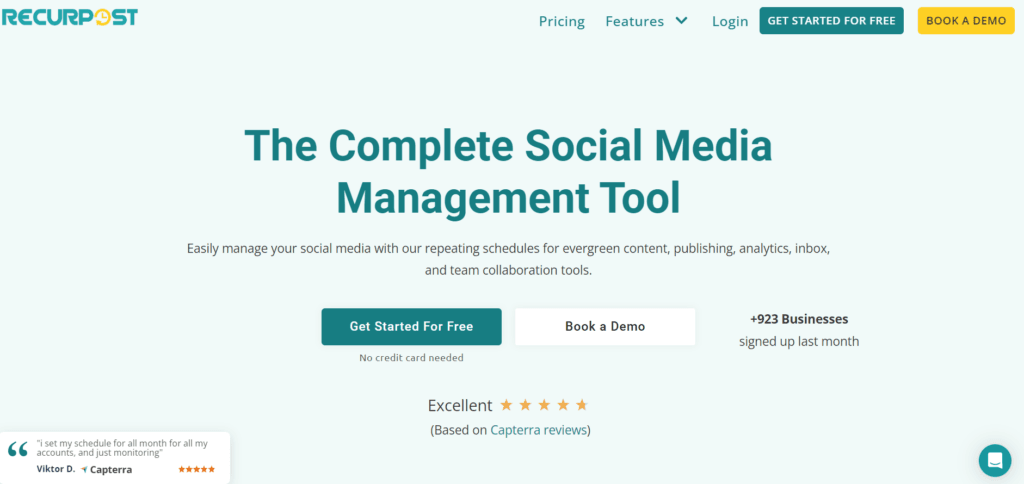 Make the best out of your social media posting efforts with the help of RecurPost, a social media scheduler. Using RecurPost, you can build your brand community across major platforms by employing the appropriate social media strategy.
You can schedule Facebook posts to interact with your audience through posting on your profiles, multiple groups, and business pages. RecurPost lets you schedule Instagram posts with images, stories, and reels on your personal and business accounts to entertain your audience.
Using RecurPost, you can schedule tweets by creating variations and posting them at the best time using the tool. It enables you to schedule LinkedIn posts to start a conversation with the professional that belongs to your niche. RecurPost is an ideal Pinterest scheduler, which enables you to share appealing visual content of your products and services.
You can also schedule Google My Business posts with a call to action button to promote your brand locally. You should try the RecurPost features by signing up for a free trial.
Conclusion
Getting a hold of automotive digital marketing trends is very important if your brand wants to stay strong in the competition with some Blogging Tools. This blog runs you through highly creative strategies you can incorporate into your automotive marketing SEO strategy, which you can also use as Instagram Post ideas. Your brand can use these and take them to the next level through rigorous social media promotions. Via social media platforms, your brand will have the opportunity to create buzz around your products. For this, you must post consistently and promptly.
It can be hard to keep up with your social media marketing for book authors, when you operate at this scale. Social media scheduling tools can be a total game changer for you. They will help you manage your posts, schedule them, and take care of engagement activities. A perfect tool that would do it all for you would be RecurPost. You can find out more about the services and plans that it offers, along with the 14-day free trial, and think about how you can align that with your business goals.
Frequently Asked Questions
1.What is Automotive industry marketing?
A marketing strategy is the overall game plan that a business undertakes to attract a buyer or lure them into buying your product. It is a long term plan that consists of the value proposition, objective, and information on the target customers about the company. A marketing strategy used for an Automobile company is called an automotive marketing strategy.
2.What is digital marketing in automobile industry?
The automobile industry currently uses digital marketing strategies like social media ads, virtual showrooms and video advertising on social media platforms. These are highly effective and bring in millions of dollars in revenues.
3.How can automotive dealers improve their automotive marketing?
One thing that automotive dealerships should realize is that they have to do more than just make sales. Modern day buyers will look for sources of information online before actually coming to the dealership and making a purchase. That is why, automotive dealers should work on their digital marketing efforts.

Here are the strategies they can adopt for better automotive marketing:
– Video marketing.
– Influencer marketing.
– Online review management.
– SMS marketing.
– Creating a user friendly website.
4.How much does automotive industry spend on marketing?
As per the calculations made back in 2019, the automotive industry in the US spent 13.38 billion dollars on advertising. The pandemic has caused a dip in the overall expenditure in 2020, but the sector is forecasted to bounce back to the level recorded in 2019 soon.
5.Is the automotive industry competitive?
Yes, just like any other technology based industry, the automotive industry is highly competitive. There is a constant need for innovation and performance updates. The top players in this industry are: Toyota, General motors, Volkswagen, Hyundai, Ford, and Honda.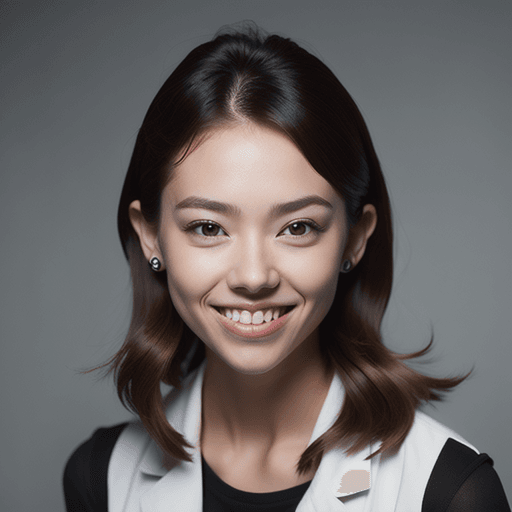 Debbie Moran is a Digital marketing strategist with 5+ years of experience producing advertising for brands and helping leaders showcase their brand to the correct audience. She has been a part of RecurPost since 2019 and handles all the activities required to grow our brand's online presence.