Do you want to make social media scheduler an integral part of your digital marketing strategy? Well, why not? There is no reason to avoid the amazing results and leads social media can provide for your brand as it allows you to schedule Facebook posts.
No doubt, the major social platform for running paid targeted ads is Facebook. As Instagram is now integrated with it, you can successfully run advertisements on both platforms directly from the Facebook business manager.
With 2.6 billion monthly active users, Facebook dominates our attention spans. Thus it is quite natural that advertising on the platform can prove to be an instant game-changer for any business.
No matter who your target audience is – it is a guarantee that you will be able to reach them with the help of Facebook marketing. You do not even have to shower your bank balance for running Facebook ads – you can do it even with a budget of 20 dollars (or 10!)
What is Facebook Business Manager?
If you want to operate more than one ad account, Facebook business manager is a useful tool that will help you track separate clients' ads and pages and create reports for them. It is also useful when your business uses Facebook for different services.
It is a mechanism that will let you create, publish, oversee, and report on your business-related belongings, which includes Facebook Pages and advertisements.
Facebook Business Manager also allows you to add your employees, give them access, and assign them different roles. This will help your team stay organized while creating Facebook ads and monitoring business assets on the platform. And along with that, you can use the Facebook post scheduler to pre-update your post when no one is available.
Here are some benefits of using the Facebook Business Manager:
Manage multiple pages and ad accounts from a centralized dashboard.

Add or remove employees or agencies easily.

Access to valuable pixel data.

Create custom audiences for advertising.

Manage billing details.

Access Catalogs and build product sets.

Grant different permission levels to people based on different objectives.
In this guide, we'll take you through the following:
Creating a Facebook business manager account

Adding your business pages and ads

Adding employees

Linking Instagram account

Setting up Facebook Pixels

Using the analytics tool
Facebook Business Manager is a powerful tool that allows businesses to efficiently manage their Facebook presence. With this platform, businesses can organize and schedule Facebook group posts targeted at specific groups. By utilizing the scheduling feature, businesses can ensure timely and consistent posting, enhancing their engagement and reach within relevant groups.
Read More: How to Schedule Facebook Post?
Facebook Business Manager isn't bound to your personal account.
Yes! You are not required to have an active personal account in order to operate the Facebook Business Manager. It only shows you your business accounts and pages. It does not have any kind of newsfeed and will not send you any notifications from your personal account.
Setting up Facebook Business Manager
It does not matter whether you have an active personal account or not; you just need it to confirm your identity – as setting up a Facebook business manager is a whole together different process. You are required to have a business name and email address to begin.
Let's dive deep into the steps that you need to follow to kick-start your journey.
Step 1: Create an account
Go to "https://business.facebook.com". Click on the blue button saying "Create account" on the top right corner.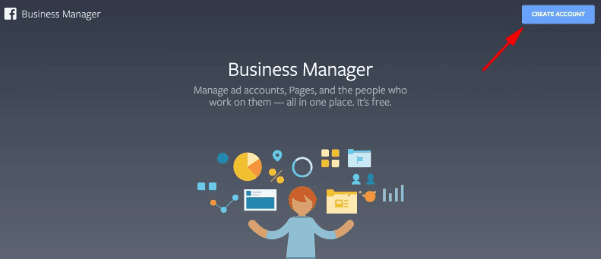 On the next screen, you will be asked to fill in some details – Your business and account name, your name, and business email. Add them and click on next.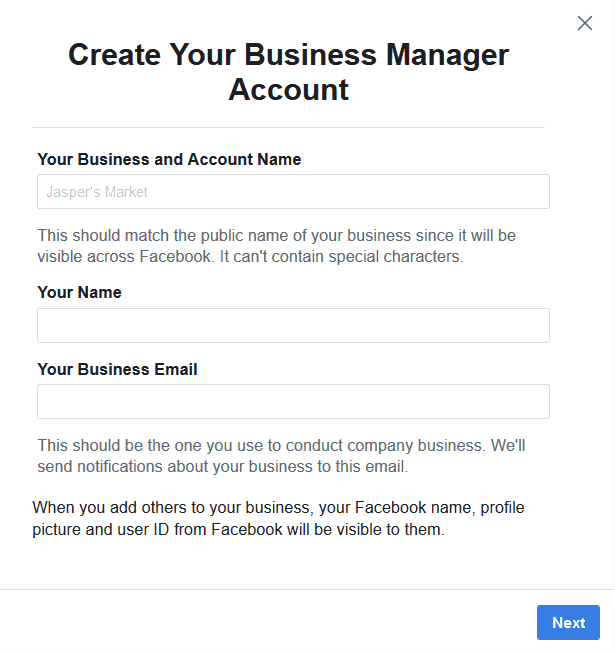 Here, enter the details related to your business – Country, street address, Zip code, contact number, and website. You need to select 'Business Use' too (for what purpose you will be using this account) – whether to promote your own goods and services or to provide services to other businesses.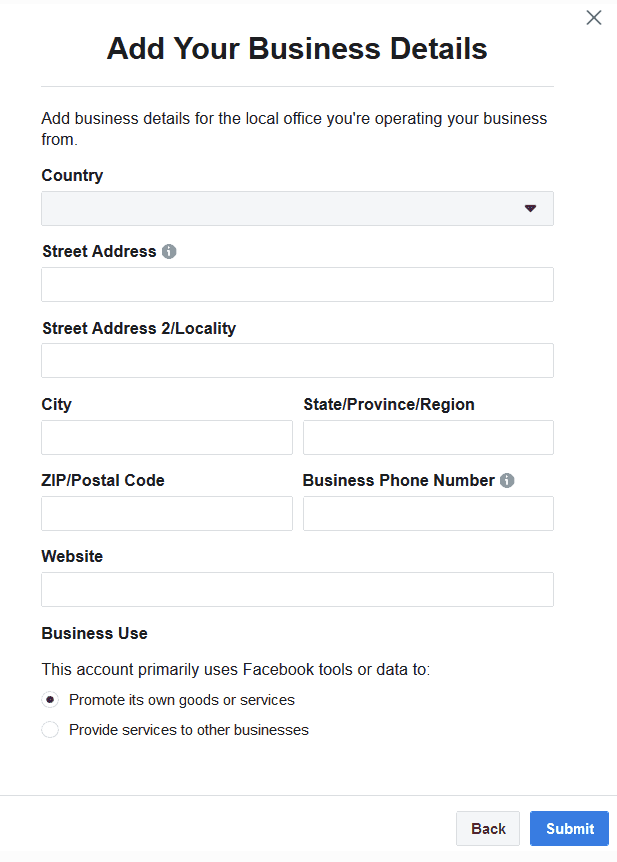 Submit the info and you will get a confirmation mail from which you need to verify your email address.
Step 2: Add Facebook pages to your Business Manager
Now, you will see the dashboard where there will be a couple of choices to select from. You can add your existing Facebook business page or create a new one. You can also request access to others' pages, in the case when you are working for a client.
Let's say that you want to add your own Facebook page here.
From the three options available on the dashboard, select

"Add Page"

from the first option.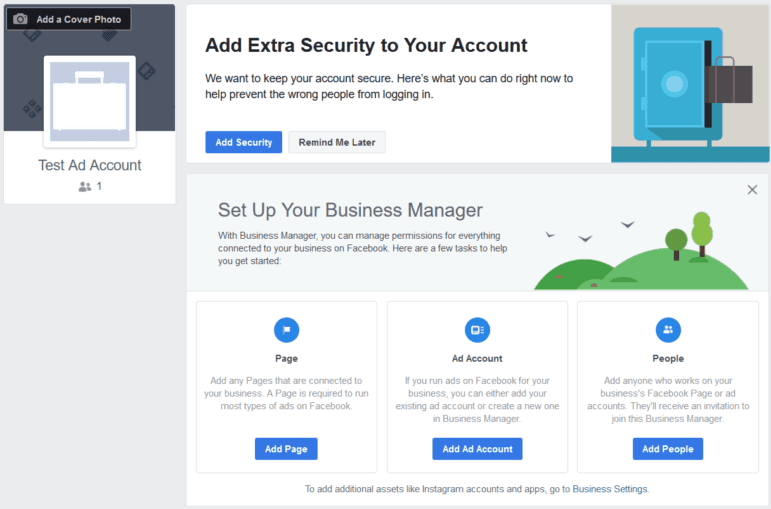 A pop up will appear. Again, click on

"Add page"

.
(Note: While managing others' accounts, you will have to select "Request access" option from here.)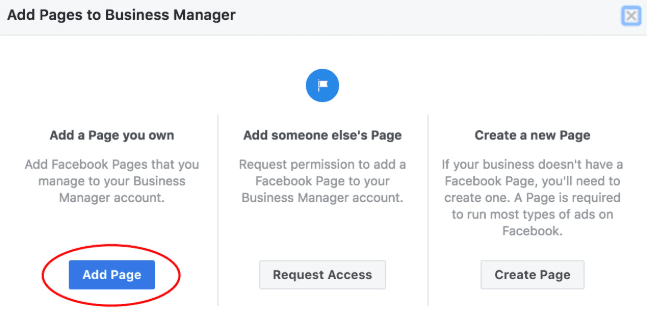 On the next screen, you will have to type in the name of your Facebook page in the search bar.
Add the page, and assuming that you have the admin access to the selected page, your request will be approved instantly. And if you want to add more than one page, you can repeat the same steps.

You can add up to 10 corporate pages in Facebook Business Manager.
Step 3: Add your ad account
If you are already using Facebook ads, you can link it to the Facebook Business Manager as follows:
From the dashboard of business manager, select "Add Ad Account". A pop up will appear, from which you have to select the first option, "Add an Ad account you own". On the next screen, enter the ad account ID, which you can find in your Ads Manager on Facebook.
If you do not have an ad account, you can set it up as follows:
From the dashboard of business manager, select "Add Ad Account", then select the third option in the pop-up – "Create Ad Account".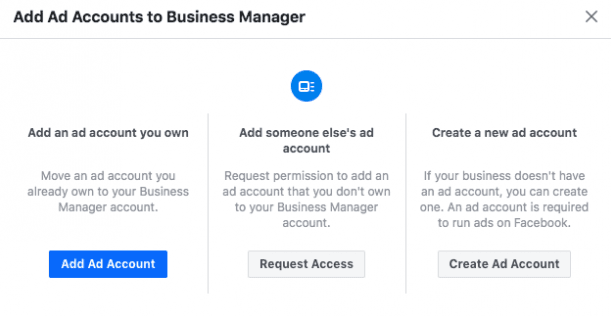 Now, enter your Add account name, and confirm your time zone and preferred currency.

Click on Next, and select the purpose of making an ad account. There will be two options available – your own business or your clients'.

That's it. Click on

"Create"

and your ad account will be made.
Step 4: Add people to your Facebook business manager
When you have a whole group of people working on Facebook marketing, you can add them to the Facebook Business Manager. You can control the access that each person has within the platform. You can grant complete access and add people as admins here if you want.
From the dashboard, select the third option,

"Add people.

"

A pop-up box will appear, which will include the following fields:
Email addresses: Here, enter the work email addresses of the team members that you want to invite and add to the Facebook business manager.
Assign business role: You can set the particular team member's access. Employee access will allow them to work only on assigned accounts and tools. Admin access will give them complete control over the business manager. They can edit settings, add pages or people, and use all the Facebook marketing tools.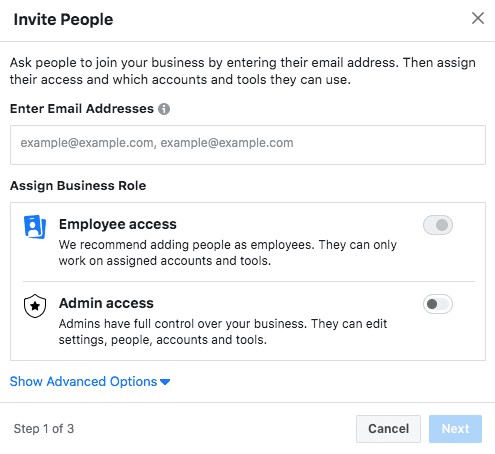 Enter the information and click on "Next".
From the left-hand side menu, choose

"Pages"

. Now select the page on which you want the team member to work. Next, set permissions using the toggle switches. You can give access to publish content, moderate messages and comments, create ads, view performance of the page, manage jobs, and more.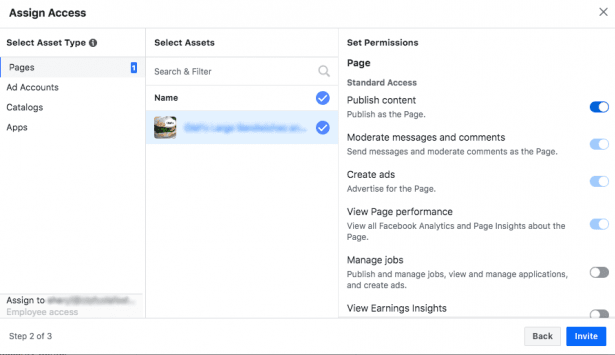 Now navigate back to the left menu and select

"Ad Accounts"

. You can again select a page and personalize the team member's permissions for the ad account. It includes the access to manage campaigns, view performance, and manage ad account.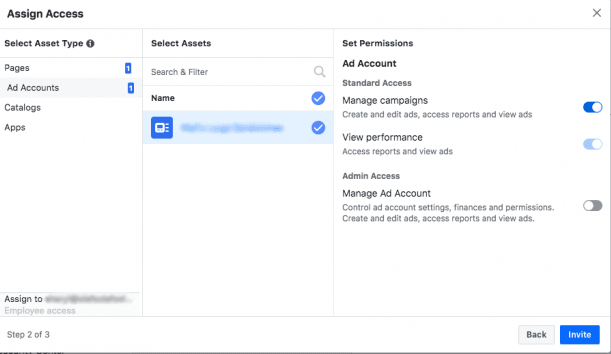 There are also options to set permissions for catalogs and apps on the left-hand menu.

When you are done setting them, click on the

Invite Button.

If you want to add more members, click on

Add more people.

An invitation will be sent to all the people and you will have to wait for them to accept it and become a part of your Facebook Business Manager.

From the Dashboard, you can see all the pending invitations and withdraw them anytime you wish.

When someone leaves your company or is no longer associated with your project, you can remove them from your account.
From the dashboard, click on the blue button on the top right corner saying "Business settings". From the left menu, click on People > select the name of the concerned person > click on Remove.
Step 5: Add your Instagram account
As said earlier, Instagram is now integrated with Facebook. So, you can connect it to the Facebook business manager as well.
Go to the dashboard and click on the

Business Settings

icon on the right-hand upper corner.

Go to the accounts button in the left column and select

Instagram accounts.

A pop-up box will appear in which you have to enter your login information and your Instagram account will be added.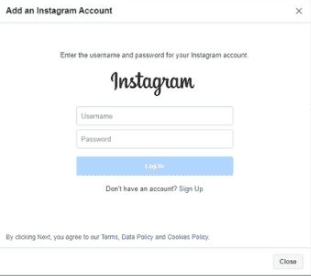 Step 6: Set up Facebook pixels
Facebook pixel is a small code that Facebook itself generates. When you place this code on your website, you will have access to some amazingly valuable information. You will be able to track conversions, optimize the Facebook ads, modify your target audience, and remarket to leads generated.
So, if you have a website, we recommend you to complete this step even before running an advertisement.
From the dashboard, click on

Business Settings.

From the left column, select

Data sources

and click on

Pixels.

Click on Add and select a name for your Pixel. You can use up to 50 characters for setting the name.

Enter your website name and click on continue. This will generate your pixel code.

The next screen will display two options. You can either leave the process here and continue working on business manager, or you can set up the pixel on your website right away.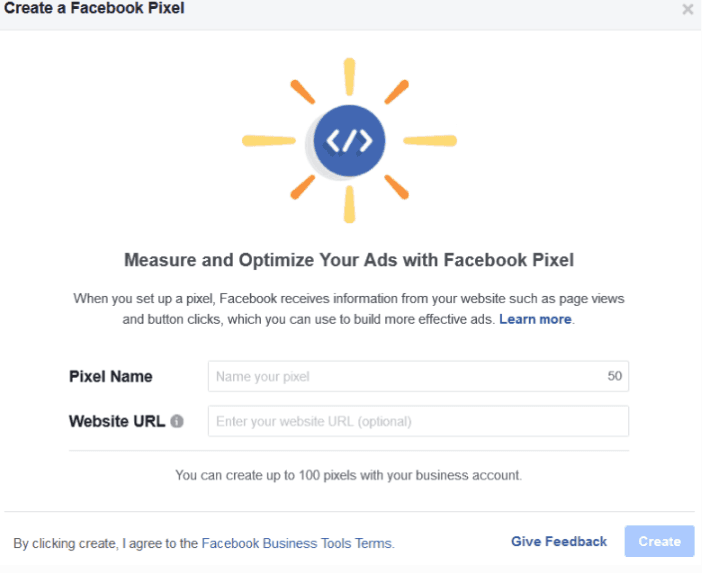 Step 7: Two-factor Authentication
Adding an extra layer of security to your business assets is always a good idea. Facebook business manager offers two-factor authentication for your account, and we recommend you to turn it on.
While on the dashboard, click on

Business settings.

From the left menu, select

Security Center.
Setting it as "Required for everyone" can ensure the highest security for your account.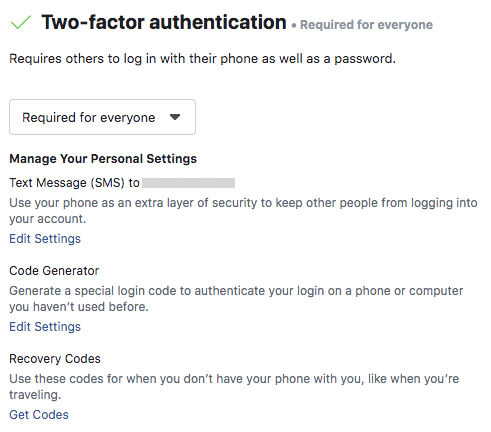 Facebook Business Manager Analytics
The data that will be shown on the analytics screen depends on the advertising goals of your business, budget, and target audience. Here are some business analytics functions that would be of your interest for Facebook Jail:
Split testing: Use A/B testing to find out the ads that lead to the highest conversion rate.
Facebook Pixel: As discussed above, when you install Facebook Pixel, your website can reach people with ads on Facebook after they have visited your site.
Conversion lift: This tool will let you know whether your ads are actually generating sales and conversions or not.
Brand lift: Here, you can know how your ads impact your brand's image.
Mobile SDK: In case your business has an app, use this to see what people are doing within the app. You can then use this information to optimize your ads on different devices.
The Bottom Line
When you know how to create Facebook page for business & set up your Facebook business manager or how to delete Twitter account or Facebook account correctly, you will have more power and insights than ever before. You can manage accounts like a pro and work with multiple employees on the same platform.
RecurPost is a great content marketing tool that helps you schedule Facebook posts. With RecurPost, you can schedule Instagram posts on Instagram personal and business profiles, and schedule LinkedIn posts on personal profiles and company pages easily. Even, Businesses can schedule Google Business Profile posts to promote their brand on Google and rank for local searches.
With RecurPost, you can easily schedule pins to attract users. You can create variations of Twitter posts and allows its users to schedule tweets with the same content multiple times against its policy. Also, if you have a GMB listing, RecurPost lets you schedule Google my business posts with the CTA of your choice.
Additionally, there are many other popular social media management tools like Hootsuite, Buffer, Socialoomph and Postfity in the market. If you compare the features of those tools, you will find RecurPost is amongst the best free Hootsuite Alternatives and one of the best Postfity alternatives.
Additionally, you'll have access to insights and analytics into the buyer's journey, particularly in Facebook's Attribution section. This data can help you in making strategic decisions that will help your business grow like crazy.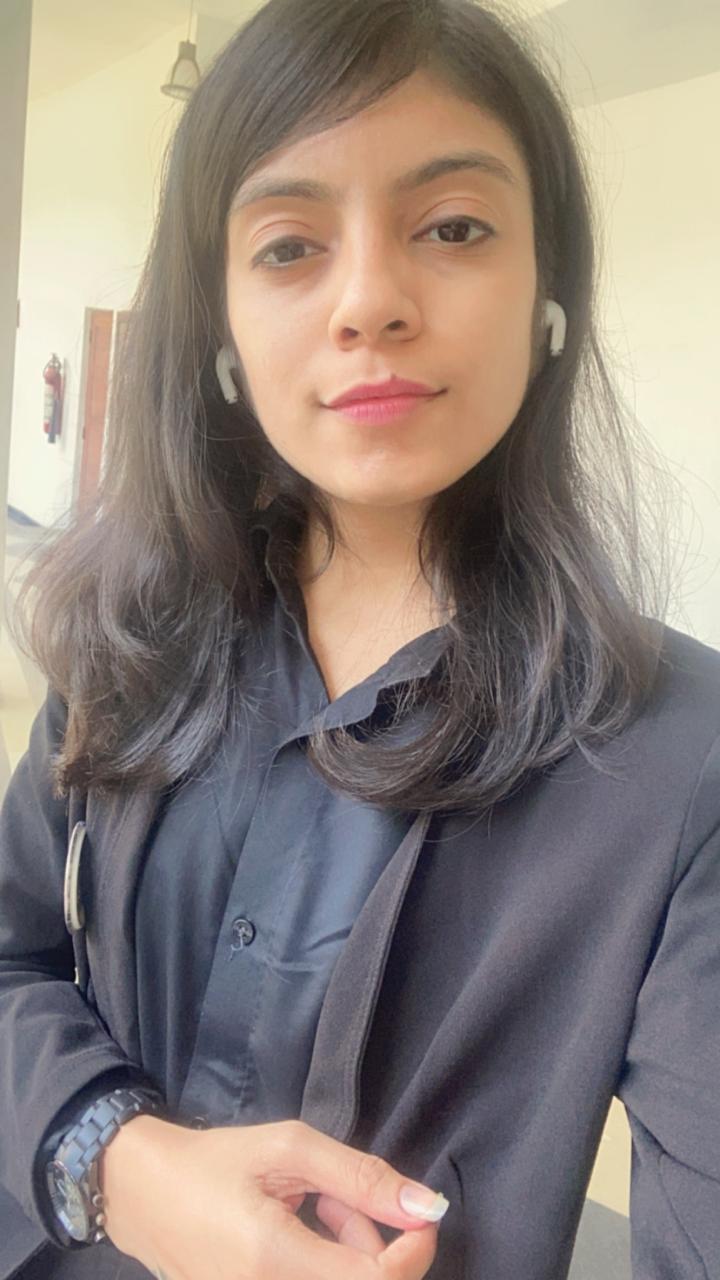 Amaiya Rathi is a Senior Content Writer at RecurPost. She helps RecurPost communicate with their readers in their own language. Whether it is the web copy, social media posts or blogs, Amaiya has worked on all aspects of copywriting. You can reach out to her at [email protected].