Ever heard about Google My Business posts? They are the real deal for marketing your business locally, especially if you are a small business. When you look up a business on Google, you will see a window on the left of your screen in the search results. This window contains all the details about the business, like the working hours, address, and more. This is because the company created its GMB profile.
It can be a little tricky to keep up with the constant changes that Google induces in the way Google posts are designed like their functionality, how they are populated, how and where they display across platforms and devices. This blog will help you learn the best ways in which you can create Google My Business posts to get maximum results.
If you want to schedule Google My Business posts for your business, you can do so by using a social media scheduler. With a tool of this kind, you will be relaxed and have a chance to focus on strategy building for your business's marketing. The entire process of scheduling and posting will be automated along with other benefits that we will see later below.
Your Guide To Creating The Best Google My Business Posts:
What Is a Google My Business Post?
We can explain Google My Business Posts as social feed-like updates that are usually created and controlled by a business. They are likely to consist of an image, text, video, and link. These posts are mostly used for promoting offers, advising customers about Covid updates, highlighting certain events or products, and much more.
Where Do Google My Business Posts Appear?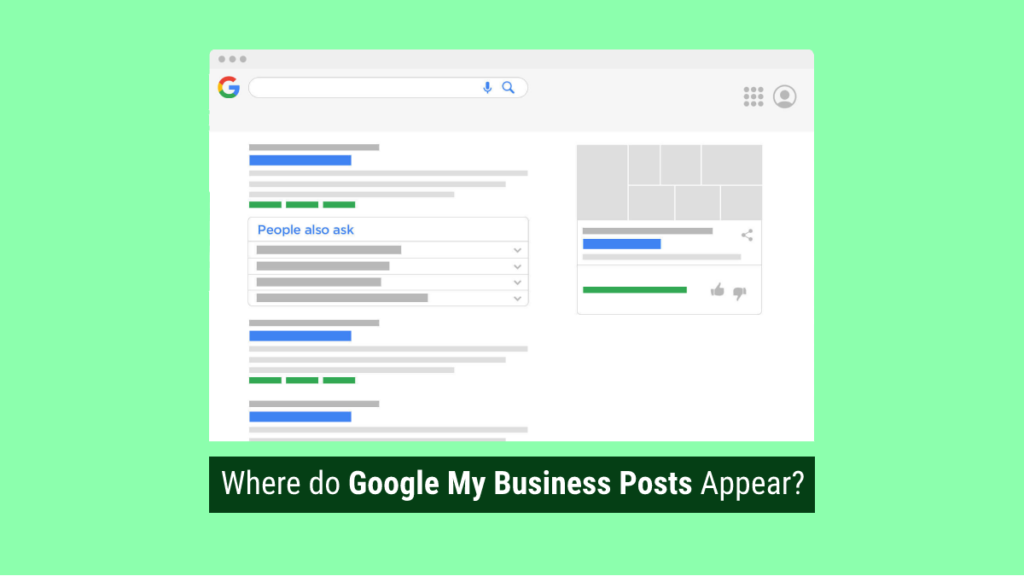 When you share a Google post, it will appear in the Google SERPS and Google Maps when the users search for your brand. The posts will appear in the knowledge graph on the right side of the screen with the search results. Here is segregation of where you can see Google My Business Posts:
In the business profile, on the desktop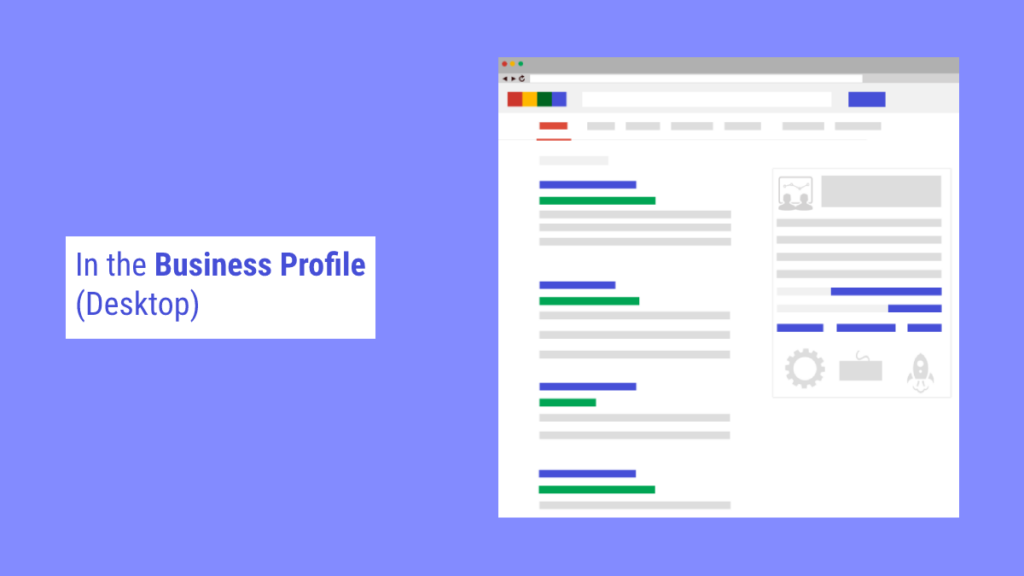 You will see Google posts in the business profile that will be underneath the business description and above the link to the social profiles on a desktop. You will see the ten most recent posts by the brand. If you click on "view all", you will see a pop-out where all historical posts can be scrolled through.
Google maps on a desktop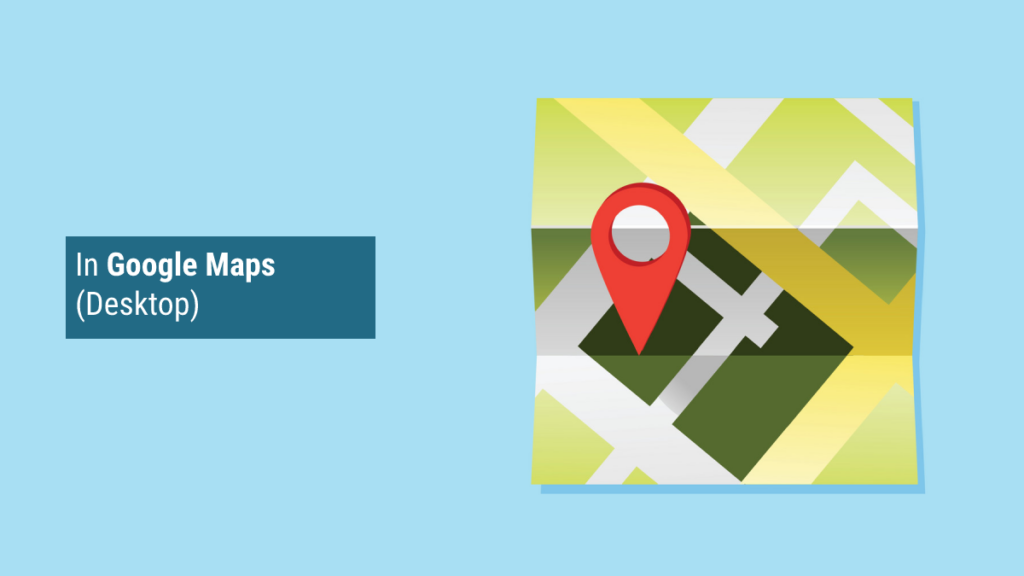 If you are operating Google maps on a desktop, the posts will show up under the primary business information. By clicking on the post you will be able to scroll through all GMB posts from that particular business.
On a mobile device, in search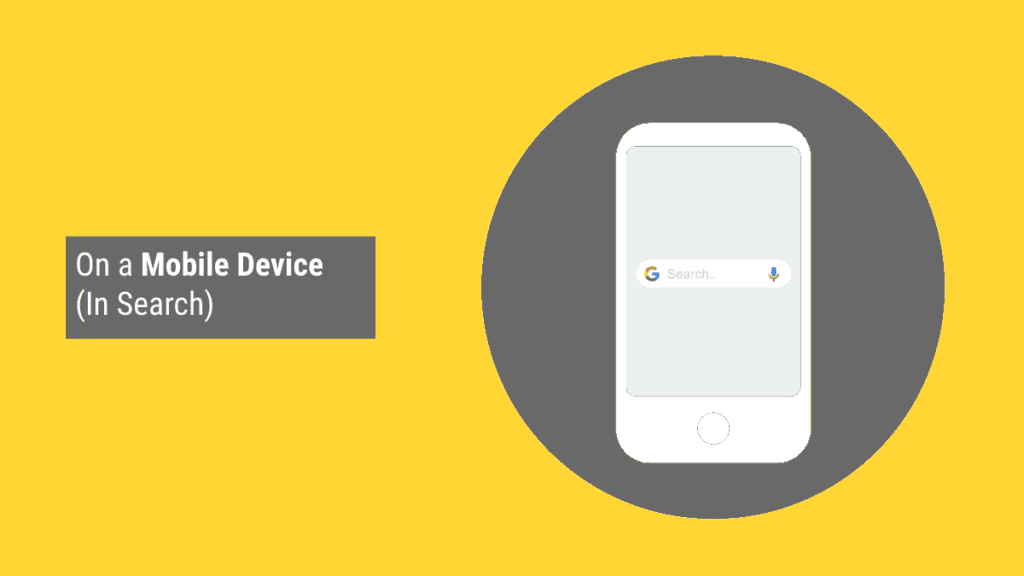 If you are using a mobile device, GMB posts will show up in search in the "updates" tab if you scroll down.
How to Create Google Posts
It is not difficult to create a Google My Business listing, you can do it on your computer or on the go.
Here is how to do it on the Desktop:
To begin, sign in to Google My Business. In case you have two or more locations, select Manage location for the location you'd like to manage.
Choose to Create a post. Or tap on Posts from the menu.
Next, you will see the "Create post" screen. Here, you will get options to add photos, text, events, and a button to your post. Simply tap on each field, and enter the relevant information.
After you have created your post, choose Preview to see a preview. If it looks good and you are satisfied, choose to Publish from the top right corner of the screen.
Your published post will then appear in SERPs within some time.
On mobile
Begin by opening the Google My Business app. Then download Google My Business on Android and iOS.
From the bottom right corner of the screen, choose the create icon. And then, choose the posts icon that appears.
You will then see the "Create post" screen. Here, you can add events, text, photos, and a button to your post. Simply select each field, and enter all the relevant information.
After you have filled out your information, you will see a preview of your post. If it looks good and you are satisfied, choose to Publish from the screen's top right corner.
How to Create The Best Google My Business Posts
If you have ever been part of a viral content marketing strategy campaign, you would know it takes a village to bring together the most perfect posts with the best content, graphics, or visuals for Social Media Optimization. Don't-rush into planning your marketing strategies without including social media bulk scheduling in your strategy. Explore the variety of options and make the best of them. The same stands true for Google Posts for business. We have listed a few pointers for you if you want to create the best ones and don't know how to get started.
1. Use The Most Perfectly Clicked Photos
When you add a post to Google My Business, you should ensure that you add it with the best quality photographs. Your post should pop up with high-resolution images or videos to stand out. The image format should be JPG or PNG.
2. Write a Headline That is Actionable
Think of giving headlines to your post that strongly appeal to spur action from the customer's end. Your headline should be comprehensive of your message and let the reader know what you want to communicate. The character count is limited, so you can use your creative ad-writing skills here.
3. Keep Your Description Content Short And Sweet
When you write the description or the brief, make sure it is short and includes only the most important detail. You will have an allowance of 1500 characters from Google, but only the first 80 will show up in the SERPS. You need to make those 80 counts. The best range is to stick between 150-300 characters.
4. Select The Most Appropriate Post Type
There are mainly four post types to choose from: events, offers, what's new, and product posts. All the items that are allowed in the post such as titles, photos, or videos will depend on what kind of post is selected.
5. Post Regularly And Consistently
Did you know that Google My Business posts will expire automatically after a week? These get archived in a section that can be accessed by clicking on "view more". If you want to become a trusted source of business, make sure you update your post regularly. The more regular you are in your posting, the more frequently a user will come to your profile. For accomplishing this, you can use social media scheduling tools to automatically schedule and post GMB updates.
6. Be Relevant With Your Posting
You will have a great chance to interact with your audience if you publish posts that are relevant to the most recent events that your audience may be up-to-date on. You can brag about a recent award or maybe somewhere you volunteered recently that your audience might be familiar with.
Google My Business Post Ideas
If you want to improve your search ranking genuinely, you need to post consistently and regularly on Google. For doing this, you will constantly have to come up with creative ideas to keep the audience hooked to your content. And you can schedule Google My Business posts to achieve regular posting. We have compiled a list of the best Google my business logo post examples that we have come across to help you with idea generation.
Hard Rock Cafe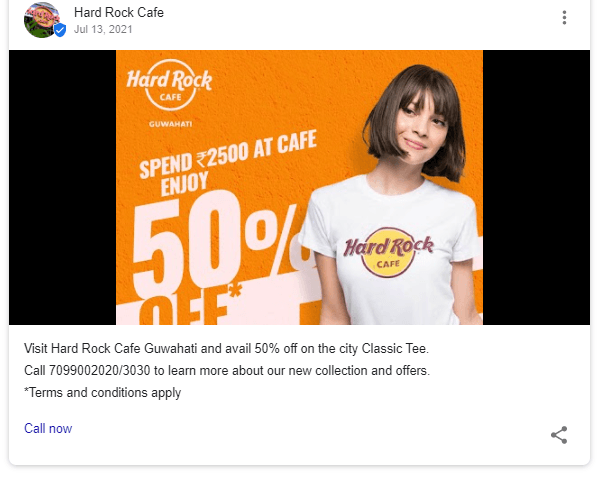 This is a cafe with a high-energy vibe that serves American classics and burgers. Based in Guwahati, India, Hard Rock Cafe has managed to leverage posting with an upgraded GMB profile to share offers and updates about their services/products. In this image, you will see how they have promoted their offer of 50% off on a 2500 spending at the cafe. The post also consists of a CTA button that will take the customer to the reservation window.
NYC photographers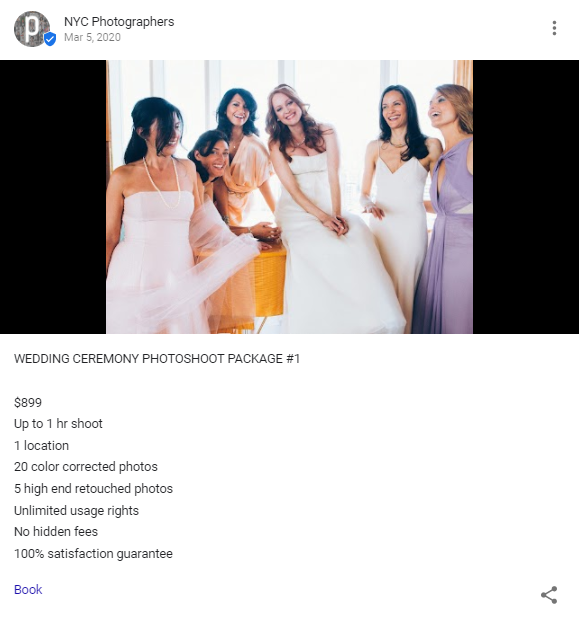 This is a New York-based firm that offers wedding and engagement photography services and photoshoot packages for modeling. They have successfully used Google My Business posts to share updates on different photography packages offered by them. If you see the caption, they have very smartly included all the details about their service. They even have the CTA in the end that will take the customers to the registration window.
The Capital Grille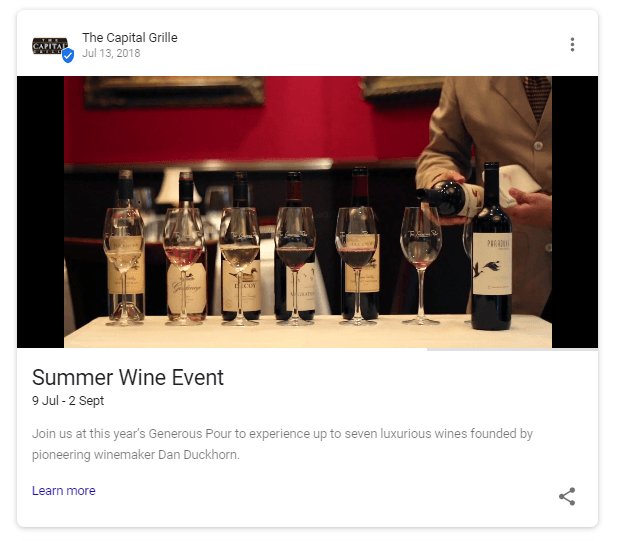 This restaurant has managed to promote their wine event like a boss! The detail given in their post is so precise and the language is crisp as well, also they have posted a video instead of an image to keep the customers engaged.
One Banquet Hall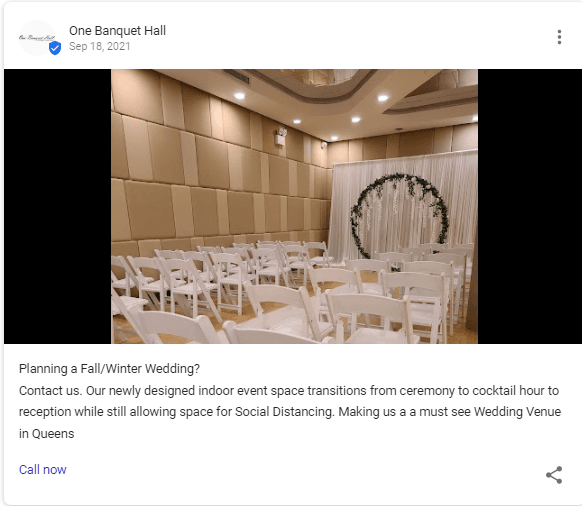 This New York-based wedding venue service has given an enticing update about its newly designed indoor event space. They have mentioned required details like the service display, the offer, and the measures taken to tackle Covid protocols. They have not missed out on the call to action, and we can see how they can win the customer's trust with this post.
RecurPost allows posting on social networks other than GMB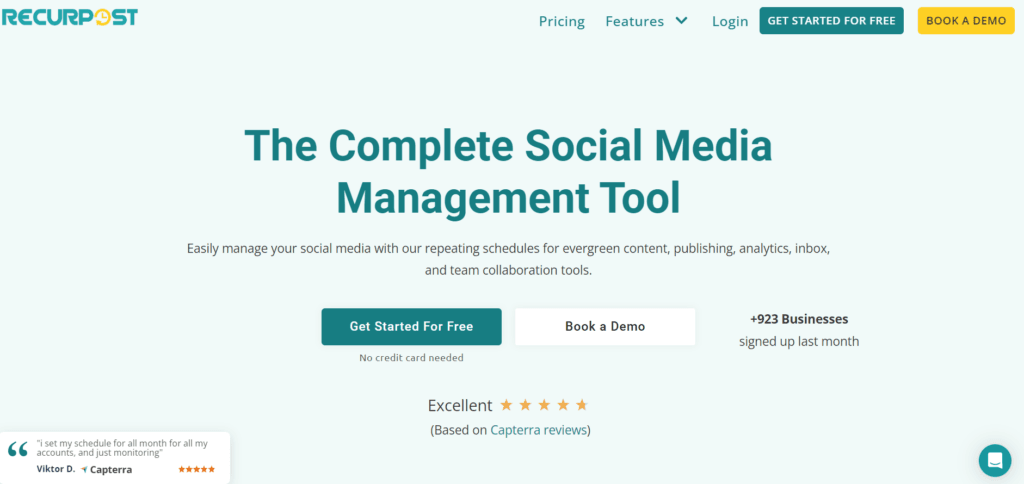 Expand your brand experience on social media with RecurPost – the trusted social media management tool. It allows you to plan, create, schedule, and analyze posting on major platforms.
It allows you to schedule Facebook posts on your profiles, multiple groups, and pages. You can schedule Instagram posts with reels and stories to entertain your audience by sharing information with fun. 
You can also schedule LinkedIn posts on your personal and business pages to build your network of professionals related to your industry. RecurPost lets you schedule tweets and start a conversation with people who belong to your niche. 
Also suitable for visually inclined marketers, RecurPost is a perfect Pinterest scheduler. It is possible to schedule Google Business Profile posts with a call to action buttons to attract local buyers and grow business.
Conclusion
Google My Business posts offer you a great opportunity to attract more customers and convert them into business leads. It is also good to provide legitimate information to Google about your business and create your entity. Using Google posts for a business will let you disperse relevant and timely updates to users at the right time.
You can see how beneficial GMB posts are for your business, and this blog will help you create the best posts. Another thing that can help you be the best at this game is a social media scheduler like RecurPost. With this tool, you will schedule GMB posts, Twitter updates, Facebook posts, Instagram posts, and much more at once. Considering the price point and value, this is one of the best free hootsuite alternatives and meetedgar alternatives in the market.
Know more about how it can serve your business, and read about RecurPost pricing plans for details or costing.
Frequently Asked Questions
1. How can I post on Google for free?

You can very much post on Google for free by using GMB posts. Here is how:
– First, log into your Google My Business account.
– Choose Posts.
– Select Write Your Post.
– Next, pick what kind of post you want to broadcast. Click on What's New, Event, Offer, or Product.
– Add in the post content.
– Choose Preview to preview the post.
– Lastly, tap on Publish to post.
2. Are Google My Business posts free?
Yes, you can post on Google at absolutely no cost. Therefore, it is a great opportunity for your brand to promote its business and products.
3. What are the types of Google My Business posts?
You have four different types of Google My Business posts to choose from:
– Product
– Event
– What's new
– Offers
4. Where do Google My Business Posts appear?
Whenever you put in a search for a particular business on Google, you will see that a search result appears on your screen. On the right-hand side of the screen, you will see a knowledge graph wherein all the information about the business will be given. That is where the entire Google post appears.
5. How long do Google My Business posts last?
You must note that product posts will always remain active on your Google profile and what's new, events offers will last for 7 days. After this time frame, they will automatically be taken off your profile and sent to an archive section where you can access them later.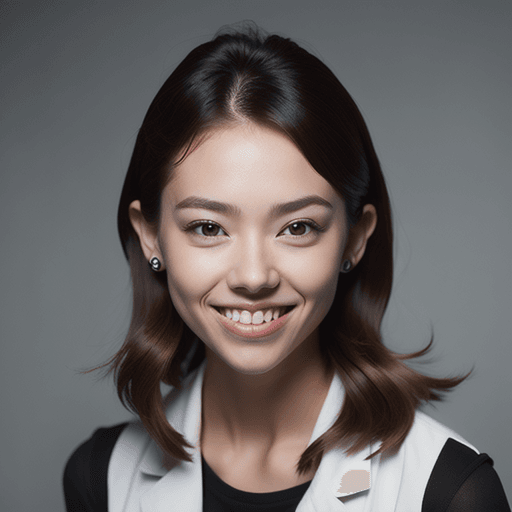 Debbie Moran is a Digital marketing strategist with 5+ years of experience producing advertising for brands and helping leaders showcase their brand to the correct audience. She has been a part of RecurPost since 2019 and handles all the activities required to grow our brand's online presence.