When it comes to efficiently handling content creation and engagement on social media, choosing the appropriate tool can have a significant impact. If you've been looking for information about "Socialoomph", you're in for some good news! Socialoomph is a well-known software tailored to aid content creators in effectively managing their online presence.
In this article, we will explore the functionalities, advantages, and disadvantages of Socialoomph and demonstrate why RecurPost stands as the ultimate contender among social media management tools.
Socialoomph is Suitable For: Small Businesses, Content Creators, Agencies, and Freelancers.
Socialoomph Ratings
Socialoomph often ranks among the favored options for businesses seeking social media management tools. Nevertheless, the market presents numerous alternatives that claim to possess more advanced capabilities at competitive prices. One particularly noteworthy substitute is RecurPost, which has consistently demonstrated itself as the ultimate Socialoomph alternative.
RecurPost stands out by providing a diverse range of functionalities that Socialoomph lacks. With RecurPost, users gain access to recurring scheduling, content categorization, tweet variations, an AI-driven content assistant, Google alerts, URL shortening, and a comprehensive assortment of other valuable features that enrich the social media management experience.
The following table compares the features of Socialoomph and RecurPost:
| Features | Socialoomph | RecurPost |
| --- | --- | --- |
| Star Rating (Out of 5) | 4.3 | 4.7 |
| Meets Requirements | 8 | 9 |
| Ease of Use | 7.9 | 9.2 |
| Ease of Setup | 9 | 9.1 |
| Ease of Admin | 9.7 | 9.7 |
| Quality of Support | 7.6 | 8.3 |
| Product Direction | 8.1 | 9.5 |
Socialoomph user ratings compared with RecurPost
Socialoomph Reviews
Positive Reviews
Socialoomph is an awesome scheduler. You can use it for free on Twitter but they have a pro upgrade for Facebook, Pinterest, LinkedIn, scheduling email updates, RSS and blog posting. There are also some more advanced Twitter features in the premium account. You can filter profiles, bulk upload tweets and monitor new followers.

~ Jess B. (Capterra link)
Social Oomph is very easy to use, once you understand how to set it up. I love that I can put a ton of social media posts in and know that they will send them out for me on a schedule that I choose for as long as I choose. They have a lot of options so you can really customize your experience for each type of post!

~ Mindy I. (Capterra link)
I use this product to schedule tweets to Twitter. This software allows me to schedule a week of tweets, including links, in advance so my account stays active. I can choose the date and time they go out so people always have something to read even if I can not access a computer that day. People who do not post on a regular basis will often lose followers.

~ Tracey M. (Capterra link)
The customer support is not the best. Once we had an issue with a queue and it took a while for them to resolve it. And the final solution was to redo the queue. Also you have to pay extra if you want to automatically send DM's on Twitter.

~ Nishadha S. (Capterra link)
It is very simple and straight forward with no graphics. It interfaces perfectly with Twitter and Facebook for me, and I can instantly add posts, or just go in and fine posts from my history and post again. I have it scheduled to post a set number of times each day.

~ Evan R. (Capterra link)
Negative Reviews
The interface is hopelessly outdated and text-based. It takes a while to get used to it if you're used to more whiz-bang UI's. But it's all laid out very clearly and the help files are great. The one thing I miss (which many others offer) is a calendar layout to be able to see your schedule on that kind of grid.

~ John T. (Capterra link)
SocialOomph's previous version of their social media scheduling app was a good one that allowed for repeating tweets on any frequency schedule that didn't violate Twitter's terms of service. But their new version is horrible. First, SocialOomph makes users go through draconian measures to integrate LinkedIn. Secondly, some tweets just won't publish and SocialOomph has no explanation for that. Finally, they are lacking in sufficient tech support. Whereas other companies have videos or provide screenshots, SocialOomph doesn't avail themselves of this type of tech support. I used to recommend SocialOomph in my blog posts. I no longer do and I regret ever having used this app. Plus, whereas other scheduling apps will automatically bring up images, on SocialOomph the user is required to download and upload images. I switched to another scheduling app and I'm so glad that I did.

~ Frances C. (Capterra link)
It would be nice to be able to change the timezone when scheduling the tweet (although the option to post the tweet "X" hours from now is helpful for the immediate future). They keep offering pro/premium features all the time to the point that sometimes it gets annoying.

~ Gabriela Z. (Capterra link)
You can't pick a preview image if the link isn't live makes it impossible to truly preview what your post will look like.

~ Elesha J. (Capterra link)
The interface is a bit confusing. I wish the elements were bigger.

~ Rita M. (Capterra link)
Socialoomph: Pros and Cons
Pros
Efficient Scheduling:
Socialoomph's efficient scheduling feature is a game-changer for content creators and social media managers. By allowing users to plan and schedule posts in bulk, it saves valuable time and effort. No more manually posting content on various platforms; with Socialoomph, you can plan your content strategy in advance and ensure a consistent presence on all your social media channels. This feature is especially useful for businesses with a global audience, as it enables them to reach their followers in different time zones without being physically present 24/7.
Powerful Automation:
Socialoomph's automation capabilities take social media management to the next level. With the ability to automate recurring posts, users can set up evergreen content to be reposted at specific intervals. This automation ensures that your most valuable content gets maximum exposure over time. Additionally, automation reduces the risk of human error and allows you to focus on other essential tasks, such as engaging with your audience and crafting fresh, compelling content.
Customizable RSS Feeds:
The support for customizable RSS feeds integration is a standout feature of Socialoomph. It enables users to curate and share content from their favorite sources, blogs, or industry-specific websites automatically. By populating your social media channels with relevant and trending content, you can keep your audience engaged and informed. The ability to customize these feeds ensures that you have full control over the content you share, maintaining your brand's voice and identity across all platforms.
Hashtag Storage:
Socialoomph simplifies the process of managing hashtags with its dedicated hashtag storage feature. Hashtags play a crucial role in improving the discoverability of your posts and expanding your reach. With Socialoomph, you can store and organize frequently used hashtags, making it convenient to add relevant tags to your posts quickly. This organized approach ensures that you consistently use the most effective hashtags for your content, ultimately leading to increased visibility and engagement.
AI Content Generation:
Content creation can be a time-consuming and challenging task for many social media managers. Socialoomph tackles this obstacle with its AI-powered content generation tool. The AI-driven system helps users create engaging and relevant content effortlessly. By analyzing your past posts and understanding your audience's preferences, the AI content generator suggests personalized content ideas, captions, and even visuals.
Cons
User Interface Complexity:
Some users find the user interface of Socialoomph to be a bit complex and overwhelming, especially for newcomers to social media management tools. Navigating through the various features and options may require a learning curve, potentially causing frustration and inefficiency during the initial stages of usage.
Limited Customer Support:
Socialoomph's customer support may fall short in terms of responsiveness and availability, according to some user reviews. Timely and effective customer support is crucial for businesses that rely heavily on social media for marketing and engagement, and this aspect could be improved in Socialoomph's services.
Lack of Advanced Analytics:
Although Socialoomph provides basic analytics for post performance, follower growth, and engagement, it lacks more in-depth and advanced analytics that can provide deeper insights into audience behavior, content reach, and other crucial metrics. Advanced analytics are valuable for data-driven decision-making and refining social media strategies, which may be a limitation for users seeking comprehensive data analysis.
Limited Social Media Listening and Monitoring:
Socialoomph does not offer robust social media listening and monitoring features. Social media listening involves tracking and analyzing mentions, hashtags, and keywords related to your brand or industry. Monitoring helps businesses stay updated on customer feedback and industry trends. The absence of advanced listening and monitoring capabilities may hinder users from gaining valuable insights into their brand's reputation, customer sentiment, and industry conversations.
Lack of Native Mobile App:
Socialoomph lacks a dedicated native mobile app for both Android and iOS devices. For users who prefer managing their social media accounts on the go, the absence of a mobile app can be a significant drawback. Without a mobile app, users may find it less convenient to access and manage their social media content and accounts from their smartphones or tablets, limiting their flexibility and productivity.
Socialoomph Pricing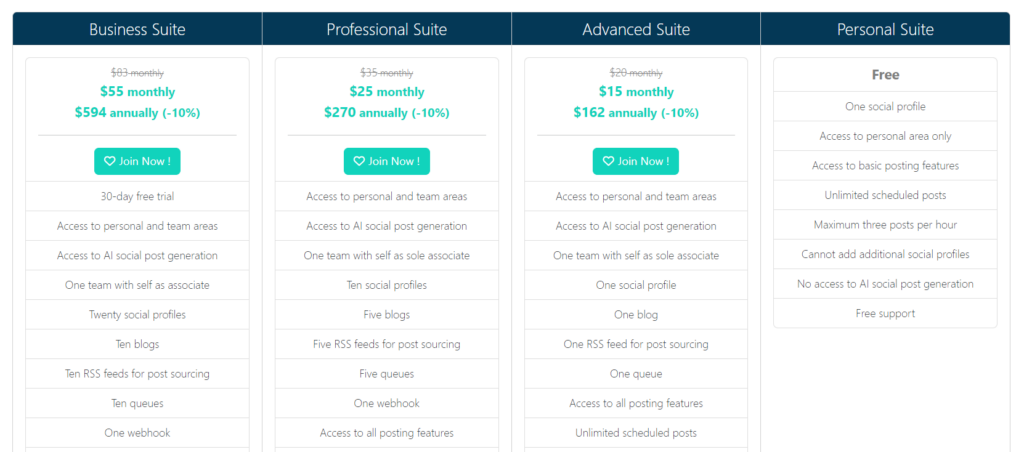 Socialoomph offers a range of pricing plans tailored to cater to diverse user needs and budgets. Starting with a free plan, users can get a glimpse of the platform's capabilities, though it comes with limited features.
This free plan is ideal for individuals or small-scale users who are just starting with social media management and want to explore the basic functionalities of Socialoomph. For those seeking more advanced tools, the "Advanced Suite" priced at $15 per month provides a step up with enhanced features, making it suitable for freelancers and growing businesses.
With the "Professional Suite" priced at $25 per month, users gain access to an even broader range of features, perfect for established businesses or social media marketers managing multiple accounts. Lastly, the "Business Suite" priced at $55 per month offers the most comprehensive and powerful set of tools, well-suited for large enterprises and agencies with more complex social media management needs.
By offering various pricing options, Socialoomph ensures that users can find a plan that best aligns with their requirements, empowering them to efficiently manage and grow their social media presence.
Price Comparison
When comparing the pricing plans of RecurPost vs Socialoomph, it becomes evident why RecurPost stands out as a superior choice. RecurPost's plans start at $25 per month, providing a robust set of features at a competitive price. Here's a comparison of the pricing plans for both tools:
| Features | RecurPost | Crowdfire |
| --- | --- | --- |
| Basic plan | $25/month (5 social profiles) | $15/month (1 social profile) |
| Advanced plan | $79/month (20 social profiles) | $55/month (20 social profiles) |
| AI Image Generation | Yes | No |
| White-label Reports | Yes | No |
| Team Management | Yes | Limited |
Socialoomph Features
Webhooks Integration
Socialoomph provides Webhooks integration, enabling users to automate and trigger specific actions based on real-time events. Webhooks are HTTP callbacks that deliver data to a specified URL when a particular event occurs. With this feature, users can set up custom workflows and integrations with external applications or services.
For example, when a new post is published on a specific social media account, Socialoomph can send a Webhook notification to a third-party tool, triggering an automated response or action, such as sending an email notification or updating a CRM database.
URL Shortener
In the fast-paced world of social media, brevity and concise messaging are crucial. Socialoomph's built-in URL shortener allows users to create shortened, aesthetically pleasing links that take up less space in posts.
Shortened URLs are more visually appealing and leave more room for engaging content, hashtags, or calls-to-action. Additionally, this feature enables users to track click-through rates and gather valuable data on link performance, providing insights into the effectiveness of shared content.
White Label Reports
For businesses and agencies looking to present their social media performance data in a professional manner, Socialoomph's White Label Reports come to the rescue. These reports can be customized and branded with the company's logo and colors, creating a cohesive and polished representation of social media analytics.
The ability to generate branded reports allows businesses to showcase their achievements and strategies to clients or team members, instilling confidence in their social media marketing efforts.
Team Management
Socialoomph recognizes the importance of collaborative efforts in social media management. Its Team Management feature enables seamless teamwork, granting multiple users access to social media accounts without sharing passwords.
Administrators can assign specific roles and permissions to team members, ensuring that the right level of access is granted to each individual. This not only enhances security but also streamlines workflows, making it easier for teams to collaborate and manage multiple social media accounts effectively.
Analytics
Socialoomph's analytics feature goes beyond basic performance metrics and provides in-depth insights into post performance, audience engagement, and follower growth. Users can track key metrics such as reach, impressions, click-through rates, and more.
This data-driven approach empowers businesses and content creators to make informed decisions on content strategy, identify top-performing posts, and optimize their social media marketing efforts to resonate better with their target audience. The availability of comprehensive analytics ensures that users can measure the success of their social media campaigns and continuously improve their content for maximum impact.
Conclusion
Although SocialOomph provides useful features for managing social media, RecurPost stands out as the supreme choice for content creators. With RecurPost at your disposal, you'll benefit from enhanced user-friendliness, advanced analytics, AI-powered content creation, and comprehensive team management features. Furthermore, RecurPost's cost-effective pricing plans ensure you get outstanding value for your investment.
Simplify your social media management and elevate your content creation process by selecting RecurPost as your primary social media management tool. Try it out for yourself today with a free trial and experience the remarkable difference it can make!
Frequently Asked Questions
1. Which platforms does Socialoomph support?
Socialoomph provides scheduling support for Twitter, Facebook pages, LinkedIn, Discord, and Mastodon.
2. What is the use of Socialoomph?
Socialoomph is used for social media management and growth, including scheduling posts and analyzing audience engagement.
3. What is the key feature of Socialoomph?
The key feature of Socialoomph is its ability to schedule and automate social media posts across multiple platforms.
4. Is Socialoomph worth it?
While Socialoomph provides valuable functionalities, enterprises and agencies can explore more budget-friendly social media management tools like RecurPost, which offer similar features at a lower cost.
5. Which is the best Socialoomph alternative?
RecurPost is a great Socialoomph alternative,, with budget-friendly rates, centralized multi-account management, and an impressive feature set – all available for exploration during the free trial.