Are you on the lookout for an efficient and user-friendly social media management tool? Look no further! In this article, we'll introduce you to eclincher. While there are several options available in the market, we believe that RecurPost stands as one of the best alternatives for your social media management needs. Let's dive into the details of eClincher, its features, pros and cons, pricing, and why RecurPost is the ultimate tool for your social media success.
eClincher is Suitable For: Content creators, small businesses, entrepreneurs, and social media managers.
Eclincher Ratings
While eclincher has established itself as one of the longest-standing social media scheduling tools, the market has seen a rise in several new and enhanced alternatives that provide more advanced features in comparison to eclincher.
RecurPost is one of those tools, offering you advanced features at affordable pricing. RecurPost provides users with an abundance of robust resources, such as recurring schedules, an AI assistant for crafting captivating social media posts and captions, customizable reports, and many other valuable features. These offerings go beyond eclincher's capabilities, making RecurPost an enticing option.
Before we delve into the specifics, let's take a look at how eclincher compares to RecurPost in terms of features and performance. The table below highlights key aspects of both tools side by side:
| Features | eclincher Rating | RecurPost Rating |
| --- | --- | --- |
| Meets Requirements | 8.2 | 9 |
| Ease of Use | 8.7 | 9.1 |
| Ease of Setup | 8.6 | 9.2 |
| Ease of Admin | 8.5 | 9.7 |
| Quality of Support | 8.3 | 8.3 |
| Product Direction | 6.1 | 9.5 |
eclincher user ratings compared with RecurPost
Eclincher Reviews
Positive Reviews
We are always on the look out for social media marketing tools, to measure, publish and report on, for us and our clients. Eclincher is easy to use and the two great features are the all in one inbox and the autopost, to schedule posts to recur over and over again. This is a great tool when you consider it does the same thing as meet edgar, for much less. The general layout is a bit old fashioned and its a shame the buttons, such as 'like, follow' etc are so small when really you are using tools like this to actually do something. A chrome extension to publish posts is also a seriously lacking feature. Overall though we have so far stuck with eclincher as the most affordable and feature rich tool we have found so far. Its not got everything and we still cant get rid of all tools for one, but its closer than the others we have used.

~ Darren L. (Capterra link)
I love the interactive approach which the product team at eClincher have embraced. The team is always open to feedback from users like myself and I will assume every other administrator in each organization or team using eClincher. In time past , we leveraged on multiple applications to assist us manage our social media presence , however eclincher provides us with most of these functions brought together into a single workflow. The marketing team spends less time managing our social media accounts ,as most of our activity on social media is automated ,including content scheduling and engagement.

~ Ifeoma O. (Capterra link)
Very happy. Really easy to get setup. The support really helped in getting everything changed over. Don't have to sacrifice anything to get a better price.

~ Matt F. (Capterra link)
It saves a lot of time once you get the hang of it. I think it will prove helpful analytically too and when others are hired to help manage the accounts (with the reviewing/approval process).

~ Aly L. (Capterra link)
The software is incredibly flexible. That, in tandem with the incredible customer service, has made me loyal (more on the customer services in the overall section). Not many platforms support GMB, which is a big deal for our customers. It quickly knocked out other big players for that very reason. The reporting is strong and there are basic competitor comparison features.

~ Cheyenne F. (Capterra link)
Negative Reviews
I use this service for their combined inbox. So when someone comments on one of our posts on facebook, we will get notified and can quickly respond. When we have so many posts between our companies this is key to our follow up strategies. But these no longer show up in the inbox. I've tried to contact them and they never responded to my email and the chat feature they use takes FOREVER to respond. It's simply unacceptable and I can no longer recommend this company in any way. It looks like its only getting worse too unfortunately.

~ Ryan H. (Capterra link)
Not very intuitive for user. Auto post is confusing and the 'Add and manage accounts' pop up looks messy/is confusing. App doesn't keep me logged in. Customer service tried to help me with this and said it was an issue with the browser. I used to use Sprout Social and loved that I was always logged in, their interface is gorgeous and they have tons of features (but are very expensive). When I schedule a post for LinkedIn it shows up as a thumbnail and takes a chunk of text from the About section of our website, resulting in a very sloppy-looking post which has forced me to publish manually to LinkedIn instead of using eClincher.

~ Jamie C. (Capterra link)
The inbox is cumbersome and difficult to use with multiple social media accounts. Engagement is difficult as you have to go clear out in to the different accounts. Linkedin/ google plus and instagram remain limited but that may be more external issues.

~ Beth L. (Capterra link)
The interface is simply uninviting. It's a case of "designed by an engineer, not by a designer". The interface is utilitarian and you can do what you need to do, but it isn't pretty and it isn't a smooth experience for you as a user. There are other platforms that I'll use instead because they are also reliable and they are better from a UI/UX standpoint.

~ Leonard C. (Capterra link)
The interface is old-fashioned and not particularly user-friendly. Need to remember that a lot of compromises are built-in simply by virtue of the fact it has to work with so many platforms.

~ Rick S. (Capterra link)
Eclincher: Pros and Cons
Pros
Auto-Post with Queues:
eClincher's Auto-Post with Queues feature revolutionizes the way you manage your social media content scheduling. With this intelligent automation tool, users can create a queue of pre-approved posts and set up specific time slots for them to be automatically published across their social media platforms.
By leveraging eClincher's smart algorithms, the tool optimizes posting times based on audience engagement patterns, ensuring that your content reaches your target audience at the most impactful moments. This hands-free scheduling approach not only saves time and effort but also helps maintain a consistent posting frequency, enhancing your brand's visibility and keeping your followers engaged.
User-Friendly Interface:
eClincher prides itself on providing a user-friendly interface that caters to users of all experience levels. Whether you're a social media novice or a seasoned professional, eClincher's intuitive design and easy-to-navigate dashboard make it effortless to manage your social media presence.
The platform's clean layout and organized menus ensure that every feature is readily accessible, eliminating any steep learning curve. With a user-friendly interface at your disposal, you can dive into managing your social media campaigns with confidence, allowing you to focus on creating engaging content and fostering meaningful connections with your audience.
Efficient Bulk Scheduling:
Time is of the essence in managing a successful social media presence. eClincher simplifies the process by providing an efficient bulk scheduling feature. With just a few clicks, you can schedule multiple posts across various social media platforms in advance.
This time-saving functionality ensures a consistent posting schedule, even during busy periods, enhancing your brand's visibility and engagement. Additionally, eClincher's smart queues and post recycling options allow you to automatically republish evergreen content, maximizing its reach and impact over time.
Content Curation Made Easy:
Creating compelling and valuable content is essential, but it's also beneficial to share content from other credible sources to keep your audience engaged. eClincher streamlines content curation with its integrated feature, enabling you to discover relevant and share-worthy content from trusted sources within the platform.
By curating and sharing industry-related articles, blog posts, and trending content, you can position your brand as a reliable source of information and foster a community of engaged followers who appreciate the value you bring to their social media feeds.
Unified Social Media Management:
Gone are the days of juggling multiple tabs and logins to manage your various social media accounts. eClincher simplifies the process with its Unified Social Media Management feature, allowing users to connect and control multiple social media accounts from various platforms, all within a single, centralized dashboard.
With this seamless integration, users can effortlessly switch between accounts, access analytics, and engage with their audience, making social media management more efficient and less time-consuming. Whether you're overseeing personal profiles or handling multiple business pages, eClincher's Unified Social Media Management ensures a cohesive and streamlined experience.
Cons
Limited Platform Support:
One notable drawback of eClincher is its limited support for certain emerging social media platforms. While it covers popular platforms like Facebook, Instagram, Twitter, and LinkedIn, it lacks integration with some newer and rapidly growing networks like TikTok and Snapchat. This limitation may pose challenges for businesses and content creators targeting a diverse audience across various social media channels.
High Pricing Tiers:
eClincher's pricing plans can be relatively higher compared to some other social media management tools in the market. The cost of accessing advanced features may be a concern for smaller businesses or individuals with tight budgets. Although eClincher offers comprehensive features, the pricing structure might not be ideal for those seeking cost-effective solutions without compromising functionality.
Learning Curve for Advanced Features:
While eClincher is designed with user-friendliness in mind, some of its more advanced features may have a steeper learning curve. Users who are new to social media management tools might find certain functionalities challenging to navigate and fully utilize. Adequate training and onboarding support may be required to make the most of eClincher's comprehensive features.
Limited Cross-Platform Posting Customization:
eClincher's cross-platform posting feature, while convenient for simultaneous content distribution, may have limitations in terms of customization. Users looking to tailor posts differently for specific social media platforms, such as Facebook and Twitter, might find it challenging to achieve this level of individualized content optimization through the platform.
Advanced Analytics May Require Expertise:
While eClincher offers powerful analytics tools, deciphering and interpreting the data may require a certain level of analytical expertise. Users who are not familiar with social media analytics or data interpretation might find it overwhelming to derive actionable insights from the provided data. Additional guidance or assistance may be necessary to fully harness the potential of eClincher's analytics capabilities.
Eclincher Pricing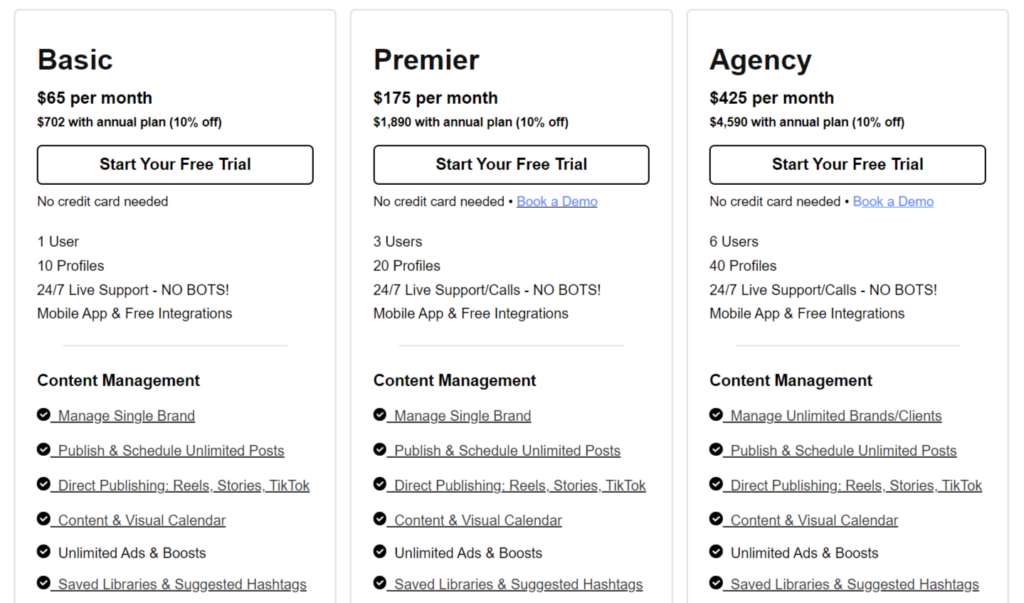 The Basic Plan is the most affordable option offered by eClincher, making it a suitable choice for small businesses, startups, or individual content creators who are looking to manage their social media presence effectively without breaking the bank.
Stepping up from the Basic Plan, the Premier Plan is designed for growing businesses and marketing teams that require more comprehensive tools to manage their social media strategies effectively. Priced at $175 per month, this plan expands upon the features available in the Basic Plan by adding support for additional social media platforms.
Priced at $425 per month, the Agency plan includes all the features from the Basic and Premier Plans while introducing even more sophisticated functionalities.
Price Comparison
In comparison to eclincher, RecurPost offers a different pricing structure, starting at $25 per month. At RecurPost, we understand the value of affordability without compromising quality. Check out the comparison below to see how RecurPost outshines eclincher when it comes to pricing:
Here's a side-by-side comparison of the pricing plans for both eclincher and RecurPost:
| Plan | Eclincher ($/month) | RecurPost ($/month) |
| --- | --- | --- |
| Basic | $65 | $25 |
| Advanced | $425 | $79 |
| Free trial | Available for 14 days | Available for 14 days |
Eclincher Features
Visual Calendar for Scheduling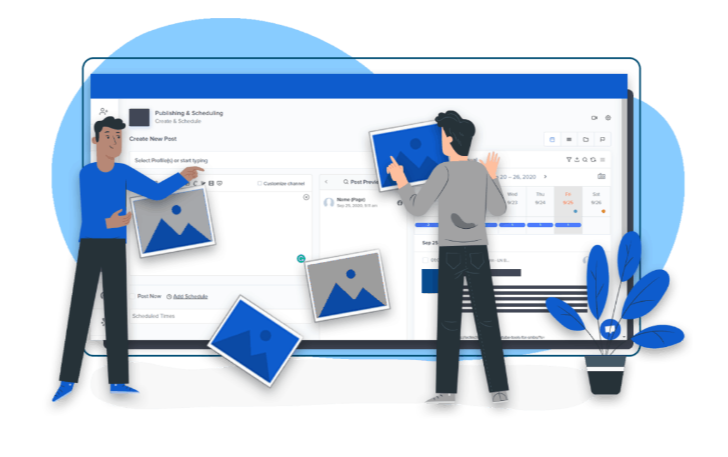 The Visual Calendar is a powerful tool within eClincher that empowers users to plan and visualize their entire social media content strategy. Presented in an intuitive and visually appealing format, this calendar view allows you to see scheduled posts, draft content, and even reschedule or rearrange posts effortlessly.
With a clear overview of your content pipeline, you can ensure a balanced and well-timed distribution of posts across different social media platforms. This feature is particularly useful for content creators and marketing teams, as it enhances collaboration and coordination, minimizing the risk of overloading your audience with content or leaving gaps in your posting schedule.
Social Media Listening and Monitoring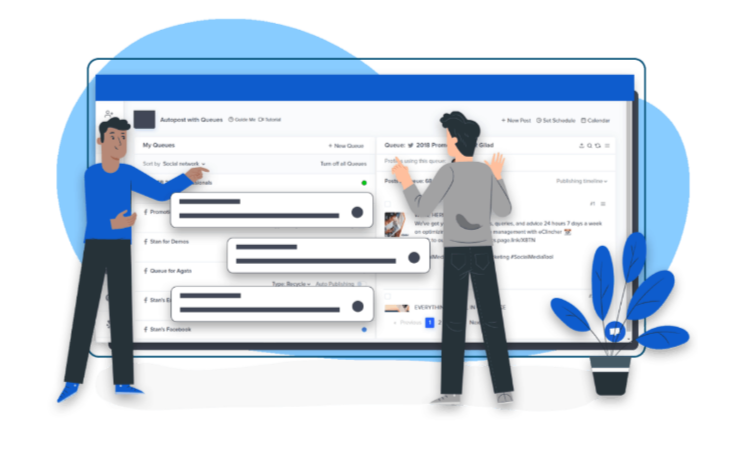 eClincher's Social Media Listening and Monitoring feature enables businesses to stay attuned to online conversations surrounding their brand or relevant industry topics. By tracking keywords, hashtags, and brand mentions, users can actively monitor social media interactions related to their business, products, or services.
This proactive approach allows for timely responses to customer inquiries, addressing complaints or issues promptly, and engaging with positive feedback. Social Media Listening and Monitoring empower businesses to cultivate a positive brand image, build stronger customer relationships, and gain insights into consumer sentiments and trends.
Team Collaboration and Approval Workflows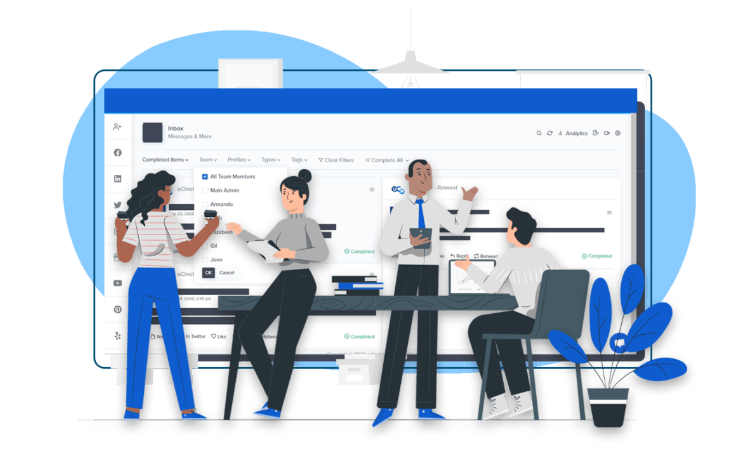 For businesses and agencies with dedicated social media teams, eClincher provides Team Collaboration and Approval Workflows to facilitate smooth and efficient collaboration. This feature allows team members to collaborate seamlessly within the platform, assign tasks, and delegate responsibilities, streamlining the social media management process.
Additionally, Approval Workflows enable designated team members or managers to review and approve content before it gets published, ensuring brand consistency and adherence to the company's social media guidelines. This collaborative approach fosters effective teamwork, enhances productivity, and prevents errors in content creation and scheduling, all while maintaining brand integrity across all social media channels.
Social Inbox for Streamlined Engagement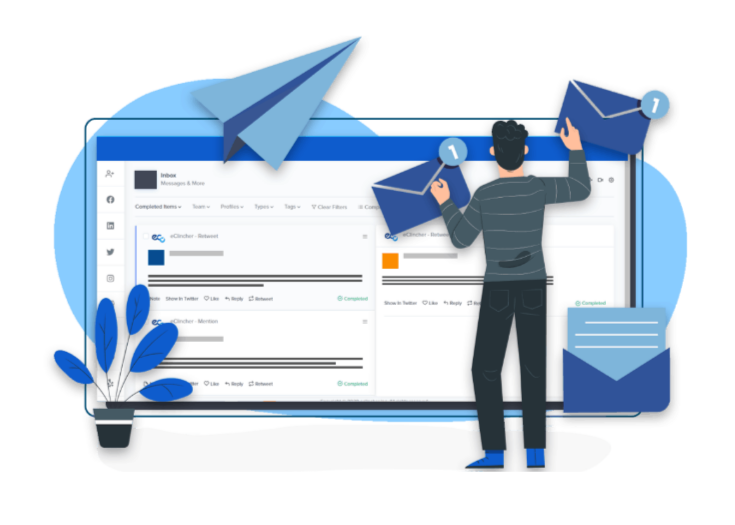 Engaging with your audience is a vital aspect of successful social media management. eClincher's social inbox consolidates all your social media interactions, including comments, messages, and mentions, into a centralized and easy-to-manage space.
By having a unified view of your social interactions, you can promptly respond to customer queries, acknowledge feedback, and address concerns in a timely manner. This streamlined engagement process fosters meaningful connections with your followers, leading to increased brand loyalty and positive sentiment within your online community.
Robust Analytics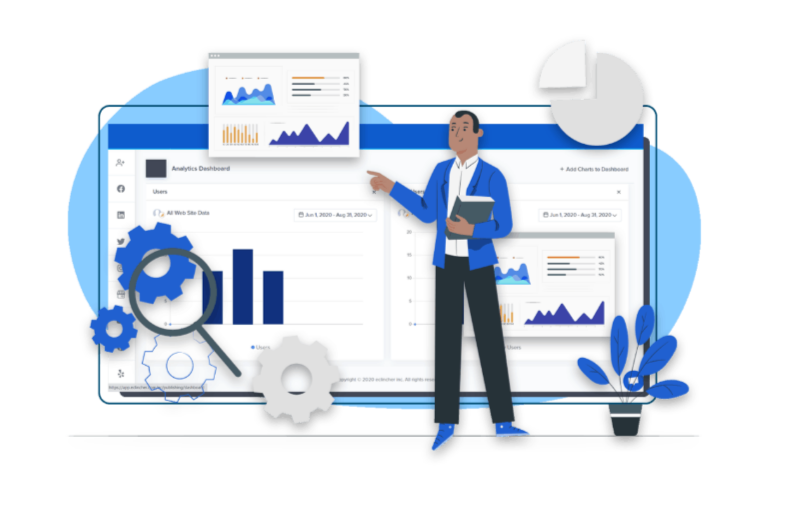 In the fast-paced world of social media, understanding the performance of your content is crucial. eClincher's robust analytics tools offer in-depth insights into your social media efforts, allowing you to measure the impact of your posts, track follower growth, and identify the most effective posting times.
By analyzing data on engagement metrics, impressions, and reach, you can gain a comprehensive understanding of your audience's preferences and tailor your content strategy accordingly. Armed with these valuable insights, you can refine your social media marketing approach, optimize content, and ensure that your brand's message resonates with your target audience.
Conclusion
While eClincher offers several valuable features, RecurPost stands out as a more cost-effective and feature-rich alternative. With its competitive pricing, ease of use, and powerful capabilities, RecurPost proves to be the ultimate tool for all your social media management needs. Give RecurPost a try today and experience seamless social media management like never before! Take the free trial today.
Frequently Asked Questions
1. What social media platforms does eclincher support?
eclincher supports scheduling posts on Facebook, Instagram, Twitter, LinkedIn, Pinterest, YouTube, GMB, WordPress, and TikTok.
2. Is eclincher worth the money?
eclincher offers useful features, but there are more cost-effective social media management tools available, particularly for medium to large enterprises. Agencies can find cheaper alternatives to eclincher, such as RecurPost, which fills the gaps at comparatively lesser costs.
3. What are some alternatives to eclincher?
If you're looking for a great alternative to eclincher, look no further than RecurPost. It offers affordable pricing and the convenience of managing multiple social media accounts in one dashboard.
4. Does Later has a free version?
eclincher doesn't offer a free plan. After the 14-day free trial, you can select from a plan starting from $65 per month.
5. How does eclincher work?
eclincher is a social media scheduling platform that allows users to plan, schedule, and manage their social media posts across various platforms.