The number of Social Media Marketing Agency worldwide is on the rise. Social media is quickly becoming one of the digital marketing industry's most important aspects, providing incredible benefits that help reach millions of customers worldwide. And suppose you are not applying this profitable source. In that case, you are missing out on an incredible marketing opportunity, as it makes it easy to spread the word about your product and mission.
With ever-increasing competition in the agency business, it has become crucial for agencies to provide value in terms of ROI & Brand Engagement to their clients with the apt use of social media scheduler. The way Social Media Marketing Agency plan and work are entirely different from traditional marketing agencies.
The Ultimate Guide for Social Media Marketing Agency has been created for new or already established Social Media Marketing Agencies to help them organize and grow their agency business with proven methods.
This guide has been divided into the following parts:
Understand your client's needs and create a proposal
Explain the value of Social Media
Research client's target audience and create buyer personas
Set objectives for the client
Plan social media campaigns to achieve goals
Create and Manage content libraries using RecurPost
Analytics, Reporting, and Evaluation
Make your client a retainer
Understand your client needs and create a Social Media Marketing proposal
For a Social Media Marketing Agency, understanding the client's needs and business specifics is essential.
Every delivered social media marketing campaign or strategy integrates into the existing company's operations as the means to enhance communication, drive sales and initiate changes that offer business growth in the future.
Therefore, it is very important for agencies to have a very clear understanding of the industry, business, and environment they are dealing with.
To attain this understanding, every agency should follow the following 4-step method:
Problems
First of all, we need to know what exactly makes a client address to our help. Finding out the client's problem gives us the first grasp of the solution we will be working on.
Goals
At this stage, we study the company's goals. It's very important to consider what ends the company pursues. In most cases, a client may not need to generate direct sales from Social Media Campaigns but only create an engaging presence online. It's better to have clarity about the specific goals that your client is aiming to achieve.
Company Specifics
In order to understand the client's business, we need to know its specifics. You need to deliberately devote time and effort to learn how the processes work, who operates them, what digital tools and infrastructure the company is using, what opportunities the company has in terms of campaigns and outreach, and not least important, what budget is willing to invest.
Industry Specifics
No business exists in isolation. This is why as a part of complex business analytics, you should perform market and industry analysis to study the environment around your client's business and better understand the ecosystem the company is in.
After understanding the client's pain points, it is time for your team to evaluate how you are going to create social media solutions for the given company.
At this stage, the potential client will expect a proposal from your end that will outline everything including goals, plan-of-action, and reporting.
You do need not to worry about creating a Social Media Marketing Proposal from scratch, we have created a template and sample proposal that will help you create a winning proposal in just 15 minutes or you can also refer to the business proposal template by Venngage.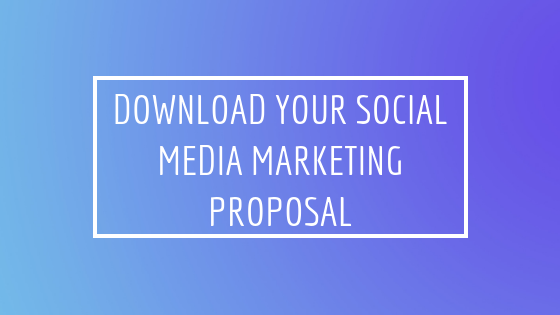 Explain the value of Social Media
Over the last several years, there has been an explosion of growth in popular social media platforms like Facebook, Twitter, LinkedIn, YouTube, Pinterest, and many others. It's safe to say that the era of social media is just getting started, and the need for social media in business will only strengthen over time. The whole world has seen the impact of the expansion and adoption of social media tips & tactics, and the rising stats speak for themselves.
Here are some quick facts that will help you explain the power of social media: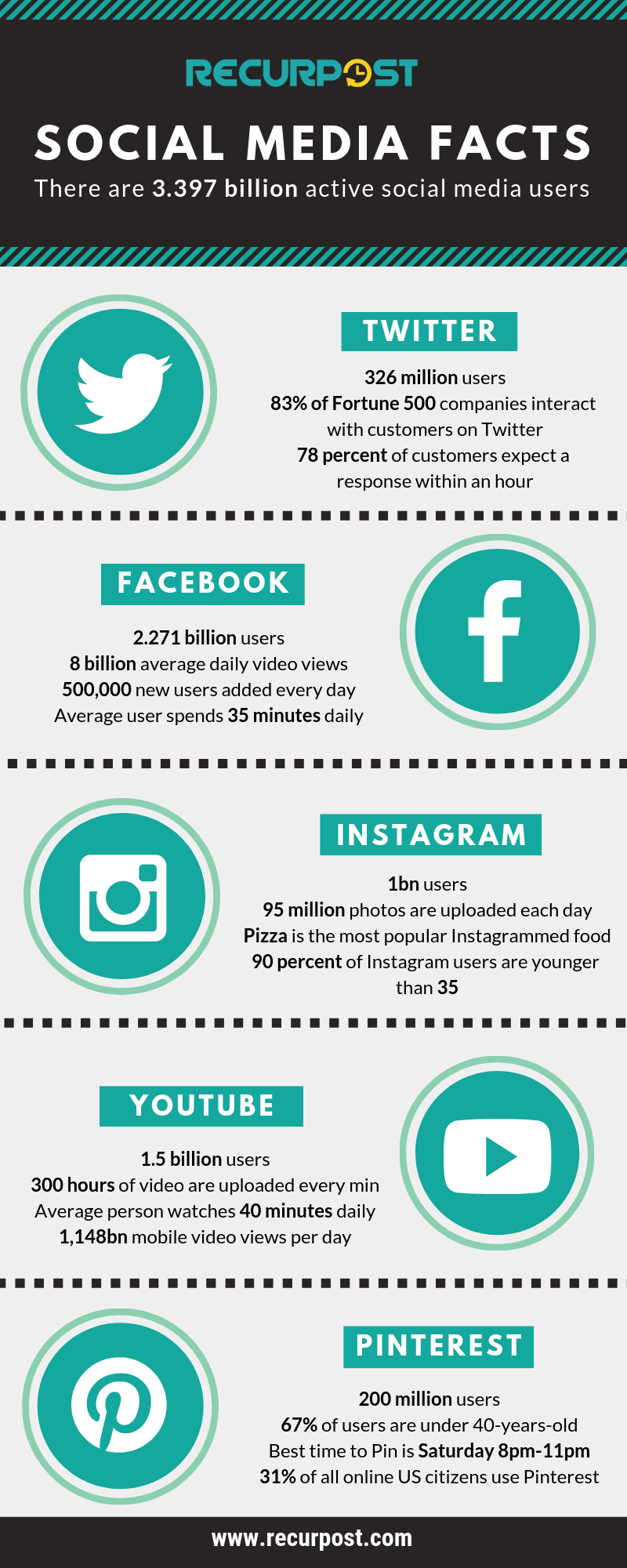 Whether your clients are running a small, local operation, or heading a global, enterprise-level effort, the statistics above make it clear: Their customers are online.
They are interacting in social channels with their friends, colleagues, and other brands in search of information, recommendations, and entertainment.
If your client's company is not around to answer, a competitor will be. In doing so, the competitor will quite likely take away the customer at hand, along with anyone else paying attention.
The question you should be asking your clients after explaining this should be – why won't your company use social media?
Research client's target audience and create buyer personas
Knowing who your client's audience is and what they want to see on social media for real estate is key to creating content that they will like, comment on, and share. It's also critical for planning how to develop their social media fans into customers for their business.
Audience Insights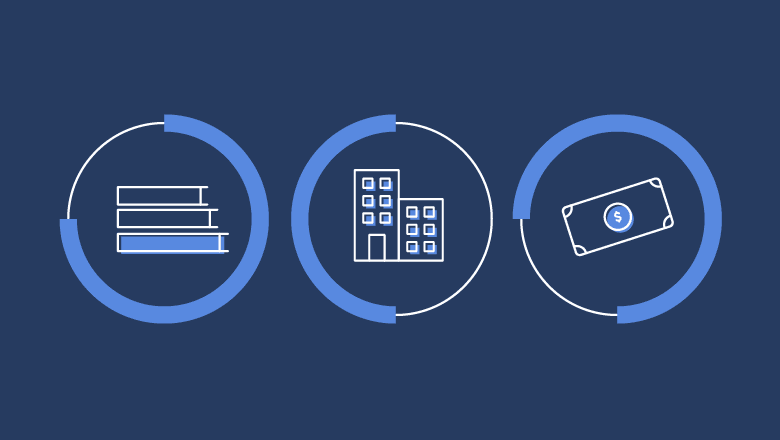 It is very important for you to gather real-world data about your client's audience to understand their behavior in detail. There are tons of social media analytics tools that can help you understand and map their audience behavior.
Social Media Analytics is the easiest way to get a deeper understanding of demographics, behavior, and preferences. These insights allow you to refine your strategy and better target them with customized campaigns or ads.
Facebook Audience Insights is a comprehensive tool that helps you understand the following parameters about your audience:
Demographics — Age and gender, lifestyle, education, relationship status, job role, and household size
Page likes — The top Pages people like in different categories, like women's apparel or sports
Location and language — Where do people live, and what languages do they speak
Facebook usage — How frequently are people in your target audience logging onto Facebook and what device(s) they are using when they log on
Purchases activity — Past purchase behavior (i.e. heavy buyers of women's apparel) and purchase methods (i.e., in-store, online)
Buyer Personas
After understanding audience insights, it's time for you to create a buyer persona's for your client's audience. Creating buyer personas is the most effective way of understanding any of your client's target audience dynamics.
A buyer persona is a detailed description of your target customer. A fully fleshed out buyer persona includes everything from demographic information to hobbies, and from career history to family size – all written as if the persona were a real person.
Buyer personas help you understand what your client's ideal customers are:
Thinking
Feeling
Worrying
Planning
Believing
All of this helps you to create customized campaigns for your client's social media. Using this information you can directly speak to different segments or personas.
A typical buyer persona would look something like this: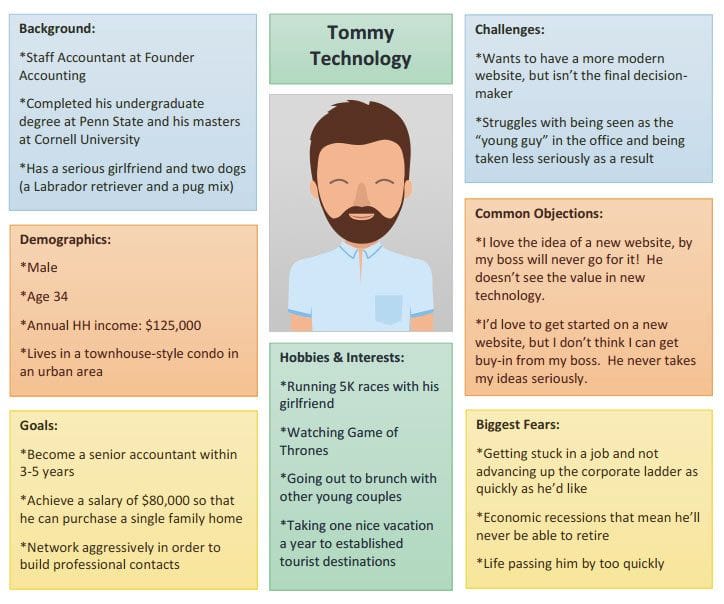 Set S.M.A.R.T goals for your client
After knowing your client's target audience in detail, the next step for you is to set S.M.A.R.T goals for your client. Establishing goals and objectives provides you with clarity and purpose for creating result-oriented strategies for social media.
Each of your goals should be:
Specific
Measurable
Attainable
Relevant
Time-bound
By setting up social media goals, you increase the likelihood of achieving them by giving your team a specific direction or target to work towards.
Some of the examples of S.M.A.R.T goals are given below:
Plan Social Media Campaigns to achieve goals
A Social Media Campaign by definition, is a coordinated series of posts that is created to share an idea, slogan or any particular product or service offered by the company. Individual posts in a campaign are generally tied together through similar visual aesthetics, hashtags, or taglines.
Planning is the most important part of building an RSS feed for social media campaign. Not just planning prior to the campaign but planning that will be consistently molded throughout the campaign and even when it's finished.
Planning Social Media Campaigns is not easy. It's not only strategic in nature but is also largely creative in forming ideas and building content. There are moving parts to each campaign, such as team members, timelines, guidelines, and branding elements – each serving as an element to support or obstruct your campaign.
We have divided effective planning of social media campaigns into following 7 steps:
What is your campaign about?
First, you need to outline an overview of the campaign that will include brief details about your audience, purpose, idea, team-members management, creatives, copy, delivery, optimization, and evaluation. At this stage, you should be able to draw a clear vision of your campaign in your mind.
What do you want to achieve?
Set objective goals that you want to achieve with the given campaign.
Do you want more engagement?
Increase sales of a particular product or service?
Generate leads for an upcoming event or conference.
Whatever goal you are trying to achieve through the campaign should be clearly stated in objective terms.
What mode of communication to be used?
There are many ways in which a brand can communicate its message with the audience. It can be done using videos, infographics, blog posts, graphics posts, GIFs, short stories, and many more ways.
While selecting the mode of communication, you need to keep in mind some parameters including budget, audience preference, goal, and social network.
Identify key success metrics
You'll need to know how your content typically performs on social media. One way to do this is to dig into in-app analytics available for each social media network.
Once you know where to get your social performance data, you'll need to learn how to connect your metrics to your goals.
Which Social Media Networks are to be included?
Each Social Media Network has distinct characteristics when it comes to content, audience, and engagement.
For instance, Facebook and YouTube are more appropriate channels for uploading videos, whereas Instagram and Pinterest will be most preferred for sharing images, infographics, and Short Messages. Using the social media bulk scheduling feature at RecurPost, you can plan and schedule hundreds of posts/videos in advance for multiple platforms. This can be done by creating separate content libraries for each platform. Select your social media networks based on your intent, content, and objective.
Post Frequency and Schedule
You need to decide two things:
How many posts do you need to write
It depends on the importance of what you're promoting, the size of your budget, and how much time you have.
When to schedule them
You should select the best time to post on each Social Media Network.
Don't worry, you can trust RecurPost to select the best time for your post automatically.
Create Social Media Campaigns
While creating social media posts, you need to ensure the following things:
Copy needs to include a clear CTA and the underlying theme of the campaign.
Each post should follow the campaign guidelines.
Visual Appealing Content should complement the copy.
Repurposing the campaign
Social Media Marketers generally end their campaign after posting it on Social Media once. But have you ever thought how a Social media campaign could reap you benefits in terms of engagement and conversions more than once?
Recycling your posts is the answer. With RecurPost being the favourite Hootsuite alternative you can repurpose your campaigns every now and then.
Create and manage Content Libraries using RecurPost
Now that you have planned your campaigns, it is time to understand how to use RecurPost to organize your content into different libraries.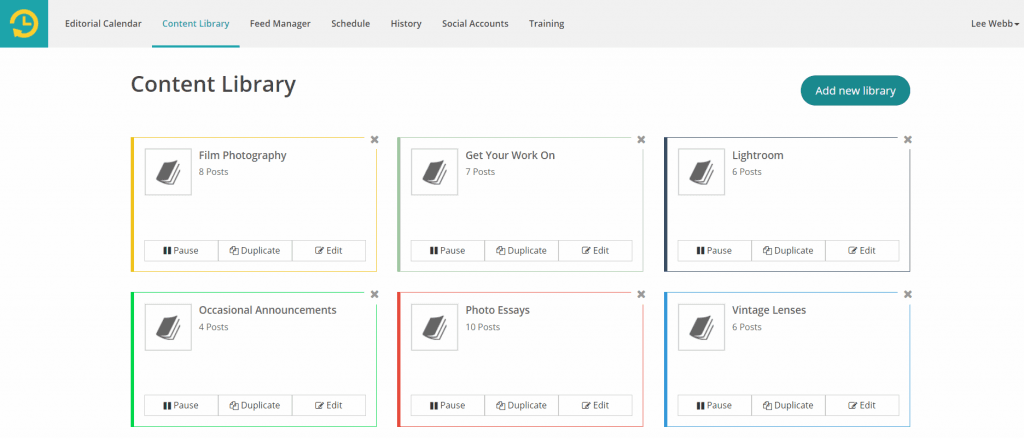 Content libraries allow you to categorize your social updates into manageable silos. Dividing your content into different categories makes it easier for your to schedule your content.
For instance, you can create different libraries for Client A Instagram Daily Motivation, Client A Facebook How-to videos, Client B Blog Posts, Client B Witty Quotes, etc
We have created a step-by-step process on how to work with content libraries at our knowledge base.
Analytics, Reporting and Evaluation
Take time to go over your analytics to see what worked and what didn't work. Maybe all of your early morning posts did really well and your mid-afternoon posts totally flopped. Or one type of visual content or messaging had higher engagement than another. Then, use that knowledge to adjust your tactics for the next campaign.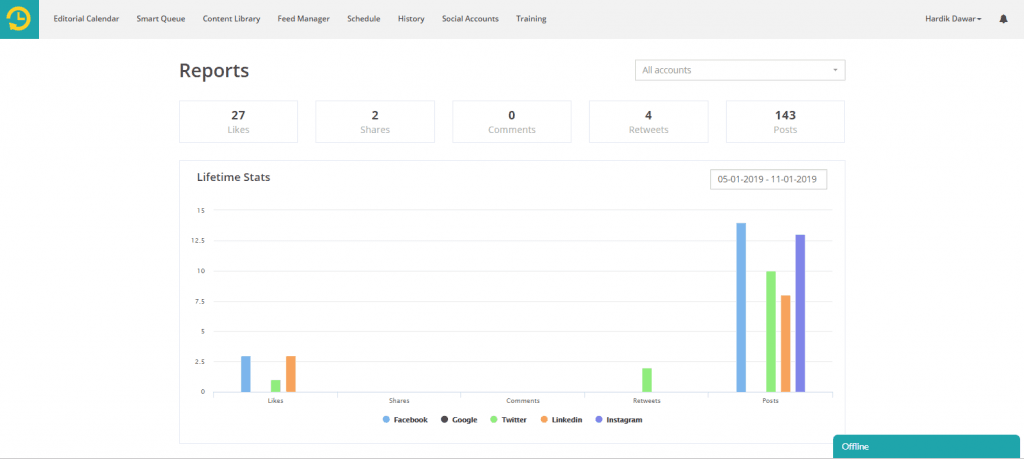 You can use RecurPost reports to identify:
Top performing content libraries
Top performing posts
Engagement and Conversion stats
Use this information to create periodical reports for your clients. Include relevant statistics from RecurPost Reports Dashboard to provide a glimpse of their overall performance on Social Media to clients.
After analyzing and reporting to the clients, create a revised strategy with required changes after considering the best and worst content libraries in the given period. Share the revised plan with your client and make the necessary adjustments in the content libraries.
Here, we have created a Social Media Analytics Guide for your reference: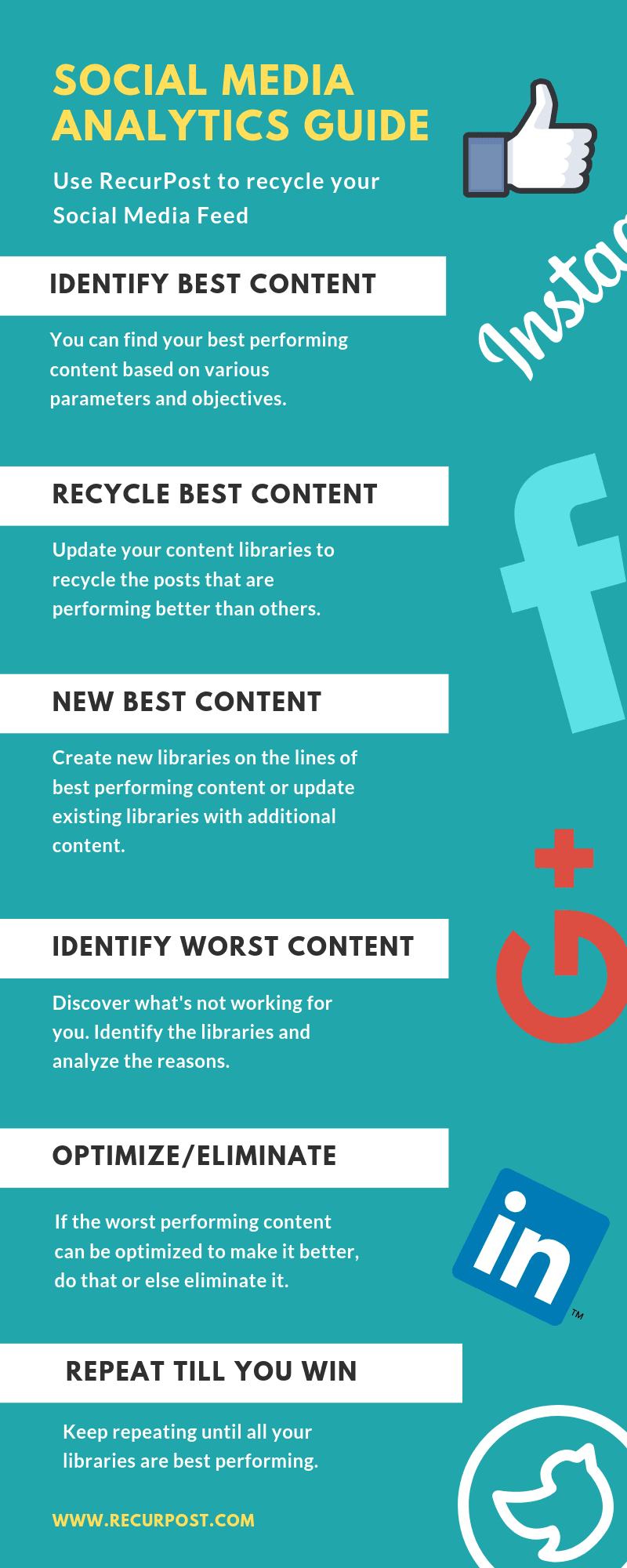 Make your client a Retainer
Clients that hire social media marketing agency get a timeshare of experts for each social channel, creative staff to bring campaigns to life, and experienced account managers that can pull together a cohesive digital strategy.
Social Media Marketing agency is generally considered under retainer services because they require time, ongoing attention, and expertise to drive successful results.
With increasing competition in the digital landscape, it has now become more important for agencies to sign retainer agreements with their existing or new clients.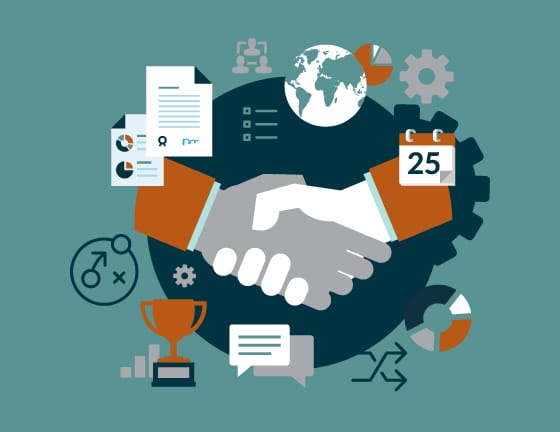 But how does an agency create a retainer client for long term?
It involves 5 simple steps:
Make your unique selling proposition stand out
You need to be very clear about what differentiates you from the competition.
Is your ROI better than those of others?
Are your ideas bolder and newer than others?
Then say it more often with your marketing collaterals and client proposals.
Use Data and Analytics as a proof
Did your last campaign for your client record a 30% increase in engagement?
Are your social media campaigns converting twice the industry standards?
It is important for you to track metrics that are relevant to your client's business.
Create periodical reports for your clients using RecurPost Reports and share it with your client to validate performance on Social Media.
If you want to get more, give more
Do not stick your original proposal when it comes to deliverables. Always follow the simple principle – Promise less, Deliver More. Offer free consultations, social audits, and even a month free of your specialized services.
This will go long way to develop trust and loyalty with the client in long term.
Meet your clients more often
I know about the whole emails over meeting debate, but if you want to create a long-term relationship with the clients, some times a casual coffee or lunch outings won't hinder your productivity much. Instead, it'll pave the way for increased revenues for your agency.
Get recognized for your work.
As much as most advertisers and marketers value results over rewards, the same can't always be said of clients. Sometimes adding "Award-winning" to the beginning of your best advertising agency software name will convince them to spend a little more on you.
RecurPost-supported social media platforms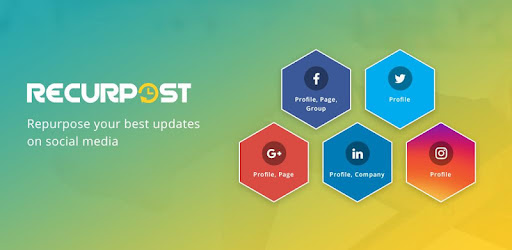 RecurPost is a leading social media management tool that supports major platforms for scheduling posts and analyzing the results of posting.
With RecurPost, you can build a community on various networks by posting regularly and repeatedly. You can schedule Facebook posts on your profiles, pages, and groups. It enables you to schedule Instagram posts on your personal and business profiles.
RecurPost lets you schedule tweets and build a Twitter community of your business-specific people. It allows you to schedule LinkedIn posts on your personal and business pages and start conversations with professionals anywhere in the world.
RecurPost is a great Pinterest scheduler for enjoying the benefits of the visual platform. The tool enables you to schedule Google My Business posts with your choice of call to action button. 
Conclusion
We've tried to include most of the things needed to scale up your Social media marketing agency in this comprehensive guide. But social media marketing is an evolving subject; there's always something new to learn. If you are looking for a business proposal template, you can download it from above. RecurPost social media scheduling tool can help you schedule posts at an optimal time its also one of the best free hootsuite alternatives.
At RecurPost, we try to stay ahead of the curve and provide you with more personalized and valuable content in the form of Guides, Blog Posts, and Free Resources. it's also one of the best agorapulse alternatives.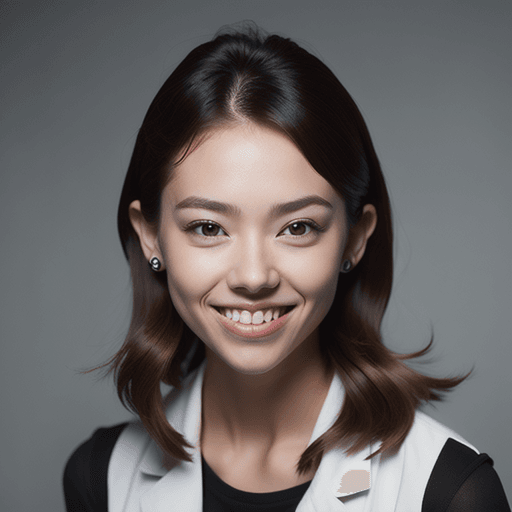 Debbie Moran is a Digital marketing strategist with 5+ years of experience producing advertising for brands and helping leaders showcase their brand to the correct audience. She has been a part of RecurPost since 2019 and handles all the activities required to grow our brand's online presence.