Making a new Twitter profile? But stuck choosing the perfect Twitter handle?
Your Twitter name and handle are the key components of your Twitter profile. You need to select a good Twitter handle that will help market your brand and make it easier for people to find you on Twitter. You shouldn't just search for your favorite choice; if that's not available, just pick the one that Twitter recommends.
Your Twitter handle can literally make or break your impression as a brand/individual. So, you must put in a bit of time and effort to select the best Twitter handle for your profile. A good Twitter handle will help you in better social media promotion, make it easier for you to be identified, and make you look more authentic.
Before we start with the blog by RecurPost, a social media scheduler, which also allows to schedule tweets, let's see what a Twitter handle is.
What is a Twitter handle?
A Twitter handle is the username that is shown at the end of your unique Twitter URL. Similar to other social media platforms, your username/handle serves as your identity on Twitter. You can use up to 15 characters for your Twitter handle, and it appears as "http://twitter.com/[handle]" in the visitor's browser bar.
However, don't get confused between a Twitter handle and the Twitter name. The Twitter handle will appear after the @ sign in your profile URL and is unique to your account. No two people can have the same Twitter handle.
A Twitter name, on the other hand, is basically there to help users find the business/person they're searching for. It doesn't need to be unique – multiple people can have the same Twitter name.
How to create a Twitter handle
Here is a quick guide for how to create a Twitter handle:
Visit twitter.com or download the Twitter app.
Click "Sign Up" and provide your name, phone number, or email.
Twitter handle format is "@username" so choose a unique username (up to 15 characters) with "@" symbol.
Upload a profile picture and write a short bio.
Follow suggested accounts based on your interests (optional).
Verify your account with a code sent to your phone or email.
Start tweeting and engaging with the Twitter community.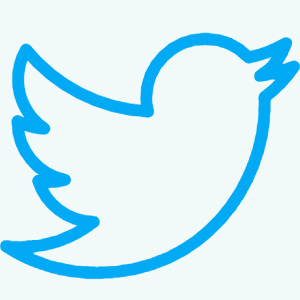 Want to take your Twitter game to the next level?
Try RecurPost and schedule tweets in advance on multiple accounts for maximum impact.
How to choose an effective and attractive Twitter handle
With 330 million monthly active users on Twitter, finding your desired handle is not as easy as it may appear! Along with your profile picture, your Twitter handle also affects people's choices to follow you or not. And if you're using Twitter for business and want to establish a presence, you need to pick a handle that represents your organization and is easy to recall. A good handle can help you in promoting your brand and undertake Twitter marketing effectively.
When you are brainstorming the options for your Twitter handle, consider the following points:
1. Use your name (or your brand name)
Using your own name or your company's name is no doubt the first option that comes into mind. In case your first name is already taken, using your first and last name together is also a good option. However, don't opt for using only your last name, as you may find yourself identified by that in the eyes of other users.
In case your business name is not available, you can try adding words like 'Pvt', 'Inc', etc after your company's name. If your Twitter username is something entirely different from your actual name, that will make it impossible for people to look for you.
For example, RecurPost has used the brand name itself as the Twitter handle which makes it super easy to find its profile.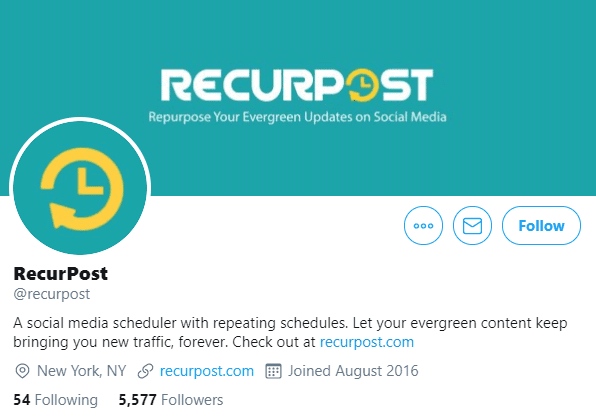 2. Avoid the use of numbers
Many times, when people don't get their name as the Twitter handle, they simply add numbers at the end. Don't do that. Typically, when we see a number on a Twitter username, particularly at the end, the first thing that pops in the head is that it could be a spam account.
Having a number in your Twitter handle makes the name appear odd and doesn't look good. You might want your handle to include your name, but adding a number at the end would make your profile lose its uniqueness and make it difficult to search.
3. Keep it short and sweet
We know you have got 15 characters for your Twitter handle, which might seem like a low limit already. However, we would suggest you to not even use the entire character limit. When it comes to remembering usernames, people may find it difficult to recall more than 10 characters.
Also, when you have a short username, it becomes easier for people to mention you in their tweets, without taking up much of their character space. A fantastic short name for Twitter is that of 'Read Write'. Their Twitter handle is @RWW. They have simplified their long name into a three-letter word, which makes it easy to mention even when the tweet you're posting is a long one.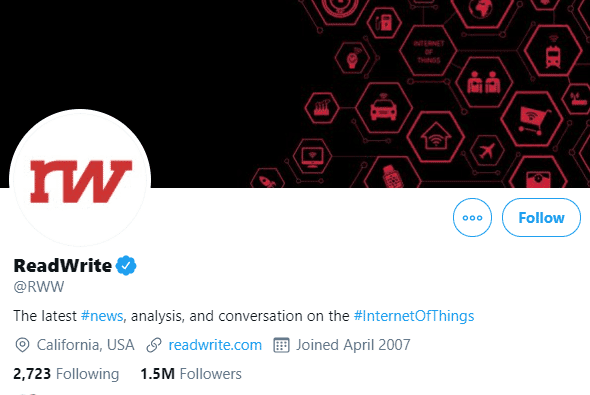 4. Make sure it is easy to remember
You would need your Twitter handle to be easy to recall, too. Next time anyone tweets something from your profile, you need to persuade them to mention you as well, since this will help you attract more followers and help you build up your Twitter profile.
In such a case, if your handle is easy to remember, they would simply add it to the tweet. If it's difficult to recall, they'll need to search through your website to find your username every time. Nobody would want to do that on a regular basis! If you keep the above tips in mind and make your Twitter handle as per Twitter new update, short and appropriate, it will be very easy to recall.
You can simply use the initials if your brand name is long and consists of multiple words. And if it's too short, you can use the first word entirely and then use the initials of the remaining words.
5. Try to be consistent across social media channels
What is the name of your website? What words does your domain name include? Which words are there in the name of your Facebook group? What is your Instagram username? Make a list of everything and try to use the same name across all channels for social media content purposes.
It will help your followers find you super quickly on any channel and also establish brand authority. But before that, you should know how to get Twitter followers. And, if your name is unavailable on any platform and it is disturbing your flow on other channels, you should seriously consider changing it on all social media sites to maintain consistency.
6. Avoid using keywords
We know that you want your profile to appear when someone searches for your keyword, but stuffing the keywords everywhere is not ideal. Using keywords in your Twitter handle will make your profile look spam when someone views it. This can also result in the loss of followers who could potentially be customers in the future. So, spare your username and use your keywords in your Twitter bio instead.
7. Be quick in making a decision
Julien Smith, the co-author of Trust Agents, says how he got his Twitter to handle '@julien' just because he got in early. This gives him an advantage over the other Juliens on Twitter. Next time someone enters the name "Julien" in the Twitter search bar, @julien will be the first name to appear.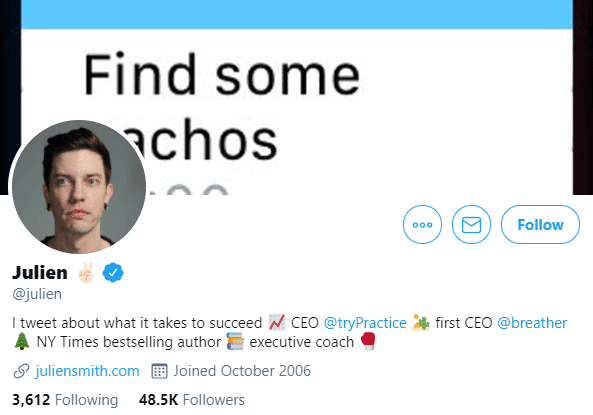 Therefore, try to get in early and give your best shot to select the best Twitter handle you can get. If you're thinking of getting a new Twitter handle for yourself or your business, stop thinking about it and start to act.
Every day, approximately 460,000 people sign up for a new Twitter account. This means that about 319 people sign up for an account every minute. So your desired username could be gone any second now – go to Twitter and search for your favorite Twitter handle as fast as you can!
8. Use 'Real' and 'Official' carefully
It is a common thing that people tend to do on social media channels – adding words like 'real' or 'official' in the usernames. This is fine for celebrities or Twitter influencers to do, as a lot of people make their fake or fan accounts. However, if you wish to add such words, we would recommend doing that after building a considerable following count and verifying your account. Otherwise, it will again make your profile look spammy or fake.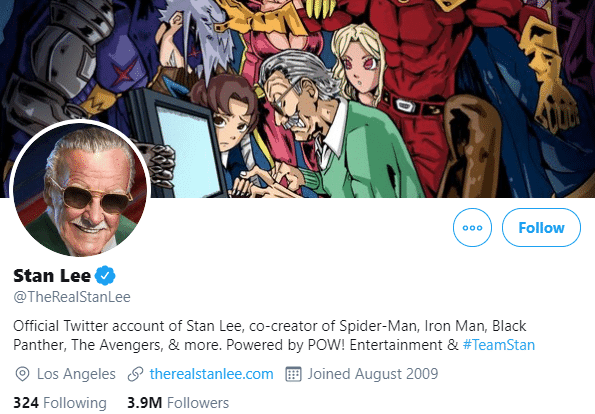 What to do when your desired Twitter handle is taken by someone else?
As mentioned earlier, your desired Twitter handle could be gone anytime because of the large number of signups taking place every minute. In such cases, you have no choice left other than twisting and playing around with it. Need some ideas to do that? Refer to the points below:
1. Shorten your name
Try to use your nickname or shrink your name if it's too long. For example, in place of Christino James, you can go for 'ChrisJames' or 'JamesChris'. This applies to individuals only, not businesses.
2. Add initials
You may consider adding your middle name to your Twitter handle. There's a fair chance you'll get it. 'ChrisKjames,' for example.
3. Add 'This', 'This is', or 'I am'
These three blend perfectly with most of the usernames. And many people use them, too, to at least mention their name into their Twitter username. For example, 'ThisIsChris' or 'IamChrisJames.'
4. Start with 'We are'
This is a perfect technique for businesses and groups to use. Only apply "we are" to the name you like and you're done!
5. Write your name along with industry
This is one of the most professional things you can do to let people know who you are and what you do. Using your name and business in your Twitter handle will also help enhance your profile for search engines.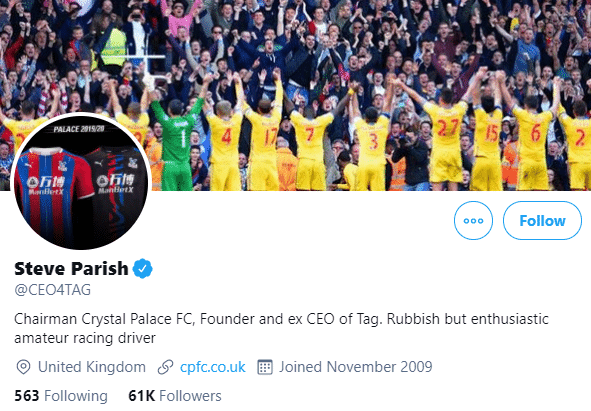 6. Use 'HQ' (for businesses)
HQ is the universal symbol for headquarters. Thus, brands can use it along with the company name when they don't get their desired Twitter handle.
7. Use 'Add', 'Join', or 'Get'
If you are a service-based business, basically offering an app, or want people to join a community, you can use words like 'Try', 'Join', or 'Get' along with your product/company name. They act as a call to action which mostly gives you an extra edge.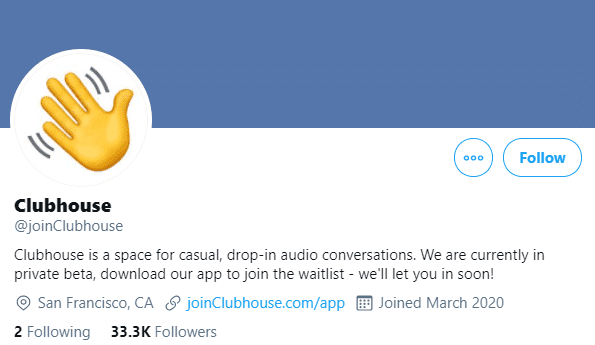 8. Add a location name
Including a location in your Twitter handle can also help users find your business easily, particularly if your business is local. For instance, if you're from New York, you can include NY in your username.
9. Add underscore
There's no harm in placing an underscore between your first and last name when nothing else seems to work.
10. Use 'Ask'
This can be done by companies maintaining different Twitter accounts for product promotions and customer service. For example, PayPal has a Twitter account for customer support with the Twitter handle '@AskPayPal'.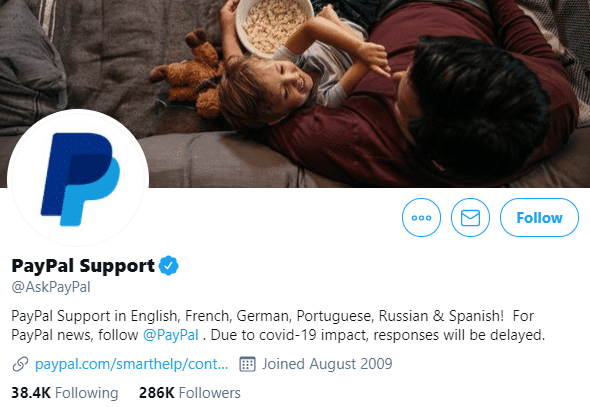 How to change/edit your Twitter handle
You might want to change your current username to something more consistent and unforgettable after reading the above recommendations, or maybe your preferred Twitter handle is finally available! Follow the below steps to change it:
Log in to your Twitter account

From the left-hand side panel, click on 'More'.
A pop-up menu will appear. Choose 'Settings and Privacy'.
In the accounts section, you will see the option of 'Username'.

Click on it and you can insert your new Twitter handle and save it. You will get an alert message if it is not available.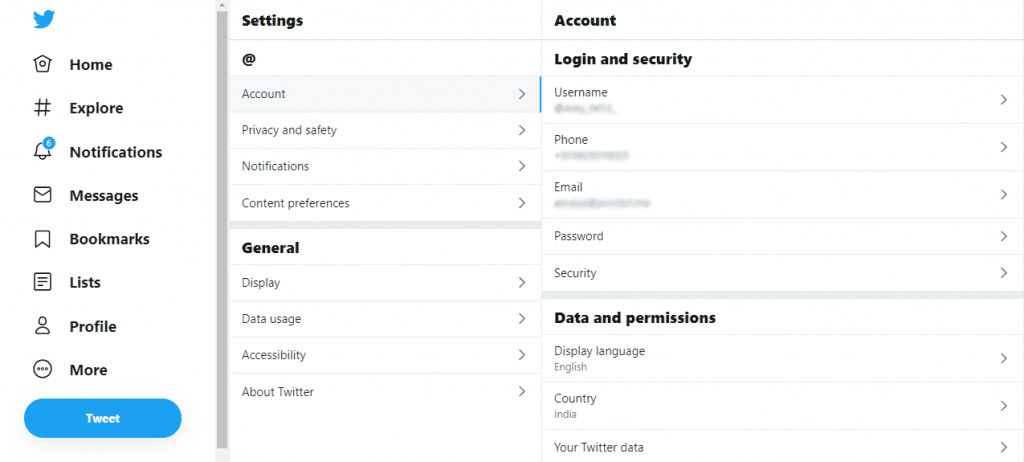 After you update the username, make sure that you inform all your fans by tweeting, because they'll know when they're trying to mention you. You can also pin the tweet to the top of your profile for a bit. Update the Twitter links on your website, author bio, or somewhere else you have mentioned it.
Build your presence on Twitter
After you have selected your Twitter handle, you need to complete your profile by adding an eye-catching bio, a profile picture, a cover photo, a location, and a website link. When you're done with optimizing your profile, it's time to begin tweeting and grabbing the attention of people in order to build a considerable following.
Twitter is a fleeting platform; you need to be consistent to be noticed by people. A tweet has an average life of only 18 minutes. Thus, you need to tweet at least 2-3 times daily for your target audience to notice you. If you think that it'll consume a lot of time to tweet manually, you should know how to automate tweets.
You can use a social media scheduling tool for this purpose. RecurPost provides a tweet scheduler using which you can schedule your tweets in advance and also generate tweet variations to post the same message multiple times.
RecurPost assists you in improving your brand engagement on multiple platforms. It allows you to schedule Instagram posts on your personal and business profiles to entertain your audience with images, stories, and reels. You can schedule Facebook posts on your profiles, business pages, and groups.
To extend your brand reach by connecting with business leaders globally, you can schedule LinkedIn posts on profiles and business pages. You can schedule tweets to build a Twitter community and connect with people relevant to your business. Take advantage of RecurPost, a Pinterest scheduler to schedule pins on your product images and services-related infographics.
RecurPost is among the few social media tools that help you to schedule Google Business Profile posts with your chosen call to action button to promote your brand locally. You should try its features by signing up for a free trial.
There are a lot of other features too! Making RecurPost amongst the best free hootsuite alternatives as well as one of the best post planner alternatives.
It offers a 14-day free trial, and provides support for managing 5 different social media platforms with a feature of social media bulk scheduling! Click here to sign up and try the tool now.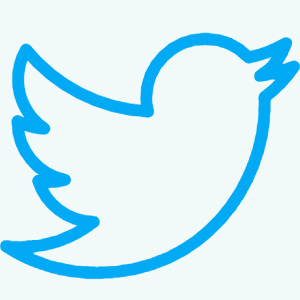 Want to take your Twitter game to the next level?
Try RecurPost and schedule tweets in advance on multiple accounts for maximum impact.
Frequently asked question
1. What are some of the Twitter name ideas ?
Coming up with a creative, good and interesting Twitter name can help you stand out on the platform however, remember to use a name that also resembles you and your tweet content.
here are some cool Twitter name ideas that you can use for your Twitter account:
– TwitWhiz
– TweetTastic
– SocialGuru
– TrendyTweeter
– ChirpyChatter
– WittyTweets
– QuirkyBirdie
– BuzzingBeak
– TweetMaster
– SnappyTweets
2. What are some of the Twitter username name ideas ?
Choosing a cool and good Twitter username (twitter handle) helps you stand out, but ensure it represents you and your tweet content.
Here are some of the best Twitter username examples that you can use for your Twitter account:
– @WordWizardry
– @InkAndIdeas
– @TechTrailblaze
– @TravelBloom
– @MindfulJourney
– @FoodieFusion
– @ArtisticVerse
– @GeekGuruGram
– @MusicMosaic
– @SportsSphere
– @FashionistaVibe
– @FitFable
3. Twitter username (handle) vs Twitter name
Here is the difference between Twitter username and Twitter name
Twitter username also known as the handle, is a unique identifier for a Twitter account and is always preceded by the "@" symbol. It is used to mention or tag the user in tweets and forms part of the user's Twitter URL (twitter.com/username). The Twitter username is limited to 15 characters and cannot be changed once set.
Twitter name also known as Twitter display name, is the user's chosen name on their Twitter profile. It appears at the top of the profile and can be up to 50 characters long. The Twitter name is not unique and can be changed easily without affecting the Twitter handle.
4. How to pick a Twitter handle or Twitter username?
here are some of the things you should keep in mind while creating your Twitter handle or Twitter username for your Twitter account:
1. Keep it short and memorable.
2. Reflect your identity or interests.
3. Avoid numbers and special characters.
4. Check availability.
5. Consider consistency and branding.
6. Ensure it's respectful and appropriate.
7. Think long-term and future-proof.
8. Research and get feedback.
5. how to choose a Twitter name?
It gets very confusing when it comes to choosing your ideal Twitter name, however you can focus on these listed points while choosing your Twitter name for your Twitter account:
1. Keep it short and easy to remember.
2. Reflect your identity or content focus.
3. Check for availability.
4. Consider consistency with other platforms.
5. Avoid offensive or inappropriate terms.
6. Think long-term and relevant.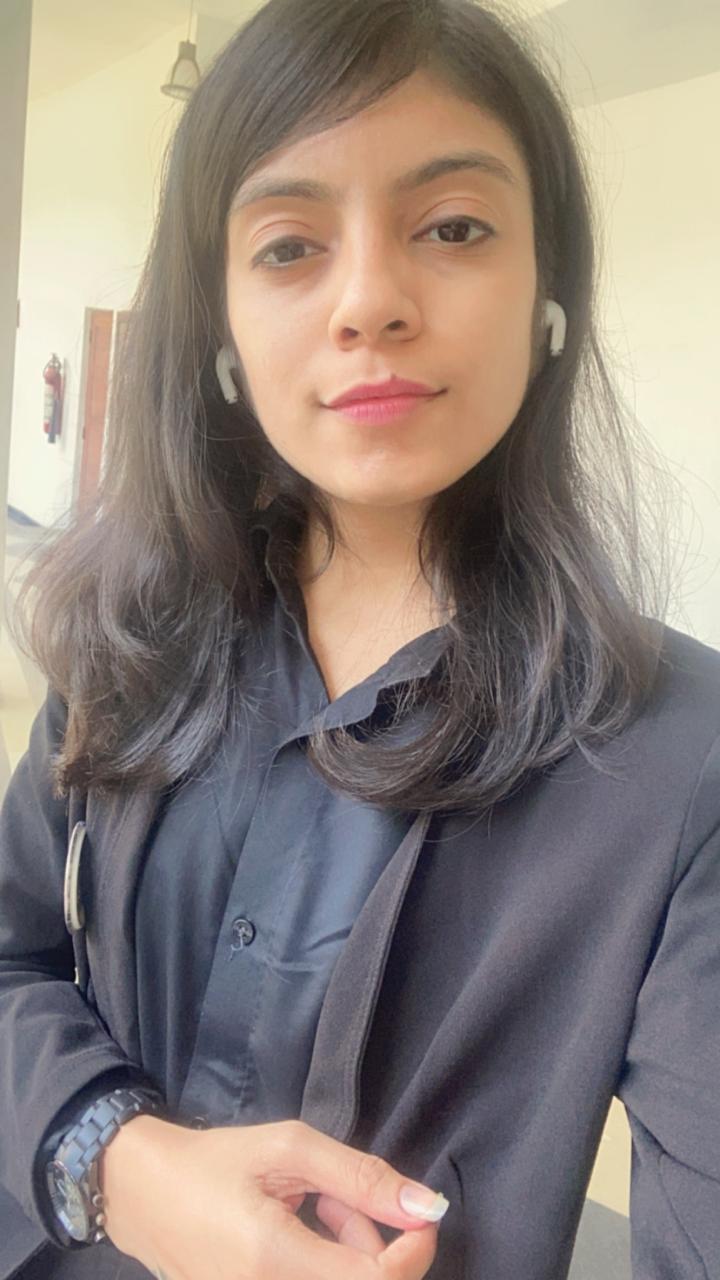 Amaiya Rathi is a Senior Content Writer at RecurPost. She helps RecurPost communicate with their readers in their own language. Whether it is the web copy, social media posts or blogs, Amaiya has worked on all aspects of copywriting. You can reach out to her at [email protected].