Expanding a social media marketing agency in a crowded market is difficult. The day of creating a website, relaxing, and counting the money is long gone. The newest tech-savvy kids on the block now utilize cutting-edge tactics to interact with their target markets by scheduling posts using social media scheduler.
And if you keep employing tried-and-true methods that don't set you apart from your rivals, your brand will vanish into obscurity.
You need to develop engaging, real brand stories that demonstrate to your clients that you actually care about them and can address their problems if you want to stand out and shine in a competitive market that provides comparable items with similar features and answers.
Some companies are already aware of this, which explains why they are successful despite a saturated market. This post from RecurPost will let you understand simple yet powerful tips & tricks to grow a Social Media Marketing Agency in a Crowded Market.
Table of Contents for Social Media Marketing Agency:
1. What does a social media marketing agency do for businesses?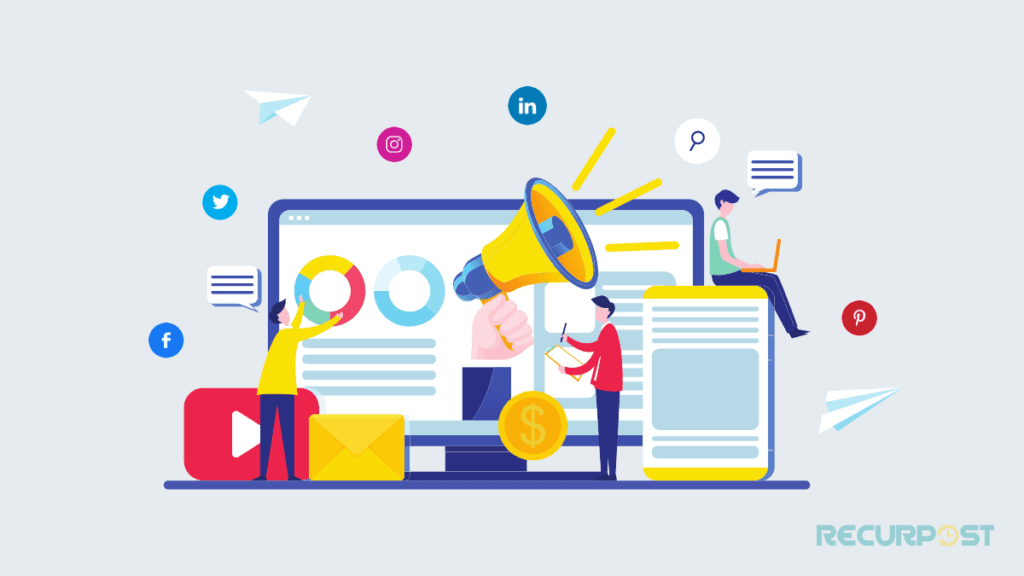 Are all marketing firms also social media firms? The quick response is no; it's not. But each social media marketing agency is also a digital marketing company.
What exactly does a social media advertising company do, then?
A social media agency is, in essence, a marketing firm that focuses on creating content for customers and has made social media one of its main businesses. A particular agency isn't always a social media agency if social media just makes up a small portion of all of their activity.
Obtaining social media clients is one of the biggest problems facing marketing businesses. Sadly, it is not always the simplest thing to accomplish, especially when several smm in digital marketing companies vie for a single project.
1.1) Why do companies hire digital agencies?
There are several benefits of working with a digital agency over an internal team for a business or organization (some might use a combination of the two). Among them include, but are not restricted to, the following:
The requirement to outsource marketing tasks to subject-matter professionals to concentrate on core company activities. Rather than having to invest time and money in recruiting, developing, and leading an inside staff.
Attempting to get access to cutting-edge IT and marketing tools.
A desire to get fresh insights and an objective viewpoint on corporate strategy, choices, etc.
Automating processes and operations to increase productivity and efficiency.
Generally speaking, a digital agency should be able to support and enhance a company's digital transformation initiatives, assist in setting and achieving reasonable online marketing goals, provide continuing support and maintenance, and assist in identifying new growth opportunities.
2. Things to Know About Social Media Marketing Agency!
Starting a social media marketing agency requires learning about topics unrelated to social media or marketing, which is challenging for someone working in the fast-paced social media marketing agency industry. This forced me out of my comfort zone, making for a steep learning curve. Here are several things you should know when you start, though.
You're probably not an accountant if you're a social media expert. But it would be ideal to start managing your P&L right away. Understanding your costs, expenses, income, turnover, and profit is necessary. In addition, you must be aware of your expected profit margins for each service you offer. If you don't understand this right away, you might have false confidence in your actual profit.
You must know local employment rules if you intend to hire team members. You will still want contracts and clearly outlined boundaries, expectations, and deliverables if you intend to use contractors or freelancers. Numerous agencies use independent contractors, which is OK, but you need regulations for their work.
2.1) Time-Saving Social Media Marketing Agency Hacks
It takes cunning planning and creative techniques to run your social media agency. So here are my top three recommendations for social media managers and social media business owners.
Permit flexible work schedules.
You might be able to provide superior client service by giving some latitude in the working hours of your team. For example, consider the situation when you have two social media managers, one of whom is an early riser and the other a night owl. You can target a wider geographic area and cover several time zones in real-time.
Create a content plan in advance
To the benefit of your clients and your agency, always do this. Give your agency adequate time to work on videos, graphics, and material if you want spectacular outcomes. Look for days that might be used in great advertisements in your sector. Work at least a month ahead, but keep an eye on the next six months.
You can adhere to some of the best practices and advice we've included below.
Use a social media scheduler like RecurPost to schedule your content before time without any hesitation. Alternatively, you may utilize RecurPost's Recurring feature to reuse your evergreen content and keep it current in the minds of your target audience and consumers. In the end, this will enable you to generate more leads with less effort.
3. How do digital marketing agencies grow on social media? Best practices.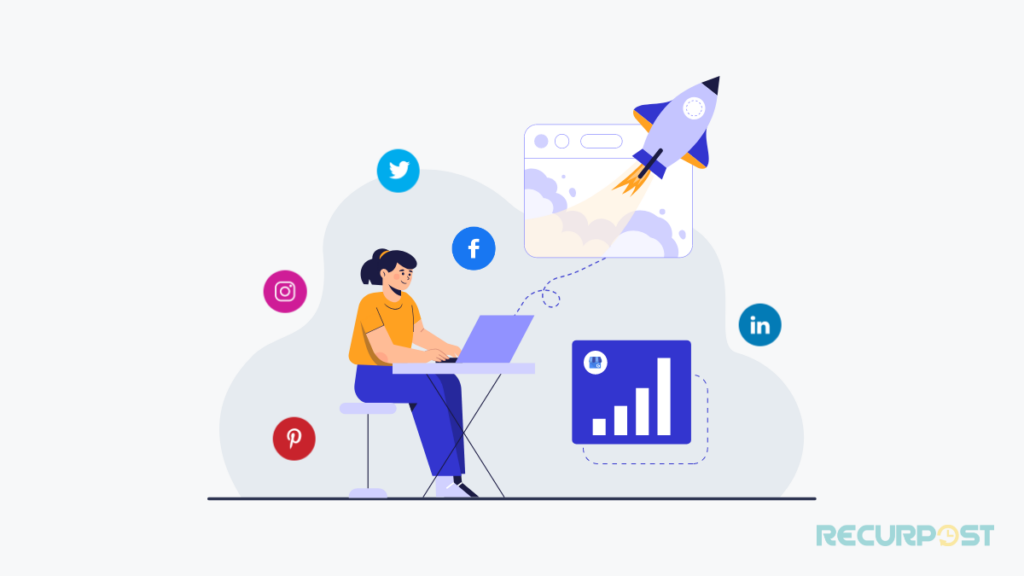 Growth and new business allow you to grow the firm to boost revenues, recruit more workers, and serve more prestigious clients while also keeping the lights on. To help your agency develop and meet your expansion goals, cultivate a consistent flow of high-quality new business leads.
Following are some tried-and-true suggestions for expanding social media marketing trends, including our picks:
Craft Fresh, High-Impact Content
Influential digital marketing professionals keep up with the newest events and news that may impact your company. To provide content that meets the issues of your market, agencies should also research your audience (i.e., the questions that customers frequently ask).
Your agency partner should be able to provide you with information on how visitors interact with the material on your website and smm in digital marketing profiles.
Do on-page blogs get more momentum than how-to videos?
Are there enough clicks on your downloading content?
How much engagement do your social media postings generate?
These types of information you can anticipate receiving from digital marketing professionals can assist you in creating better, more engaging content.
Many digital marketing organizations will create your content marketing strategy for each platform—on-page, off-page, social media, and PPC ads. As a result, they should produce appropriate content for many channels while still communicating your brand messaging. There are always options like a paraphrasing tool to help you craft fresh content.
Make the newest tools and technology available.
Various industries fall under the umbrella of digital marketing, each requiring its own set of tools and technologies. Your social media, search engine optimization (SEO), content marketing, and pay-per-click advertising campaigns should be strengthened with an expert firm's help.
It takes time to build a significant social media presence. There are more than a few mentions and some timeless content. Social media schedulers lighten the burden and open the door for more significant influence by making it easier for us mortals to stay active and engage on social media.
In the confusing world of social media, RecurPost manages several social media accounts, unifying them under a single login and onto a single dashboard. RecurPost, one of the most well-liked social media management tools & is one of the best free hootsuite alternatives and tailwind alternatives in the market; enables teamwork and an approval procedure.
Adapt to Changing Search Engine Algorithms
SEO is one of the fundamental methods for enhancing your internet presence and generating more visitors to your website. Regrettably, Google frequently releases algorithm modifications that impact your SEO approach. Therefore, ensure your digital partner closely monitors search engine algorithms so they can immediately modify your approach to avoid deindexing or derangement of your pages. For instance, many websites that weren't optimized for mobile users were impacted by Google's mobile-friendly upgrade in 2016.
Many firms start and finish their SEO campaigns with keywords, backlinks, and content. But other crucial ranking variables include the site's architecture, page speed, and responsive web design.
Make both extended- and short-term plans.
Campaigns often last six months to a year and have a precise aim, such as producing a particular number of leads, attracting a certain amount of traffic, or converting a certain number of tips into customers.
An smm in digital marketing firm should ensure that your short-term strategies align with your larger aim through a monthly or quarterly audit. In addition, your campaign should be powerful enough to achieve the desired objectives while adaptable to industry changes, such as algorithm adjustments.
Monitor and Evaluate Campaign Analytics
By the end of the campaign, every plan should have undergone a final performance assessment. Here, it's crucial to compare the results of your marketing strategy to the predetermined goals you and your partner set. The assessments then identify areas for improvement while the campaign is still active so that strategy may be changed accordingly.
Another round of assessments should be done a few months following the campaign to gauge how the approaches affected your company's success. Then, your next campaign should be guided by the insights and data you gather, ensuring the targeting is more precise, the messaging is more potent, and the methods are more creative.
Manage Your Budget More Effectively
A realistic budget plan that allocates funds for your PPC, SEO, content, and social media tactics may be made with the assistance of digital marketing organizations. First, the best and poorest performing platforms will be identified through preliminary research, which should be used to direct budget allocation. This strategy guarantees that your funds will be utilized to strengthen your campaign's deficiencies and preserve its strengths.
Read More: Social Media Calendar: How to Craft Content Marketing Strategy
4. How do social media agencies get clients?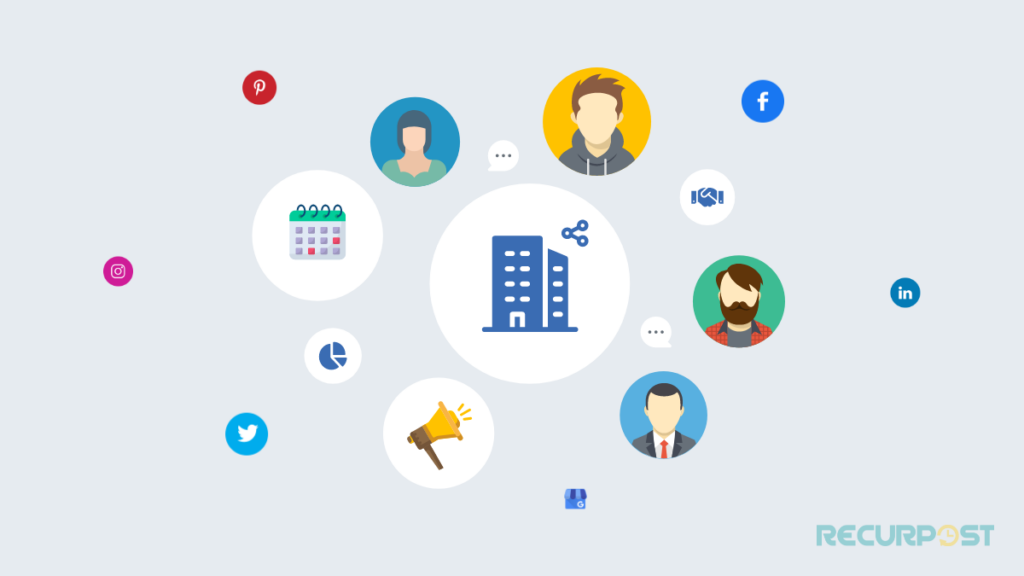 Nail your niche
You need to stand out if you want to be successful, and concentrating on one area can help you attract more customers.
Let's say, for instance, that you have programming experience. If so, you may give social media support for cloud hosting companies or promote a free app for arranging salon appointments to gain the required exposure.
But don't pretend to be an expert when you're not. That will damage your reputation the fastest. Don't be scared to join new social media platforms early; you never know, maybe your presence there may help you strike it rich.
Work on your social media presence
How can you find customers to handle your social media accounts? First and foremost, demonstrate to them your familiarity with social media management. Therefore, before providing this kind of service to anyone else, take care of managing the social media accounts for your firm if you want to attract new clients.
Don't forget to regularly update your social media pages so that future clients can assess your expertise. Examining a particular agency's social media platforms is crucial for many prospective firms. They could use it to decide whether or not they want to work with your business.
Spend some time on personal branding
There is no denying the significance of personal branding. CEOs often understand the value of social selling, but social media managers and business development teams should also be present on these sites. Your team members may improve their reputations as authorities and gain access to leads more quickly with the proper personal branding.
People who follow you on social media and see your staff's involvement might also want to join your team. Since here is where potential workers seek to learn more about your company, update your LinkedIn company page and personal profile right away.
Invest resources in social selling
When you have a solid personal brand, it is simpler to spark interest in social selling. Social selling, however, is not a trendy term. Within the context of the sales process, social media professional relationships are key. Instead of selling directly, it is about selling through relationships, content, and value. First, focus on your branding and ensure that your expert position is credible because you probably won't be able to grasp social selling immediately. After that, join pertinent groups and strive to expand your network.
Avoid alienating your connections by delivering generic messages or offering subpar information. Give them a cause to follow you instead so they will ultimately get in touch with you; only then should you consider sending them a business proposition.
Keeping an eye on your rivals is a brilliant idea. They have undoubtedly heard about social selling; some may even be doing it. So the message that sparks the most attention should be examined.
Attention to online coverage
Building trust and attracting new customers could be difficult if you aren't recognized as a social media specialist. One of the best ways to get clients for social media is to look after your reputation.
It's not always only for social reasons. Some of your potential customers might not even be using social media because they are unaware of its potential.
Such prospects must be contacted via several avenues. For instance, some expert publications, articles, or guest remarks might raise awareness of your firm and perhaps lead to the acquisition of new clients or companies.
Participate in discussions, and don't be shy about attending conferences or webinars if you have knowledge of social media. Such extracurricular pursuits might assist in attracting clients for social media management.
Active lead generation
Even though finding your very first clients during the first phase might be difficult, you must push through it if you want to have any chance of success.
Personalization has emerged as the secret to producing quality leads, even though cold calling and mailing may still produce some results. You should thus aggressively search for clients on social media.
Your consumers are there, and they frequently come here to ask for assistance as well. Join pertinent groups and look into companies that could use your assistance. Sending them a personalized message is the best way to get their attention. Describe how your services may help them communicate on social media.
Build a portfolio
Tell the world about your excellent accomplishments if you have any. But unfortunately, no one will approach you and inquire as to whether you work for a company in their sector or whether you have ever managed projects that are comparable to theirs.
You may gain more business by developing through case studies that emphasize your accomplishments. And isn't that what you want? Furthermore, having a small portfolio is preferable to none at all. So, demonstrate your knowledge to them if you have any social media data or other supporting documentation.
5. How to start a social media marketing agency with no experience?
It's no secret that social media marketing services are in high demand. Any company/ social media agency that currently operates will have a social media presence. However, creating content, managing social accounts, and creating captions for multiple channels a number of times a day is a lot of work. Therefore, many companies will outsource their social media content generation to an outside service like a marketing agency. But what do you do if you want to get in on the action but don't have any marketing experience? The good news is that there is a way to provide these services without knowing all the ins and outs of social media management. Many savvy business owners have built successful companies with only limited knowledge.
Know your customer
This can go hand-in-hand with determining your niche, but once you know where you will be selling to, you will need to know who you will be selling to. Again, buyer personas can help you identify and recognize your ideal client.
Who are they?
What are their challenges?
How can you help them overcome their problems?
Identifying your buyer can help you pitch services to the most likely to use them.
Decide on your product offerings.
Pick out 2 or 3 areas of focus and stick to them initially. When starting, the temptation can be to do everything for everybody, but this is seldom sustainable or successful. Putting your efforts into just a few product offerings can be more lucrative and far easier to manage. Once established, you can always add more products or offer add-ons or bolt-on services to increase your profits.
Set your prices
Determining what you want to charge is essential as you will need to pay out all expenses like premises or staff and leave enough left over for profit. It can be worth researching to see what other agencies are charging on the low and high end. This will give you an idea of how to price your own services and what the market will bear. Too high and you may not generate business; too low and you will be without profit, so you need to find the pricing' sweet spot.'
Get a great website with landing pages.
As you are selling online services, most people will look for you – yep, you guessed it – online. Therefore you will need to invest in a professional website that advertises your products, services, skills, specialties, and experience. Landing pages help target geographic areas or people with specific needs. Pages that say 'Social marketing for business users' will convert fewer visitors than 'Social marketing for vegan restaurants in New York.' Landing pages can be used to rank organically or to pair with paid ads.
5.1) What are the best social media promotion strategies for your agency?
1) Choose the proper social media channels.
Before we begin developing ideas on how to promote your marketing agency, you need to consider the best social media channels for promoting it. You probably already know you don't need to maintain a presence on every platform. However, it does help to consider which platforms are the most suitable for the content you create.
That's why narrowing down your choices to any of the following high-traffic channels could prove helpful:
LinkedIn
LinkedIn is a unique, specialized platform primarily utilized by audiences between the ages of 25-34. Many professionals are searching for jobs, recruiting employees, networking, and building their brands.
This platform lends itself to showcasing agency-specific content, building credibility in the digital marketing landscape, and sharing your client success stories. But, more importantly, a well-thought-out LinkedIn marketing strategy can be pretty valuable for B2B lead generation.
Instagram
Instagram keeps innovating in the space, and it has come a long way since being acquired by Facebook back in 2012. The recent addition of Reels and the increasing popularity of Instagram Carousel is leading the way in how audiences can interact with content on social media platforms, making it a great place to stretch your content creation muscles as an agency.
Twitter
Twitter is well-known for its short text content. Mentioning links here can help share the content you've created. Moreover, regularly tweeting about marketing trends tells others that you're active and up-to-date with what's going on in the industry.
Facebook
Facebook is a versatile platform that allows agencies to post text and video content. With 2.60 billion monthly active users and 1.73 billion daily visitors, there's a lot of traffic here. But with everything happening on other networks, many wonder if it's losing its relevance.
However, it's all about positioning yourself, so you show up on potential clients' radars and build awareness with attention-grabbing photos and videos. In addition, creating and connecting a group to your Facebook page can build awareness and grow a community of fans and supporters.
YouTube
YouTube is the de-facto platform for video content. It's ideal for longer videos, and if you have the skills and resources, you can create in-depth content showcasing your expertise in various segments of digital marketing. These videos, often educational, offer digital marketing insights, business growth strategies, tips to boost online presence, content creation guides, and more.
2) Marketing your marketing agency on social media.
Now that you have an idea of the best social media channels for your agency, we can dive into ideas on how you can promote yourselves on social media.
As you already know, digital marketing is an expansive arena that deals with a vast range of marketing channels and techniques, including but not limited to:
Pay-per-click advertising (PPC)
Search engine optimization (SEO)
Content marketing
Email marketing
Video marketing
Social media marketing
But it's worth remembering that an agency's social media strategy will vary depending on their ideal customers, industry, and services. Therefore, you must use the right tools to ensure your agency's marketing strategy stays on track. Some essential tools for agencies include:
Social Media Scheduling Tools – These tools, such as RecurPost, allow you to create and schedule your content to set a schedule you're happy with and focus on responding to incoming engagements and/or spending more time on client work.
Social Media Listening Tools – These tools show data about social media followers and those actively discussing your brand, and who your most engaged users are. You can also gather additional information such as impression volume, hashtags used around your brand, and general sentiment about your agency.
Social Media Analytics – These tools help measure the success of social media campaigns with data such as audience growth, message volume, response rates, etc.
Read More: 17 Advanced Social Media Promotion Ideas To Revamp Marketing
5.2) What additional promotion channels can you use for your agency?
There are several ways to promote your digital marketing agency besides social media. Here are a few ideas:
1) Enlist your agency in online directories.
As a digital agency, you need to attract clients to your business. Creating a listing in trustworthy directories can place you alongside some of the best digital agencies and help your agency get the attention it deserves. For example, Digital Agency Network is an all-in-one platform for discovering the best digital marketing agencies in the world.
If you're not 100% convinced, here are three good reasons to create an agency directory listing:
A boost in your online presence
Improvement in local visibility
Enhancing reputation
To make your agency more visible in search, use keywords relevant to your digital marketing services and add them to your listing. Some directories will also allow you to showcase your recent work – definitely do add something here as it would be a missed opportunity not to.
2) Take on an omnichannel marketing approach.
Use all kinds of techniques other than social media management to create brand awareness and attract customers. This includes emails, business cards, print ads, blogs, webinars, seminars, videos, and more. Try tools like sales pipeline management software to manage all the engagement with respective channels. You may also create a dynamic QR code to track, analyze, and retarget your consumers. A dynamic QR code generator is all you require.
As mentioned, it's about positioning your digital agency in front of potential clients; with time, you'll know which channels work better.
Make sure all the channels you choose to support one another in achieving the ultimate business goal – generating the best clients in the shortest amount of time.
6. What challenges do digital agencies face today?
The market for digital agencies is cutthroat and constantly changing. Although this continually evolving environment presents exciting new prospects, it also poses formidable obstacles that digital agencies must overcome to thrive and keep one step ahead of the competition. We won't be able to go into depth about every block, but we will go through some of the major issues that contemporary digital companies must deal with.
Increasing the clientele:
Getting additional clients is the first obstacle that many digital firms face. According to research, finding new clients was cited as the #1 pain factor by 60% of digital agencies.
Many important factors businesses seek when hiring a digital agency include extensive industry expertise, individualized service, effective communication, total transparency, robust new technology deployment, agency size, and transparent pricing.
Finding and retaining talented staff:
The battle for the top talent is severe due to the rising number of digital agencies. When their customers are handling marketing activities in-house, digital firms frequently find themselves in a competitive situation with the best talent on the market.
Regarding employee churn, research has found that only 50% of agencies have corporate structures that support career advancement. Other issues include cold working conditions, employee fatigue, lack of flexibility, and failure to provide staff with the tools necessary to increase productivity.
This list is by no means exhaustive. Maintaining cash flow, growing the firm, managing data and analytics, keeping current clients, letting go of clients who aren't a good fit, legal issues and contracts, more regulation, and stricter privacy requirements are among the other problems.
Read More: Social Media Optimization: 21 Ways to Convert Branding into Sales
7. Digital marketing agencies acing social media!
Inspire yourself on social media, would you? Here are some excellent organizations to follow; however, this list is not comprehensive.
Check out a few of the examples we've mentioned below and what some of their accomplishments have been, whether you want to employ an agency or need some inspiration for doing a fantastic job on social media.
Deloitte Digital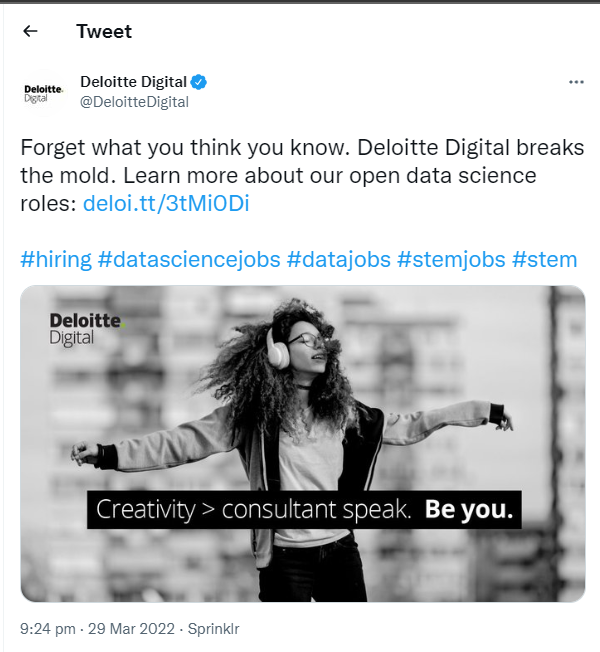 Yes, you read right! Deloitte Digital is a full-service digital consultancy and is part of Deloitte. The agency's most recent work is heavily connected to e-commerce sites and apps for big clients like John Lewis, TFL (Transport for London), and Adobe.
It comes as no surprise that thought leadership and content curation are the primary focus of its social media channels. Note that a coherent brand image and voice are crucial for brand building on social media, and Deloitte Digital does it well on all accounts.
360i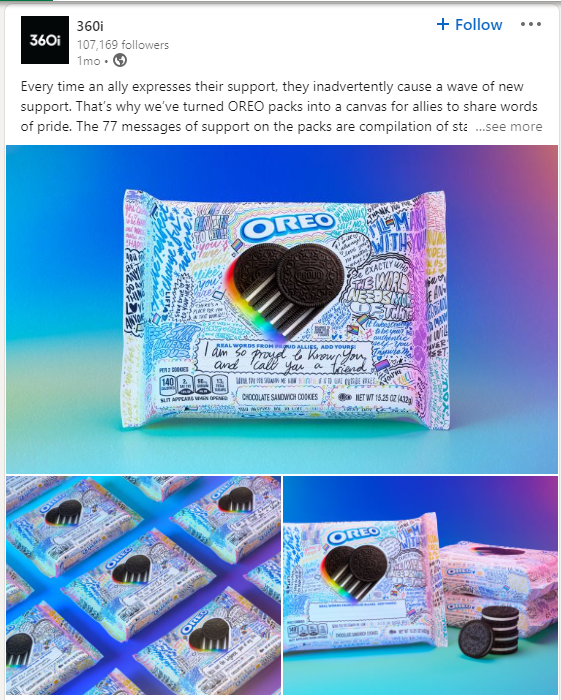 Awarded marketing company 360i produces work that disrupts several industries. They deal with Insights & Planning, Search, Social Media, E-Commerce, PR, technology, and much more in their business. Recently, 360i has received accolades for the voice search work they are undertaking.
For one such campaign, 360i partnered with Amazon Alexa and the hit television program Westworld to provide an immersive voice experience that lets fans play a game with more than two hours of original gameplay.
Blue Fountain Media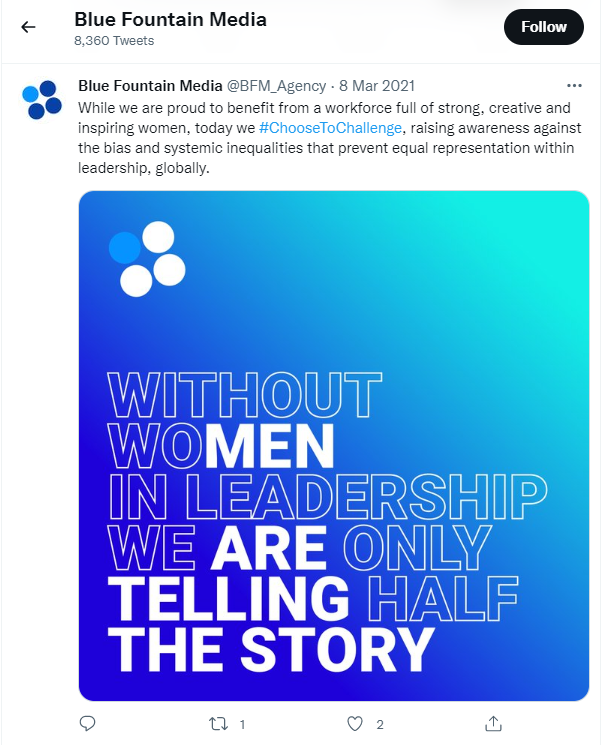 Blue Fountain Media loves data and shows it throughout its work and social media channels. In addition, this agency makes an effort to teach about their craft, from helpful blog posts about web conversion rates to articles on content mastery.
Creating unique images and videos for social media posts is a good habit, especially if you have data to visualize. However, stock images can get a bit boring, and if you plan to create a lot of content, it's well worth the investment. If resources are low and you can't afford to create unique graphics, ensure all social media images are optimized for each channel.
How RecurPost is helping social media marketing agencies?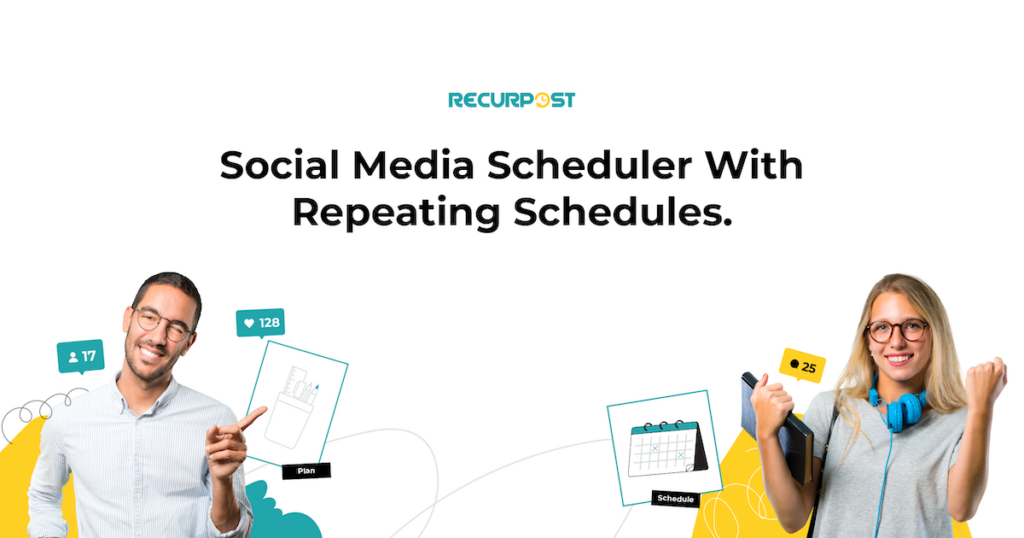 RecurPost helps you create content and schedule posts in advance on multiple platforms. RecurPost allows you to schedule Facebook posts on your profiles, groups, and pages.
To share your business success stories through reels and short stories, you can schedule Instagram posts on personal and business profiles. You can schedule tweets on your Twitter account with a set of variations for repurposing the same content multiple times.
RecurPost allows you to schedule LinkedIn posts on your personal and business pages to connect with business professionals in your industry.
To brand your products and services, you can schedule pins using RecurPost as a Pinterest scheduler. To target your local audience, you can schedule Google Business Profile posts with a call to action using RecurPost.
Conclusion
You must have more faith in your company than your rivals do if you want to shine and stand out in a competitive market. This is because anybody can now learn how to establish a website, launch a business, source items, erect a rapid e-commerce site, set up several social media profiles for a business, and employ the techniques you've read about in this article. Anybody can, but the majority fail.
The social media marketing agency methods discussed in this article must be useful for you. You must ensure that your brand's essence is visible on every marketing channel you employ. You may be proud of it and need to live it if you're serious about developing a brand.
Additionally, you can use RecurPost's feature for social media bulk scheduling for automation, as it provides all the features you might need at a low cost. Sign up for a 14-day free trial to learn more about the company's services and the RecurPost pricing so you can make an informed decision.
Are you still examining the blog? Wonderful. Do you have any ideas that we didn't consider that we should consider? What do you think about social media marketing agency? Please share with us in the comments.
Frequently Asked Question
1) What is the #1 way a company can succeed with social media marketing?
Social media marketing is the #1 way for companies to succeed. Content that engages readers draws more attention and earns more clicks. Connecting with the intended audience by creating engaging and enjoyable content will make faithful followers and grow the company's online presence.

2) What do clients want from marketing agencies?
Clients want to know how your social media marketing agency is helping in to grow their business, and increased leads and traffic don't highlight the impact of marketing on the business's bottom line. So successful agencies use tools that enable marketing attribution, giving their clients access to those tools for transparency.

3) What makes a great media agency?
An excellent social media marketing agency is always driven! They are encouraged to go above and beyond their usual scope of work to ensure this occurs because they are forced to satisfy you, the client, and they are motivated to please you by giving you the most significant outcomes possible.

4) Why should I hire a social media marketing agency?
Hiring a social media marketing agency helps you gain a full access suite of paid tools that can benefit businesses with scheduling posts, reporting, analytics, and more. Agencies will also study your previous social media campaigns, perform audits and look for ways to optimize.
5) Are social media marketing agencies worth it?
A marketing firm will update your approach. Thus business owners should think about employing one. Hiring a marketing firm will give you more time to manage your company. A marketing firm will also aid in reducing your payroll expenses.
6) Is Social Media Marketing Agency profitable?
When you combine best practices with your marketing plan, social media marketing may benefit your company. This entails precise audience targeting, consistent messages tailored to the social media platform, and precision targeting. Must become profitable. Nevertheless, there are several "ifs" to be satisfied.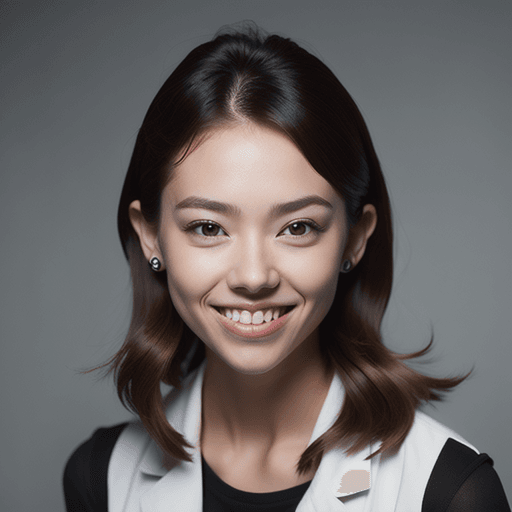 Debbie Moran is a Digital marketing strategist with 5+ years of experience producing advertising for brands and helping leaders showcase their brand to the correct audience. She has been a part of RecurPost since 2019 and handles all the activities required to grow our brand's online presence.