Pinterest marketing is taking the domain of social media promotions by storm, and how! Remember, you read it here first!
The year 2020 brought many people's lives to a standstill but it didn't quite manage to pace the world of business. The trends have constantly evolved throughout the pandemic timeline, mostly calling for all businesses to adapt to the internet way of conducting trade. We have seen how firms ranging from small to large scale have increasingly invested in their digital marketing strategy and if you are looking to do the same, we have got some insightful tricks, tips, and suggestions on how you can structure your digital marketing strategy for the post-Covid era. In this ongoing trend, Pinterest social media marketing has become the quintessential promotional tactic for businesses. Know more about preparing your digital marketing strategy for the post-covid era to stay put in the market.
Even today, when one thinks of social media promotions, platforms like Facebook, Instagram, and Twitter come first to the mind. However, it's high time we expand our purview and give highly lucrative platforms like Pinterest a line of thought. It is no joke that Pinterest for business can be very rewarding because it will create the most engaging and shareable content to solidify your market presence. Pinterest marketing is a religiously evolving phenomenon and the businesses that have an eye for the future should already be looking at trends that will dominate the year 2023.
But before that, If you are a brand looking for a Pinterest scheduler to replace a truckload of people to help you in posting, then you can opt for a social media scheduler.
As per the latest reports by Pinterest Inc.,
A whopping 400 million people browse through content on the application to look for ideas that are avant-garde. Now that's a huge audience base that can be attractive to someone who wants to create some traction out there. Many Fortune 500 companies have been using Pinterest for marketing for the past couple of years but now that 2020 has happened, the market has grown wider and people want more, they expect more from social media content. If your firm fails to keep up with content development, it might as well fail to perform in 2023.
Here's a comprehensive guide to using Pinterest for business in the fresh year along with some Pinterest marketing tips to help you gain some insights:
Pinterest per se
The portal of Pinterest is essentially a social media platform used for creating, exploring, sharing, and storing visual content. When a user enters the application, he/she would be looking for themes and ideas related to his/her interests. Users can also add or pin the content they desire to idea boards with an umbrella theme so that the ideas remain organized.
Looking for décor ideas for your 20th birthday or maybe, how to style that piece of clothing you just bought? You just have to sign yourself up for a Pinterest account and Voila! You will have everything you need at the click of a button.
The fact to note here is that Pinterest is not just limited to individuals, its scope extends to businesses too in the form of Pinterest marketing. When you choose to promote your business via Pinterest digital marketing, you can gain access to the business account variant which has highly convenient features like:
Analytics

Visual search tool

Native video player

Pinterest ads feature
Owing to these features, it is apparent that Pinterest can be of great help for marketers. You can learn how to post on Pinterest for the benefit of your business. Let us now see how one can optimize Pinterest marketing.
How can Pinterest Marketing be used for your Business?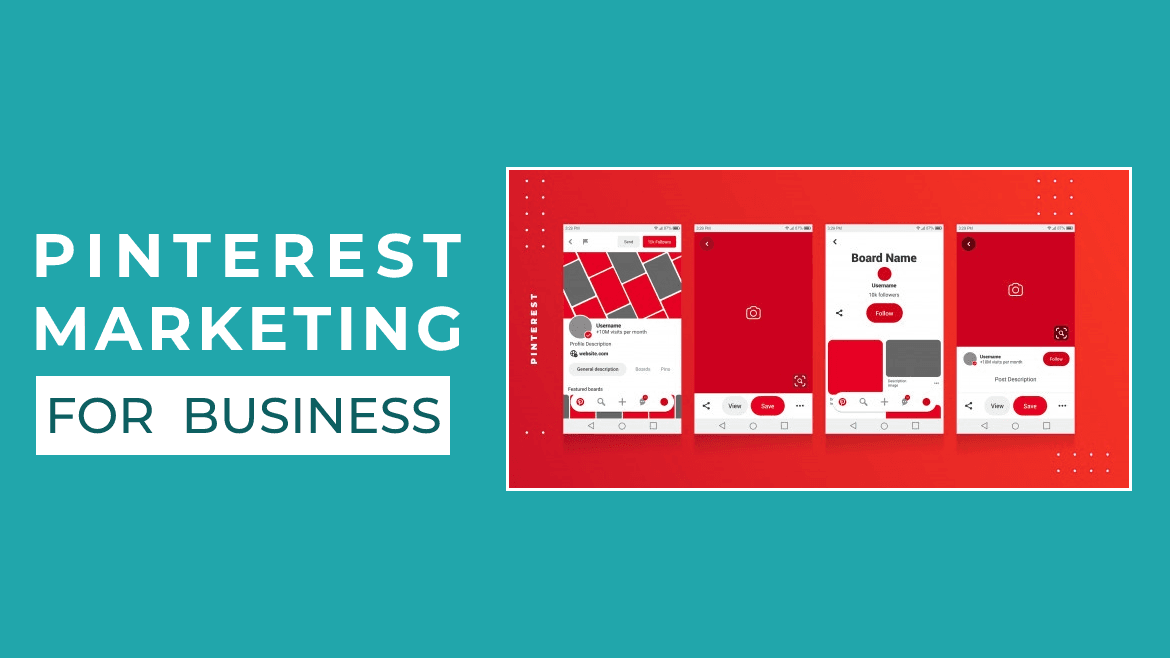 Developing an ace Pinterest marketing strategy is not rocket science. But, there is no denying the fact that some insight and technique are required in order for it to be done right. Pinterest digital marketing can be a very competitive platform and so, these are a few Pinterest marketing tips and techniques that you can deploy to make your content marketing strategy more effective on this platform:
1. Work on driving traffic to your website to boost sales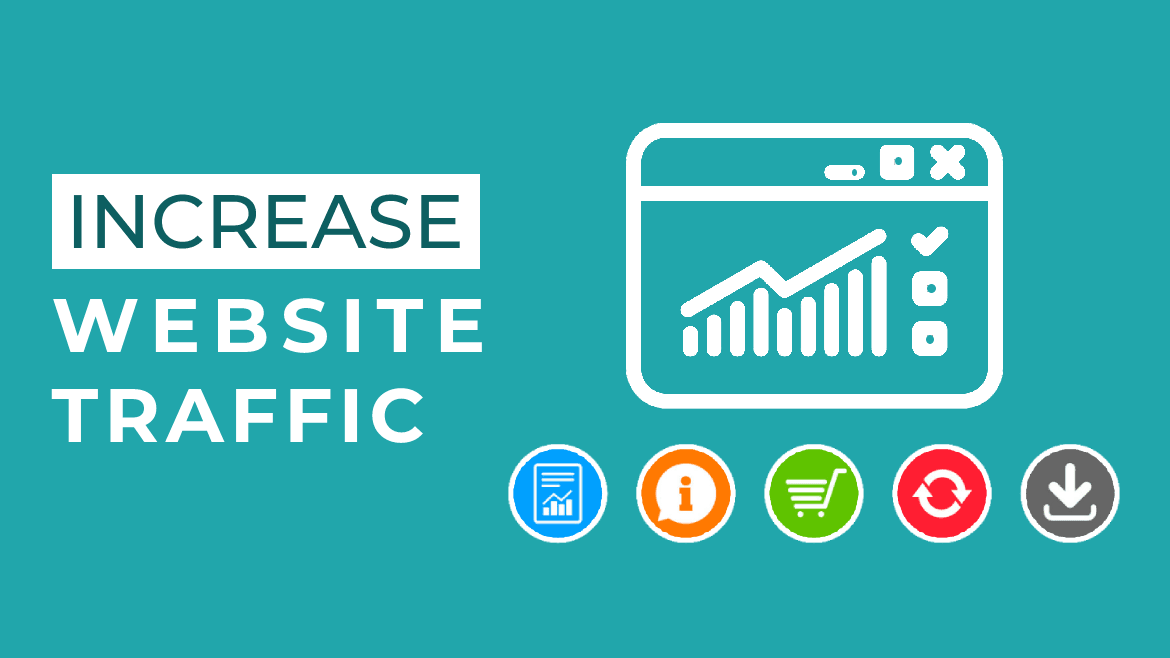 Your ultimate goal with Pinterest marketing should be to bring people to your website instead of giving them a sea of content that they will follow redundantly. A well-constructed Pinterest traffic strategy should be in place to be able to achieve that. Pinterest has this lovely feature through which you can link your website address with the content that you publish via your account. You can share written as well as visual content to get people excited and driven toward your website. This feature can be highly instrumental in boosting your online sales and implementing your Pinterest traffic strategy.
2. Foster a close-knit community
Virtual communities are a great way to unite people with a common vision. These communities are tapped by multiple businesses to promote their product or their image. If you manage to make your own loyal community on Pinterest, you can end up having all those members as your customers in the future. The members of your brand community will be the ones to interact with the content you post using a feature of social media bulk scheduling, share it, and ultimately drive traffic to your website.
3. Thoughtful distribution of content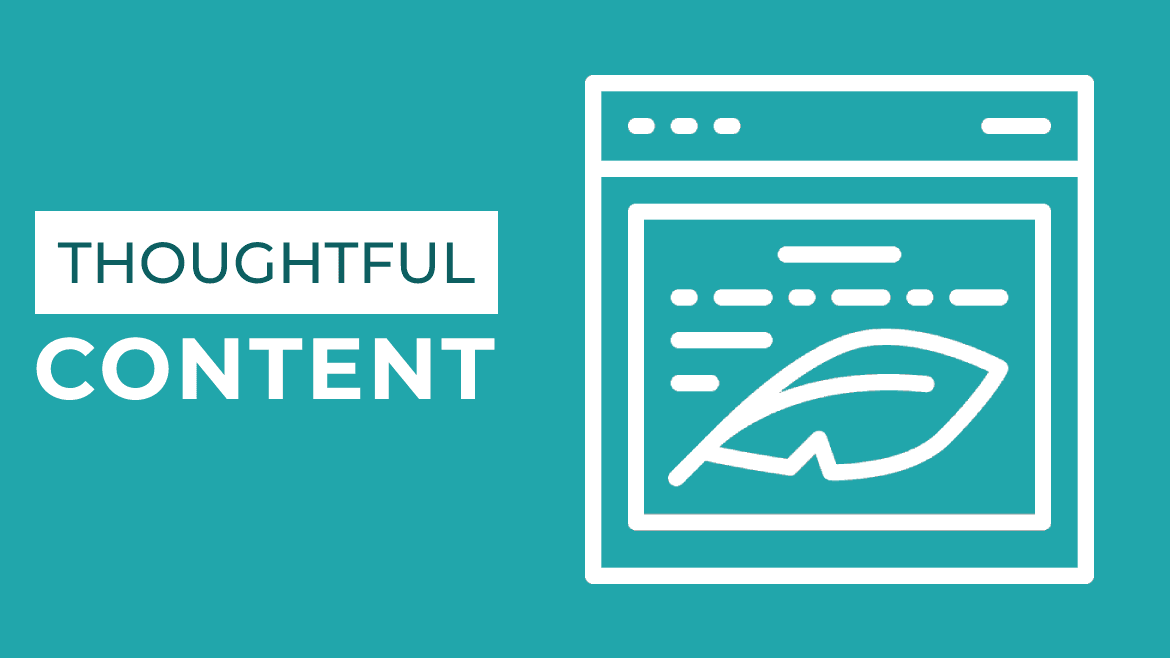 An effective Pinterest content strategy requires careful planning of the type of content to be distributed and the form in which it gets distributed. Pinterest allows you to store all your content on boards as pins which can be accessed by your followers whenever they want to explore an idea. Most users prefer visual content and that is what makes Pinterest an ideal platform for marketing different types of content. You can learn how to create Pinterest images for driving more traffic to your pages. The users can have direct access to the content because of the click-through links. There is also the option of inviting people to collaborate on your boards and making them group boards. User engagement and content interaction can increase significantly by doing this.
Pro Tip: To ace the social media marketing game, one can use one of the top smarterqueue alternatives and improve the social media presence.
An example of how a good Pinterest board looks like: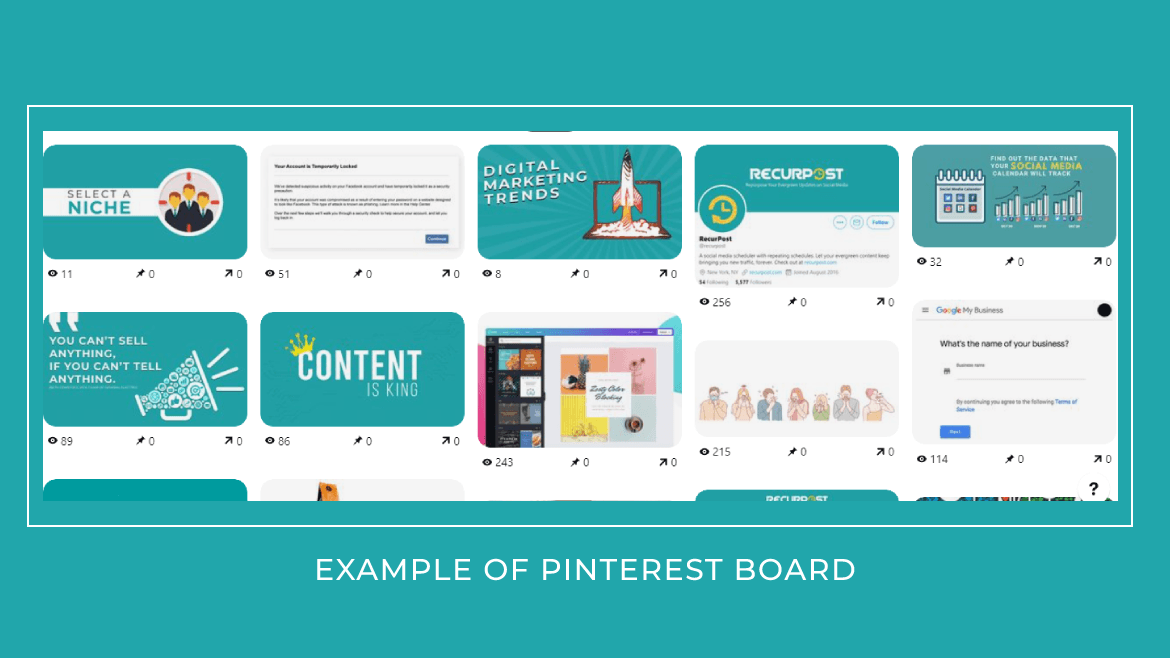 4. Promoting customer education
Pinterest has a profuse amount of educational content in the form of tutorials, how-to guides, infographics, etc. Since it is heavy on visual content, educating and drawing users becomes somewhat convenient. It is imperative that you curate content that speaks directly to the target market. For this, you must construct a buyer persona for your brand before you craft your Pinterest content strategy. All your Pinterest social media marketing efforts will reap their fruit if you manage to educate your customer well about your brand.
How to Increase your Market Reach?
It is a very straight fact that a wider reach will render your business successful. Now that you have read about the way you can conduct Pinterest marketing, let's talk about how you can use pins to foster your business relationship with your followers and other influencers on the platform. Following are the key activities you will have to partake in, to grow your reach: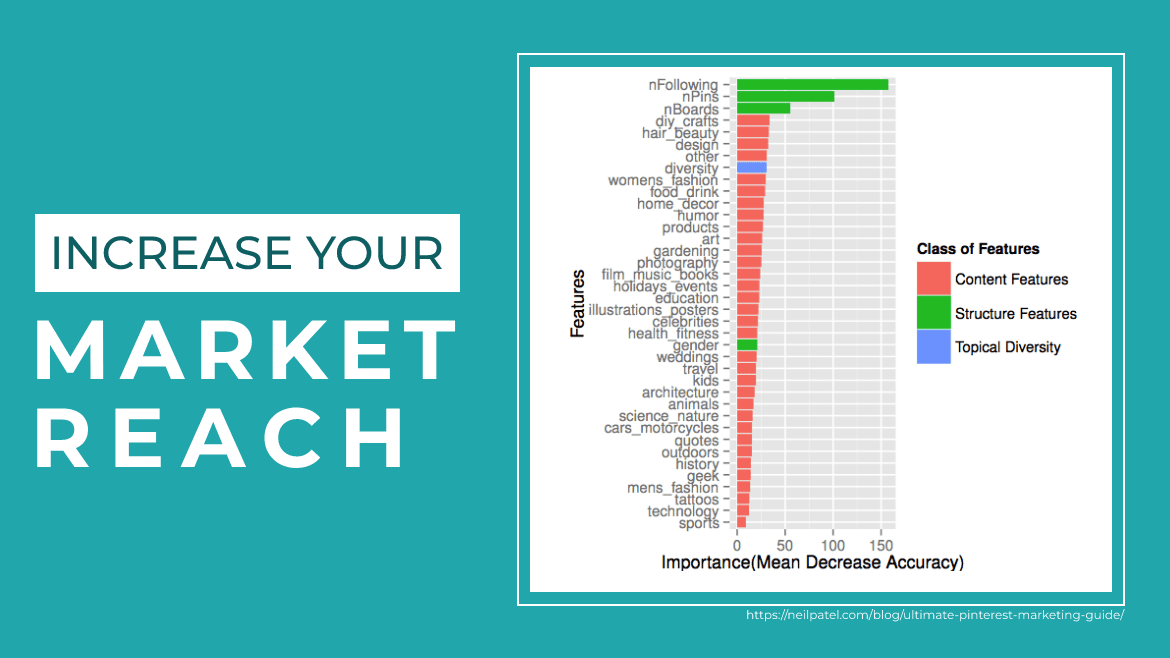 1. Making sure that you post at regular intervals
You need to have a smart plan in order to keep the conversation going on your channel. For this, you should ideally post around 5 to 30 pins every single day. This will increase your chances of gaining more followers because you will have something new to offer every time they visit your page. Plan well so that you have a good mix of repined and original content. Pinterest marketing is mainly concerned with the volume of clicks. So, the more you post, the more your chances at getting clicks will be. This process can be a little cumbersome but don't you worry because all you need is a social media scheduling tool to be on top of your game. or you give a through try to RecurPost which is amongst the top free hootsuite alternatives in the market. If you want to know more about how these tools work, "click here".
2. Working on your brand's influencer relationships
Pinterest Influencer marketing is a significant aspect falling under the umbrella of Pinterest marketing. Influencers rule the social media market today and if you fail to tap this resource, you could face some serious slack in your performance graph. A business can increase its reach effectively via this medium because once it gets access to an influencer, it gets access to the influencer's market. You can initiate your Pinterest influencer marketing by following impactful influencers and trying to connect with them. Once they start responding to your matter, you can drop in requests for bigger collaborations.
3. Make your followers a part of the conversation
It is always a good idea to make communication and engagement a two-way street. You can make your followers feel valued and let them know that you care about what they think by replying to their comments or answering their questions every once in a while.
4. Pay attention to your followers' content
Remember to pay a visit to your followers' pages regularly and be thoughtful about commenting or reacting to the content posted by them. It is a great way to make them feel like their content is gaining attention too.
Read More: How to Delete Pins on Pinterest?
Pinterest Marketing Trends in the Year 2023
Pinterest Inc. releases an annual trends report called the "Pinterest Predictions" that gives insights into some of the biggest content trends for Pinterest marketing that will dominate the year to come. Now, if you really want to be smart about promoting your business and if you believe in viral content marketing or personal blog marketing, you should definitely study these and structure your content around it. Here are some of the trends mentioned in the full report:
Travel
Getaway car –

In the year 2023, cars will become the go-to for many activities so the parking lot will become a hot station for getting some personal space.

Nomad normal –

More people are going to plan nature club trips, park recreations and basically anything out in the open in 202

3.
Wellbeing
Modern mystic –

More and more people are turning to manifestation and they will be unleashing their spirits to experience the realms of the universe.

Ritual baths –

The new spa days will be full of ancient bathing rituals. People will spend hours relaxing in their tub.
Food and beverage
Bland is banned –

In 2021, pinners will look for super spicy recipes to get things hotter in the kitchen.

You're the top chef – Since self-cooking has been promoted religiously throughout 2020, pinners will look for fancy kitchen ideas and cooking improvisations.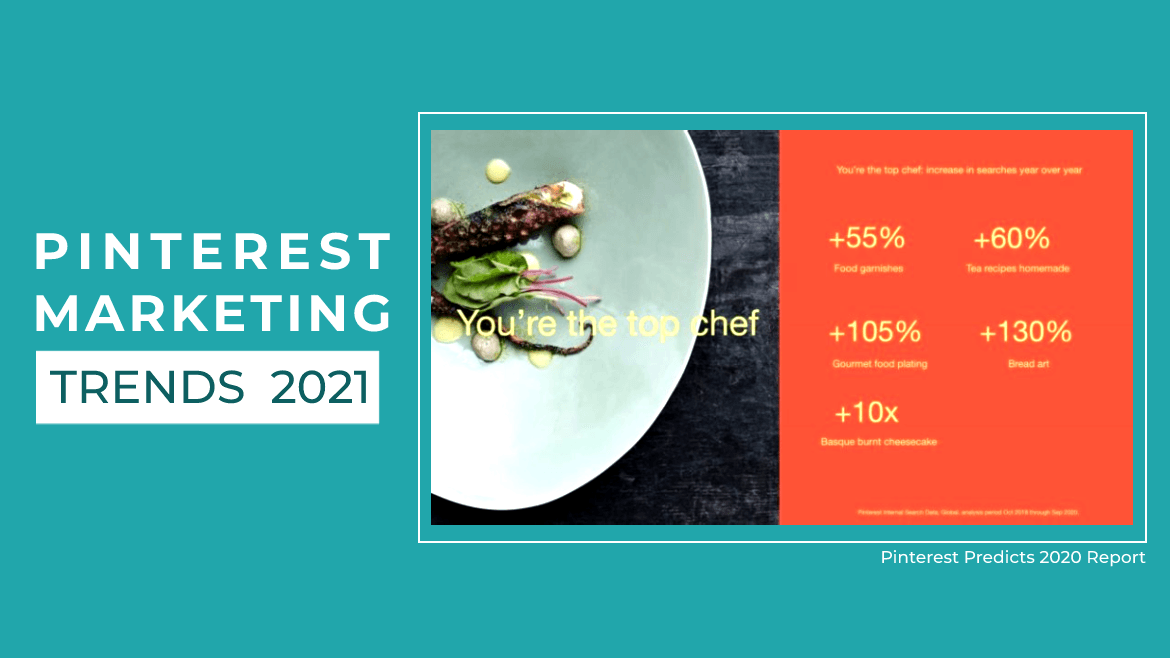 Home
Vibey lights –

Gen Z is about to go crazy after neon-lit rooms. Most pinners will look for ideas to revamp their rooms with bright LEDs, neon signs, or fluorescent lights.

Japandi aesthetic –

The upcoming décor trend calls for an amalgamation of Japanese design and Scandinavian minimalism. Pinners are going to look for sleek finishes, neutral color scores, and soothing setups for their home décor.
Beauty
Skinimalism –

Pinners will be all about being comfortable in your own skin and therefore promoting natural beauty. They will look for minimalistic skincare routines.

Rainbrows –

In 2023, people will dare to brow it out. They will choose statement-making styles and go bold with their brows. The conventional eyebrow defined will see the exit this year.
To sum up,
Your action plan for successful Pinterest marketing is pretty much sorted now. The fact that a growing number of people are resorting to this platform for sharing and creating ideas for a better lifestyle makes it clear just how influential and resourceful it is. A killer Pinterest marketing or Automotive Marketing strategy is important for this very reason. After reading through this guide, you might have gotten the idea of using Pinterest for marketing your Gym business or any kind of business via Pinterest. Still, the process need not be complex or tiresome.
You can always resort to applications or software that will make your work easier. Social media scheduling tools greatly help manage your content on such platforms. RecurPost is one of such tools that offers smart automation of social media updates with optimal time frames.
With RecurPost, you can build a community on various networks by posting regularly and repeatedly. You can schedule Facebook posts on your profiles, pages, and groups. It enables you to schedule Instagram posts on your personal and business profiles.
RecurPost lets you schedule tweets and build a Twitter community of your business-specific people. It allows you to schedule LinkedIn posts on your personal and business pages and start conversations with professionals anywhere in the world.
RecurPost is a great Pinterest scheduler for enjoying the benefits of the visual platform. The tool enables you to schedule Google My Business posts with your choice of call to action button.
If you choose to purchase a plan, the first two months will be free of cost. Attractive isn't it? Click here to know more about their offerings.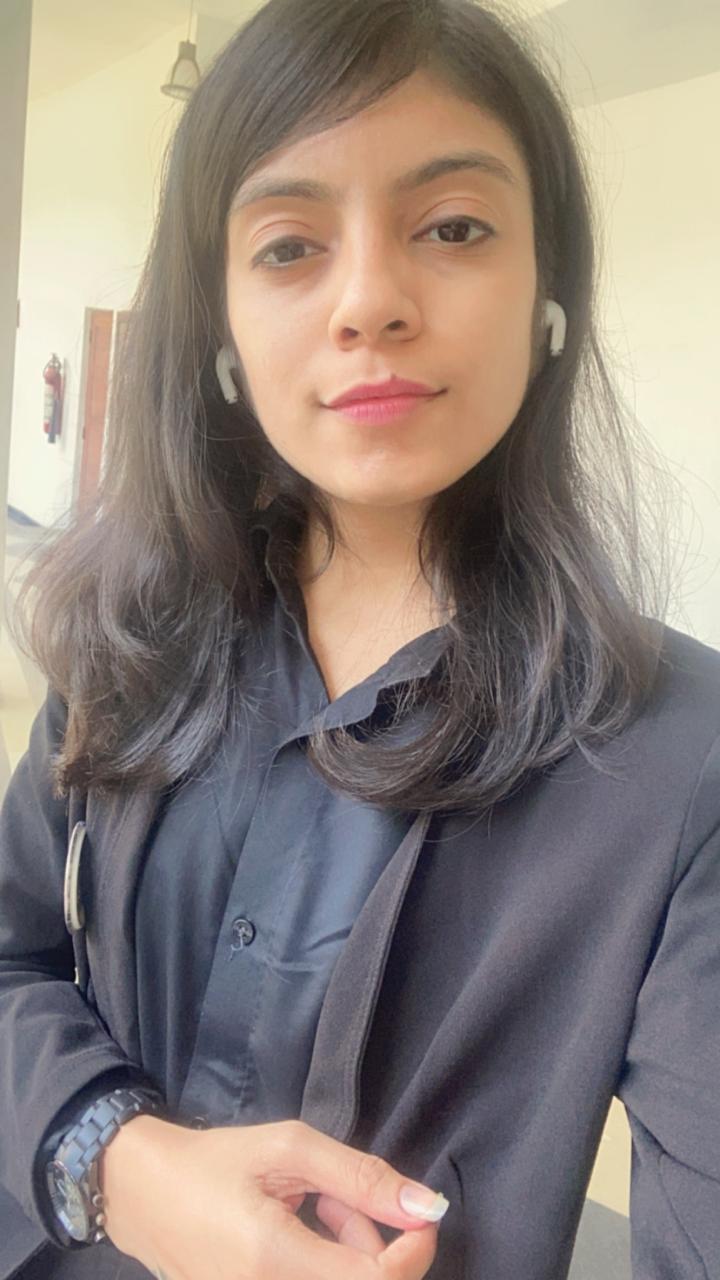 Amaiya Rathi is a Senior Content Writer at RecurPost. She helps RecurPost communicate with their readers in their own language. Whether it is the web copy, social media posts or blogs, Amaiya has worked on all aspects of copywriting. You can reach out to her at [email protected].