In this digitalized world, you may have questioned yourself- how do use hashtags on social media? Where to find trending business hashtags? And more. We are here to answer all these questions for you!
Undeniably, every budding business owner is searching for ways to grow their social media reach by utilizing business hashtags. But handling all of it while you already have an on-ground duty of managing your business can get exceptionally complicated. Hence, today, we at RecurPost, a social media scheduler, are here to help you understand the process of finding, collecting, and analyzing business hashtags for your social media.
"Business hashtags the new Yellow Pages!"
We said what we said.
Before you dive into understanding everything about business hashtags, we would like to let you know that it's one of the easiest and quickest ways to enhance your influence on people beyond your current reach. That's why we just named it the new yellow pages. Do you remember how convenient it was for people to search numbers, addresses, and alternatives of anything worldwide? So we see business hashtags are nothing less than it.
You have to open social media platform and look for a hashtag- within a minute, you will find and everything related or similar to it. But, like any other thing in this world, this new marketing technique also has two sides. The moment you utilize a wrong or inappropriate business hashtag, your marketing won't get even nearly effective.
Social media marketing requires both preparation and imagination. It could seem difficult, but its importance cannot be overstated. Social media must be a part of marketers' marketing plans. Unfortunately, not many businesses are aware of why social media is important for business or the advantages of social media marketing.
RecurPost is here to brief its audience on ways to effortlessly research, discover and apply relevant hashtags that people in your niche are abruptly searching. If you wish to unearth the same, continue reading.
What All You Will Get To Unearth?
What is a hashtag?
It is nothing but a word, yes, that's right. A hashtag is solely a word or a phrase that gets prefixed by this symbol #
Basically, on social media platforms, these hashtags work as an indication for internet users and algorithms that the word or phrase relates to a specific topic or content category.
To be precise, hashtags can effortlessly help make content discoverable.
When did hashtags become such a trend?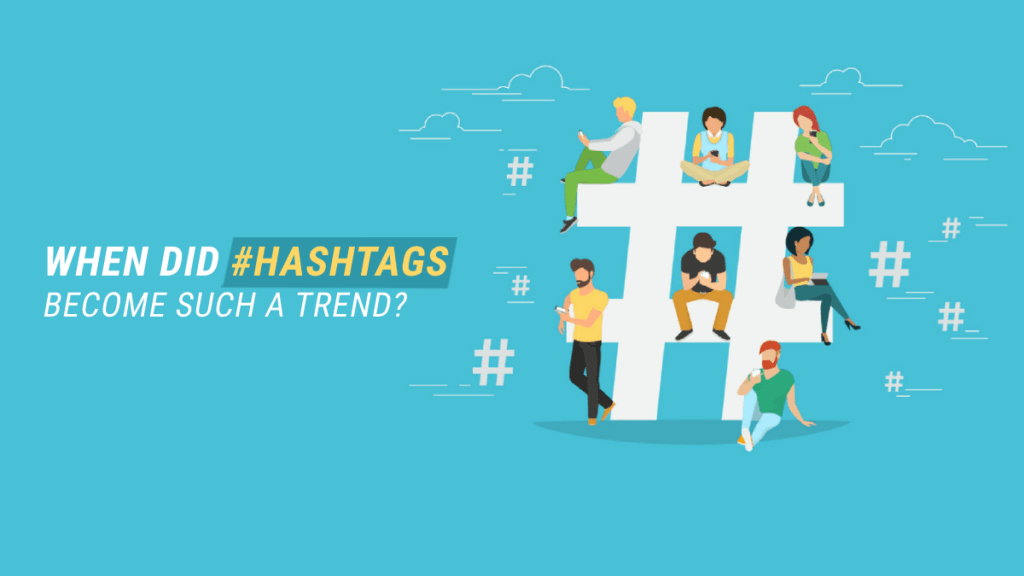 There is no denying that until the late 1990s, there was no sign of hashtags. It was then that hashtags got utilized to create and categorize groups. Mainly after 2007, the hashtag craze went viral. It all started with Twitter, but within no time witnessed on almost all social media platforms.
Yes, the moment hashtags went viral and effective, other social media platforms adapted the application of hashtags. After all, the simplicity and effectiveness of hashtags make it stand out from the crowd. As a result, over the years, this most accessible form of online marketing has become an exceptional marketing tool for businesses, organizations, celebrities, and even the average individual.
Let us break some interesting historical facts with you- the hashtag culture started mainly on Twitter with the originality to choose to follow a specific hashtag to view all the tweets it included. Later on, Twitter offered to search for hashtags in the search bar. Watching how successful the idea of hashtags was- other social media platforms soon offered the same!
The hashtag crazy went so viral that Instagram gave people a choice to follow hashtags. Yes, that's massive but so true!
Instagram gave the world a feature where you could click on a hashtag in the explore section of Instagram. As soon as you follow that hashtag, you'll start getting the highlights of the same hashtag in your feed. Now that you know how hashtags perpetually grew to become a trend for the long run let's move forward to understand how these hashtags work.
Read More on Impact of Social Media on Small Businesses in 2023
How do hashtags work?
So, to start with hashtags, organize and manage content by topic and help the respective social media platform recognize what your post is regarding or what you are searching for. Hashtags started when Chris Messina tweeted how the Twitter audience would feel if they decluttered the content they saw using these.
When it comes to the working procedure of hashtags, they effectively serve as a filter for the abundance of content posted on social media daily. Let's not look into why you need to keep your hashtags relevant.
Why is it vital to keep your hashtags relevant?
There is no denying that it is essential for brands to keep their hashtags relevant. Yes, that's true. However, it is mainly because recently, one of the most popular social media platforms- Instagram, rolled out a new feature. The social media platform has offered its audience the opportunity to follow hashtags.
Numerous of you must wonder how this new feature makes it vital to research and only input relevant hashtags. So, the follow hashtags feature has made it way more convenient for people to look for your content. Furthermore, if you input the wrong keywords, your content could now show up automatically in the feeds of potential followers.
Now you know why this feature made utilizing relevant hashtags even bigger.
How do hashtags play an essential role in business growth?
There are many reasons you must use business hashtags on your social media. Business hashtags are currently the most viral content marketing strategy. Hence, we are here with some of the reasons these business hashtags, including small business hashtags, play a vital role in the organization's growth.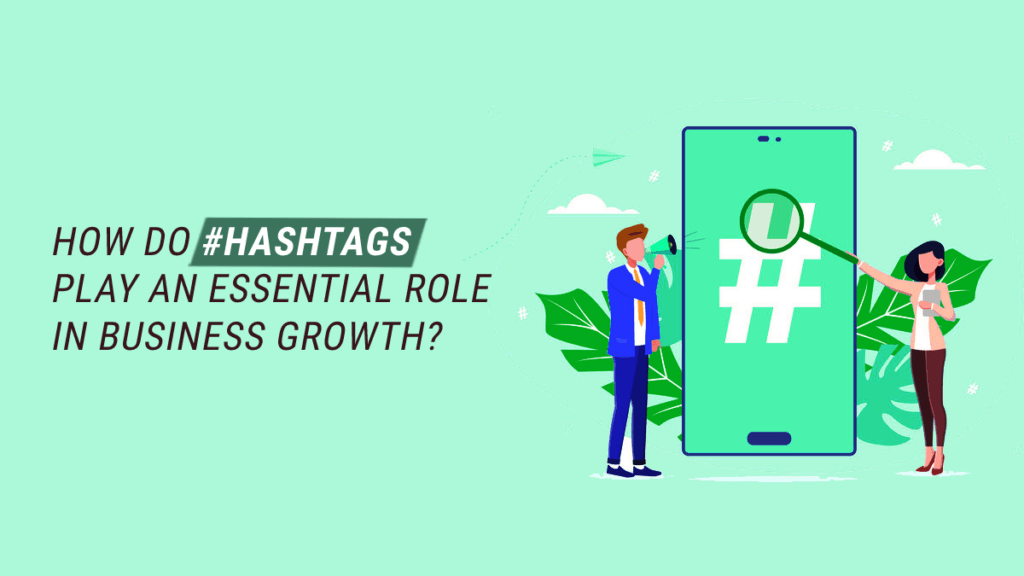 1. Business Hashtags Enhances Engagement With The Audience
As we stated before, including hashtags means participating in a conversation on that social media platform. All you got to do is incorporate the appropriate hashtag, and you get to be a part of that conversation.
You may feel hashtags for business growth as an exceptionally naive part, but to be precise, it leads to greater engagement. Greater engagement will further lead to more followers!
2. Business Hashtags To Build Brand Awareness
You must use already running hashtags, but create a hashtag for your organization at the end of the day. You may not realize it. But customizing a branded hashtag can be incredibly practical to promote your business and drive conversations.
3. Business Hashtags To Amplify Your Content
You can quickly launch a campaign idea or new product using your business hashtags. It will give people a quick and easy way to share your campaign or product and spread the word.
4. Show Support Via Hashtags For Social Issues
Utilizing the business hashtags is nothing but a way to connect an issue beyond your organization and brand. For example, numerous people face work culture problems or other office struggles; you can spread the same via social issues hashtags. Furthermore, you can create a branded hashtag if you witness a particular social case rising globally. This small act will show your organization's connection and support for a social issue. People across the internet will follow you because of your kindness and awareness regarding global issues.
5. Hashtags Will Help You Achieve Less Is More
By now, all of you must have seen that different social media platforms allow you an additional capacity to write captions. However, you must understand that other social media platforms work differently. For example, on Instagram, more extended captions aren't the most effective. The same goes for Pinterest and Facebook. If we say it precisely, utilizing business hashtags can be a simple way to contextualize what you're talking about without using valuable characters or writing repetitive captions.
How to find trending hashtags in your business niche?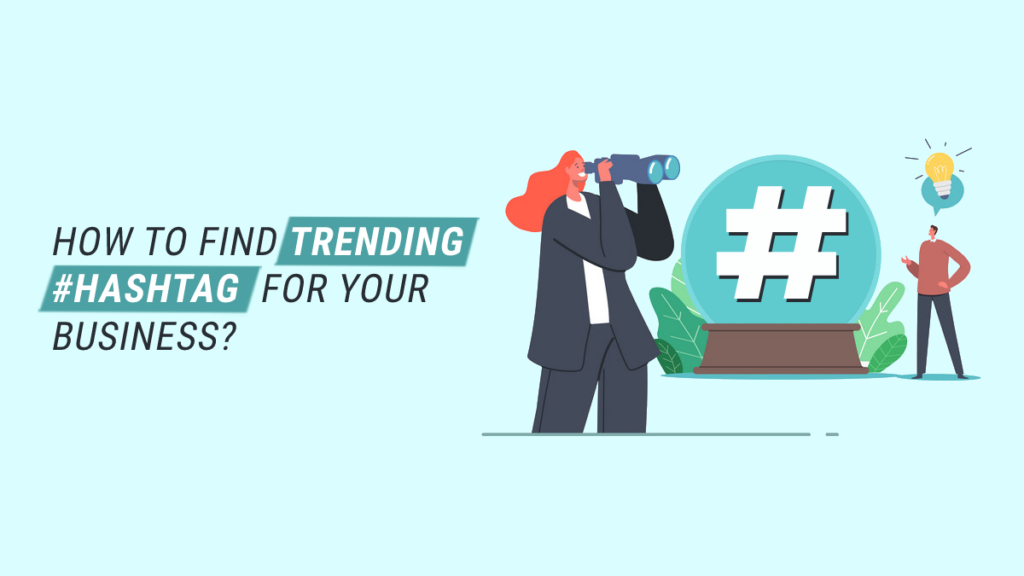 You must understand that how to use hashtags in your business niche is vital. It must be your social media strategy; ask your teammates to identify trends in general and especially in your industry. Numerous tools available in the market today will help you acquire online business hashtags.
Of course, you can always look for Hashtagify; this will help you look for the best hashtags you can use on Twitter. However, what makes it even more beautiful is that you can effectively look for trending hashtags in your niche. All you have to do is type one hashtag, and you will see how popular it is and how popular it was months back.
There are various options, to name one- Ritetag. Ritetag will help you look for general trending hashtags.
After that, you have Trendsmap. Trendsmap will help you acquire popular hashtags based on specific locations. This way- you will get to target your choice of audience and the ones close by you and good for your business.
Once you get done searching for the best startup hashtags or business hashtags in general, you can come to RecurPost. RecurPost is not blatantly a social media scheduling tool; it also has an avant-garde feature of creating hashtags bag. The hashtag bag will allow you to say bye-bye to the hectic practice of entering keywords below your social media platforms every time you post. With the use of social media bulk scheduling & reposting features, you may increase traffic without constantly producing new material.
So, this advanced-level social media scheduler will help you schedule the posts a month in advance and create a hashtags bag with different names. Then, the next time you post, all you got to do is add the hashtag bag of your choice.
Hashtags Role on different social media platforms!
Before you start applying business hashtags blindly, you must understand the science of hashtags on different platforms. So, without any further ado, let's move towards understanding it.
Hashtags On Instagram
Recently, Instagram has become the most popular viral content marketing strategy. It has become an avant-garde visual channel for brands and numerous small businesses. According to speculated data, Instagram provides brands upto 24% enhanced engagement than other social platforms.
Instagram hashtags allow you to focus on specific topics of interest to your target audience. So, our research states that incorporating seven-eight hashtags on a post will generate more likes and reach. But, if you decide to post more than seven hashtags on one post, there will be possibly a drop in the likes. So, try utilizing between five to seven hashtags. But, never overdo it; spam is terrible- no one enjoys it, including you.
Hashtags On Twitter
Various observations state that tweets containing more than one hashtag are most likely to be ReTweeted than Tweets that do not.
It is best to apply just one or two hashtags on Twitter, as it will produce the best results for reaching people. However, less is more when it comes to incorporating hashtags on Twitter. Yes, that's right. When you utilize more than two hashtags, things may go miserably wrong for you. According to speculated data, more than two hashtags' engagement levels drop by 16-18 percent.
Hashtags On Pinterest
No denying Pinterest is the favorite for looking at aesthetic walls and images. But, for those unaware, let us break it- on Pinterest, hashtags aren't clickable in board titles and descriptions, account descriptions, or profile names. Instead, hashtags are solely clickable and searchable in Pin descriptions on this platform. Here hashtags work much differently than other social media platforms, such as Instagram, Facebook, and Twitter.
You can't abruptly put bland hashtags; you must stay creative, as here, the hashtags are most potent when they are unique. Hence, create a unique hashtag that, when clicked, will lead back to your content.
Hashtags On Facebook
The engagement via hashtags is relatively low on Facebook, though it launched the feature in 2013. But still, they are not that effective.
Today, Facebook seems to be experimenting with hashtags for business growth and online business hashtags.
How can you make the most out of small business hashtags?
RecurPost has been in the industry for some time now, and therefore we know how valuable it is for small businesses to utilize the hashtags most effectively. After all, small companies are in perpetual search of a viral content marketing strategy. Hence, we teach all the small business owners what they can do when marketing with hashtags.
#Tip1 Unearth The Hashtags Popular In Your Niche
It is a basic yet significant step for any small business. We don't disagree that it is beneficial to conceptualize your hashtags, but it is always wholesome to certain industry research. Now that hashtags have created their own space in the digitalized world, numerous websites, some as stated above, like AllHashtags, can help you. These can help you unveil the top hashtags utilized in your industry on any social media platform.
#Tip2 Make Hashtags A Consistent Part Of Your Posts
For this tip, consistency is the key, as you will have to stick to posting to add hashtags to it. Consider trusting RecurPost for the same. RecurPost is not blandly any other free hootsuite alternatives or later alternatives; it is the best when you want to distance yourself from the everyday stress of posting. You can put a week's worth of social media posts beforehand, utilizing industry-specific hashtags. We have already mentioned RecurPost's hashtag bags benefits, so you can always utilize that!
#Tip3 Customize Your Hashtags Keeping In Mind The Different Platforms
As stated earlier in our blog, each platform carries a different analogy regarding hashtags. However, one thing remains the constant- basics of hashtags. By that, we mean, pound sign, no spaces or punctuation. But some hashtags that stayed forever trending on one platform may not be known on the other. For example, #Throwbackthursday is one of the most popular hashtags on Instagram, while it has no significance on Pinterest. Hence, we suggest you conduct separate hashtag research for each platform!
A step-by-step guide to choosing the right hashtags
– Before Creating A New Hashtag, Check Twice
Before you start creating your hashtag, check twice if it's already available on the web or not. In case it is available, ensure to see the content it showcases. After all, it would help if you did not input a hashtag that showcases irrelevant content.
– Third-Party Tools
Start doing a little hashtag research to discover the appropriate hashtags. When you fail to find the right hashtags via a particular application, swiftly move towards third-party tools. You don't have to stress about the money here. We understand that you go through enormous financial crises anyway as a small business owner. Hence, feel free to check various free and low-cost options and pick what is best for your brand. Following are some of the tools you can check- Keyhole, Influencer Marketing Hub, Talkwalker, Hashtagify.
– Make It Convenient To Remember
Never forget that the simpler you keep it, the easier it is for people to understand. It becomes even easier for people to utilize it and remember it. Hence, it is advisable to make your hashtags short and straightforward. Our advice to you is to make your hashtags less than 10 characters. If you wish for your hashtag to pick up momentum quickly, utilize one hashtag for each campaign.
Social media platforms supported by RecurPost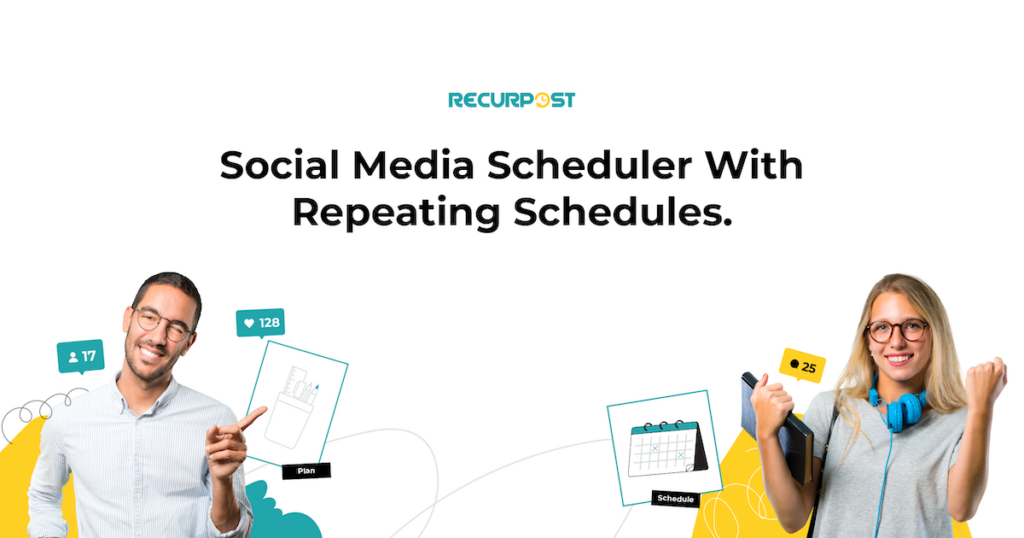 RecurPost helps you extend your post's reach by sharing it on multiple platforms in just a few clicks. You can schedule Facebook posts on personal profiles, pages, and groups.
You can schedule Instagram posts on personal and business profiles to share stories, images, and reels. RecurPost allows you to schedule tweets on your Twitter account to reach out to people connected to your business. It enables you to schedule LinkedIn posts on your personal and business pages to repurpose.
You can schedule pins with the help of a Pinterest scheduler to attract visual media lovers to visit your site. A great way to attract local buyers is to schedule Google Business profile posts with a call to action button. RecurPost is among a few social media tools that allow posting on Google Business profiles and personal profiles of various platforms.
Conclusion
So, what's keeping you distant? Ace up your marketing game with the apt hashtags via the right tools without further ado. The tools we suggested above will offer you the best hashtags, and you will get to maintain a focus on key hashtags during your social media campaigns & help you earn money as YouTuber or any other social media platformer. Even with good business hashtags, CTAs also play a vital role, as they Encourage the online community to take a specific action related to your brand. Check out the top trendiest call-to-action examples for your brand.
So, launch, track and analyze hashtags across social media channels. We hope now you know how you will get to understand which hashtag is working quickly and which is not and the level of engagement and reach.
Frequently Asked Questions
1. How to search hashtags with Keyhole and Tagboard? 

– Keyhole: Keyhole is popular for offering people real-time analytics for hashtags across Twitter, Facebook and Instagram. You have to enter the hashtag and select the social media platforms you wish to monitor to use it. You will then get an overview of the hashtags! 

– Tagboard: Tagboard showcases a unique feature; based on hashtags, it helps you witness conversations across multiple channels, e.g., Instagram, Facebook and Twitter. Here, you receive information in a user-friendly visual way that helps you easily find text, video, and image posts associated with the hashtag. You can even filter the research based on the channel, e.g., Facebook, Twitter. Enter the hashtag, and you will find it all. 
2. How many hashtags to add on Google Plus? 

There is no denying that numerous of you must not be aware that you can add hashtags to Google Plus. According to research, there aren't any fixed number of hashtags that should add to Google+. You can add as per your choice. But it would help if you solely used relevant hashtags and not incorporate just a random assortment hoping to get traffic.
3. How do hashtags increase engagement? 
Hashtags can help you market your business. They effortlessly increase your reach, amplify your content and showcase your content to peope who are willing to take your services and search for the same. It won't be wrong to say that hashtags are potentially the easiest way to expand your influence beyond your current followers. Using the right hashtags and the right amount of same will make an enormous difference. Above, we have mentioned the right amount of hashtags for each platform. 
4. How to create a hashtag?
If you have zero information about creating a hashtag, we will teach you the basics. 
– Hashtags start with the pound sign(#) avaialble on your keyboard. Put the pound sign and start writing the word you want to use in your hashtag. Your hashtag won't work if you leave space in between the letters. 
– Try making your social media platforms public; this way, hashtagged content will reach non-followers too. 
– Never string too many words together. You must remember the best hashtags are always short and easy to remember.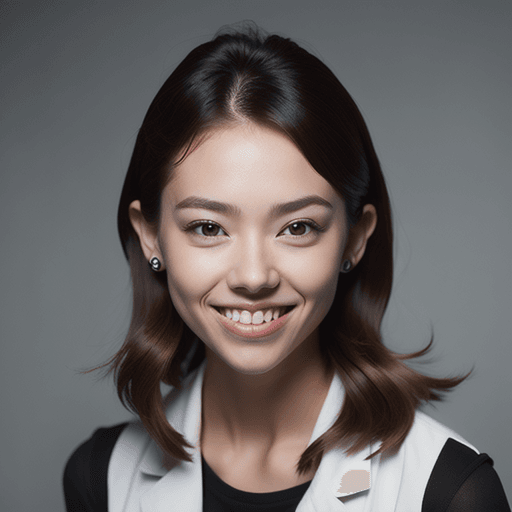 Debbie Moran is a Digital marketing strategist with 5+ years of experience producing advertising for brands and helping leaders showcase their brand to the correct audience. She has been a part of RecurPost since 2019 and handles all the activities required to grow our brand's online presence.