There is no denying that over the years, business pages on LinkedIn have increased enormously. Yes, that is right. Being in the industry for so long, we have been closely witnessing LinkedIn's growth. However, numerous homegrown brands and small businesses are still unaware of LinkedIn's potential.
Today, we help people understand how LinkedIn is the premier social networking site mainly for businesses and business professionals. There are still not many impactful social networking sites for businesses, which offers LinkedIn the opportunity to expand more. But, unfortunately, multiple people out there still fail to acquire complete advantage of business pages on LinkedIn as they miss to schedule LinkedIn posts.
We will help you get into the full potential of LinkedIn for better business outreach. But before we dive right into the blog by RecurPost, a social media scheduler, we will take a look at the subpoints for your better understanding!
Table of Content
Let us start the blog by understanding a little more about the platform. The core of LinkedIn is like any other social media or networking platform. However, the focus on this also mainly relies on making and expanding connections.
What is all this hype about LinkedIn?
By now, you must have heard numerous people talk about business pages on LinkedIn. All this hype must have bought you into a position where you must have asked yourself- what is this platform? So today, we are here to break the same to you.
Since its launch in 2003, LinkedIn is getting celebrated as an essential part of business networking. Yes, that is right. The platform, since day first, has been offering a valuable opportunity to connect with business leaders.
According to speculated data, LinkedIn takes pride in having approximately 750 million users today. So, when it comes to registered companies, the data sticks to 55 million registered companies. In interviews with different channels, some of these companies stated that they got decision-makers by advertising on the platform. Gradually, the medium became a valuable channel for their corporate LinkedIn marketing team to source qualified leads for sale. Let us now swiftly move toward the next section of the blog.
What is a LinkedIn business page?
LinkedIn is a platform that will help you connect with veterans from your industry and get an opportunity you never thought of. You must understand that your LinkedIn profile is great for bestowing your resume. Making your business account on LinkedIn will help users search for new and better job opportunities while promoting your brand.
Now coming to the part, what is a LinkedIn business profile? It is a platform where your organization or any other company worldwide can effortlessly create a LinkedIn business page. This page further helps them to promote their products and services. In the digitalization world, the platform is seen as one of the best tools to promote themselves, express job opportunities, and celebrate their business successes.
Why Are Business Pages On LinkedIn Trending?
There is not solely one reason to make you want to get your business on LinkedIn; there are many reasons. First, the platform offers you an opportunity to join groups of your choice. Second, you will get to communicate with groups and people from your niche industry. It may seem like a small act to you, but trust us when we say- this will help spread your brand awareness to a broader and the right audience.
The platform has gained so much hype because, apart from those mentioned above, it offers more. It is because by utilizing LinkedIn's advanced search, you can feel free to start to target a specified market. The advanced technology of LinkedIn will gently allow you to fine-tune your search parameters. You will search, keeping the industry, educational background, company, and job title in mind.
The focal reason for its spreading is that you will even perform searches targeting specific keywords relevant to your industry. Businesses get devoted to making their LinkedIn profile robust as it helps them generate b2b lead generation. They don't have to pay a particular person to get better tips; all they have to do is give proper attention to their LinkedIn image and portfolio. Herein you will also be free to connect with veterans from your particular industry.
Why must you create a LinkedIn business page?
No matter if you are searching for ways to generate new business, build a solid workforce, or improvise your marketing efforts- LinkedIn is the one. It is a business social platform that we would suggest to you. Do not mistake yourself for thinking that maybe it is a temporary hike because, believe it or not- it is here for the long run. Don't-rush into planning your marketing strategies without including social media bulk scheduling in your strategy. Explore the variety of options and make the best of them.
As soon as you utilize the platform appropriately, you will realize that it is an ever-growing platform. Before we move ahead, let us help you understand better why you must create a LinkedIn business page.
Reasons You Should Create One!
Help find appropriate teammates: LinkedIn is a business networking platform, and it is best to look for proper teammates for your organization. Undeniably, the profiles here unearth valuable information about people seeking jobs. In addition, it will help you find the best to get a better insight into a person's stability, accomplishments, and little snippets of their personal life.
It will offer you a healthy check on what your competitors are doing: Yes, that is correct. According to one speculated data, approximately 94.1% of B2B marketers utilize LinkedIn to distribute content. You know, by taking a look into the company pages of businesses serving your potential and target market- you will get to learn enormously. It will be easier for you to monitor changes in your organization and track what your competitor has accomplished.
SEO friendly: Undeniably, a better SEO ranking is something all of us are equally searching for. For the ones unaware, let us break some good news for you. Search engines such as Google and numerous more dedicatedly rank LinkedIn company pages and posts highly in the search engine result pages. There must be countless people out there wondering how it will help them? To be precise, it is a platform that will make your website witness increased visitor traffic. It will get even better if the link back to your company's website gets embedded in your posts.
How to set up a business account on LinkedIn?
Before we get started, it is nothing but vital that you meet specific requirements to create a LinkedIn business page. So yes, we are here to help you understand the exact needs.
Start by creating your account with your original first and last name.
Ensure that your profile is at least seven days old.
Most people tend to ignore it, but it is a vital step. First, ensure the profile strength gets "intermediate" or "all-star."
Try to make as many connections as possible. LinkedIn thrives on relationships and networking.
You must have an appropriate company website and company email. Try ignoring generic emails such as gmail.com.
List as a current employee of the company in the experience section of your LinkedIn profile.
Once you get done with all this, the essential step is how to create business pages on LinkedIn. So, let's get started to make all your competitors jealous!
Step-By-Step Guide
Follow the below-mentioned steps to unearth the answer to how to open a business page on LinkedIn
Start by creating a company page: The first and foremost step is logging in to your account and clicking on the work icon in the top right corner of your dashboard. While you do this, a window will pop in the right corner. Then scroll to the bottom of the window and click on the "Create a company page" option.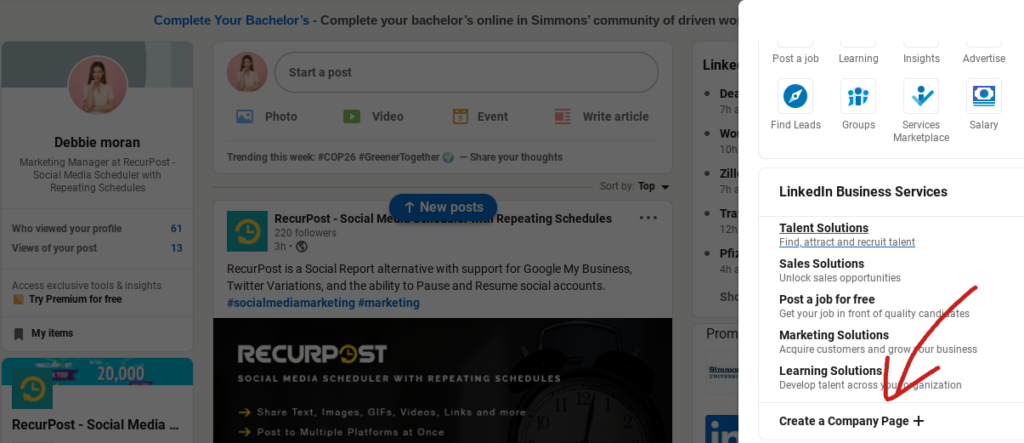 LinkedIn will ask you to pick what type of business page you want to create as soon as you get done with it. The best part is you get the option to choose from small business, medium to significant business, showcase page, or education institution. Following are the specifications of these pages.
2. Fill out your business profile: Secondly, you arrive at a point where you have to add all your appropriate company information. At first, there will be essential information, such as company name, website, company size, and company type. To make it more approachable to people, you get the option of uploading your company logo and writing your company tagline.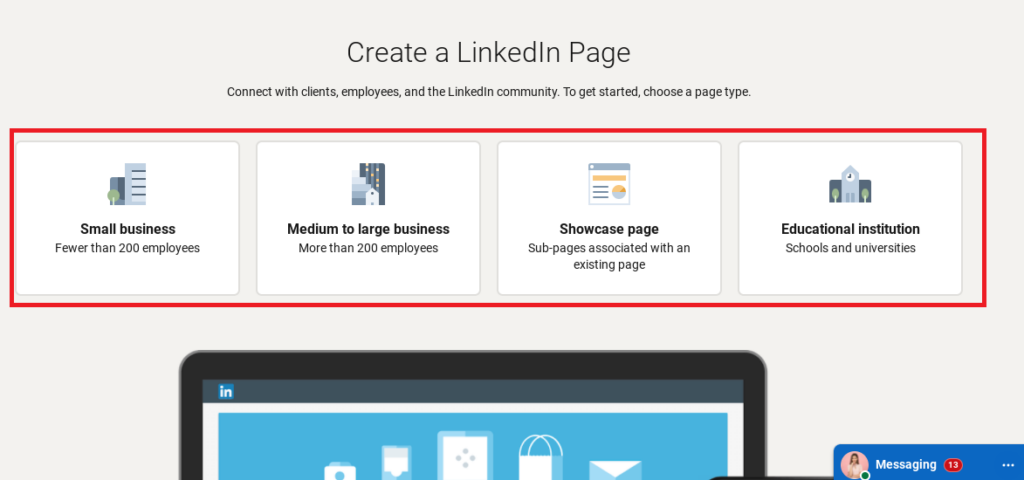 After adding all of the company information appropriately, check the box to verify. You know to verify things like you are authorized representative of the organization. Now click the create page button!
You now have a LinkedIn business page!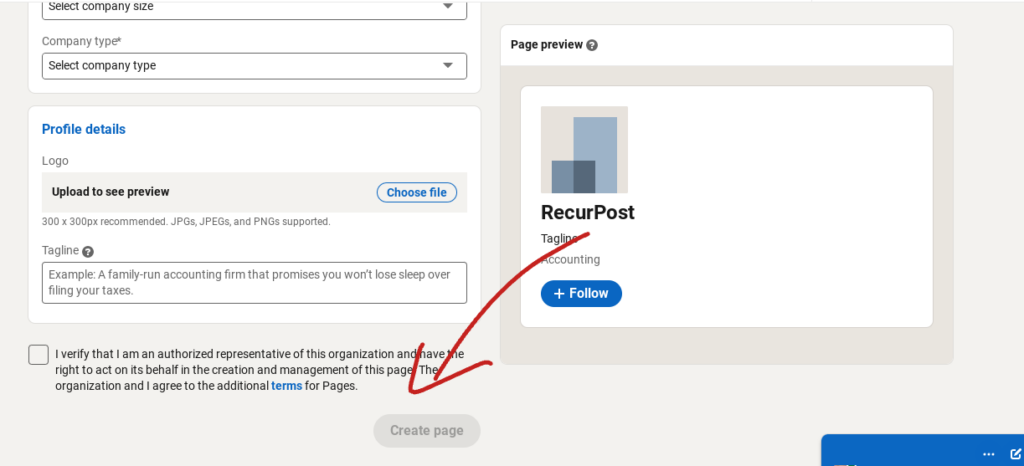 But, if you wish to stand out and get the most from the LinkedIn business page- there are a few more things you need to work upon!
How to schedule posts on a LinkedIn Page?
There is no denying that enormous effort creates a LinkedIn business profile that introduces viewers to your services and products. But, you know it is not enough to solely make an account. First, you have to perform research and precisely analyze your audience perpetually. Then, once you get done with the same- grow your business pages on LinkedIn by conceiving a pipeline of content you'll share to keep your followers aware and engaged.
However, mainly for small businesses, it becomes highly complex to keep track of the work they have to do. In addition, it becomes even more difficult for small business owners to keep track of LinkedIn postings with so much going around. It further leaves numerous business owners looking for an answer to how to schedule LinkedIn posts?
Guess what? The answer will make you happy. It is possible to know how to post on LinkedIn. You can utilize tools like LinkedIn post scheduler.
RecurPost Will Help Manage LinkedIn Business Page!
RecurPost will help integrate with your business pages on LinkedIn smoothly. However, before we tell you who RecurPost can help, we want to specify to you briefly the advantages of social media schedulers, mainly LinkedIn schedulers, such as RecurPost. Also If you are looking for a strong Socialbakers alternative, RecurPost can prove to be your best pick.
#Advantage1- The best part about social media scheduling tools RecurPost is that it gets easier to ensure you have comprehensive coverage weeks ahead. It will help you avoid prolonged content droughts, like business pages on LinkedIn that publish content regularly can double your engagement.
#Advantage2- Connecting with RecurPost will eliminate the risk of you forgetting to post on LinkedIn.
#Advantage3- RecurPost will help you save both money and the workforce equally well. You won't have to hire someone to manage your postings solely. RecurPost will make posting much more streamlined without paying a person or wasting some employees' valuable time.
Whether you are a blogger or an entrepreneur, RecurPost will be equally appropriate for you. We offer a LinkedIn post scheduler that will make social media management a kid's play for you. Your LinkedIn will eventually get so amazing that your competitors will be left wondering.
Create an ace LinkedIn business account!
There are multiple business pages on LinkedIn; you need an avant-garde LinkedIn profile to stand out. The below-mentioned steps will teach you how to precisely manage your business pages on LinkedIn while making them draw attention.
Add your headshot: The easiest thing that you can do is upgrade your LinkedIn profile to put a face to your name and add a profile picture. Ensure that your profile picture is equally professional and friendly. If you don't have one, look for a professional headshot and trust us when we say this- it will be worth it. According to essential human nature- people or companies without a profile picture gets easily pushed aside.
Create an avant-garde headline: By now, we have seen numerous people offer zero value to the headline option in LinkedIn. But headlines are the first thing profile visitors read. Therefore, you must consider it a miniature billboard advertisement for your organization and the services/products you offer. Hence, make it quirky and relatable to your organization!
Utilize visual media- Did you know that you can upload a cover photo on LinkedIn? Yes, it is a simple step, yet it makes a huge difference and helps your business pages on LinkedIn stand out.
Keep your page active- You must understand that LinkedIn is a lot more than just a social media platform. If you have business pages on LinkedIn, you must ensure they are highly active. Remain active, and make posts that are informative yet interesting to look at. You can manage, schedule, and publish content with the help of Recurpost as well.
RecurPost supports social media platforms more than LinkedIn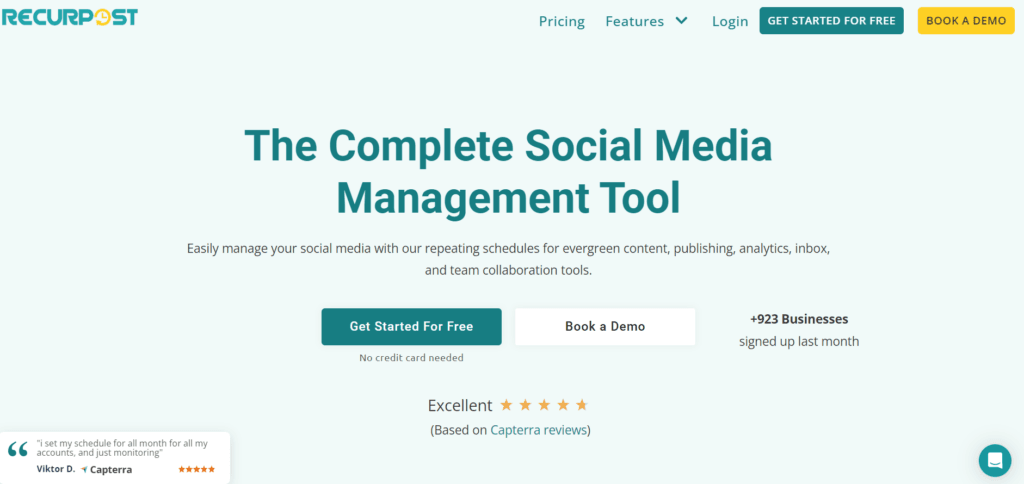 RecurPost allows you to turn your company's ambitious goals into impressive accomplishments. Using the tool, you can create content and schedule in advance without worrying about upcoming holidays.
You can schedule Facebook posts on your profiles, groups, and pages and engage your audience by creating entertaining content. It allows you to schedule Instagram posts on your personal and business profiles for sharing images, stories, and reels that talk about your customer success stories.
RecurPost lets you schedule tweets at the best time by keeping in mind Twitter norms. RecurPost is also an excellent Pinterest scheduler for taking advantage of the visual platform. It is also possible to schedule Google Business Profile posts using RecurPost to attract local buyers.
Via Recurpost, you will get the option to unearth the potential of social media. Manage social media profiles with the help of Recurpost, and we assure you there will be no going back! There are many free Hootsuite alternatives in the market, but RecurPost is your best pick.
Wrapping It Up!
We want to summarize this blog by stating that LinkedIn is a perpetually growing platform and will continue to grow in the coming years. Hence, make the best out of it. Handling a business requires enormous effort, and we respect the same if you are too busy working on the same and don't have the time to manage your social media. Therefore, you must connect with Recurpost.
If you still have doubts about creating and managing LinkedIn or how to use it for Halloween marketing campaigns, comment below, and we will come back with an appropriate answer!
Frequently Asked Questions (FAQs)
1. How can one promote a LinkedIn company page? 
Making business pages on LinkedIn is easy, but you must promote them in the correct way possible. A straightforward way to do so is by utilizing the LinkedIn company follow button. This small change will make it easier for people on your blogs or website to track your company on LinkedIn with a single mouse click. 
2. Is there any price for creating business pages on LinkedIn? 
The crisp answer to this question is you don't have to pay any particular amount to start business pages on LinkedIn. All you need is- a good LinkedIn profile, an appropriately sized logo, an appropriately sized header image, a company email address that aptly matches your company name, an appropriate company website, and a company description. 
3. Are third-party social media management tools safe? 
Being in the industry for some time now, RecurPost takes pride in its ace services. We have a robust clientele base, and therefore- we can firmly state that once you start RecurPost's services, you will see a noticeable difference in reach. According to speculated data, posts and content created by third-party tools such as RecurPost showcased more reach than native posts. Hard to believe, but it is what it is!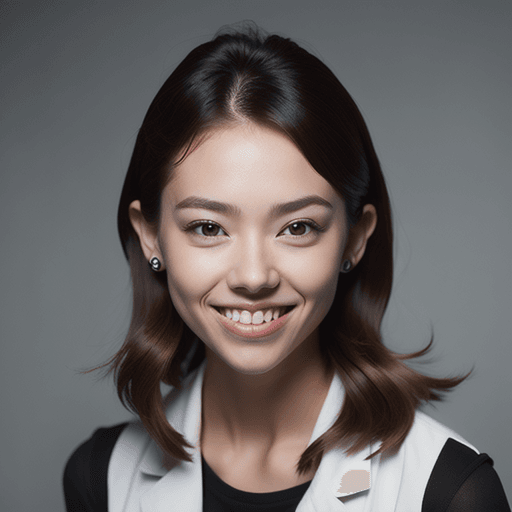 Debbie Moran is a Digital marketing strategist with 5+ years of experience producing advertising for brands and helping leaders showcase their brand to the correct audience. She has been a part of RecurPost since 2019 and handles all the activities required to grow our brand's online presence.