As social media has become increasingly important for marketing brands and businesses, creating a Facebook event is one of the best ways to effectively reach your target audience. However, many of you might be wondering how to create an event on Facebook.
Maybe you're not sure where to begin or worried that your event won't be that good. Or you may not have enough resources or time to create a visually appealing event. Don't worry! You are not alone. Having worked with RecurPost, I have seen the social media landscape closely.
That includes Facebook events. I can immediately tell if an event will be a success or failure. In this article by RecurPost, a social media scheduler, I am sharing a step-by-step guide on how to create an event on Facebook and promote it easily. Following the tricks I share in this article can help you reach a wider audience and make your event stand out from the crowd.
Let's start with what events on Facebook look like.
Table Of Content For Creating Facebook Events Step-by-Step
What are Facebook Events?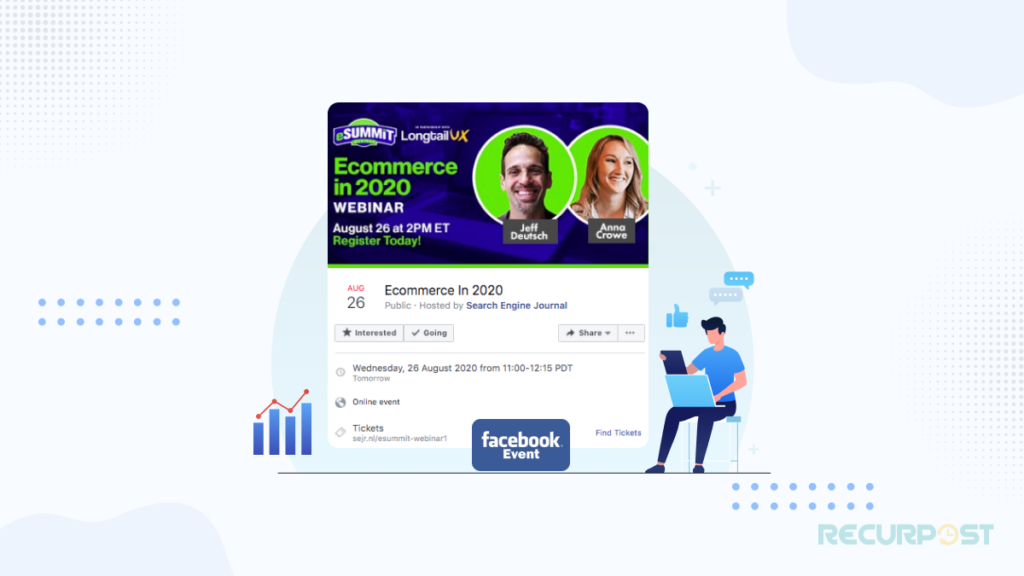 Events on FB are a great way to create, share, and promote events with your followers and targeted audience. Events can be offline and online. Offline events include get-togethers, conferences, or concerts. Webinars, virtual conferences, or live-stream events are online events.
Creating an event on Facebook is simple. You can set a date and time for the event and provide details in the description. You can also add images or videos, invite guests or make the event public for anyone to attend. Attendees can leave comments, interact with the event via RSVP, and share an event within their networks to amplify the reach. Here is an example of an event of the NYC underground tour.

Facebook events work wonders as a marketing tool for brands to promote their events and engage with their audience. They also help organizers to track attendance, manage updates or changes to event details, and foster a community around the event. Events on Facebook are the most successful among social media platforms. Here are the statistics.

Facebook Live events are real-time video broadcasts that allow users to engage with their audience in a live and interactive manner. They can be used for a variety of purposes such as product launches, Q&A sessions, interviews, and webinars. Viewers can comment and react in real time, making it a great tool for building community and fostering engagement. Let's look at the statistics.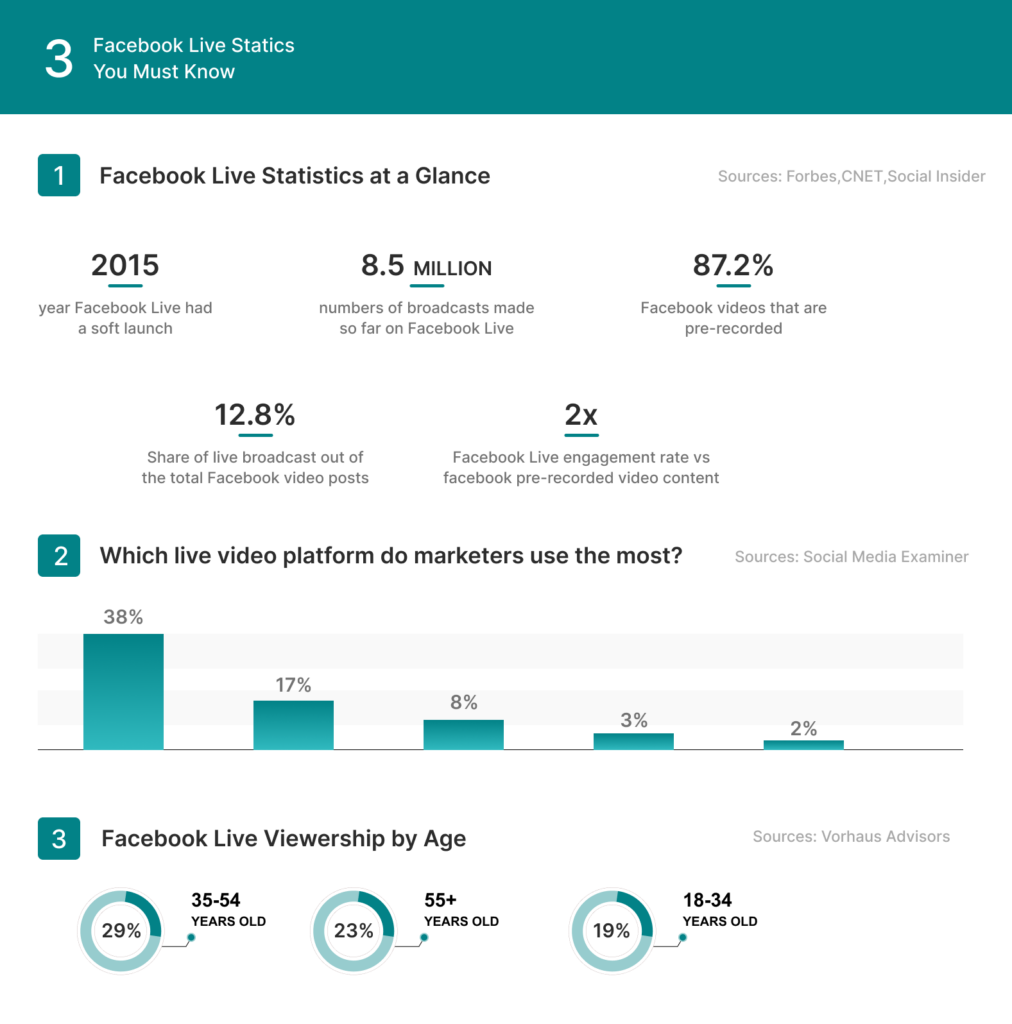 A step-by-step guide on how to create an Event on Facebook for Brand Promotion
Are you excited about learning to create an event on Facebook? I will walk you through a step-by-step process to make things easier. I will also guide you through the process so that a maximum number of people see your event.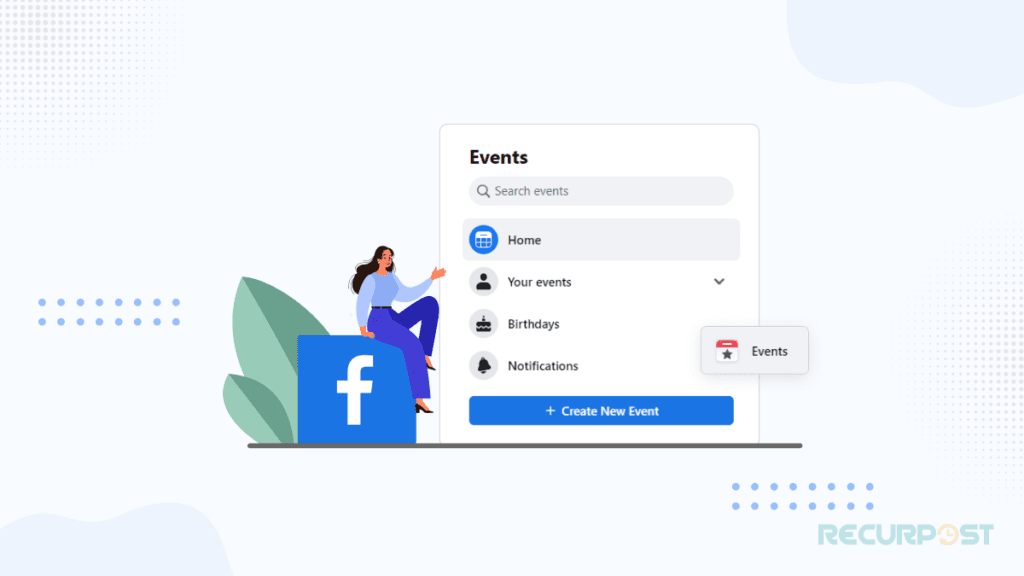 Step 1: Create an Event Page
If you're planning to throw an event (online or offline), events on Facebook are the most effective and easiest way to reach your audience. By creating an event on your Facebook page you can inform people about your plans and make them excited to come to an event. To get started, go to your business page. Next, you can head over to the "Events" section of your Facebook account either by clicking on the nine dots in the top right corner or by selecting Event from the drop-down of the "More" tab.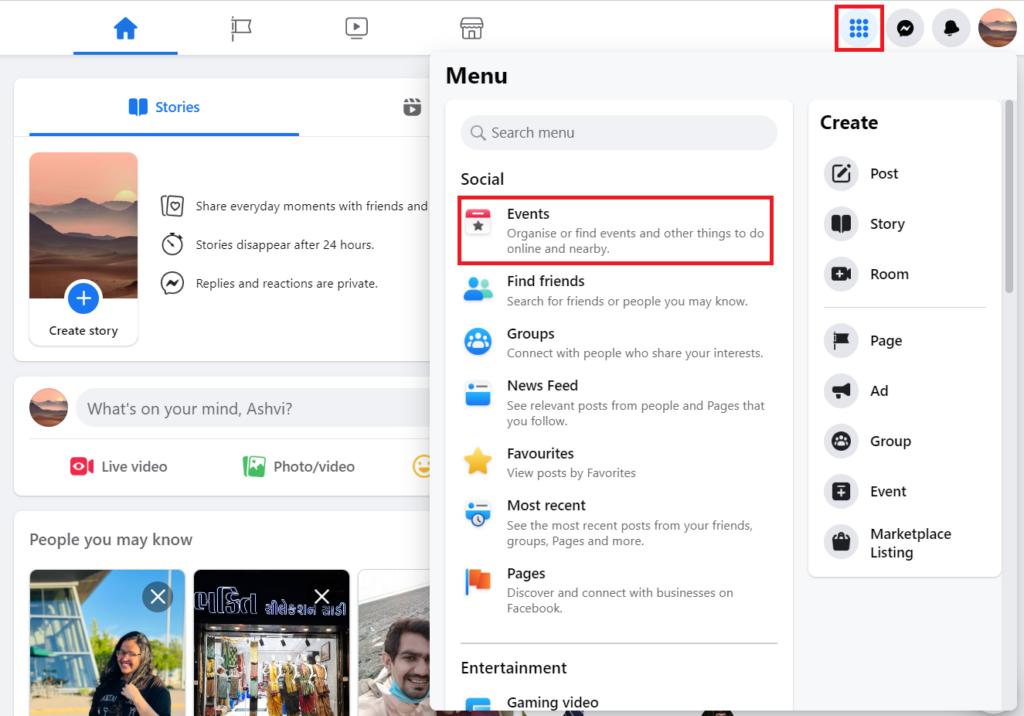 Now click on the "Create Event" button and add all the details about your event, like the date, time, location, and details in the description.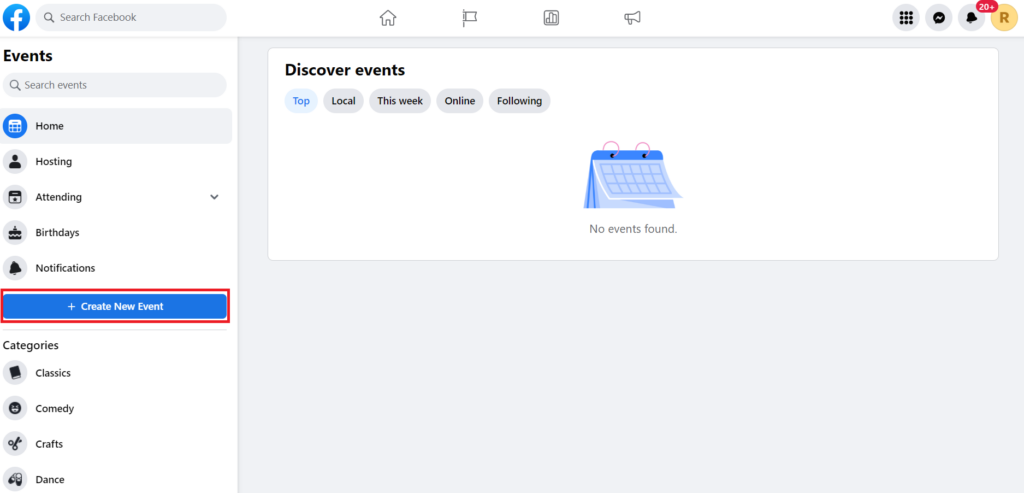 Creating an event page is a very effective way to spread the word and get people excited about your event. So get your hands dirty and try it!
Step 2: Add Event Details
Once you have created your event page, create an appealing Facebook event banner and then add details. At this stage, you can work on making your event stand out and get people excited to attend. First, make sure you include basic information, like the date, time, and location of your event. Be as specific as possible so people know exactly where to look for an offline event or where to click for an online event. In addition, they know when to be there.
Next, add a catchy and informative event description. Tell people about your event, why they should come, and how they can benefit. Make it exciting and engaging. Your appealing cover photo can change the game. It should reflect your event theme. The event cover photo can catch people's attention and make your event memorable.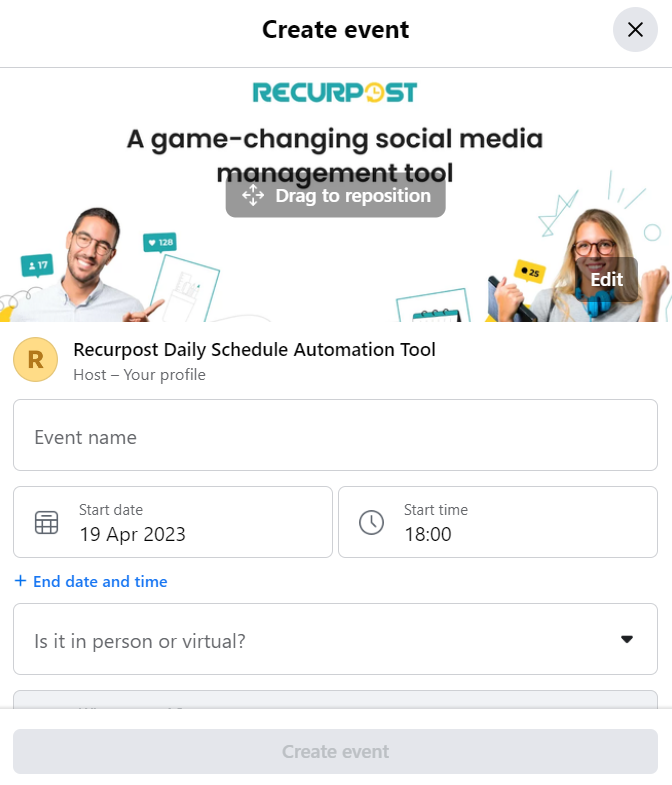 You can choose between the option of whether an event is in person or virtual.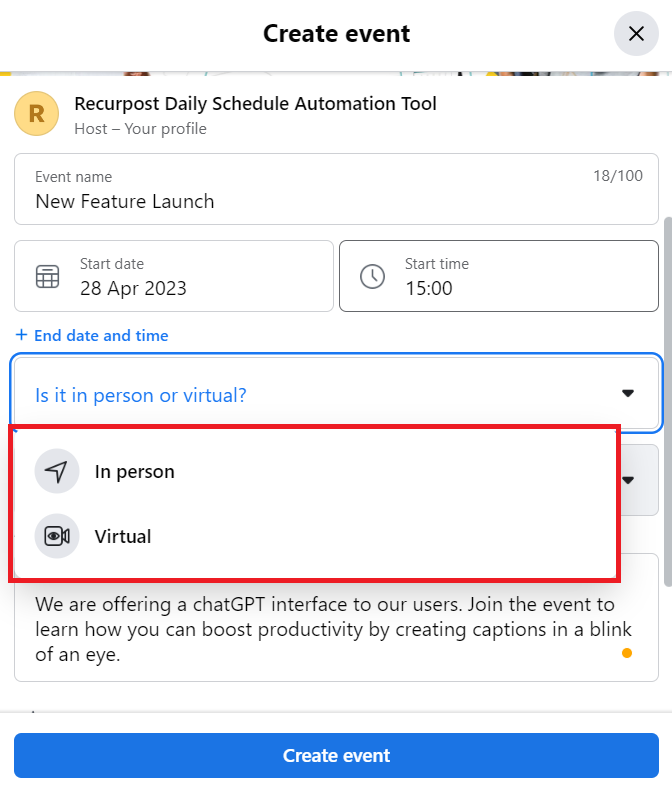 You will find different details for an offline and virtual events. For an offline event, you have to enter the physical location.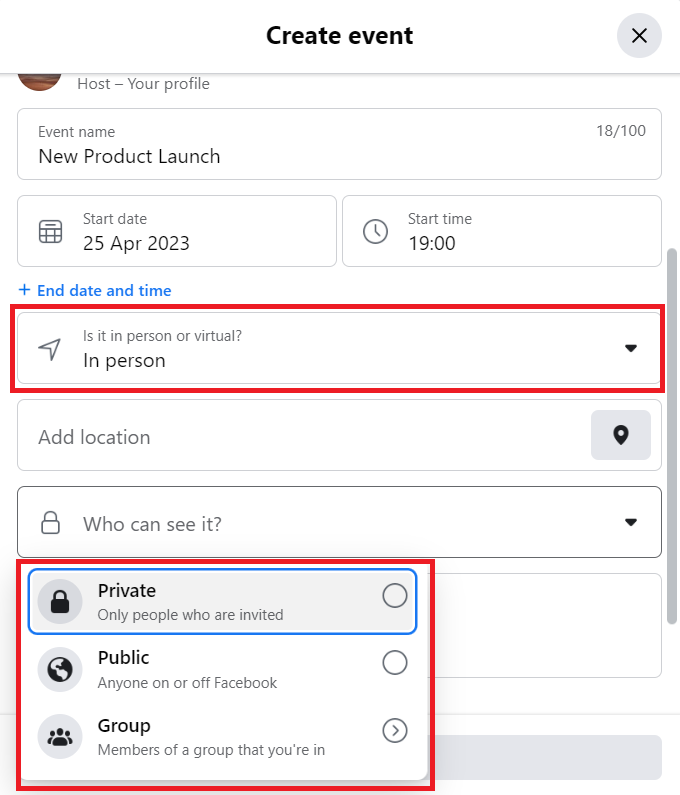 A virtual event can be Facebook Live or you can share an external link with your audience to join the event.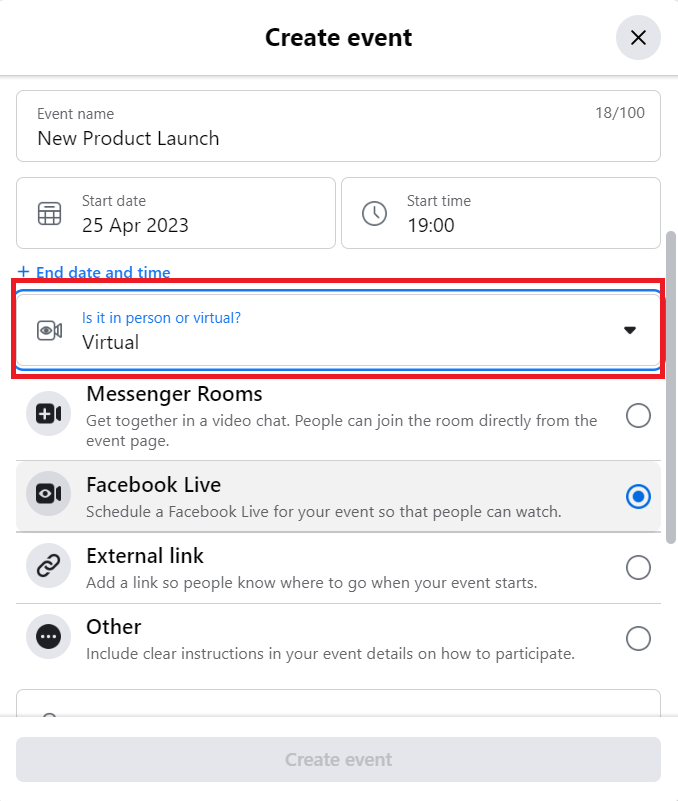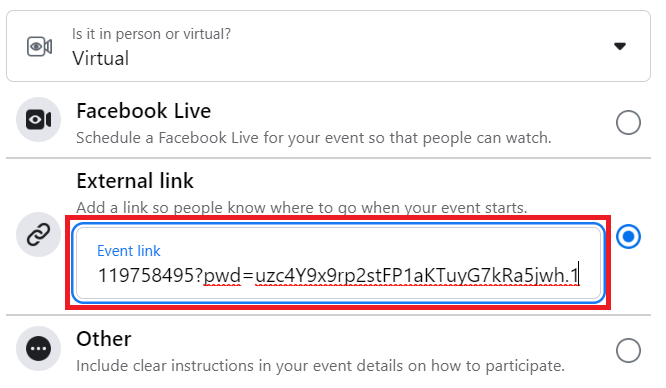 Lastly, consider adding a ticket link or RSVP button so people can easily sign up while you are informed that they are coming. It will help you keep track of the number of attendees. So you can plan accordingly. The more detailed and interesting your event page is, the more likely people will attend your event. So add those details and make your event page awesome!
Step 3: Optimize Your Event Page to reach the targeted audience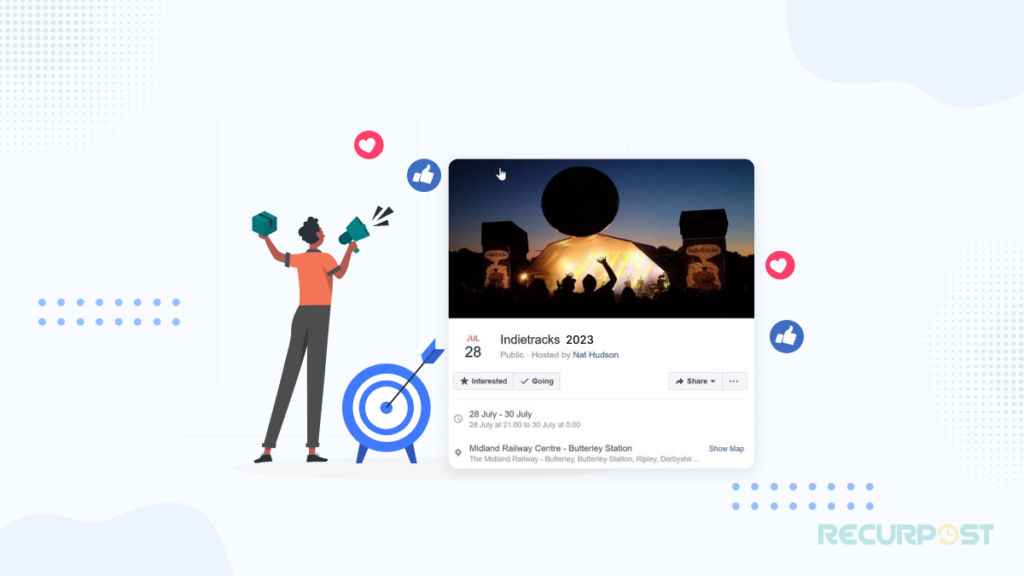 If you want your event to be a roaring success, you have to optimize your Facebook event page to maximize your audience reach. Trust me, it's not just about posting and praying for the right thing! To spread the word far and wide, you must choose the ideal category for your event and add some attention-grabbing keywords. It will capture the interest of the relevant people who are most likely interested in what you will present at the event.
So be thoughtful while picking the most appropriate category and choose emotionally engaging words. People will find your event worth attending and eagerly await the fun and information! Allow guests to invite their friends and post on the event page. It will help you create a sense of community and excitement around the event and build eagerness to attend. So optimize your event page to make it unforgettable!
Step 4: Share Your Event with relevant Facebook groups and pages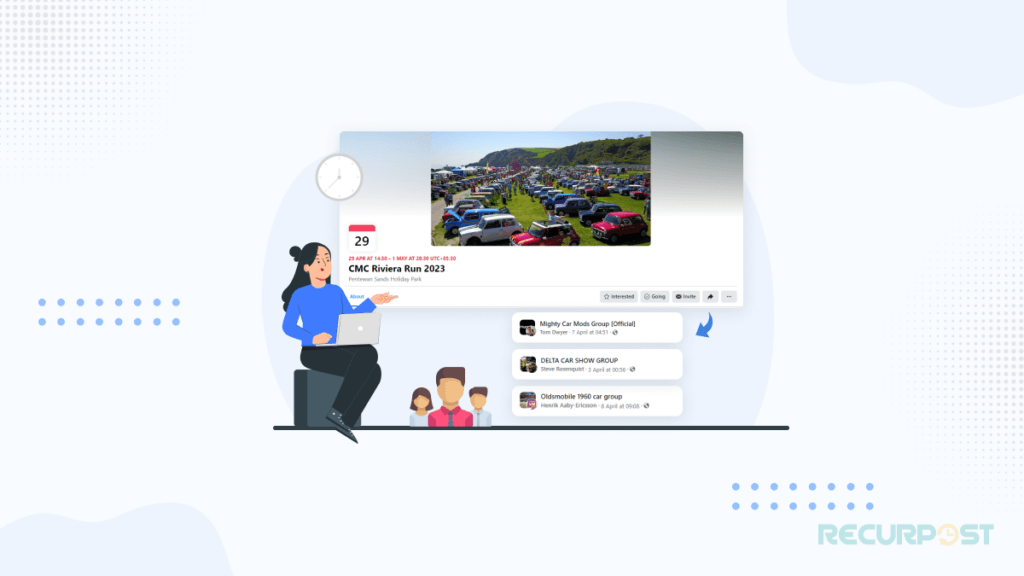 Your next objective must be to share the event with as many people as possible. One way is to spread the word by sharing your event on relevant Facebook groups, business pages, and other social networks that your target audience is active on. It will enable you not just to reach people already interested in your brand, but extend your reach to new potential customers.
To get one step ahead, you can attach the event page link to your email newsletter. This will ensure you are informed about an event by everyone in your email database. By sharing your event with everyone possible, you can invite a wider audience to attend an event and maximize the success ratio. So, start spreading the word and reach your targeted audience to make your event a huge success!
To effectively promote your event, leverage the power of Facebook groups by scheduling your posts. By joining relevant groups related to your event's theme or target audience, you can share updates, announcements, and engaging content to generate buzz and attract attendees.
Utilizing the feature to schedule Facebook group posts allows you to plan and maintain a consistent presence, maximizing your event's visibility and reach.
Step 5: Partner with Other Businesses or Influencers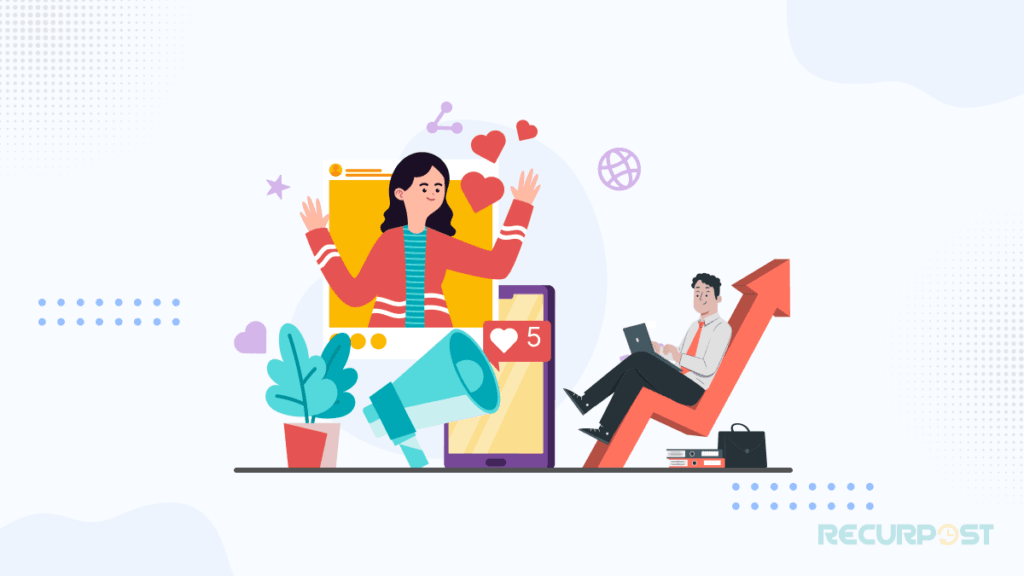 Ultimately, your goal is to attract more attendees and promote your brand. It is worthwhile to collaborate with other brands whose products complement yours to create new opportunities. Also, you can ask an influencer (with a large following) to co-host or sponsor your event if they are popular in your niche. It will help you increase your brand followers on multiple platforms and build trust and credibility in your products or services.
Step 6: Promote Your Event with Facebook Ads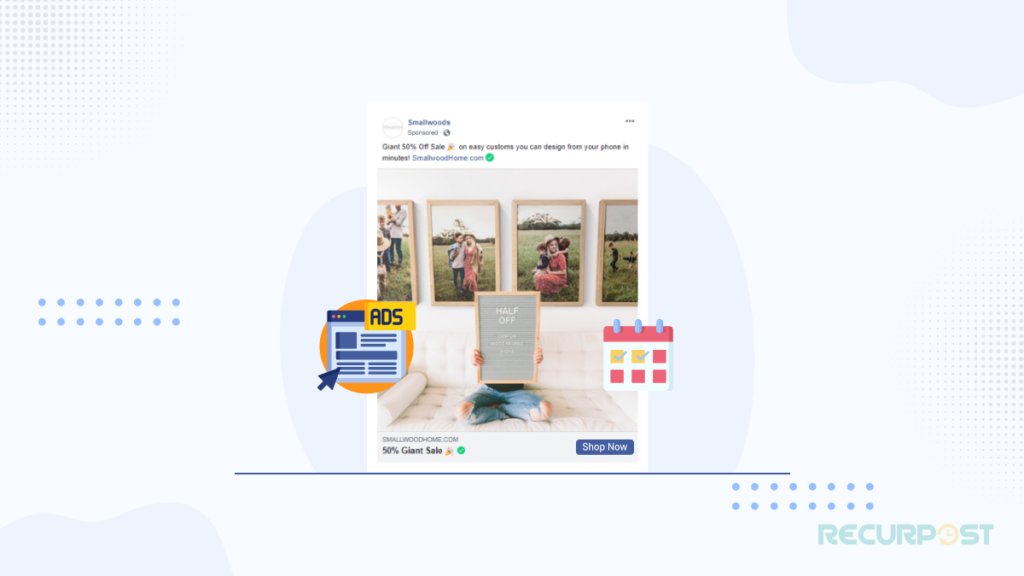 If you want to promote your event to a more number of people, you should definitely give it a try on Facebook Ads. Facebook Ads allow you to target your ideal audience by selecting appropriate demographic details and precise interests and behavior of the audience. It will help you project the right audience who might be interested in willingly participating in your event. It increases your event's visibility and draws more attendees.
Facebook ads also allow you to target Instagram. You are also able to promote your event on Instagram as well. Instagram's visually appealing nature can help you showcase your event in a more exciting manner and attract more people. You can create Facebook Ads by attaching attractive images, stories, or short videos to get people excited about your event.
Let your creative juices flow with your promotions! With Facebook Ads, you can attach a coupon code or offer a special discount to encourage people to sign up for your event. By investing in fruitful marketing strategies, you can surely succeed!
Step 7: Engage Attendees with Pre-Event Buzz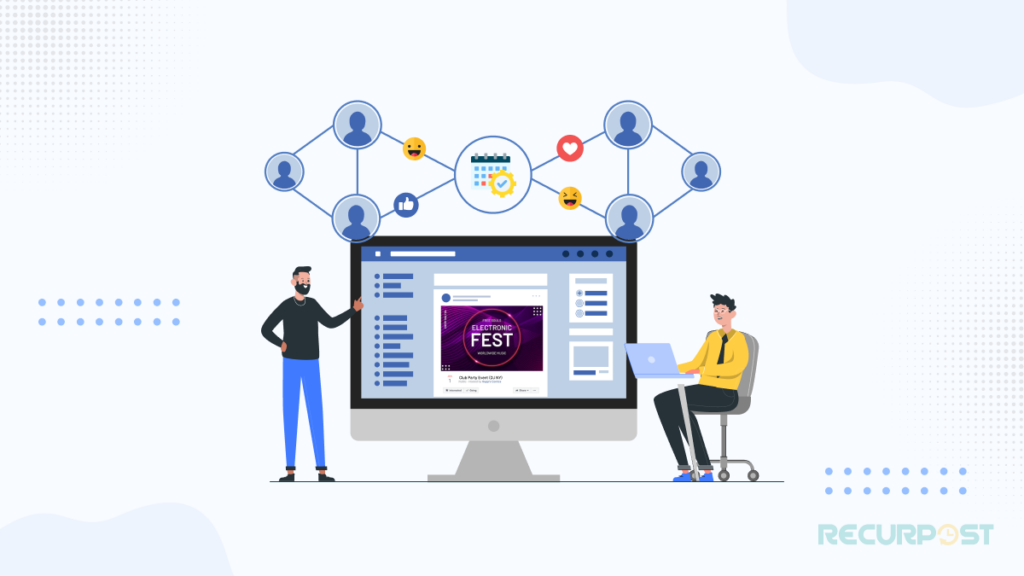 You can create hype about your upcoming event by creating an appealing Facebook event page. You can start by posting useful tips, tools, and teasers about the event to grab your audience's attention. Also, highlight key details about the keynote speakers or special guests you invited to your event. It will build excitement among people and they will start talking about your event. It's crucial to keep your content informative, helpful, and engaging.
You can create a buzz before the event begins and Facebook supports that as well. You should respond to any comments or questions your followers may have as that will build trust and engagement with your brand. So, start creating a Facebook event page and build some buzz around your event today!
Step 8: Keep Attendees in the Loop with Facebook Updates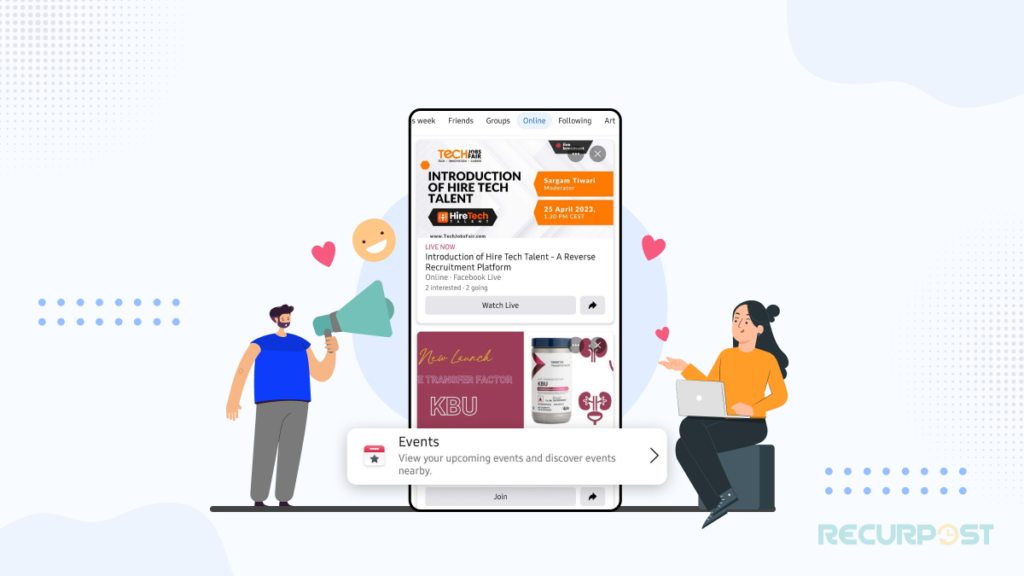 You would definitely like to keep your attendees updated with the latest information about your event. You can easily do it using Facebook. Facebook allows you to easily schedule updates and reminders in advance, ensuring your attendees are always in the loop. Regular updates will keep them engaged and excited about your event.
Facebook is an ideal platform for connecting with your audience before, during, and after your event ends. You can create a page for your event and share relevant information such as the event schedule, location, and any special instructions. Facebook allows you to reply to any questions your attendees might have. By leveraging the power of Facebook, you can make your event succeed. It's easy to use and the most effective to keep your attendees informed!
Step 9: Boost Engagement with event promotion strategies
If you are looking for some promotional strategies that help you make your event a hit then here are a few tips.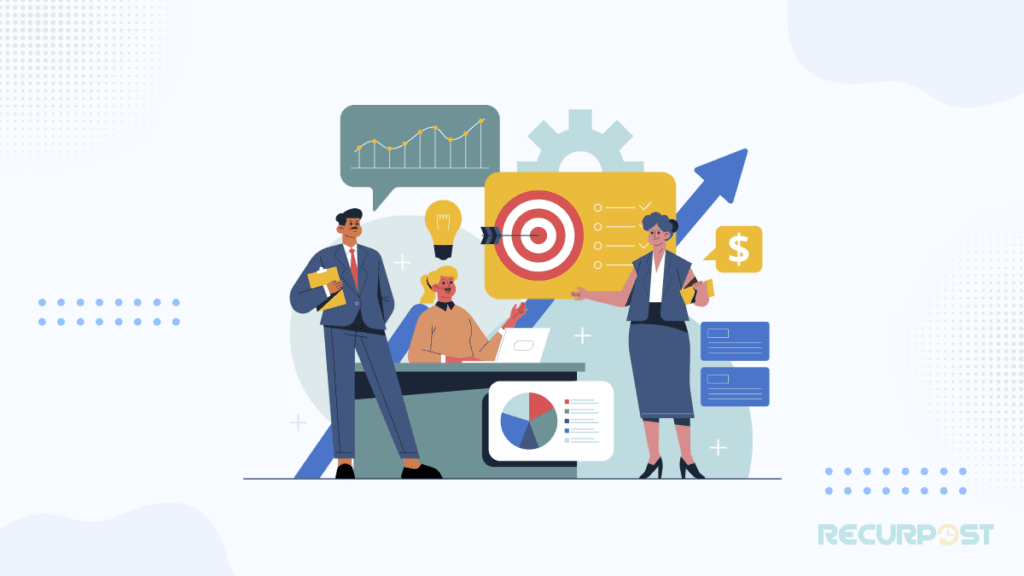 Use hashtags: You can create unique and memorable hashtags that represent your event and start using them while posting on multiple platforms. When people will use your event hashtags while sharing their experiences about your brand with their followers, it reaches their followers' followers and so on. It helps you initiate conversation around your event and reach out to a wider audience which you can't do on your own.
Reach out to more platforms: You must take the leverage of other social media platforms like Instagram, Twitter, YouTube, and LinkedIn with eye-catchy images and videos and engaging captions. You can also promote your event on Google My Business for promoting Facebook local events.
Email marketing: You can send emails to your subscribers informing them about an event. It's crucial to keep your emails informative, concise, and visually appealing.
Online communities: You can promote your event on Facebook in your LinkedIn groups and Twitter communities.
By implementing the above event promotion strategies, you can create a buzz around your event and engage with your target audience to make it a success!
How can you market your Facebook event with RecurPost?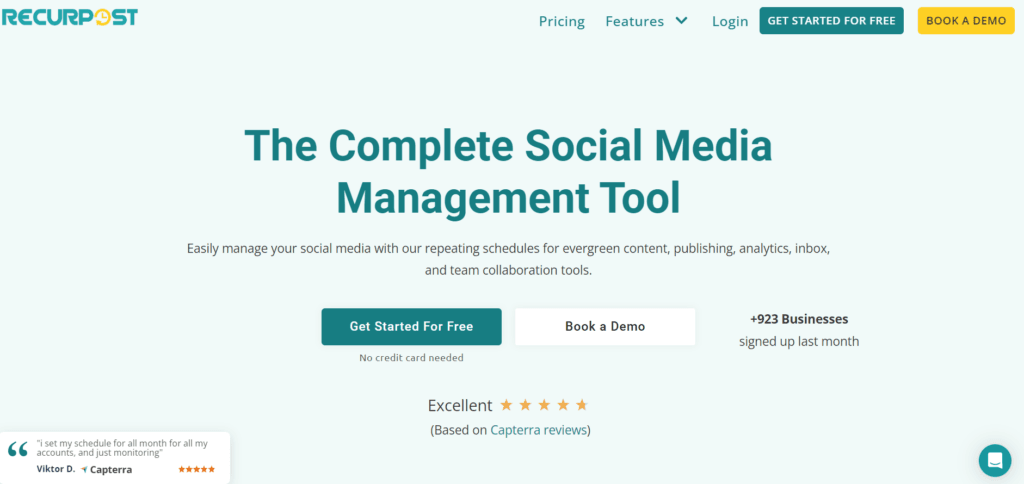 If you are looking to promote your Facebook events on multiple platforms, RecurPost can be the best social media scheduler for your brand. With just a few clicks, you can schedule it on multiple platforms and extend the reach of your event on Facebook by sharing it on various social networks.
You can schedule Facebook posts on personal profiles, pages, and groups. You can schedule Instagram posts on personal and business profiles to share stories, images, and reels. RecurPost allows you to schedule tweets on your Twitter account to reach out to people connected to your business. It enables you to schedule LinkedIn posts on your personal and business pages to repurpose.
You can schedule pins with the help of a Pinterest scheduler to attract visual media lovers to visit your site. A great way to attract local buyers is to schedule Google Business profile posts with a call to action button. RecurPost is among a few social media tools that allow posting on Google Business profiles and personal profiles of various platforms.
RecurPost is a social media bulk scheduling tool with recurring automation. With Social Inbox, you can interact with your audience in real-time. Writing engaging captions is easy with RecurPost's chatGPT interface. You will get insights into your postings by switching to different accounts. It also enables you to create white-label reports.
RecurPost easy-to-use features and advanced analytics makes it an ideal social media tool and makes it the most preferred choice among free Hootsuite alternatives and Meltwater alternatives. You can explore its features by signing up for RecurPost and claiming a 14-day free trial. RecurPost pricing is economical compared to its competitors. You can also avail of special discounts by paying for an annual plan. The best part is that we never ask for card details while signing up for the free trial.
How to create an event on Facebook pages, groups, and mobiles?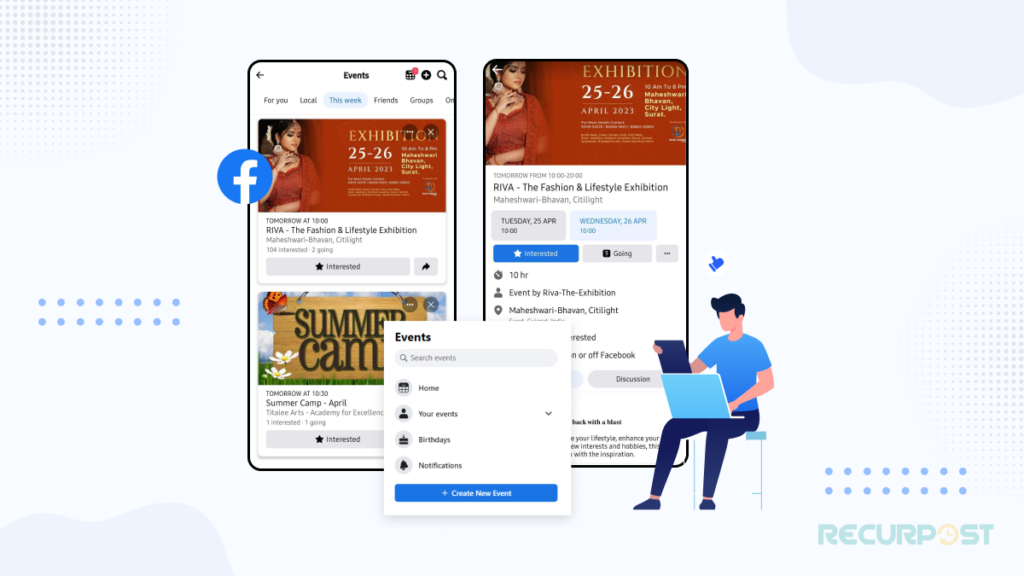 You can create an event on Facebook using business pages and groups. I already guided you through a step-by-step process of creating an event on Facebook pages. If you want to create an event in Facebook groups, the process is similar to that of a page. The only difference is that instead of pages you have to follow the same steps after entering specific Facebook groups. After creating an event, you can also invite all the group members to attend the event.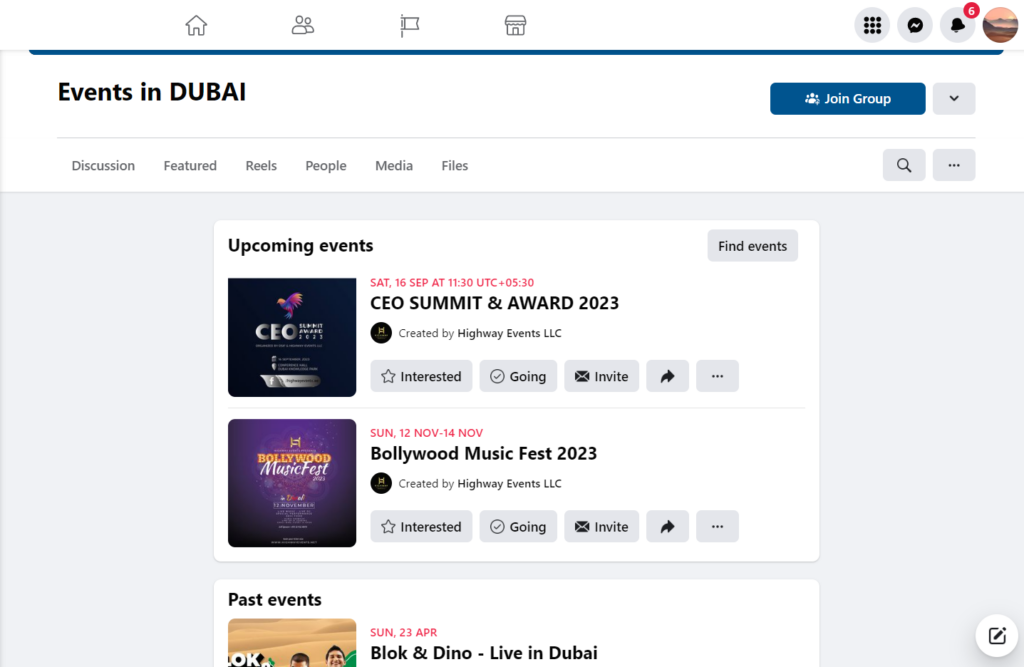 You can also create an event on Facebook using an Android mobile. As we did earlier, tap on the right top menu icon and tap on Events. Tap on +Create to create an event. If you want to see the events you made earlier, you can tap on the right top of Facebook. Tap on Events and then select Today, Tomorrow, or This Week. You can find events on Facebook for your selected period.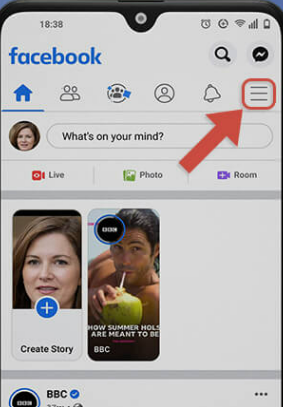 If you want to create an event on Facebook using your iPhone, the process is similar to Android mobile. But, the only difference is that you have to tap the bottom right of Facebook and then on an event.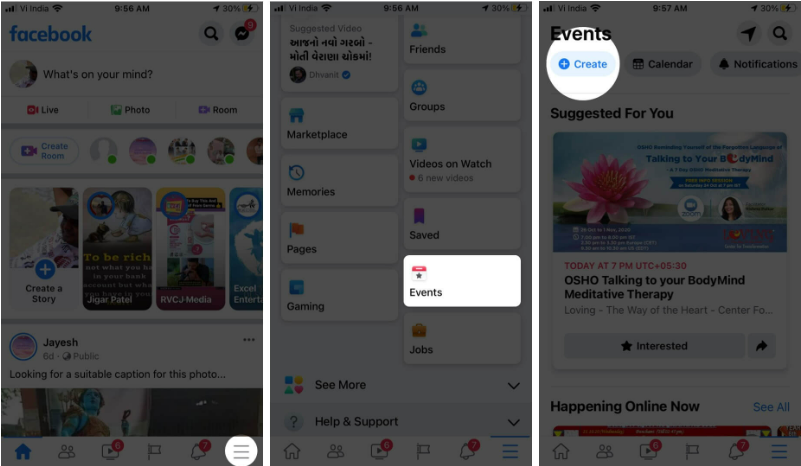 Next, follow the same process I described above in the article.
Best Facebook event promotion real-life examples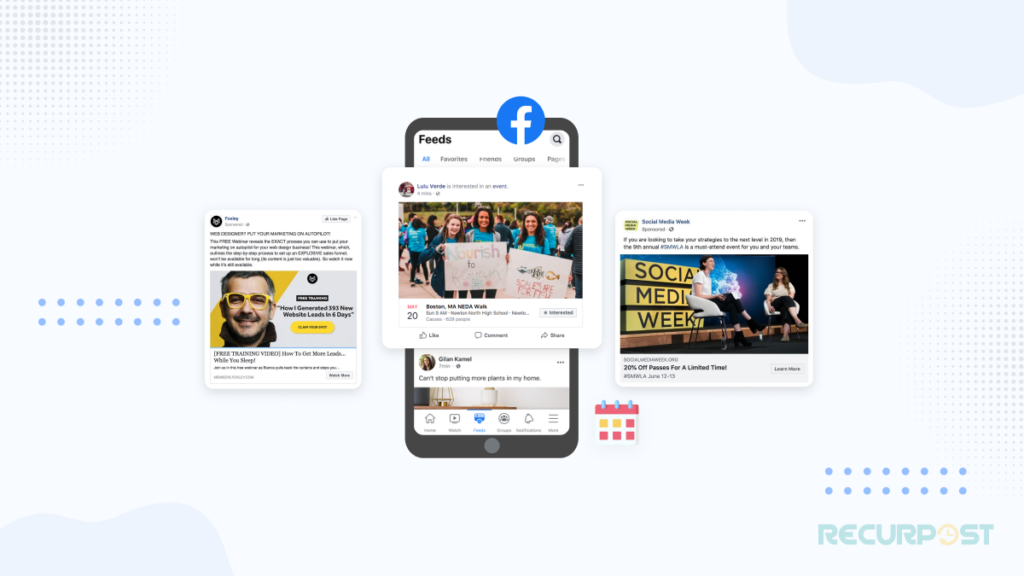 If you are looking for inspiration for creating the best Facebook event for your brand, then you can go through the list of best Facebook event examples, which you might find interesting.
Women's Rights: The Women's March on Washington was an online event organized on Facebook in 2017. It was the biggest one-day protest in United States history, with more than 5 million participants worldwide. The event was organized in response to Donald Trump's election and his policies, especially for women's rights. It was a peaceful protest that created awareness and solidarity and also inspired similar events across the world.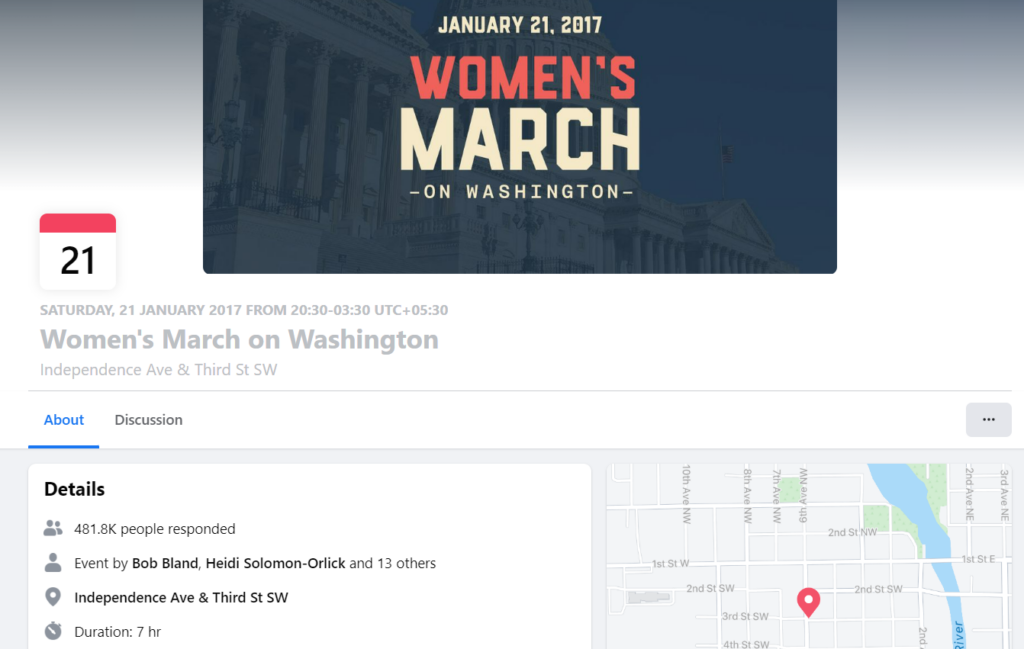 Key Takeaway: The success of this event demonstrated the power of social media platforms like Facebook in mobilizing and gathering large groups of people for a common cause.
AitBnB: AirBnB's "Night At" Facebook events allowed people to spend a night in extraordinary places. These events were designed to promote AirBnB's unique experiences and generate excitement around the brand. The events were hugely successful, with many people sharing their experiences on social media and generating buzz around AirBnB.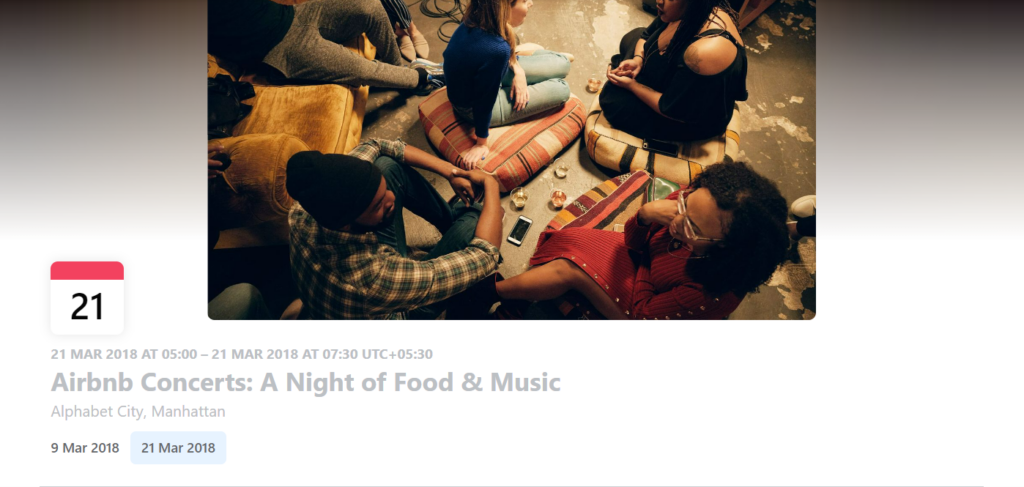 Key Takeaway: Throwing these types of events create memorable experiences for its customers. AirBnB differentiated itself from competitors by creating regular FB events in different locations and increasing its brand awareness.
Nike: Nike used the Facebook event to promote its offline event they organized. They gathered three top athletes to break the two-hour marathon barrier. Nike promoted this event through its Facebook event and it was a huge success. The event generated a lot of buzz on social media and received over 13 million views on Facebook alone. The campaign was named "Breaking2" and Nike used it to showcase its innovative products and technology. The event took place on a closed course and was broadcast live on Facebook which allowed viewers to watch the athletes' every step toward the finish line.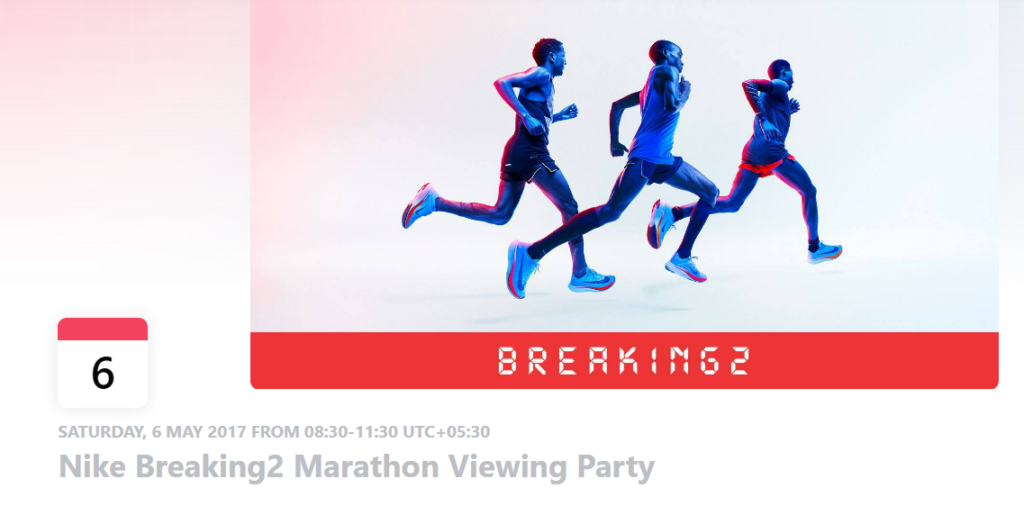 Key Takeaways: It was a spectacular feat, and Facebook helped make it a memorable experience for viewers around the world and differentiated the brand in the industry.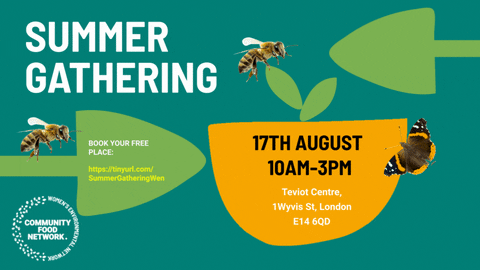 Conclusion
If you are looking to promote your brand and connect with your target audience, you can host offline or online events on Facebook and display your brand position that differentiates it in your industry. The above article guides you through a step-by-step process on how to create an event on Facebook for brand promotion. By following these simple steps, you can create a successful event on Facebook that drives traffic to your business and helps to promote your brand.
Are you ready to boost your brand? Start creating Facebook events now!
FAQs
1. Why can't I create an event on Facebook?
If you are unable to create an event on Facebook, it might be because your Facebook account is being restricted or suspended, technical issues with the platform, your location is being restricted for creating events on Facebook by local regulations, your age is less than 13 years or you reached the maximum limit of creating an event on your Facebook page else you cannot create an event very often.
2. Where to find events on the Facebook app?
On the Facebook app, click on the three horizontal lines in the bottom navigation bar and tap on "Events." Here you can see the list of all the events. You can also click on the Calendar button in the top right corner and see all the upcoming events.
3. How can I create an event on Facebook?
To create an event on Facebook, go to your business page. Tap on the nine dots in the top right corner, go to the event, and then tap to Create Event. Complete the process by setting a date and time, and adding details like description and location.
4. What benefit does Facebook event offer?
The Facebook event helps to increase its visibility by easily promoting to a large audience, enabling to give real-time updates to attendees, and getting feedback to improve future events.
5. How can I invite people to the Facebook event?
Tap in the top right corner of your Facebook account, and go to events. Tap on Share and invite friends by searching names, selecting them, and clicking on 'Done.'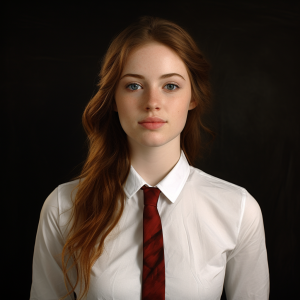 Debbie Moran is a Digital marketing strategist with 5+ years of experience producing advertising for brands and helping leaders showcase their brand to the correct audience. She has been a part of RecurPost since 2019 and handles all the activities required to grow our brand's online presence.