Are you looking for guidance on how to collab post on Instagram to enhance your brand's visibility and connect with a broader audience?
If yes, then you might be facing challenges and uncertainties like,
Difficulties in finding suitable partners
Determining negotiating terms
How to track results and measure ROI
Making your content engaging and appealing
One of the most effective strategies to enhance reach and followers on Instagram is through collaborations with other brands, influencers, or content creators. It will help you reach a broader audience, build relationships, and improve your brand's credibility.
In this article by RecurPost, a social media scheduler, I will assist you with how to set up, create and execute your Instagram collab posts by following the best practices and latest trends. Using it you can overcome any obstacles that come your way.
First, let's delve into what collab posts on Instagram entail.
Table of Content On How To Collab Post On Instagram
What is an Instagram collab post?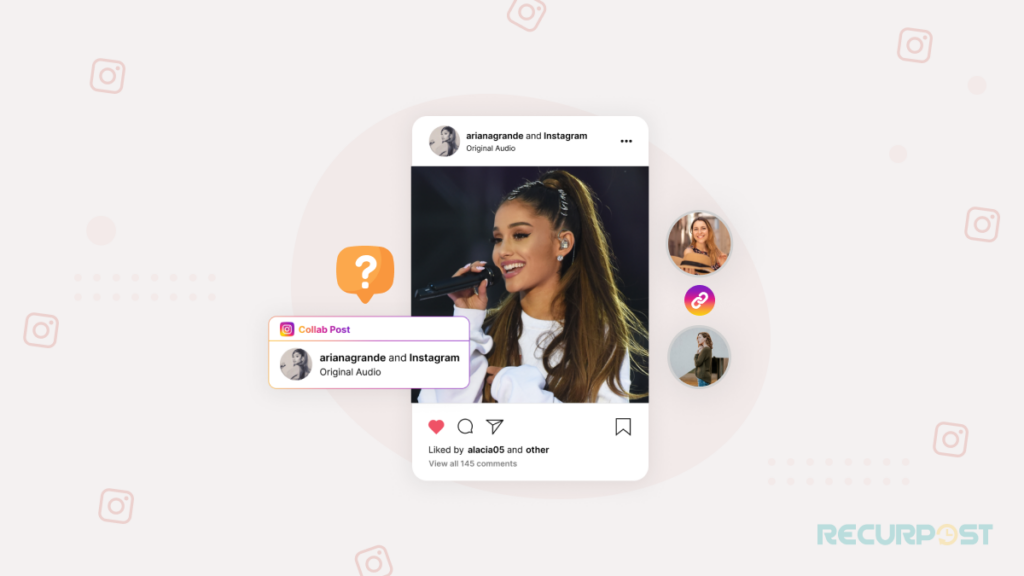 An Instagram Collab post is a single post shared by two different users on their respective Instagram accounts. Posts appear simultaneously in the feed and reels of both users and can be seen on both accounts at once. It accumulates comments, likes, and shares of both accounts.
To create an Instagram Collab post, one user initiates the post and invites another user to be listed as a collaborator. Once the collaborator accepts the invitation, the post appears on both users' accounts.
Why use Instagram Collab posts?
Instagram collab posts are powerful tools for businesses and influencers to reach a broader audience with authentic and creative content. Here are the benefits of using them.
Discoverability: Collabs simplify the process for users to navigate from collaborator's posts to your Instagram profile. In a regular feed post, when you tag someone, users need to tap the photo twice to see the tags and then reach the tagged user's profile. However, with Collabs, users only need to tap once on the profile name displayed in the post's header to directly access the tagged user's profile.
Reduce duplicate content: Instagram collab posts help minimize the duplication of content when promoting your brand. When your collaborators repost the same content as your account, it can create competition within your own audience for views and likes. However, with collab posts, a view or engagement from one account benefits all participants involved. This way, you can collectively maximize the reach and impact of your content, avoiding redundancy and increasing the overall effectiveness of your brand promotion.
Expanded Reach: Creating collab posts with others allows you to tap into their existing audience, exposing your content to a wider audience and potentially a new set of followers.
Increased Engagement: Collab posts often generate higher engagement rates as they bring together the audiences of two Instagram users, fostering interaction and interest.
Diversified Content: Collabs allows you to create unique and diverse content by leveraging different perspectives, styles, and expertise.
Networking Opportunities: Instagram collabs provide a chance to network and build relationships with like-minded individuals, influencers, or brands in your industry.
Mutual Promotion: Collab posts can mutually promote each other, driving traffic, followers, and potential conversions to both parties' accounts.
Strengthened Credibility: Instagram Collabs with reputable creators or brands can enhance your credibility and reputation in your niche or industry.
By leveraging Collab Instagram posts, you can harness the above-listed benefits to grow your audience, boost engagement, and establish meaningful connections within the Instagram community.
Setting Up Your Instagram Collaborations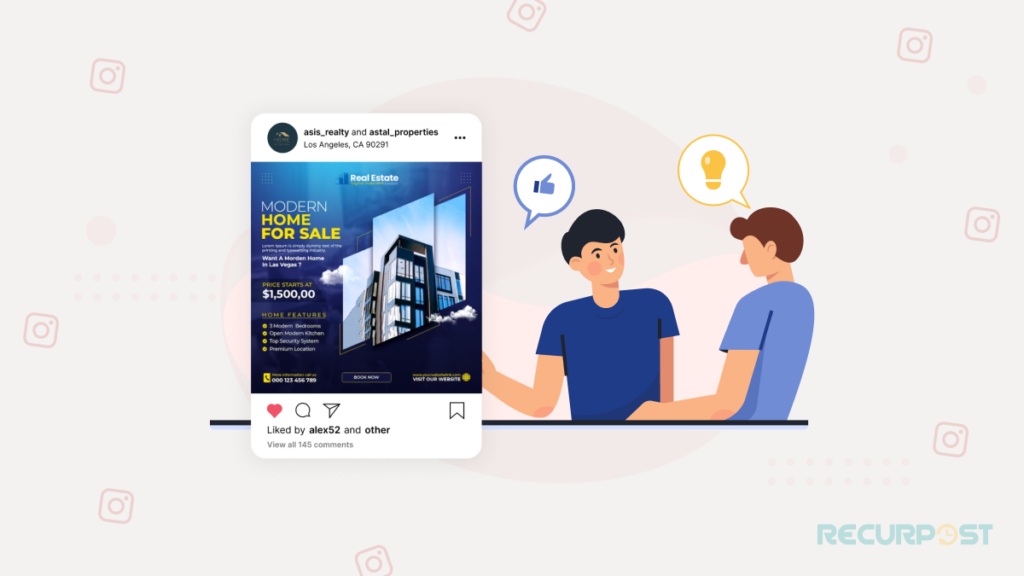 Choosing the right platform for your Instagram collab posts
When initiating Instagram Collabs, it's essential to choose the best platform that suits your goals. You may consider Instagram feeds or reels. Understanding how each platform operates and its audience is critical to the success of your collaboration.
Finding the right partner for your collab posts
To find the right partner, consider working with businesses or individuals with whom you share brand values and target audience. Some helpful techniques include researching hashtags, networking on Instagram, and using influencer marketing databases.
Conducting a background check
When considering a potential partner, conduct a thorough background check to learn about their reputation, online presence, and previous outcomes. This knowledge allows you to make informed decisions and ensure successful and beneficial partnerships for collab posts.
Building rapport with your partner
Invest time in building relationships with your collaboration partners to ensure trust, communication, and openness. Clear communication, respect for each other's boundaries, and commitment to common goals can create meaningful Instagram collab posts.
Establishing your collaboration goals
Before proceeding to create collab IG posts, determine the collaboration goals and objectives. Aligning goals with your brand vision can make it easier to ensure relevant and effective collab posts.
Choosing the right content for your collab posts
Consider using a combination of in-feed posts and reels to create visually appealing and engaging content. Ensure that the content is aligned with the brand identity of the partners and reflects the brand values and voice.

Creating visually stunning content
Create visually appealing content that captures the attention of your audience. Ensure that the content is of high quality while remaining true to the essence of the brand and the partnership.
How to create a Collab Post on Instagram?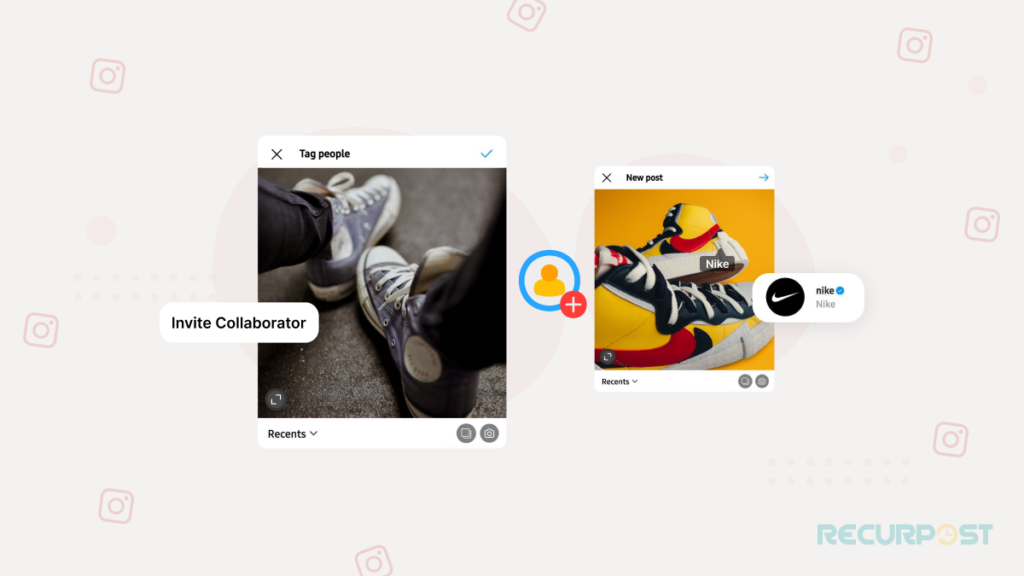 Creating a Collab post on Instagram is a straightforward process, although locating the necessary menu can be a bit challenging. If you are wondering how to collab post on Instagram, here are the steps that you should follow.
Create a regular Feed post or Reel just like you normally would, by selecting the content you want to share.
Once you selected or created your content, proceed to the "Tag People" menu. This is where you can tag other users in your post.
In the "Tag People" menu, you will find an option to "Invite a collaborator." Click on this option to proceed.
Currently, Instagram allows only one collaborator per post. Select the user you wish to collaborate with by searching for their username or selecting them from your list of followers.
By following these steps, you will be able to create a Collab post on Instagram, collaborate with another user, and share the post on both of your accounts.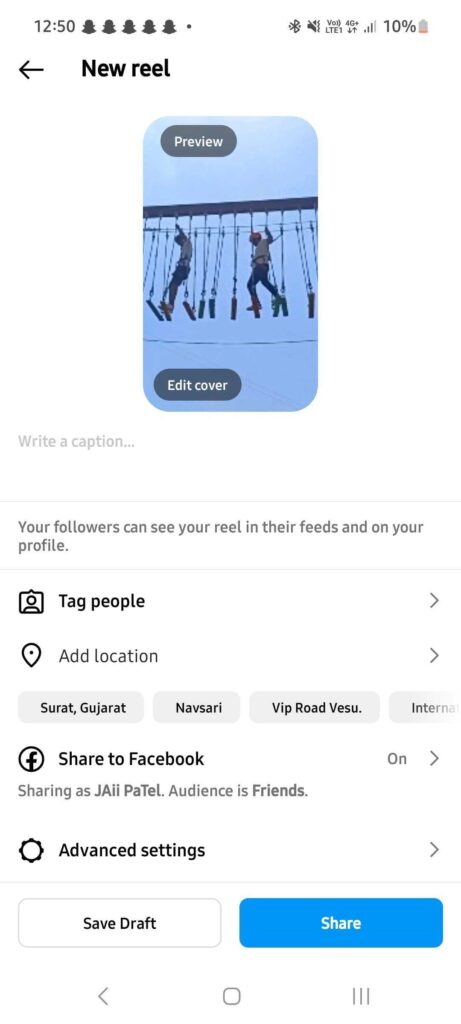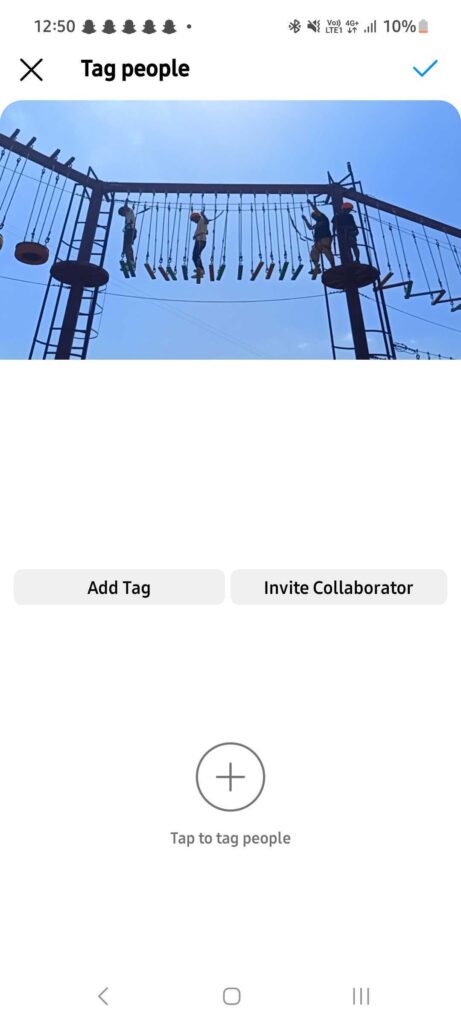 How to accept being a collaborator on Instagram?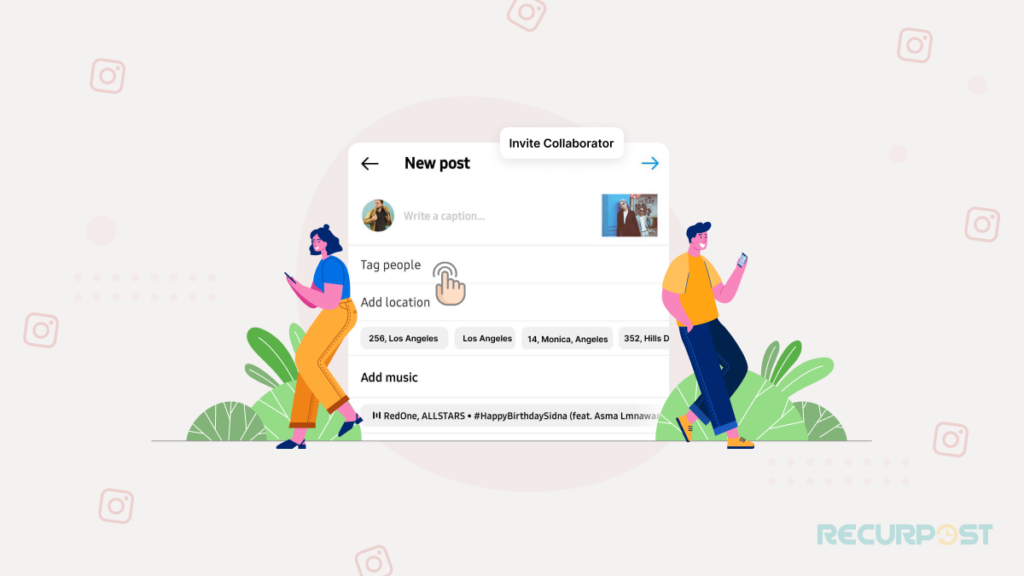 If someone invited you to be a collaborator on Instagram for collab posts or Reels, you will get a notification in your DMs.
Click on the "REVIEW" button.
And choose between "ACCEPT" or "DECLINE" collaboration.
Once accepted, your Instagram Coolab post is live.
The best part is that you will find the names of both users name in the collab post.
Remember to review and approve collab posts that align with your brand values and objectives, and help you in maintaining a consistent and authentic presence on Instagram.
Note: For Instagram collab post private account, only their followers can view their posts.
Best Practices for Instagram Collaborations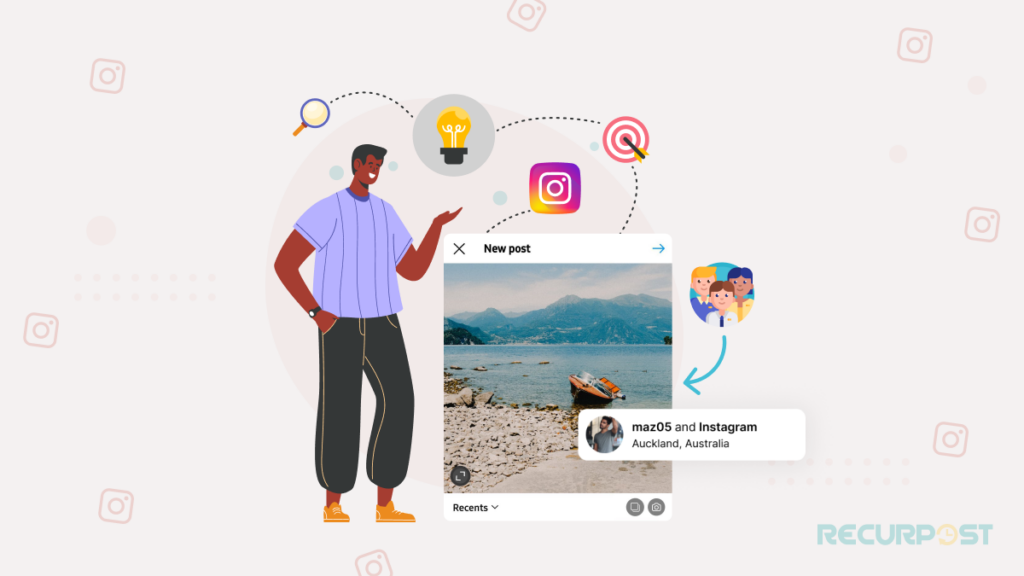 Maintaining authenticity in your Instagram collab feature
Stay true to the core values of your brand and remain authentic throughout your collaborations. This can ensure a win-win situation for both parties and develop trust with your audience.
Understanding legal and ethical considerations
Understand legal and ethical considerations to avoid violating any guidelines, terms, and conditions. Ensure that the collaboration adheres to laws in terms of product labeling, endorsements, intellectual property, and copyrights.
Managing creative differences
Managing creative differences involves navigating competing priorities, values, and preferences. It is important to identify and respect essential elements of the collaboration as well as negotiate and compromise, always focusing on the overall goals and objectives.
Building long-term collaborations
Long-term collaborations present more opportunities to grow and achieve common objectives as they foster stability, brand recognition, and customer acquisition. Therefore it is important to maintain open communication, collaboration for mutual benefits, and regular progress checks.
Instagram Collab Posts Trends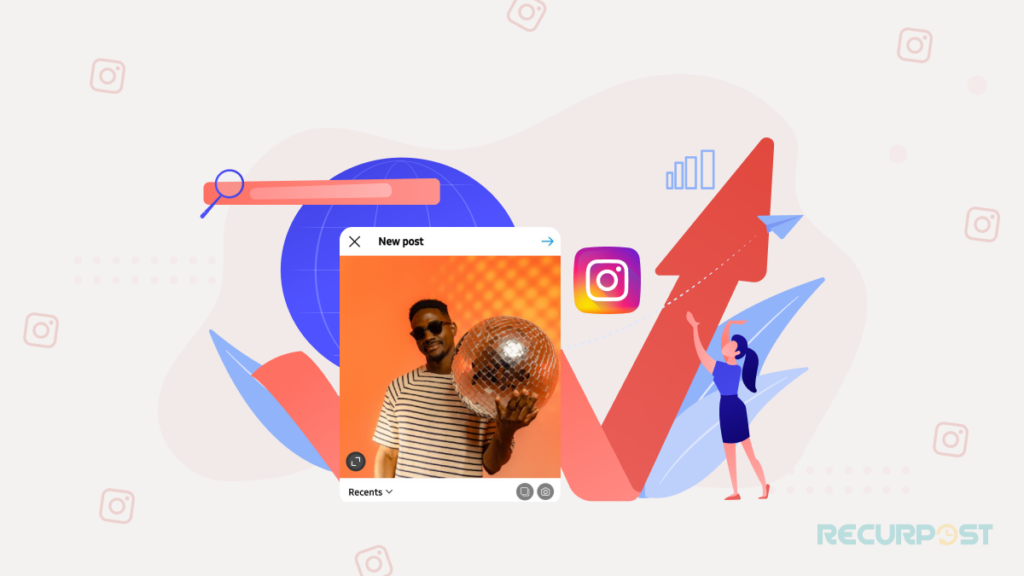 The rise of micro-influencers
Micro-influencers, with their smaller followings, foster authentic partnerships and achieve higher engagement rates, leading to improved conversions. Their genuine approach resonates with audiences, making them valuable for brands seeking meaningful connections and effective marketing outcomes.
The impact of video collaborations
Video collaborations have become increasingly popular and an essential component of brand building. Short-form video platforms such as Tiktok, learn how to Schedule Instagram Reels, and Youtube shorts provide opportunities for creating more engaging content.
Exploring new collaboration formats
Brands and creators are becoming more imaginative in the collaborations they create, using emerging technologies such as augmented reality filters, developing content for podcasts, and co-creating products.
Analyzing the Future of Instagram Collaborations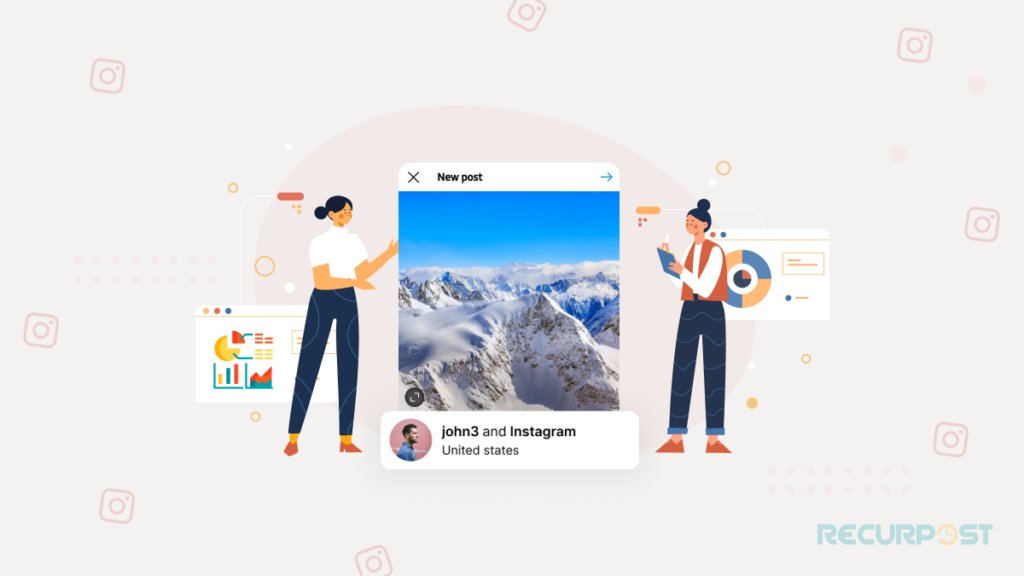 Measuring Success
Choosing a clear approach to measuring success is crucial, considering the combination of metrics such as likes, impressions, sales, narrative, effects on engagement rate, and brand awareness.
Understanding the metrics that matter
Aware of the most important metrics, it is useful to track them over specific periods, identify their trends, and use the insights to guide future collaborations and other online marketing activities.
Tracking follower growth and engagement
Measuring engagement and follower growth can provide useful insights to understand if your brand is becoming more or less present in user feeds and adjust the strategy when necessary.
Learning from the collaboration process
Instagram collab posts, including Instagram carousels, offer valuable insights that allow you to gather feedback from your audience and partners. By tracking trends and adjusting progress reports, you can assess the success of your collaborations, learn from them, and enhance future Collabs for improved results.
RecurPost is a powerful social media management tool that not only allows you to schedule Instagram posts in advance but also helps you level up engagement effortlessly. By utilizing its features, such as tracking trends and generating progress reports, you can assess the success of your collaborations, learn from them, and enhance future Collabs to achieve improved results easily.
Sign up for a free trial to experience how RecurPost can boost your Instagram engagement and simplify your scheduling process.
Examples of Instagram collab posts
The examples listed below demonstrate the versatility of collab posts on Instagram. By leveraging these strategies, you can foster engagement, reach new audiences, and strengthen your brand's presence on Instagram. Let's check it.
Collaborate with influencers and content creators
One way to collaborate with influencers is by featuring them in your post, showcasing their product or service, and emphasizing the benefits it brings to your audience.
SuccessGyanIndia and Super_Speaker_Official created collab posts to promote each other.
You can collab with an influencer with remarkable followers to promote your products or services. Placing your brand's Instagram handle on your influencer's account will implement these strategies in practice and bring more traffic and sales.
Create Instagram Collab posts with other brands
Another approach is to collaborate on a branded content series, jointly creating a collection of posts or stories that resonate with both brands' identities. Additionally, consider partnering with a complementary brand for a product launch or event to leverage cross-promotion and introduce each other's offerings to a wider audience.
Indian jewelry brand Tanishq is utilizing Instagram to showcase its exclusive Rivvah collection, effectively promoting its own line of jewelry to a wider audience.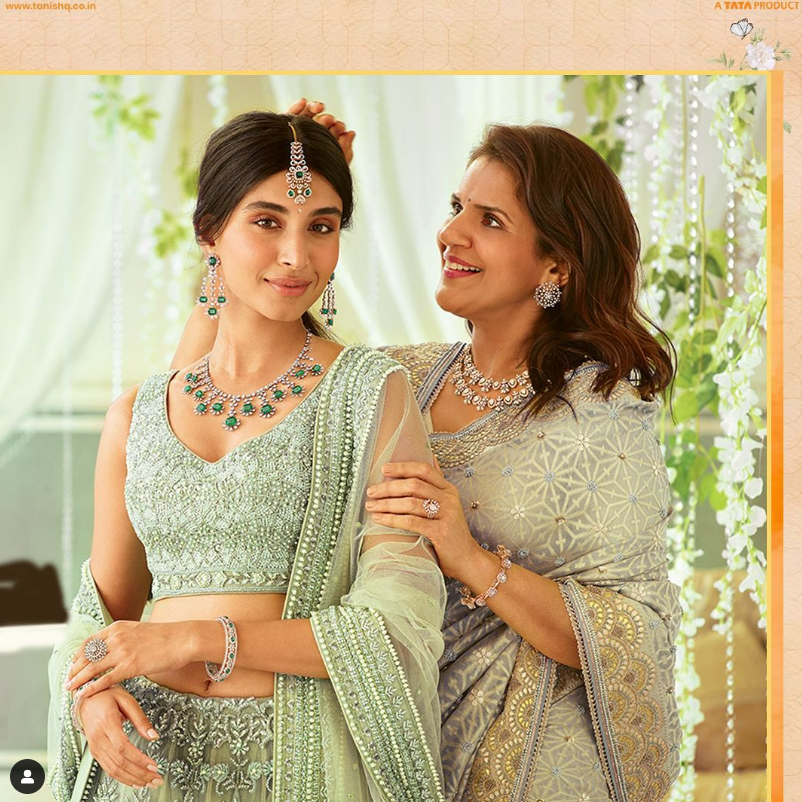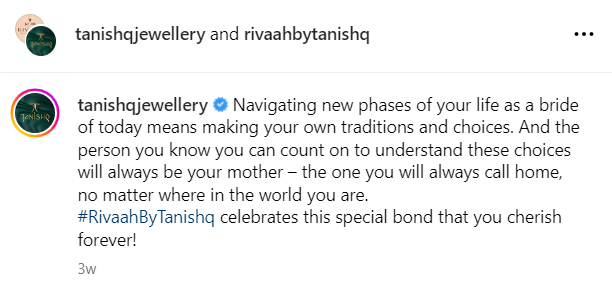 Send shouts-out for user-created content
You can also engage with your audience by showing appreciation via sending shout-outs for user-created content. You can repost and give credit to followers who create content related to your brand, encouraging them to continue generating user-generated content.
These actions not only showcase your customers' loyalty but also build trust and credibility for your brand. By highlighting user-generated content you create a sense of community and inspire others to contribute, fostering a positive brand image. Starbucks never misses on celebrating its loyal customers.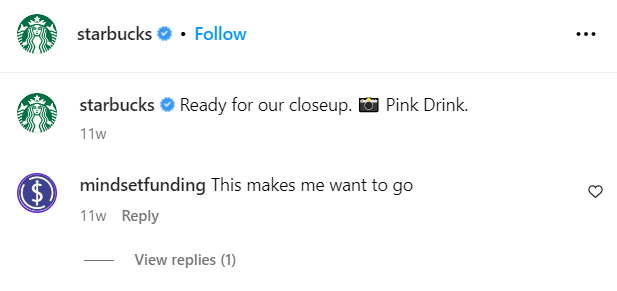 Announce Give Away with Collabs posts
A giveaway with collab posts on Instagram is an effective way to engage your audience and attract new followers. By collaborating with another brand or influencer, you can pool resources and offer exciting prizes. Promoting the giveaway through collab posts increases reach, generating buzz and creating a win-win situation for both parties involved.
In this example, Unsent Studio announced a Give Away for those who follow them on Instagram or send an appreciation for their products.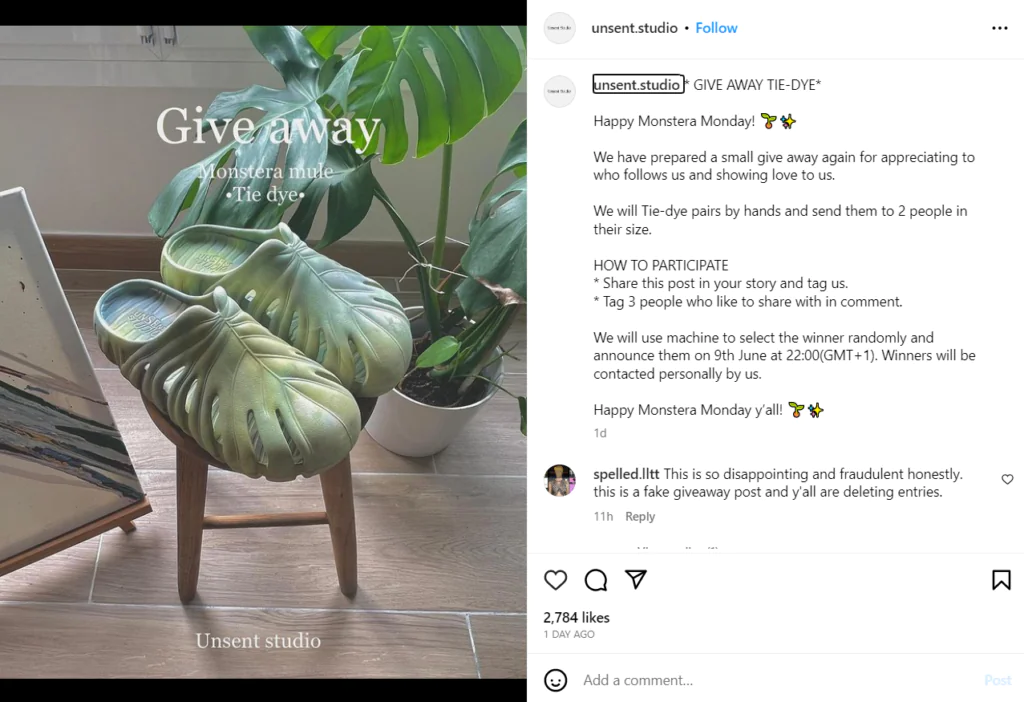 Conclusion
Now you know how to collab post on Instagram. Becoming proficient in Instagram collaborations requires dedication, diligence, and careful strategizing. When executed effectively, collaborations can elevate your brand, expand its reach to a wider audience, and foster lasting engagement and a positive reputation. It's a journey that demands time and effort, but the rewards are worthwhile as you establish a strong presence in the Instagram community and forge meaningful connections with influencers and followers alike.
Frequently Asked Questions
How do I find the right partner for my Instagram collab posts?
Finding the perfect collaboration partner involves strategies like researching influencers in your niche, networking with like-minded individuals, and reaching out to potential collaborators through sending DMs.
How do I measure the success of my collaborations?
When assessing the success of your collaborations, consider metrics like likes, impressions, sales, engagement rate, brand awareness, and narrative impact to gauge their effectiveness.
Should I collaborate with influencers or micro-influencers?
When deciding whether to collaborate with influencers or micro-influencers, it's important to consider your goals and target audience. Influencers typically have a larger reach and visibility, while micro-influencers offer niche expertise and higher engagement rates. Choose based on your specific objectives and desired impact.
How much should I invest in an Instagram collaboration?
Determining the ideal investment for an Instagram collaboration depends on various factors, such as the collaborator's reach, engagement rates, target audience alignment, and budget. It's essential to assess the potential benefits and ROI of the collaboration and allocate a budget that aligns with your goals and resources.
Can you add a collaborator after posting on Instagram?
No, you cannot add a collaborator after posting on Instagram collab posts. If you want to add a collaborator in the same post, then you have to delete the post and repost it after adding the collaborator.
How can I approach someone for collaboration on Instagram?
Approaching someone for an Instagram collaboration requires respect and professionalism. Steps to follow: research their account, engage with their content, send a polite DM, offer mutual benefits, be flexible, and follow up if needed.
What are some common types of Instagram collab posts?
The most common types of Instagram collab posts are shoutouts, giveaways, UGC content, influencer partnerships and cross-promotion.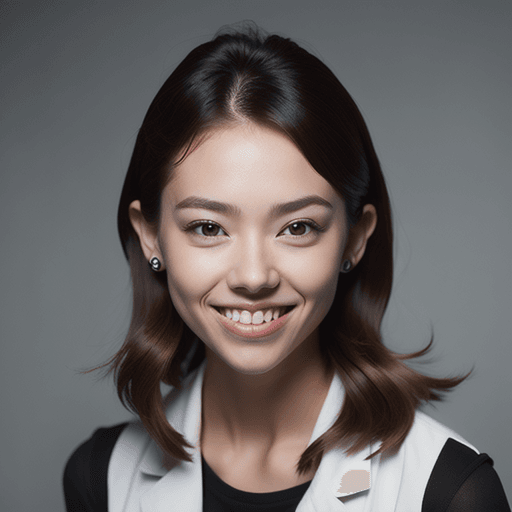 Debbie Moran is a Digital marketing strategist with 5+ years of experience producing advertising for brands and helping leaders showcase their brand to the correct audience. She has been a part of RecurPost since 2019 and handles all the activities required to grow our brand's online presence.